Ernie Gimm says We need to show more sympathy for these people.
· They travel miles in the heat.
· They risk their lives crossing the ocean.
· They don't get paid enough wages.
· They do jobs that others won't do or are afraid to do.
· They live in crowded conditions among a people who speak a different language.
· They rarely see their families, and they face adversity all day ~ every day.
I'm not talking about illegal boat people ~ I'm talking about our troops!
Doesn't it seem strange that many Labor, Liberals, Greens and Independents are willing to lavish all kinds of social benefits on illegals, but don't support our troops, have reduced their pensions and are even threatening to reduce their pay and allowances?
Bob St John says "Both the Caribous, A4-210 and A4-234 are now in their new home at the Historical Aircraft Restoration Society (HARS) at Albion Park. A4-210 arrived first followed a few days later by A4-234, after a 3 hour 50 minute flight from Oakey. I was fortunate enough to operate the flight as the Loadmaster on 234. It sort of was "ground hog day" for me as it has been 43 years since I left 38 Squadron. I went to Oakey as part of the "rescue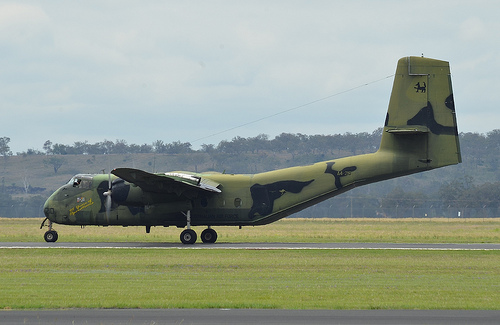 team" and I was surprised how quickly the workings of the aircraft came back to me and how good the condition of the aircraft was after sitting out in the open for the past 2 years.
I would like to thank you all very much for all the donations that are now rolling in. We do need to get the spares down from Townsville as both aircraft will need to undergo a major servicing before they fly again, a task that I am looking forward to achieving. We hope to have at least one aircraft up and running by the end of January and the second soon after. I will keep you all informed of our progress.
HARS is a voluntary organisation that relies solely on sponsors and donations so if you know of anyone that would like to donate towards the upkeep of the Caribous, please point them in my direction. We are all volunteers at HARS so all the money goes into the aircraft, I'm in for about $10,000 so far.
Once again, Thank you all for your help, the veteran community has really come to the fore and the response has been overwhelming......Thank you everyone !!!"