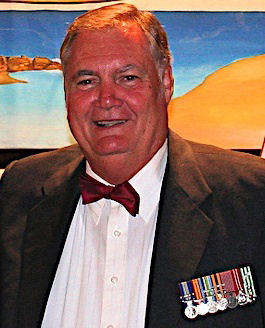 Tony Boys
Gary Olsen from the 2 Squadron Association advises the sad news of the passing on Friday 9th September, 2011 of Tony Boys (right). Tony had been a long time committee member of the Association and served with No 2 Squadron at Phan Rang as an LAC Clerk Equipment Accounts from 12 March 1968 to 12 March 1969. Tony had been living in Tweed Heads South.
Tony's funeral was held in Kingscliffe (NSW) on Wednesday the 14th September and he was buried at the Tweed Lawn Cemetery. A wake was held at the Coolangatta and Tweed Heads Golf Club.
Gary "Two Dogs" Jones
Geoff Brand advises that Gary Jones passed away early in the morning of the 17th February 2011. His funeral was held at the Castlebrook Crematorium, NSW, on Monday the 21st Feb at 12 noon. Gary was with 9Sqn in Vietnam during 1970. He originally was a Gun Plumber until becoming a Chopper Crewman and then later a Loadmaster. A wonderful bloke. Condolences to his wife Lynn his children and his Family.
Peter Outtrim

Bob Hambling advises the sad passing of Peter Outtrim, in Sydney on 27 September after a short battle with cancer. Peter trained as a RadtechG on 17 Radio Apprentice Course. He was at 30 SQN until the Mk 1 Bloodhounds were disbanded and he joined the Mk2 Bloodhound project in England, Cyprus and Singapore. While in Singapore, Pete and his then wife, Liz, spent most of their spare time building a large wooden power boat in their front yard and launched it shortly before they were posted back to Australia. He was an instructor in computing at Radschool, in the late 70's and subsequently worked as a civilian in the computer industry in the Sydney area.
Michael Birrell
Dit Eaton has advised that Brian Michael "Mick" Birrell passed away on the 1st Aug 2011. Mick was a framie and was with 35 Sqn from June 1968 to June 1969. No further details are available.