A Noddy's Guide to the G20
As I write this, Brisbane waits with breathless anticipation for the commencement of the G20 summit, an event we're told by our revered lords and masters, of historic cultural and economic significance.
Okaaaay…
While we digest that, let's take a look at the basics. First, how did the G20 get its name?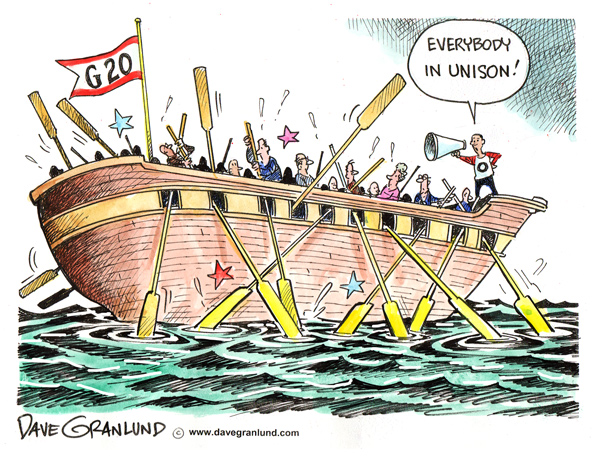 It turns out that 'G' stands for 'Group'; which proves that at least one person at the highest echelons of global governance knows how to sound out his or her words.
Now for the '20'
Way back in the 70's The French government hosted a Group of 6, France, West Germany, Italy, Japan, US and the UK. They got together, had some terrific dinners, but didn't achieve a helluva lot. Then Canada kicked it's heels on the ground and threatened to hold its breath until it turned blue if it wasn't included, 'cos the Canadians do love a good feed. Thus the G7 was born.
Then the Russians demanded to be included because, well, you can see Russia from Canada, so fair's fair. Well you can see where this is going. Now we had a G8.
Unfortunately, nothing much was still being done.
So the then Canadian PM had an epiphany, If they couldn't achieve much with eight members, think how much they wouldn't be able to achieve if they pulled together the most powerful nations on earth, the ones that really mattered. To further complicate things, someone had the bright notion that the entire EU should be counted as one country, to be represented by the European Commission and the ECB. Problem was, once they took that decision, they could only come up with nineteen countries that really mattered. It was generally agreed that they'd better add in another one, mainly because the whole world loves round numbers and anyway, if they left it at nineteen, they'd be nagged to death by a bunch of wannabes all wanting to be that twentieth member.
So, they pulled in one more to make it a whole G20. To this day, no one knows which is the twentieth country that's only in there to make up the magic number. And that, boys and girls, is how the G20 came into being.
Meanwhile, up until 2009, the G8 kept on meeting once or twice a year, which meant that for a few years there were two gatherings of world leaders not achieving anything, which was obviously a complete waste, so the G8 was done away with and the G20 assumed full responsibility for everything not being achieved. Actually that's not quite true. There is one thing the G20 does extremely well; it makes promises. Basically the process goes like this.
The whole thing begins with a welcome dinner. The next day, everyone catches up with each other, because, well, let's face it, these are busy folks we're talking about here; and scattered all over the globe, so they don't get to party together all that often. Day 2, they kick around a few issues. By lunch time, they're usually in full agreement that the various nations' self-interests are in such conflict that getting to agreement on anything is going to be really, really hard.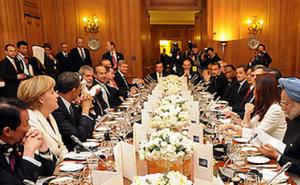 Now, you have to remember that these folk are politicians, so they rarely do really, really hard.
During that evening the attendees start to get a little, well, pissed is the word that springs to mind… maudlingly so. They start to feel that they owe it to their constituents to come up with something meaningful. So they jot down a few notes and pretty soon, they've got a full blown communique going on, committing themselves to doing some really good stuff, like educating the poor, feeding the hungry, fixing global warming.
Next morning, hung over and generally feeling a bit sheepish, they read what they'd put together the night before. Cue a collective intake of breathes as each leader realises that he or she has committed to actually doing something, maybe even a bit more than someone else.
Well that's not on.
The final step is a bit of cool headed watering down so that what's left is a bunch of good intentions, vague promises but, under no circumstances, any commitments. See, it's a well-known fact that G20 attendees love the word 'reform'. They don't plan to do any of it, but they just love the way it rolls around the tongue.
And that leaves only the logistics to explain.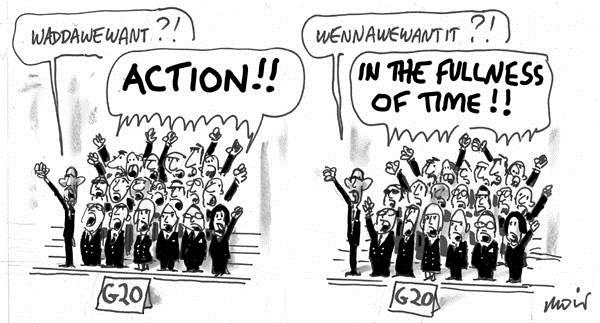 This is actually the serious stuff. The US president's motorcade, which will take him about fifteen kilometres from the airport to the city will contain, wait for it, fifty, count them, fifty, vehicles. What, these folks never heard of buses? Naturally, the City/Airport tunnel will be closed off whenever the Pres deigns to relocate. And just to keep the air traffic controllers on their toes, there is a rule that says Air Force 1 must be able to depart with only thirty minutes notice.
To further add to the general impression of chaos, while most of the dignitaries have found themselves digs in the city, not so the Saudis. Evidently, there wasn't a pub in Brisbane CBD classy enough for them so they're decamping to Sanctuary Cove. Which also means that at least twice a day, the main Brisbane/Gold Coast Motorway will be closed so the thirty car Saudi motorcade can have a clear run.
Are we having fun yet?
Well… no, not quite. Because we haven't talked about the demonstrators, whose function it is, to provide the actual entertainment. It turns out that the demonstrators have some fairly laudable objectives. They want things like poverty reduction, biodiversity protected and global warming addressed, but their methodology really sucks. Setting fire to cars and breaking shop windows just doesn't seem to get folks on side. Can't think why not…
So we have the interesting situation where the official attendees have got no real goals but a fantastic process, while the demonstrators have really good goals, but a completely hopeless process.
Now, if only we could just get them all together…