The story of the P-3 in RAAF service starts in the early 1960s, when the process of selecting the replacement for 11SQN's P-2E Neptunes began. The RAAF P-3 story could have started even sooner. The then P-3V Electra was briefly considered, but judged too expensive to replace 10SQN's ageing Lincolns and as history now records, those Lincolns were grounded in June 1961 with main spar corrosion and replaced in 1962 by the P2V7 (later SP-2H) Neptune.
From the early 1960s until now, those lucky enough to be part of RAAF Maritime have been part of an incredible and often little known story. To the extent that it is possible to do so, Ian intends to tell that story to a broad audience.
He welcomes your input! To this end he plans to attend VPI Fridays (in Canberra), as often as possible, to connect with Canberra-based members and as he is a member of MSA, he can connect with a number of people via the various state-based gatherings. Ian says "The recent 75th anniversary celebrations in Adelaide proved to be a very useful opportunity to catch up with many of you. Indeed, I hope you aren't hearing from me for the nth time and if you are, a little reinforcement goes a long way! Otherwise I am contactable on DRN HERE or my private email address HERE or you could get my mobile phone number from the Radschool Association
"While I welcome your war (and other) stories, I need authoritative evidence (eg log book extracts, photos, etc), to support any tale you may wish to see in print. Naturally I am unable to use any material that is still classified. What I am particularly looking for is anything that either materially contributes to the story of the P-3 in RAAF service, or a story you would want to be reading in a book. If you have a photo that you would like to see included, I need details like the names of any people in the shot, aircraft tail number, date and any other information you have to provide the all-important context. Poor quality photos (generally), just another SAR or just another Gateway sortie isn't going to make the cut, but if there was something significant, or otherwise interesting about those sorties, I want to know about it. You may have the very story everyone wants to read!
I look forward to catching up with old mates and to meeting those of you I don't already know. No doubt someone will point you in my direction if you don't know who you are looking for!"
Ambulance Drone
23-year-old Alec Momont, a Belgian Industrial Design Engineer, is seeking sponsors to get his prototype "ambulance drone" off the ground. The airborne medical kit can be flown to the scene of an emergency without the risk of traffic delays at speeds of up to 100km/h
(60mph). The precious minutes it saves could mean the difference between life or death. Alec came up with the design while studying at Delft University of Technology.
Around 800,000 people suffer a cardiac arrest in the European Union every year and only 8.0 percent survive. The main reason for this is the relatively long response time of emergency services of around 10 minutes, while brain death and fatalities occur with four to six minutes. The ambulance drone can get a defibrillator to a patient within a 12 square kilometre (4.6 square miles) zone within a minute, reducing the chance of survival from 8 percent to 80 percent. The drone tracks emergency mobile calls and uses the GPS to navigate. Once at the scene, an operator, like a paramedic, can watch, talk and instruct those helping the victim by using an on-board camera connected to a control room via a livestream webcam.
However, the drone is still in its infancy as far as developing its steering mechanism and legal issues regarding its use are concerned. Momont wants it to become a 'flying medical toolbox' able to carry an oxygen mask to a person trapped in a fire or an insulin injection to a diabetes sufferer. He hopes to have an operational emergency drone network across the Netherlands in five years.
The drones are expected to cost around 15,000 euros ($19,000) each but when operational, it is hoped they will save hundreds of lives. It is essential that the right medical care is provided within the first few minutes of a cardiac arrest, getting to an emergency scene faster can save many lives and facilitate the recovery of many patients. 'This especially applies to emergencies such as heart failure, drownings, traumas and respiratory problems and it has become possible because life-saving technologies, such as a defibrillator, can now be designed small enough to be transported by a drone.
Click HERE to see a video of the drone in operation.
The Casualty List
A great number of us know about the "Butcher's List": the list of 500-plus Australians and New Zealanders who died through various means during Australia's involvement in Vietnam during the period 1963 to 1973.
Very few of us know about those who were wounded, hurt and disabled during this period. The Casualty List is an insight to the real human cost that Australia and Australians paid during our involvement in the Vietnam conflict.
The research into the information required to put together this list has taken the author over 20 years of on-and-off study, reading unit histories, speaking with Veterans, listening to their stories, their tales, their humour, their hurts; and then corroborating the facts. The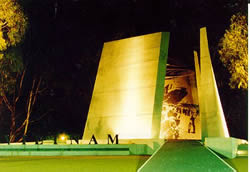 nature of this list means that it is constantly being edited, is nowhere near complete and some errors appear. For this, the buck stops with the author, no-one else. To correct errors and omissions the author welcomes the addition of further information which can be sent by email to enquiries@thecasualtylist.com
This list is as close to the truth about what happened to many of the Veterans who served in Vietnam as anyone can get. In the author's mind, the truth must be told, at whatever cost. Some of the casualties listed will cut close to the heart, the mind, and the psyche, and will hurt some, if not all of us. Some may be appalled, some may be horrified. Sometimes the truth is like this.
It gives me pleasure to announce that The Casualty List has been accepted by the Australian War Memorial
I wish to thank the AWM for their help and guidance.
Cheers,
Bob Coker (WA)
Avalon AirShow 2015
A series of spectacular battlefield re-enactments will provide a unique dimension to Airshow 2015. These ground warfare scenarios will be in keeping with the event's observance of the centenary of Anzac. Battle sequences will be staged on a number of "historic combat zones" on a large tract to the east of the main Avalon runway.