A plan of huts 450 and 451 showing room occupants soon after the start of the course.

Rolf Roelfsema, Ted Vincent and Julian deRoss outside Hut 450

A typical room inside Hut 450

Bruce Purcell and Rolf Roelfsema outside Hut 451

Awards at graduation time

Until graduation in August of 1967 the Radio Apprentice Squadron of the RAAF School of Radio was to be their home while they did two years full time study at the Royal Melbourne Institute of Technology followed by 7 months full time training at the School of Radio on Laverton RAAF Base, with some time out for bivouacs and the like, for example at Lake Mountain.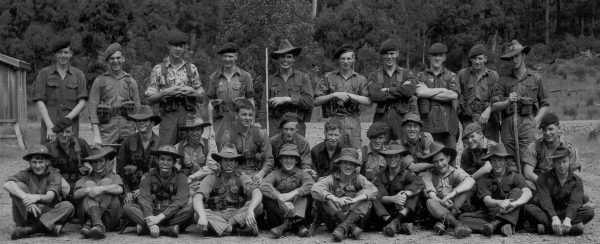 19 Course at Lake Mountain, 1966

Almost all of the initial intake graduated.




19 Course at Graduation, Laverton 1967


After Graduation ...
After graduation they dispersed to RAAF bases all over Australia, and in spite the inefficient and expensive (by today's standards) means of communication managed to keep in touch for a while. But gradually there was less of this communication. By the time Gough Whitlam became Prime Minister in 1972 a few had already left the RAAF, and with the new government came an easing of the restrictions on voluntary discharge, so that many 19 course members left the RAAF at that stage.
First reunion - 1992
1992 marked the final Apprentice graduation at Laverton. This was to be the trigger for the remarkable reunion, with a surprisingly high proportion of 19 Course managing to make it back to Laverton for that final passing out parade. Geoff Chapman in particular went to great lengths to track down his fellow members of 19 Course. It was quite an experience for everyone there to once again see people who had once been so familiar after a break of 27 years.
Links related to the 1992 reunion
Select the highlighted item that you want to view:
40th reunion - Gold Coast 2005
Thanks to the magnificent efforts of Phil Laird, the 40th reunion was an outstanding success.
Links related to the 40th reunion
There are pictures here and here.
The Communications Revolution ...
After the reunion there was a feeling that the 19 Course members should keep in touch a bit more. This was now much easier than it was 27 years earlier on account of the emergence of email plus the greatly reduced cost of interstate phone calls. Keeping in touch had become easier than at any time since 19 Course were in the Huts.