Microsoft's Solutions
for Common Problems.
Microsoft provides many automated, online solutions for common problems you might encounter with Windows software and hardware, on top of the dozens of always-available troubleshooting tools built into Windows 7 and Windows 8. These extremely useful tools can provide 24/7 self-help fixes for problems with printing, audio, security, and networking along with many other hardware and software issues. But (there's always a "but") not all fix-its and trouble-shooters are easily found. In fact, following Microsoft's system for searching for help can sometimes lead to dead ends, wrong answers, or missed solutions!
The information that follows will help you find the automated repair/diagnostic tools you need. Use it as a quick reference for what's available, how Microsoft organizes its tools, and the best way to search for the solution to a particular problem.
Fix-its and trouble-shooters are user-friendly implementations of two advanced Microsoft technologies: the Support Diagnostics Platform (SDP) and the Microsoft Automated Troubleshooting Service (MATS). SDP is a mechanism to collect diagnostic information such as Registry data, configuration files, and application event logs. MATS can analyze SDP data to see whether the conditions fit a known pattern and if so, suggest or implement automated repairs that are likely to resolve the detected problem
(See the MS Support article 2598970, "Information about Microsoft Automated Troubleshooting Services and Support Diagnostic Platform" and MS Support article 2672837, "Microsoft Diagnostics Services — Self-help diagnostic portal.")
For most individual PC users, those pro-level MATS/SDP offerings are overkill. So instead, let's look at Microsoft's far-easier-to-use, but still highly effective, automated fix-it and trouble-shooter tools.
Start with Microsoft's fix-it library.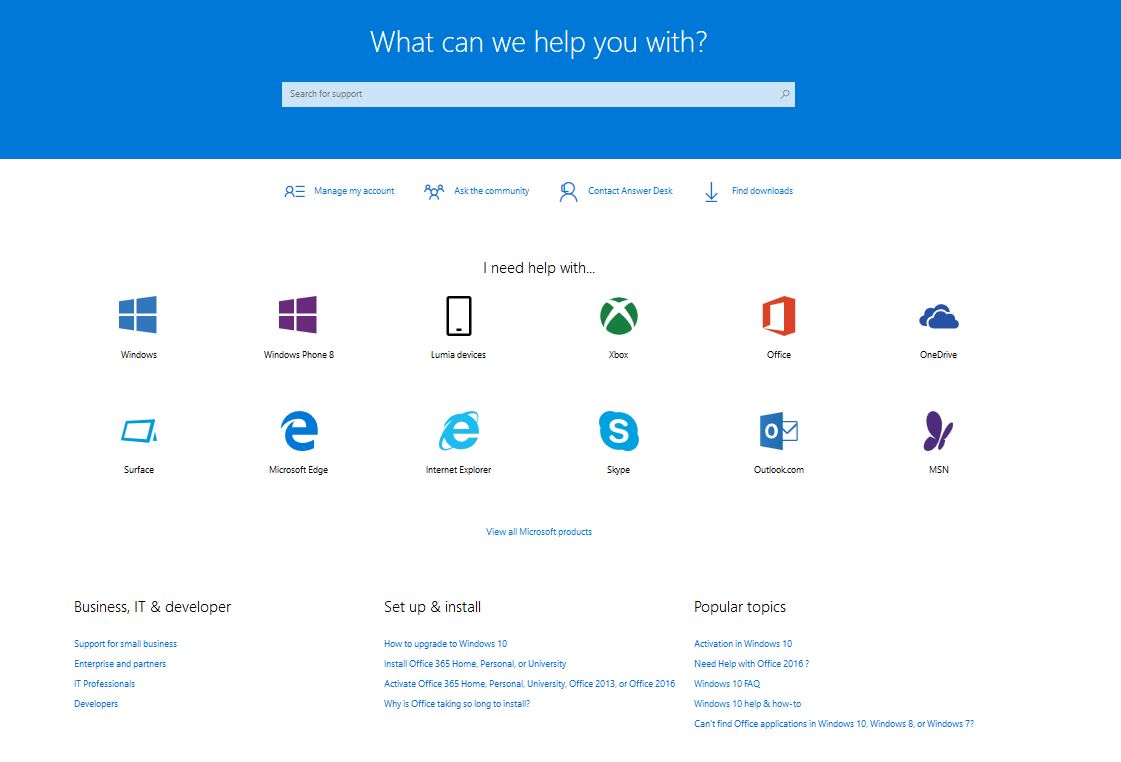 Microsoft has collected most of its fix-it solutions in the Fix it Solution Centre site which you can access HERE. The site's deceptively simple homepage (see right) is in fact the portal to some 500 solutions, accessed by simply pointing and clicking.
The page is divided into three sections, which Microsoft clearly wants you to step though in a 1-2-3 order.
Step 1: Select a problem area.
Choose from the twelve major application categories the one that's closest to what's causing trouble.
Step 2: What are you trying to do?
This section attempts to narrow your search by listing specific kinds of trouble. Depending on what you chose in Step 1, you'll get a a number of sub-choices
Step 3: View or run solutions.
Suggested solutions, such as a click-to-run fix-it or related information, will appear in the Step 3 text box. If you don't find an answer to your problem you have the choice of putting your problem to the MS Community or putting it to the Microsoft Answer Desk.
Microsoft's three-step method seems straightforward and should work for inexperienced users, anyone who enters the site with little or no clue as to why their system is malfunctioning or what might need to be fixed. If you already have at least a general idea of what the trouble is, or what the needed repair is, you can often do much better with a more direct approach.
There is another way!!
Running Windows' built-in troubleshooters.
Some problems are common enough that Microsoft built the relevant fix-it right into Windows itself, there's no need to go online. Microsoft calls the built-in fix-its "Troubleshooters." Built-in troubleshooters aren't just handy, they could be vital if a problem prevents the PC from going online. (Obviously, a Web-based fix-it is of no use at all if you can't access it.)
Windows10, 8 and 7 each have many trouble-shooters built in; Vista, alas, has but one. You can see the available trouble-shooters by opening the Control Panel and if you're in the Category View, type the word "troubleshoot" into the search box (If you're in Icon View [my suggestion] just click on Troubleshooting. Depending on your version of Windows, a window similar to the one at right will appear (This is from Windows 10)
You can then open each subcategory to drill down to the individual trouble-shooters. When you find an appropriate trouble-shooter, just click to run it.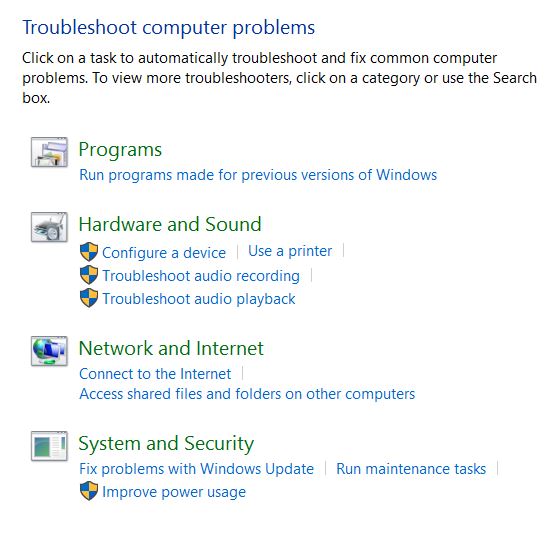 When local and online solutions don't work.
Combined, the local trouble-shooters and the online Solution Centre offer hundreds of solutions, but, oddly, not all of the automated solutions are offered by Microsoft. Sometimes, you have to search elsewhere.
For example, let's say you've made some networking changes to a Win7 system. Suddenly, all the network connections, including the Home (local) network, are now stuck in the limited "Public" mode, which is preventing you from properly sharing files and devices. Surprisingly, it's not a rare problem at all though none of the built-in networking trouble shooters addresses this problem but there is an excellent, fully automated solution: Microsoft fix-it 50725, described in and accessed by MS Support article 2578723, "Windows 7 Network connections are stuck in Public mode."
Although the Solution Centre can't find that particular fix-it, a general Web search can. For example, entering the same keywords, e.g., "stuck public network" into Google or Bing yields a listing for KB 2578723/fix-it 50725 within the first few search results. In fact, Google usually lists the correct Support article and fix-it as the very first result.
So don't give up if your initial searches of Trouble-shooters and the Solution Centre come up dry. Your favourite search engine might help you find additional automated repair tools that Microsoft didn't include in those two resources.
Windows 10 Update.
As was expected, Microsoft has released their "Fix" for Windows 10. It's called Version 1511 and it's a huge download, about 3 gig – which could stretch the friendship for a lot with a small monthly data allowance.
Depending on your configuration, you mightn't see the new update, the reasons being:
If you've only recently upgraded to Windows 10, you won't see the update until your "fall-back" option (this is the 30 day period when you can revert back to Win 7 or 8.1) has expired. When this 30 day period has expired, the update will show up in Windows Update.

If you selected Defer Upgrades in the Windows Update advanced options there will be a delay in you receiving Ver 1511.

You don't have room on your hard drive to take the update.
The changes are few, which makes us think more are to come. You can see what has changed by clicking HERE. One setting they have changed is the ability to switch time zones automatically. Windows has long handled seasonal time changes automatically, but bizarrely it hasn't offered to ever switch time zones automatically like your mobile phone does - until now. To turn this feature on, go to Settings > Time & Language then select Set Time Zone Automatically.
Get your USB devices out of low gear.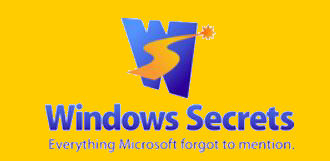 USB 3.0 data transfers should be up to 10 times faster than USB 2.0 and 2.0 should be almost 10 times faster than USB 1.0. But many factors can cause your USB connections to limp along at a fraction of their expected speeds. Here's how to check your USB system's performance to verify that it's running at its full speed and what to do if it's not.
Here is how to check:
Like a lot things, a USB connection is only as fast as its slowest link. USB is a complex system of controllers, software drivers, hubs, ports, cables, and external devices. For a USB 3.0 connection to achieve its full Super Speed throughput, up to 625 megabytes per second (MBps), all those system components must be fully 3.0 compliant. If any component isn't 3.0 compatible, the USB setup will drop back to a slower speed: e.g., High Speed (up to 60MBps), Full Speed (1.5MBps), or even Low Speed (0.19MBps).
Unfortunately, getting USB components to fully match can be the proverbial can o' worms. At last count, there are some 110 different variants in common use. Checking your USB system starts with a simple visual inspection that should take only seconds. All USB hardware is supposed to have clear, external labeling that indicates whether it supports versions 2.0 or 3.0. For example, fully compliant USB 3.0 devices, cables, and sockets (ports) should have the Super Speed logo, a USB trident prefixed by the letters SS (see below). And 3.0 ports typically have an easily seen blue interior.
On the left, the simple trident logo of USB 2.0 devices, cables, plugs, and sockets; on the right, the dual-S Super Speed logo of fully USB 3.0-compliant hardware.
The best and most reliable way to fully explore USB setups, in all Windows versions, is to run Microsoft's free and easy to use USBView tool. It isn't part of Windows; it's a separate download and is part of the Windows debugging (WinDbg) toolkits for Win10, Win8, and Win7. (Vista can use Win7's USBView.) The WinDbg toolkit, in turn, is included in the Windows Software Development Kit (SDK). There are separate SDKs for each Windows version, and all are free. Fortunately, you don't have to install the full, huge SDK just to obtain USBView; you can selectively download just the WinDbg toolkit portion of the SDK. Here's how:
Download the appropriate SDK using one of the links below. (Note: There are slightly different versions of the SDK for different versions of Windows. Download the one that relates to the version of Windows you currently have on your PC). Vista people use Win 7
Win10 SDK (HERE) Click "Download the standalone SDK"
Win8.1 SDK (HERE) Click "Install and download"
Win7 SDK (HERE) Click "Download"
When the installer process opens either the "Installation Options" or "Select the features you want to install" window, leave only the Debugging Tools for Windows option checked (uncheck all other offered components). Again, the Windows debugging toolkit will include USBView.exe.
When the install completes, navigate to USBView.exe — it's usually in one of the following locations. (If not, use Windows' local search function to find USBView.exe on your system.)