Cloud Computing.
A term you will hear more of in the months/years to come is "Cloud Computing" – but what is it??
The term cloud computing (and/or cloud hosting) is a computing standard in which you use programs and/or save files onto a dedicated network. One common mistake people make when thinking about cloud computing is to think of it as the internet. This is not the case. Cloud computing is accessed via the internet, but the computing power itself, which can equal super-computer status, is situated on dedicated servers and connections. With the Cloud, someone with an iPhone or Blackberry or small laptop can carry out computing functions normally only done by people who have access to huge mainframes.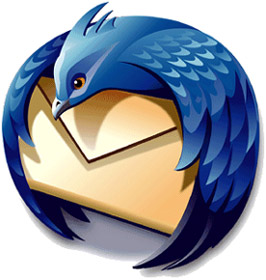 Cloud computing is not new. If you use a web based email, such as Gmail or Yahoo, instead of using Outlook or Thunderbird or Incredimail, you are already using a form of Cloud computing. Dropbox, which we discussed last issue, is another example of Cloud Computing.
What has changed is the availability of other programs and facilities now available. Traditionally, you bought a computer then depending on what use you had intended for it, you also bought individual software packages, whether it be data base programs, or CAD or accounting or general office programs. That way, you ran your own software on your own computer in your own office/home.
Prior to widespread use of the Internet, each person, organization or company had its own private network of computers. In an office environment, a computer in one room could connect with a computer in another room but couldn't connect with the computer(s) owned and operated by another company.
With increased use of the Internet connectivity improved and it became increasingly easy to both communicate with other computers and connect directly to them, with different operating systems no longer necessarily being a problem.
.
The obvious next step was to do away with the need for individual computer owners to buy their own programs. If Computers A, B, C, D, E etc can connect with Computer X, regardless of where Computer X is, doesn't it make sense to install one copy of (say) Office on Computer X and have Computers A, B, C, D, E etc use it?
This has obvious advantages. For starters, instead of having to buy huge and expensive computers to do your number crunching, you can log onto a program in the Cloud using your little old iPhone, from anywhere, at any time and crunch anything you want.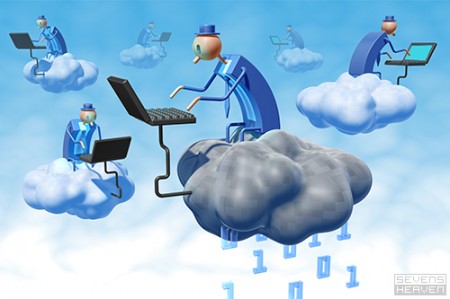 And if you're in a meeting and want to do a bit of CAD work for a display, no problem, just log onto the relevant application in the Cloud and away you go.
Companies like Microsoft, Adobe and other software manufacturers know this is going to put a huge dent in the sale of their software products, so they have entered the realm of Cloud Computing. With this there is no need for individuals to buy upgrades for their applications, as the programs on the Cloud will always be kept up to date by their owners.
Organizations like Google, Microsoft, HP even Telstra offer Cloud facilities – so how do you get into this??
Well, for starters, it's not free, but then again, neither is MS-Office or Adobe Acrobat or MYOB or Smartdraw's CAD or any other application on your computer. So, instead of paying a crazy amount of money to buy a piece of software that requires you to update every year or so, with Cloud Computing, you often only pay a small subscription fee. You select the provider who you wish to use, (Google, Microsoft, HP, Telstra etc), log on, sign up and start using – it only takes a few minutes. And, as all the applications are run on the "Cloud" computer, you don't need huge expensive mainframe machines – you can now do just about anything on a laptop.
You only pay for what you use in the Cloud (and sometimes that means you pay nothing) so instead of investing in a software program that does everything in the hope that one day you will need all its features, you can start off with the lowest plan and then upgrade when the need arises. A bit like Foxtel.
And!!! Since all the maintenance and updates, etc, are handled by the Cloud, all you have to do is get online and be able to use a browser like Internet Explorer, Firefox, Safari, Chrome etc. That means you or your company does not need to make such extensive use of IT people – and that could be bad for some.
As well as hosting a range of applications, the Cloud also offers you the facility to save your data files. This means you can open up MS-Office on your iPhone on the way home in the train, open up an Excel spreadsheet you've been working on, spend half an hour or so on it, close it, save it to the Cloud, hop off the train and go home. You can then pick up that file later, on another computer and finish your work. No more hard drive problems – if your computer's hard drive does fail, who cares, all your data is stored in the cloud and the cloud will also have backups of it – so it's always there.
But – how secure is all this???
There is an argument that you shouldn't use the Cloud as it 'could go down!". This is true, it could, but not often!!! How often do you contact a company or Gov't department only to be told "sorry, our computers are down at the moment." Cloud computing facilities are much more secure (against breakdown) than both your home network and even your ISP's network. Cloud data is backed up and there are typically redundancy checks and failure mechanisms in place. If one server goes down, another usually takes over. However, earlier this year there was an outage of the Amazon EC2 Public Cloud for around 30 hours. And some (but not all) high profile customers were effectively crippled for that time. But those that had properly engineered redundancy across multiple locations for their key production systems simply switched all load to alternative sites.
Banks, Airlines, Governments departments, phone/electricity providers, etc all use overseas facilities (in a lot of cases Indian) to do their computing, phoning, data processing etc, and have done so for some time. They wouldn't if they didn't think it was secure. Provided you select and use a reputable Cloud Hosting Company, you're unlikely to have a problem – at worst you might have to wait a while if there is a problem, but probably this won't happen. Setting up alternate site redundancy is overkill for personal use, and most likely you will only experience a robust and secure service.