Competition.
Well.......the response to the competition in Vol3 was certainly fierce. We received tons of entries, but unfortunately there can be only 1 winner. We know there will be wide spread wailing and gnashing of teeth from all those unsuccessful entries, but the winner is:- Ed Ward who was on 18 sigs course and who now lives in Silkstone, which f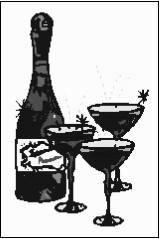 or those of you that aren't lucky enough to live in Qld, is out near Ipswich, just west of Brisbane. Ed has been sent his bottle of Sparkling Rinegolde along with his Radschool Association's certificate of merit. Word has it that the mayor of Ipswich declared a public holiday the day Ed's prize arrived, and there was dancing in the streets. The answer of course was "Tough Rubber Sheathing". Everyone knew that!
A few blokes cheated, Adrian Heinrick cheated by daring to be an electrician in civvy life prior to joining the RAAF - he knew what TRS was because he had used it. We disqualified him almost immediately.
Now it's your turn, you too can to win a bottle of that most magnificent of wines - the venerated Sparkling Rinegolde. This edition's question which is once again 100% relevant and which you'll all know because it's as easy as pie is:-
What do "7 line feeds, 4 N's" mean in a message? Easy again — right!!!!!
Send your written answers to us any way you like, email, fax, post - but please don't ring. Entries should be in by the end of April 2000, and once again we'll announce the lucky winner in our next edition. Judge's decision etc etc etc......Go to it.