An ill wind!!
Now that last year's Indonesian/Timor situation seems to have quietened down, and normal relations have been restored, ie; we're back to giving them tons of aid, and selling them guns and stuff, it's probably worthwhile having a look at the fall-out.
Superficially, it looks like the 3 Services have benefited as all 3 have embarked on a recruitment drive to increase their numbers. The "Real People, Real Jobs, Real Life" campaign started late in 1999 and should work very well. At last it looks like the politicians (both persuasions) have started to take the Services seriously and use and equip them for what they were designed and not use them as a gigantic vote gathering enterprise or as a stop gap economic fix for some local economy. (Does any-one really know what sort of military requirement necessitated a maritime Sqn being sent from Townsville to Adelaide???). It seems that Timor was a bit of a surprise to a lot of them - or was it!!.
It was reported prior to Christmas that the Army were taking on an extra 3,000 personnel, and the RAAF were recruiting an extra 500 (doesn't seem many does it??). The Navy too seems to be taking on extra hands, all of which should increase the numbers of people in uniform. And it's about time, but let's hope the numbers that expand are the erks - the blokes and blokettes that wear the 'ralls. For too long now the erks in all 3 services have been replaced with either Civvies or by that growing menace of the 20th Century - the consultant. Clerks, cooks etc - all gone, now the Messes are run by Coles Cafeteria (or the like), L-Group is run by Fletcher Jones, pay section is run by the NAB, and the AMA runs the hospitals. It won't be long before Jennie George bans work on week-ends.
Is it really true that our Hercs are being serviced overseas by Air New Zealand?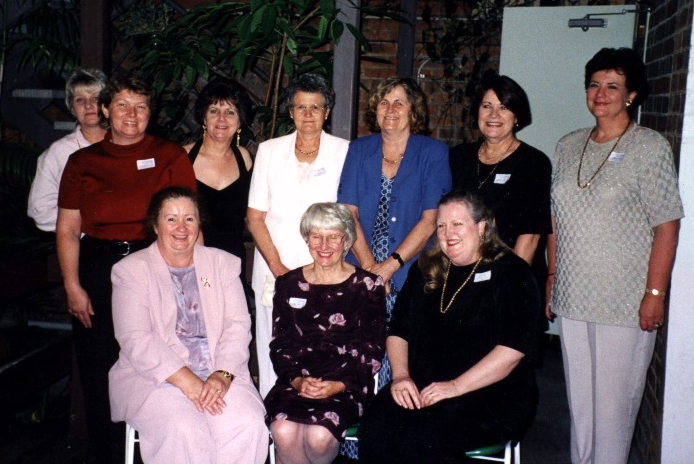 Some of the girls that came along to the Brisbane reunion and helped make it such an enjoyable night.
Though, perhaps it's a bit unfair to blame the politicians - or is it??. Basically a politician is a person who is supposed to represent an electorate - a committee member on a damn big committee or a director of a damn big company if you like. He/she could have a back ground as a train driver, a plumber, solicitor, nurse, school teacher - what ever, but amazingly, we ask (vote) them to represent us on this great big committee which controls and spends billions and billions of our dollars, then the minute they do anything or make any sort of decision we whinge like hell.
But I digress. With diverse backgrounds, the only way they can intelligently assess any situation prior to making a decision is have advisers - experts in a particular field. And perhaps this is where the real problem lies!!!!!
We elect our representatives then tie their hands. Our system of Government doesn't allow our representatives to select their advisers. They're already in place, that vast bureaucracy known as the Public Service, un-sackable, un-representative, and un-answerable to almost everybody. These would be the same people who advised dumping the Chinooks, then oops, get some back again, or who left the old C130A's to rot on the ground at Laverton, or committed the country to those wonderful Collins class subs, or more importantly, wound down the numbers in the services. Stuff ups all of them, but no one accepts responsibility.