After 600 hours flying the RAAF's Macchi jet trainer, during which the only hints of trouble had been a runaway trim while low flying and the unsuccessful attempts of several students to kill me while demonstrating their versions of what I was trying to teach them, I expected my instructional tour to come to a quiet close. Short of learning emergency procedures, actually abandoning an aircraft was something tucked into the corner of my mind labelled: 'Possible, but highly unlikely'.
Nothing further had happened to change this state of mind when, on the 1st October, 1969, I set out with a student on a low level navigation exercise. It was a test sortie for him, but he was a good student so, apart from giving him a couple of problems to solve I was expecting a pleasant 'Sunday drive'.
The Macchi is a funny beast in which to instruct. Being a tandem seater, the instructor sits in the back. Due to the bulk of the student's ejection seat and the curvature of the Perspex canopy, one's forward vision is poor. You certainly can't see over your student's head, but have to lean left or right depending on crosswind, to get a good view of the runway during approach and landing. During flapless approaches you can barely see the runway at all. At night, there is a bonus; due to reflections inside the canopy, you can see two or even three runways depending on where your head is and the gyrations of your student. Demonstrating a night landing to a student is therefore an act of bravery. Hopefully, he'll learn quickly and you won't have to do it again.
Back to the Navex. The student was doing fine. He gave me a good briefing on the route, answered my questions correctly, performed all his checks meticulously and even remembered to close the canopy before lining up on the runway. The tower cleared us for take-off and the student, F/O Herbert Badower, opened the throttle smoothly and quickly so that the RPM indicator needles spun crazily until they reached 100%. With a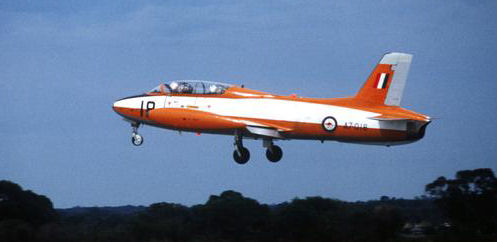 lurch, we were away. Lift off at 100. . .150. . . 200 knots and we were in the climb.
I relaxed a shade; the danger zone of possible engine failure after take-off was now past. We levelled off at 5000 feet and headed for the start point of the navex where we would descend to 200 feet above terrain. It was a magnificent Perth spring day with a comfortable yellow sun shining out of a cloudless sky. Patches of wild flowers shouted their colours from bushy islands amid ploughed paddocks, the winter greens already turning to summer browns.
Herbert continued coping well. He found his start point without trouble, punching his stop clock as we flashed overhead at 200 feet. To reduce the risk of collision with terrain or obstacles, there's no pencilling on these exercises. The students put all required information on their 'topos' (topographical maps), including minute markers from the start point and expected duration to chosen check points. They must identify their check points noting distance left or right of track and whether they are early or late. They must then make mental calculations for heading changes to put the aircraft back on track and adjust the ETA (expected time of arrival) at subsequent check and reporting points. At possible groundspeeds up to 400 knots, quick assessments and quick decisions are required.
I was glad to see Herbert holding his map high, as he had been instructed to do. He would see the high tension power lines ahead in time to take avoiding action. We passed directly over a conspicuously shaped road-rail crossing. I wondered whether Herbert had seen his chosen check point, a rail bridge just outside a town, almost hidden behind trees a mile to our left."
"We were a half mile starboard of track at our last check point, sir," announced Herbert. "This crossing is a mile starboard of my check point. That must be the bridge this side of that wheat silo". "He altered heading eight degrees port. Good lad, I thought. This is going to be a breeze. I couldn't fault Herbert's navigation on the first and second legs so I decided to extend him with a little problem on the third and final leg. The method I chose was, in retrospect, a little ironic. Having recently returned from a tour in Vietnam, I decided to dress up the problem a little. "Fred," I began. Fred's head bobbed in anticipation of the expected problem. You've just been advised by radio that the town of New Norcia has fallen into enemy hands. Aircraft ahead of us have been fired at. We are advised to avoid the town by at least five miles.
"New Norcia was right on track. Fred at once came up with the expected answer". "Our groundspeed is six miles a minute, sir. One minute out of New Norcia I'll turn starboard sixty degrees and make a one minute dog-leg". "Okay, Fred, that's fine I replied, and settled back for an armchair ride. We'd just rolled out of the turn when the Fire and Overheat warning lights came on. For a couple of seconds, I stared dumbly at this intrusion into a pleasant afternoon's flying. Then comprehension jolted back with a rush. I scanned my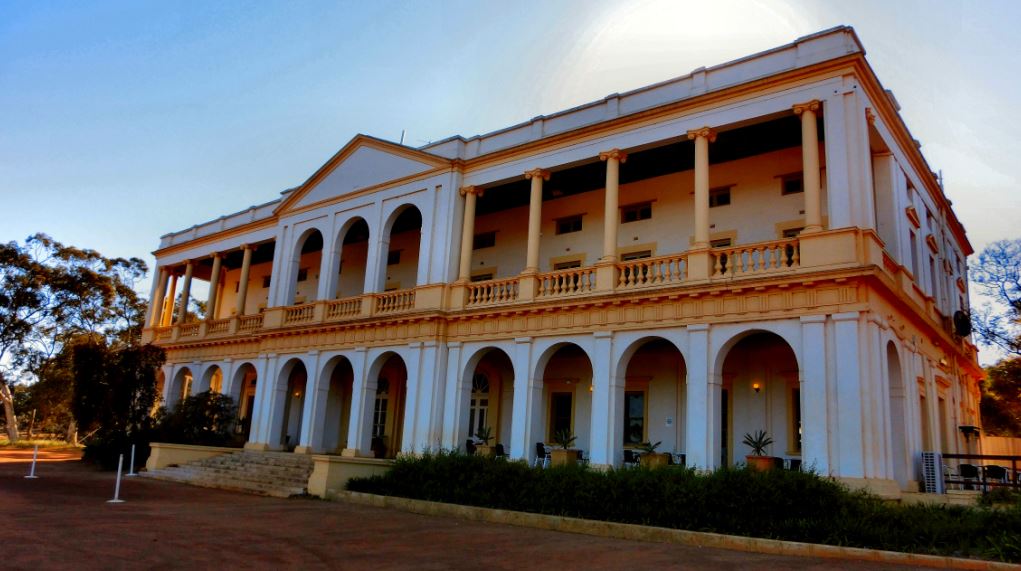 instrument panel: no other abnormal indications.
Have you got warning lights? I snapped at Fred". "Yessir," he stuttered. "(He later told me he thought I'd somehow activated the lights as part of his test.)
Standby. We're going to eject.
"Taking over, I slammed the throttle closed and put the Macchi into a zoom climb. I looked over my shoulder for smoke or a 5000 foot bitumen runway which some ambitious farmer might have constructed without the Air Force's knowledge. I saw neither. It's amazing what flashes through your brain in circumstances like this. I'd had two fire warning lights before, in Caribous, both were false and due to moisture in the fire detection circuit. Yet a month ago, a Macchi had crashed after take-off when, after a fire warning, the control rods had burnt through. One pilot got out; the other went in with the aircraft. Now I had Fire and Overheat lights, an unlikely combination since detectors in two compartments would have to be activated. But the golden rule said: Treat every fire warning as a real fire. There was really no choice.
Fred, I want you to eject on my command. I pressed the radio transmit button. Delta five five, eject … eject … eject'. This would alert the following aircraft, which was five minutes behind us. Fred took a little longer than I expected. We were approaching the apogee of our climb. Suddenly there was a bang, followed by a blast of slipstream as the canopy fired. I held my head down. Then I was conscious of another bang, and Fred's seat disappearing. I looked up and was a little alarmed to see the telescopic seat rail sticking up several feet into the air where Fred's seat had been. I quickly retrimmed the aircraft and grabbed the face blind handle. The last thing I remember seeing before I pulled the blind over my face was the altimeter. It said 1700 feet.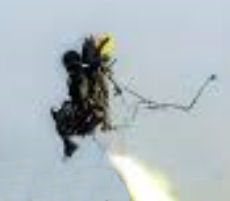 There was a tremendous explosion underneath me and a huge force propelled me upward. Unable to see I felt that I was tumbling over until my head pointed back towards the ground. Again, my brain rushed with fleeting thoughts, all in the space of a few seconds … What if the parachute doesn't open?… What if I'm upside down? … How long will I wait before pulling the manual override D-ring?
Suddenly, there was a tremendous jerk, as if I'd smashed into a brick wall. My body felt as though it would break in half. It was the main parachute opening. (The ejection sequence is fully automatic. Pulling either face blind or seat pan handle separates the aircraft canopy with an explosive charge and, one second later, fires the explosive cartridges in the ejection seat, blasting it clear of the aircraft. A timing device controls opening of the drogue chute which, when deployed, opens the main chute and release of the restraint harness so that the seat can fall away. The complete sequence occupies only a few seconds.) Now, after all those bone-jarring gyrations, I found myself hanging in my parachute harness, floating gracefully earthward.
I looked around me and was amazed to see the aircraft also still descending. My distorted time reference suggested it should have plunged into the ground ages ago. I suffered momentary pangs of alarm as it appeared to turn towards me. It looked rather graceful, gently descending towards the rolling fields below. I felt sad when it made a near perfect landing, then bounced, and burst into bright orange flame. I could hear no noise; it was as if I were watching a silent movie. Fred was nowhere to be seen; perhaps he was somewhere behind me.
Suddenly, I became aware that I was not really floating at all. I was drifting rapidly towards some angry looking gum trees whose large, upward-pointing branches could do me a terrible mischief. I pulled down on my parachute risers, trying ineffectually to counter the drift. I scraped past the nearest tree scratching my back-side and landed heavily on the ground. I tried to do the approved sideways roll but the wind caught the chute rolling me onto my back and my head thudded onto the ground. My bonedome took most of the shock, but I lay there momentarily, stunned.
Again, my brain flashed messages, driving me upright, urging me to gather in the chute so it couldn't drag me away. I released the harness and took stock of my situation. I felt as though I'd just woken up from a weird dream, as one would by falling out of bed. I took a few ginger steps. Though I felt pretty sore, there was nothing broken. Through the trees, I could see a road. I would make for that with the hope of being spotted from the air, or meeting help. As I climbed through the fence, I was relieved and pleased to see Fred climbing through on the other side.
"I watched you come down", he said as though we were engaged in some sort of sporting event.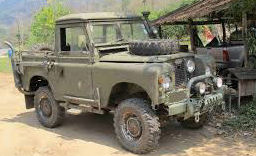 "While we exchanged commiserations, a Macchi whined overhead. It was the following navex aircraft. It waggled its wings; we'd been sighted. Just then, a Landrover bumped into view along the pot-holed road. It skidded to a halt beside us. A burly figure, face unshaven and dressed in dungarees and a battered hat reminiscent of Saltbush Bill, climbed out.
"G'day. Saw ya come down. How 'bout a cuppa tea with me an me mate?" he said, as though this sort of thing happened every day.
"And so it was that when the Base Rescue chopper arrived, the crew found us drinking tea at the camp fire of two itinerant farm workers, a hundred yards from where we'd landed. That night, as we sat up in our hospital beds, we saw the end of the drama on TV; two tattered figures climbing from a chopper into a waiting ambulance. Just before the ambulance door closed, to my wife's embarrassment, the camera homed in on my wounded right buttock, visible through my torn flying suit and underwear, courtesy of the gum tree.
If you'll forgive the pun, that was truly the end of the tale!
Postscript: It was later discovered that the warning lights were illuminated by a faulty relay. A Perth citizen wrote to the local newspaper demanding that the $300,000 which that paper had said the Macchi was worth should be deducted from our salaries until the amount was paid off."
Click the pics below for a bigger view.