The Old Mill Building in the background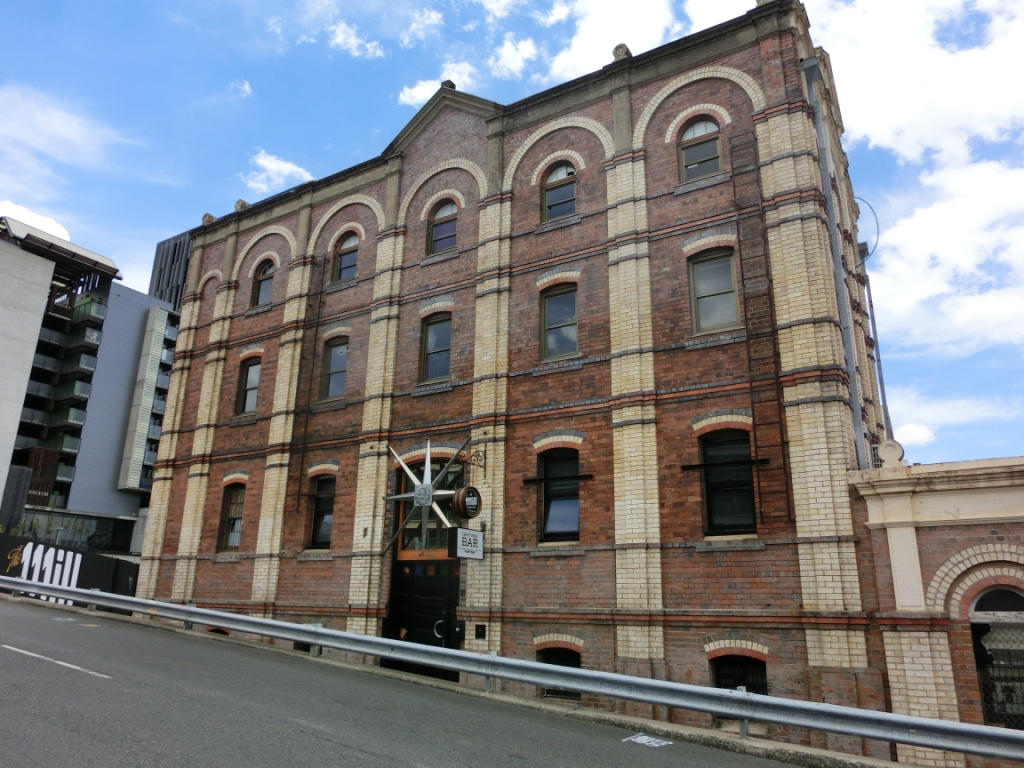 at 111 Constance Street was used by the US 5th Air Force Service Command during WW2.
But Helen wasn't to see these later developments, in 1943 she was posted to 6AD which had been established at Oakey, west of Toowoomba.
The original plan, approved on 25 May 1942, called for 6AD to be located at Chinchilla but in December 1942 the RAAF Development Program was reviewed and 6AD was approved for establishment at Oakey. The proposed personnel establishment for 6AD was as follows:-
RAAF: 70 Officers, 5 nurses, 218 Sergeants and above and 1,458 Corporals and below.
WAAAF: 5 Officers, 7 Sergeants and 236 Corporals and below.
Total Establishment 1,990 persons.
Work on the construction of 6AD was started by the Civil Construction Corps on 15 March 1943. The Aircraft Depot's primary function was to relieve, repair and carry out overhaul work then being done at No. 3 Aircraft Depot at Amberley and to act as a forward depot for aircraft operating from New Guinea and northern Australia. The Depot serviced, assembled and conducted test flights of Beaufort, Mustang Norsemen, Wirraway and Spitfire aircraft and also serviced large quantities of communications equipment and radio compass receivers.
Nine American type workshop hangars originally consigned from the USA to the Admiralty in SIngapore were obtained from the USASOS for 6AD at Oakey. The airfield site (RAAF Property No. 2520) was 934 acres which comprised a landing strip and 2 hard surfaced runways
15 Stores Unit was also formed at Oakey in 1945 as a lodger unit of 6 Aircraft Depot. The first and only Commanding Officer was Flight Lieutenant Douglas C. Dyson. After equipping it was intended to re-locate the Unit to Morotai Island as part of the new 11 Group, absorb 22 Air Stores Park and take over the main equipment functions for the area, however, before the Unit was properly supplied and manned the War finished.
All further operations were suspended on 1 September 1945 on direction from 5 Mntce Group HQ and all stock received to that time was returned to the issuing stores depot.
The RAAF maintained the Base at Oakey until it was handed over to Army Aviation in 1969.
In 1944 Helen met and married Sergeant Leslie Royal Rosbrook, who was also at 6AD in the Clerical game and shortly afterwards she had to leave the RAAF because of family health matters. After the war, Leslie and Helen moved back to Brisbane with Leslie starting to specialise in computers and computer programming. After some years consulting for SGIO, he went on to be the head of Golden Circle's IT department. He passed away about 4 years ago.
Today Helen lives in a northern Brisbane suburb, not far from the centre of town, and like all the other recipients of the RSL Christmas Hampers, was very appreciative and made a point of thanking Emily for thinking of the "oldies" and for willingly giving up some of her holiday time to help out.
She, like us, feel that we don't have too much to worry about, with people like Thomas, Ethan and Emily and many many others soon to take over, Australia is in good hands.