Det A.
One of the better detachments in the late 60's, early 70's was surely 38Sqn's Det A in Port Moresby. Prior to independence, PNG was a good training ground for 38Sqn and 3 Caribous were stationed at Moresby on a permanent basis. The Army thought likewise and based a detachment of their Light Aircraft (Cessna 170's) alongside the RAAF. Base of operations was 3 Kingstrand unlined aluminium huts, which in the hot tropical sun would have an internal temperature of about 10 million degrees by mid afternoon, every day. Apart from training pilots who got to fly the aircraft over very inhospitable terrain and in some very heavy weather, it was good training for the ground crews who were all "cross trained". Queer trades were all trained Radio/Elec/Inst. Engine/Airframe blokes were also cross trained.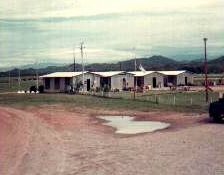 After preflighting the aircraft and seeing them off, a normal day was spent waiting around for their return. As all component servicing was done at Richmond, all U/S equipment was boxed and sent south for repair. It was logical therefore, instead of just sitting around or playing darts, ground crews normally went with the aeroplane for the day. It was a great way to see the country.
"Home" for 3 months—the Kingstrand hut furthest from camera was 16 Army Light Aircraft (16ALA) HQ.
PNG weather patterns are no different from any other tropical area and during the summer months (the wet), the weather would close in each afternoon. You could see the build-ups starting to develop around 2pm each day, and by 4pm you normally had a full blown thunderstorm. It was prudent to be on the ground when this occurred, so normally days started and finished early. The Mendi, Tari, Hagen triangle (5631 country) was not a good place to be flying late in the afternoon—was it Les?
Groundies were based at Murray Barracks, Boroko, 4 miles out of Moresby, while the Sirs were stationed at Turama. Food which was cooked and served up by the local PNG Army blokes was excellent. The only form of transport into such important places as the Ela Beach RSL (since burnt down) and the Aviat Club, apart from a PMV, was a Mark 3 army truck. Normally this would be swiped and driven into town and backed into the bushes (hidden) beside the ComBank girl's hostel.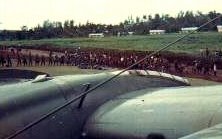 Unloading rice at Tari in the Western Province of PNG. One great long "Conga" line from aircraft to store got the job done in no time.
Nearly everyone who went to Det A bought back at least one 16in desk fan from the Chinese trade stores in Boroko. At the time these were either unobtainable or prohibitively expensive in Australia, so you bought one for yourself, and one for your mate back home.