Robert Chester-Master.
The Queensland Courier Mail reported back on the 5th August that Robert Chester-Master OAM (aged 92) had
passed away on the 18th July in Brisbane (see his story HERE). Robert was well known across the Air Force and Defence Community and was a proud member of the Caterpillar Club, he had to parachute out of a severely damaged aircraft in WW2 and successfully evaded being captured by the enemy hunting for him. A truly brave and heroic gentleman.
Born on the 30th November 1924, Robert attended schools in the inner city of Brisbane and completed his scholar-ship year. In 1939, aged 15, he trained in subjects required to join the RAAF where he ultimately became a rear gunner. Enlisting in 1942, he departed Melbourne in 1943 bound for Britain, where he was posted as a rear gunner with RAF Lancaster bomber Squadron No. 514 at Waterbeach in Cambridgeshire. On the 12th August,1944, while on his last mission in Europe, his plane was shot down over Belgium. He climbed from the rear gun turret, clipped on his parachute and opened an escape hatch door as the crippled bomber was at 700 feet. He bailed out and landed with a thud in a field. He buried his parachute and hid in a haystack. The Belgium Resistance helped him evade capture and at the end of the war in Europe, he joined an elite group known as the World War II Evaders.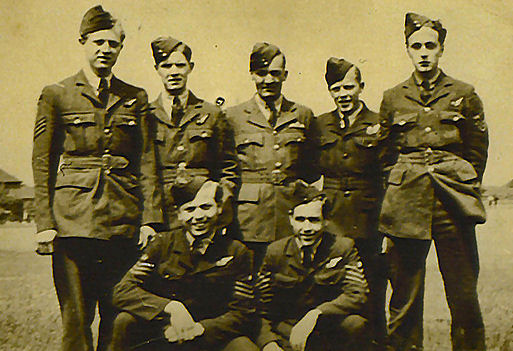 Standing L-R: SGT George Durland, FSGT Tom Young, FSGT John Lawrie, FSGT Reg Orth, and SGT Martin Carter.
Front row: FSGT Sam Burford and FSGT Robert Chester-Master.
He discharged from the RAAF on the 1st November, 1945 as a flying officer before joining the RAAF Reserve in 1950 and serving with 10 Squadron, Townsville and Base Squadron, Amberley until his discharge in 1957. A keen golfer, he was also an active member of the RSL for 70 years and a member of the RAAF Escaping Society. Among honours that were bestowed upon him were the 45 Star with Clasp "Bomber Command", France and Germany Star, The Defence Medal, The Australian Service Medal, The Australian Defence Medal, The Returned from Active Service Badge, Normandy Star and the French Legion of Honour.
After leaving the RAAF, he worked in the pharmaceutical industry before retiring in 1987 as state manager of Schering Pharmaceuticals. He was then involved with Expo 88, the Sydney Olympics and Brisbane Tourism Bureau. Chester-Master and his wife Margaret travelled later in life and he returned to Brussels 10 times to reconnect with the people of the Resistance. In 2005, he was awarded the Medal of the Order of Australia for service to the community.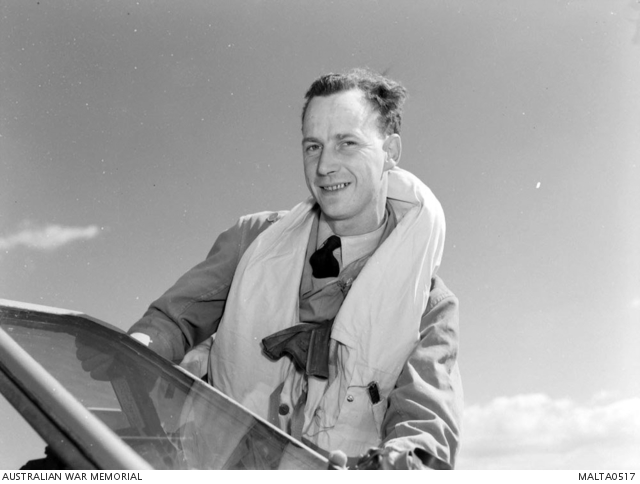 Frank Jordan.
Richard Orr advises: "It is my sad duty to advise you that Frank Jordan an RAAF Engineer (Radio) and Pilot passed away on Tuesday, 04 Oct 16. A funeral service was held at the W D Rose, Funeral Parlour, 339 Warrigal Road BURWOOD, VIC on Friday 07 Oct 16. FO Jordan was Signals Officer with 78 Fighter Wing RAAF, which was stationed in Malta for garrison duty where he flew Lancaster aircraft.
Bruce Russell Spencer-Gardner
Garry Jesser advises that Bruce Spencer-Gardner (BSG) passed away quietly at home with family and friends on Friday 21Oct16. A memorial service was held for Spence on Tuesday 08Nov16 at 11.00am at the Alice Springs Golf Club.

Geoff Bucknell.
"Dick" Tracy advises: "Geoff Bucknell, formally a FSgt Instrument Fitter and an ex-Bratt who was on 13th Intake 'Oysters,' passed away on the 7th of October, aged 73. Unfortunately, we have no further details".
Peter Waters
Mick Stade advises that Peter Waters of 20 Elec and who was with 2 Sqn at Amberley, died peacefully in his sleep on Tuesday 01 November. He also served with 35 Sqn in Vietnam from 04 June 1969 to 02 August 1969.
Peter's funeral was held at the Centenary Memorial Gardens, in Sumner, Qld. 4074 on Thursday 10th November.
Derek Clarke.
Neil Hunter advises the passing of Derek Clarke (3TTC 56/57) in August - no other details are available.
John Richards.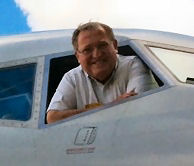 Neil Hunter advises: "It is my sad duty to inform you of the passing of John (JR, 'I still have my screwdriver') Richards, at the Canberra Hospital on the 11th November 2016. John's funeral was held on the 18th November at the Woden Cemetery in Canberra. He was 71 years old."
John Woods.
Neil Hunter also advises the passing of John Woods (5TTC 57/58) – sorry, no further information available.