Scootaville.
Due to the Corona virus, we had to defer the Scootaville event. Originally, we planned to hold it in June this year but Mr Covid had other ideas and made us put it off to March 2022, then with the vaccinations well underway and most restrictions lifted, we decided to bring it forward to September this year, (Click the logo at right for info) but that had to be delayed until 2022. We'll now leave on the 30th April 2022.and all being well, and the breeze behind, we'll be at RAAF Townsville on Friday the 13th May. We've decided that as getting approval from the RAAF to leave from Amberley is just too hard, and as the Ipswich City Council has offered us the Ipswich Corporate Centre, we're now going to leave from there.
There will be a breakfast for everyone at at the Corporate centre on the day we leave.
I've asked reps from Air Forces from NZ, the UK, US and Canada to join us as we plan to celebrate the 100th Anniversary of the RAAF along the way - be nice to have some overseas mates join us. If you haven't nominated, you'd better hurry, there is only a couple of slots available. You'll get all the info you'll need by clicking the icon above.
Soon we'll send all those involved a form to fill in, this will ask for your 'dimensions' so we can order your clothing and helmet etc. This will also be when you'll have to pay for your trip. The final figure, still waiting on final insurance costs, but looks like it will be $850 for riders and $500 for supporters. The transport cost is the cost of getting the scooters back to Brisbane after the event. Hanger ons will get off lightly, their cost will be $200 each. All these items are yours to keep.
This is what is involved in the costings: An X indicates who gets what!
| | | | | | | |
| --- | --- | --- | --- | --- | --- | --- |
| | Jacket | Helmet | Gloves | 2 Polo shirts | Cap | Hi vis vest |
| Rider | X | X | X | X | X | X |
| Supporter | | | | X | X | X |
| Hanger on | | | | X | X | |
| | | | | | | |
| | Carry Bag | Insurance | Event Admittance | Some Meals | Air bed | Sleeping bag |
| Rider | X | X | X | X | X | X |
| Supporter | X | X | X | X | X | X |
| Hanger on | | X | X | X | | |
| | | | | | | |
| | Ground sheet | 1 pillow | 2 pillow cases | Luggage tag | 2 rain ponchos | Scooter |
| Rider | X | X | X | X | X | X |
| Supporter | X | X | X | X | X | |
| Hanger on | | | | | | |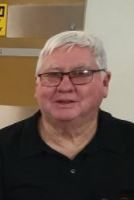 Both Kedron Wavell Services Club and the Kedron Wavell RSL Sub-branch have offered considerable support, the Sub-Branch is sending along one of their buses, a ute and their their 'Chuck-wagon' which will be used to provide your breakfast every day as well as some lunches and 'snacks' along the way. John Lunn (right), ex Air Force framie and member of the Sub-branch, has 'volunteered' to man the Chuck-wagon and will be our bait layer for the trip. John has been working on menus to ensure we don't get bored with a "Bunning's snag" at every meal - what he's done so far looks good.
Evening meals will be at an individual person's costs as these will be provided by some community clubs, (Lions, Rotary, Citizens etc and in some Service Clubs.) We must thank Woolworths and IGA stores up the track for their generous support in providing food for our breakfasts and refreshment stops.
We must also thank the many Councils along the way, all of which have opened their showgrounds for us and will allow us to overnight in their pavilions free of charge. The only requirement is we leave the buildings in the same condition in which we find them, in other words, do a panic before we leave. It's wonderful that Woolies, IGA and local councils are sympathetic to and will go out of their way to help a bunch of old Vets.
As we'll be calling into several primary schools along the way, Metcash (IGA etc) has offered us lots of "give-aways" which we can give to the kids, things like colouring in books and pencils, stickers, money boxes, water bottles and balloons - fabulous. We hope some of us can "dress up" a bit for this, make it a fun event for the kids. So - if you've got some funny hats or what-ever, bring them along.
We will be riding the great little SYM Crox 50cc 4-stroke scooters. Select Scooters from Melbourne are the importers and have graciously decided to be involved. We thank them.
I intend to drive the route again in July to finalise things, more on that later too.
We've also had talks with media firm "This Story". This Story (www.thisstory.com.au) specialises in capturing and preserving on video the significant moments of Australia's history as told by those who experienced it first-hand. They preserve the personal stories of veterans who served during the following conflicts:
World war 2 )1939-1945)

Korean War (1950-1953)

Malayan Emergency (1950-1960)

Borneo Confrontation (1963-1966)

Vietnam War (1965-1973)
"This Story" has offered to capture the Scootaville event by producing a one hour documentary of the event which, it is hoped, will be shown nationally on one of the TV channels. Talks are well under the way and it looks good for this. They have also advised they would like to interview one or more of our riders and preserve their story.
We must also thank Phillips Group, a PR firm based in Brisbane, which has offered to help with publicity and we'll get started on that shortly.