Iroquois A2-1022
On Friday the 16th March, starting at 1.30pm, Iroquois A2-1022 will be commemorated at the Caloundra RSL – and you are invited to attend. The time to begin forming up will be 1300 hrs as the march must commence at 1330 hrs. Wear medals. The map below may be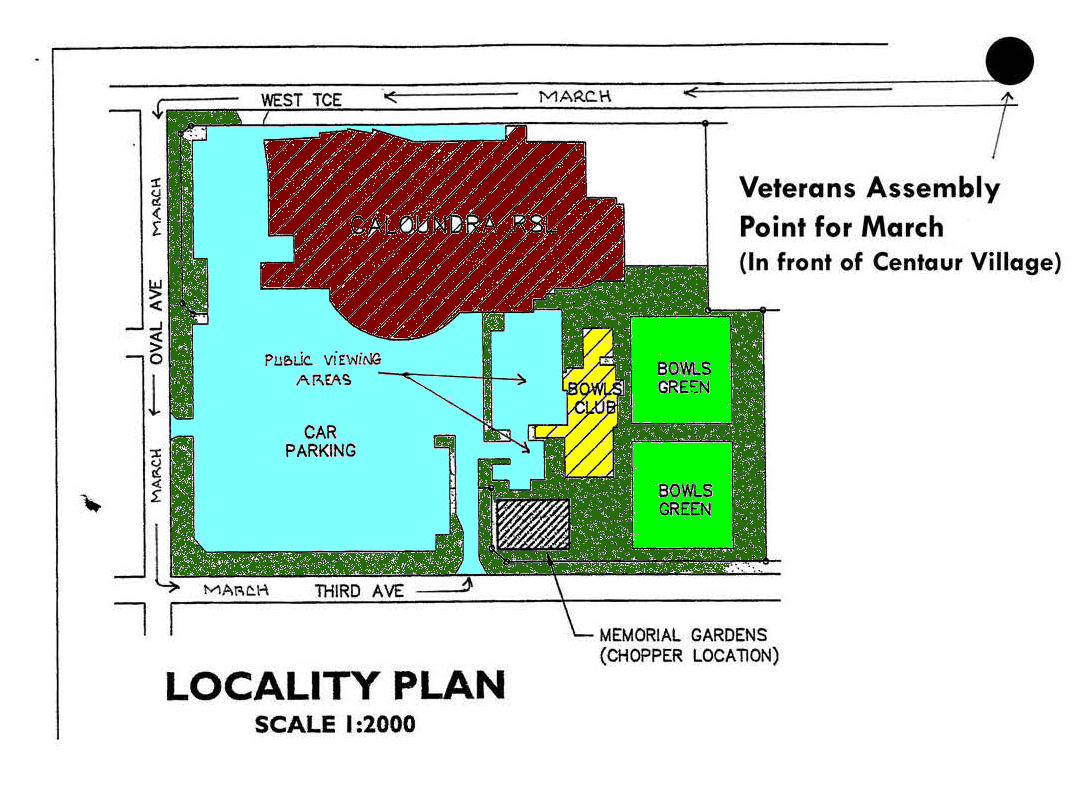 handy if you're unsure of the area (Click it for a bigger view).
A dedicated project team, from the Caloundra RSL Sub Branch, was involved in finding an aircraft that had seen Operational Service in South Vietnam (SVN). (See our story last issue HERE.) They sourced Aircraft A2-1022 at Nyngan which was owned by the Bogan Shire Council.
The Bogan Shire Council agreed to release this Air Frame for a suitable replacement. A huge task has been achieved by the project team, through commitment, dedication, resourcefulness and craftsmanship. They have restored a non-military Huey to an acceptable museum standard copy 'circa 1966' as if it had seen service.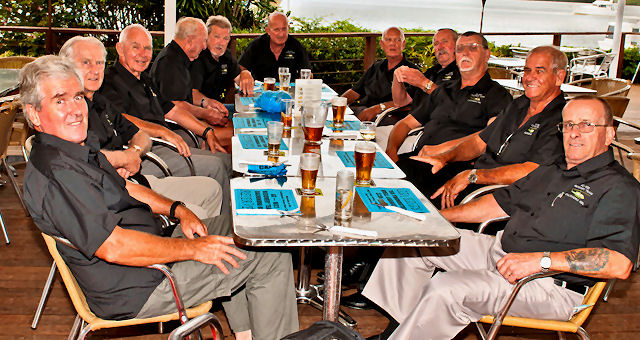 A2-1022 is now in Caloundra and has been restored to display standard at 'circa 1966'. It will be housed and displayed as part of the planned Caloundra RSL Sub Branch Military Display. If you are going to attend would you please email Steve Hartigan HERE with details and he will forward them to the organisers. This will help streamline their work load. It would of course be good to see a great roll up on this special occasion and to be able to support the team who have managed to complete a huge task so successfully.
You can see details HERE.
Frognall get together.
This is an early (heads-up) planning notice for all ex-Froggers, including Detachment dudes who have the same/similar status as '54 Mont Albert Road mainstream Froggers', even though some of them think not.
If you were an engineer cadet at some stage in your life and did not enlist for Academy, ie: Direct Entry, Undergrad or ADFA, then by default, you should be an ex-Frogger. That said, the ADF aerospace engineering fraternity is well connected and collegiate, so if an ex-Frogger has the courage to sponsor and chaperone an other-than-ex-Frogger ADF or ex-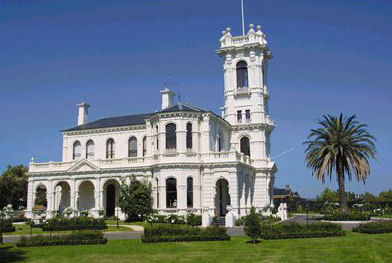 ADF aerospace engineer (including ground mech and crystal crackers), you are allowed 1 each, but will be held responsible for their behaviour at Wagga during their stay. Their behaviour has to be in-line with Frognall values and traditions, and any guest not measuring up will be banned from future attendance...... and labelled a pussy-cat.
Heads up all ex-DCS and ECS Froggers. The last-best (or best-last) Frognall reunion is planned for May 2012 at RAAF Wagga. Similar in style and tone etc to the last one held in Sep 2005. After seven years, the itch is back and over the last 3 years I have been approached by a growing number of ex-Froggers to organise another one. Well, all-right, you asked for it.
Each course is asked to nominate a course rep/spokes dude and indicate below which weekend suits most or all of your course member mates who intend to participate. These two weekends have been selected to deconflict with all reasonably foreseeable family unfriendly weekends such as Easter - so the Catholics can top-up after Lent, school holidays across all states, Mothers' Day, public holidays and obvious opportunities for long weekends, etc. The last one backed onto Father's Day, and some gripes were fielded over having to get back for AM hours Fathers' Day activities. I thought a Frognall reunion for Dad was a pretty good Fathers' Day pressy.
Otherwise folk were happy. So this one is intended to be even better timed than, and as-well executed as, the last one.
We have $389.58 left in the Defcredit Wagga Frognall Reunion account, tiding over from the last reunion in 05. I ask that each course rep indicate a preference below (on behalf of the course) for how that kitty is used.
Intended general format:
Travel Friday
Friday: Early-bird drinks and snacks in Officers' Mess 1800-2300 Fri evening
Saturday AM: Activity Sat AM (options may include: golf, tour RAAFSTT, sight visit RAAF acft if present and crew available to open and tour, Temora Aviation Museum deployment, RAAF Wagga Heritage Centre site visit)
The main event: Reunion Sat 1830-on in Airmen's Mess, noting we cannot start earlier to allow recruits and trainees time to eat their evening meal and clear decks (a little earlier than normal, not too early)
Refreshments: Eskies surrounding the room with ice, beer, wine and softies. Frognall 'themed' wines for tables
General: Sit in Course clusters on tables: prize for course with biggest roll-up, another for worst looking pineapple jacket and combo dress: which should be neat collared shirt, trousers, shoes, with jacket optional to suit temperature, which should be a warm-mild autumn. Frognall pineapple-jackets always appropriate, if they still fit somehow.
Food: Buffet meal, ala Frognall Cadets' Mess routine, but much nicer. Course reps to advise any special dietary requirements for religious or health reasons - with name and restriction please
Accommodation: Make own arrangements. A subsequent email in early 2012 will advise recommended establishments, prices and contact details. Currently serving ADF folk may be able to stay in limited on-base accommodation - at cost (DS standing rate for off-duty OPSA Mess Accommodation) - pending determination of RAAF Wagga Officer course numbers at the time, who will have priority of access.)
Memorabilia: "2012 Frognall Reunion : the best-last-best Wagga reunion" hat, shirt and stubby-cooler: under price and availability research - TBA
Memorabilia: Bring any special memorabilia you care to display on a table for mates to ponder and ridicule.
Special guest: Almost 80+ year old WOFF Ret'd Ted Heskett, (retired WOD), local resident of Wagga Wagga. Courses 21 thru 25 should remember Ted, I guarantee you he has not forgotten any of us.
Sunday: Recover, Chapel service for Engineering community, and p-off without stealing anything from the Base, Mess, or each other (apart from a good time together).
Cost: Apart from memorabilia, I aim to keep the cost under $51 for the meal and drinks (apart from spirits)
Further details can be obtained from Grp Cpt Christopher Crowley by emailing HERE