Have passport – will travel.
It was time for our annual trip so, after a quick tub, a shot under the arms with spray fresh, clean set of derps, tasty lunch and a bunch of cold Veebees we four decided to have a look at China.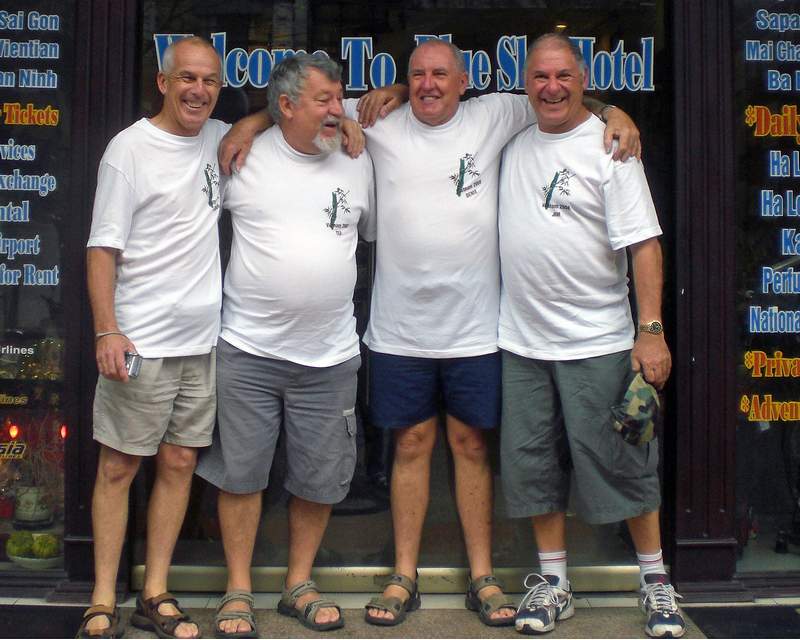 L-R:- Robbie Rhoades, Ted McEvoy, Denis Macneall, Jim Muscat.
After checking the entry requirements (visa), we downloaded the application documents from the web then after completing the details we presented ourselves at the Chinese Consulate in East Perth to submit our applications and pay the visa fee.
However, as Malcolm once said, life she ain't meant to be easy and we were informed that we would have to show an itinerary and a return air ticket before we could be granted a visa. Bugga!!!!!!
In our previous trips, we like to "wing it" so that we are not limited by a schedule, go where we like and when we like and stay as long as we like.
Change of plans.
We decided to fly into Vietnam and try our luck at the Chinese Embassy in Saigon.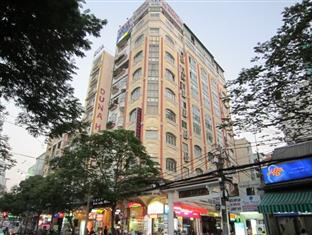 We arrived into Saigon on 3rd April and headed for our usual hotel – the Giant Dragon - situated on Pham Ngu Lao Street in District 1 where we planned to spend a few days to sort out our visa into China.
Again, no luck!! Without an itinerary and a return ticket we were snookered so we decided to adopt Plan B - "Where to go next?"
We considered visiting Burma as it is now opening up to tourism but an entry visa can take up to 2 weeks – sigh!!! We've been to Laos, Cambodia, Vietnam, Thailand, Malaysia, Singapore and the very exciting Bandar Seri Begawan in Brunei. We thought about Hong Kong and Taiwan before deciding on the Philippines as a tourist from Australia can stay up 30 days without a visa. Plan B it is.
One evening while enjoying a few cold 333/Tiger/Heineken/Saigon Red beers, we met an Aussie bloke, Rick Smith and his lovely wife, Gail. Rick is an ex-RAAF Hercules pilot who is now based in Singapore as a senior Captain with Tiger Airlines. They both regularly visit Vietnam and the Philippines during Rick's free-time. We made arrangements to catch up with them.
After departing Vietnam for the Philippines, Jim and I had a spanner thrown in our works. We were in Singapore and in the process of checking-in at the airport only to be informed that we could not board the aircraft for the Philippines as we did not have an airline ticket to depart the country – WTF...!!!!!!!!
When researching the entry requirements into the Philippines, I do not recall reading about a return ticket. Bugga again.
The check-in staff at the airport very kindly allowed us entry into the office area and to use their computers so that we could book a return flight from Manila to Perth with Malaysian airlines, whew!!
Luckily we had arrived in sufficient time at the airport for us to put out this latest bushfire.
We stayed in Manila for a few days but soon became tired of another big, crowded, polluted city. The population of the Philippines is forecast to reach between 97.6 and 103.7 million people (depending on which article you read) with approx 11.5 million people in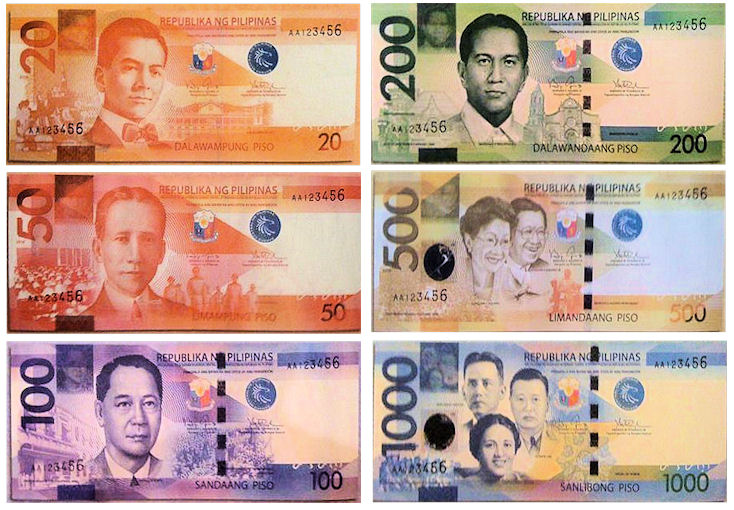 metropolitan Manila. Accordingly the Philippines is the 12th largest country in the world today, sandwiched between Mexico and Vietnam.
The currency in the Philippines is the peso and, while we were in the country, the exchange rate was approx 44 peso to the Aussie dollar.
We had arranged to catch up with Rick and Gail Smith in Angeles City which is approx 80Kms north-west of Manila. Angeles City grew around the huge Clark Airfield which was used by the US military for a number of years. The other big US military complex was situated at Subic Bay (approx 35Kms south-west from Angeles City) and was an important base for the US naval forces.
One legacy of the long US involvement with the Philippines is the wide-spread use of English. For example, all the street signs, menus, etc are written in English. With approx 7,000 islands and 170 dialects, English has recently become the lingua franca (or working language, bridge language, vehicular language) following Spanish which was the original official language of the country for more than three centuries. The official national language of the Philippines is Tagalog.
We met up with Rick and Gail Smith on one of the days and hired some motorbikes and made our way out to the Angeles Flying Club where a bunch of nutters fly ultra-light aircraft. All four of us were fortunate enough to enjoy a 30 minute flight – it was sensational!!!! (THIS will give you an idea of what it's like.)
After a splendid lunch and a swim in the pool at the Club, we proceeded to a factory, called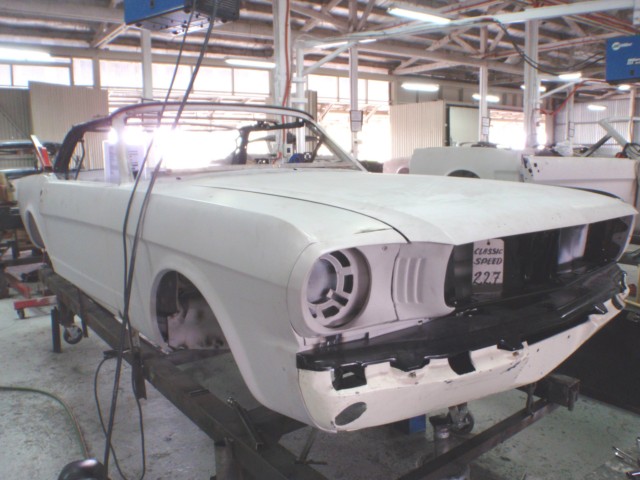 "Classic Speed" which is owned and operated by some ex-pat Aussies. They import wrecked Mustangs (that's cars, not P-51's) from the US and completely rebuild them – the finished product is nothing short of sensational. If you have a hankering to own one of these (RHD too) classic beauties and have a lazy $50-80K tucked away in the freezer, see HERE.
Tell them Ted sent you!!
We also visited a small, family owned business in Angeles City who meticulously hand-make wooden aircraft models at very reasonable prices. The level of accuracy is amazing.
After a few days in Angeles City, we caught the bus for a trip further north to the very hilly city of Baguio which is located 170 Kms north of Manila and is perched at 1,500 meters (or 5,000ft in the old money). It was refreshing to experience some cooler weather although the steep roads and footpaths kept the heart-rate above normal.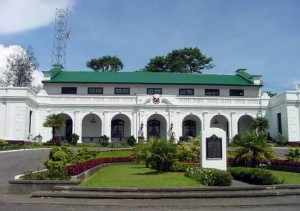 Because of its altitude, Baguio City was designated as the Summer Capital of the Philippines. To escape the fierce heat and humidity leading up to the Monnie season, the President toughs it out at the Presidential Summer Palace, somebody has to do it.
The final part of our Philippine's trip saw us catching another bus for 200Kms to the far northern area of the main island of Luzon to visit Vigan City.
Vigan City is a UNESCO World Heritage Site which is one of the few Hispanic towns left in the Philippines and is well known for its cobblestone streets and a unique architecture that fuses Philippine and Oriental building designs and construction, with colonial European architecture.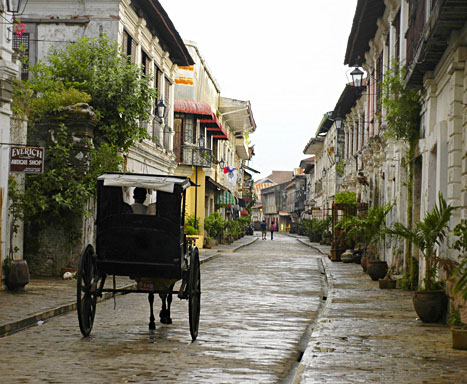 Established in the 16th century, Vigan is the best-preserved example of a planned Spanish colonial town in Asia. Its architecture reflects the coming together of cultural elements from elsewhere in the Philippines, from China and from Europe, resulting in a culture and townscape that have no parallel anywhere in East and South-East Asia. If you go to the Philippines, Vigan should be on your "Must See" list.
One of the most popular ways of seeing the city is by taking a Kalesa ride. The kalesa or calesa (sometimes called a karitela) is a horse drawn carriage and was introduced to the Philippines in the 18th Century by the Spanish. It became one of
the modes of transportation in the Philippines, especially for commerce and nobles or officials that could afford it. I felt a certain sympathy for the poor old pony which had to drag Jim and I around the city.
After a few days of exploring this fascinating town, we caught yet another bus further north to Laoag City – another 75Km north. Vigan does not have an airport so we were forced to travel to Laoag which was the closest airport. We are now approx 500Km north of Manila.
Our aircraft was late arriving into Laoag which meant we arrived back into Manila at approx 9pm to be greeted by a humungous traffic-jam. Luckily for us, the driver of the transfer vehicle had been watching "Top Gear" and was on top of his game in regards dodging in and out of traffic whilst avoiding colliding with other vehicles. We were all too tired to care.
We spent the last night at an "Aussie" hotel in Manila before catching our return flight back to Perth.
I enjoyed my time in the Philippines but if I do return for another visit, I'd make sure I'd keep clear of Manila and go see some of the other 6,999 islands.
If you decide to visit, I can inform/advise you of some very important abbreviations which are understood in most establishments:-
SMB = San Miguel Beer
SML = San Miguel Light
SMP = San Miguel Pilsener