11th Light Horse Military Museum
Russ Walker got in touch, he said, "I was wondering whether you might include some info on our new venture in the Caboolture district of Queensland in the Radschool Magazine. I am a member of the 11th Light Horse Military Museum Association (Caboolture Troop) which is located at the Caboolture Historical Village. The Light Horse Troop has a display in the Village and artefacts which cover from the Boer War to Vietnam. The Village is visited by thousands of people each year, mainly school children
You may be aware that recently the RAAF offered retired F111 aircraft and escape capsules to museums that could suitably display them, but under quite stringent conditions. I went along to the RAAF presentation with a team from the Village however the terms and conditions were far more than the Village and the Troop could meet or afford.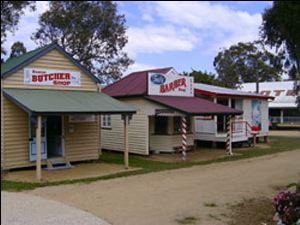 However, being innovative types we developed a plan to build our own Air Museum at the Village and to build a full scale model of the F111 in front of the wing. This is planned using techniques usually applied in model aircraft. The completed "airframe" will be covered with a layer of fibre glass and then painted in RAAF colours. The airframe will be fitted with two GWS model aircraft simulators and TV screens so that it will be just like flying a real plane. (similar to flying a radio controlled model)
In addition to the F111 model there will be at least three information kiosks with DVD presentations on various air related activities. There will also be two further kiosks fitted with Microsoft Flight Simulator software.
We currently have six large glass fronted display cupboards in which we hope to display a range of interesting materials from the RAAF or any other air related activities. This is the area where we are seeking donations or loans of material from ex- serving members. As Desley and I have been downsizing we have realised that we have a 50 year collection of "good junk" too good to throw out to the tip but is certainly interesting enough to be put in the museum. Accordingly, the Air Museum has become my best friend for lots of stuff that I simply did not wish to part with. Hopefully this will be the case for many who read the magazine.
We will be opening the Air Museum in stages. The new building at the Village will be finalised by the end of April 2013 and we hope to have the electrics and air conditioning finalised by the end of May. The F111 model is being prepared as a big model kit in my shed and will be taken to the Village and assembled there.
The information kiosks and reading material will be available by June 2013 so we will have a basic display operating by June. This includes donations that have been offered by local ex servicemen and women. Uniforms badges, insignias etc.
We believe that his is a most important museum for commemorating the sterling service made by the F111 and the men and women who flew, supported and maintained them We are also looking for people who might be interested in assisting in the project. There are many different aspects from ticket writing to preparing narratives for display items, to construction work. We have a number of electronics people but more are always welcome. We also need people to be present at the museum to explain the display to visitors on an ongoing basis.
I would be most grateful if you could let people know about the project via the magazine. I am the Project Coordinator on behalf of the Caboolture Historical Village and the 11th Light Horse Museum.
Anyone wishing to assist or provide donations can contact me on this email address: russell.walker39@gmail.com