Privacy Policy | Editorial Policy | Profit Policy | Join the Association | List of Members | Contact us | Index | Links
Back Go to page: 1 2 3 4 5 6 7 8 9 10 11 12 13 14 15 16 17 18 19 20 Forward
Contents
Stan Grant - 50 Shades of Grant
This page contains several HD photos and could take a few seconds to load.
ANZAC Day.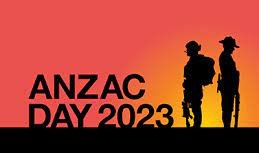 ANZAC Day is a national day of remembrance in Australia and New Zealand that broadly commemorates all Australians and New Zealanders "who served and died in all wars, conflicts and peacekeeping operations" and "the contribution and suffering of all those who have served"
Every year on the 25th of April, hundreds of thousands of Australians and New Zealanders around the world gather at dawn on ANZAC Day which is a time for the community to come together to remember and recognise the service and sacrifice of members of the Australian Defence Force. Originally a commemoration of the landing of Australian and New Zealand forces at Gallipoli in modern-day Turkey in 1915, ANZAC Day is a public expression of gratitude and reflection which resonates to the present day.
History of ANZAC Day
ANZAC is an acronym and stands for Australian New Zealand Army Corps, the name given to the body of troops raised by the two countries to aid the British Empire in the Great War. Throughout the war Australian and New Zealand troops, or 'Diggers' and 'Kiwis', would live, fight and die alongside each other creating a bond between the two nations that still exists today. ANZAC Day is inextricably linked with the landings at Gallipoli in the Dardanelles Strait on the 25th April 1915. On this day ANZAC troops were committed to their first major action of the war and though the campaign would ultimately prove a bloody failure and leave more than 8,000 Australians and 2,700 New Zealanders dead, it marked the beginning of the ANZAC legend.
This legend was poignantly put into words by Sir William Deane, Governor-General of Australia on ANZAC Day 1999: "ANZAC is not merely about loss. It is about courage and endurance and duty and love of country and mateship and good humour and the survival of a sense of self-worth and decency in the face of dreadful odds".
In 1915, the 13th October was the first day to be referred to as ANZAC Day. This observance was to take the place of the Eight-Hour Day holiday and occurred in Adelaide. The first 'ANZAC Day' was more of a patriotic holiday that aimed to raise awareness of the soldiers' efforts and to raise funds, rather than the serious commemoration it became. A year later, the first anniversary of the event was observed by England, Australia, and New Zealand, as well as the troops in Egypt. In the same year, April 25 was officially declared as 'ANZAC Day' by George Pearce, the acting Australian Prime Minister. By the mid-1920s, ANZAC Day had become a national public holiday.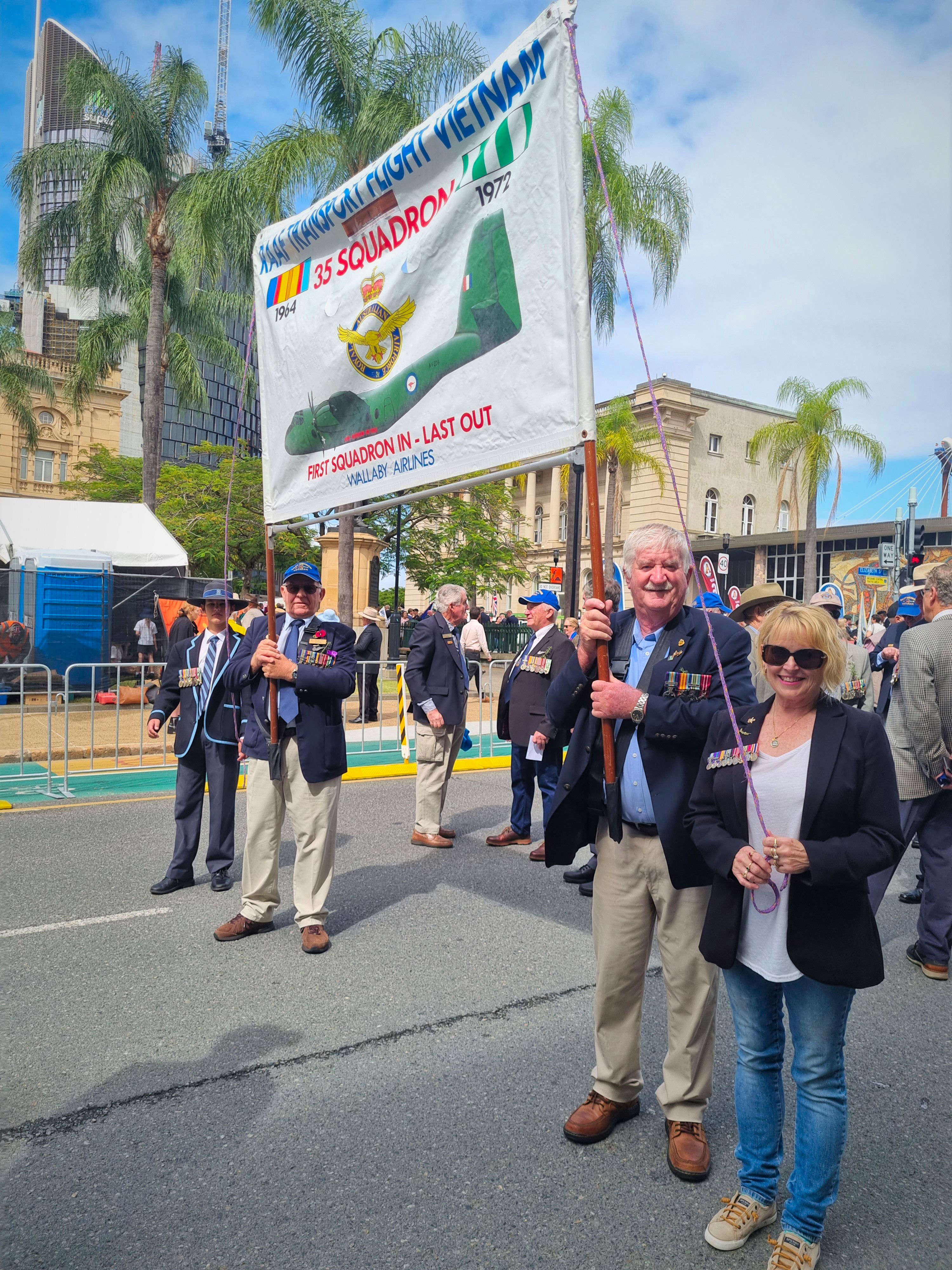 RTFV-35Sqn (Wallaby Airlines) forming up ready for the march. With the banner, L-R: Bill DeBoer, Trev Benneworth, Narelle Grigoriou.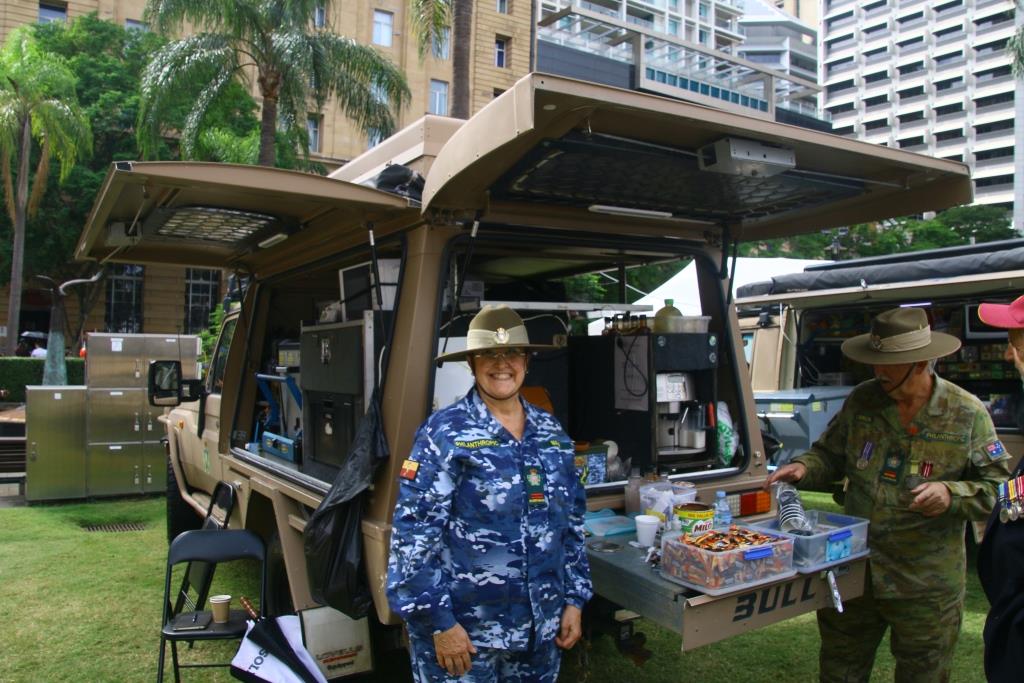 Mercy Maher, who is with Everymans, got up early and set up a very welcome van on the lawn at QV Square and provided free coffee to one and all.
ANZAC Day 2023 in Brisbane was a lot drier than 2022 when about 10 metres of rain dampened the parade, but it did rain. Most, including RTFV-35 Sqn (Wallaby Airlines) got through before the heavens opened, but not everyone made it. No sooner had Wallaby Airlines left the road when Huey dumped a savage 2 minute storm on the faithful. The Navy's marching band was within sight of the finish line when they copped it. Down it came and all those very expensive instruments got a thorough soaking, as did the blokes in their immaculate whites playing them, but professional to the end, they continued to march and make music until fall out.
After the march, Wallaby Airlines past and Wallaby Airlines present (35Sqn Amberley) and 9Sqn prople headed for Fridays on the River for a few ales and a good old get together – but they were in for a bit of a shock. Although having made arrangements with the Restaurant months in advance, when they arrived at around midday they were told there was to be no alcohol served until 1.00pm. "We don't have the required licence" they said and not only that, the interior of the restaurant had been gutted for improvements and was off limits which meant everyone was restricted to the outside area – which Hewey had only recently given a good bath. Most left for the Pig and Whistle down-stairs which did have the required licence. Then when 1.00pm finally did arrive, due to the lack of staff, it was a case of line up and wait with some getting their first drink at 1.25pm and although each paying $30 on entry, which was supposed to entitle them to snack food, when it did arrive it was miserly and second rate.
It was not a good performance – we were certainly spoiled at the Jade Buddha.
Some of the 35Sqn and 9Sqn people.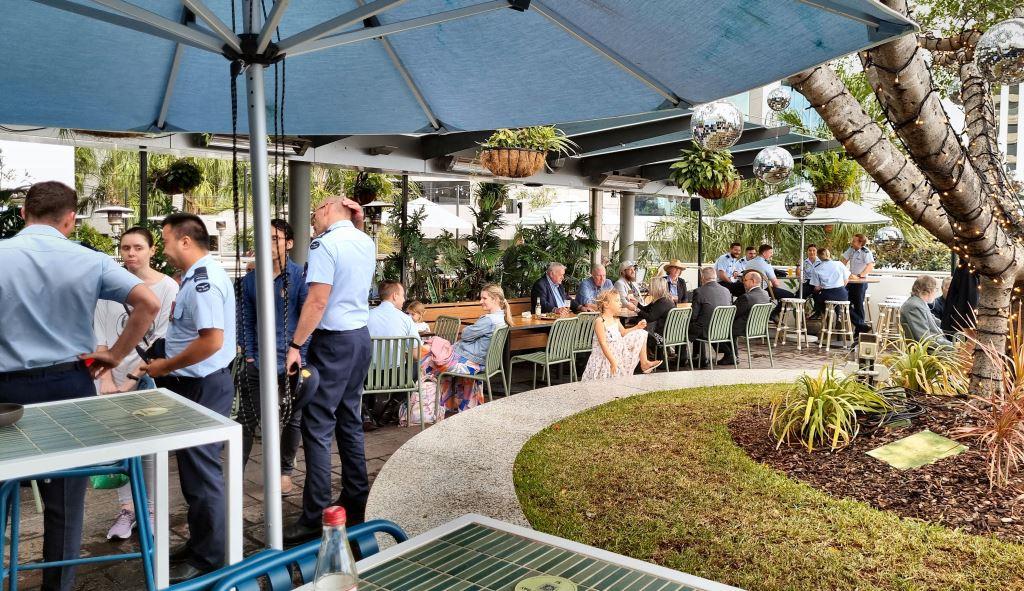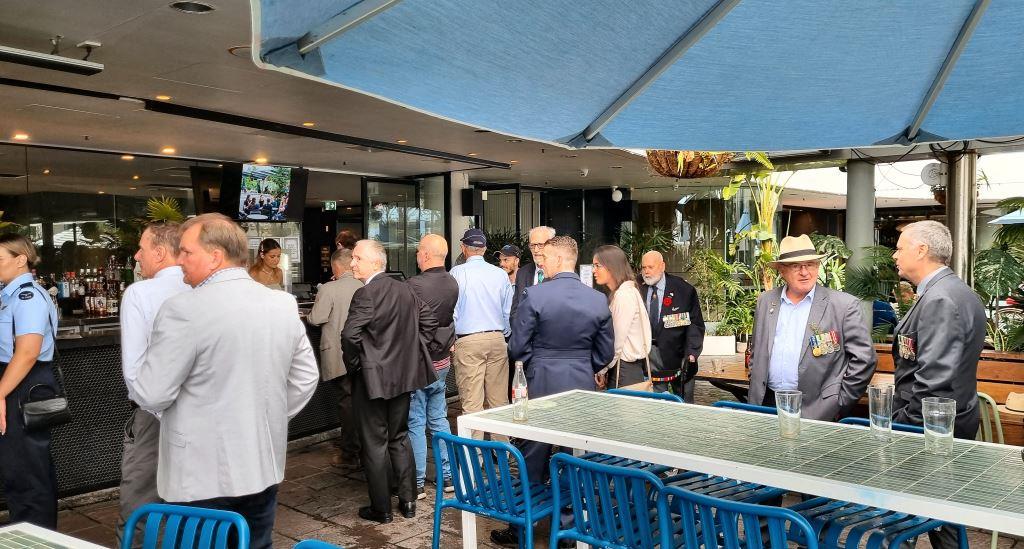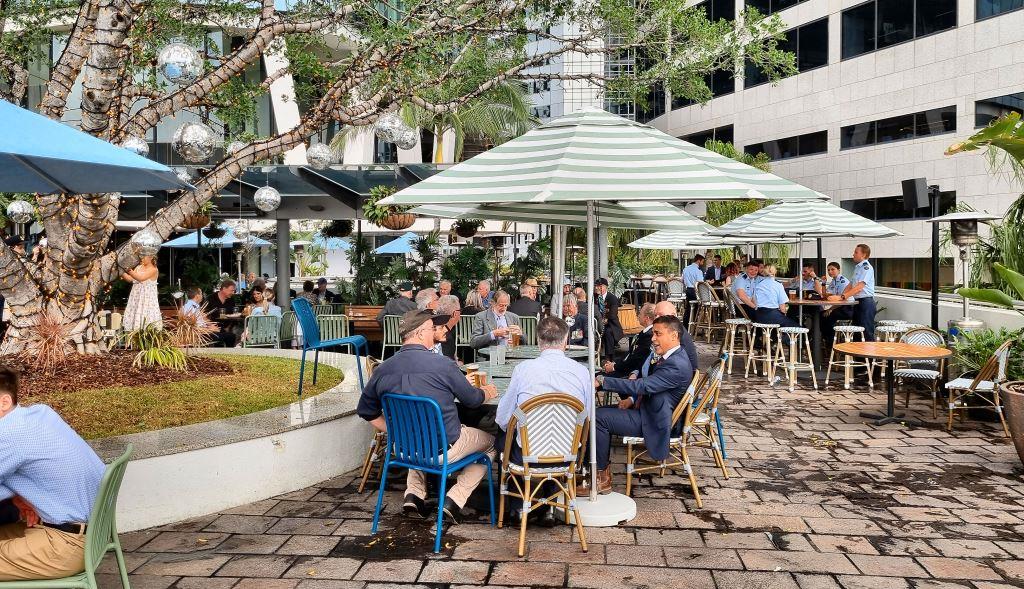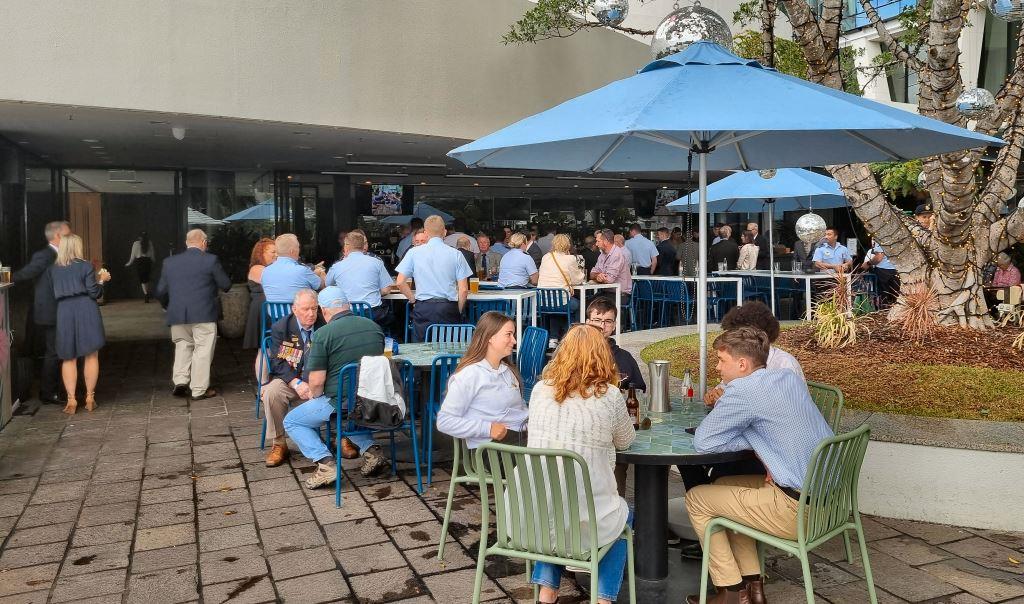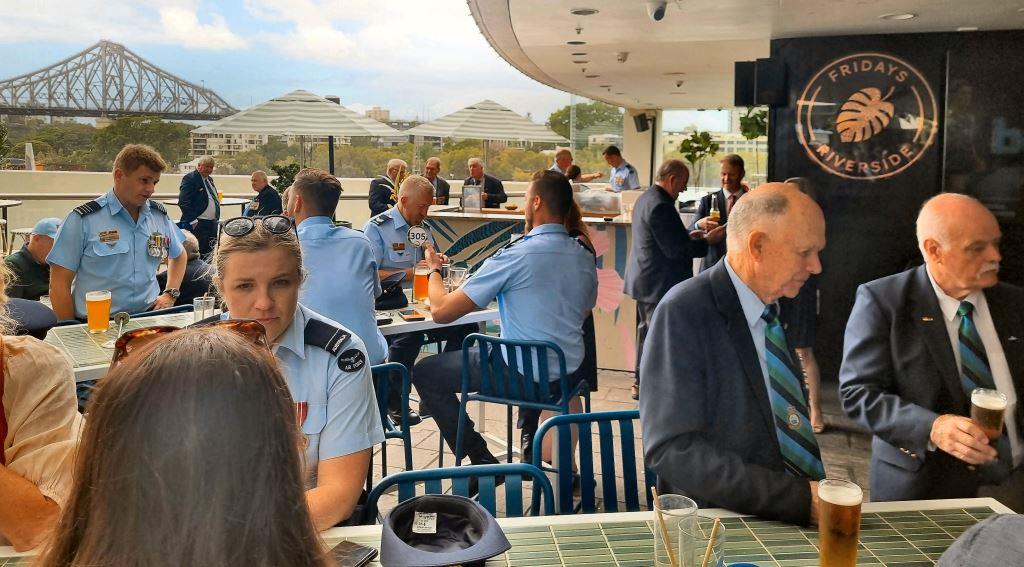 2 Sqn Association.
In contrast to the Friday's fiasco, 2 Sqn personnel held their get together at Bistro Jacque which is above Central Station. 2Sqn were given a secluded area in the restaurant, food was excellent and drinks were easily available from the large bar.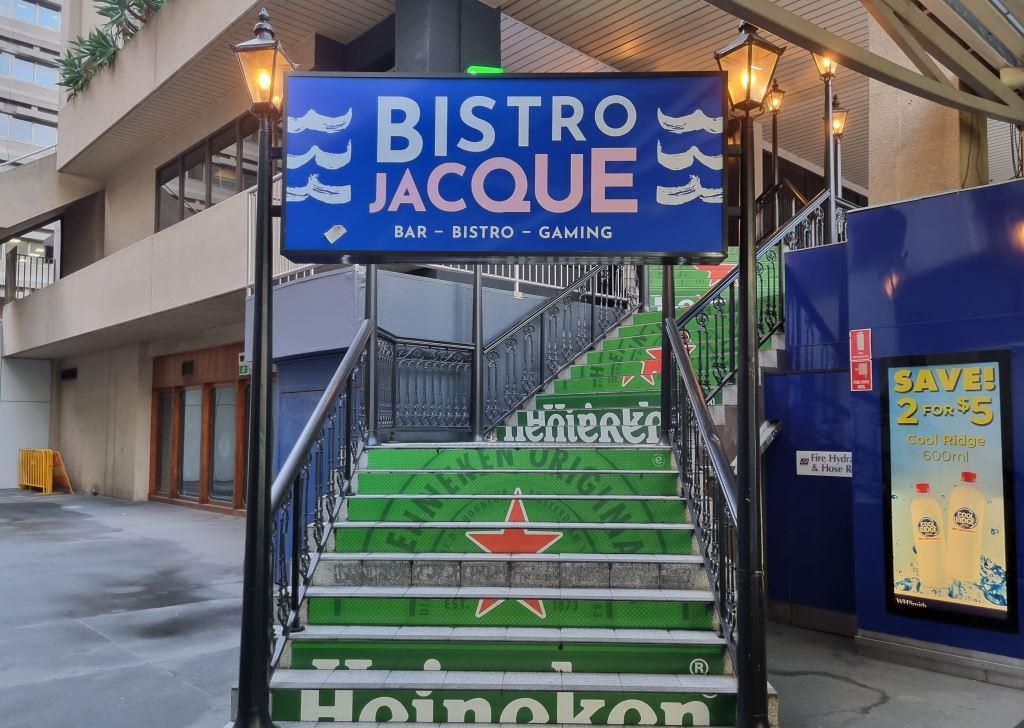 Some of the people at the 2Sqn get together.
Lyn and Mike Rogers.
WngCdr Warren Haynes, the CO of 2 Sqn in Williamtown, presented the 2Sqn Association with a wonderful plaque, click the pic for a better view.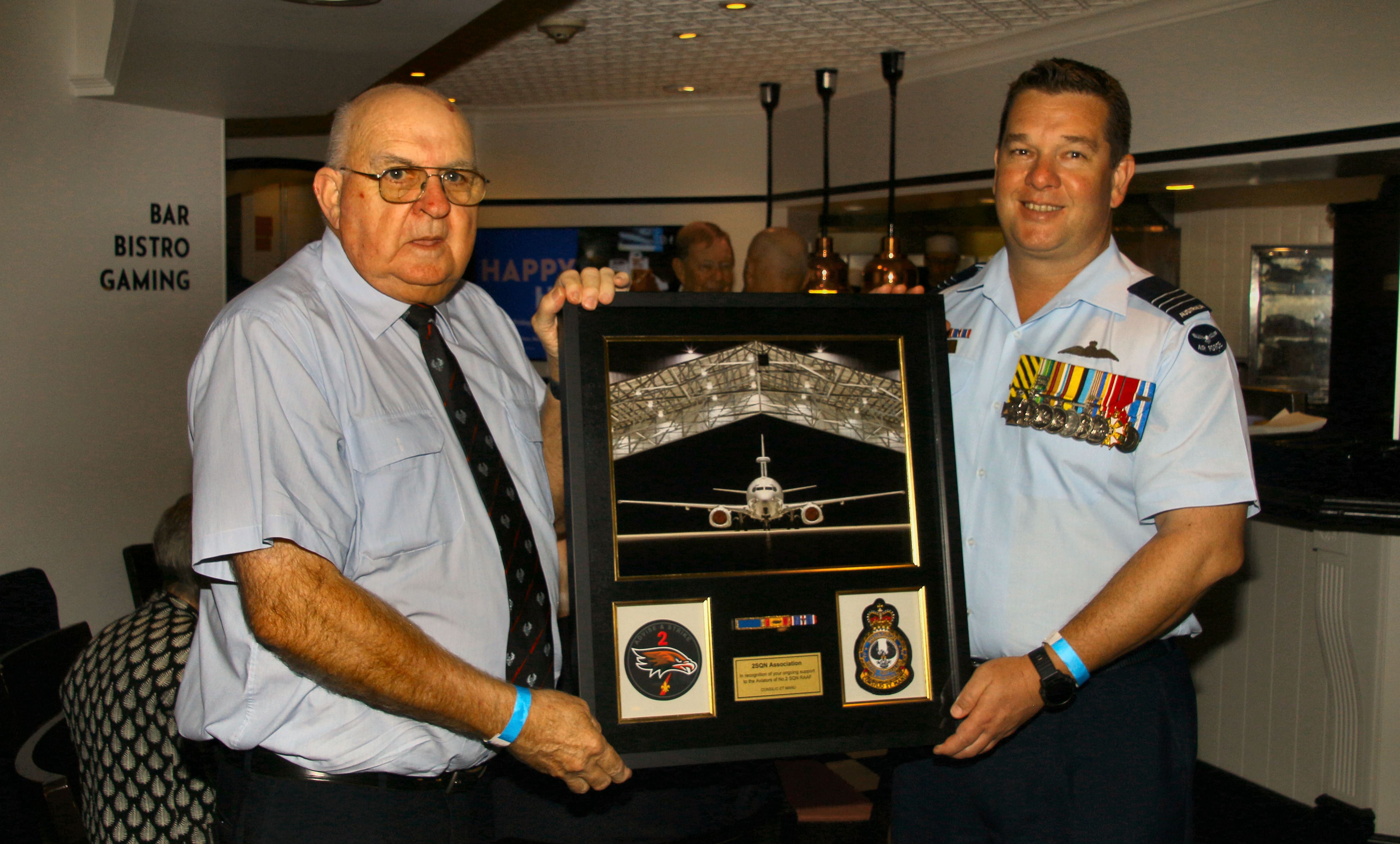 L-R: Lloyd Brown – President 2 Sqn Association, Warren Haynes, CO 2 Sqn Williamtown.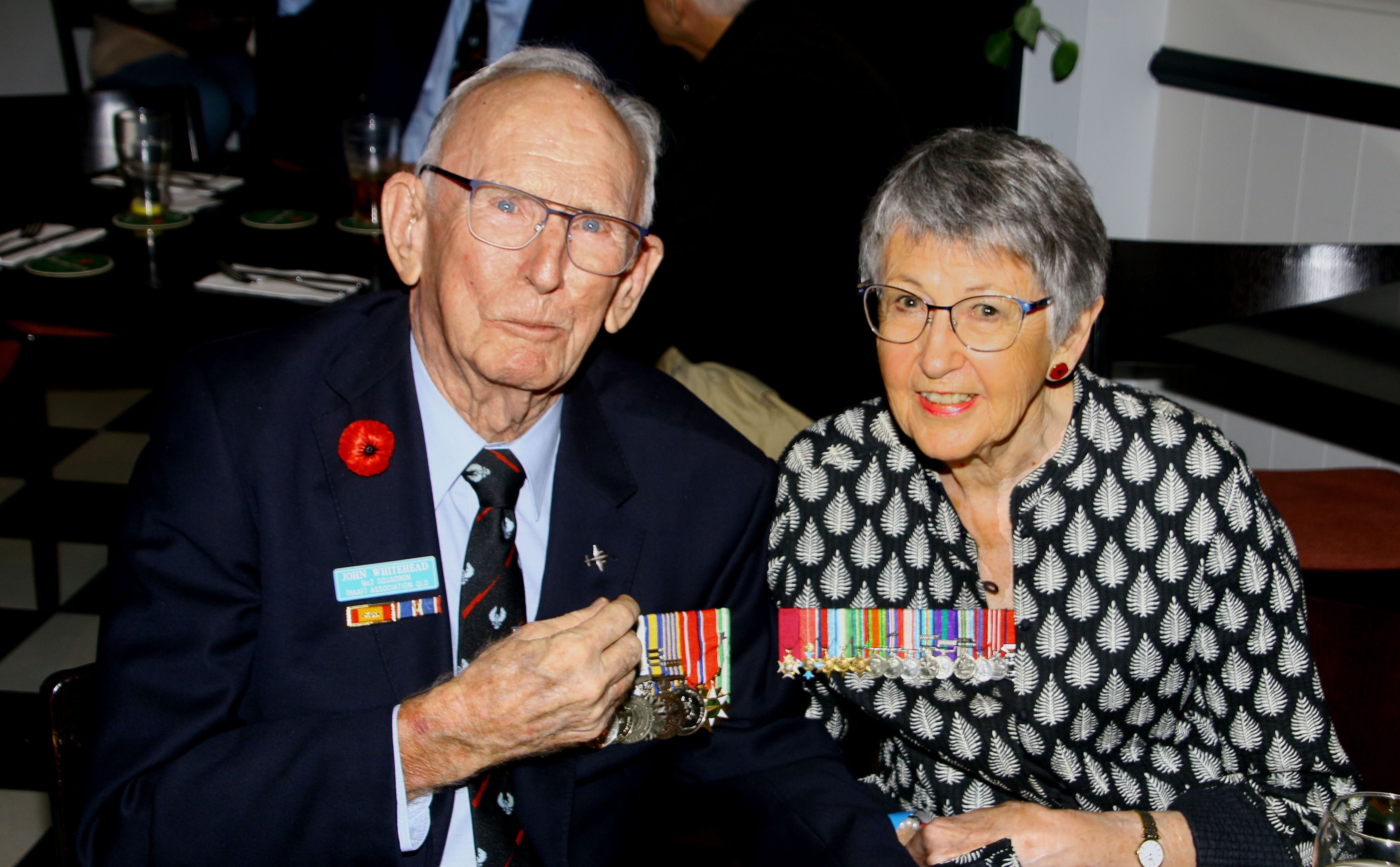 AirCdr John (DSO) and Adrienne Whitehead. John, as spritely as ever and just a couple of months off 90, was the CO of 2 Sqn in Phan Rang from Nov 1968 to Nov 1969.
Darren Lindsay, Arthur Rennick, Peter Tucker.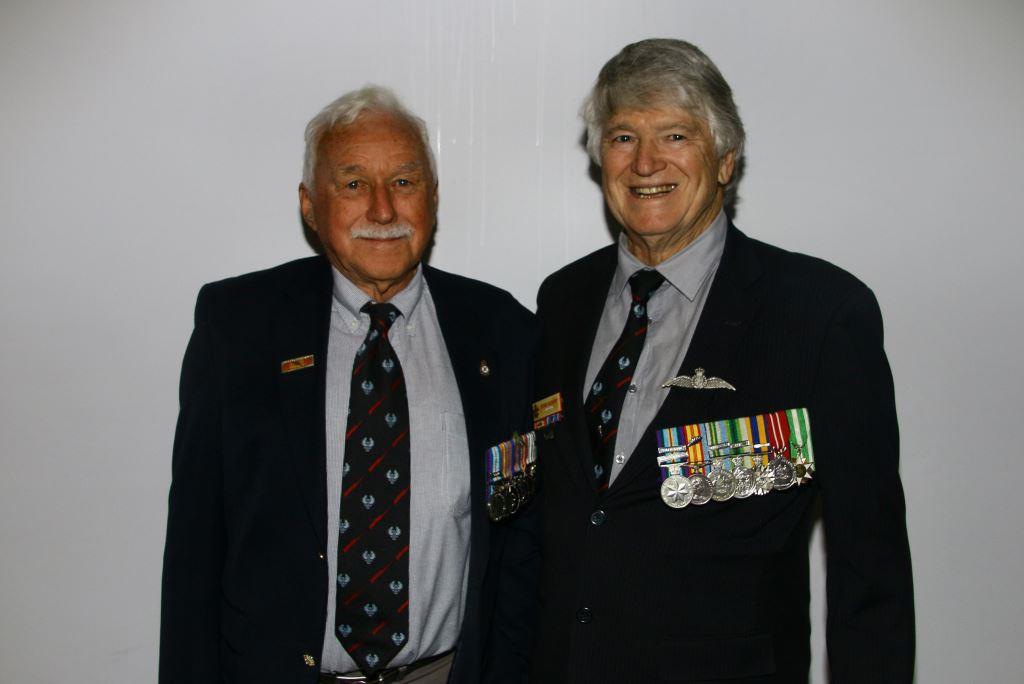 Dave Smith, Peter Murphy. These 2 blokes flew the Canberra that dropped 2 Sqn's last bomb in Vietnam – see our earlier story HERE.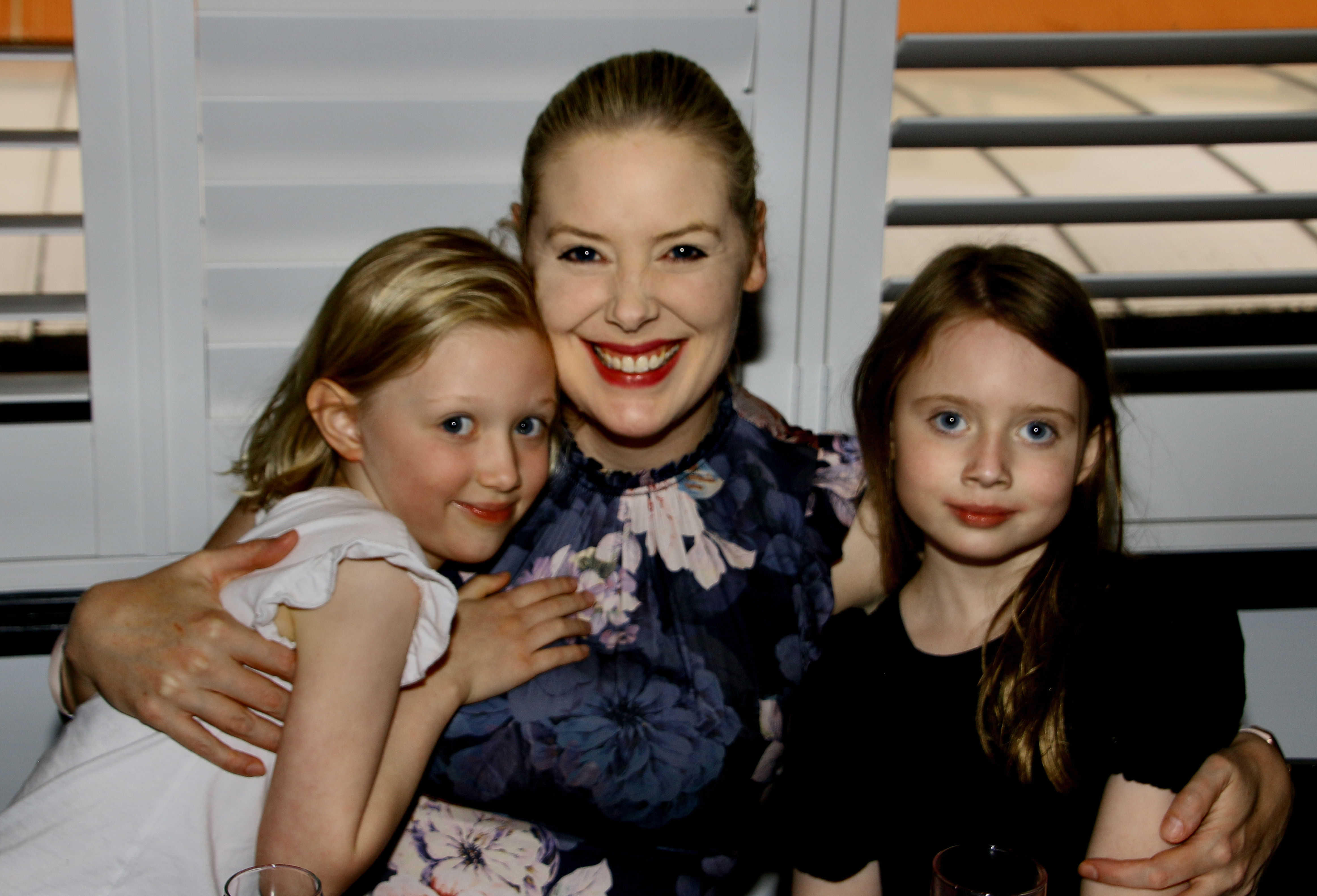 Michele Murphy with her two lovely young daughters, Michaela (left) and Amelia.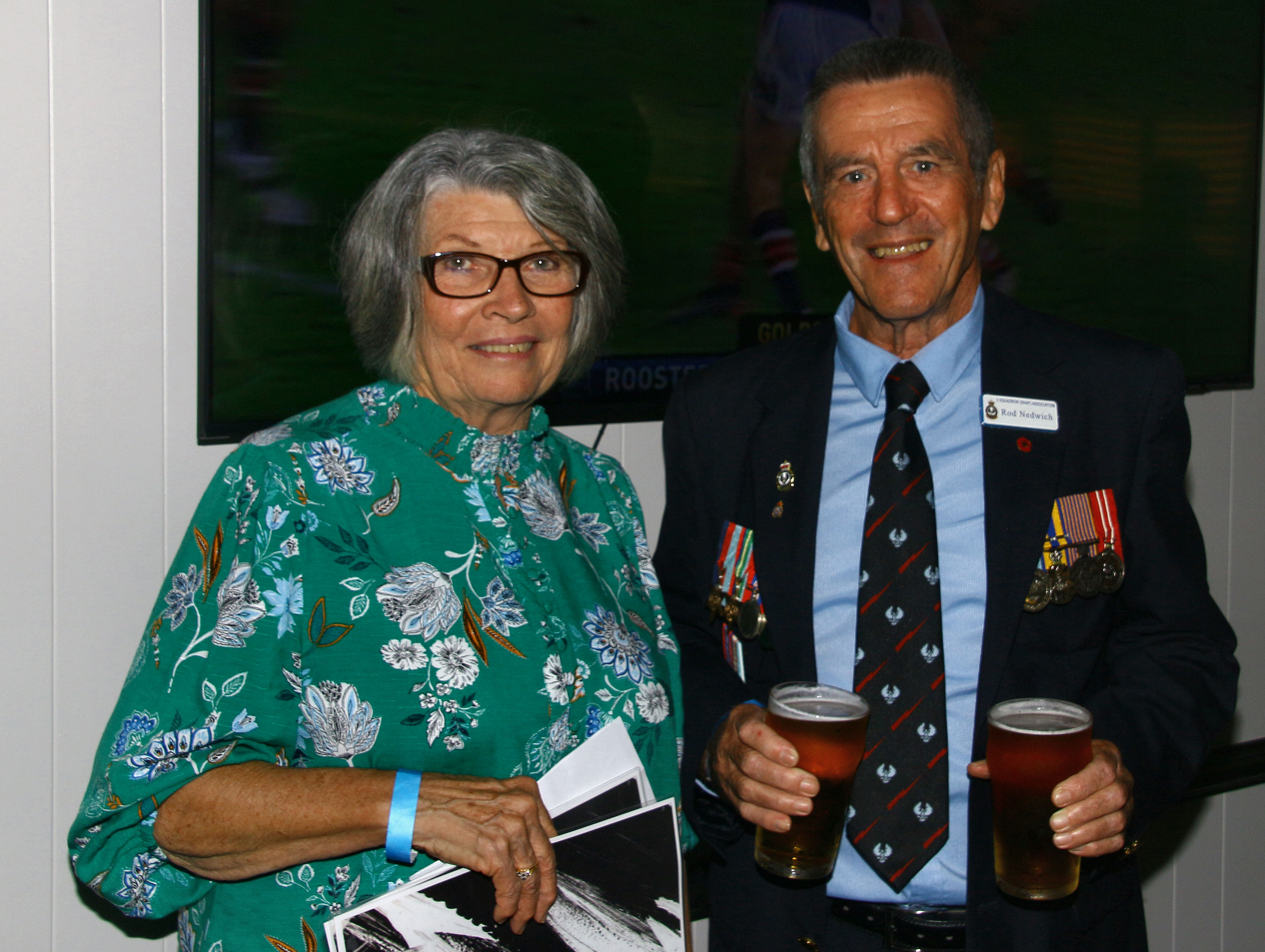 Sandy Appleton, Rod "Neddy" Nedwich. (That's why God gave us 2 hands).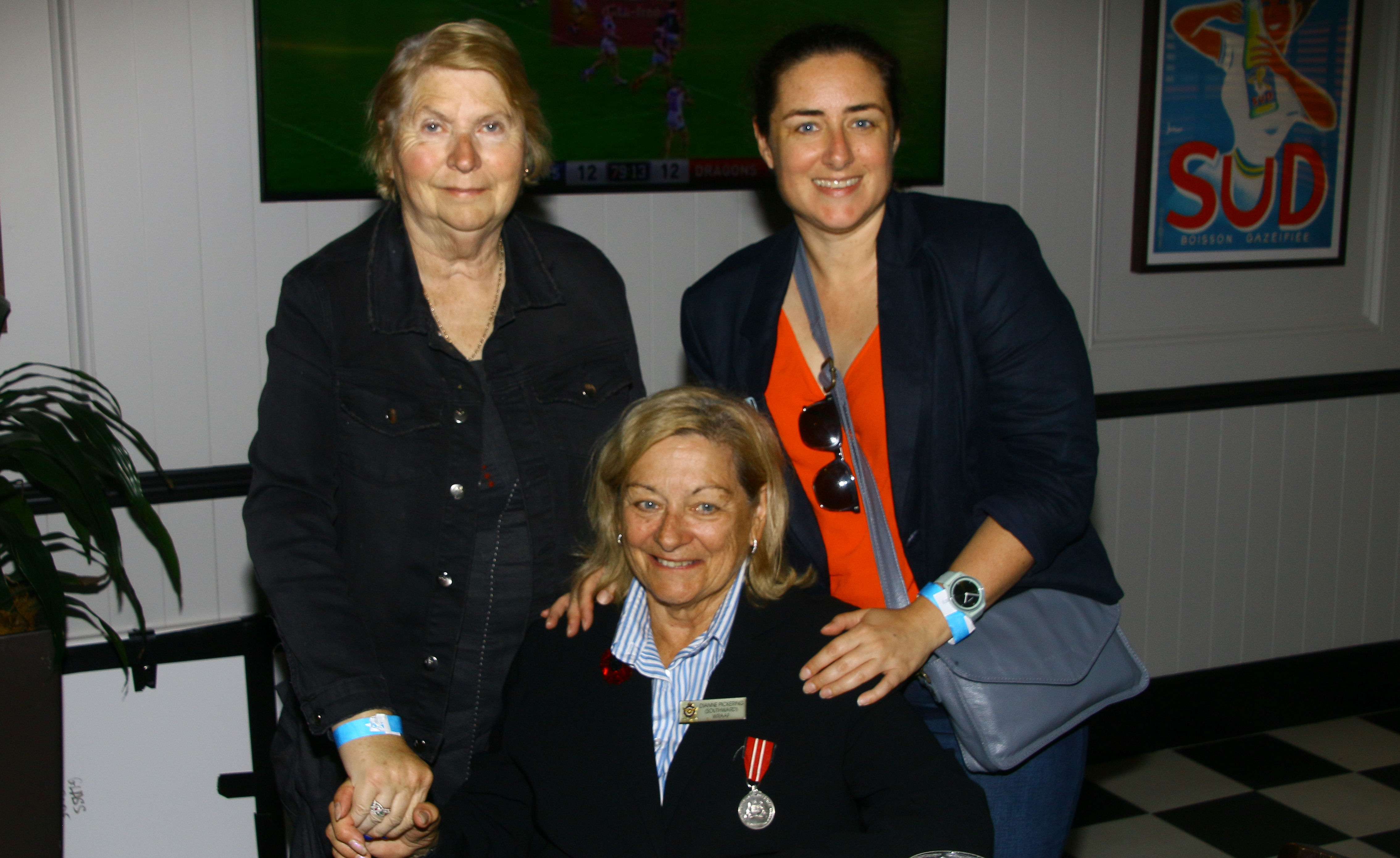 Margot Stevens, Dianne Pickering, Kirsty Bilton.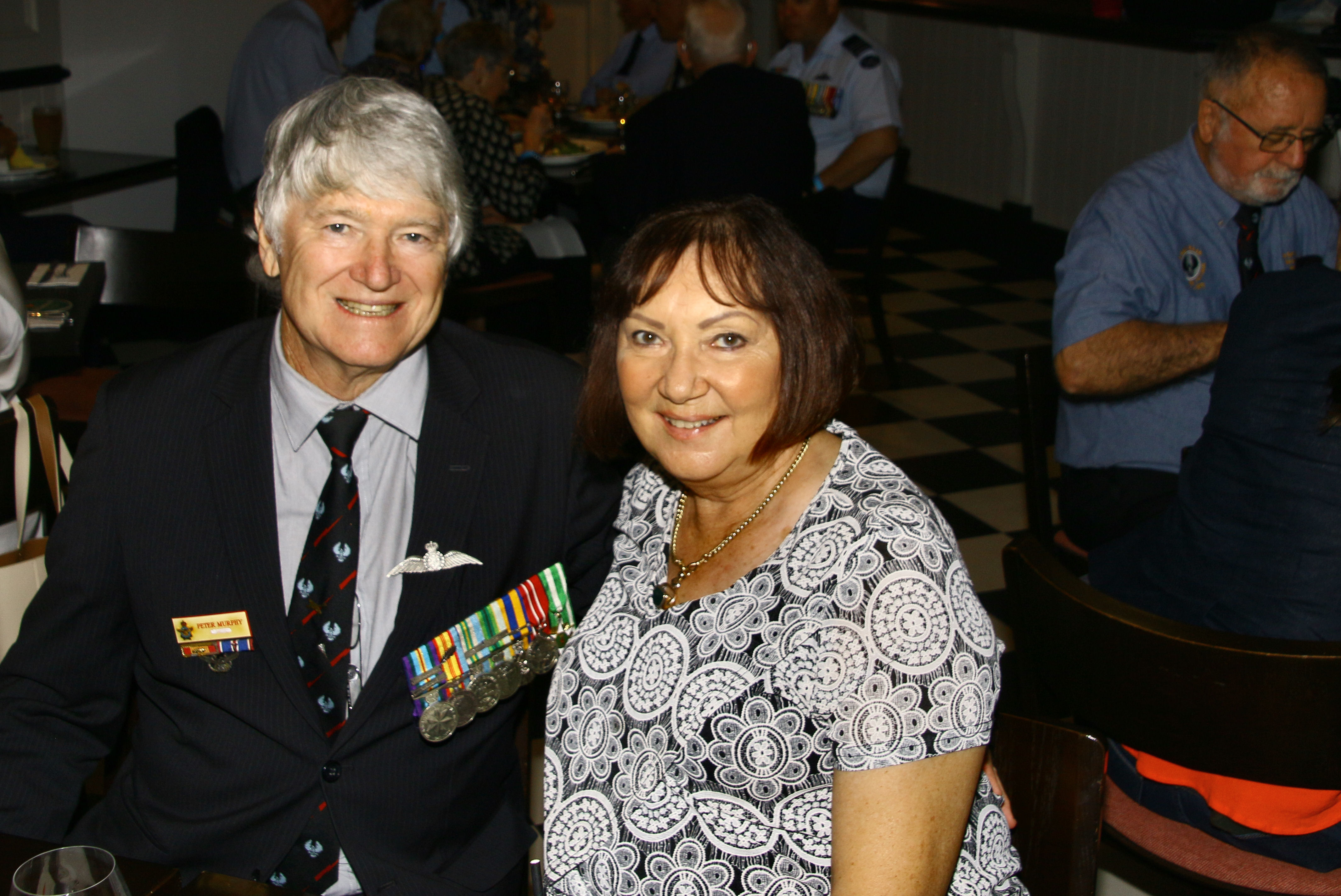 Peter and Sabina Murphy.
Click the pic below to see the RAAF contingent in the 2023 Brisbane ANZAC Day march.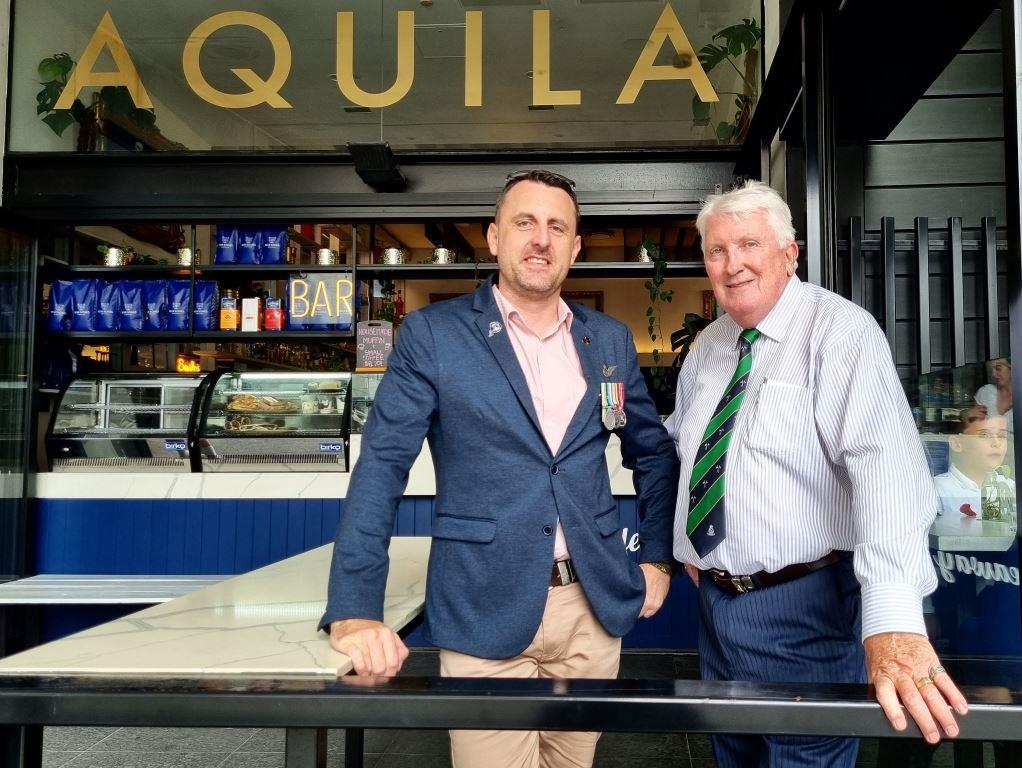 Brad Crombie and Phil Lillibridge, enjoying a quiet get together and a few drinks after the Brisbane March.
ANZAC Day Canberra.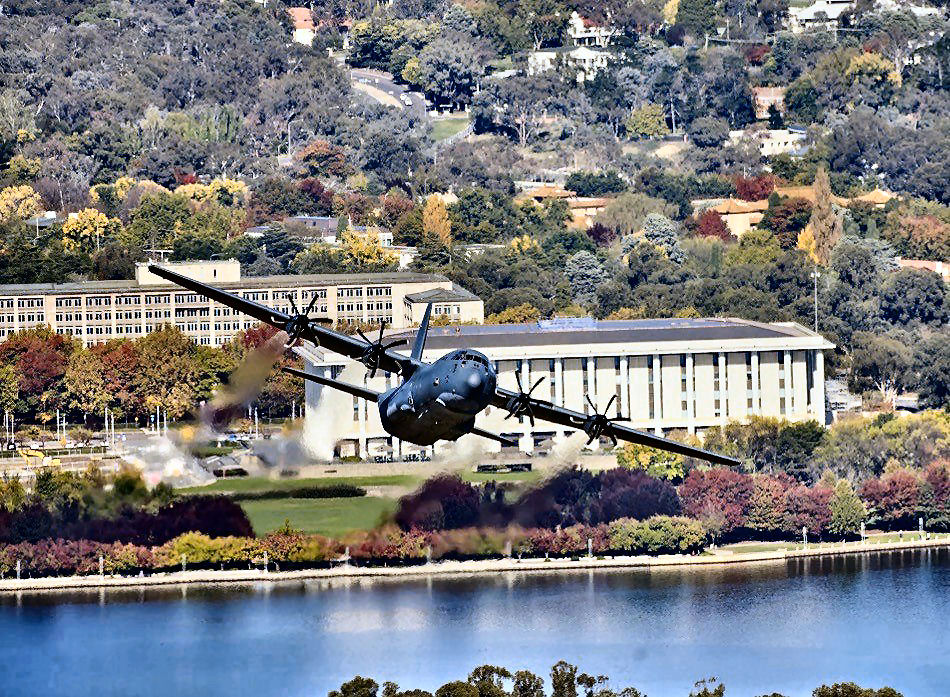 37 Sqn J Model Herc – this great pic was taken by Bruce Comber from Mt Ainslie, click the pic for a closeup.
2 Sqn Association Canberra.
Their new Banner.
L-R:
Background, Peter Ekins, Al Pearson, Holding Banner Tyler Cooper, Lance Halvorson.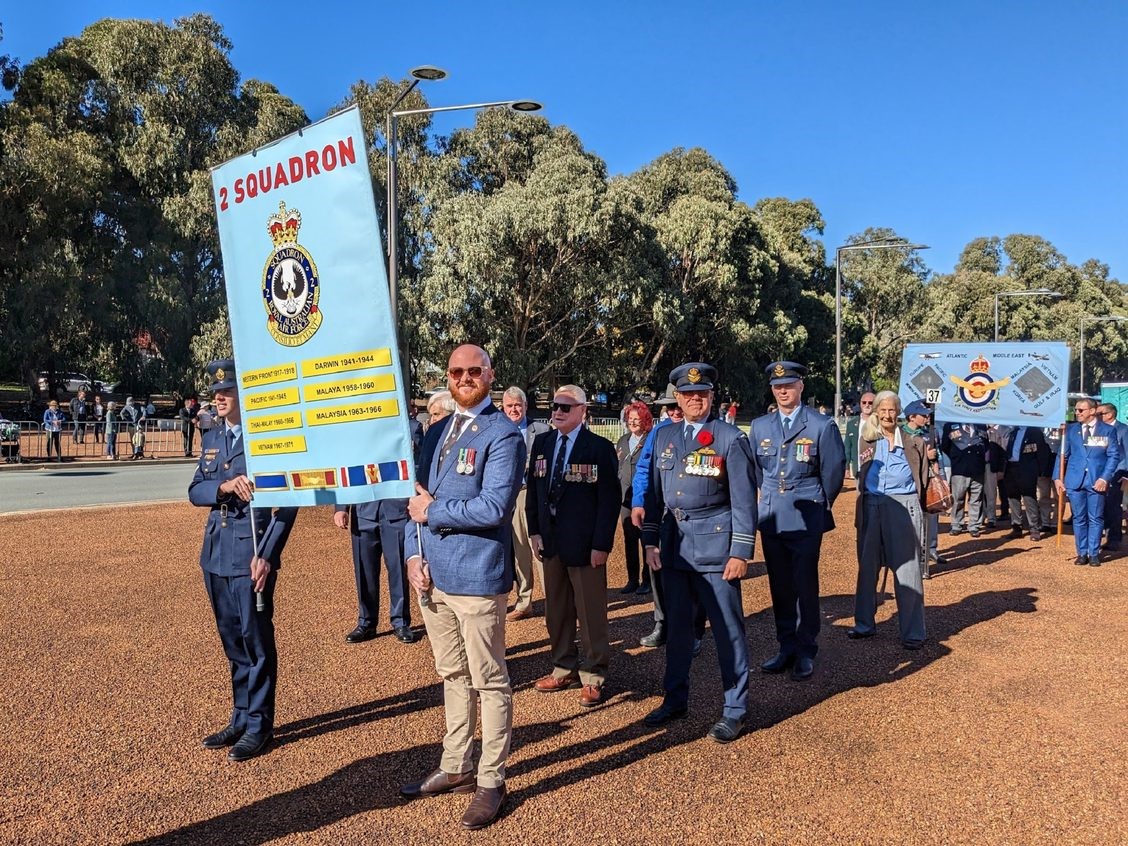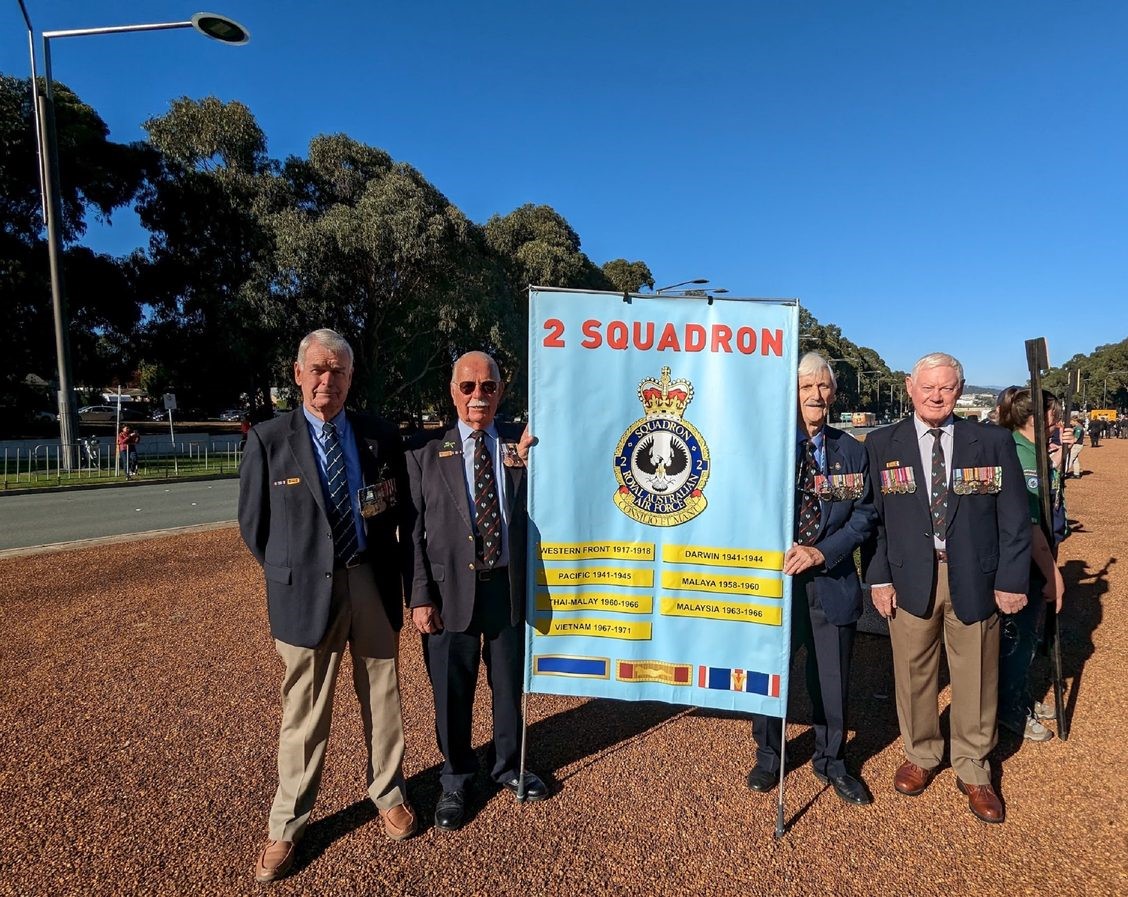 L-R: Peter Ekins, Bob Howe, Lance Halvorson, Al Pearson.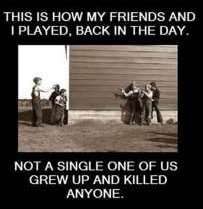 ANZAC Day Edinburgh, Scotland.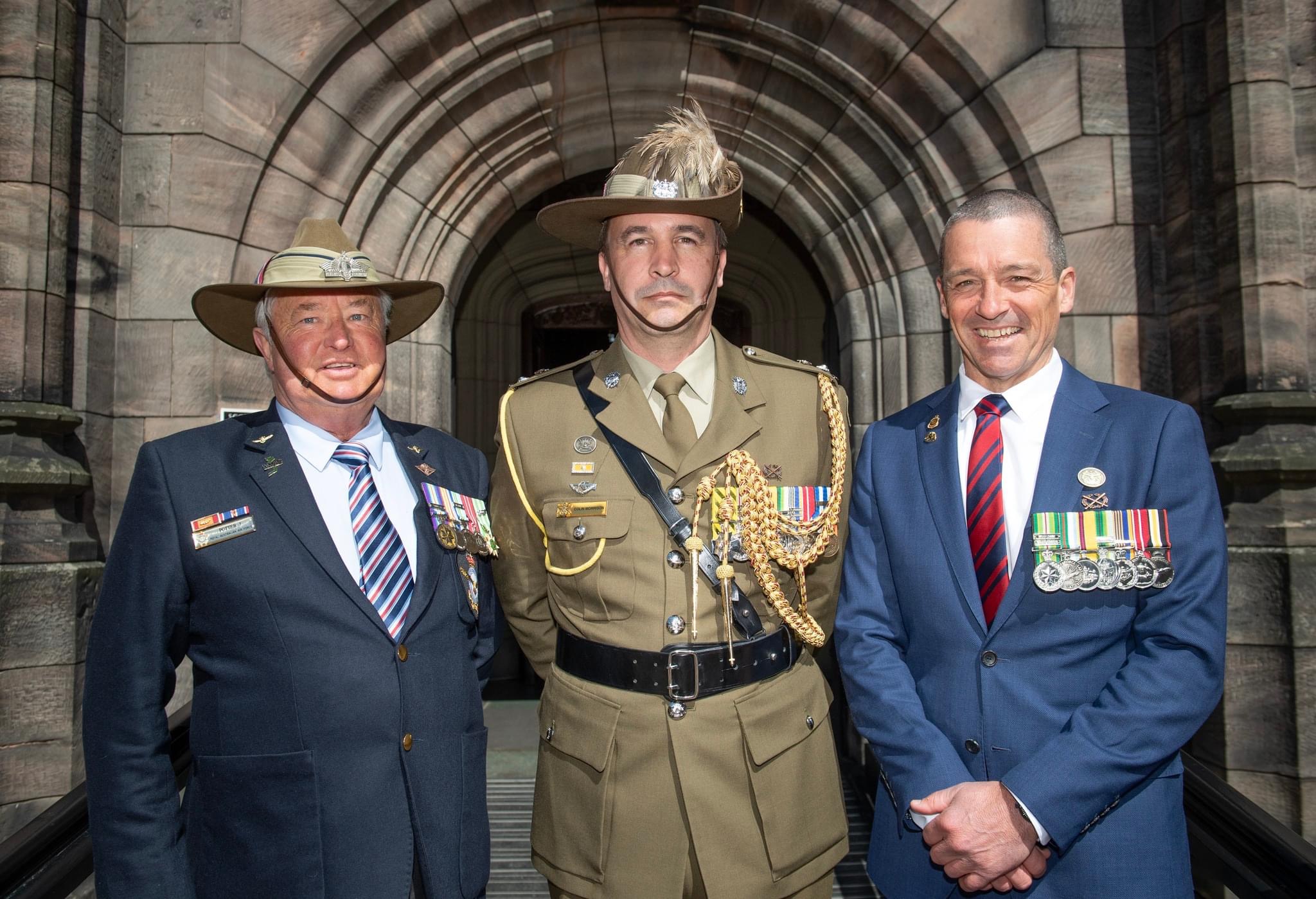 L-R: James "Scotty" Potter, LtCol Colin Morrison, don't know, at Edinburgh Castle. We thought we'd include THIS to remind Scotty what he's missing by moving back to old cold and wet Scotland.
Scotland's links with Australia
WALTZING MATILDA.
Written By Banjo Paterson in 1895
" Banjo
" was born Andrew Barton Paterson on a property near Orange in NSW in 1864. His father was Andrew Bogle Patterson who was from Lanarkshire in the UK and his mother was Australian born Rose Isabella Barton making him half Scottish. After school he became a solicitor and started writing short stories, essays and poems and submitted some to the Bulletin magazine. He submitted these works under the pseudonym of "The Banjo
" – the name of his favourite horse. The publication of "The Man from Snowy River" in the Bulletin made "The Banjo
" a household name.
In 1895, he headed north to Dagworth station near Winton, Queensland where he met with a Christina Macpherson, a friend of his fiancé, who had recently attended a race at Warrnambool in Victoria. She had heard a band playing a tune there, which became stuck in her head and replayed it for Paterson. The melody, which was from a Scottish song, also resonated with him and propelled him to write "Waltzing Matilda" While there has been much debate about what inspired the words, the song became one of his most widely known and sung ballads.
So – the tune was originally Scottish, the writer was half Scottish - but who was the Swagman and what was his name??? Was he an immigrant too?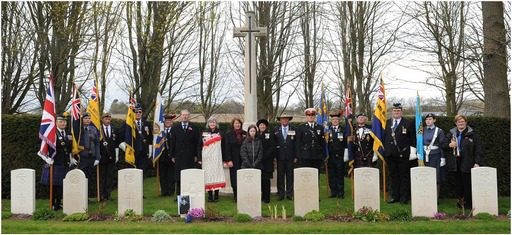 Commonwealth War Graves at Arbroath in Scotland.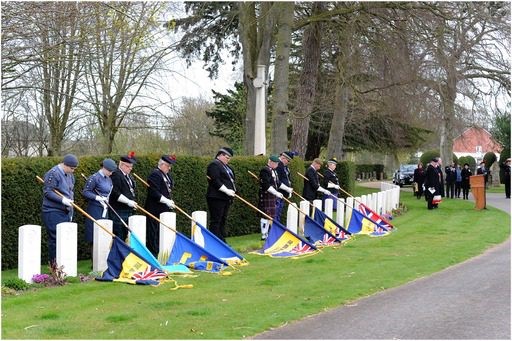 Lt Col Colin Morrison Australian Defence Force at Edinburgh Castle.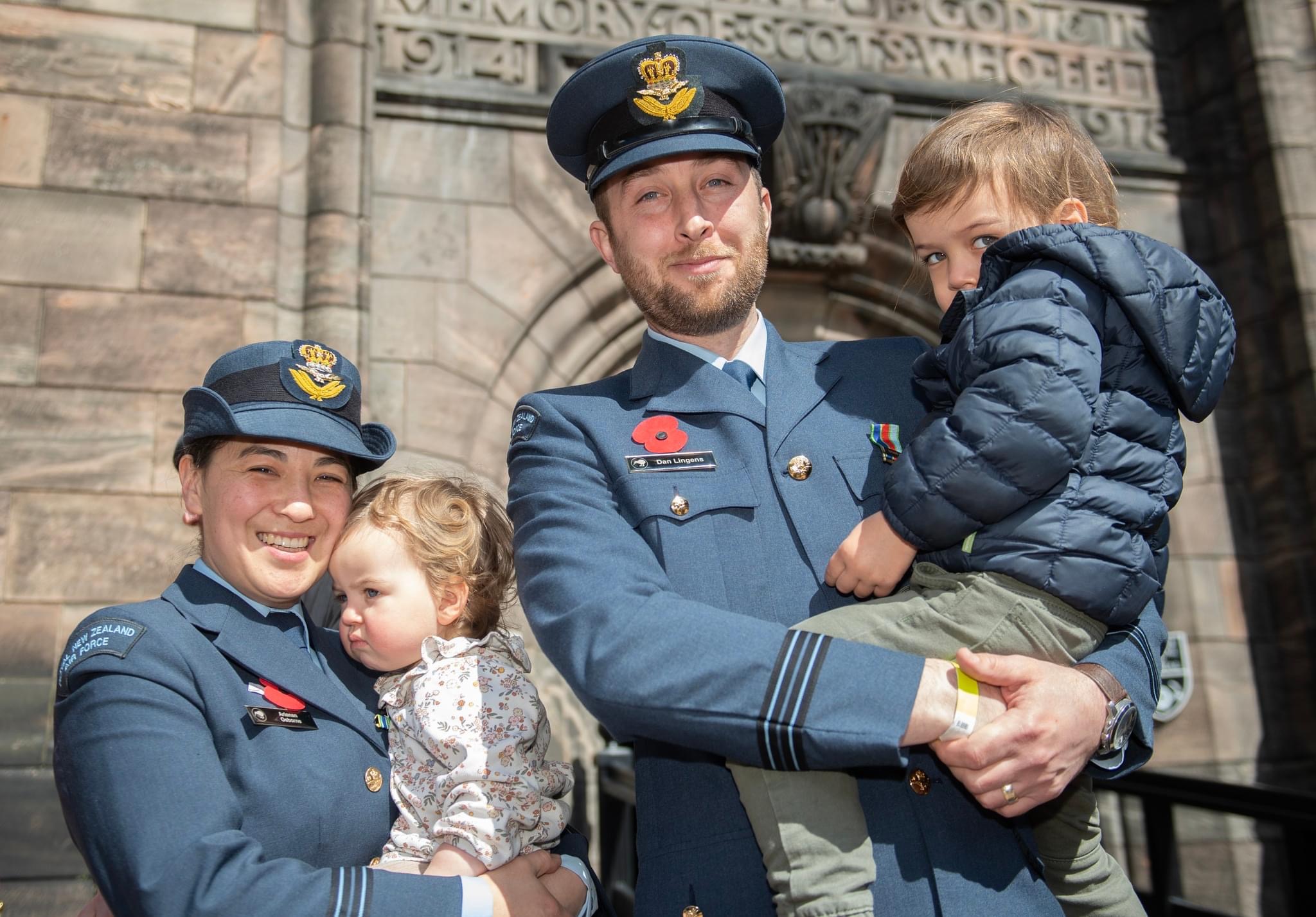 FltLt Dan Lingens, (NZAF) his wife and children.
OPINION.
This annoys the hell out of me!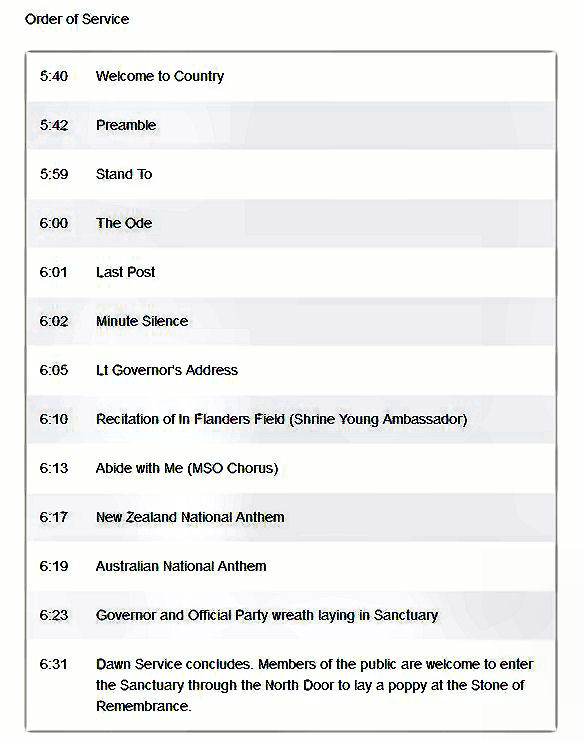 This notice above was made available to those that attended the 2023 ANZAC Day ceremony at the Shrine of Remembrance in Melbourne. Notice the first mention in the Order of Service - the Welcome to Country. What a bloody disgrace - this assumes those who have given their lives for this country weren't welcome, who are these bastards who insist we recite that crap, especially at a Ceremony to remember those who had given their lives defending this country.
As far as we're concerned, that bloody "Welcome to Country" should be replaced with a "Thank you for coming!" What was here prior to 1788? The Aborigines who had lived here for thousands of years had nothing!, unlike the rest of the world they didn't have houses, schools, hospitals, commerce, roads, welfare - nothing!
Since 1788 Australia has developed into a prosperous, healthy, wonderful country - a country where everyone has equal access to its resources. Aboriginals today can rely on excellent health care, welfare, education, can and do prosper and enjoy a wonderful and long life. Unlike the crap that is peddled by the left wing media, Australia isn't a racist country, it's a country that is made up of peoples from all corners of the world, as long as you pull your weight you'll be accepted in Australia, no matter who you are. What gets up the nose of most Australians is the constant whinging from some groups complaining that they have an intrinsic right. The biggest and loudest whingers are the people who enjoy very comfortable conditions, conditions they would definitely not enjoy if it hadn't been for 1788. If they are so rigid in their beliefs, let them give up their comfortable homes, cars, way of life and go bush.
It's time Australia woke up, it's time we stopped giving those wankers oxygen. The average person and that includes white, yellow, tan and black people, loves the country the world calls Australia, it's why thousands of peoples from other parts want to come and live here, it's a place where anyone, if they put their back to it, can prosper, can bring up their kids in peace, can get on with their neighbours, enjoy good food, clean water and have access to a heath system the envy of the world .
We should all give thanks that it was the Union Jack that arrived in 1788, it could have been a lot worse.
That's what I think. TB.
Stan Grant - 50 Shades of Grant.
Back Go to page: 1 2 3 4 5 6 7 8 9 10 11 12 13 14 15 16 17 18 19 20 Forward