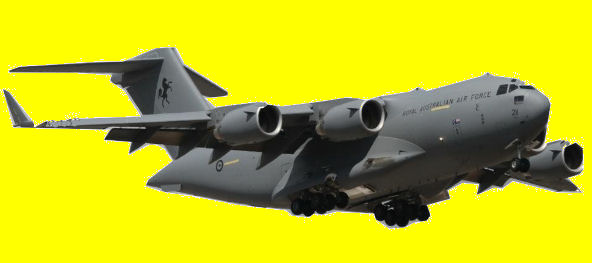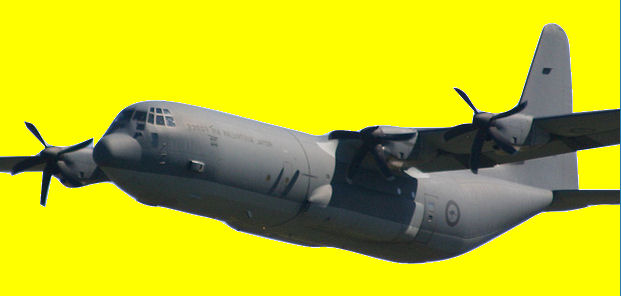 Vol 48

The Magazine by and for Serving and Ex-RAAF People,

and others.

Page 3
Privacy Policy | Editorial Policy | Profit Policy | Join the Association | List of Members | Contact us | Index | Links
Back Go to page: 1 2 3 4 5 6 7 8 9 10 11 12 13 14 15 16 17 18 19 20 Forward
Page 3 Girl.
Our lovely page three girl this issue is Rosa Wallis.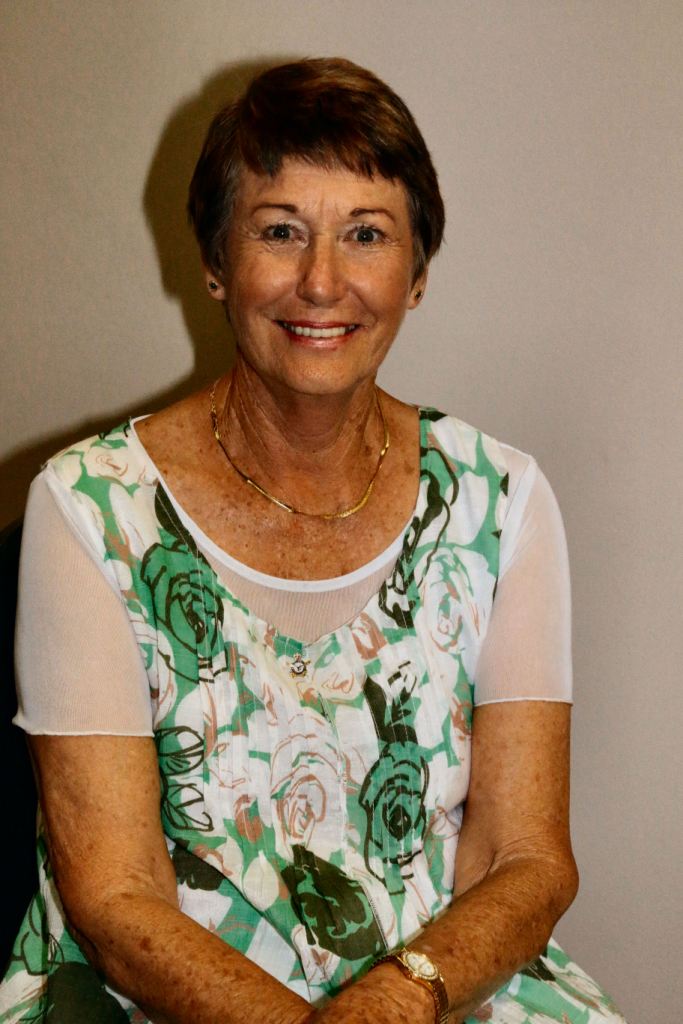 Rosa, who was spotted at the recent East Sale reunion, was born in Kalgoorlie. When she was just a little one, her dad who was a maintenance bloke in the RAAF, was posted to Pearce where the family lived for the next 7 years. Her dad took a discharge in 1953 and the family moved down to Fremantle. Rosa's young years were influenced by the RAAF, she enjoyed the life, the excitement, the aircraft, so it was only natural that she too wanted to join. In March 1962, as soon as she was old enough, she joined the WRAAF and headed east to Point Cook to join WRAAF Rookie Course 121. After rookies, she was posted to East Sale as a Clerk E and worked there for 4 years. In March 1966, as was the stupid rule at the time, she had to leave the WRAAF because she married. After leaving the WRAAF, she and her husband moved to Queensland where they stayed for 18 months, then in the early 1970's they moved to Port Hedland in WA.
While in Hedland, she worked for MacRobertson-Miller Airlines (MMA) as a reservation clerk, but assisted with cargo bookings and airport check-in, as was the norm with the

smaller nor'west ports where you assisted in all areas. With aeroplanes and aerodromes still firmly in the blood, she started a private pilots' licence and after spending 18 months and a few dollars she gained her unrestricted PPL. Learning to navigate with maps and protractor in one hand and the control column in the other was an exercise in agility - Oh for GPS back then.......Not a lot of roads or railway lines to follow in the Pilbara!
With 15 years in the Pilbara under her belt, she moved south to Perth, obtained a job with Qantas as a reservation clerk at the time of the Americas Cup (on a 6 months' contract) and then moved to permanent staff and worked in many positions including Agency Clerk (advising travel agents on fares and ticketing) and then in the Travel Centre, handling outbound holiday reservations for local clients, and also re-issuing and re-routing of tickets for incoming travellers. Then a change of scenery away from face to face travellers, to the Corporate area, where she looked after large companies, government travel and also Defence Travel. Very demanding, as corporate clients tend to change their schedules and itineraries and need to be somewhere else as soon as possible. Thank heavens for the advent of electronic ticketing, with hand written tickets and then machine printed tickets a thing of the past (remember those?). Also modern technology made many things within the airline industry a little easier. The initial 6 month position extended to 25½ years!! Luckily she was able to fulfil her love of travel whilst working with Qantas and visited many parts of the world, which has been a wonderful experience.
These days, Rosa who has joined the ranks of the retired ladies, is so busy she wonders where she found the time to go to work!, Whilst in Hedland, she commenced a University degree on an external basis, majoring in history and continued on when back in Perth - a long and convoluted process, and obtained her B.A in 2001.

She is putting this love of history to use, volunteering at the Fremantle Military Museum, in the curatorial area, which involves working with old photographs and documents and also assisting in the library - a very interesting job. She also volunteers at the Fremantle Tourist Information Centre, and enjoys meeting people from all over the world and other parts of Australia.
With her interests in swimming, walking, gardening, coffee mornings etc., she is finding the Retirement Gig very busy!! She still maintains her links with the WRAAF and remains in contact with the friends formed during this period of her life.
Wagga Comm Centre, 1984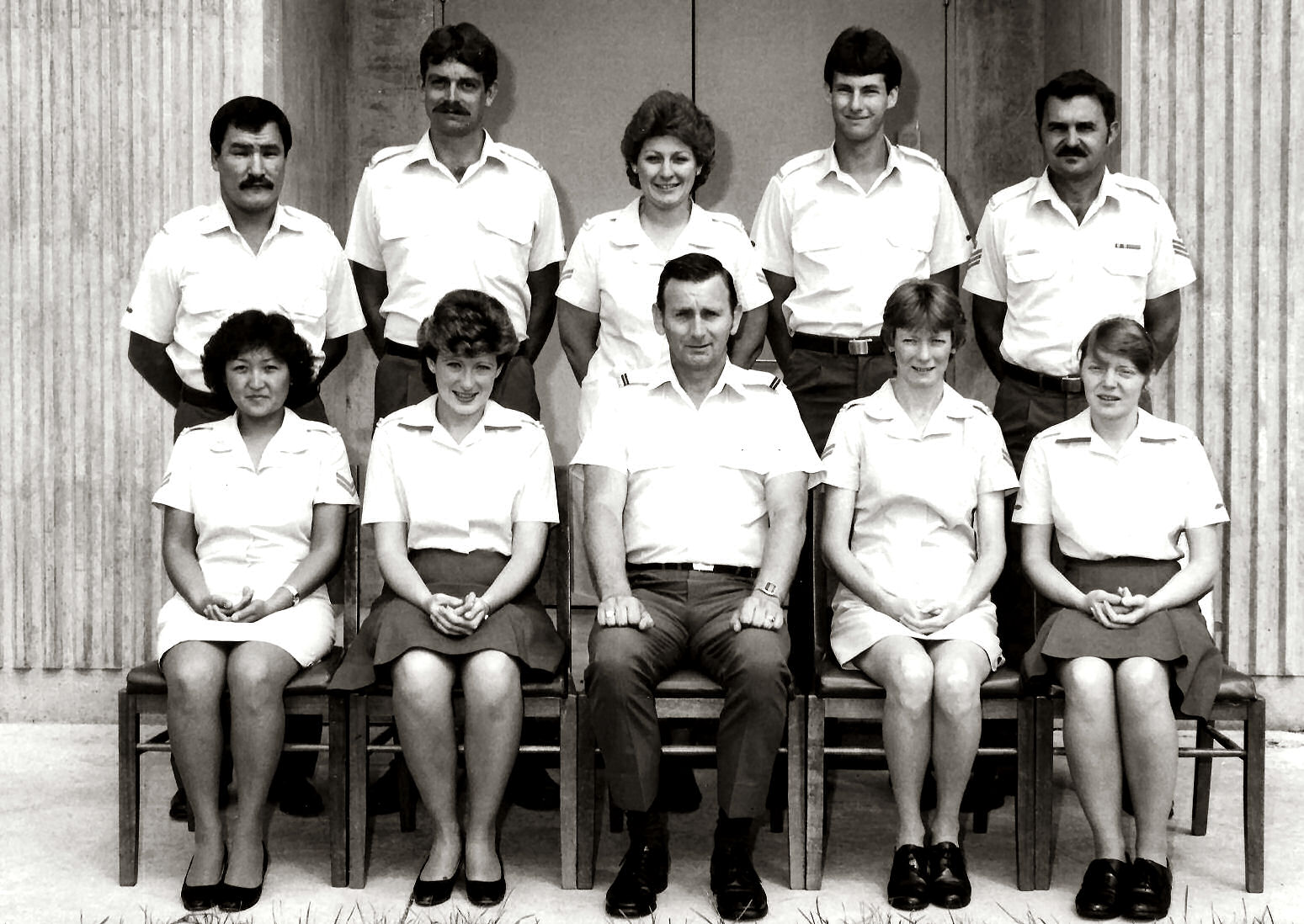 Back Row L-R: Peter Kuno, Col Greenwood, Debbie Oram, Jeff Schoefield, Bill Callinan.
Front Row L-R: Carolyn Wilson, Di Tattnell, Denis Greig, Cassandra Mitchell, Rhonda Hearne.
Definitions:
THINGY (thing-ee) n.
Female...... Any part under a car's bonnet.
Male...... The strap fastener on a woman's bra.
157 RTC (1982)
(Click the pic for a bigger view)
Back Row L-R: Sean Blanks, Peter Holian, Steve Hodgkinson, Roger MacLean, Ray Purdy.
Middle Row L-R: Mike Sattler, Steve Smith, Tony Wennebom, Lloyd Wilday, Craig Starritt, Roger McKenna.
Front Row L-R: Ray Pullen, ? Phillips, Doug Shepperd, Roger Ghiggoli, Simon Clowes, Paul Farry.
Mike Sattler sent us the pic above, he says the course started in July 1982, but he's not sure of the finish date as he finished on 159RTC. He thinks it would have been sometime early in 1984. When this pic was taken they hadn't been assigned a course instructor.
COMMITMENT (ko-mit-ment) n.
Female.... A desire to get married and raise a family.
Male...... Trying not to hit on other women while out with this one.
430 Rookies (Richmond).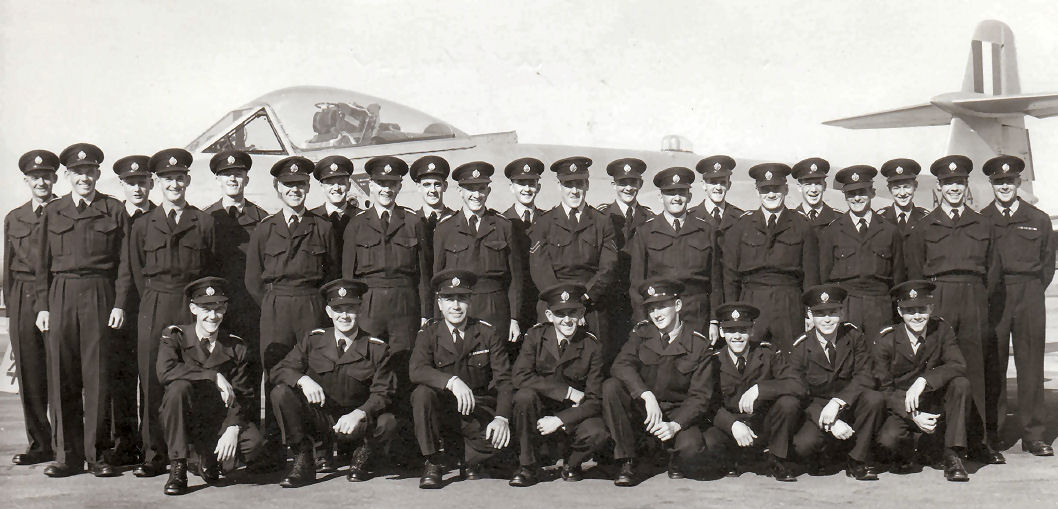 John Strewart sent us the pic above, he said, "Howdy, I came across the attached photo of my rookies course (No 430) at Richmond in 1957. Our DI was Cpl Barry Hanley. If it is of any interest to readers, feel free to publish in the magazine. Sorry I don't have the names but some of the guys who are still around may recognize themselves".
Inst Mechanics course, Wagga.
Back Row L-R: ?, John Rhodes, Barry Bailey, Rene Sarolea.
Middle Row L-R: Richard Salter, ?, ?, "Woodsy", Roy Edwards
Front row L-R: Charlie Grech ?, ?, Dave Martin, ?, Dennis Lovett
We don't have all the names and we don't know the course number or date, can anyone help??
Qld WRAAFS – Rooky Course 222.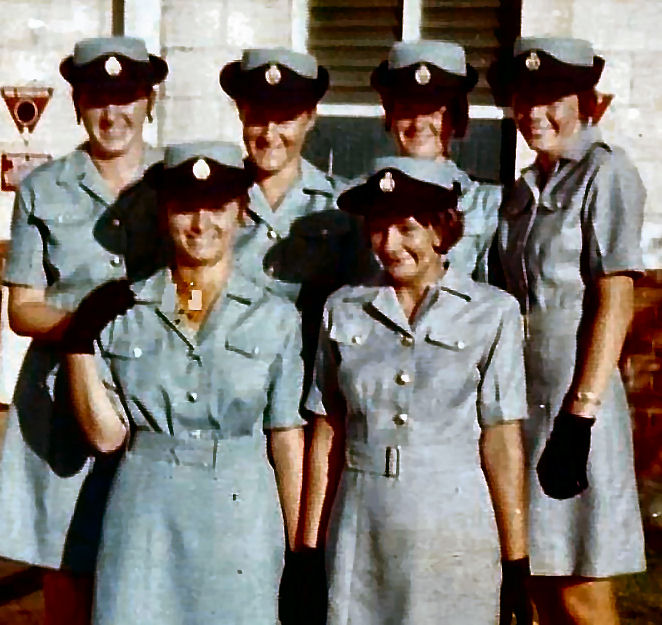 Back Row L-R: Pam ?, Virginia Buchanan, Kay Peters, Lorraine Tierney.
Front Row L-R: Wendy Wockner (Fox), Diann Potter (McKenzie).
Wendy Wockner sent us this pic, these are the girls from Queensland who were on the course, you can see the full course HERE.
Maintenance Sqn, East Sale. 1975.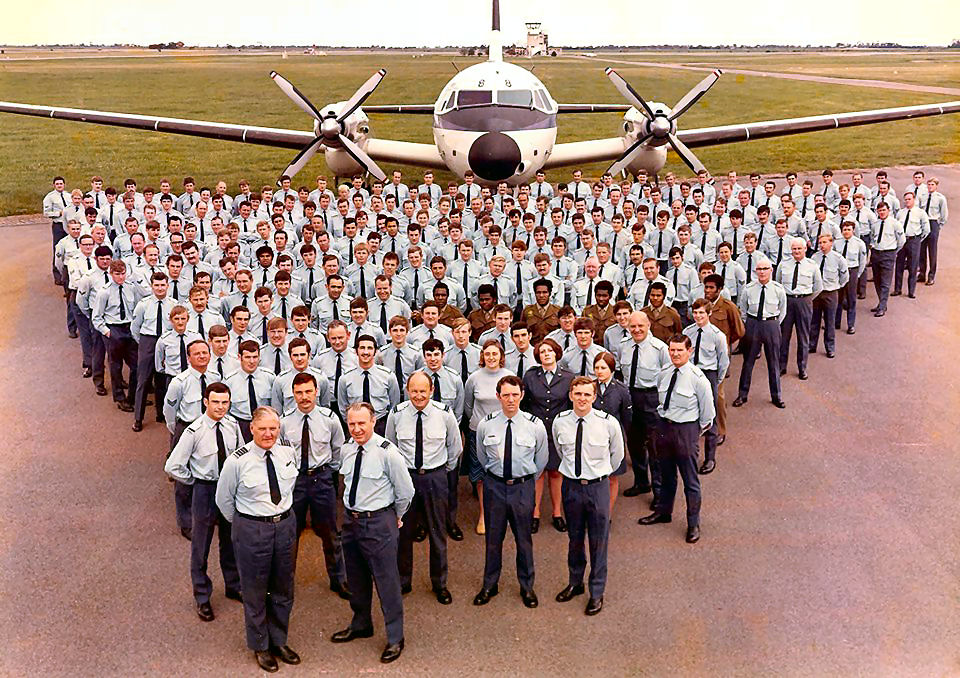 Bob Oscar sent this pic, he says it is from his days at Maintenance Sqn at East Sale, which he thinks was about 1975.
Bruce Cooper is in the top pic, he's the bloke on the left, about 6 rows back, with his hand in his pocket. Bruce says he had a serious "chat" with the WOD after that.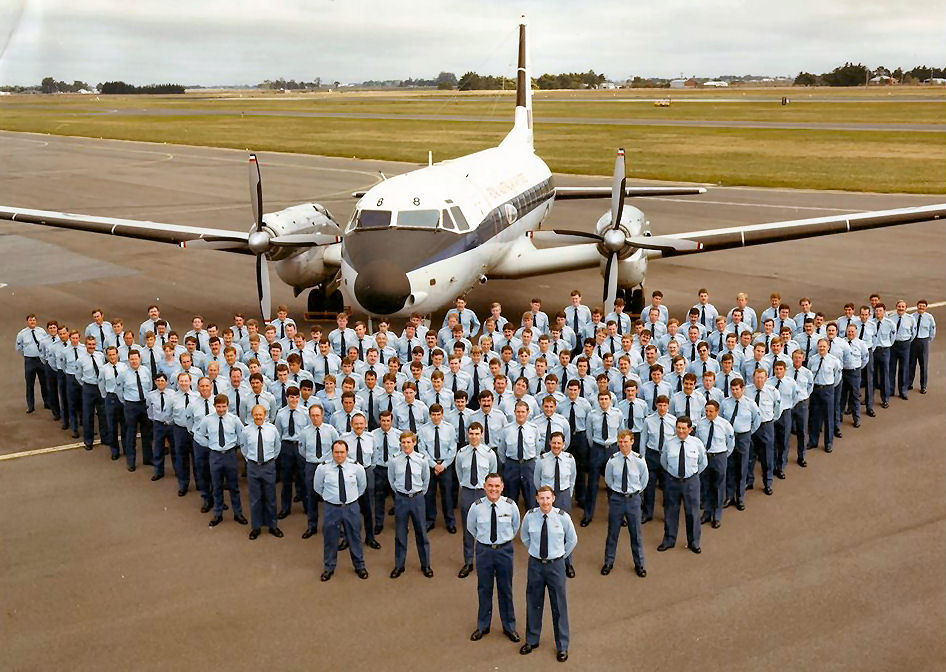 Ron Grant saw the top pic and he sent us one too, although his was taken in 1982 or 83. You can click each one for a bigger view.
1428 ROOKIES. (April 1978)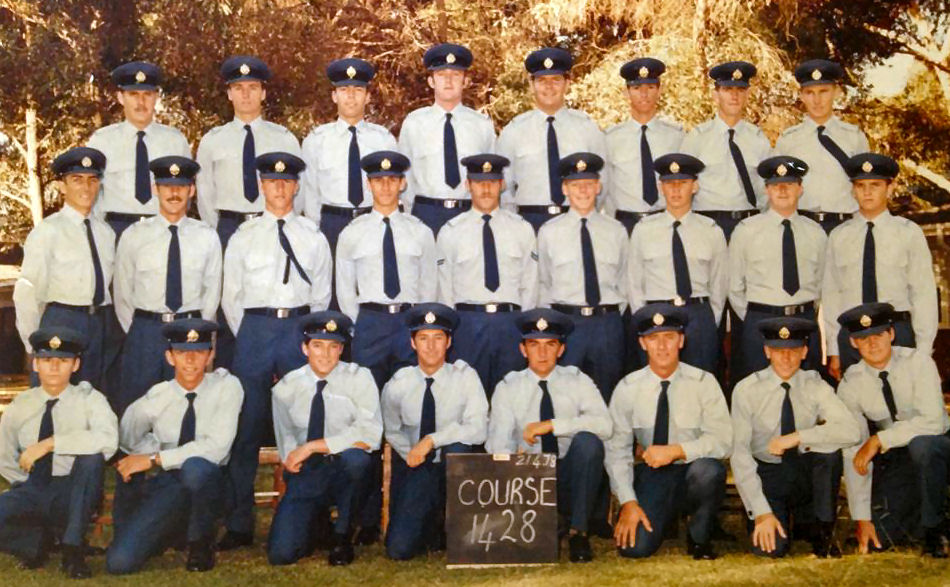 Back Row L-R: ?, ?, Miles ?, ?, ?, ?, ?, ?
Middle Row L-R: Max Patton, Gary Reid, ?, ?, Joe Cooper, Chris ?, ?, Luke Nordink, Terry Bryant.
Front Row L-R: ?, ?, ?, Ron Day, ?, Charlie Smith, ? Rees, ?.
The DI was Joe cooper
71 CSAE Course.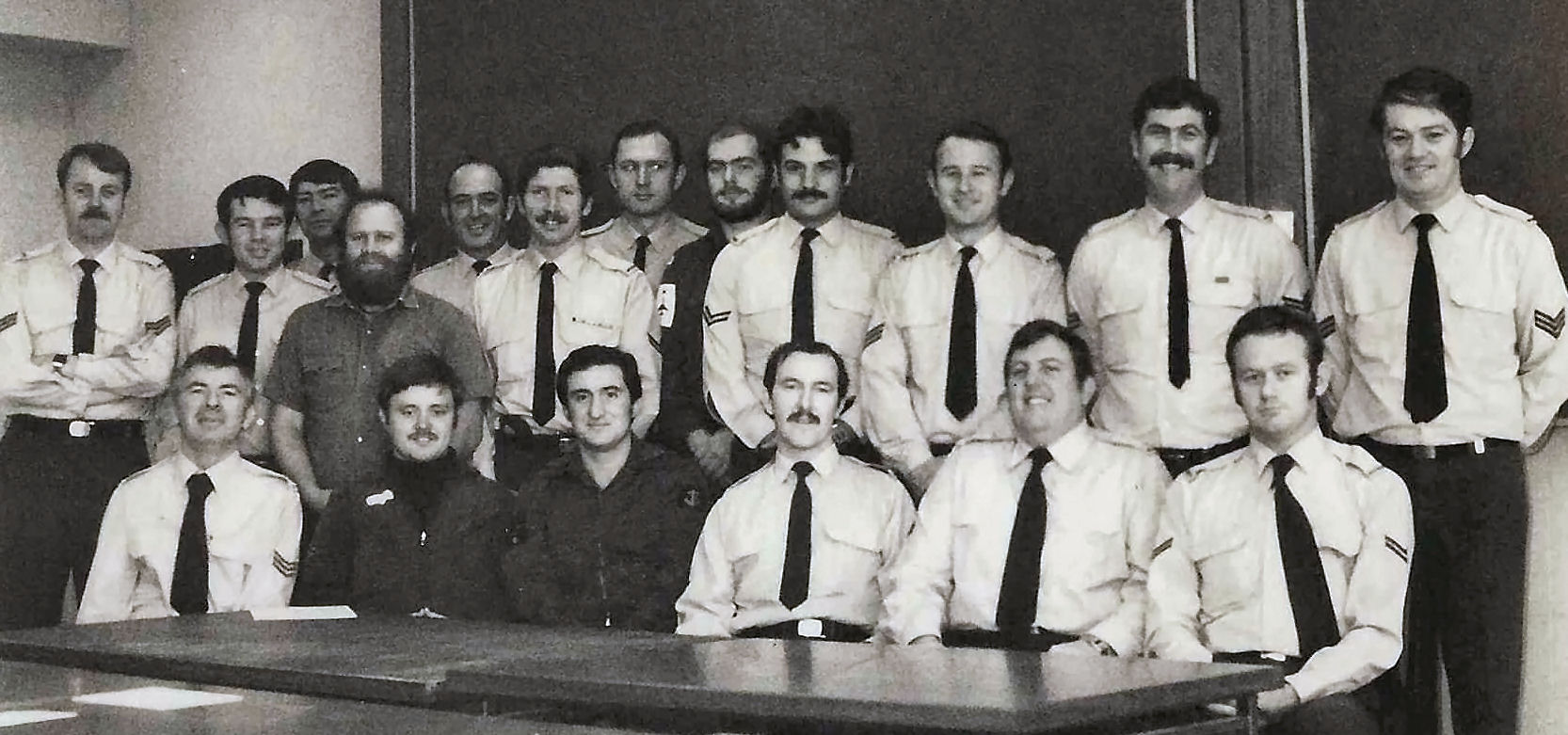 Standing L-R: John Robertson (Radschool), Ken Bryand (B.Sqn Townsville), Arnie Vereschildt (HQSC), Norm McMillan (NAS Nowra), Ken Raynor (HQSC), John Verscuis (1FTS Pt Cook), Ralph Horjus (1FTS Pt Cook), Dave Constable (HMAS Albatross), Stan Magro (B.Sqn Pearce), Mick Truman (3CRU), Doug Myer (Radschool), Keith Green (Radschool).
Seated L-R: Bill Langton (HQSC), Ralph Dix (B.Sqn East Sale), Charlie D'Amato (HMAS Albatross), Tony Kelly (1AD), Bill Nolan (3CRU), Don McFarlane (HQSC).
66 ElecFitt RSTT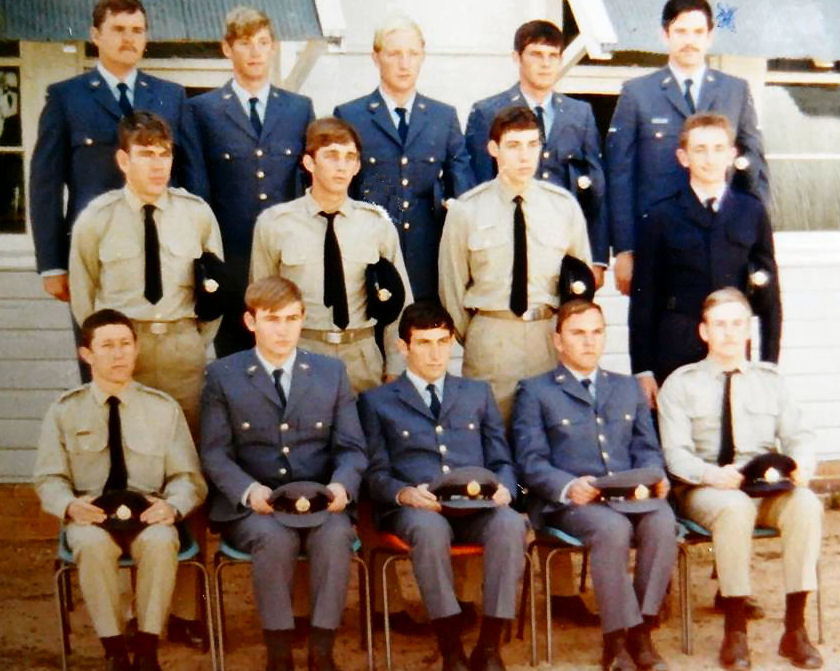 Back Row L-R: Bruce Woolgar, Wayne Naggs, Mick Cerson, ?, Phil Crockart.
Middle Row L-R: ?, ? Mason, ?, ?.
Front Row L-R: Peter Philips, Andrew Scott, John Delavadova, Neil Zoldoz, ?.
Phil Crockart made this pic available, he says it was taken during the changeover from the dark blue uniform to the powder blue one. Some blokes had them, others didn't, some blokes only had drabs. We don't have all the names, if you can help!!!!
RAAF Police. (Laverton, Aug 1983)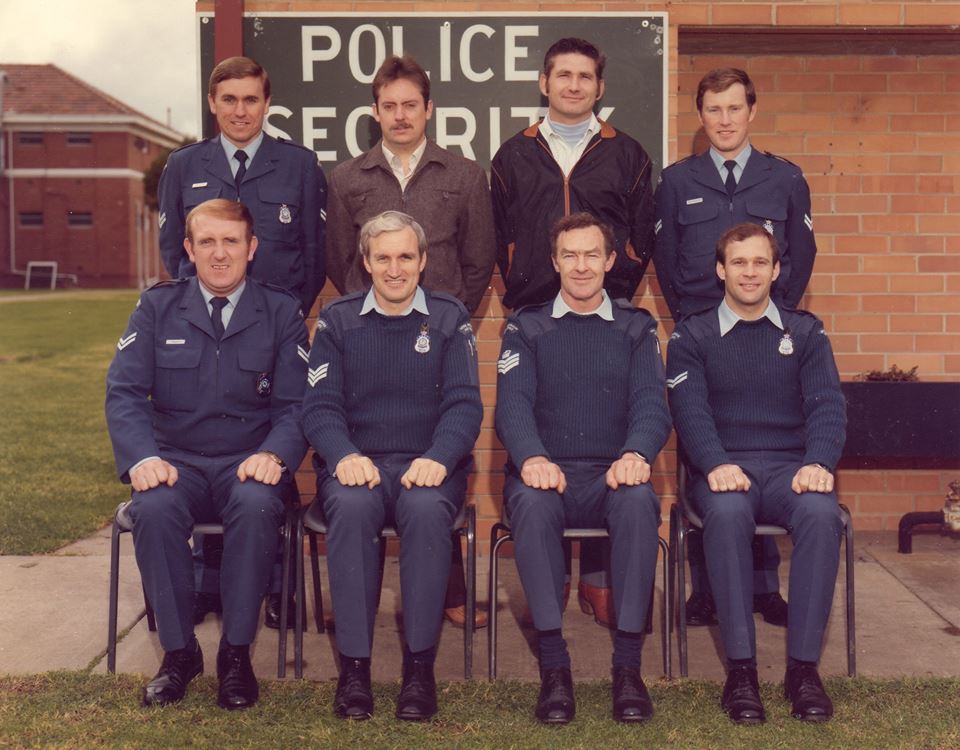 Standing L-R: Kev Watts, John Turner, Mick Runge, Rod Greenslade.
Seated L-R: Dave Sharpe, Ian Boyd, Ted Rosewarne, Gary Mitchell.
FLATULENCE (flach-u-lens) n.
Female.... An embarrassing by product of indigestion.
Male...... A source of entertainment, self-expression, a challenge, male bonding.
Sabre A94-910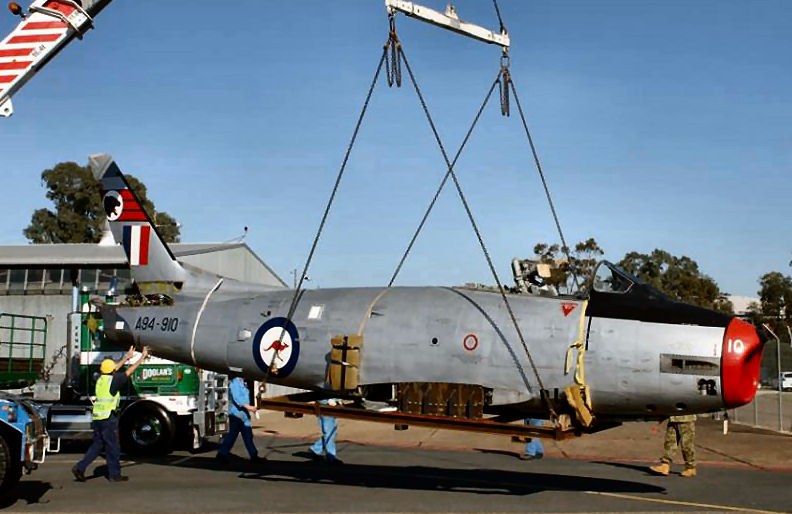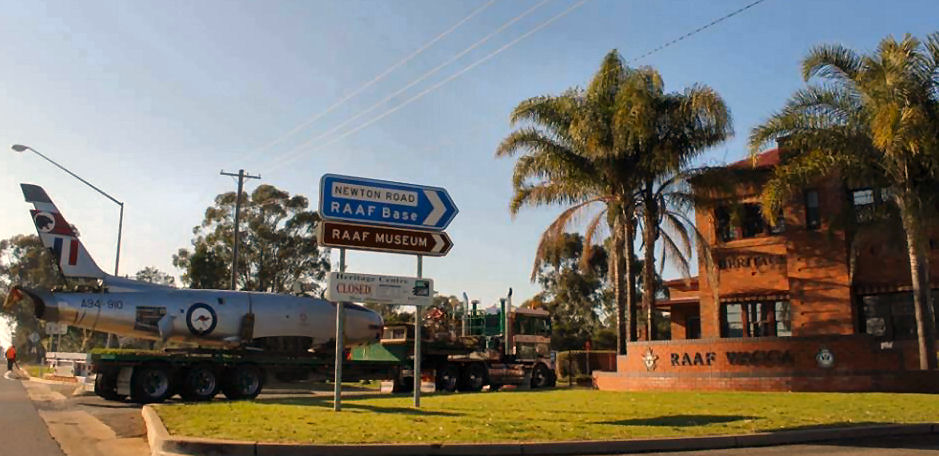 Sabre A94-910 was taken on strength by the RAAF back in March 1955. It was held by various units until 1974 when it had its wings clipped and was sent to Pt Cook as an aid for the fireys. It was handed over to the RAAF Museum in 1977 where it stayed in storage until October this year. Someone came up with the idea that what should happen was take this particular aircraft from Pt Cook up to Wagga, spend a bunch of money and time on it and put it on display at the main gate. But, there was already a Sabre at Wagga, A94-982, and they didn't need two, so A94-982 will be bundled up and taken back to Pt Cook??
But there is method in their madness, A94-982 is the only RAAF Sabre to have fired its guns in anger when it was involved in the Malayan Emergency – hence its significance and why it will be on show at Pt Cook.
Main gate upgrades.
The Air Force has an active program to upgrade all its gate guardians. This important program has been underway for a couple of years and the results are outstanding.
Images of the Bloodhound missiles and the Mirage at Darwin are indicative of the sterling efforts directed to the care and attention to ensure the longevity of the aircraft.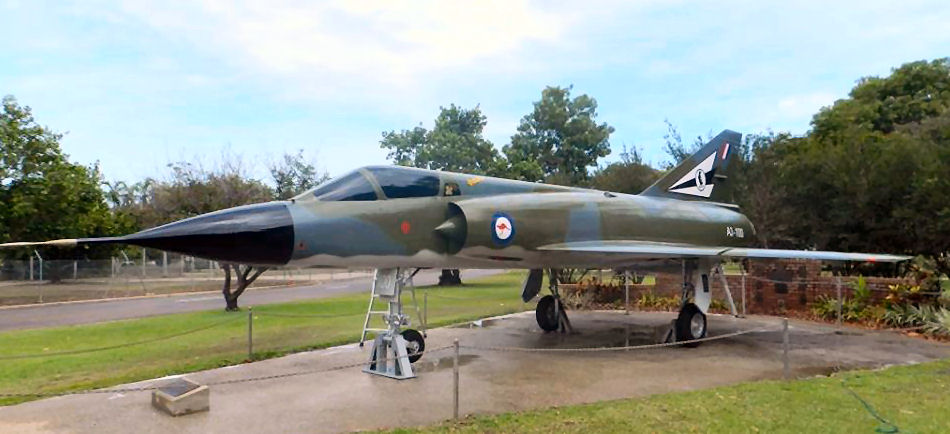 On the beach! Casuarina 1990.
Chrissy Hart (Martin), working on her tan at Casuarina Beach in Darwin.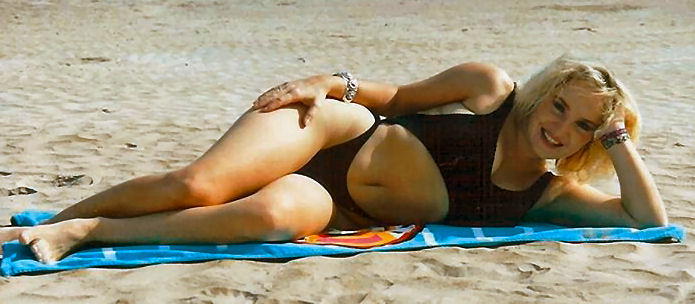 Casuarina Beach, named after the trees that grow in the vicinity, is a 4.5 km long beach on Darwin's northern suburbs and is the site of the Darwin Surf Life Saving Club. It offers a wide range of recreation facilities as well as a section for nude bathing.
On behalf of all our male readers, thanks for the pic Chrissy, and if any other girls would like to contribute a pic or three, please do!!
The Green Room, Darwin Hotel. 1982. (Memories)

Back Go to page: 1 2 3 4 5 6 7 8 9 10 11 12 13 14 15 16 17 18 19 20 Forward