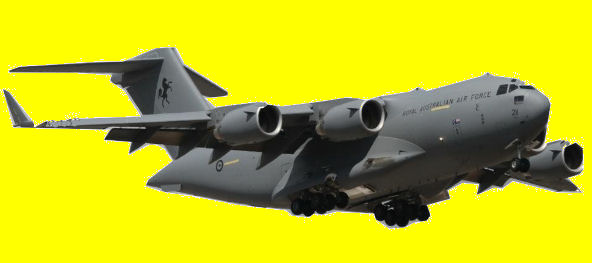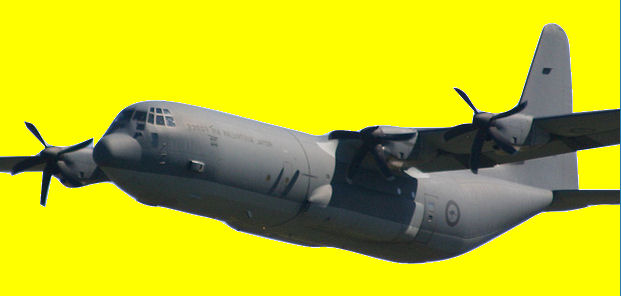 Vol 48

The Magazine by and for Serving and Ex-RAAF People,

and others.

Page 5
Privacy Policy | Editorial Policy | Profit Policy | Join the Association | List of Members | Contact us | Index | Links
Back Go to page: 1 2 3 4 5 6 7 8 9 10 11 12 13 14 15 16 17 18 19 20 Forward
109 RTC
John Darling sent us this pic, he says: "Here is another photo of Radio Technician Course No. 109 RTC which you had in Vol 47. It ran from early 1977 to late 1978 (I think it was about March 77 to November 78). I can give you such names as I remember, I was the Course Orderly."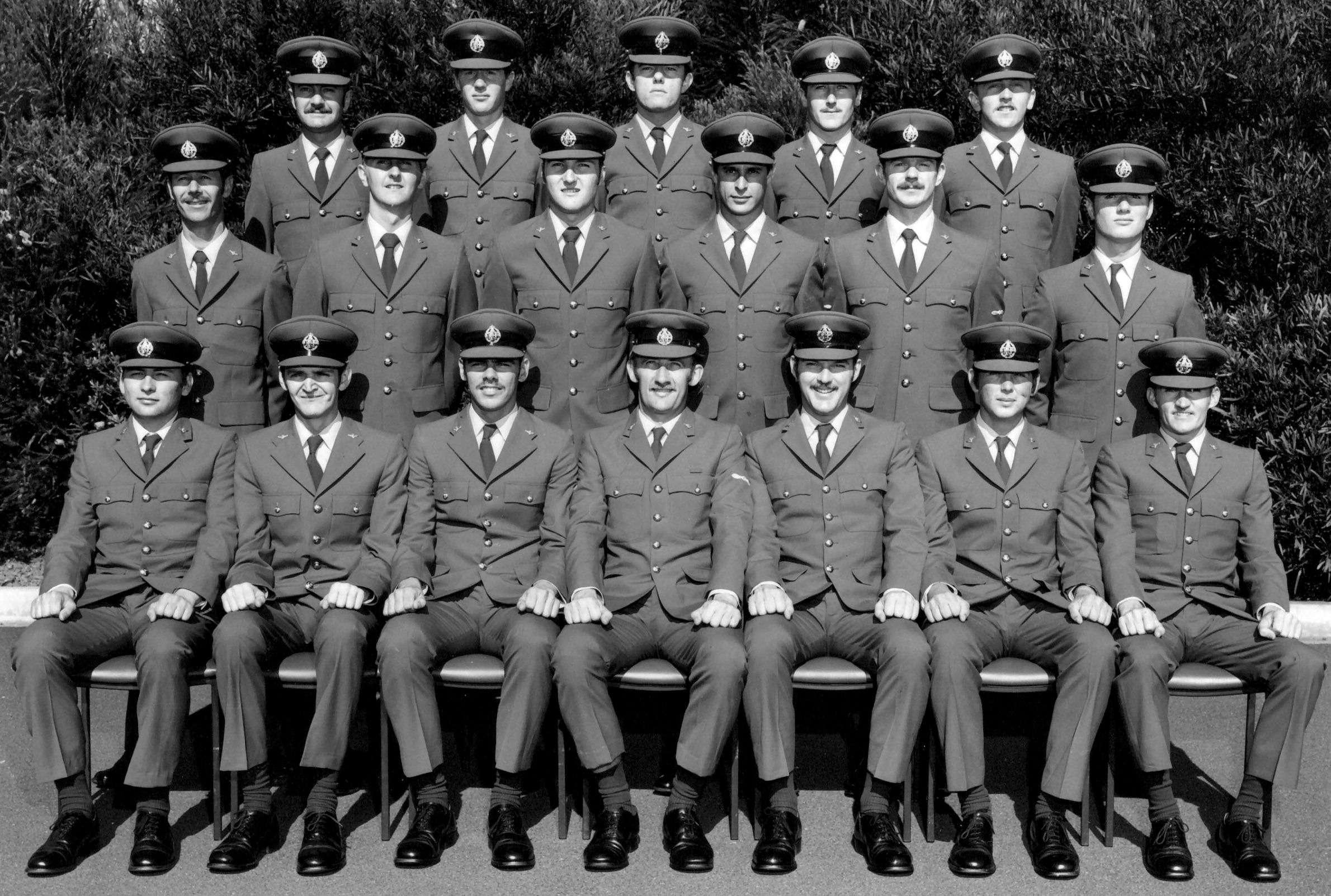 Back Row L-R: R. Hunter, John Damen, Bob Callaghan, Steve Offer, Peter Faulkner
Middle Row L-R: A. Hocking, Tim Corcoran, Henry Kanoniuk, M. Wojtynski, Unknown, P. Moore
Front Row L-R: Dave Macklin, W. Mortimer, Russell Icardi, John Darling, Ken Benson, W. (Bill) Allcorn, C. (Chris) Hawker.
101 RTC.
Les Ohlbach sent us this pic of 101 RTC which was taken on their graduation day 31 Jan 1978.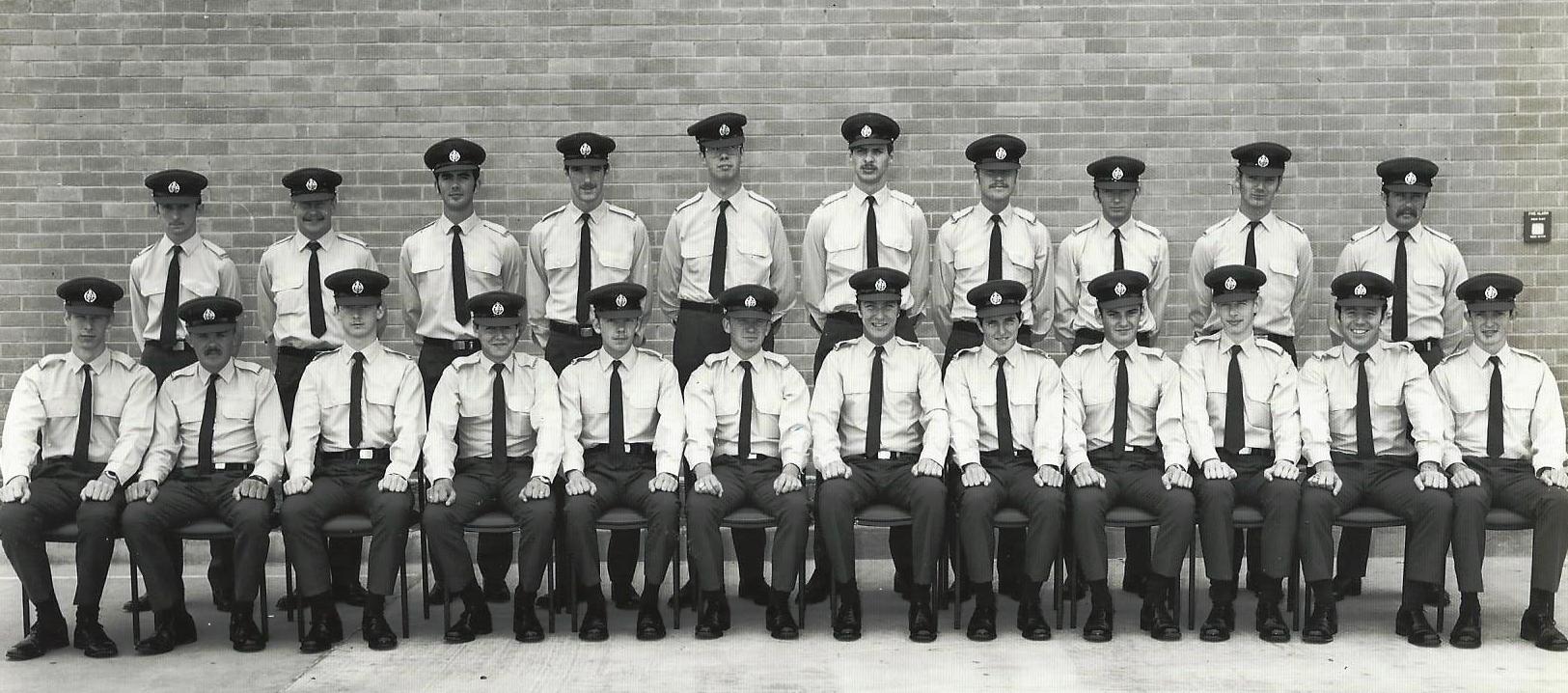 Standing L-R: Nick Negline, Gordon Pritchard, Kevin Rillet, Ian Spillman, Bruce Waters, Otto Lendvai, Simon Crotty, Allan Camp, John Wollard, Dave Crampton.
Seated L-R: Graham Higgins, Les Ohlbach, MikeStroud, Tery O'Brien, Derek Pyper, Paul McCauliffe, Keith Logan, Mark Jeffress, Peter Baulderstone, Henry Koster, Larry Waters, Ian Wyngate.
It's a long long way.
Brian "Bucko" Buktin read with interest the exploits of the Scootarbor blokes and blokettes who rode their little bikes from Pt Augusta to Perth a month or so back to raise funds for BehondBlue, he reckons he can go one better than that. He says, "Below is a pic taken of me in the back yard of my folk's place at Scarborough (WA) just before I took off on an epic trip to Richmond, back in January 1961. Back then the Nullarbor was 900miles of fine bull dust , not the lovely and easy to drive on sealed road it is today, so I rode the Vespa to Kalgoorlie where I bunged it on the train to Pt Pirie. I hitch-hiked from Kal to Pt Pirie, the result of a mate's Vanguard (my lift) breaking down. I picked up the scooter at Pt Pirie and rode it all the way to Richmond, arriving with two pence in my pocket.
Why only two pence you might ask?
I expected the Vespa to perform as per the instruction manual and return me 128 MPG. Not so, at the speed I was travelling (around 50 MPH) I was only achieving 90 MPG so eventhough back then fuel was as cheap as water, it went through my meagre savings so I had to scrimp on food to feed the bike. I lived on Metrical, the powder you mix with milk and a bit of fruit for most of the trip.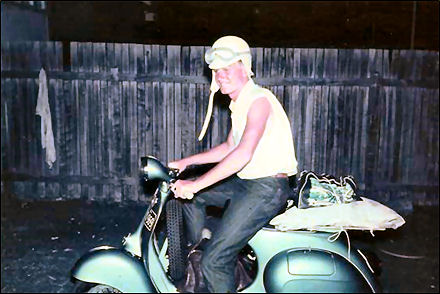 Mosquitoes were my greatest problem. I couldn't afford hotels or rooms so I had to doss down under the stars on the sheet of canvas you can see tied down on the back of the bike. That little bike was indestructible, it just went on and on. It was a memorable trip – don't think I'd like to do it again though.
Laverton today.
Rick Holmes, who normally goes onto Laverton at least once every two weeks and who has a security pass, wanted to take a few pics to send us. He was to find it just ain't as easy as it once was to do simple things like that anymore. Sadly these days entry and photography is strictly controlled on base due to the raised terrorist alert. After many emails to the base manager he finally managed to get the nod to take the attached pic which is of the old ASCO complex and which shows that the old barber shop is still operating in the same place at the left of the building.
What you don't see in the photo is the Base Security people who were off screen to the right as at all times he had to be accompanied by a serving ADF member to keep him on the straight and narrow.

He did say he met a lovely lady Flt Lt who was most interested in our old pics from earlier magazines when compared to what it is today.
(Rick!!! We notice you sent us a pic of a boring old building – where's he pic of the lovely Flt Lt – tb)
Rick also attached a couple of pics taken back in 1962. The one below is of some budding muso's in the vicinity of Tin City.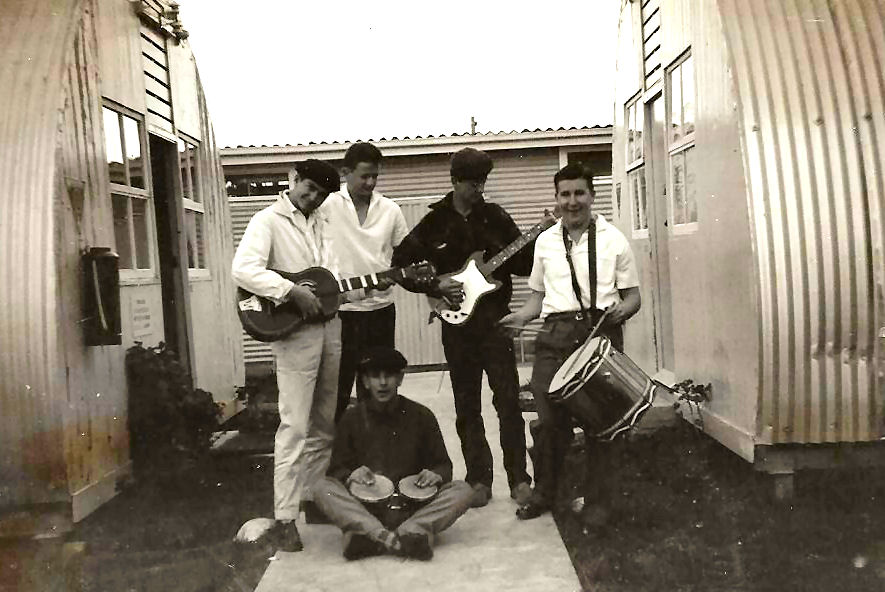 Standing L-R: Benny (Mumbles) Douglas, Ian Hetherington, Rick Holmes, Paul (Doc) Briot.
Seated: Bruce (Pancho) Merson .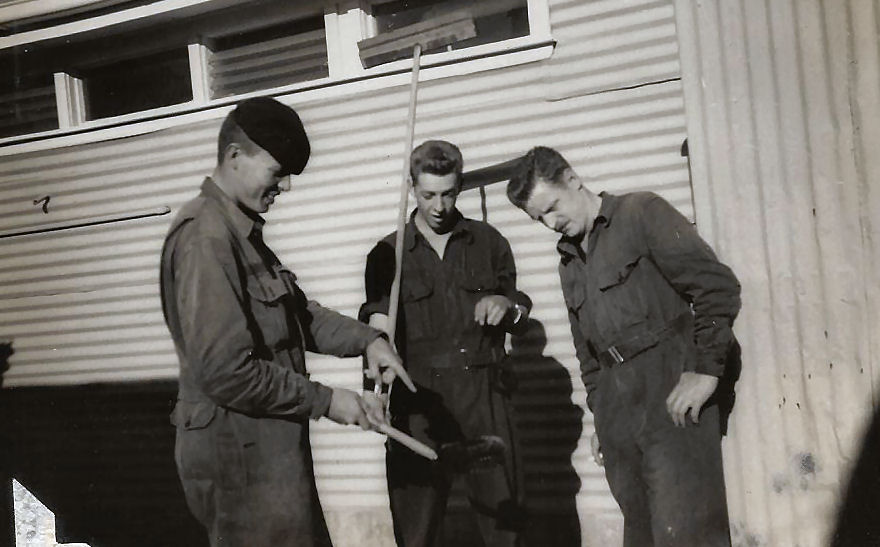 L-R: Roger Quinn, Rick Holmes and Paul Youd prior to using the dunny brush whilst on "pool"
Rugger – 1964 style.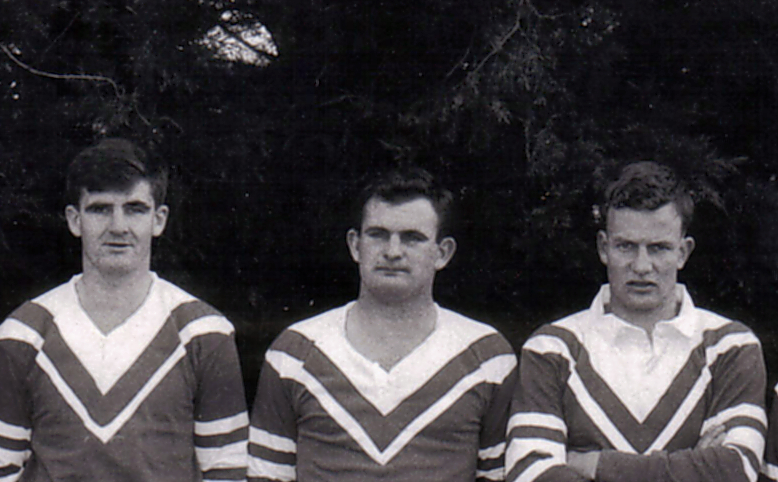 L-R: Buck Rogers, Ugly Anderson, and George Clooney look alike, Laurie Lindsay.
2 AD revisited.
Back in November, Keith Beardsmore went cruising down south and stopped off at Newcastle to meet up with and share a few coldies with some old mates.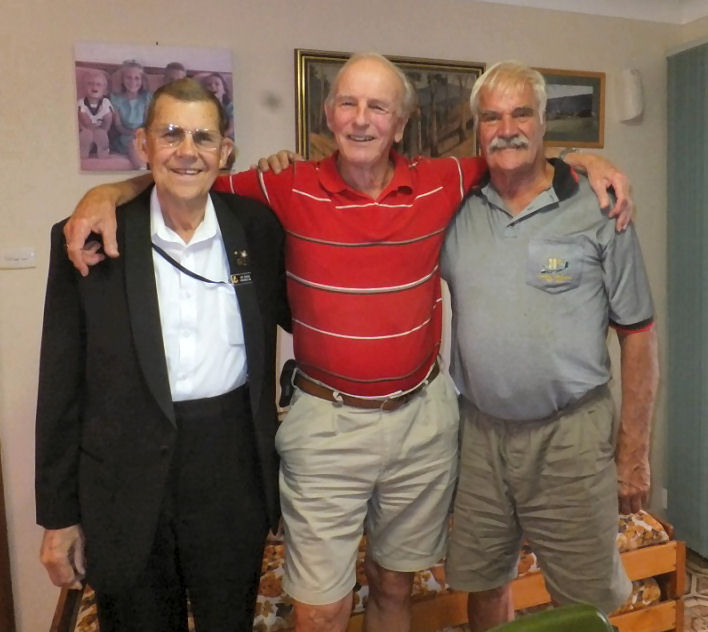 L-R: Jim Owens, Keith Beardsmore, John Broughton.
On his way back north, Keith stopped off at Port Macquarie and met up with the mayor, Alf Smith, who we must say is looking pretty good for an old bloke.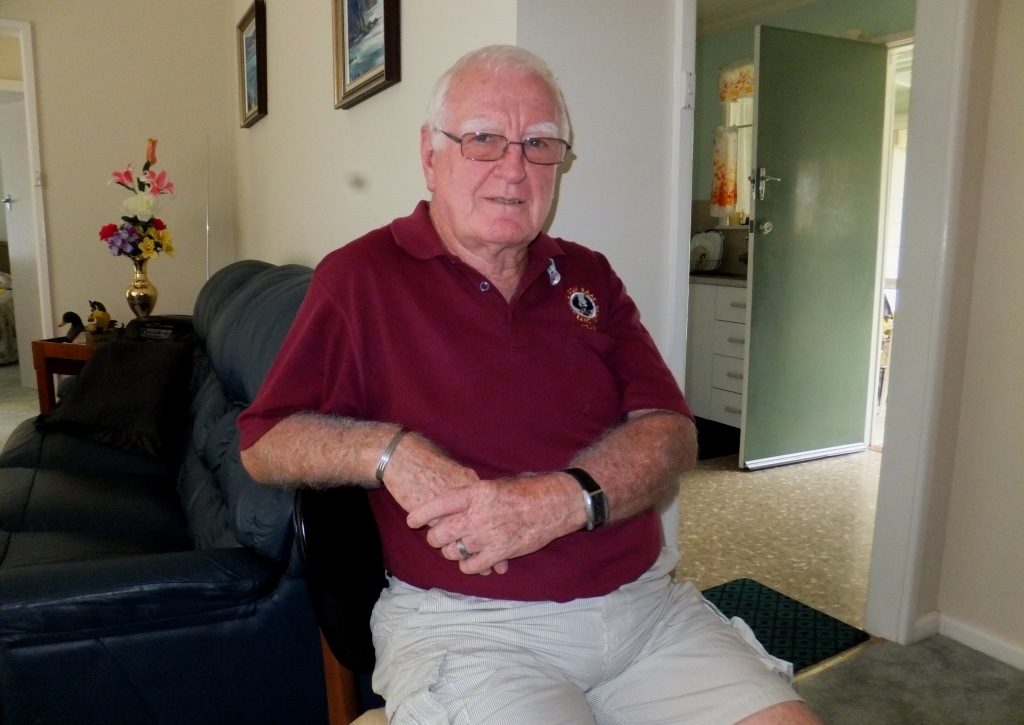 It is a well known fact that, single handedly, Alf built the RAAF's fleet of Wedgetail aircraft while he lived in Brisbane and soon after the last was finished he packed the bags and moved to Port Macquarie where these days he spends most of his day out on his 60ft cabin cruiser.
OOOPS!
Ken May asks, "Does anyone from SASS at Butterworth in 1974 – 76 remember this ooops incident. Seems the park brake "failed" just after starting engines and as the chocks had been removed prior to starting the old Gooney started to roll and was only stopped by the GSE. There were no injuries just a lot of red faces and some unhappy pax who were delayed on their trip to Thailand.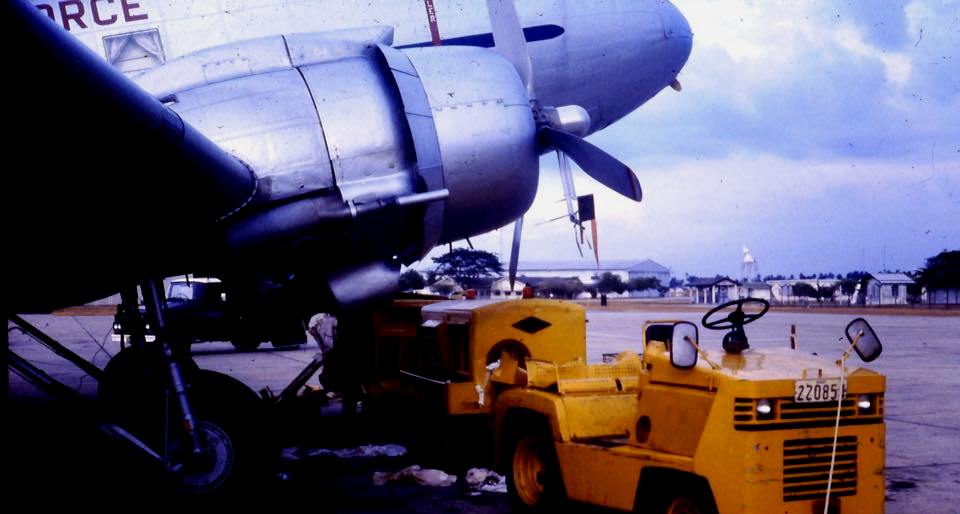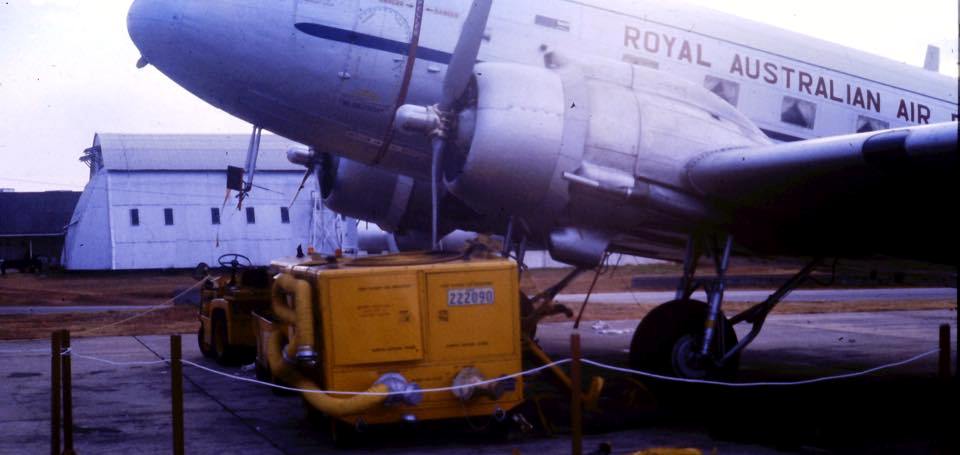 The aircraft required a port engine change (shock stall) as the prop went half way through the aircon unit and a propeller change for the starboard engine. You can see the starboard prop wiped out the back seat rests on the Clarktor. There was a bum on that seat at the time and he tried valiantly to try and get the GSE out of the way but it all happened far too quickly. His name was Steve Uhlman and he was an Elec fitter. He abandoned the Clarktor just in time before the prop hit – a very lucky man.
It was put down to pilot error and the practice of removing chocks prior to engine start was removed from the manuals.
The gos is those that were there at the time know the real story but they ain't saying….
Darwin Cinema – 1989.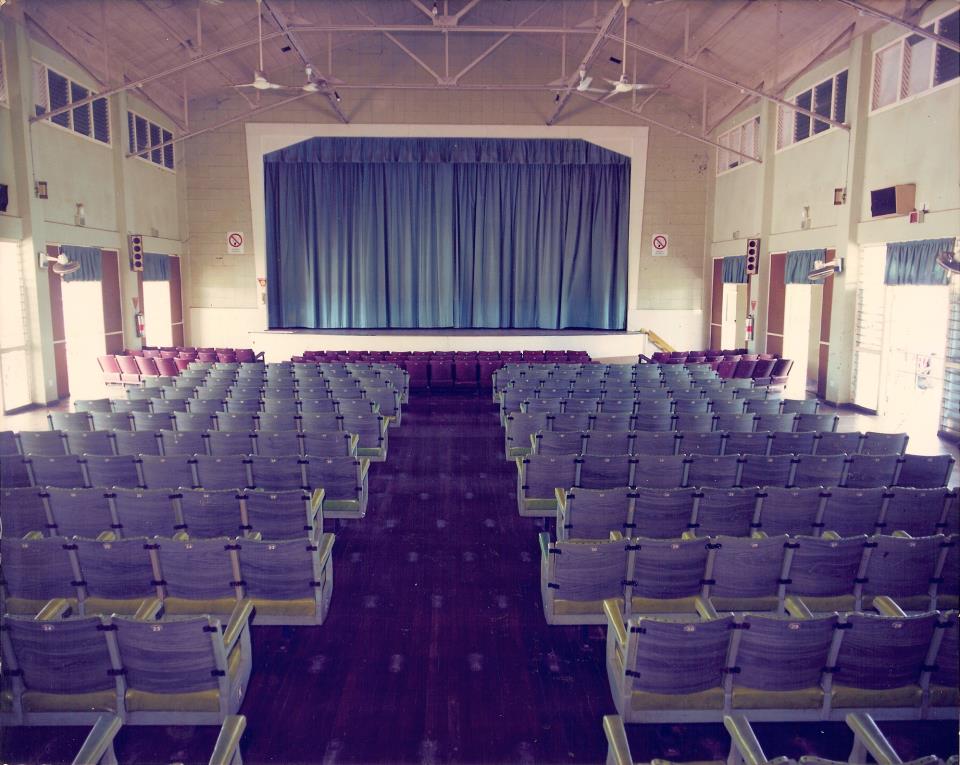 This is the Starlight Cinema at Darwin in 1989, just after they fitted 200 new seats which came from the old Darwin cinema in Mitchell St.
In the 1960's dads used to take their kids to the theatre on Friday nights as there was a 'serial' on as well as the movie, this meant they had to go back again the following Fri to see the next episode. Back then the seats were steel framed fold down vinyl, 5 per section and they were free standing, not secured to the floor. The floor was timber. You could also go out on the veranda look through the louvers and smoke.
The Miracle of Wine
In the Alcohol Aisle…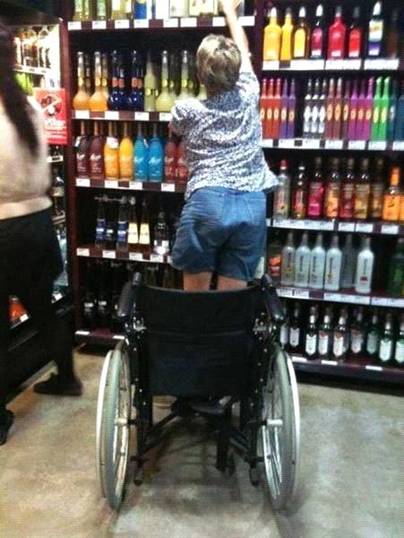 Praise the lord!!
&nbsp
Back Go to page: 1 2 3 4 5 6 7 8 9 10 11 12 13 14 15 16 17 18 19 20 Forward