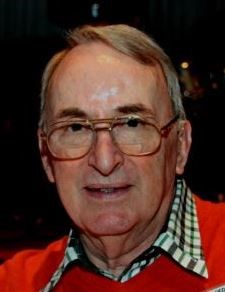 Pedro's Patter.
Excerpt from Jeff's book – Wallaby Airlines.
Beating the monsoon.
August, my first month in country, had been and gone. So far, no Wallaby had taken a hit from ground fire. The tell-tale metal patches on all the aircraft were evidence that they had taken small arms fire in the past. And, of course, there were daily accounts from other squadrons that aircraft were still being shot at. There was a war going on around us. It seemed to be only a matter of time before one of us picked up a stray round.
We all knew how and when any of us would take a hit. It would be on some occasion when we were forced by bad weather to fly low over insecure areas to carry out a resupply mission. And, while no one seemed to lose any sleep worrying about when it would happen, the tension in the crew was palpable whenever we had to abandon the safety of our normal procedures and get down close to the ground.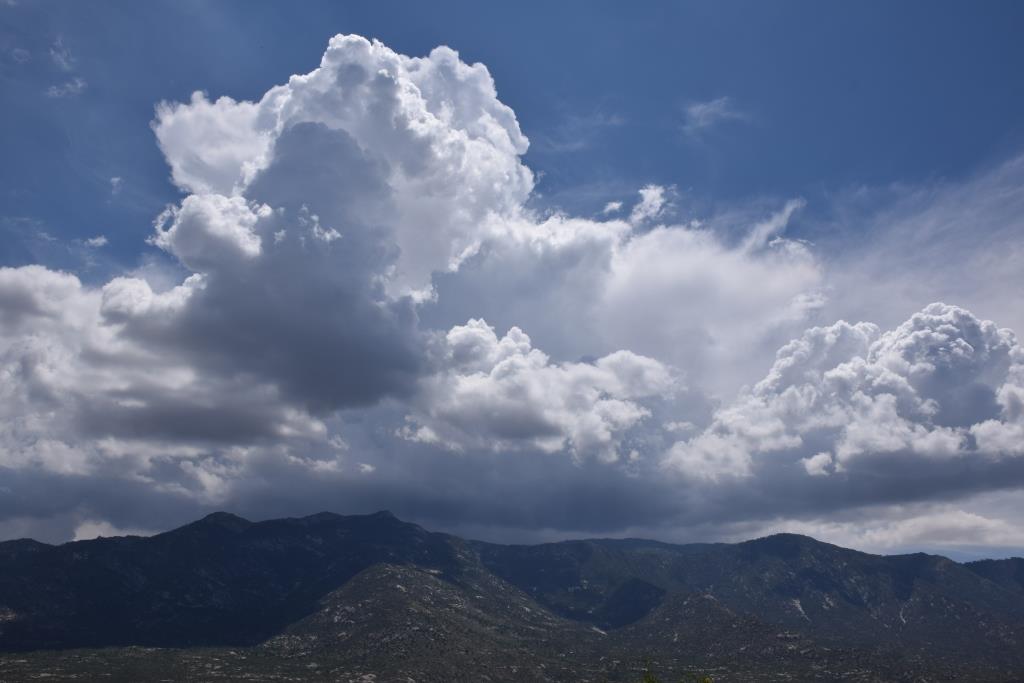 With the Delta in the grip of the monsoon, the weather around and south of Vung Tau and Saigon was frequently terrible, making flying operations very difficult. Small fluffy cumulus clouds formed shortly after the first rays of the sun appeared. During the day they swelled into gigantic towers, fed by warm, moist tropical air from the South China Sea. Tower bred tower until lines of these storm clouds might stretch right across the Delta from the coast to the Cambodian border. Late in the afternoon would come torrential rain, blotting out the landscape. Conditions sometimes improved as the storm clouds drifted away, or worsened as the cool rain falling on the warm surface below formed patchy, fog-like cloud down to ground level.
Of course, there was nothing to stop us flying in cloud. The aircraft were well equipped for instrument flight, and we were all instrument-rated pilots. But although the country was liberally equipped with navigation aids, these were located at major bases, and were of little use to a Wallaby pilot attempting to get into a small outpost in bad weather. The only way to find such places was to maintain visual contact with known ground features, and fly below cloud. If this meant flying below 2500 feet, our ground fire safety height, the unwritten rule was: 'Fly as low as possible!' A corollary to the rule was: 'Ignore the startled looks of the passengers'.
At this time of year Ca Mau, our 406 mission fuel and lunch stop, always seemed to be under a line of storm clouds and almost invisible in torrential rain. On many occasions during this period, I remember having to get around and under the rain-bearing cells to get in. One particular day, the clouds stretched right across the Delta. The only way in was to make a low-level dart under the showers from about five miles out. As I pushed the aeroplane down to treetop height, I wondered again if anyone on the ground had us in his gunsights.
The airfield was harder to find these days, especially in bad weather, having been rebuilt and relocated five miles out of town. I was relieved finally to see the strip of wet PSP glistening through the curtain of rain and wasted no time loitering over the surrounding rice paddies, most of which were effectively under Viet Cong control.
At the edge of the parking ramp were stacks of metal pallets left behind by C-130 aircraft. Empty POL drums, the drums forming pillars at each corner, supported the pallets. Here and there, the spaces between the drums were filled in with hessian, drawn back to reveal the faces of curious children peeping out. Through the gaps, I could also see adults, and simple personal belongings. The unloading team told us that these pallet-homes sheltered refugee families who preferred the frugal security of a makeshift airfield dwelling to the harassment and tax extortion which were part of rural life out here.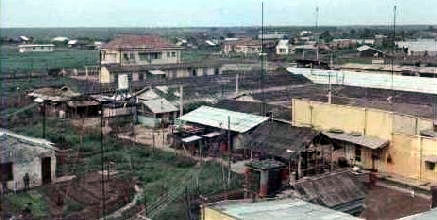 On the other side of the road outside the airfield, more fortunate families lived in mud-walled, thatch-roofed humpies, nudging one another for a place beside the river, which is the universal instrument for irrigation, water supply, bathing and sanitation. At least these people had a river to toss their garbage into unlike the shanty dwellers of Vung Tau, who had to make do with the gutter.
We now had to drive a few miles into town for lunch. The absolute flatness of the Delta stretched away to the horizon either side of the road, the watery monotony of the paddies broken only by a rectangular grid of walkways and clumps of houses. Peasant men and women, coolie hats shading their faces, bent low tending the rice, much of which would find its way into VC stomachs. At the side of the road, grinning kids paused in their play to wave and shout the usual 'Hi! Uc Dai Loi', as our vehicle drove madly past. The older ones cheekily wheeled their bikes toward us, slowing our progress. A huge sow grubbed around the mulch of the gutter, searching for food. A water buffalo stood motionless in a paddy completely immersed, except for its head, staring into infinity.
The adults we saw, particularly the very old women, looked impassively in our direction without making eye contact. I wondered how much these simple people understood or cared about the recent elections for a consultative body to draft a constitution.
Even getting out of Vung Tau and into Saigon in bad weather could be a problem. It often rained all night in Vung Tau. Storms, which formed on the higher ground to the west, moved down the Saigon River and out to sea. Being at the tip of a narrow peninsula, we often got up in the morning to find ourselves cut off from the 'mainland' by a wall of cloud right down to sea level. One such morning, we were bound for Saigon on the daily courier, and climbed over the base in a spiral before calling Paris to advise them we were 'going Popeye' (into cloud). Paris acknowledged in a rather bored voice, instructing us to climb to 12,000 feet and proceed to and hold over the Saigon NDB. He added, almost as an afterthought, that we were 'number 26' in the approach sequence!
I had never been above six or seven thousand feet since arriving in this country. We joined the stack of aircraft over the NDB and started our holding patterns. Every few minutes, as an aircraft landed, Paris brought us down a thousand feet as our sequence number decreased. Other aircraft, arriving after us, were stacked 'on top' of us. Still more were orbiting in stacks over two other NDBs. Finally, after almost an hour, we heard the magic words:
Wallaby Zero One, take up a heading of zero seven zero, downwind for precision radar approach runway two five. Call Saigon Approach Control on three six three decimal eight.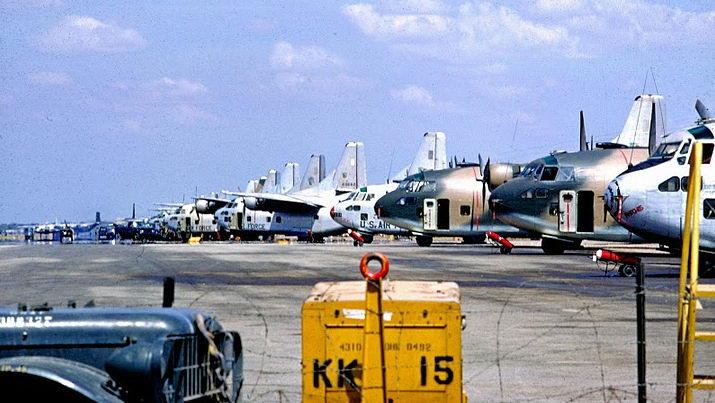 After five minutes prattling from the GCA controller, who gave us headings to steer and rates of descent to maintain our approach path, we were on the ground at Tan Son Nhut and once more rumbling towards Rebel Ramp. Two people had cause to be pleased about our delayed arrival. Graeme 'Splinter' Boxall and Brian Young, replacement pilots for Dick Cooper and John Lanning, were standing on the ramp beside their cabin trunks. Because of the delay, they were able to go back with us on the morning courier, instead of waiting around all day, as our group had to do on arrival a month ago. I must admit, I was selfishly pleased to see them, and to remind them that they had 364 days to go. It made my own 'sentence' so much lighter.
They stared wide-eyed at the fantastic array of aircraft around them, just as I had on my first day.
There was a good reason for not flying in cloud if it could be avoided—there was a definite risk of a mid-air collision. While most parts of the country were covered by radar, only jets and out-of-country aircraft were provided with positive radar control. Transports and light aircraft were provided with a 'flight follow' service which gave no specific instructions unless there was a known collision risk, or there were notified air strikes or artillery fire in the area. Such aircraft were not subject to any other restrictions on their movement. When their pilots called 'Popeye', the flight follow agency was supposed to provide them with traffic information so that they could separate themselves from other aircraft in the area. But since relevant air traffic might include aircraft operating in the same general area which had not called 'Popeye', and whose movement details were not accurately known, this information was of questionable value. A recent near miss highlighted this and made me determined to fly VFR (visually) whenever possible.