Privacy Policy | Editorial Policy | Profit Policy | Join the Association | List of Members | Contact us | Index | Links
Back Go to page: 1 2 3 4 5 6 7 8 9 10 11 12 13 14 15 16 17 18 19 20 Forward
61 Pilot's Reunion.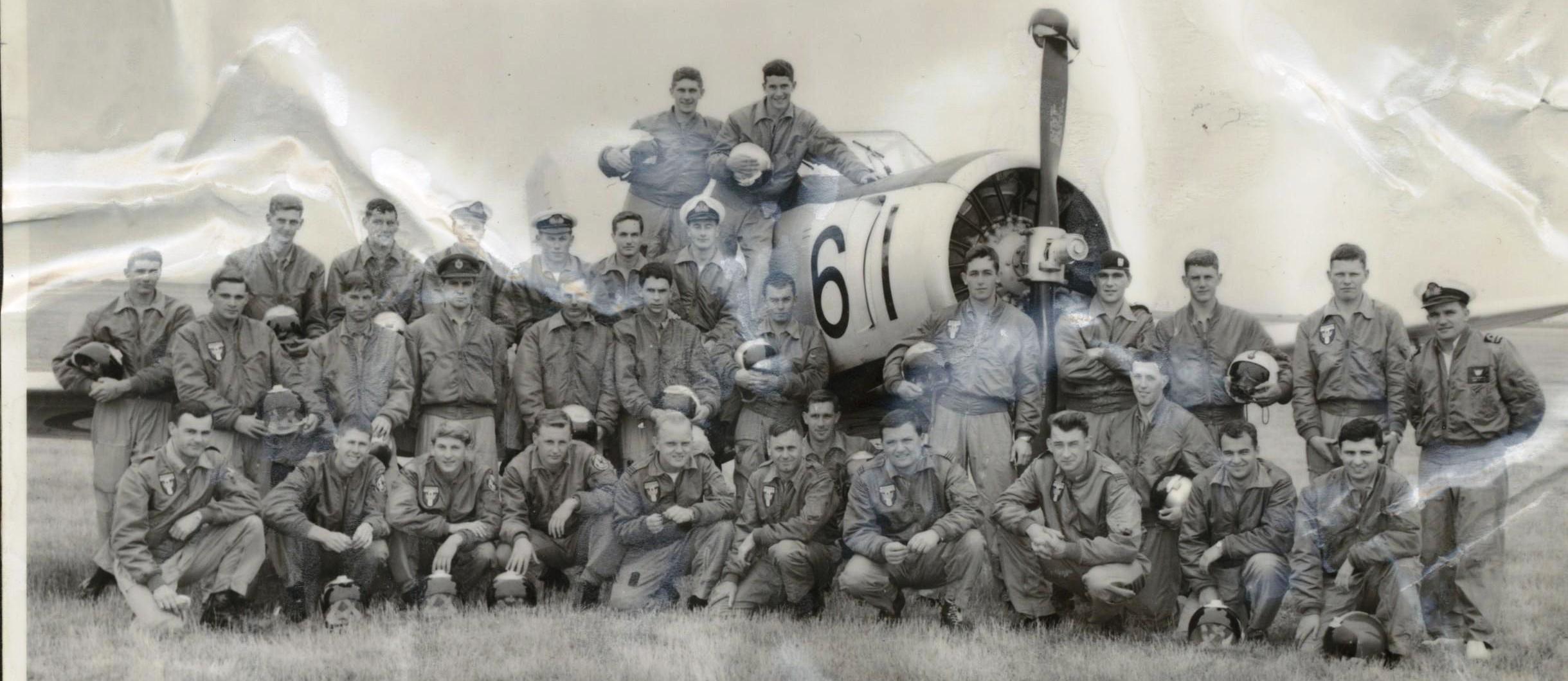 50 Years ago, in June 1967, a bunch of fit and excited young blokes passed out from the RAAF's Flying School at Pearce and headed off to start their diverse careers in the Air Force.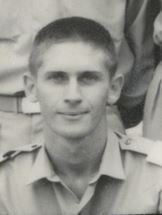 Some went to fly transport aircraft, some to fighters, some left the Air Force to pursue civilian careers, others went on to obtain Air rank, but whatever way their careers developed, they all stayed in touch, and over the three days 23 – 25 June, they got together in Melbourne again to renew old friendships.
Geoff Kubank, who flew Sabres and Mirages out of Willytown and Hercs out of Richmond and who then went on to fly for Qantas after leaving the RAAF, organised the get together at Melbourne's iconic hotel, the Young and Jackon's Princes Bridge Hotel, which everyone knows is situated on the intersection of Flinders and Swanston Streets.
Y and J's, as it is known to Melbourners, is probably Australia's most iconic Hotel, due to the large painting of a naked Chloe which adorns an upstairs bar. The site was originally owned by John Batman, who left the Cornwall Hotel in Launceston and sailed up the Tamar river and across Bass Strait to found Melbourne. In 1837, he and his family lived in a house on the site for some years after which it became a school. When the schoolhouse was burned to the ground in 1853, warehouses were erected on the site and in 1861 the Princes Bridge hotel was opened. Two Irish diggers, who were cousins, Henry Young and Thomas Jackson, took it over in 1875.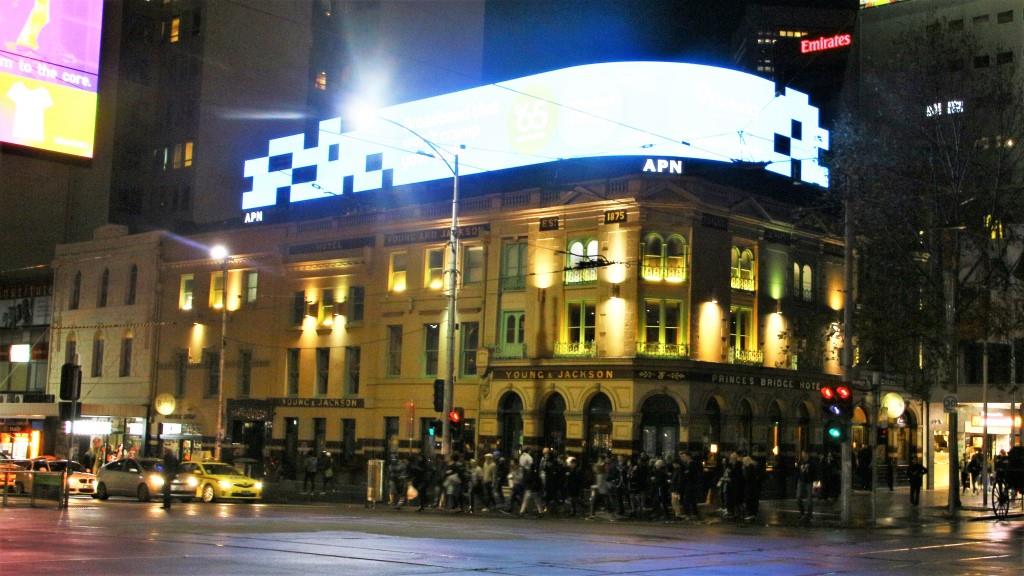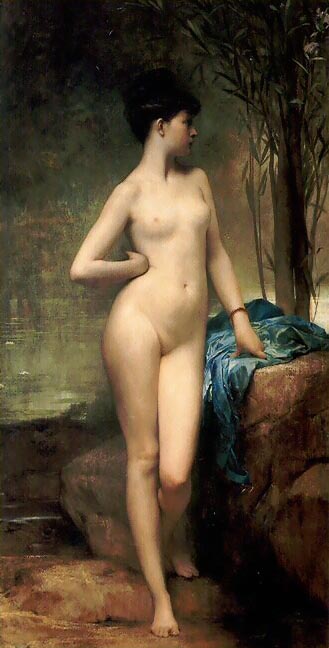 Today the hotel is an amalgamation of five separate buildings, some of two and some three stories. The 1853 bluestone corner building was originally a three-story residence and had a butcher's shop on the ground floor. After being converted into a hotel, it was extended in both directions, along Flinders and Swanston Sts with all buildings rendered and painted to match each other in the 1920's.
The wonderful painting of Chloe, who was a young 19 year old Parisian girl named Marie, was painted by French artist Jules Lefebvre in 1875. It was displayed in various art exhibitions before being bought by a Dr Thomas Fitzgerald of Lonsdale St, Melbourne for the sum of 850 guineas ($1,785). The Presbyterian Church congregation found the painting too scandalous to be exhibited on Sundays so it was taken down from display. When Fitzgerald died in 1908, it was sold to another Melbourne resident then in a month or so, resold to Young and Jackson who, in 1909, placed it in the bar of their hotel.
Today the painting, which was valued at $5 million back in 2015, is still located in the upstairs bar of the Young and Jackson Hotel.
Back in 2003, there was a copy which hung in the Sergeant's Mess at Amberley – see HERE.
It was here that Geoff Kubank decided to hold the 50 year anniversary of his pilot's course. These are some of the people who came along to the Friday night meet and greet:
As usual, all these pics have been crunched to allow the page to open quicker.
You can click most of them to open a bigger and better quality copy.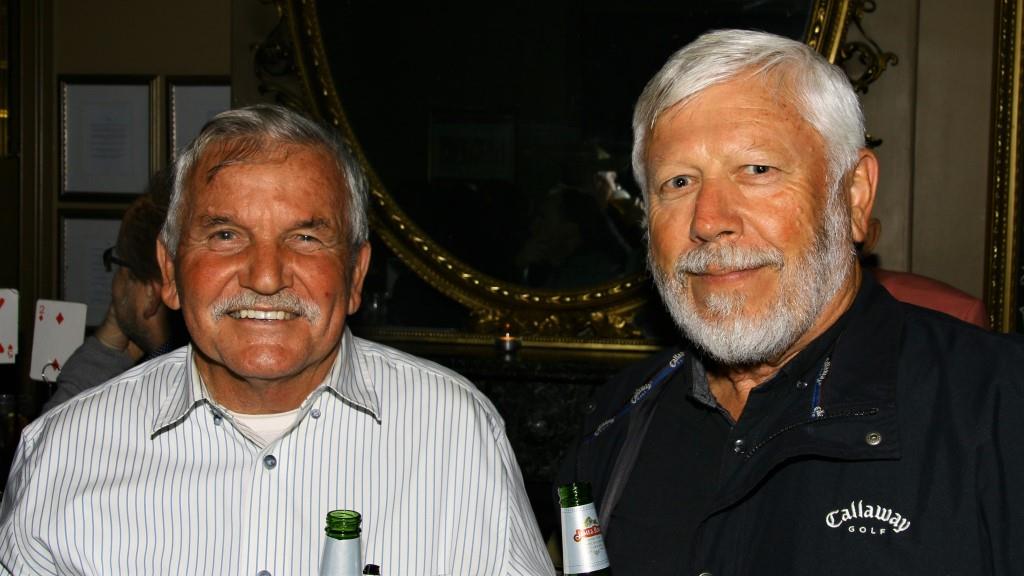 Arthur Johnson, Geoff Vidal.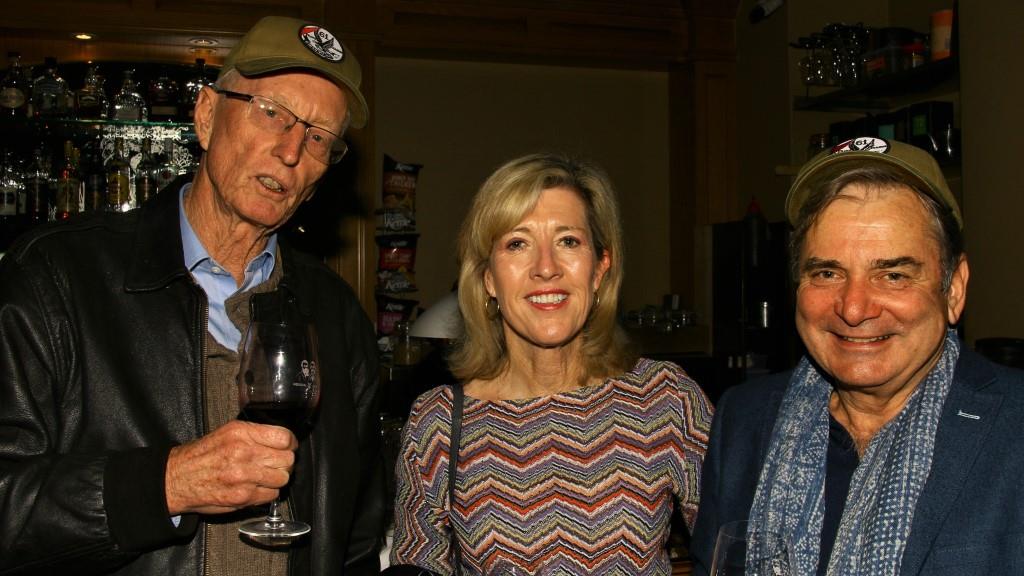 Bob Richardson, Kerry-Anne Powell, Mike Tardent.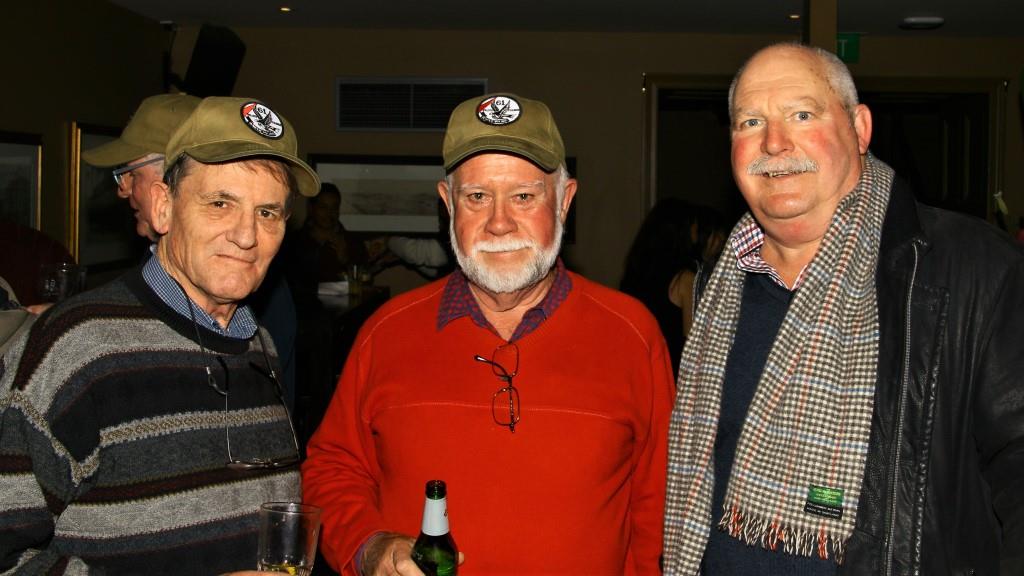 Charlie Rex, Dick Tippet, Bill Heron.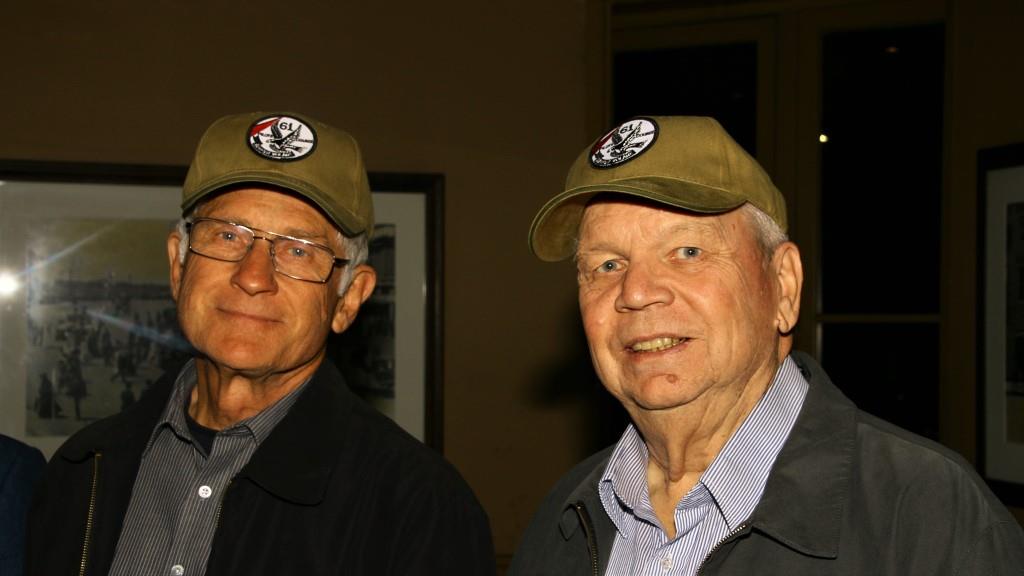 Geoff Kubank, John McLucas.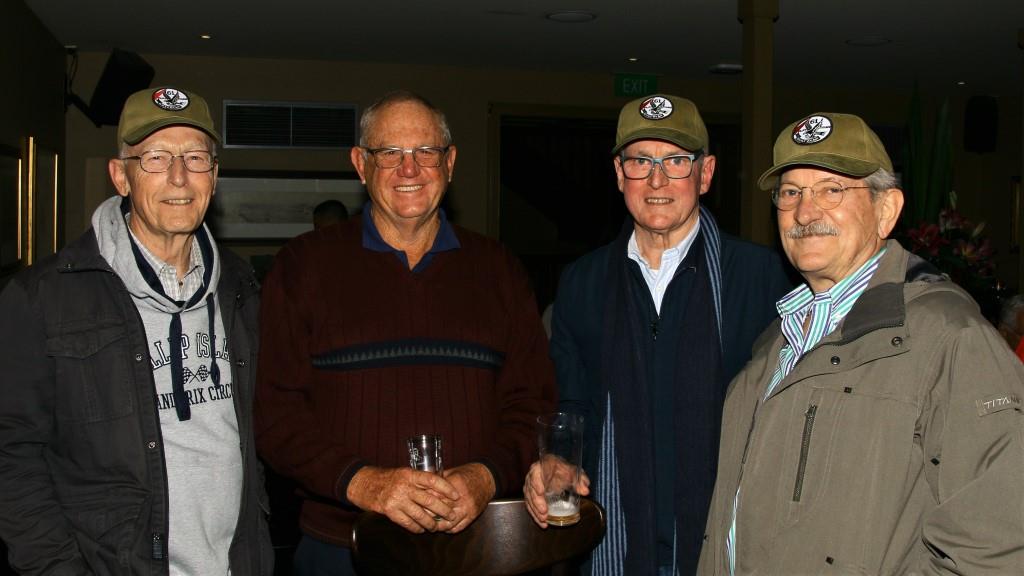 Jock Alexander, Alan Clancy, Gary McFarlane, Les McGrath.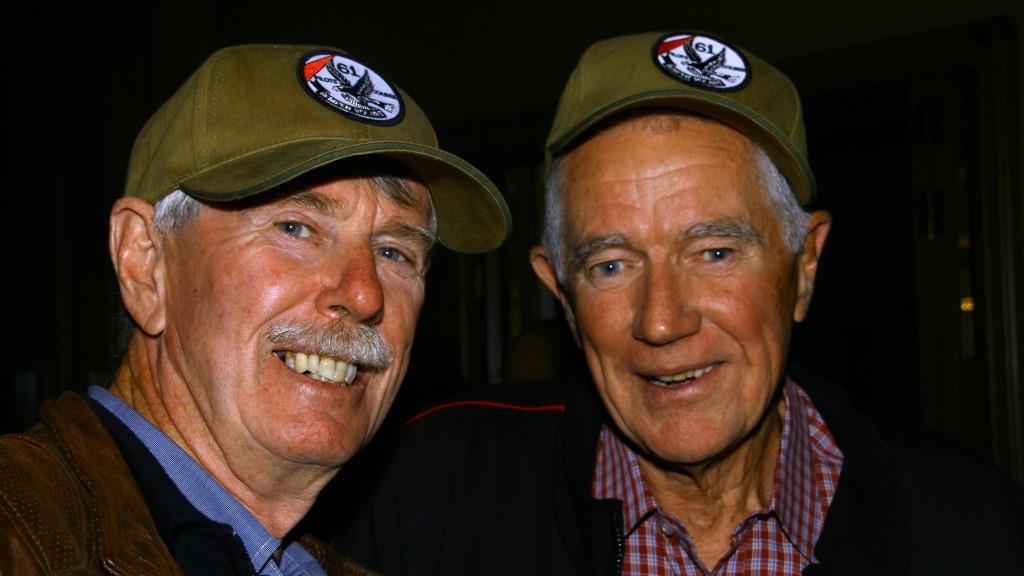 David Ozanne, John Stone.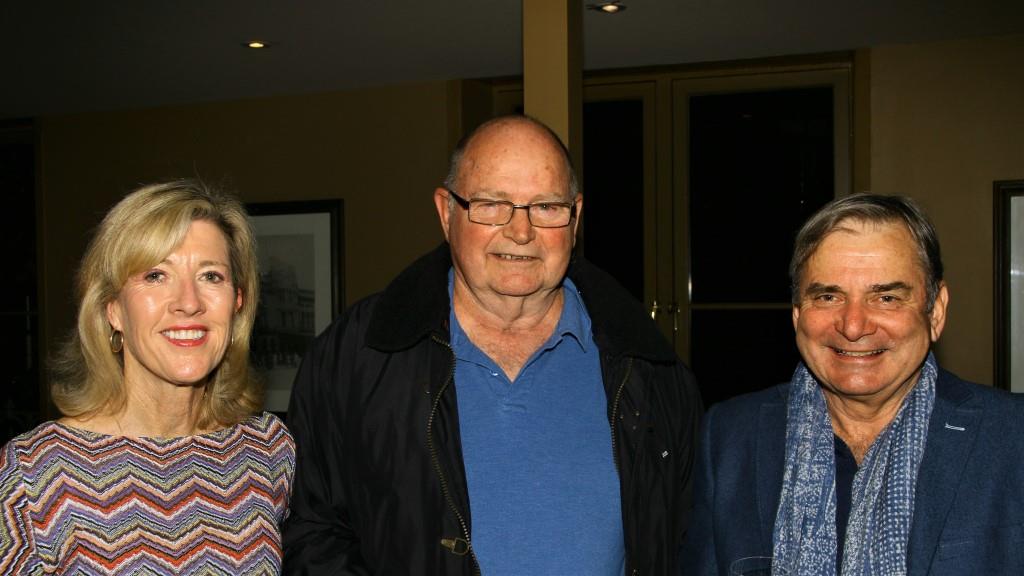 Kerry-Anne Powell, Geoff Wood, Mike Tardent.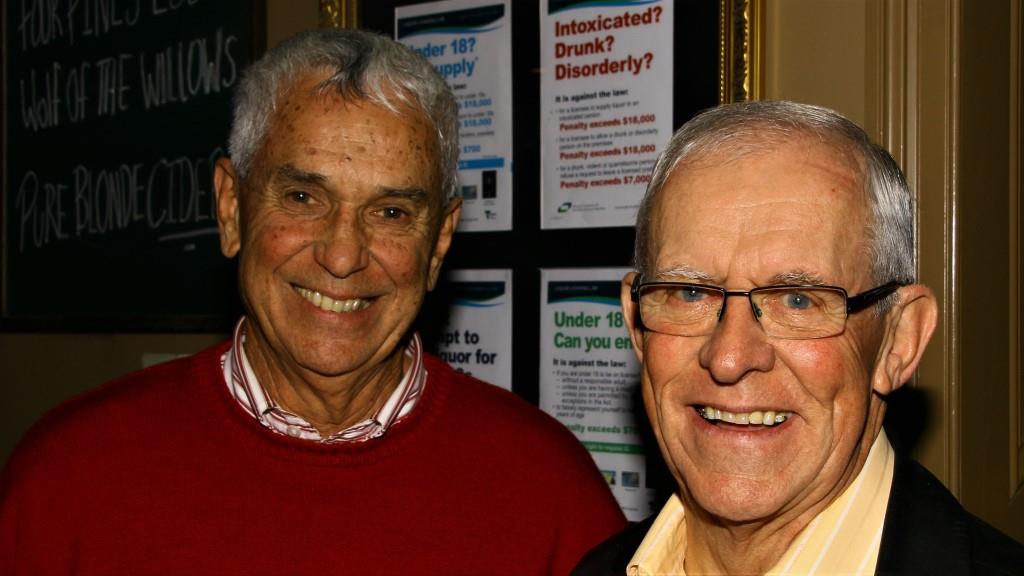 Pete Bradford, Dave Rogers.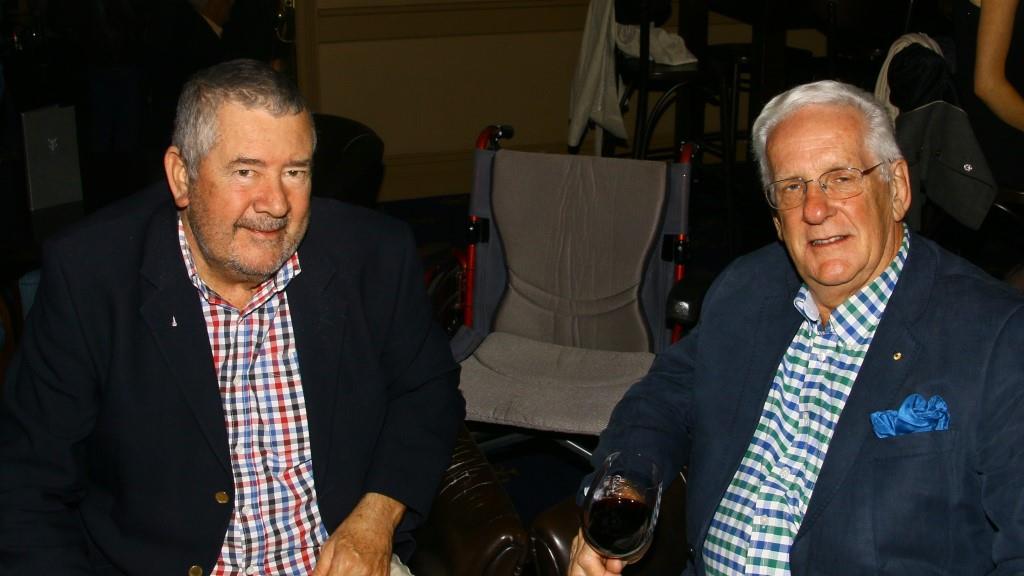 Ray Perry, Roger Collins.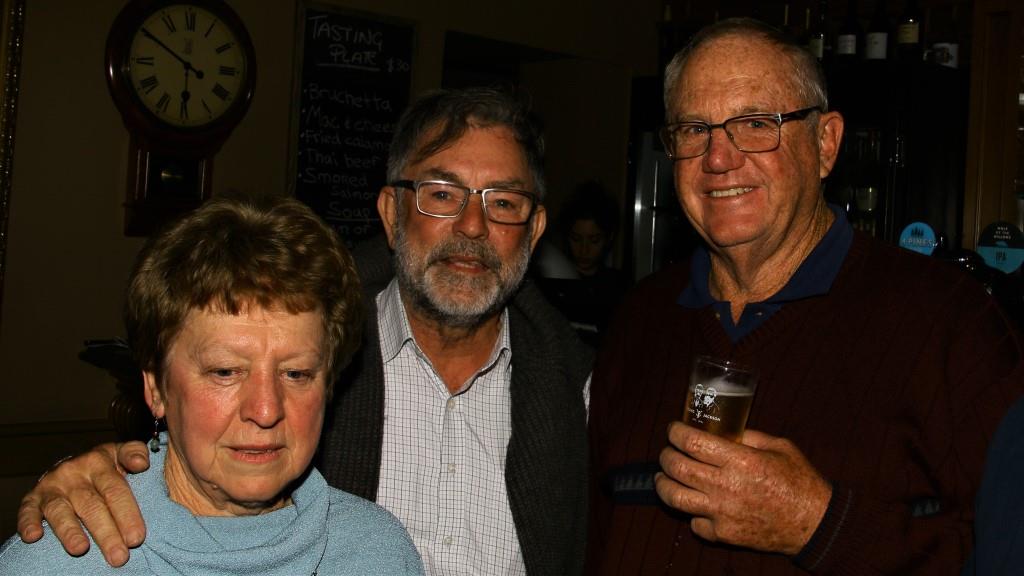 Robyn Clancy, Paul Lobston, Alan Clancy.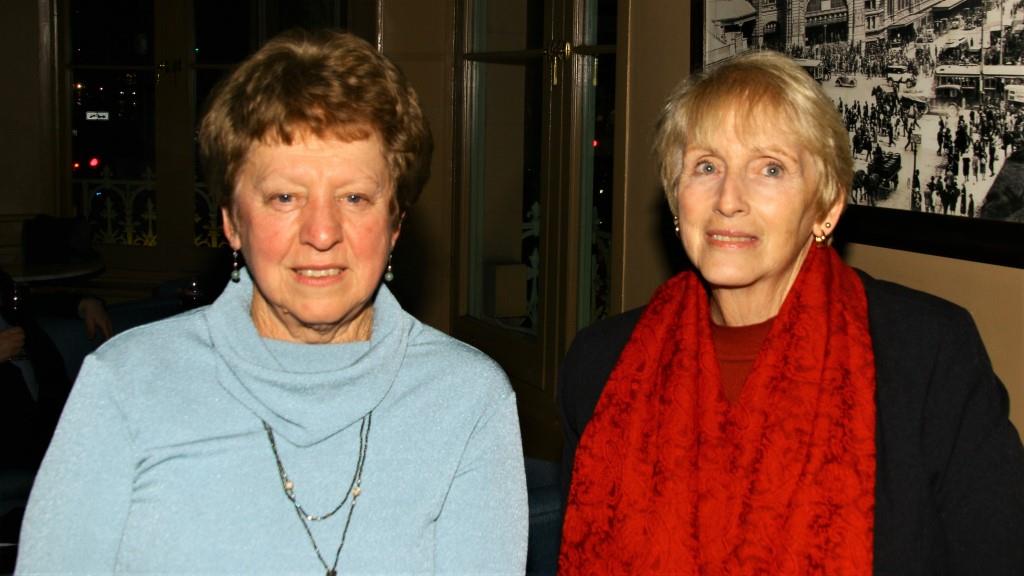 Robyn Clancy, Sue Tippet.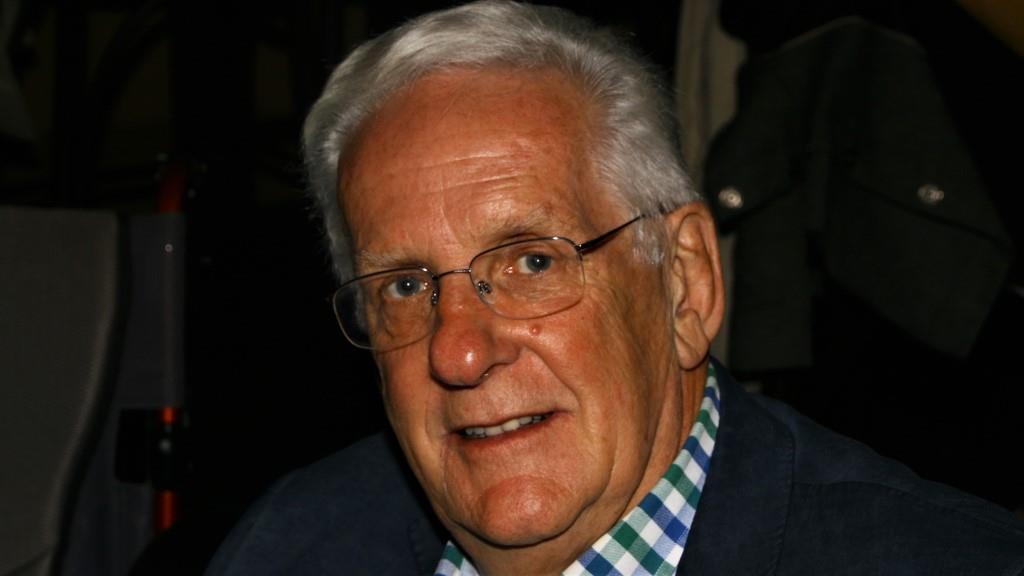 Roger is a Professor Emeritus at the University of NSW and serves on the board at Inenco Pty Ltd, a highly successful engineering supply company serving the mining, manufacturing, agricultural, oil, and gas industries in Australia, New Zealand and the Asian region. He is a dynamic speaker and presenter.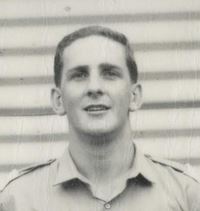 He has degrees from the University of New South Wales (in applied psychology), and from Macquarie University (in management). He has co-authored and edited a number of books, including Australia's best selling text "Management in Australia" and recently held visiting appointments at Cambridge University and the Indian School of Business in Hyderabad.
He is a member of the American Academy of Management and was the inaugural Chairman of the judging panels for both Australia's and Asia's Best Employers' awards from 1998 until 2010.
Roger is a regular contributor to national and international management conferences and is a faculty member on a number of Australian and Asian executive development programs. He has twice received the Alumni prize for Outstanding Contribution to Teaching at AGSM and was awarded the Vice Chancellor's Award for Teaching Excellence.
In January 2004 he was appointed as a Member in the General Division of the Order of Australia for his services to teaching and was awarded the Australian Human Resources Award for Career Long Achievement in HR in 2005.
In his "spare time" he raises beef on a property at Gerringong.
The blokes and their ladies returned to the Hotel on Saturday night for a formal dinner.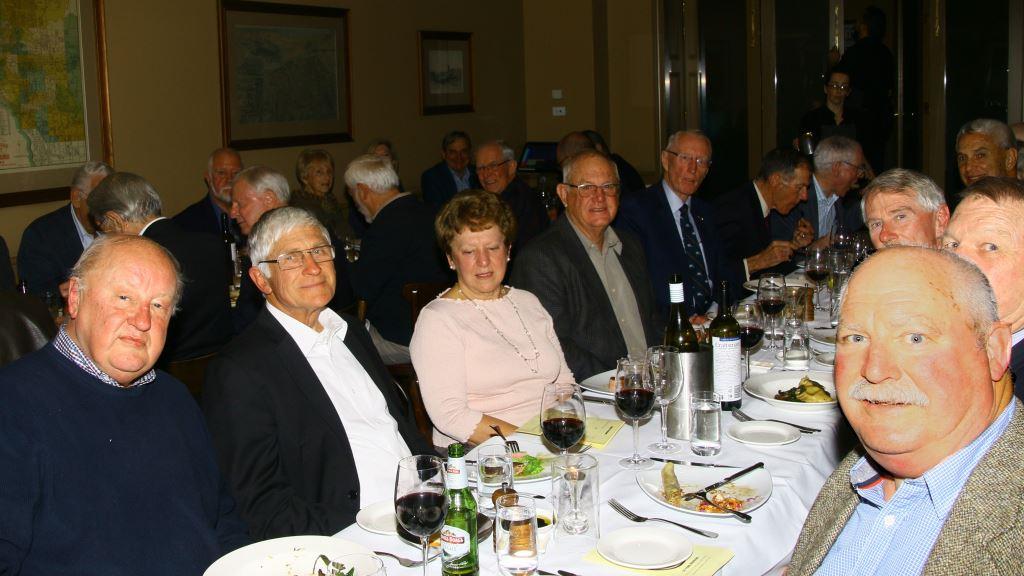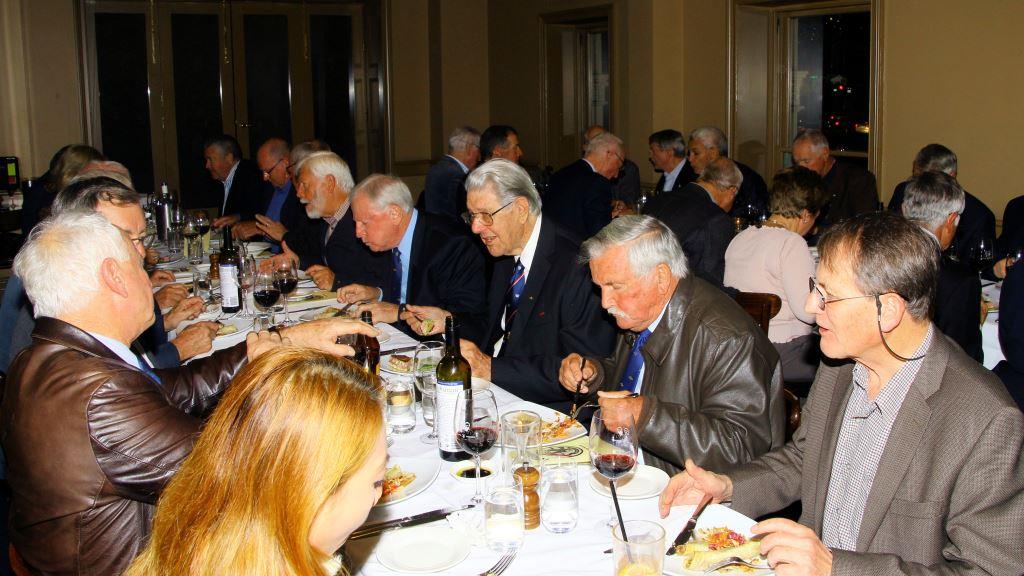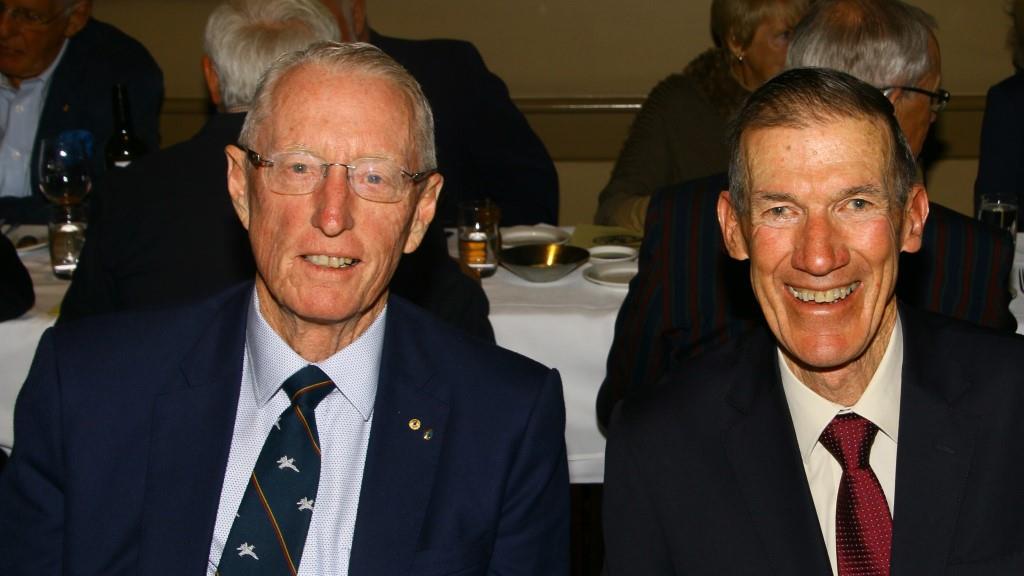 Bob Richardson, Ron Tayles.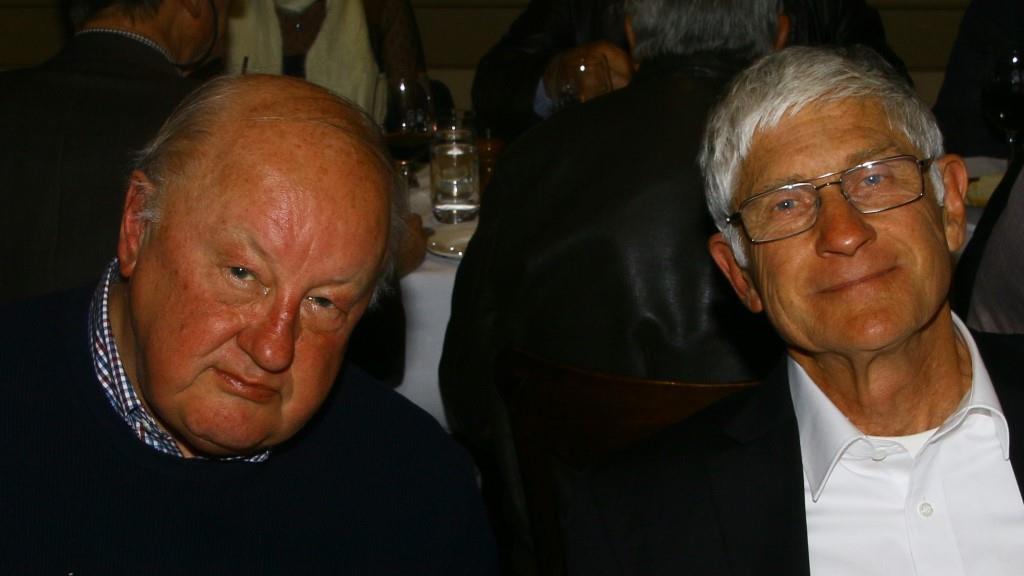 Bruce Mouatt, Geoff Kubank.
David Ozanne, John McLucas.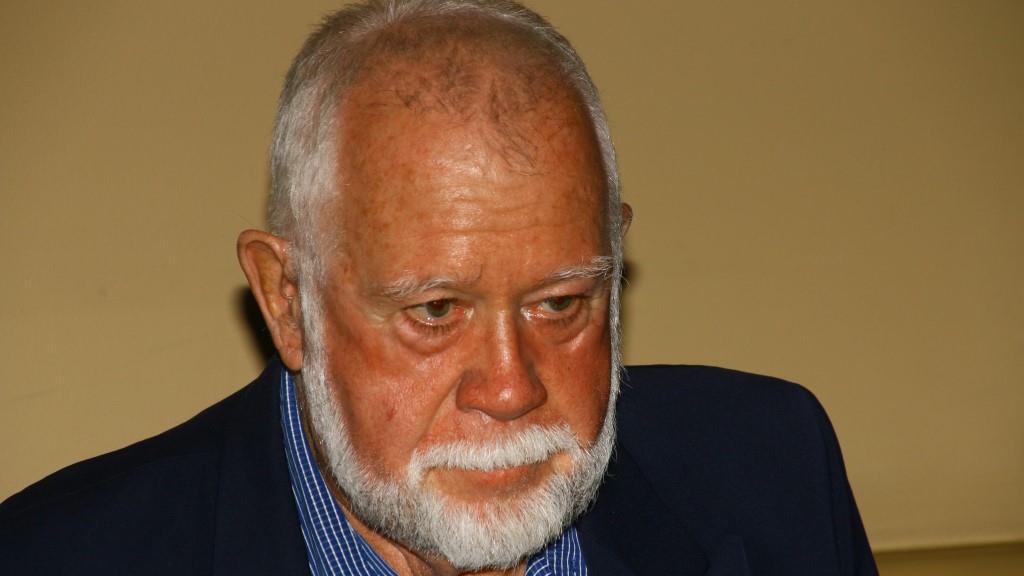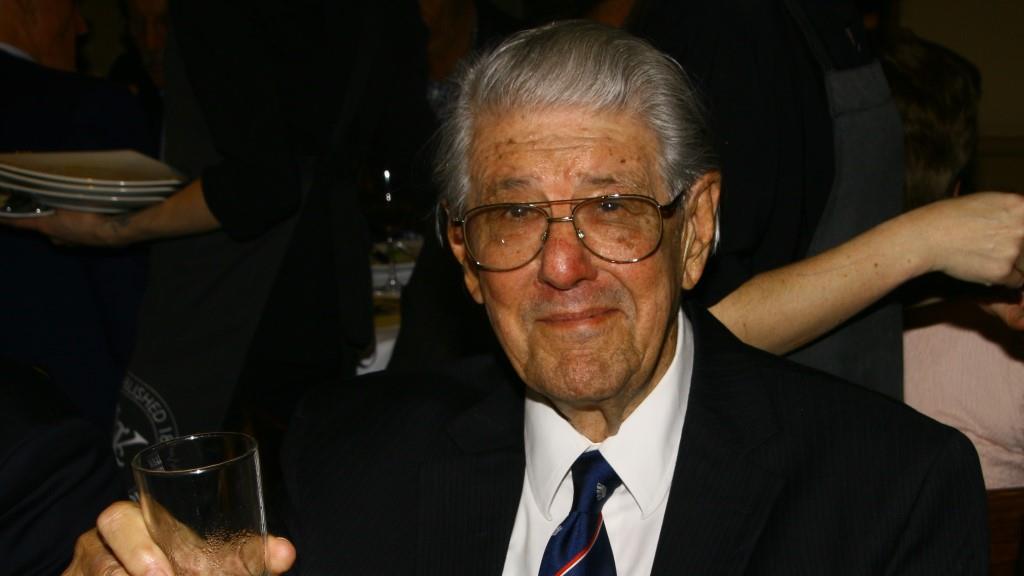 Fred who's a fit 88 this year, is ex RAN and was on number 1 Pilot's Course that graduated from Point Cook in 1949. He joined RAN's 808 Squadron flying Sea Furies and in 1952, 808 Squadron made history by landing four Sea Furies aboard HMAS Sydney while the ship was at anchor. Lieutenant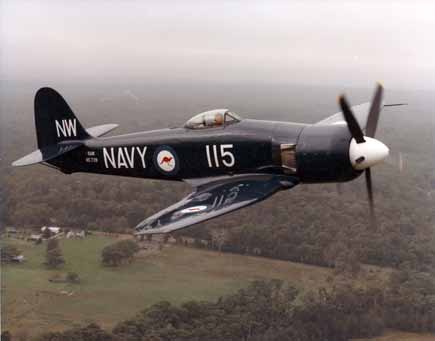 Commander Julian Cavanagh, Lieutenant Fred Lane and Sub Lieutenants Peter Wyatt and Andy Powell had flown across Australia from Nowra in battle formation and were originally planned to land aboard Sydney before she entered Fremantle. Poor weather meant that the exercise was postponed until after the ship had left Fremantle and the Sea Furies instead landed at RAAF Base Pearce. Sydney found favourable conditions, however, in the lee of Rottnest Island and the four aircraft scrambled quickly to land on Sydney while she remained at anchor. This was a first for post-WWII aircraft and would not be repeated by a fixed-wing aircraft anywhere in the world until the Vertical/Short Take-Off and Landing (VSTOL) Hawker Siddeley Harrier came into service.
Fred went on the fly Sea Furies in Korea with RAN 805 Sqn from August 1951 to February 1952 and as he said "Korea was the first, and only time to date, that fixed wing aircraft from any RAN aircraft carrier participated in a shooting war. The Hawker Sea Fury and Fairey Firefly were never ideal platforms for the kind of war fought in Korea. As a fighter, the piston-engined Sea Fury could put up only token resistance against the jet-powered MiG 15 in a one-on-one situation, so we tended to avoid aerial contact. The chief theoretical tactic was to try and suck an aggressive MiG down to low level and low speed. In Korea, MiGs could be seen from time to time, contrailing and ducking it out with USAF Sabres 20,000 to 30,000 feet above. Short of having to dodge drop tank and cartridge case showers now and then, they presented little threat in our lower-flying environment".
Fred retired from the Navy in the mid 1970's.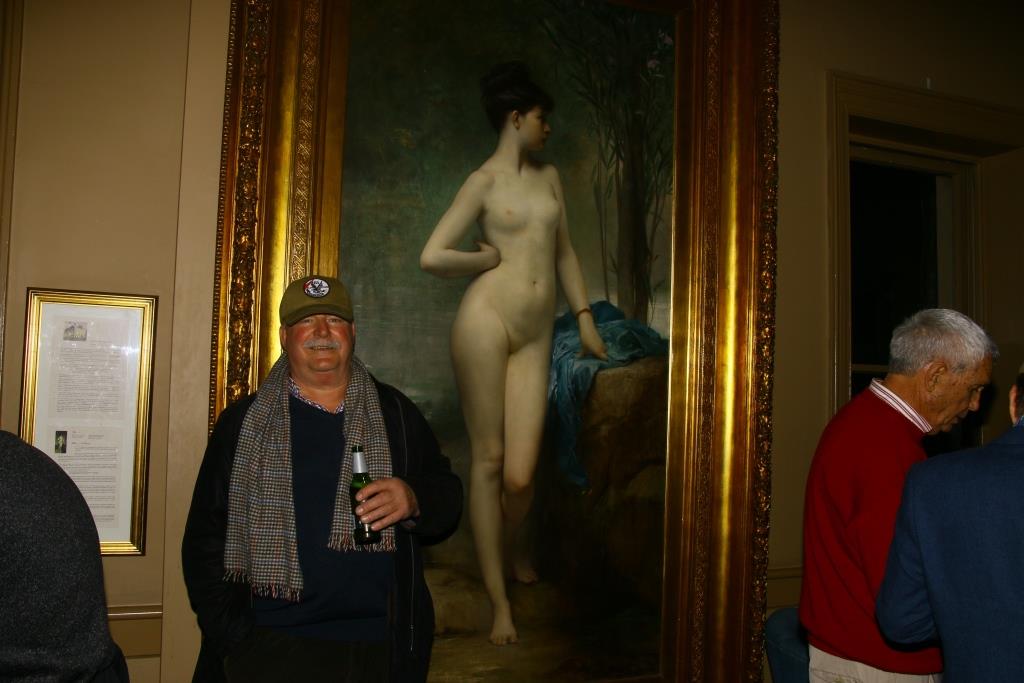 Bill took up a position beside the famous painting, he told us he was on guard, making sure none of the troops got too enthusiastic and did her a damage.
We didn't believe him for a minute !!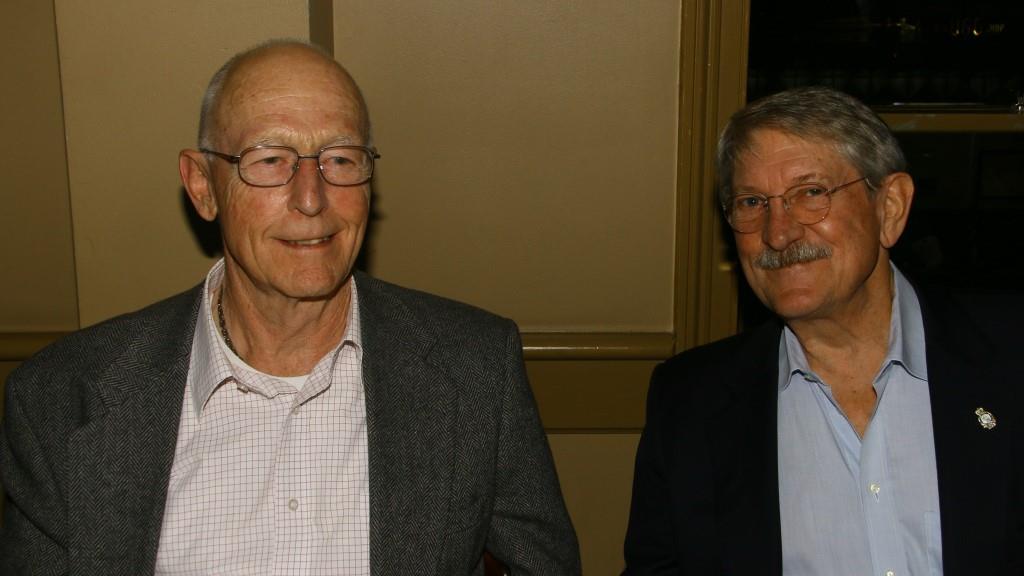 Jock Alexander, Les McGrath.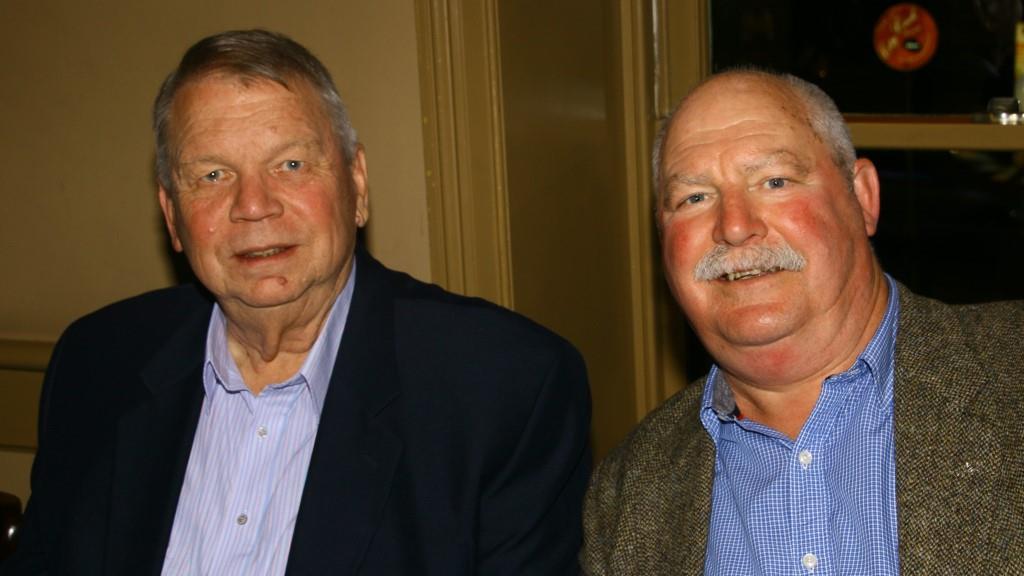 John McLucas, Bill Heron.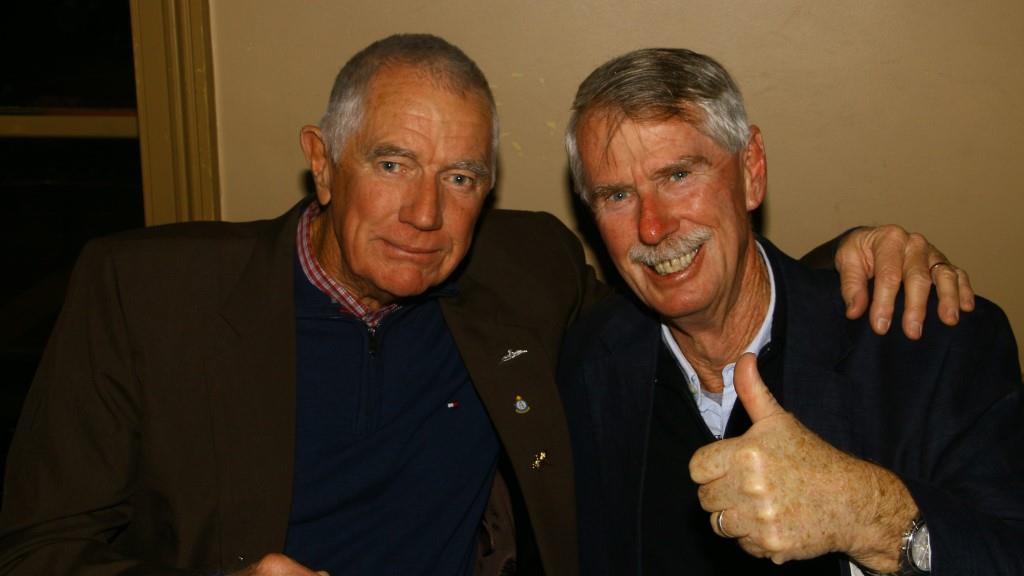 John Stone, David Ozanne.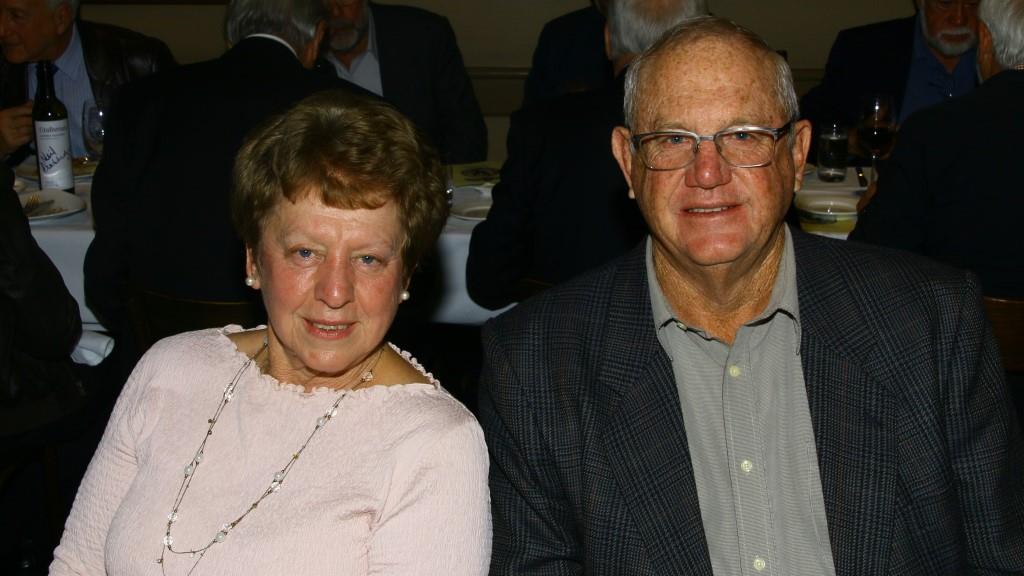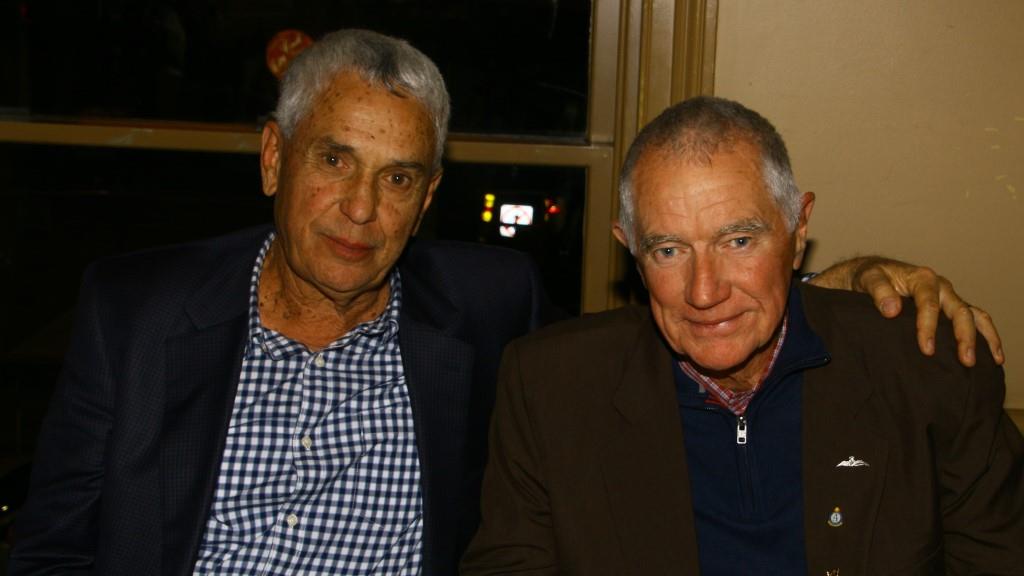 Peter Bradford, John Stone.