For a number of days, a lot of smoke had been coming from the mountain, with loud rumbling noises, before it finally erupted and large streams of lava began pouring down the mountain side. It was an awesome sight especially at night with the lave glowing red in the darkness. There was an American airfield at Cercola, near the base of the mountain, and great concern that the lava stream might reach and overrun the airfield, so HQ decided to survey the situation from the air. I was given the job to fly an American officer over the area and after this was done he asked me to land at the airfield as he wanted to view the situation from the ground. He invited me to accompany him and we drove up the mountainside in a Jeep to a village just below the advancing lava stream. It was an awesome sight to see this huge wave of lava, about 12 feet high, dull grey on top but molten red at ground level, rolling down the hill setting alight anything which could burn and crushing everything in its path, houses included. This village was one of several which were completely destroyed.
Another flight on a Fairfield aircraft which was memorable was one, just after I had joined the Flight, where I had to fly an RAF Wing Commander to a fighter airfield on the Adriatic coast. This was a PSP (Pierced Steel Plate) strip laid parallel to and near the beach which meant there was often a strong cross wind. This was the case on this occasion and I had difficulty in keeping the aircraft straight when we touched down. I ran off the strip into the soft edging and collided with a taxiway which tore off the wheels. While the strong cross wind was a factor I must confess that inexperience on my part was the primary cause of the accident. It was most embarrassing to find out later that the Wing Commander had been sent out from the UK to investigate the high number of flying accidents in Italy and I had provided him with a likely cause. The rest of my stay on the Flight went without drama and to my delight on 10 April I was posted to the Desert Training Flight at Madna on the East coast for refresher training on Spitfires prior to going to a Squadron.
DAF Training Flight.
The task of the DAF Training Flight was to provide refresher training for pilots who had been engaged in non-operational flying since leaving their Operational Training Unit. I was at this unit for 2 weeks and my log book shows that I flew 10 hours and these hours were concentrated on battle formation tactics. On 26 April I was posted to 43 Squadron which was based just north of Naples and while this involved a ride in the back of a 3 ton lorry acr
No 43 Fighter Squadron.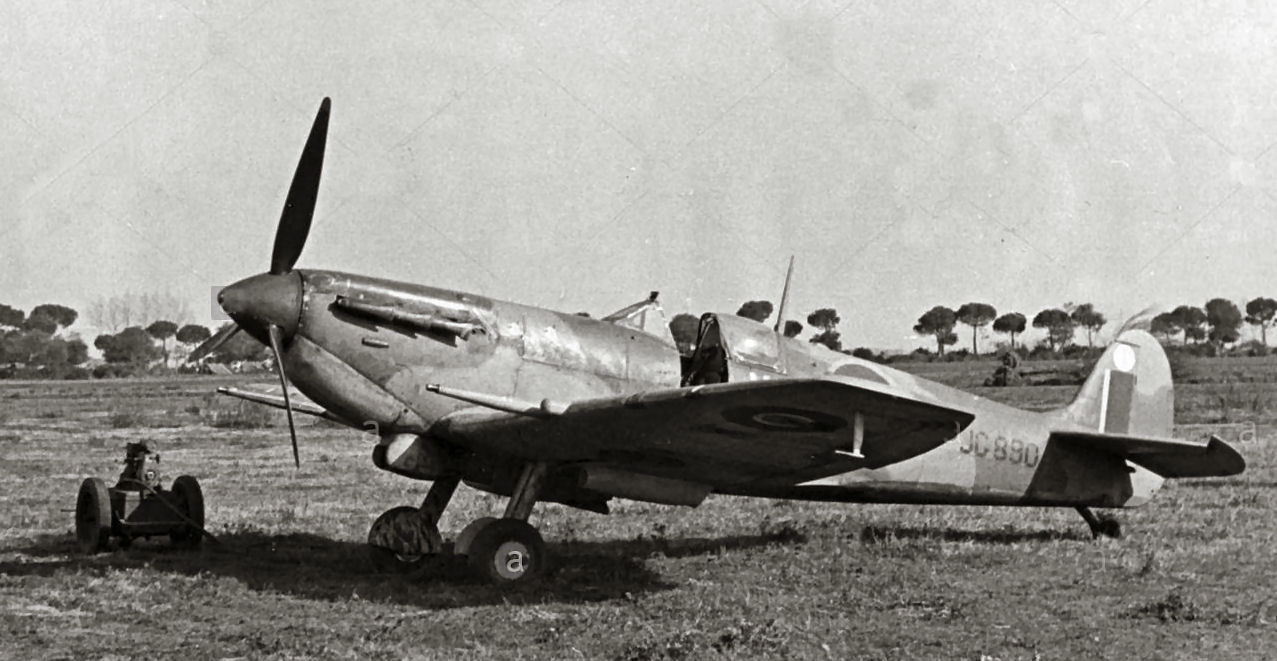 The Squadron was located at a place called Lago about 30 miles North of Naples. It was a prepared metal strip of PSP and situated close to the coastline. Like all forward airfields there were few or no buildings available so we operated from tented accommodation for all activities. The nearby coastline had previously been mined by the Germans, presumably to prevent or hinder a landing by the Allies, and at that time had not been totally cleared but the army had cleared a small area of the beach so access for safe swimming was available. Apart from a limited amount of local produce, catering was the usual monotonous service rations with no variety, however someone in the cookhouse had established contact with "someone" who could supply eggs and vino for a modest price, but the problem was that this "someone" was in Bari which was a port on the Adriatic coast about 150 miles away. The problem was solved by using a Spitfire (20 minutes each way), the eggs were carried in the ammunition bays and in a small locker behind the cockpit and the vino in an external overload fuel tank. This tank, called a slipper tank was attached to the underside of the fuselage when making long flights; needless to say, a new tank was used and kept solely for the vino run. The vino run was made once a week and from memory tasted OK, not metallic in any way.
Operations.
The squadron was equipped with the Spitfire Mk9 a much-improved version of the Mark 1 and 5 on which I had done my training. Apart from a more powerful engine, the handling qualities were similar to previous models and I had no difficulty converting. I had a couple of trips getting to know the aircraft and the local area and went on my first operational sortie on 6 May. This task was providing an escort to the aircraft of General Mark Clark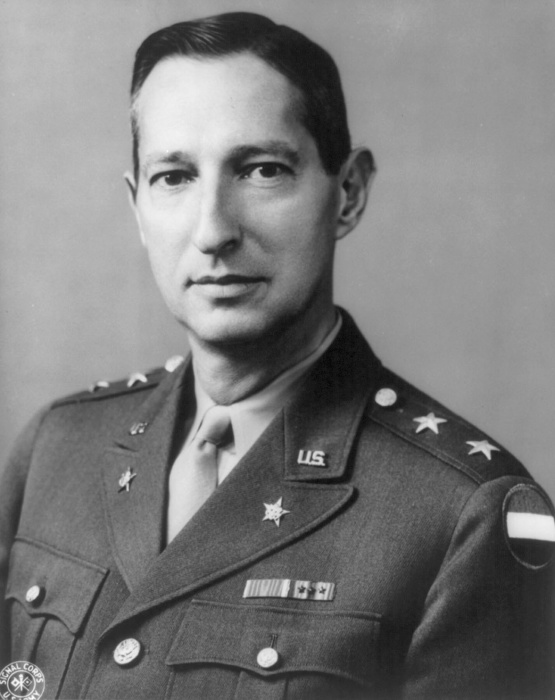 the Commander of the Allied forces who was visiting his forces on Anzio bridgehead. In January 1944 the Allies had made a landing on the coast at Anzio just 40 miles SW of Rome and had established a bridgehead extending a few miles inland before being contained by the Germans. After the bridgehead had been made secure a landing strip was constructed at a place called Nettuno and by April was used by fighter aircraft as an advanced airfield. However, being so close to the enemy front line and subject to their artillery fire it was only used during daylight hours, aircraft withdrawing to their main base at night.
The next two weeks involved routine patrols over and behind the front line mainly in the Mount Cassino area and providing escort to our bombers on their missions in enemy territory. These escorting missions sometime involved long flights and necessitated our aircraft being fitted with long range fuel tanks, the slipper tanks I mentioned previously. On one mission we were providing close cover while another Squadron of Spitfires which was providing top cover became engaged in a fight with 10 Focke-Wulf 190 German aircraft attempting to attack the bombers. Slipper tanks reduce the performance of the aircraft and as we were likely to become involved in the fight our leader ordered us to jettison the tanks. I had difficulty in jettisoning my tank and when I did succeed we had moved back over the top of the bombers so the tank must have dropped through the bomber formation. Fortunately it missed. We eventually did not become involved with the enemy aircraft but the other Squadron (No 92) certainly did, claiming one aircraft destroyed and seven damaged.
By the middle of May the bridgehead at Anzio had become more secure and it was decided to establish a Squadron on the bridgehead and 43 Squadron was selected. This required all the ground equipment and personnel to be moved onto the bridgehead by sea. The trucks moved to Naples on the 19th and embarked on several Landing Craft and the convoy sailed in the afternoon of the 20th May for the overnight trip. The pilots who were not flying the aircraft travelled with the ground party and I was one of them. The vessels had no accommodation so we all slept where we could, mostly on top of the equipment in the lorries. I had a rather frightening experience, for in my sleep I dreamt I was in the back of a lorry and travelling along a white dusty road, I woke up to find myself standing at the stern of the boat staring at the white wake. Needless to say, after that sleepwalk I remained awake for the rest of the night.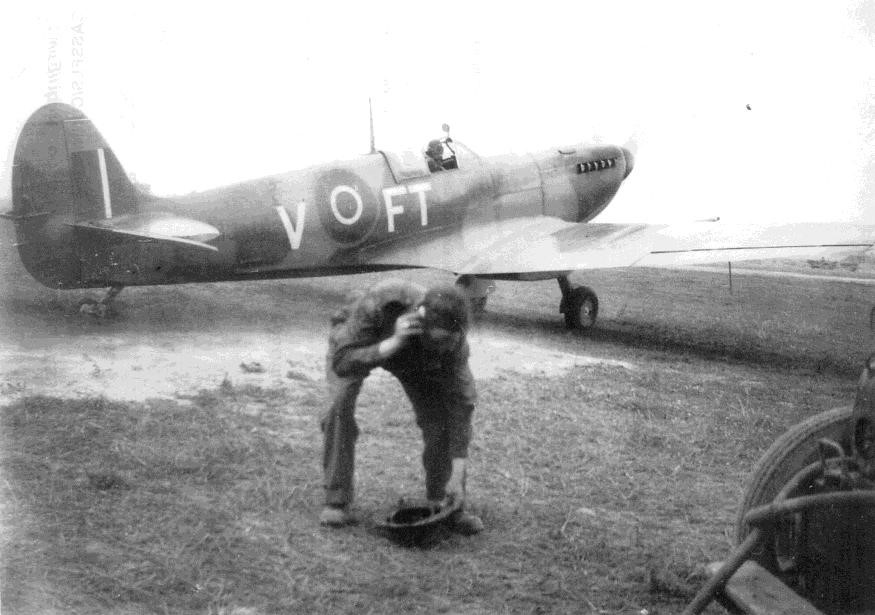 We arrived at Anzio the following afternoon and by evening everything was ashore and our tents set up with an obligatory slit trench alongside. The trench was necessary as the harbour was still receiving attention from the German long-range artillery and I did use it on two occasions.
Spitfire Mk IX, 43 SQN, Italy - 1944
Operations from Anzio.
Squadron activity from Nettunio strip at Anzio was similar to that when operating from our previous location at Lago i.e. Routine patrols over the battle areas in the Anzio area and over Rome. Enemy aircraft activity was slight and mainly involved attacking our bomber formations and an occasional patrol over the battle areas. On 23 May I was on an Anzio patrol when after 20 minutes my engine had a sudden drop in oil pressure and I had to return to base. Shorty after that the patrol saw one of our bomber formations being attacked by 6 enemy FW109 fighters with one bomber on fire. On sighting the Spitfires the enemy aircraft broke off their attack on the bombers and retreated North. Three of our aircraft got close enough to open fire but did not make any claim. On 29 May I was on a Rome patrol flying No 2 to the Squadron CO when, on returning to base and still over enemy territory he decided to go down to ground level to see if there was anything to shoot at. We came across a convoy of trucks and strafed them with cannon but didn't hang around to assess the result. This was the one and only time I fired my guns as 3 patrols later my operational activities came to a halt. This happened on the 31st May.
My last Patrol
The 31st May 1944 was a beautiful Italian summer day - sunshine, blue skies and warm. I was not rostered for any flying but was on cockpit readiness at 1500 hours. I was wearing a pair of shorts and shirt under my flying overalls and a pair of ankle boots. Readiness meant sitting in the cockpit for about an hour, strapped in and ready for immediate take-off if necessary. The aircraft I was in was scheduled to be used for the 1630 afternoon patrol and just before my readiness period was completed someone advised me that the pilot rostered for the patrol was not available and I was to take his place and fly as No. 2 to the patrol leader. We took off at 1630 hours to patrol the Rome-Anzio area in a patrol of 6 aircraft but one aircraft developed an engine problem and returned to base in company with another aircraft. The remaining 4 aircraft continued with the patrol.
We were patrolling at 17,000 feet when our ground control reported that there were unidentified aircraft at 25,000 feet in our vicinity. We immediately started to climb and had reached 20,000 feet when ground control reported that the aircraft had now been identified as enemy aircraft. Another Spitfire squadron patrolling in an adjacent area called and asked if we wanted assistance and our leader asked them to stand by. We had just completed a turn to Starboard and I was on the left side of the formation flying line abreast which enables each pilot to have a view of the other pilot's blind spot, his tail area. I'll stop my narrative at this point and show what was written in the Squadron Operation Record Book about the patrol:
6 Aircraft. Anzio - Rome patrol 17,000ft. 2 aircraft returned early.

10 Bandits reported Lake Bracciano area at 25,000ft.

F/O CASSELS was seen to spin into Lake Bracciano from 20,000ft our aircraft having just previously been bounced by Spitfires of another Squadron. Whilst orbiting the point where F/O CASSELS had spun in, the three remaining Spitfires were jumped by enemy Aircraft.

The Spitfires broke and one pilot opened fire - no results seen. After the break Red 2 (W/O SAVILLE) dived South and called up Red 1 and said that he was returning to Base.

There was no further R/T contact with him - he did not return to Base. F/O CASSELS and W/O SAVILLE posted as missing."
My observation on this entry in Squadron records is that I have no recollection of another Spitfire squadron bouncing our patrol, so it must have occurred after I was shot down. I'll return to what happened to me.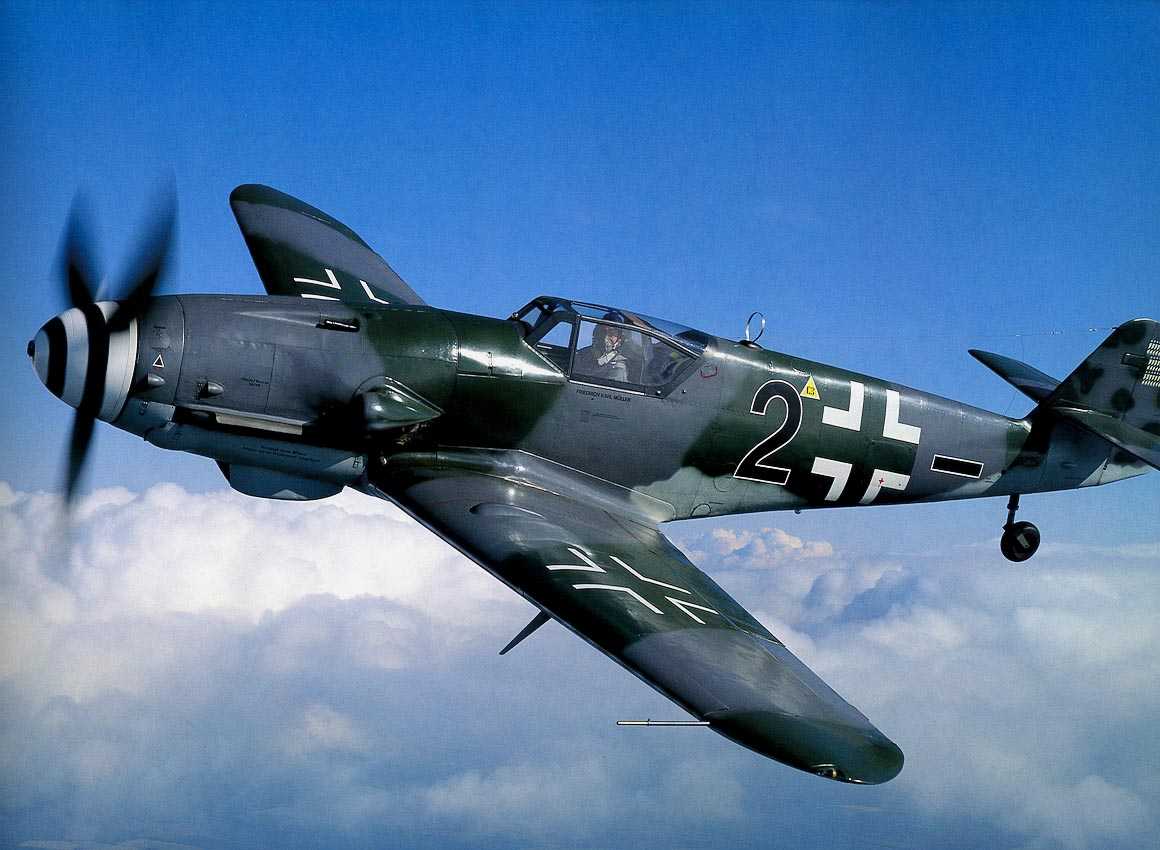 After completing our turn, I was momentarily distracted by a bright flash on the ground, far below, then I looked over my right shoulder and there was a Messerschmitt 109G at very close range with his guns firing, as I saw the flashes from the tracer ammunition. I immediately took evasive action by turning into the attack (the recommended action) by applying full aileron and pulling back hard on the control column. The turn was so tight that I momentarily lost my vision because of the G force and when I regained my sight the aircraft was inverted and in a dive. I think that what had happened was that the turn was so tight that it caused a high-speed stall causing the aircraft to flick roll. I can't remember if I was aware of the cannon and bullet shells hitting the aircraft but when I looked at the Starboard wing there was a huge hole just forward of the aileron. What other damage had been done I don't know but the aircraft was in a spin and I was having difficulty in regaining control, possibly because of other damage. I remember thinking that the enemy aircraft was still on my tail but now, on calm reflection, as my aircraft was in a spin this was an irrational thought. However at this stage self-preservation instincts became paramount and I decided to bale out. I pulled back the cockpit canopy and stupidly pulled the locking pin of my cockpit harness before disconnecting the radio and oxygen leads to my helmet and mask.
From that moment on I don't know what happened, but it was sudden mayhem. I was conscious of tremendous noise and being thrown around for what seemed a long time before there was sudden calm and I remember thinking that I was dead and amazed that there had been no pain involved. I don't know how long the period of calm lasted but the next thing I remember was being aware that I was free of the aircraft and falling. I remember grasping the ripcord of my parachute but don't remember pulling it. I obviously did for above me was my opened parachute and all was quiet once more. I had no helmet and had lost my right boot but was otherwise intact, or so I thought. Now to explain what I think happened.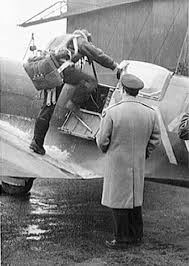 When you have control of the aircraft and in reasonably level flight the recommended method of bailing out from a Spitfire is to disconnect helmet leads, undo the harness and dive over the side onto the wing. Another method is to trim the aircraft nose heavy, keeping level by holding back the control column, then undo your harness and leads and release the control column, the aircraft will then dive sharply and you will be catapulted out of the cockpit. However, in my case the aircraft was in a spin and when I released the harness locking pin I must have been partially or fully thrown out of the cockpit, In the process my helmet, with attached mask was dragged from my head cutting off my oxygen supply. The sudden loss of oxygen must have caused a short period of unconsciousness, hence the period of calm. How long it lasted I don't know but it must have been only a short period for by this time I was probably below 20,000 feet and getting sufficient oxygen from the surrounding air, enough for me to regain consciousness and resort to my parachute.
What height I was at when I opened my 'chute is only a guess but I think it would have been about 12,000 feet and looking down I saw my aircraft hurtling to the ground trailing smoke, so the engine had probably been hit during the attack. I realised that the aircraft was heading for a large lake and shortly after saw it hit the water with a large splash. It dawned on me that I was also above the lake and that was where I was heading.
I remembered being told during my training days that you could control your direction in a limited way by pulling on the rigging lines. I tried to move to the right by pulling the rigging lines but this only increased the rate of descent and started an oscillating swing. I gave this up and prepared for the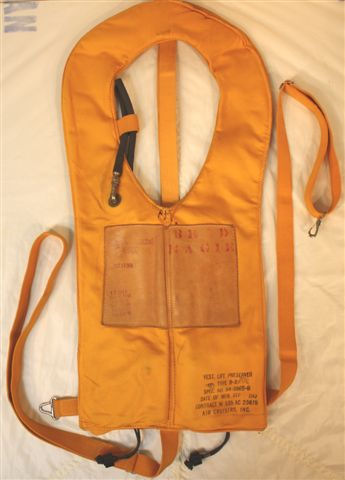 inevitable. The procedure for entering the water in a parachute is to release yourself from the parachute a few feet above the water so that you don't go under with the "chute" still attached. It was a calm day and the surface of the lake was like glass so I had difficulty in judging my height. When I decided it was time I hit my harness release but I obviously didn't hit it hard enough and went into the lake still attached to the chute. My life jacket (Mae West) brought me back to the surface and I managed to free myself from the harness but the rigging lines had fallen on top of me and I was having difficulty in freeing myself. It was then that I noticed a small rowing boat with 2 people heading towards me. They grabbed the floating parachute and pulled me, still attached to the rigging lines, towards the boat. I got rid of the lines and with difficulty managed to climb aboard. My rescuers were an elderly couple, man and wife, and in my pidgin Italian I asked them if there were any Germans in the area. They replied in the negative but as I was shortly to find out, what they thought I had asked them was whether they were Germans.
On stepping ashore, I found that I couldn't stand on my left leg and had to be helped by the old man. Just then a small group of German soldiers burst out of the bushes, led by a burly Sergeant who stuck a machine pistol in my stomach and shouted something which I didn't understand but presumed to be "hands up". I was standing on one leg, dripping wet, had no weapon and not feeling very heroic, so I complied. With the old man still helping me I was escorted to the nearby road and put into the sidecar of one of several motor bikes and taken to a small town at the North end of the lake. I was put into a room and all my clothes removed. The room had no furniture but there was a pile of grass or straw in one corner which I lay on for a while until the Germans returned with my now dry shorts and shirt but no flying overalls. I was then taken somewhere and a doctor examined my leg, encased it in a splint and indicated that it was broken just above my ankle. This must have occurred during my exit from the cockpit but I was unaware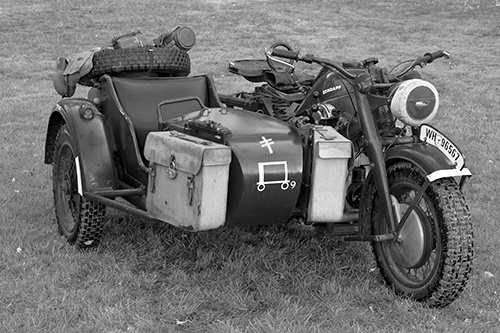 of it happening because of the mayhem of the situation. Later that afternoon I was moved to a large country mansion which had been converted to a sort of convalescent home for recovering wounded soldiers. I had 5 German paratroopers for company in the room and although I couldn't understand what they were saying I gather they were expressing a certain amount of sympathy. A little later I heard the noise of aircraft and hopped to the window to have a look. It was a flight of aircraft at great height and was obviously from my Squadron, carrying out the last patrol of the day. Observing this the Germans laughed and from their gestures and the use of the word "Kamerad" pointed out that I would not be returning home with my "Comrades" that night. As if I needed reminding.
Later that night, under the cover of darkness, I was taken to a large hospital in the town of Tivoli, east of Rome. The move took place at night because during the day the Allied aircraft strafed anything that moved. I was in a large ward with all the German wounded and one of the staff members spoke English. When he realised that I was a pilot he mentioned that there was another prisoner, also a pilot, in the ward below mine. On the pretext of going to the toilet I managed to hop down the stairs and located this unknown pilot. To my great surprise it was Warrant Office Saville a New Zealander from my Squadron who had been on the same patrol as myself. He was badly wounded, with his head covered in bandages, but he related his story. He had been jumped by the same flight of German aircraft that got me and had been hit in the engine. He couldn't make it back to our lines and crash landed in a field. The aircraft burst into flames on landing and he was quite badly burned. He was rescued by some Italian civilians and taken to their farmhouse. However, the Italians could not treat his burns and sought the help of the Germans. He was put into a kind of ambulance and on the way to a hospital the vehicle was strafed and he got a bullet wound in the head. I only had time to give him a brief outline of my situation before I was taken back to my ward.
The following day the Germans began evacuating the hospital and all the walking wounded and the less seriously wounded were assembled and loaded on to an assortment of vehicles. I was placed in a small bus along with a number of Germans and the convoy set off late at night under the cover of darkness, heading north. We had been travelling for a few hours when the convoy was attacked by an Allied aircraft which had dropped a parachute flare. There was great confusion and my fellow travellers evacuated the bus in great haste or as fast as their wounds allowed, I followed. I hopped into a roadside ditch and watched as the aircraft dropped another flare and attacked vehicles near the head of the convoy. The attack was over in about 10 minutes and as far as I was aware only one vehicle was destroyed. In the confusion and darkness, I felt sure that my presence would not be missed if I remained in the ditch when the Germans got back on the bus and I seriously considered doing so. However, being far from mobile the risk of recapture was high, so I decided to stay with my captors, become more mobile and hope that the future might present another opportunity.
The convoy destination turned out to be a hospital In Perugia and after a night stop there I ended up in a hospital in Florence for two days. By this time, I had been joined by several Army prisoners who were also semi mobile. We were all confined to a large room and among the Army prisoners was an Indian Army Sikh who still had his head covered in the Hindu fashion. I felt sorry for him for when we were given food, delivered in a large wooden tub and consisting of a kind of soup with vegetables and meat, he refused to eat it. The poor chap was starving but because of the meat content he refused to eat. I well remember my stay in this hospital for the day we left was the 6th June and we heard that the Allies had landed in Normandy. This was great news but I remember the German guards indicating to us that the Allied forces would soon be trapped and eventually thrown back into the sea.
Another lorry journey 100 miles north and I arrived at a large hospital at Mantua in Northern Italy where I stayed for 10 days. Here the conditions were more civilised with a comfortable bed in a large ward. It was here that I was interrogated by a member of the Luftwaffe. He spoke very good English and told me he had lived in England for a few years before the war. He asked me the usual questions - what aircraft I was flying, what Squadron I came from, where the Squadron was located and other military matters. He then went on to ask details of my family – mother's maiden name, where I was born, my civilian job and other personal details. I refused to answer these questions and told him that I was only obliged to give my service number, rank and name. He then said that some POW's were more co-operative and showed me a form signed by an American bomber pilot which gave details of his target, bomb load and squadron details.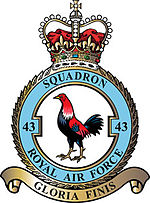 I remember thinking at the time that that USAF pilot was a little too co-operative. A little later he produced a form with a large red cross and said that he had to fill in this form so that the Red Cross would notify my parents of my capture. Against the questions on the form, some of which had no connection with the Red Cross activities, he wrote "declined to answer" but it listed my number, rank and name. He showed me the form and said I had to sign it. Stupidly I did. He then pointed to my personal Rolex watch and said that he would have to take it from me. His friendly attitude suddenly changed and became quite aggressive. Not knowing whether he had that right and not being in a position to argue I gave it to him. He then said that he knew quite a bit about me and proceeded to tell me that I had been flying a Spitfire belonging to the "Black Falcon" squadron (the squadron mascot was a fighting cock), the name of the Commanding Officer and that we were based on Anzio. He may have had other information but he didn't disclose it. When the interrogation was over and I had returned to the ward I suddenly realised that the information he had about me would be transferred to another form with my signature and shown to other air force prisoners and they would brand me as a big mouth. I take comfort in knowing that he got nothing from me that he didn't already know, but kick myself for signing.
To Germany.
On 18th June I was loaded onto a hospital train bound for Germany. There was a separate carriage for the POW wounded some of whom were like me, walking wounded. The carriage was like a dining car with beds replacing the table and chairs. One chap, I think he was RAF, whose wounds were in his upper body but who was quite mobile, decided to make a break when the train was near the Swiss/Italian border. In the middle of the night when the train had slowed down to a near walking pace and the guard was either absent or asleep, with the help of a colleague he got the door open and disappeared. I'll never know whether or not he made it; I hope he did. We crossed the Brenner Pass and arrived in Munich on 20th June and the same day travelled to Rottenmunster Hospital in Rottweil Germany.
Rottweil is located in South West Germany, approx. 130 miles west of Munich, 50 miles south of Stuttgart and only 40 miles north of the Swiss border. Rottenmunster was a large hospital with several floors and part of one floor was allocated to hospitalised POW's. I was in a room with six other officers - 3 British Army, 1 Australian Army l American Air Force and 1 Rhodesian Air Force. We were all in the convalesce stage and were not confined to bed. The inactivity was quite boring and only two events come to mind worthy of recalling. The Australian (Bob) had been captured in Egypt in 1941 and had been in a POW camp in another part of Germany. He was sent to Rottenmunster to have an operation for haemorrhoids which was performed by a British doctor, also a POW. When he came back to the room he was not his usual jovial wisecracking self and that night I was awakened by him shouting "Jock Jock get the doctor". Apparently he had had a tube inserted in his rectum acting as a drain and in his sleep he had pulled it out. I went along the corridor and woke up the doctor who in a somewhat irritated voice said that he was to put it back. I won't repeat his exact words but you can imagine what they were. Anyway, I relayed the message and went back to bed leaving Bob moaning about medical incompetence. The following day when things had calmed down and the matter was being discussed Bob told me that he had been dreaming that he was escaping and had just reached the barbed wire when a guard armed with a bow and arrow shot him in the bum. Naturally he pulled it out but unfortunately it wasn't an arrow.
The next event of significance in this hospital was my 21st birthday on the 11th August. Bob, the Aussie, decided that it was an event to be celebrated. Without my knowledge he got the others to contribute some elements of their Red Cross parcel and somehow contacted the hospital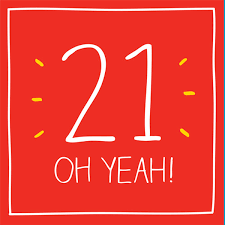 kitchen to put the ingredients together in the shape of a cake. On the afternoon of my birthday he produced a cake of somewhat small proportions, approx 5 inches in diameter, covered in some sort of white stuff like icing. There was no decoration, only 2 chocolate coloured balls on top. There was a little accompanying note which read "Happy Birthday Jock - they drop today" The cake was divided into 6 slices and we all agreed that it was a great treat under the circumstances. It was a simple little party but one which left an everlasting impression in my mind. That wasn't the finish, for he somehow conveyed to the kitchen labourers (Russian POW's) that a little gift would be appropriate. They produced, from scrap wood, a little wooden duck suitably painted, with wheels connected to wings which moved up and down when pushed along the ground. There was a long stick attached and later that day I did several circuits of the small exercise yard pushing the duck, cheered on by my roommates and to the merriment of several of the Russians. I'll never forget my 21st birthday nor the kindness, generosity and thoughtfulness of my fellow prisoners of war.
It was now well into August, my leg had healed and as I had been mobile for some time I was awaiting transfer to a POW camp. This happened on 25 August when my escort, two German soldiers, arrived and took me to the local railway station. Our destination was Stalag Luft 3 which was located several hundred miles to the East on the German Polish border, a considerable distance away. At this stage my only clothing was still the shorts and shirt I had been wearing when I was shot down but before leaving I was given a British Army Khaki uniform (provided by the Red Cross). I was thankful for this uniform for when we travelled through the city of Stuttgart, which had been bombed 2 days earlier, the German passengers in the carriage were obviously questioning my escort about their prisoner. I'm sure my escort thought I was a soldier and I was glad I wasn't in an Air Force uniform for German civilians weren't kindly disposed to "Terror Fleigers", as the Bomber crews were called. It was a tedious journey involving a night stop at Leipzeg where I was put into the station jail which I had to share with rats. My request to be moved somewhere else was refused. On the 27th August I arrived at Stalag Luft 3 to join several thousand other Air Force prisoners.
Stalag Luft 3 - Sagan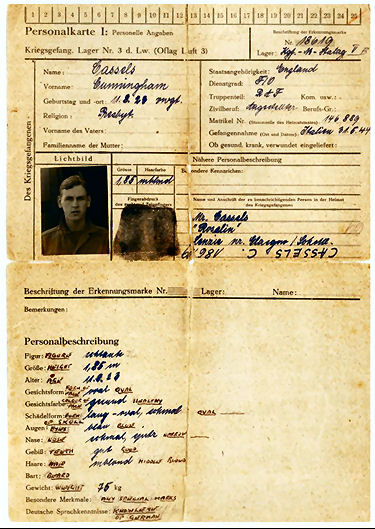 POW Identity Card Stalag Luft 3 - 1944
Luft 3 was a huge camp consisting of 5 compounds named North, South, East, West and Centre. The South, West and Centre compounds housed American airmen and the North and East housed British airmen. There was another overload compound a few miles away from the main camp named Belaria which had a mixture of inmates.