Privacy Policy | Editorial Policy | Profit Policy | Join the Association | List of Members | Contact us | Index | Links
Back Go to page: 1 2 3 4 5 6 7 8 9 10 11 12 13 14 15 16 17 18 19 20 Forward
Contents:
Kaye Bruce.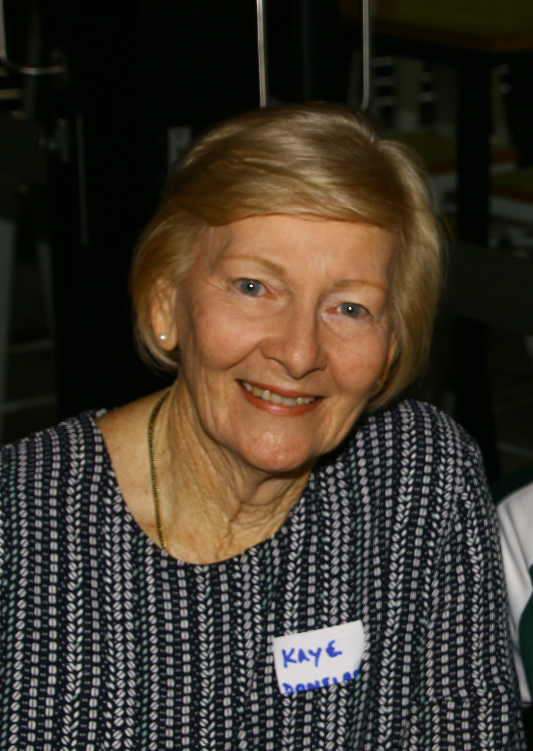 Our lovely Page 3 girl this issue is Kaye Bruce.
In May 1962 at age 19, Kaye Bruce joined the WRAAF and travelled to Point Cook to begin a WRAAF career, signing up to train as an Aircraft Plotter. Kaye says:
"I had lived my early years with my parents and 3 siblings growing up in Port Kembla NSW, before the family set out in 1954 on an adventure to North Queensland where we eventually settled in Bowen, the mango capital of the world. Bowen became famous years later through the making of the movie "Australia" which was filmed in the town and surrounding areas. The film Premier was held in the open-air theatre at the seaside village of Queens Beach not far from the centre of town, where my brother was one of the projectionists.
I have many fond memories as a young teenager of those open-air movies, battling the mossies and moths especially in the evening sessions. In 1959 on completing my Junior certificate year of High School (equivalent todays Year 10), I worked as an office clerk and shop assistant for the large Magees Supermarket in Bowen. During these years I was involved in sport Swimming/Netball/Marching girls. I was a member of the Bowen Senior Marching girls' team and also coached a Junior girl's team. The part I loved most in training the Juniors was creating the diagrams and in turn, training the girls in the moves to be performed at competitions. So the marching drills whilst on our Rookies Course at Point Cook came easy to me, unlike some of my fellow recruits.
Point Cook in May/June with the freezing wind blowing off Bass Strait was a rude shock after balmy North QLD and kept us on the move. As graduation day loomed I was informed that the Aircraft Plotting course for which I had enlisted was about to commence in NSW and if I were to join it, I would miss part of my rookies qualifications and graduation that would have had to be done at a later date. However, an alternate offer was made, for me to re-muster to Air Photo Plotter working at the Central Photographic Unit (CPE) at Laverton.
I was able to spend a day at nearby Laverton to see what the work entailed, after which a decision was to be made. I dearly wanted to graduate with my course and especially with friends that I had made during the time. The visit to CPE at nearby Laverton was very informative and I met the 5 girls then working as Photographic Plotters. After some days of contemplation, I made the decision to accept the re-muster; so after graduation from Course 122, I had my first big posting, 5 km across the highway to the Central Photographic Unit at Laverton! Initially there were 6 months of 'on the job' training and then we settled into serious work requirements as the Vietnam conflict demanded more output from the unit. I enjoyed the new work, as well as competing at inter-service Netball and Swimming and instructing local marching girls.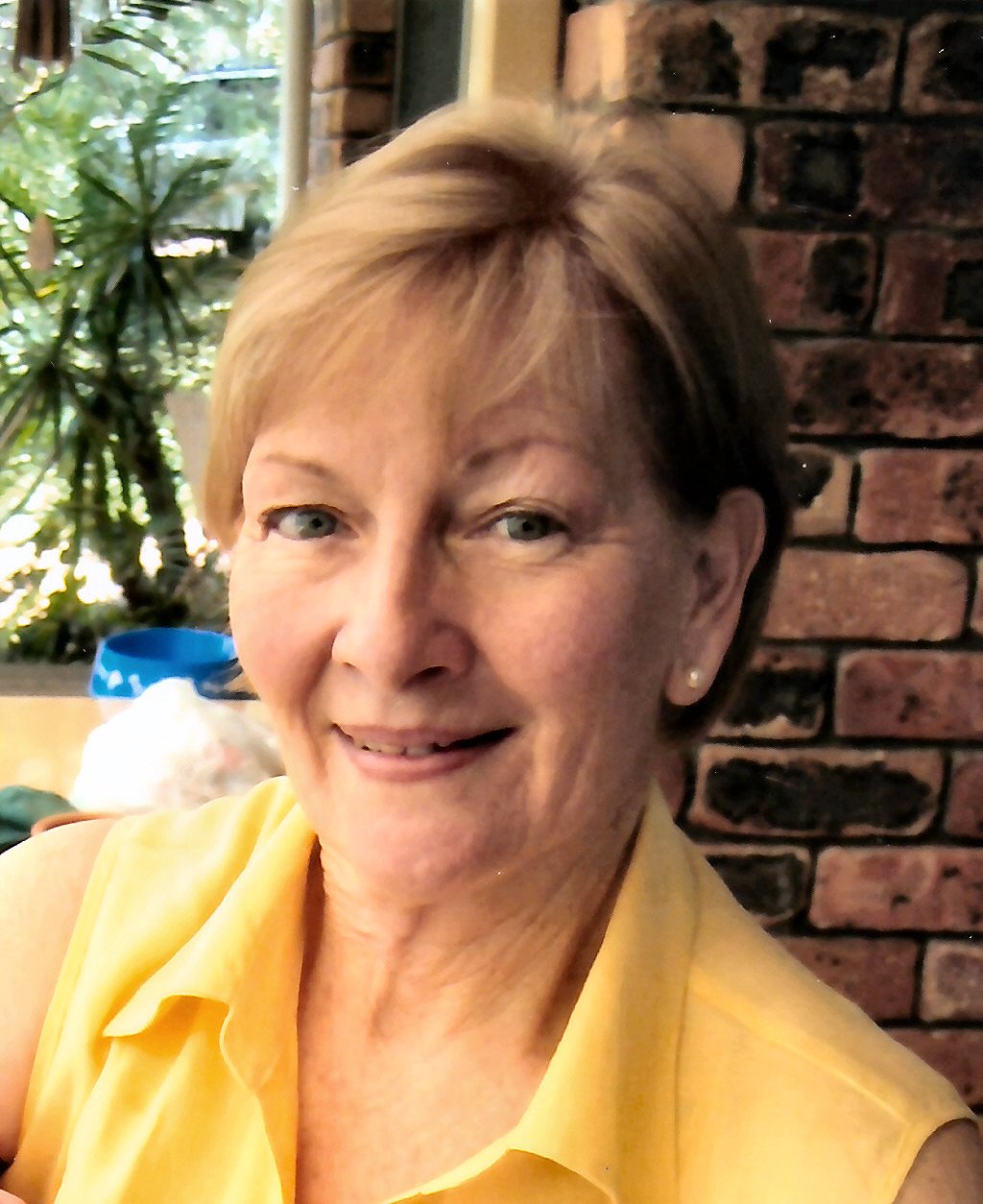 The Mess hall at Laverton was a large, noisy experience. The WRAAF sat in an area of the hall beside where the RAD School apprentices gathered for their meals and over the years there was much entertainment to be had in witnessing the antics the young guys got up to at meal times. For example, putting salt in someone's tea instead of sugar or pepper over one's meal. I must add how comical it was to see those young boys appear with their uniforms and boots often way too big for them. Perhaps it was allowing for growth!?
The mustering was expanding and we eventually had 25 girls working at Laverton. LACW and then Corporal promotion came. Then I became involved in the training of new recruits coming through from Rookie Courses, these numbers would vary from maybe 2 girls and sometimes up to 6 at any given time. We would train the girls on all aspects of Air Photo Plotting and when they became qualified would work alongside more qualified personnel who checked the plotters work before it was signed off. I found the work very interesting and challenging at times. The only downside I felt was that Laverton was our only base for this type of work and I often thought of re-mustering to another trade that would give me a chance to experience life on other bases.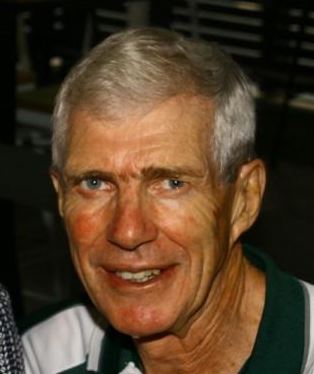 In 1965 I met my future husband, Ralph Donelan, who was an Ex Engines Apprentice working on the base at 1AD. In late 1965 I was attached to Air Base Townsville along with 4 of our girls and Photographers from CPE Laverton to work with the American Navy Aircraft division temporarily based in Townsville, who were Flying and Photographing over New Guinea on behalf of the Australian Government. That was a great experience and once the process was established, I returned to Laverton and for a period of time we rotated our girls on attachment, which was a great moral booster. Likewise, was the time in 1967 when our unit was invited on a field trip to tour the Kodak factory in Melbourne (below). We needed to have those extra activities to keep the girls motivated.
In 1966 I was promoted to Sergeant and Ralph by now held the rank of Corporal which raised some interesting issues socially while on the Base. We were married in April 1967 at Williamtown on Port Phillip Bay, Melbourne and the law being what it was at the time, I had to resign from the WRAAF.. Amazingly, we didn't know until that day, that we had chosen the church where Ralph's grandfather had been the pastor in the 1920's. After the ceremony on an invited visit through the rectory, Ralph's Mother laughingly showed us the bannister which she used to slide down all those years before!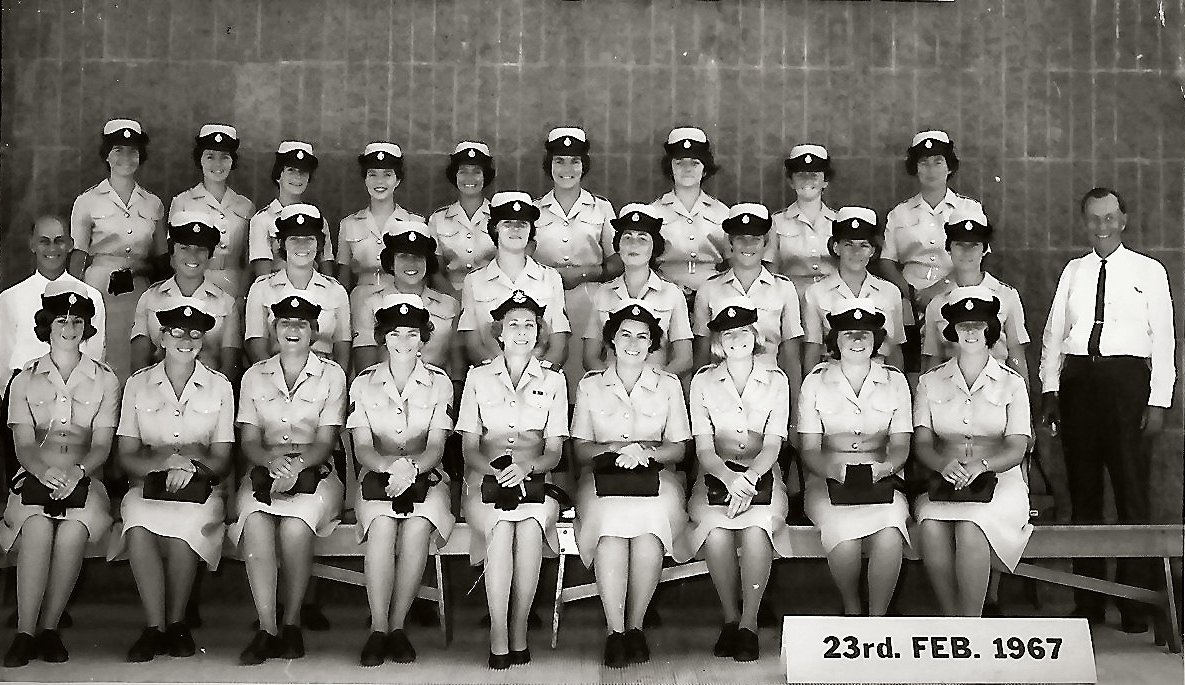 The girls at Kodak. Kaye is the Sgt, 4th from the left front row.
1968 found Ralph posted to Amberley as part of the training programme for the arrival of the F111 aircraft. After renting for a few months we settled into our first home in Eastern Heights Ipswich. I had secured a clerical position with Heathers and Co at the Brisbane Markets. During 1968-69 the F111 project stalled due to a design fault and the RAAF posted many away from Amberley. We were lucky to be sent to Butterworth, Malaysia in June 1969 where we enjoyed the next 2.5 years. Our son Jason was born at the British Military hospital Minden in January 1970. We lived on the island of Penang and Ralph rode his motor bike to the ferry that took people across the Malacca Straits to the base at Butterworth.
Life there was so very different. We hired a Chinese Amah part time. Choy had previously worked for British families until they pulled out of Malaysia so she was easy to deal with and a hard worker. We shared tears when it came time to leave Penang after having her in our employ for the whole 2.5 years. To this day I often wonder what became of her. We kept ourselves very busy with our activities, Ralph playing Volleyball and as a member of the Motor Club where he successfully raced a modified English Norton motorbike at National Motor-cross and Grass-track events. I played a lot of Badminton which I enjoyed and still play once a week here on the Sunshine Coast.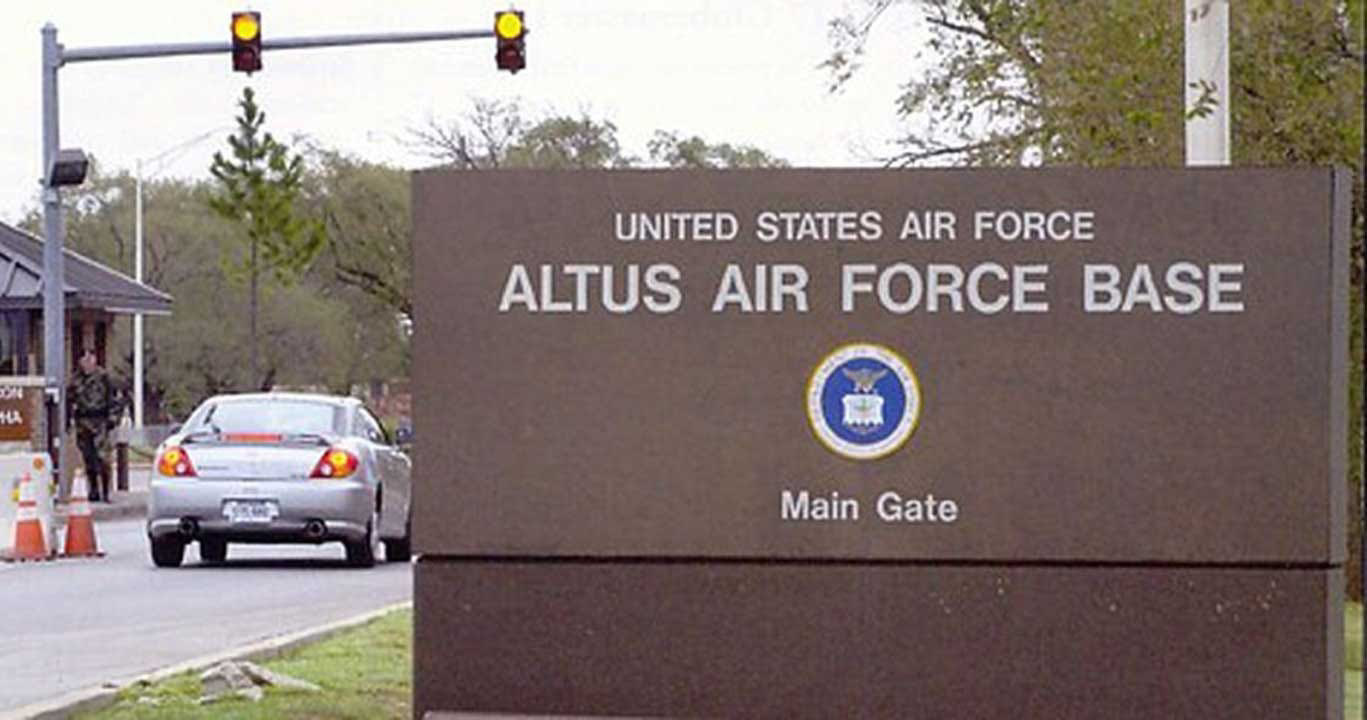 We were posted from Malaya back to Amberley and May 1973 our daughter Rani was born at Ipswich Hospital. July 1973 saw Ralph attached to Oklahoma for 6 months training on F111 Fuel systems, which was a difficult period for me with two toddlers and no family support close by. Following 7 years at Amberley we were posted to Support Command Melbourne for the next 4 years; then luckily, posted back to Amberley. We built on our 'bush block' where we enjoyed the next 35 years. Ralph left the RAAF in 1988 as a Warrant Officer Engineer of 27 years and reckoned that he had finally outranked me; but he happily concedes that I have always been boss of the kitchen!
After 2 years in civvy street he returned to Amberley as a contractor working with the F111 Engine fuel systems in various capacities for the next 18 years, until retirement of the aircraft that made his position redundant in 2008.
We sold our much loved acreage at Pine Mountain in 2011 settling in the Glasshouse Mountains on the Sunshine Coast. Life has been good to us. We enjoy outback caravanning and attending many re-unions with Ralphs Engineering Apprentice friends and also, more recently, the Brisbane WRAAF get-togethers.
We both consider our family to be our greatest achievement. With our children happily married and thriving with six very active teenage grandchildren in Brisbane, whom we are immensely proud of. We are lucky indeed that our own health is still good enough to continue sharing their significant milestones."
Old age is all about losing your marvels.
A lot of water under the bridge.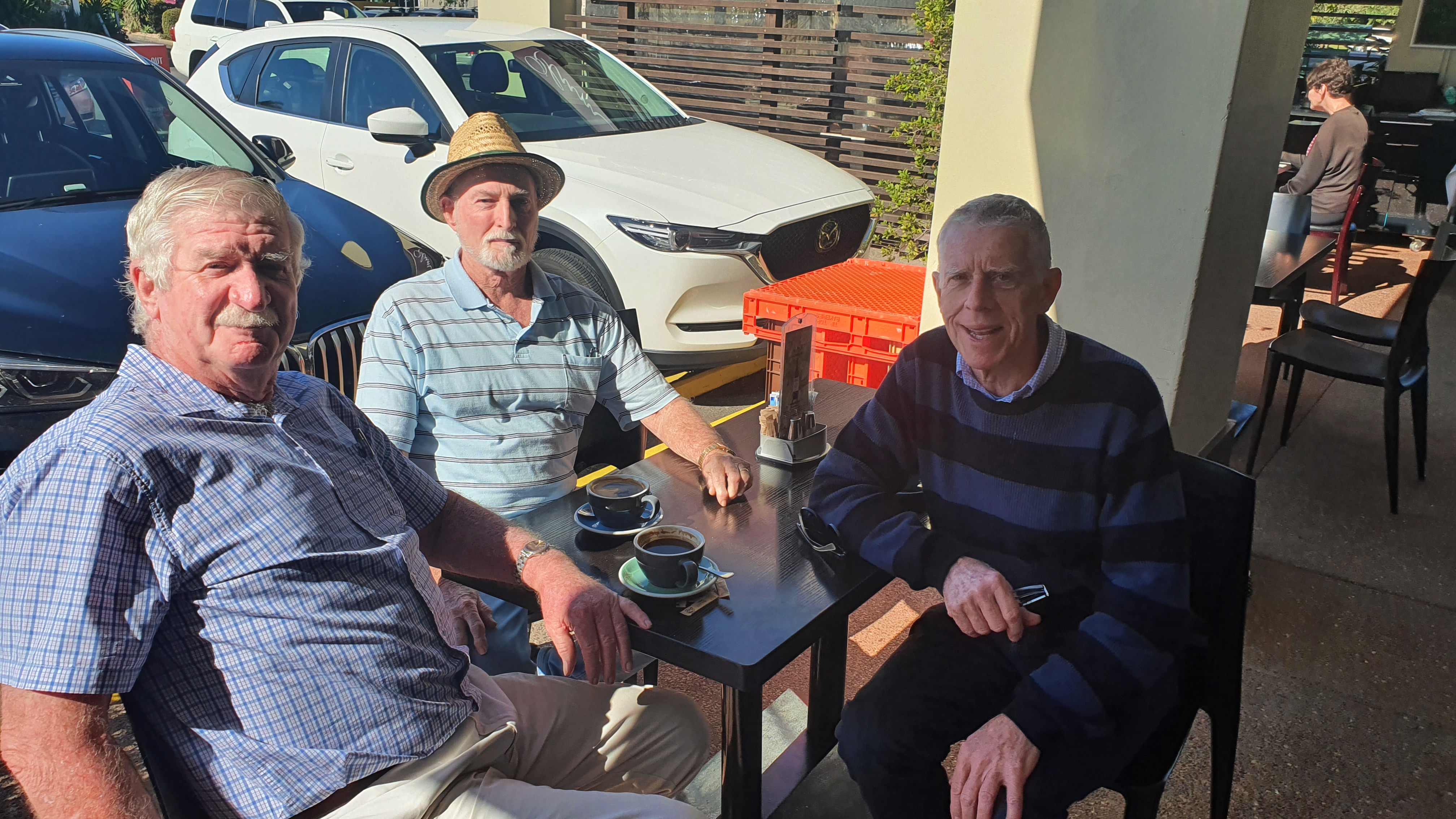 Trev Benneworth, Pete Griffiths, Dave Muir-McCarey.
3 Blokes who were at Radschool at Laverton in the mid 1960's and who haven't aged one bit, got together again to have a coffee, have a laugh, tell tall tales and remember the "good old days".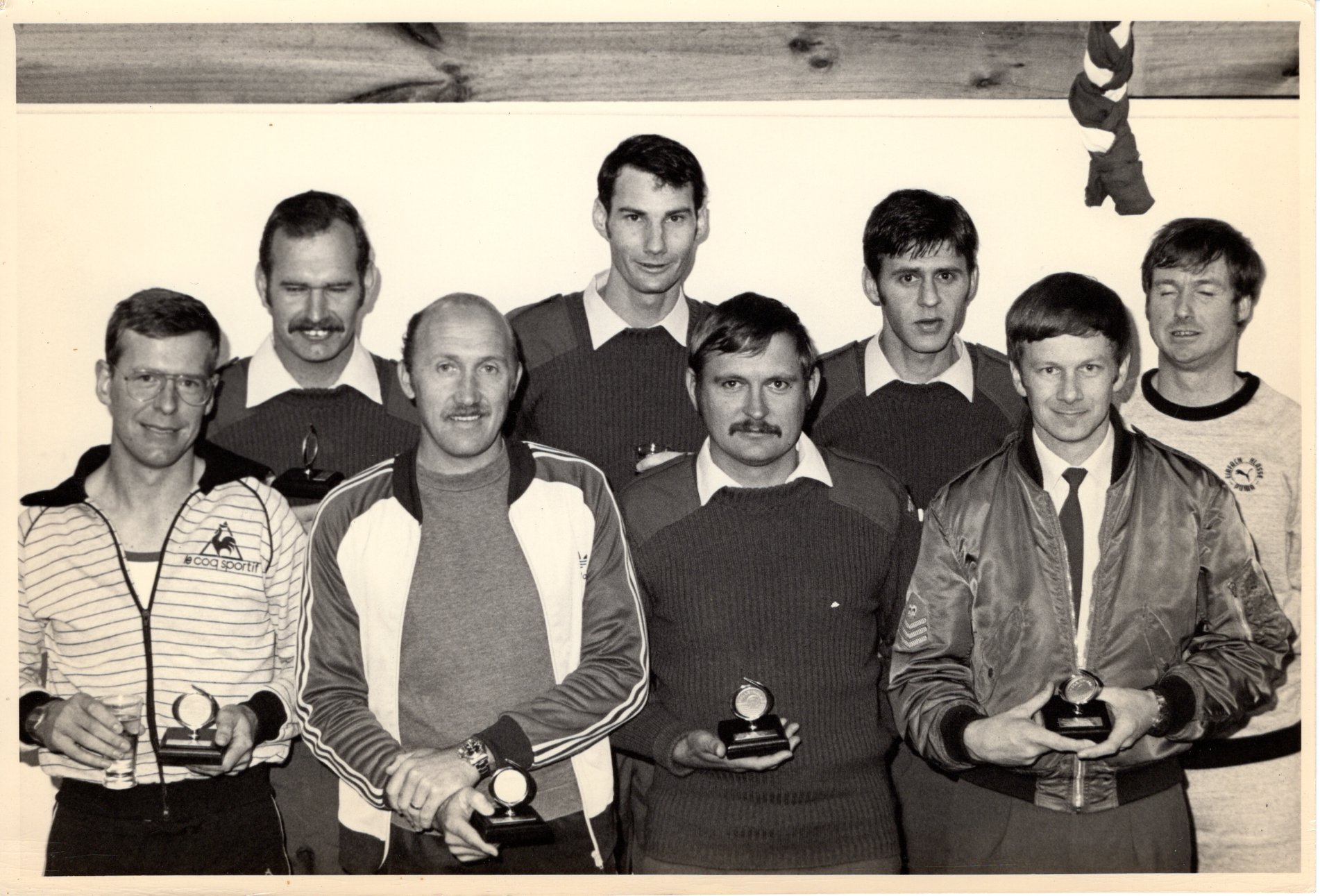 Back Row L-R: Frank Oostenbroek, don't know, don't know, Sam Norman.
Front Row L-R: Don't know, Ric Lovett, Vince Noyes, Dallas Leach.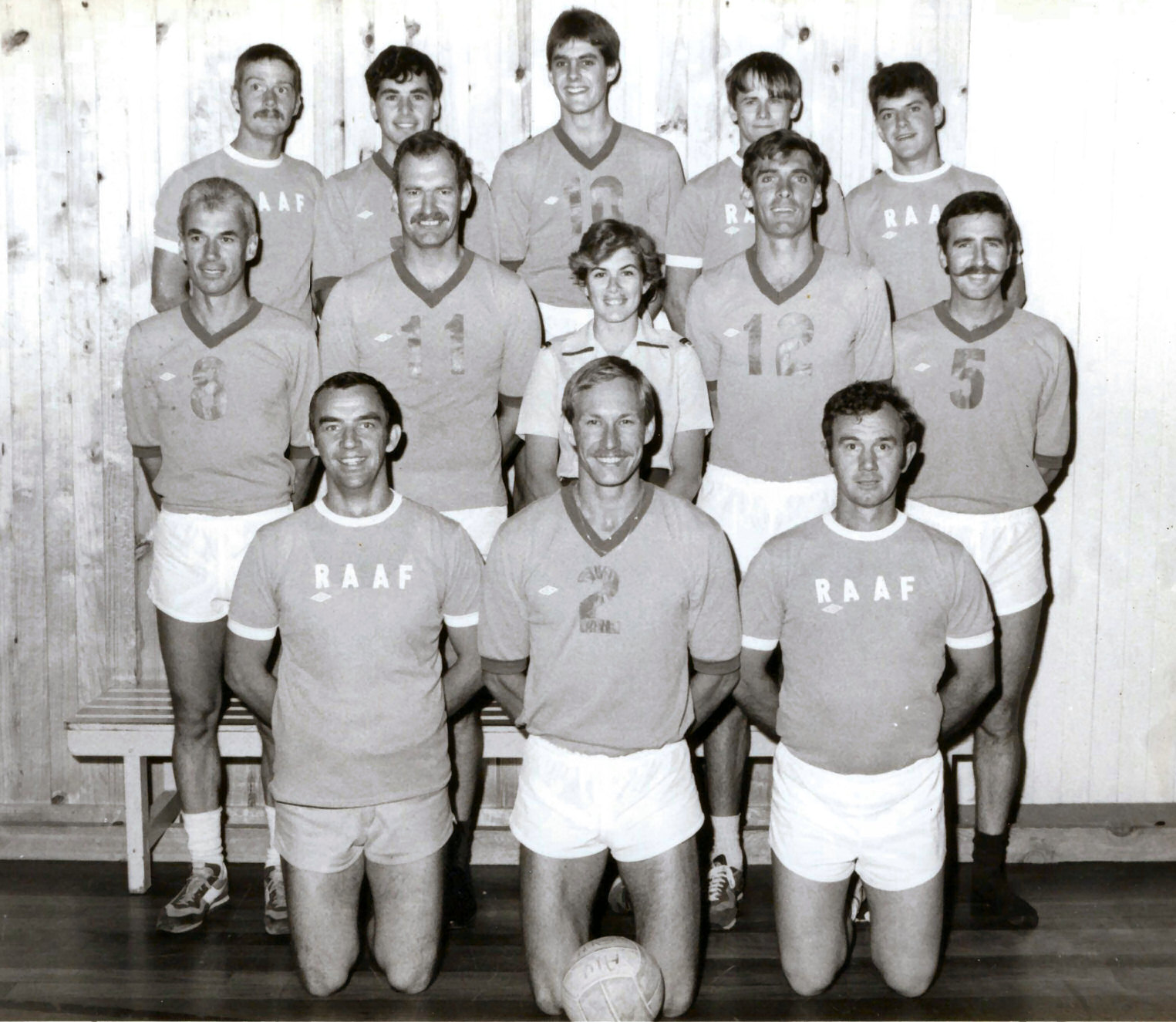 Back Row L-R: Don't know, Don't know, Don't know, Phil Pluis, Don't know.
Middle Row L-R: Adrian Hunter, Don't know, Don't know, Don't know, Don't know,
Front Row L-R: Don't know, Mick Donlan, Don't know.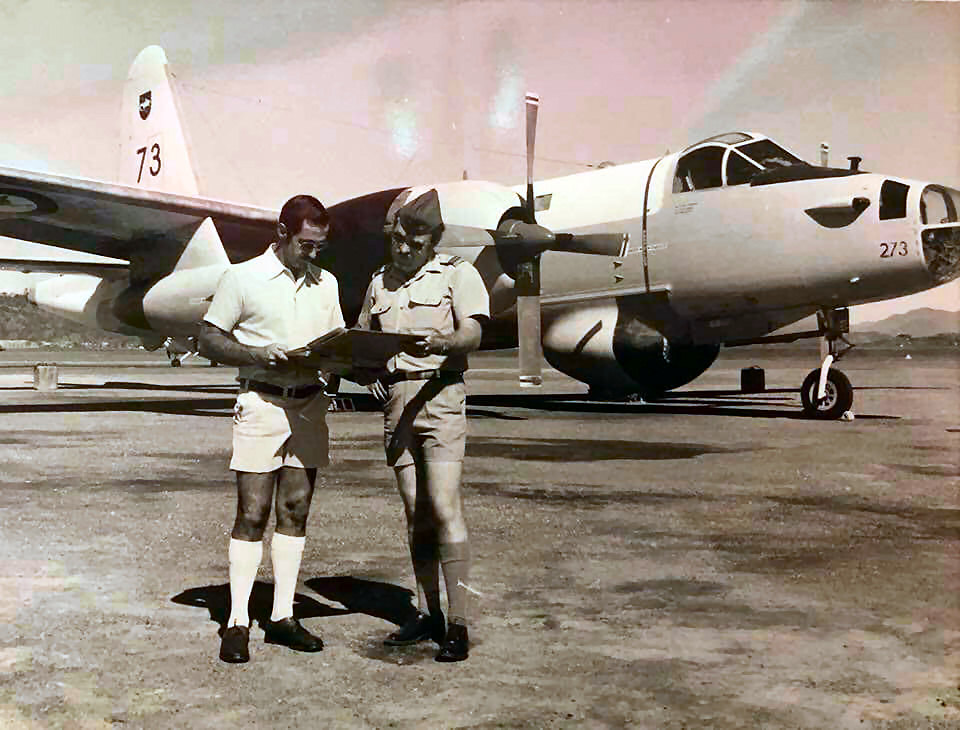 Peter Rundle, Randal McFarlane.
13 December, 1985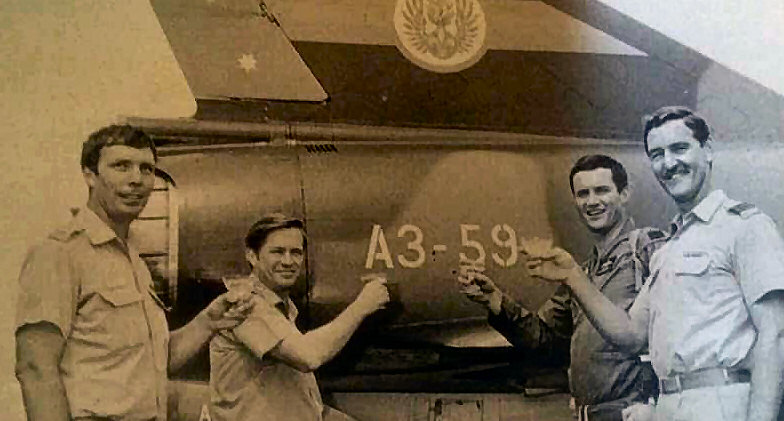 L-R: Gordon "Pud" Passmore, Bruce Wood, Steve Low, Floyd Wilson.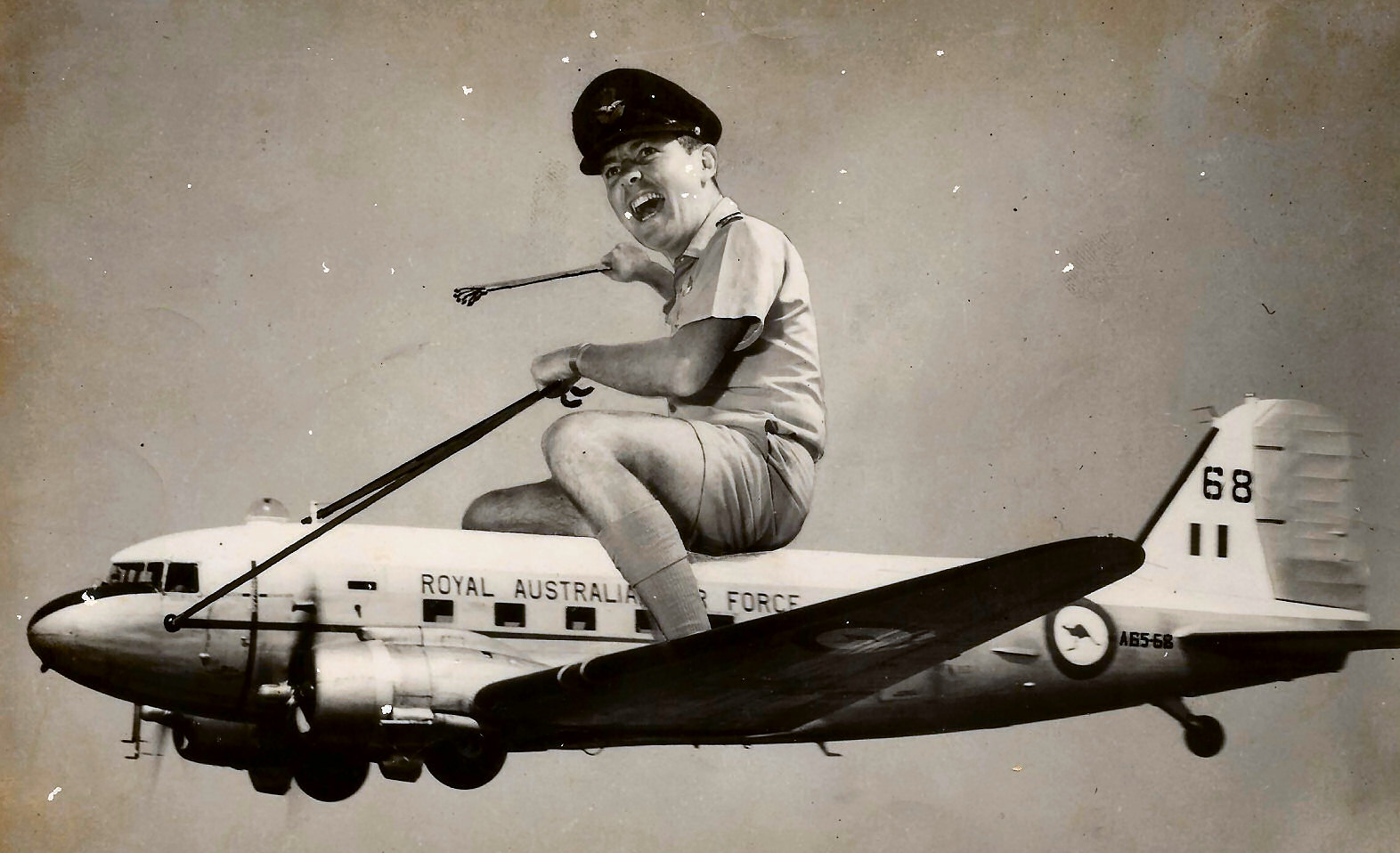 Eric Lunberg. - yeah!!
Aircraft maintenance, Darwin. 1972.
If anyone can help with the missing names, please do.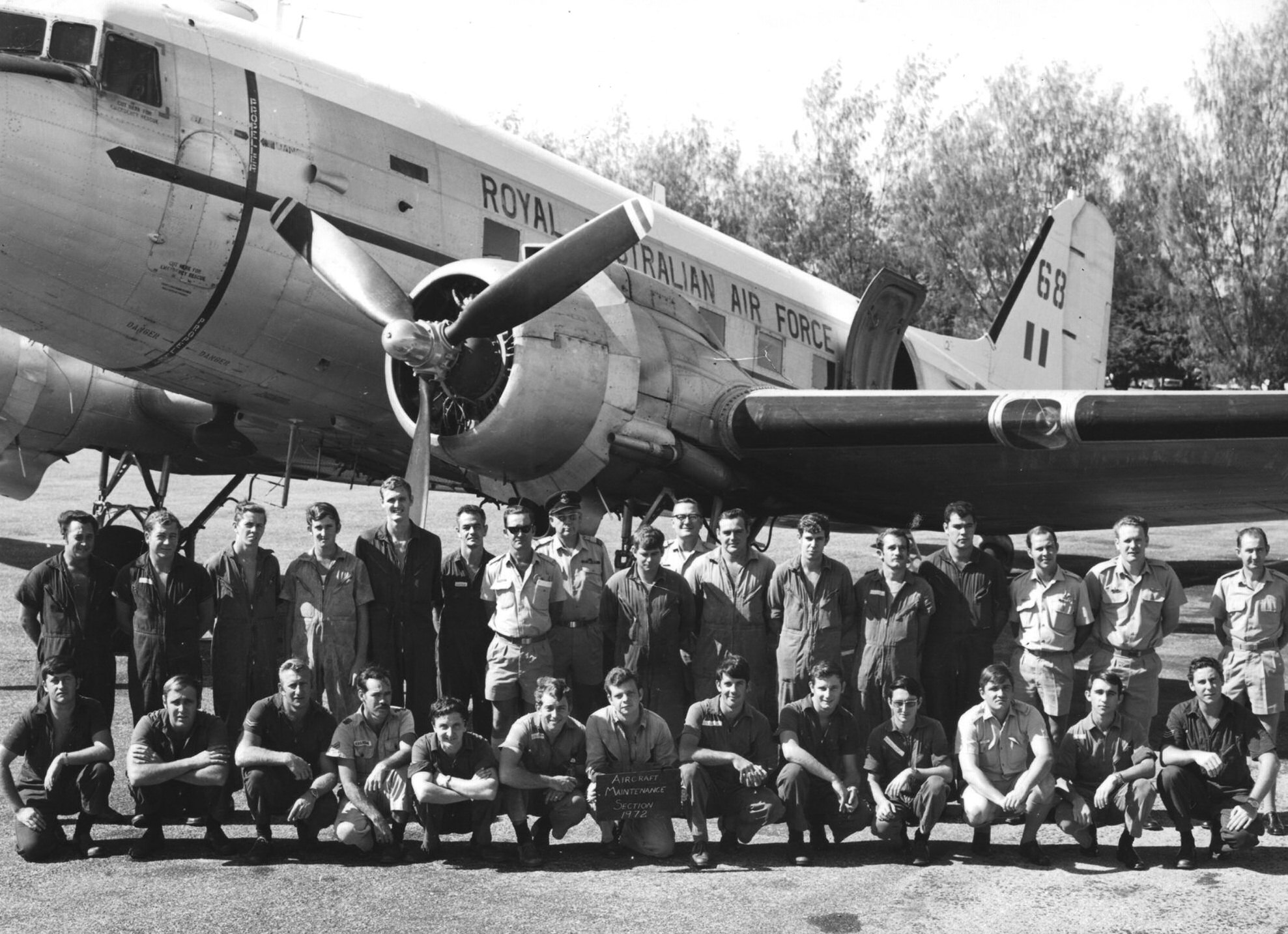 Back Row L-R: Stebbens, Wilson, Tooth, Don't know, Lurch, Bill Coyer, Mick Smith, Curran, Don't know, Ryan, Don't know, Holloway, Volk, Peter Murray, Jesinowski, Don't know, Don't know, .
Front Row L-R: Twomey, Richardson, Twomey, Adamson, Betts, Brian Gatfield, Hart, Cavill, Romkes, Michael Gnezdiloff, Don't know, Don't know, Dennis Stringfellow,
A lowered Dak. They corner better?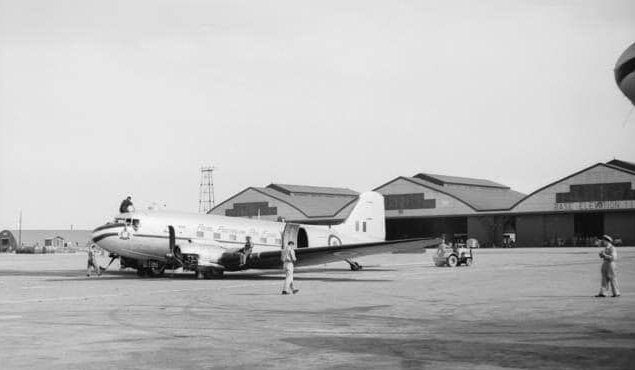 Iwakuni, Japan, 1954. A Douglas C47 Dakota transport aircraft being towed to the base maintenance hangars. It appears the aircraft, No. A65-97, had a landing gear failure during take-off resulting in damage to both engines and propellers.
The world has turned upside down.
Old folks are sneaking out of the house and their kids are yelling at them to stay indoors!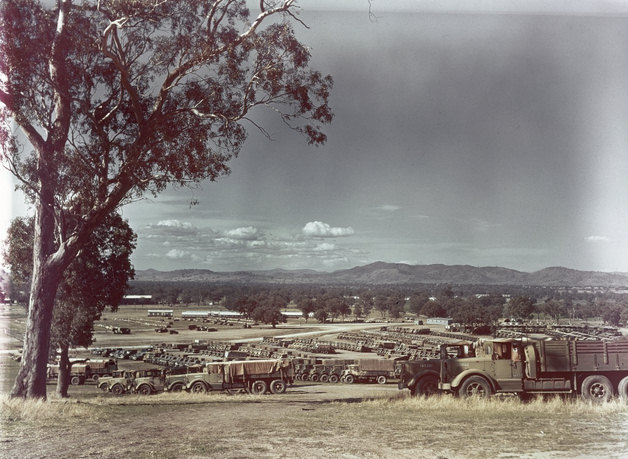 Surplus vehicles stored at Seymour Vic after WW2, 1946. Wars are expensive things!!
A joke is something we used to tell before people became offended by everything.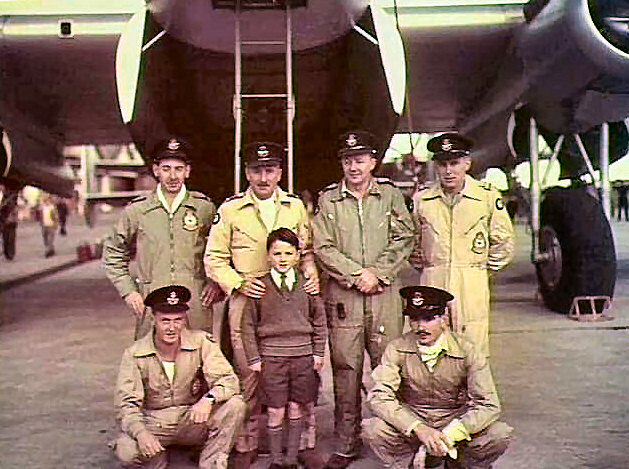 Standing 2nd from Left, Peter Drake, KV Robertson, CO 1 Sqn, then Frank Rule (Navigator). Can anyone help with other names?
Lincolns at Tengah, Singapore, 1954.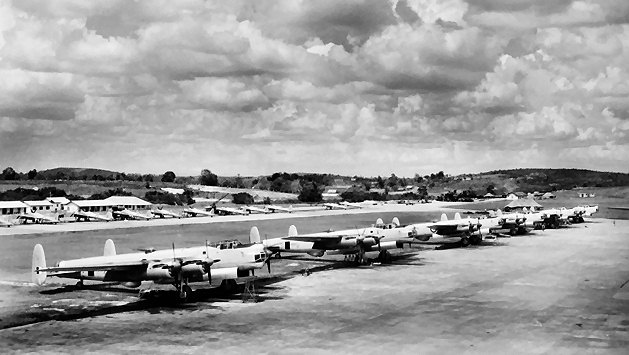 1 Sqn in Singapore, during Malayan Emergency.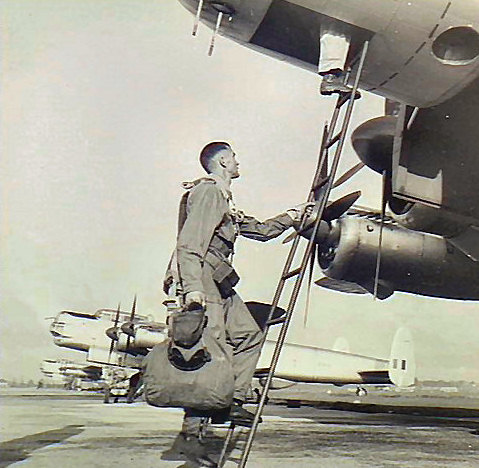 1B Squadron, CO, Clarence "Spud" Spurgeon boarding his Lincoln at Tengah Singapore. 1955.
8 July 1954.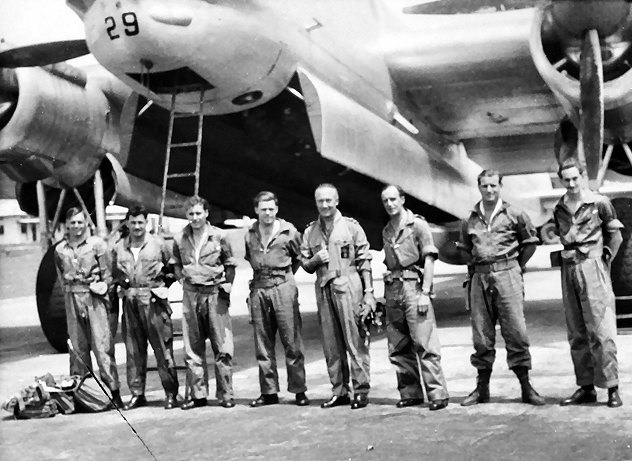 L-R: Co-pilot Sgt Wyatt, Gunner FSgt Roy Cosgrove, Bomb Aimer FSgt Keenan, 1st Signaller WO Kevin Ryan, Air Officer Commanding AVM Frederick Scherger, Wng Cdr Hugh Francis Moore, Navigator PO Pat Fitzgibbon and 2nd Signaller Sgt Weston.
Late 1950s.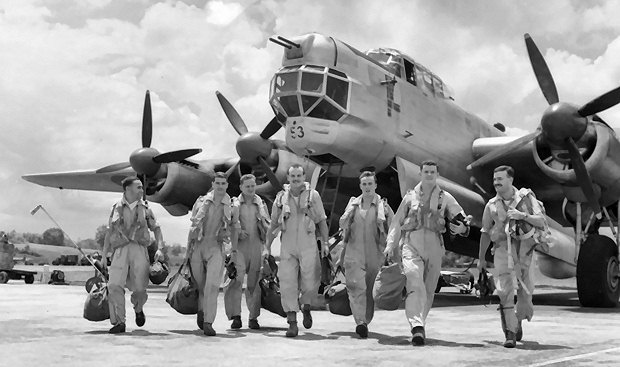 L-R: PO Len Hilton, PO Terry Meagher, FSgt Jim Glover, Sgt Kim Hunt, Sgt Bill Smyth Sgt Erik Sunstrup, FO Peter Heardon.
1 Sqn Crew changeover, Qantas DC4, July 1950.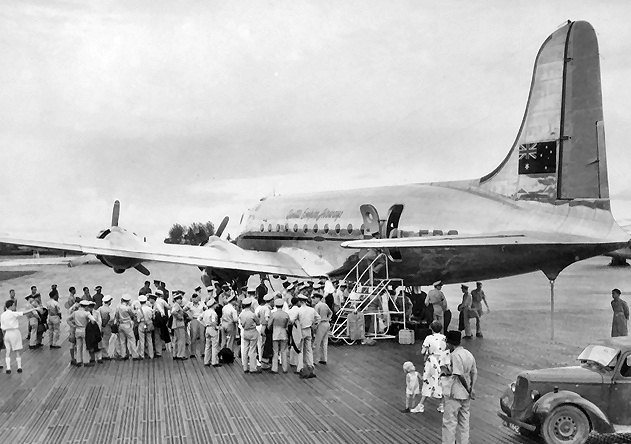 Group photo of the No 10 Squadron personnel, at Townsville in 1954 (or early 1955).

Does anyone know if we can take showers yet or should we just keep washing our hands???
1Sqn (Phantom) Formation Team.
(The following pics were taken from the Phantom pages)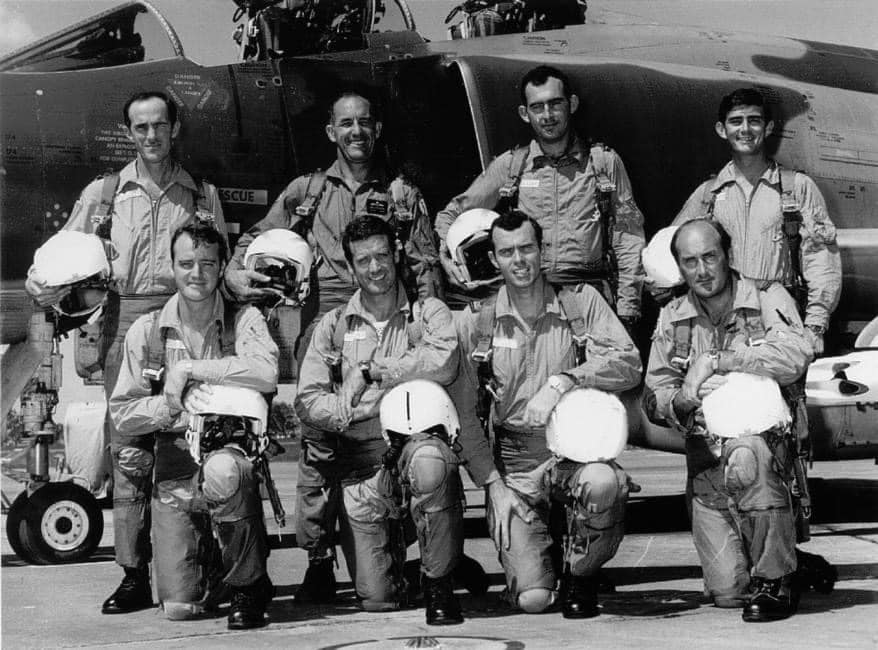 Back Row L-R: Ivan Skipworth, Lyall Klaffer (CO), Marty Susans, Bren Roberts.
Kneeling L-R: John Wilkinson, Neil Pollock, Pete Growder, Noel Ryan.
(Sorry, no first names)
LAC Bryant, Cpl McCombe, US Sgt, LAC Zscheh.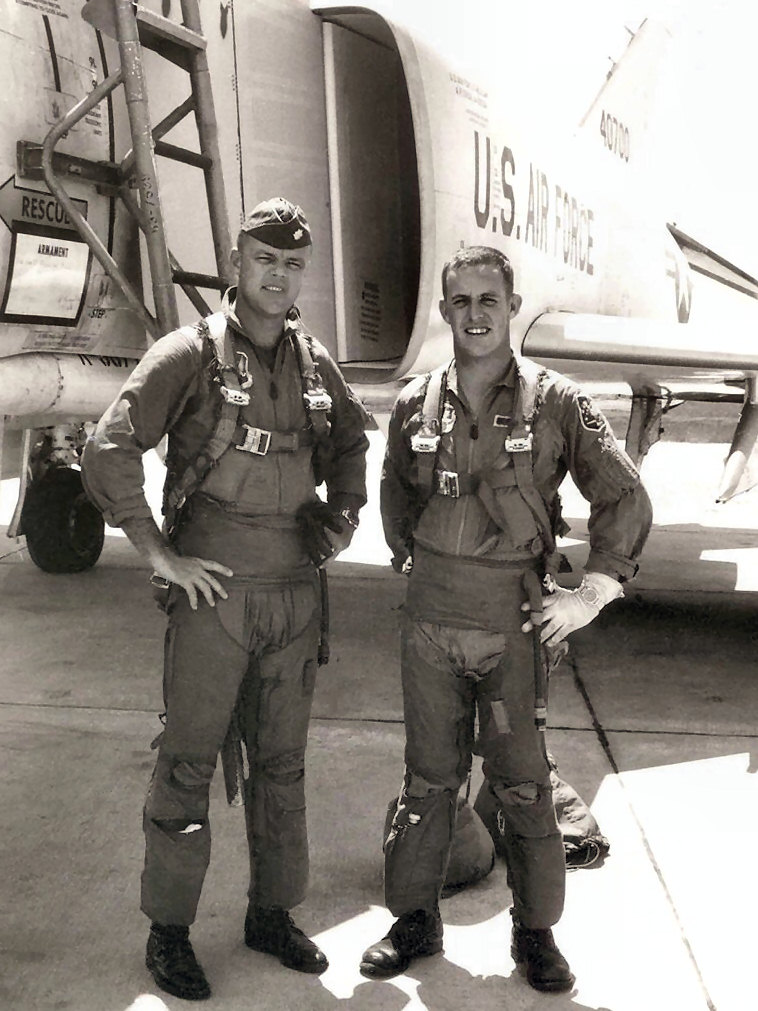 Major Casper 'Cas' Bierman USAF (left) and PLTOFF Dave Rogers, then a 79 Sqn Sabre pilot. Dave had scored a ride in a Phantom at Ubon AFB, Thailand. 3rd July 1965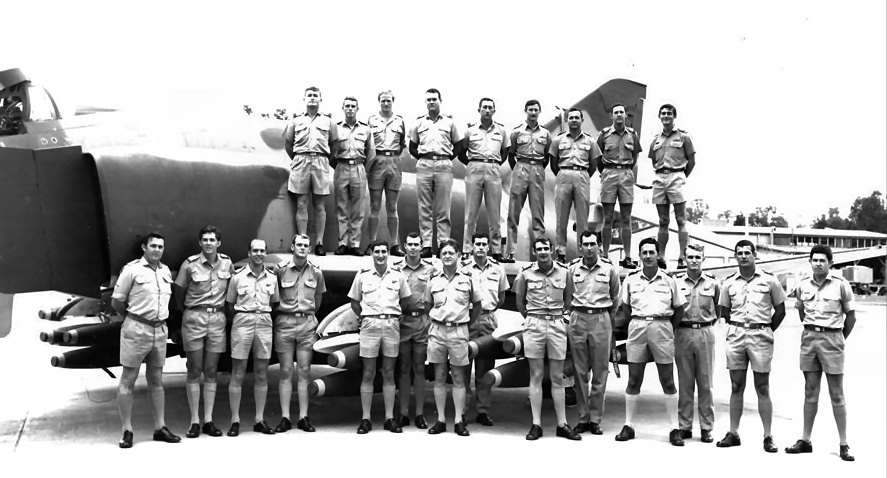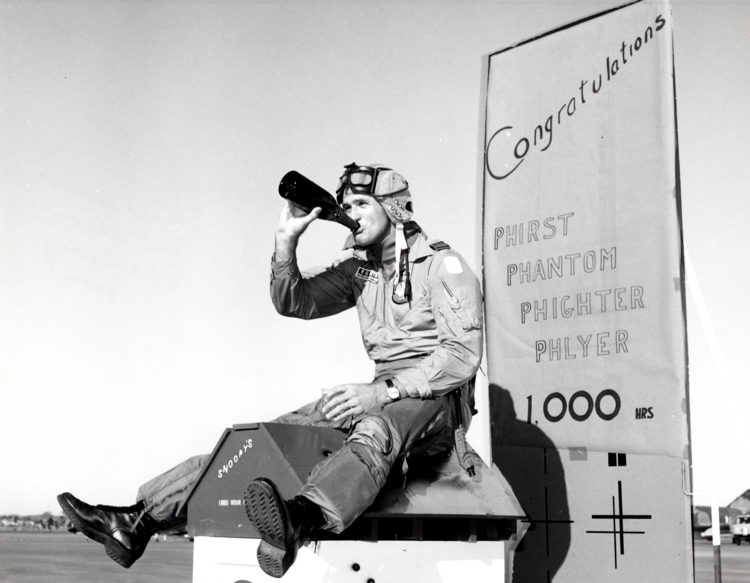 SQNLDR Ken Smith astride Snoopy's Kennel celebrating being the RAAF's first Phantom pilot to attain 1,000 Hours on F-4s. This total includes about 700 Hours on exchange with the USAF.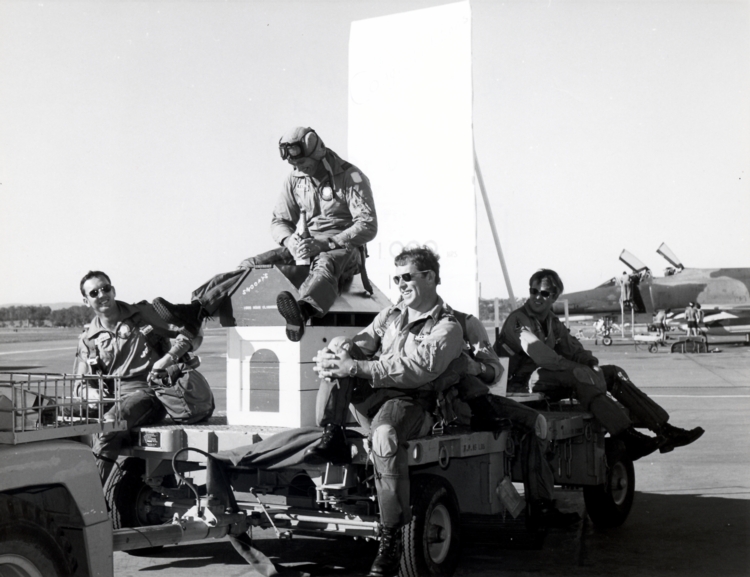 Robert Montgomery (left), Ken Smith on Snoopy's kennel, Dave Rogers and Bill Best.
6 Sqn Crews – Townsville 1971.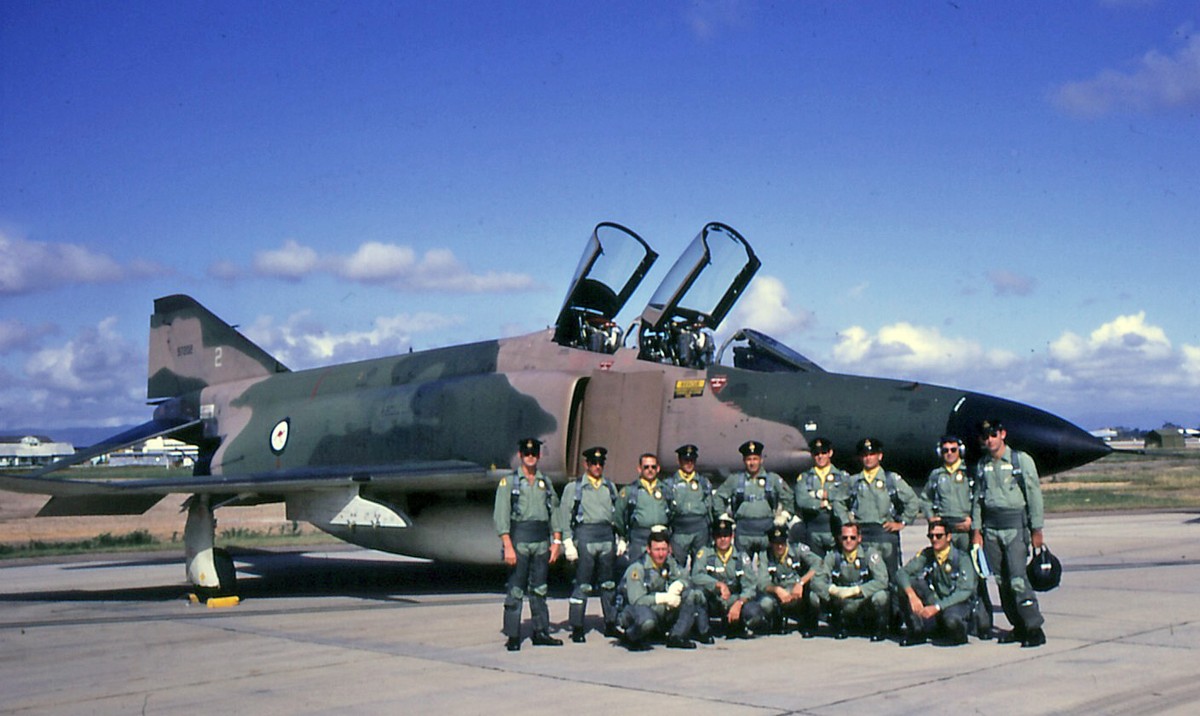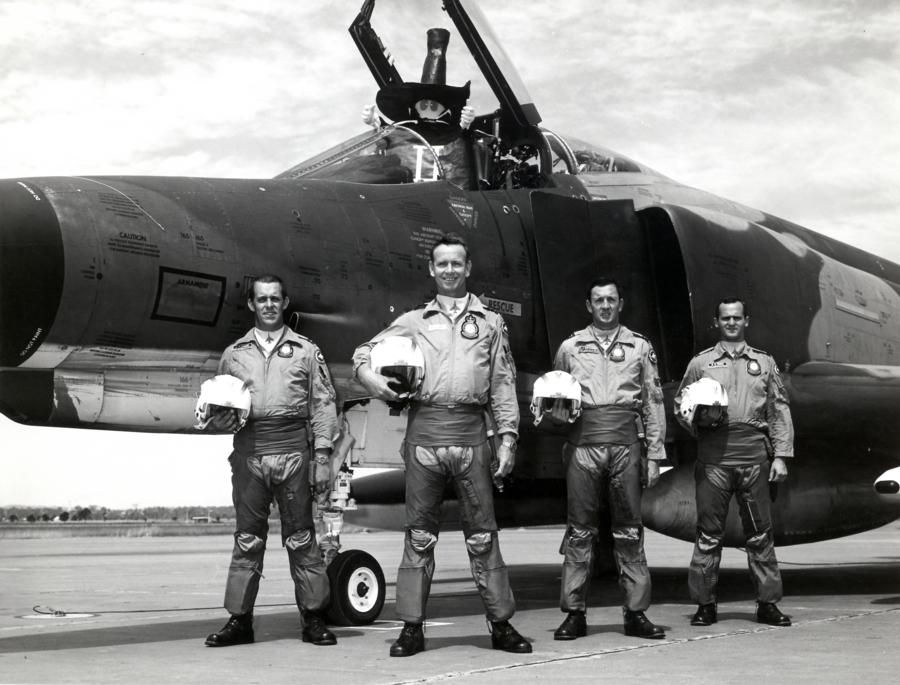 L-R: Dave Rogers, Al Reed, Robert Montgomery, Brian Fooks.
This virus has done what no woman has been able to do,
cancel all sports, shut down all bars and keep men at home!!!
Operation Pepper Pot, – Darwin, Oct - Nov 1971
The Phlyers and Phixers.
1 Sqn.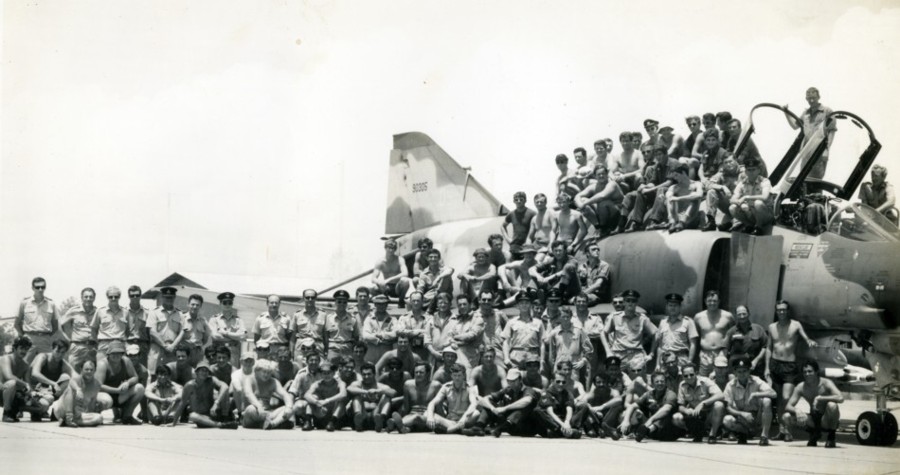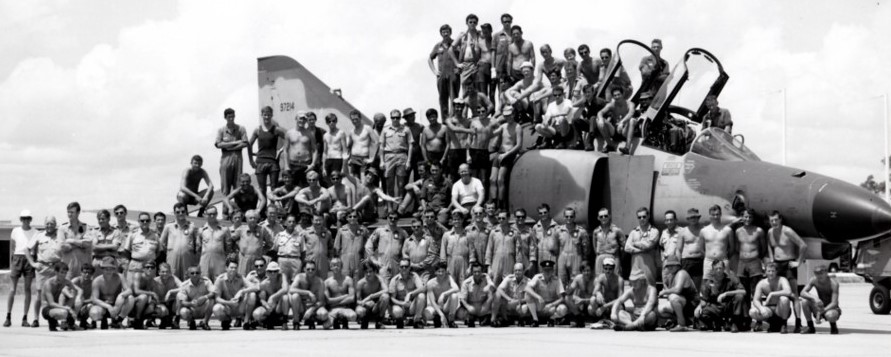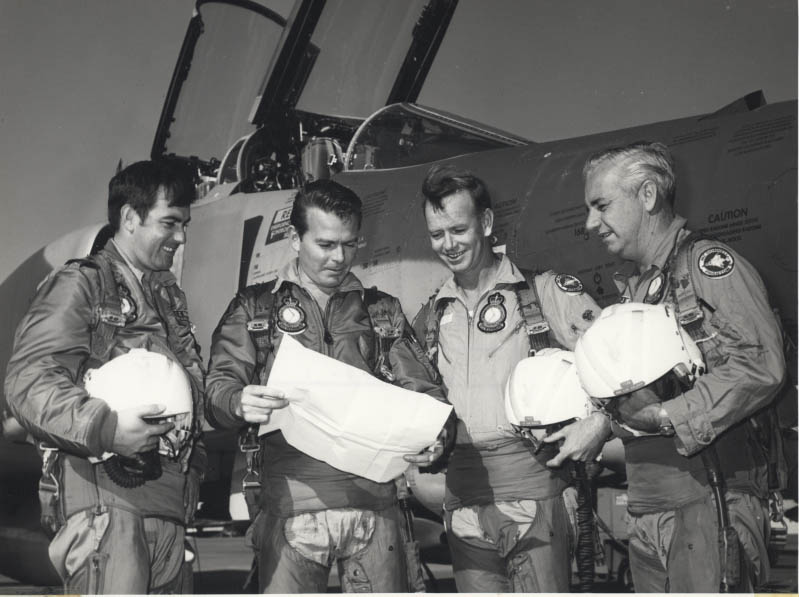 L-R: Clint Rowland, Gus Hannam, Al Reed, Brian Bolger.
A pair of Phantoms set a (then) record for flight time from Darwin to Amberley (tower to tower) of 2 hours, 37 minutes and 52 seconds. As the distance is 1,865 klms – their average speed was 710 klm.hour.
I never thought the comment "I wouldn't touch him/her with a 40 foot barge pole"
would become a national policy, but here we are!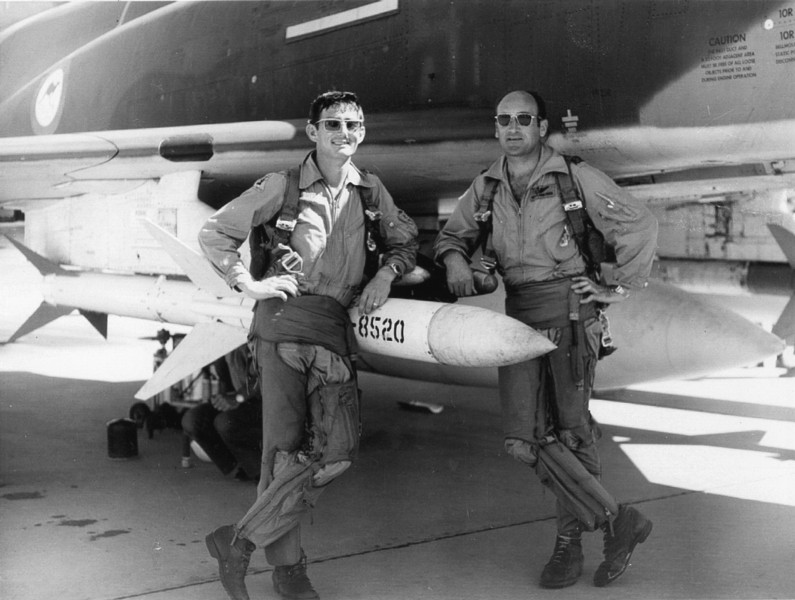 Bren Roberts and Noel Ryan with AIM-7 Sparrow missile
The AIM-7 Sparrow was an American, medium-range, semi-active, radar homing, air-to-air missile with a high-explosive warhead operated by the United States Military as well as other various air forces and navies. Sparrow and its derivatives were the West's principal beyond visual range (BVR) air-to-air missile from the late 1950s until the 1990s. It remains in service in some countries but is being phased out.
The early Sparrow was intended primarily for use against larger targets, especially bombers and had numerous operational limitations in other uses. Against smaller targets, the need to receive a strong reflected radar signal made achieving lock-on at the missile's effective range difficult. As the launching aircraft's own radar is needed to be pointed at the target throughout the engagement, this meant that in fighter-vs-fighter combat the enemy fighter would often approach within the range of shorter-range infrared homing missiles while the launching aircraft had to continue flying towards its target. Additionally, early models were only effective against targets at roughly the same or higher altitudes, below which reflections from the ground became a problem.
Over the years the Sparrow has been upgraded and to date over 60,000 examples of the missile have been produced in many different production models. This air-to-air missile family includes the following systems: AIM-7A, -7B, -7C, -7D, -7E, -7F, -7G, -7M, -7P, and -7R. The AIM-7M features a larger motor than earlier versions (for increased range), and its heavier warhead is mounted forward of the wings, rather than aft as on previous models. Upgraded electronics are also employed. The 7M incorporates increased end-game manoeuvrability for evasive targets.
There are now air to ground and ground to air models.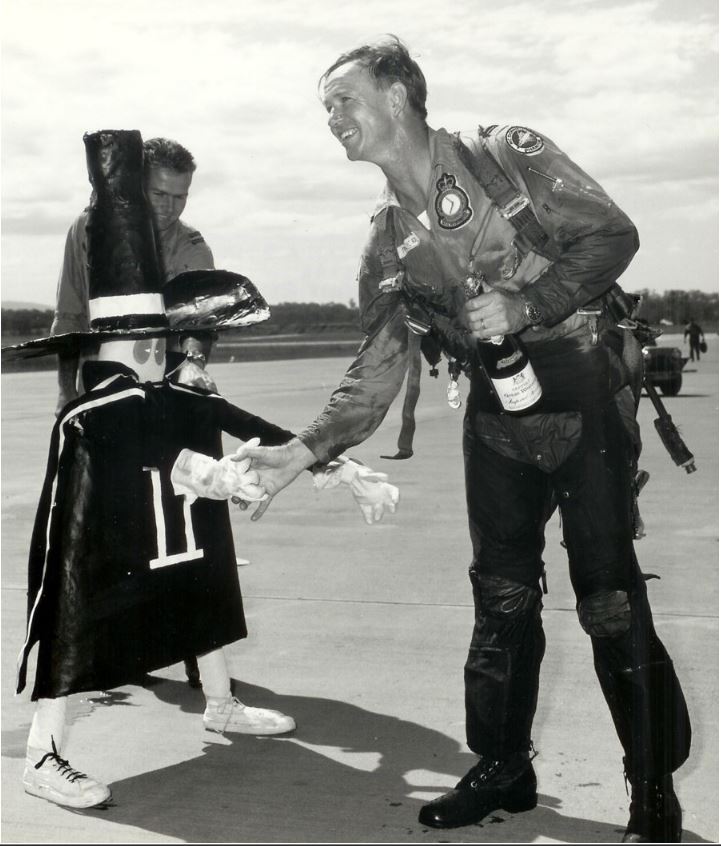 Al Reed, retiring as CO of 6Sqn in June 1972, clutching his bottle of bubbles and being congratulated by the Phamous Phantom Spook at Amberley.
6 Sqn crews toasting the last flight of the Phantom on the 4th October, 1972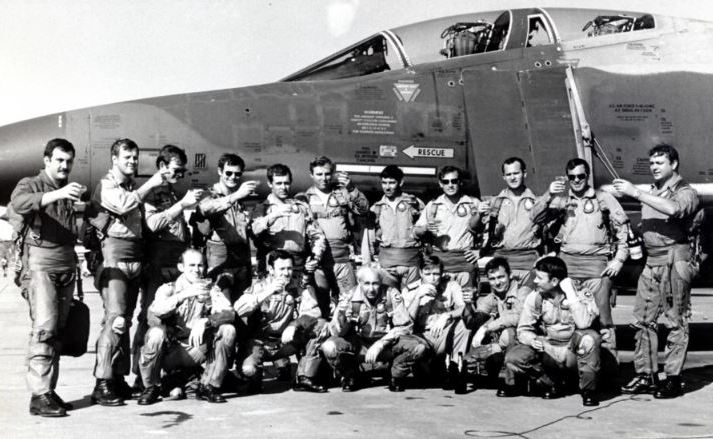 Standing L-R: Keith Padgett, Bill Best, Mick Nott, Ken Smith, Dave Rogers, Greg Herring John Ross, Bob Moloney, Brian Fooks DFC, Clint Rowland, John Reis
Front Row L-R: Pete Salvair, Bob Montgomery, Brian Bolger DFC, Lindsay Egan, Bob Sivyer, John Bushell.
You think it's bad now?
In 20 years our country will be run by people home-schooled by day drinkers.
Back Go to page: 1 2 3 4 5 6 7 8 9 10 11 12 13 14 15 16 17 18 19 20 Forward