35 Flying Instructor's Course.
June 1966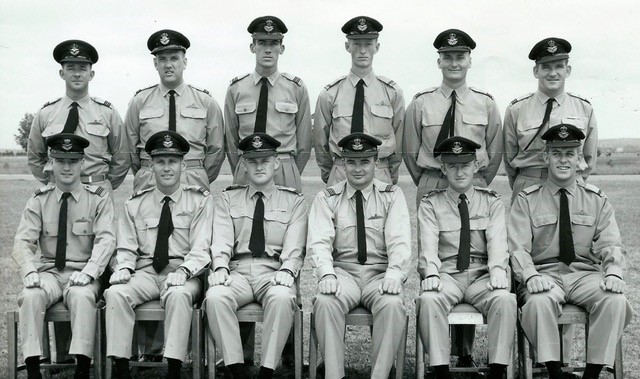 Standing L-R: Keith Molloy, Dave Godfrey, Ron Tayles, Bob Richardson, Don McFarlane, Brian O'Shea.
Seated L-R: Bill Pearcy, Jim Lambley, Paul Evans, Bill Trewartha, Brian (Taffy) Salvage, Dave Rogers.
Graduates.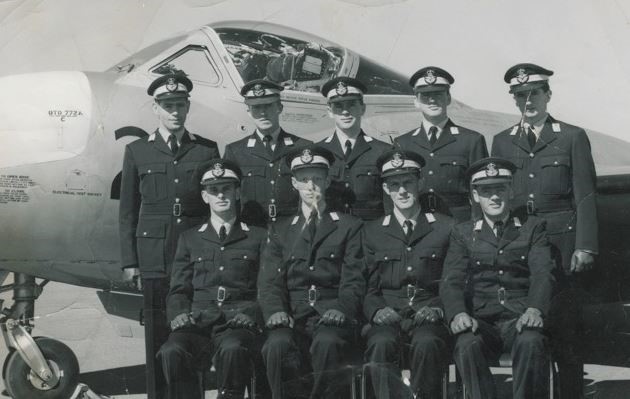 Standing L-R: Trevor Richardson, Taylor (didn't graduate), Errol Walker, Peter Yates, Nick Leray-Meyer.
Seated L-R: Mike Marsh, Bob Richardson, Dick Bryce, Pete Ring.
June 1961 to June 1962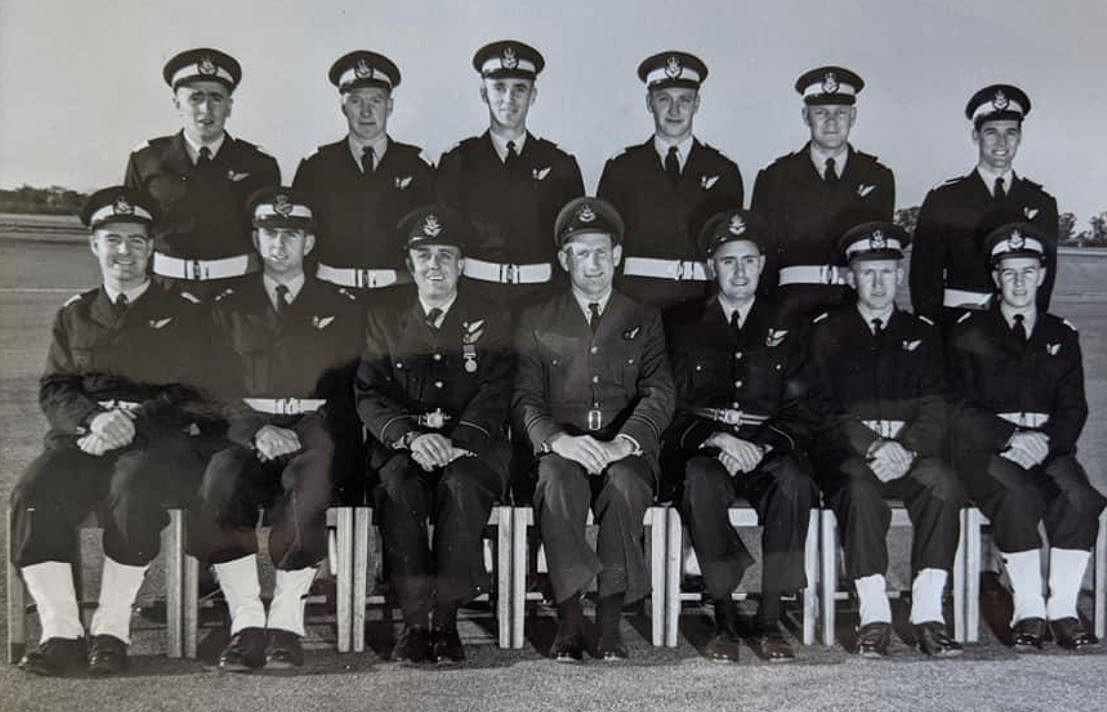 Back row L-R: Jim Hanigan, 'Red' Jordan, 'Tex' McLaughlin, Tony Wilkinson, John 'Wang' Miller, Terry Nugent.
Front row L-R: 'Paddy' O'Farrell, Mike McMahon, John Sandys, Mike Banfield RAF (Course Mother SAN Staff), Mel Rowbotham, Neil Bowers, Wally Patterson.
Frank Oostenbroek sent us these pics, he says these blokes were on his WOD's course.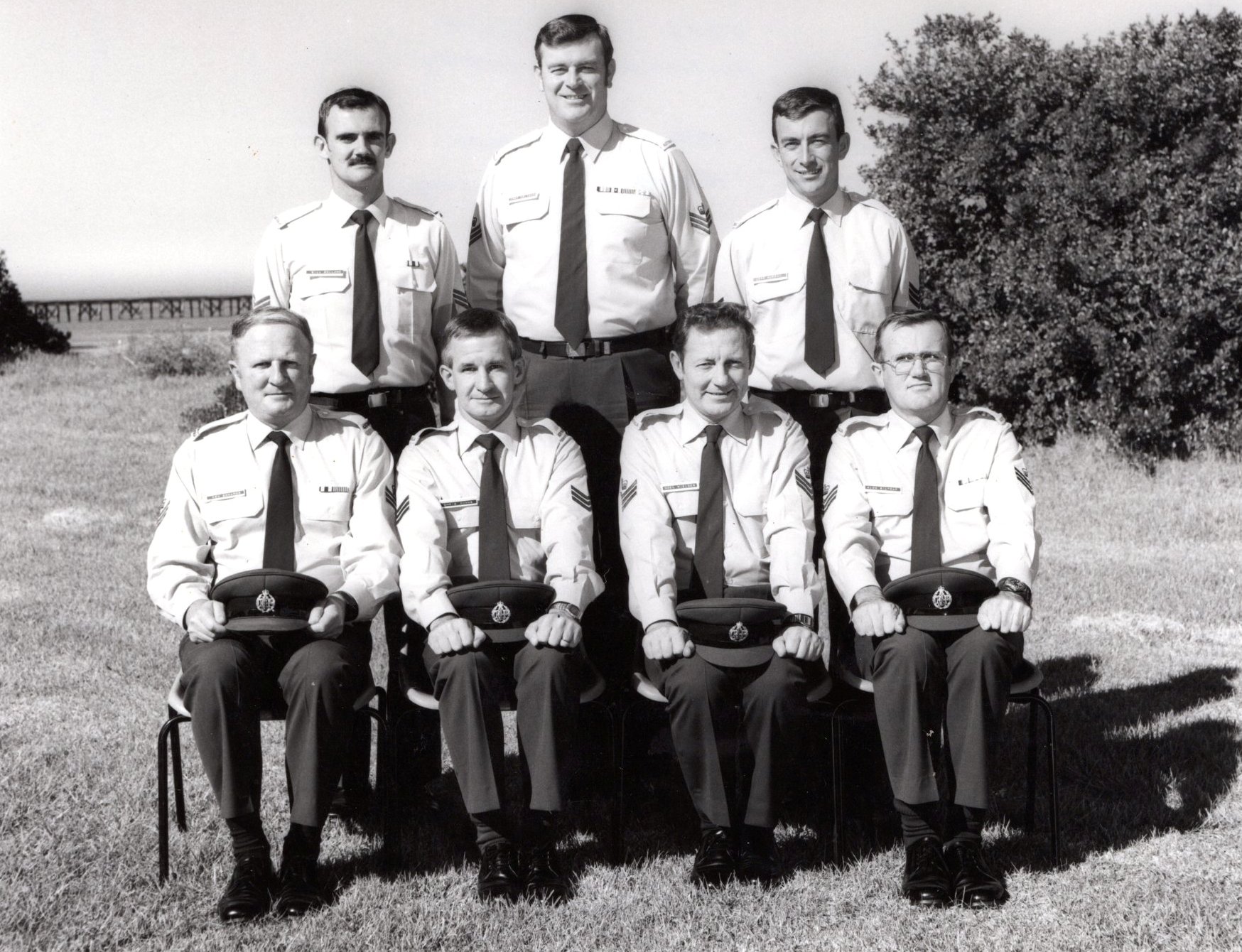 Standing L-R: Kev Edwards, Fred Holtman, Alan Giltrap.
Seated L-R: Bill Bolland, Chris Dunne, Noel Neilsen, Jeff Murray.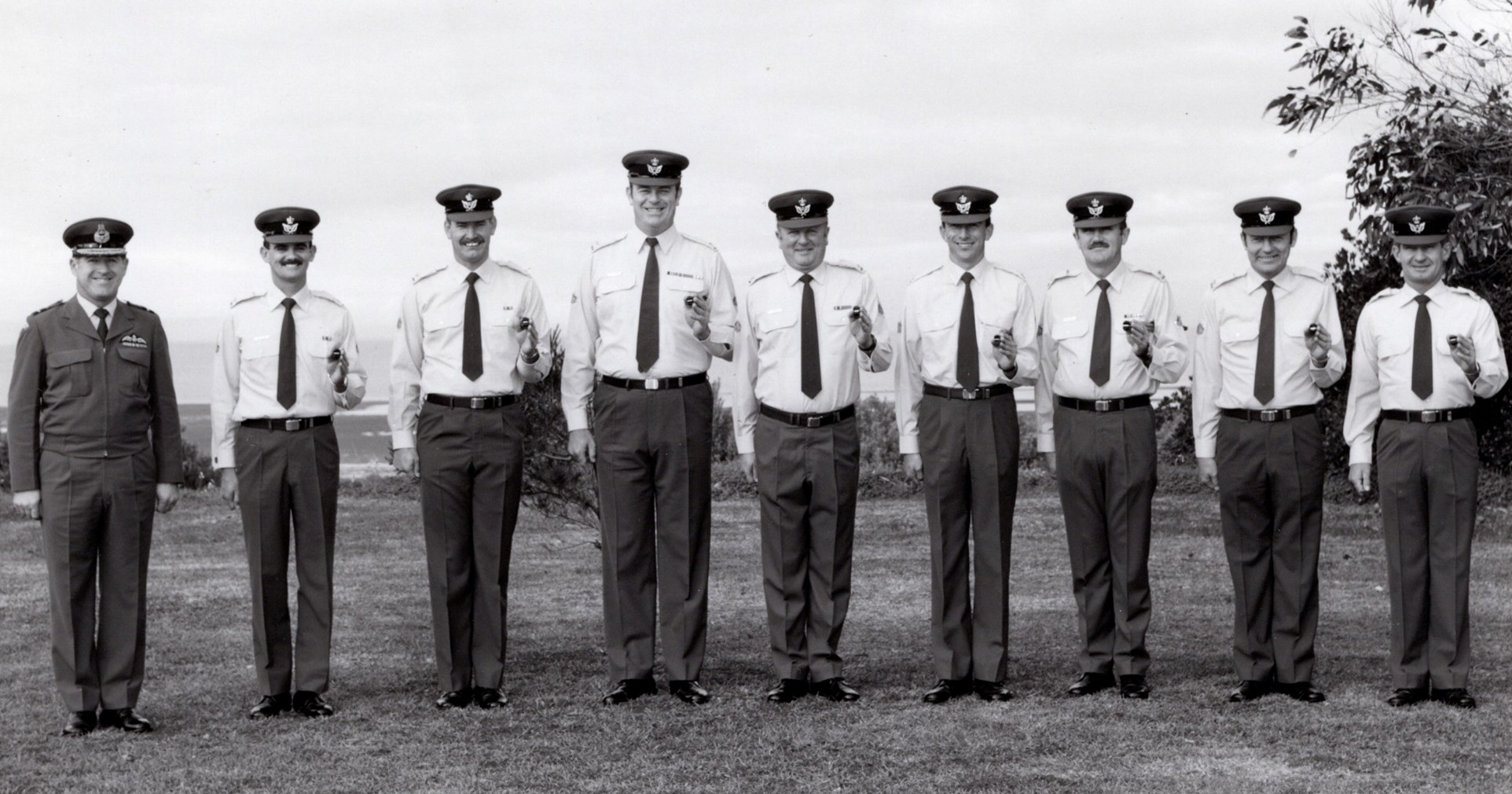 Shaun and Molly sat up all night on their honeymoon,
waiting for their conjugal relations to arrive.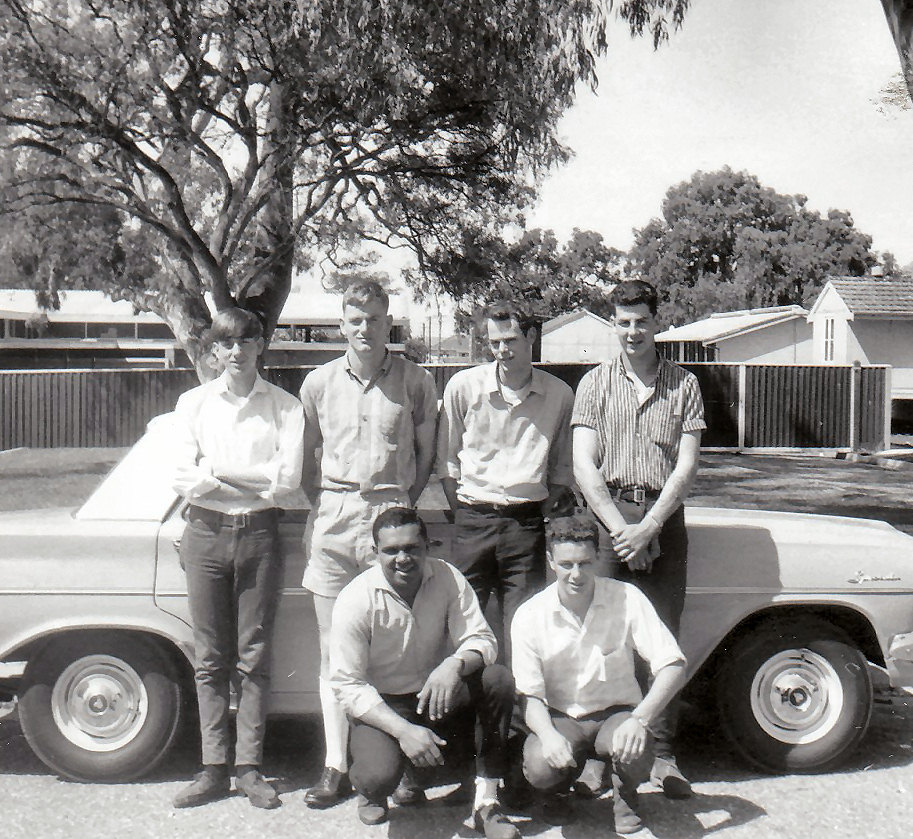 Standing L-R: Dino Matto, Tony Flanagan, Rusty Draper, Don't know,
Kneeling L-r: Harry Allie, Harry Warton.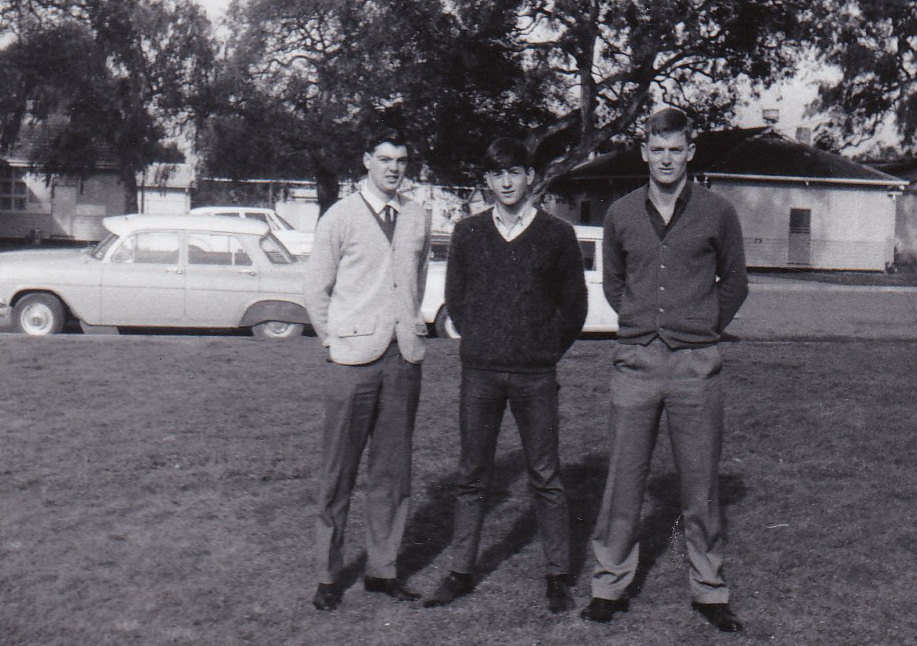 Alan Scherini, Dino Matto and Tony Flanagan.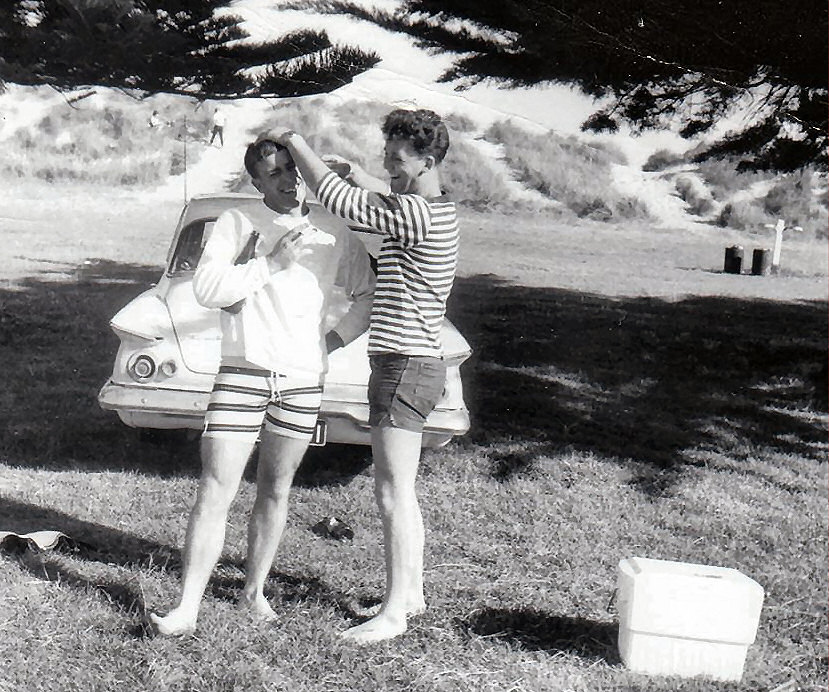 Michael Wark, Wally Tersic, at Seaspray Beach, Sale.
WRAAF Dining-in night, East Sale. (Sorry, no date – help?)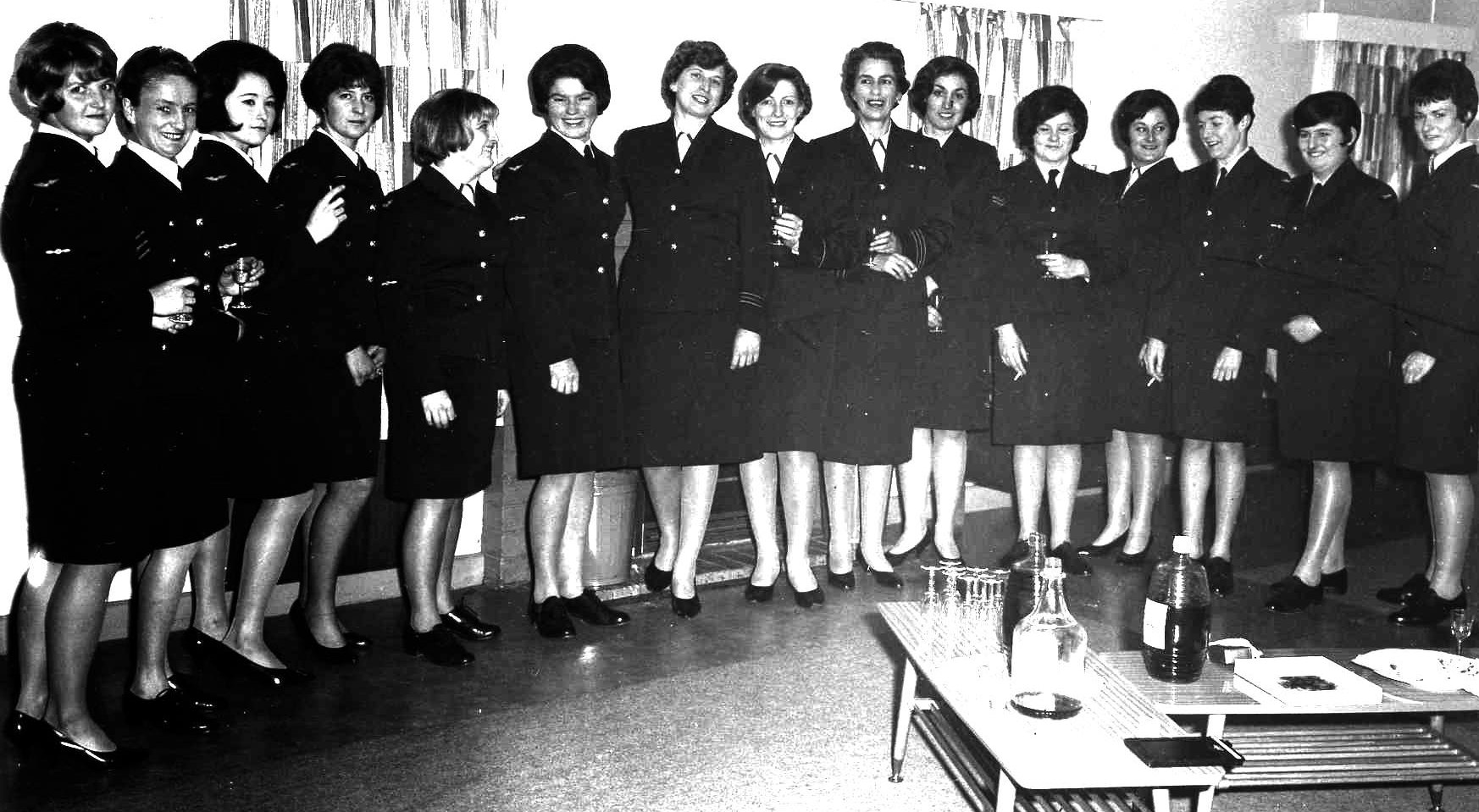 L-R: Margaret Goodland, Jan Frazer, Lorraine Clark, Ruth Dennison, Kathy Bennet, Sue Thornton, Sqn Off Parslow, Sect Off Meredith, Wg Off Pittman, Marjorie Jones, Mary Rossen, Kathy Murphy, Rhonda (Tex) Williamson, Lyn Sager, Doris Anderson.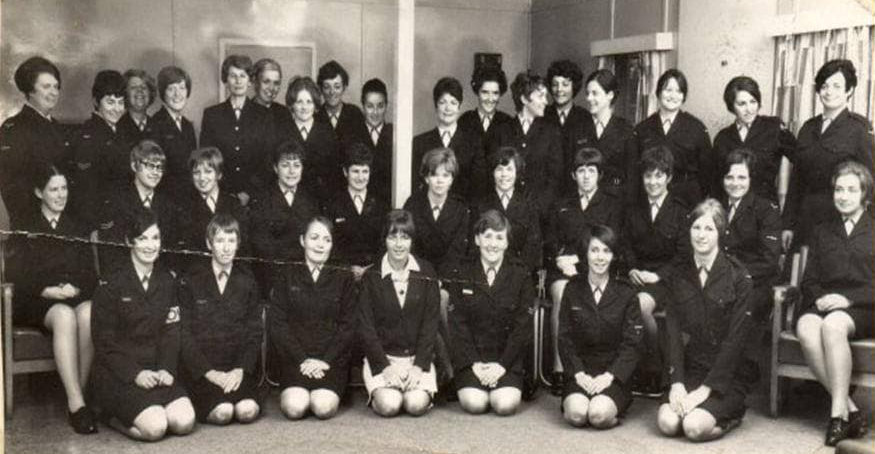 WRAAFs at East sale - 1950 (Looks cold)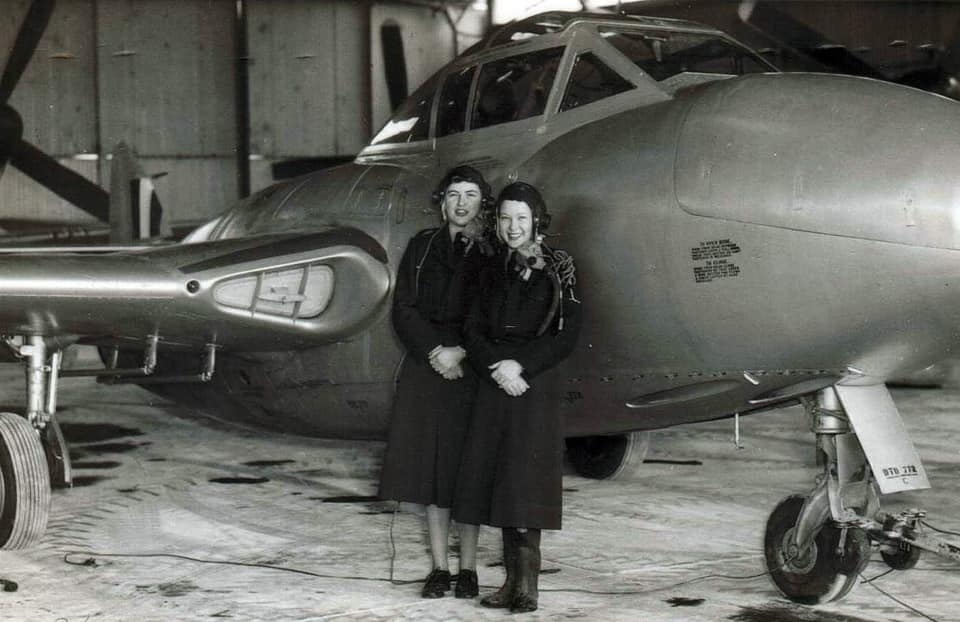 Slumming it at Coolangatta, 2015.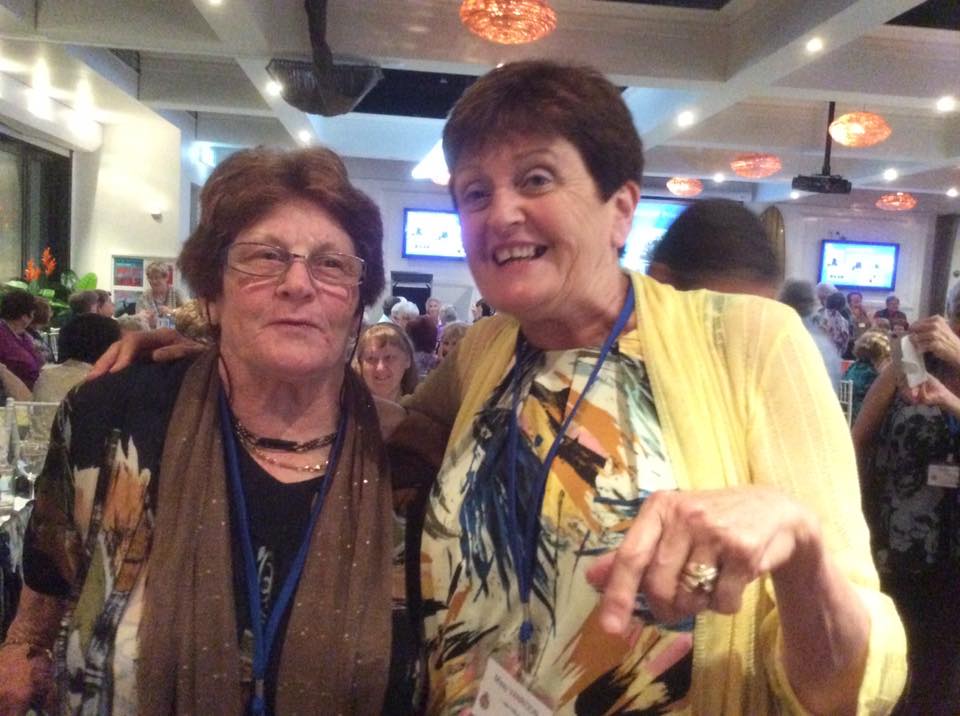 Pat Hodda, Missy Vanroon.
Jean Sheppard – Miss NSW Charity Queen 1972.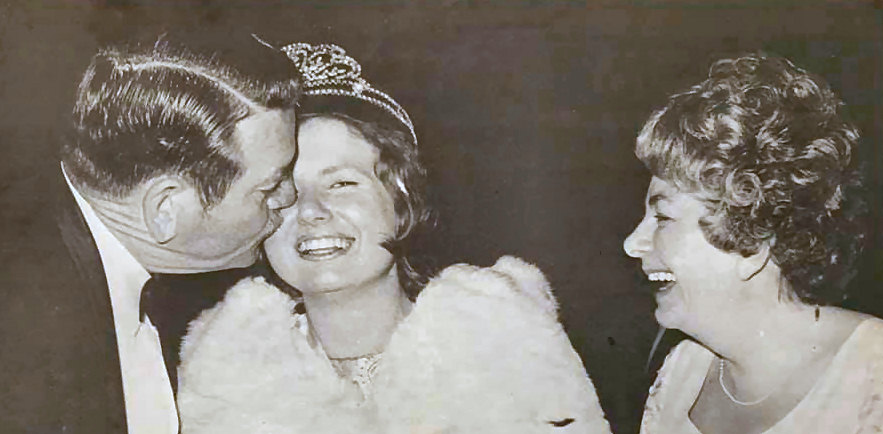 Jean Sheppard, a WRAAF from Williamtown, was crowned Miss NSW Charity Queen in 1971 at the Sydney Town Hall. She is being congratulated by Air Commodore Arthur Mather, OC Williamtown and Flight Officer Margaret Cass, OIC WRAAF, Williamtown.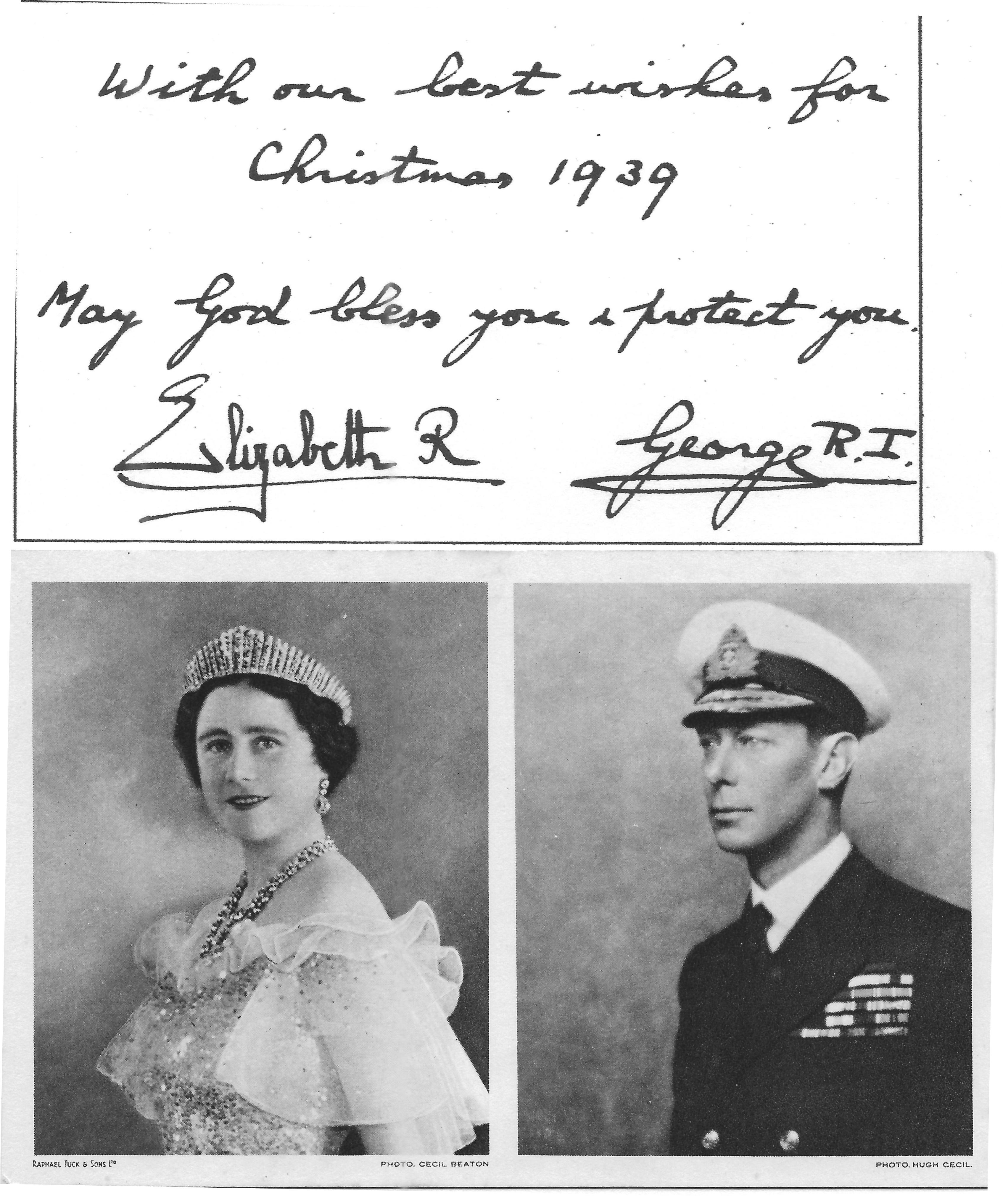 Kev says "My father joined the RAN in 1938. I think this was sent to serving members 4 months after the start of WW2 on 1 Sep 1939"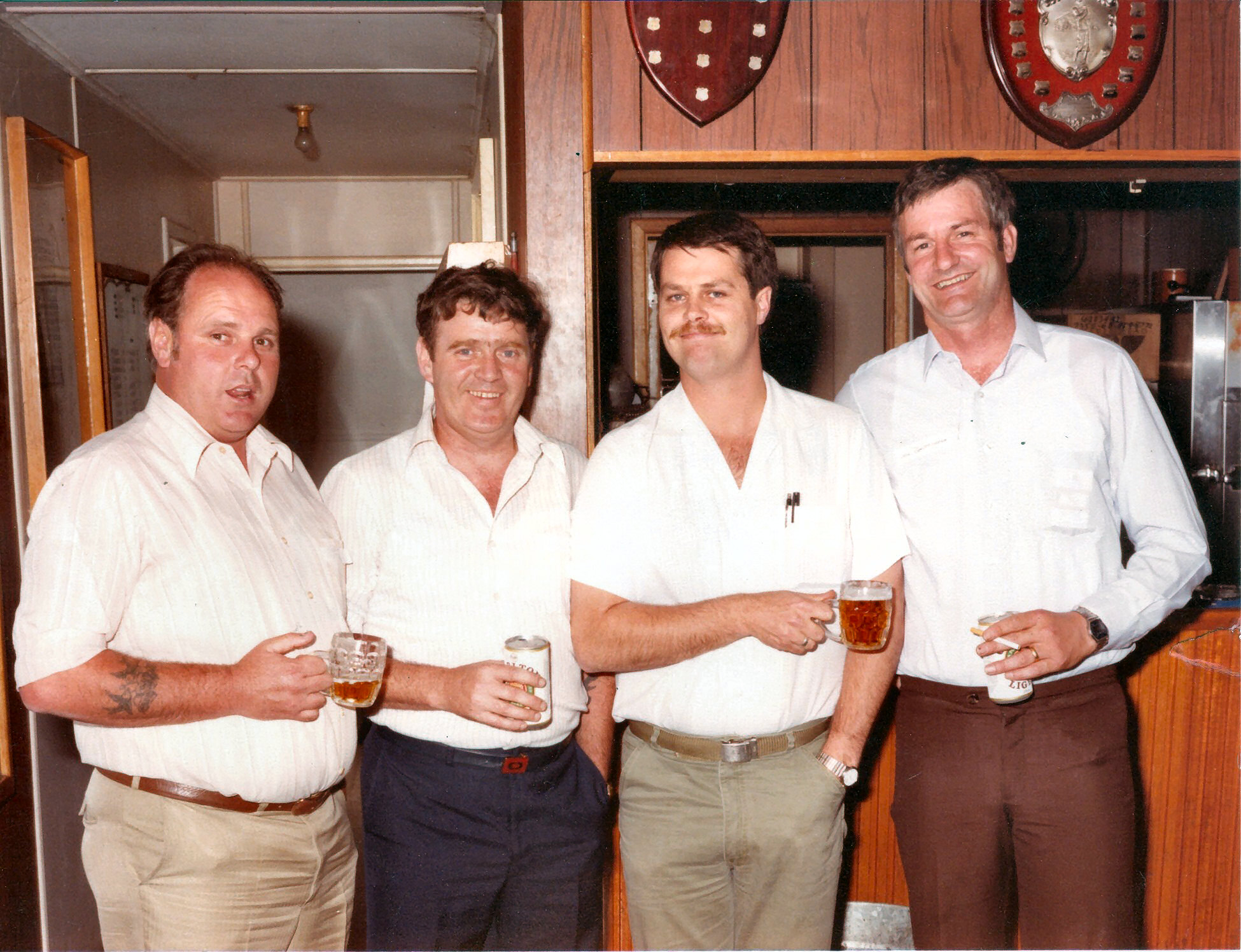 Robert Mathers, Jimmy "Jock" Whyte, Steve Beckwith, John van der Linden at the Laverton Golf Club 1985.
(Can anyone help with the missing names?)
Back Row L-R: Michael Smale, Don't know, Don't know.
Front Row L-R: Don't know, John Dallimore (CO), Brett Lynch.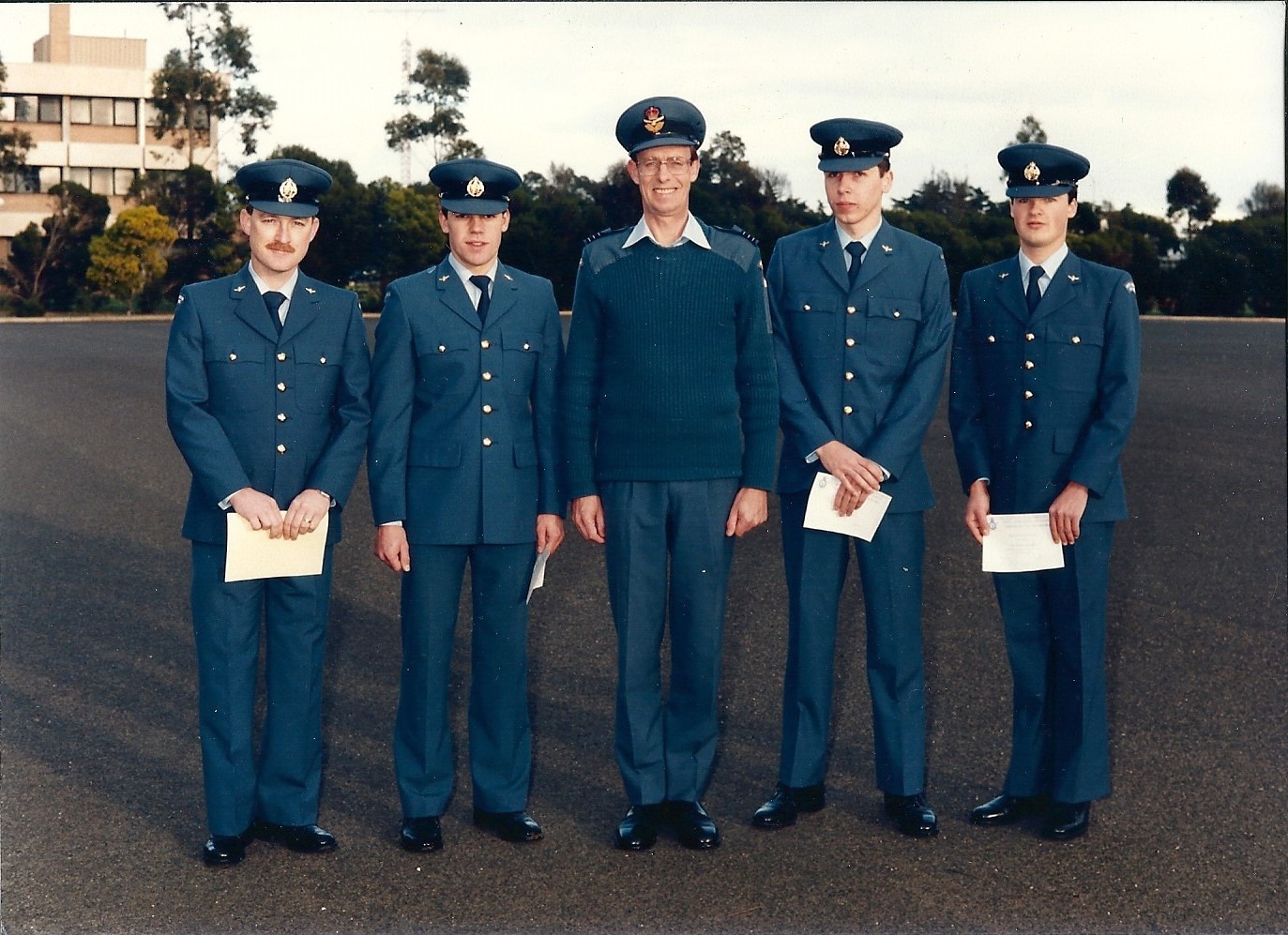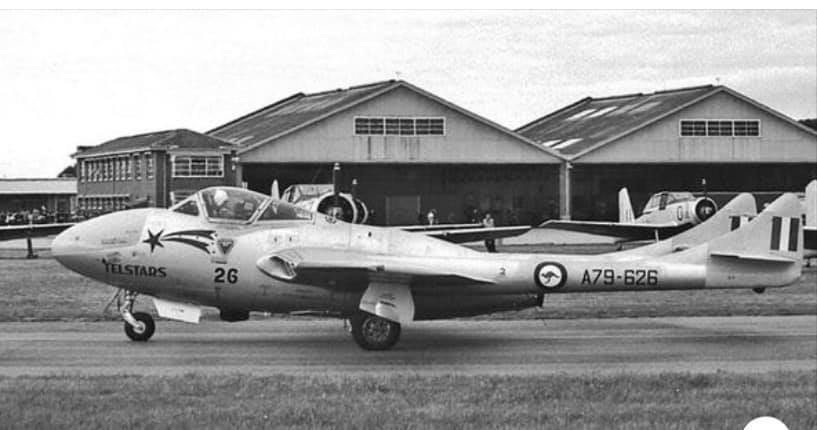 One of the Telstars Vampires at Laverton.
USAF U2s at Laverton, mid 1960s.

On 26 October 1960, three Lockheed U-2s of the USAF 4080th Strategic Reconnaissance Wing arrived at East Sale to commence Operation Crowflight VI as part of the U.S. Department of Defence High Altitude Sampling Program (HASP). This was the first recorded presence of the U-2 in Australia but given the nature of this aeroplane's operations, there may have been earlier visits!
HASP operations began in 1957 from bases in Texas, Alaska, New Mexico, the Panama Canal zone and Argentina with the announced purpose of determining the worldwide distribution and concentration of radioactive debris from nuclear testing. More specifically, the classified purpose of Operation Crowflight was to gather samples of the Krypton-85 gas isotope which, it had been discovered by US scientists, could reveal the strength of Soviet nuclear detonations. These operations were flown at high altitude (60,000 feet and above) in a straight line aligned north-south-north from which the Crowflight name was derived i.e. as the crow flies! The extension of operations to Australia was signalled by a visit from the US Ambassador to Prime Minister Menzies on 5th July 1960. This was just two months after the infamous downing of Francis Gary Powers' U-2 (56-6693) in Soviet airspace on 1st May 1960.
The Crowflight U-2 operations were usually accompanied by four Martin NB-57B (Canberras). Operations were typically supported by two SC-54D (DC-4s) for SAR duties and several C-124 Globemaster II for logistics support. Crowflight IX commenced on 1st March 1962 and on 8th May it was announced that Australian operations would continue on a semi-permanent basis. The last two U-2s departed Laverton for the USA on 28th February 1965 as they were required for redeployment in S.E. Asia. These U-2s were replaced by two RB-57F (modified Canberras) which arrived on 1st March 1965. USAF Crowflight operations in Australia came to a close in February 1966.
Operation HICAT

On 14th July 1966, the U2s were back, 66722 arrived at Laverton for Operation HICAT, a USAF program to study HIgh altitude Clear Air Turbulence. These operations commenced on 19th July 1966 and continued until 11th August when the final sortie (to Brisbane and return) was flown. During its time at Laverton, 56-6722 acquired RAAF roundels on both sides of the fin although the roundel on the port side was facing aft. The aircraft departed Laverton on 13th August 1966 on return to California. This aircraft is now an exhibit at the National Museum of the USAF at Dayton, Ohio.
If you're sitting in public and a stranger takes the seat next to you,
just stare straight ahead and say "Did you bring the money?"
Council shrinks grab on Caloundra RSL Memorial Garden.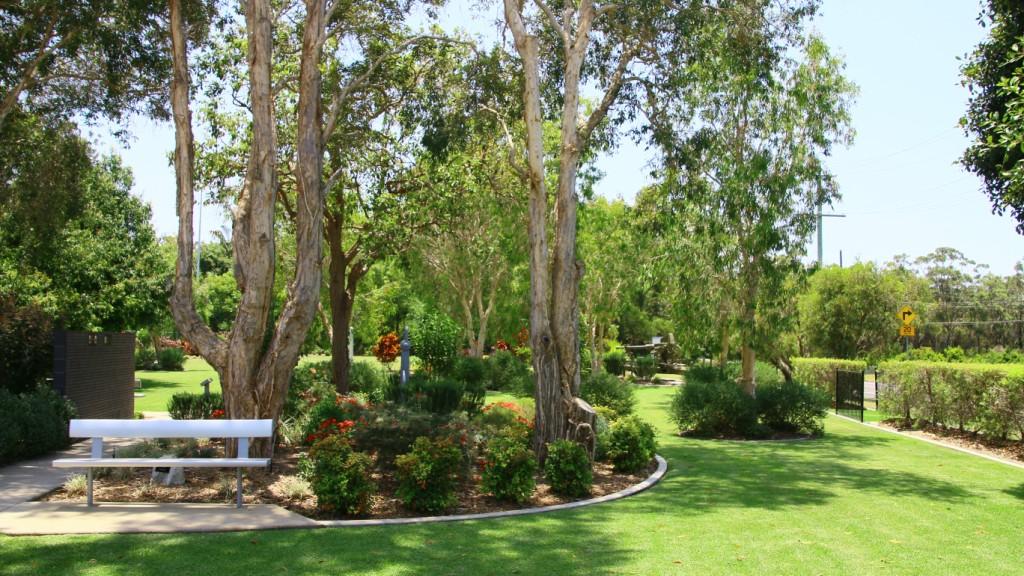 In response to the many signatures received by the RSL, the Sunshine Coast Council has shrunk the slice of the Club's Memorial Garden that it wishes to resume from 7.5 metres to just 3 metres. On Friday, June 12, more than 8,200 signatures on the Caloundra RSL Sub Branch petition were presented to newly elected Division 2 Councillor Terry Landsberg, who has promised to push our case in council. Details of the proposed petition handover had been made available to the public.
The previous day, after months of silence, representatives from the council planning department asked for a meeting with Sub Branch President Geoffrey Gardiner and Senior Vice President Heather Christie to present their updated proposal on the transport corridor. On the Friday, members of the Sub Branch Committee along with a small number of veterans, Caloundra Residents Association & Masonic Lodge representatives, gathered to present the "Save Our Memorial Garden" Petition to Cr Landsberg. Signatures from right across Australia were on the petition, indicating that the desecration of our Memorial Garden for a transport corridor is not acceptable.
Senior Vice President Heather said on handing over the petition that the Sub Branch appreciated Cr Landsberg's support and efforts for the council to reconsider their proposal. "However," she said, "the reduction to 3 metres is still not acceptable and we ask that council review the other options that do not include Third Ave." Cr Landsberg will table the petition at the council meeting later this month.
The Sub Branch owes a huge "thank you" to local State MP Mark McArdle for his terrific support and guidance with this process, as well as a huge "thank you" to every person who signed the petition – their support is invaluable.
WIN News were there for the hand-over of the petition - you can see that HERE.
The fight is not over!
Ken Smith – Cinema Operator. (RAAF Laverton "Intercom Magazine" 1981)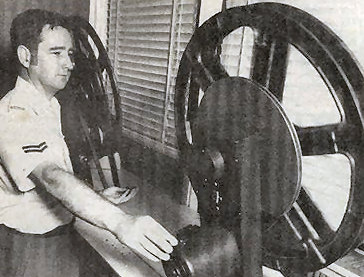 "On the 17th July 1972, the Adastra Cinema at Laverton was closed and demolished to make way for the new Airmen's Mess. With some modifications to the old gymnasium and the transfer of the Cinemeccanica 35-70mn projection and sound equipment, the Adastra Cinema re-opened on the 29th August 1972. with 115 fewer seats and reduced screen size. Until two years ago nothing had changed, however Christmas 1980 saw a new ticket office replace the "hole in the wall" ticket office. At Easter 1981 a new foyer and candy bar "happened". In the projection room things had been happening also, a new Dolby Stereo optical Sound system had been installed. Ken has used a lot of his own time to accomplish the changes seen at the cinema over the last few years.
The biggest change at the Adastra however, will be the departure of the Cinema operator, CPL Ken Smith, when he leaves the Air Force in early November. Ken has been a CINOP with the RAAF for the last 17 years. He has also served at Darwin, Point Cook, Pearce, Edinburgh, Richmond and even Ubon in Thailand. Before he joined, he was a projectionist at a Theatre in Sydney.
So far, Ken has been showing films for 27 years and is a member of the Australian Cinema Pioneers. (Membership is open to 25 year veterans of the cinema industry). Ken's favourite part- time is - you guessed it - making 16mm films. Ken is now off to Darwin to manage the Paspalis Drive-In.
All the best to you Ken, in your future and from all your friends in the RAAF, thank you for your years of dedicated service."
Being repaired after accident.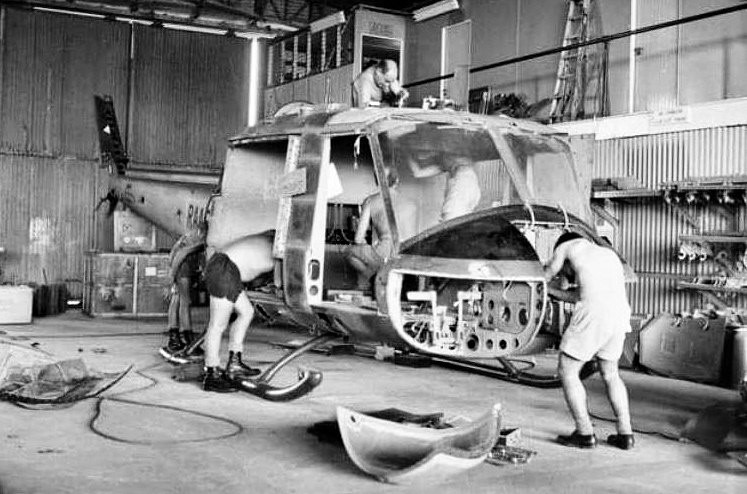 This Bell UH-1B Iroquois Helicopter was issued to 9 Squadron at Fairbairn in October 1964. In May 1966 it was flown from Fairbairn to Richmond and then transported via troopship HMAS Sydney to Vung Tau, arriving on 6 June 1966. It was used by 9 Squadron in operational duties and completed 489 operational missions and a far larger number of sorties or flights, including medical evacuations, troop transport, liaison and other duties. While on operations on 13 April 1967 the aircraft crash landed following an engine failure and was airlifted by a United States Army Chinook helicopter back to Vung Tau. On 22 September 1967 the aircraft returned to operations following extensive repairs which included the replacement of the tail-boom. It returned to Australia in October 1968 and was issued to 5 Squadron at Fairbairn.

From 1975-1979 the aircraft was used at Williamtown and later issued to No 2 Flying Training School at Pearce where it was used in Search and Rescue Operations. On 21 May 1985 it was flown by Mick Haxell DFC (right) to the Australian War Memorial and presented to the Memorial by Air Marshal Evans AC DSO AFC. This aircraft was stored at Fairbairn from 21 May 1985 until 18 May 1988 when it was transported to AWM Mitchell store. It is currently on display in the Vietnam Gallery.
A2-1019

Iroquois helicopter machine gunners from 9 Squadron check their weapons after a mission in support of Australian troops in the rubber plantations near the 1st Australian Task Force (1ATF) Headquarters, near Vung Tau.

During a reconnaissance run (Feb 1967) over the Long Tan area, the RAAF spotted three Viet Cong moving through the rubber trees. They swept into the attack and the three VC guerrillas were believed killed.

Draped in machine gun 7.62mm ammunition belts, the crewmen are Brian Taylor, (left) and Brian (Ron) Hill.

The aircraft they are in is Iroquois A2-1019 which is now part of the Australian War Memorial's collection.

AWM Photo.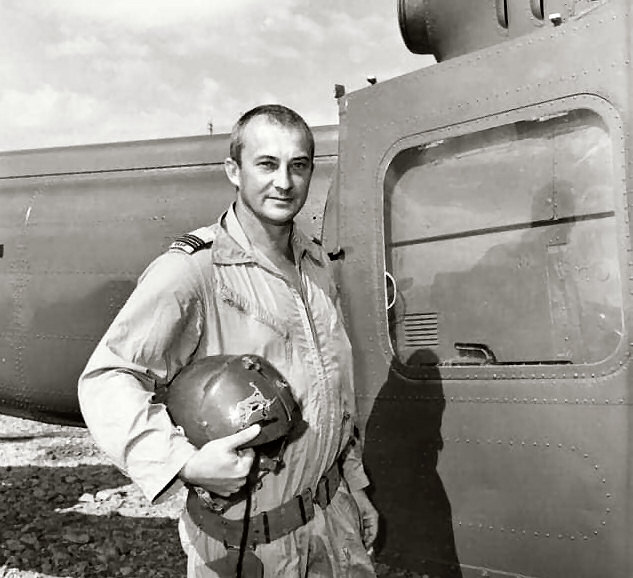 Two records were established by Flt Lt Rex Robert Budd, an Iroquois helicopter pilot with No 9 Squadron. He was the first RAAF helicopter pilot to return to South Vietnam for a second tour and he was the first RAAF helicopter pilot to log 1,000 flying hours in the war zone. Rex served for 10 years in the RAAF and accumulated a total of 1,450 hours on helicopters. He was awarded the Distinguished Flying Cross (DFC) for his services to the RAAF on 22 May 1970.
Rex died of cancer on the 5th November, 2006. (See HERE)
Peter Davidson, 9 Sqn. Pete served with 9 Sqn in Vung Tau from Feb 1967 to March 1968.

Sadly, Peter passed away on the 8th November, 2018, succumbing to Cancer. He was 72.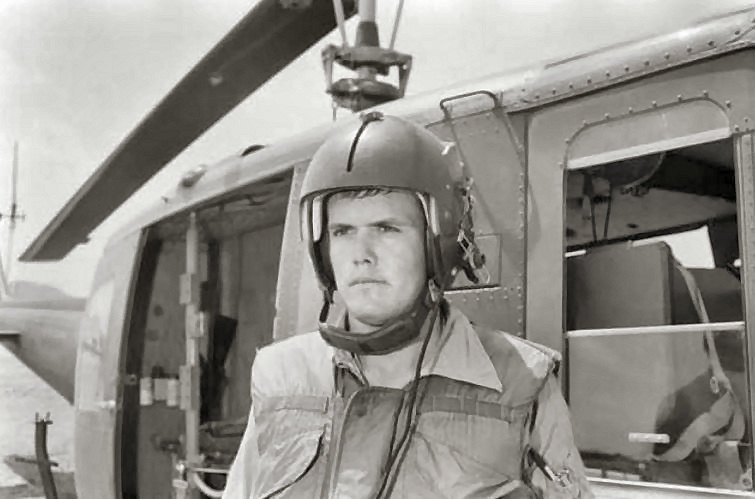 Gerry Mapstone – Gerry was an Airfield Defence Guard and did two tours of Vietnam, one from June 1967 to June 1968, then again from May 1970 to Sept 1970. This photo taken in March 1968.
Paul Standing with the 35 Sqn chopper at the High Range training area.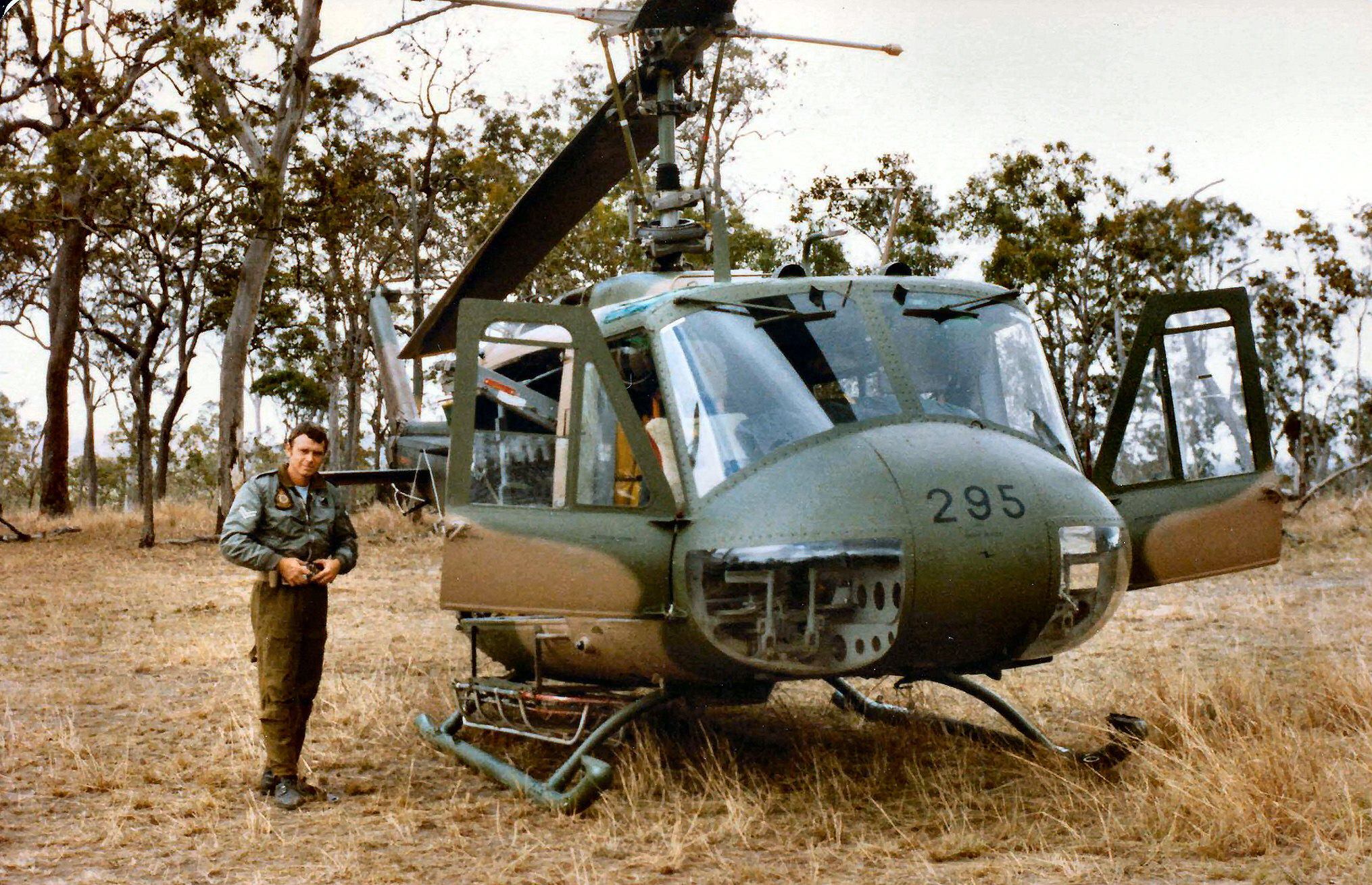 The Townsville High Field Training Area is located approximately 60 kilometres southwest of Townsville on over 200,000 hectares of land. The area is largely undeveloped, but has historically been used for mining and agricultural operations. Activities relevant to the TFTA include mainly general aircraft and personnel training, which includes training in the use of small arms, grenades, heavy artillery, explosives and bombing ranges. The area contains numerous weapons ranges, and has several small above and underground diesel storage tanks. While not associated with Defence activities, the area also contains abandoned copper mines, and has several former landfills, mining shafts and cattle dips around the property.
In 1976, No. 35 Squadron, which in 1972 had been repatriated from Vietnam to Richmond, was relocated north to Townsville, where it operated in support of Army units based in Northern Australia. In early 1977 the squadron's role was expanded when it was equipped with four UH-1 Iroquois helicopters as well as its Caribous, making it the only RAAF squadron to ever be simultaneously equipped with rotary and fixed-wing aircraft. These aircraft were employed in a multitude of roles including support to the local community in the form of flood relief, medevac and search and rescue operations. No. 35 Squadron's role was further expanded in November 1986 when it was issued with gunship variants of the UH-1, which it received when 9 Squadron converted to flying the Sikorsky UH-60 Black Hawk.
In November 1989, 35 Squadron reverted to a purely fixed-wing role when responsibility for flying the helicopters was transferred to the Australian Army. Operating eight Caribous, the squadron continued to provide tactical transport to Army units based in Northern Australia until 2000, when it was reduced to "paper only" status and its aircraft transferred to 38 Squadron.
Click the pic to see video on the origin of helicopters.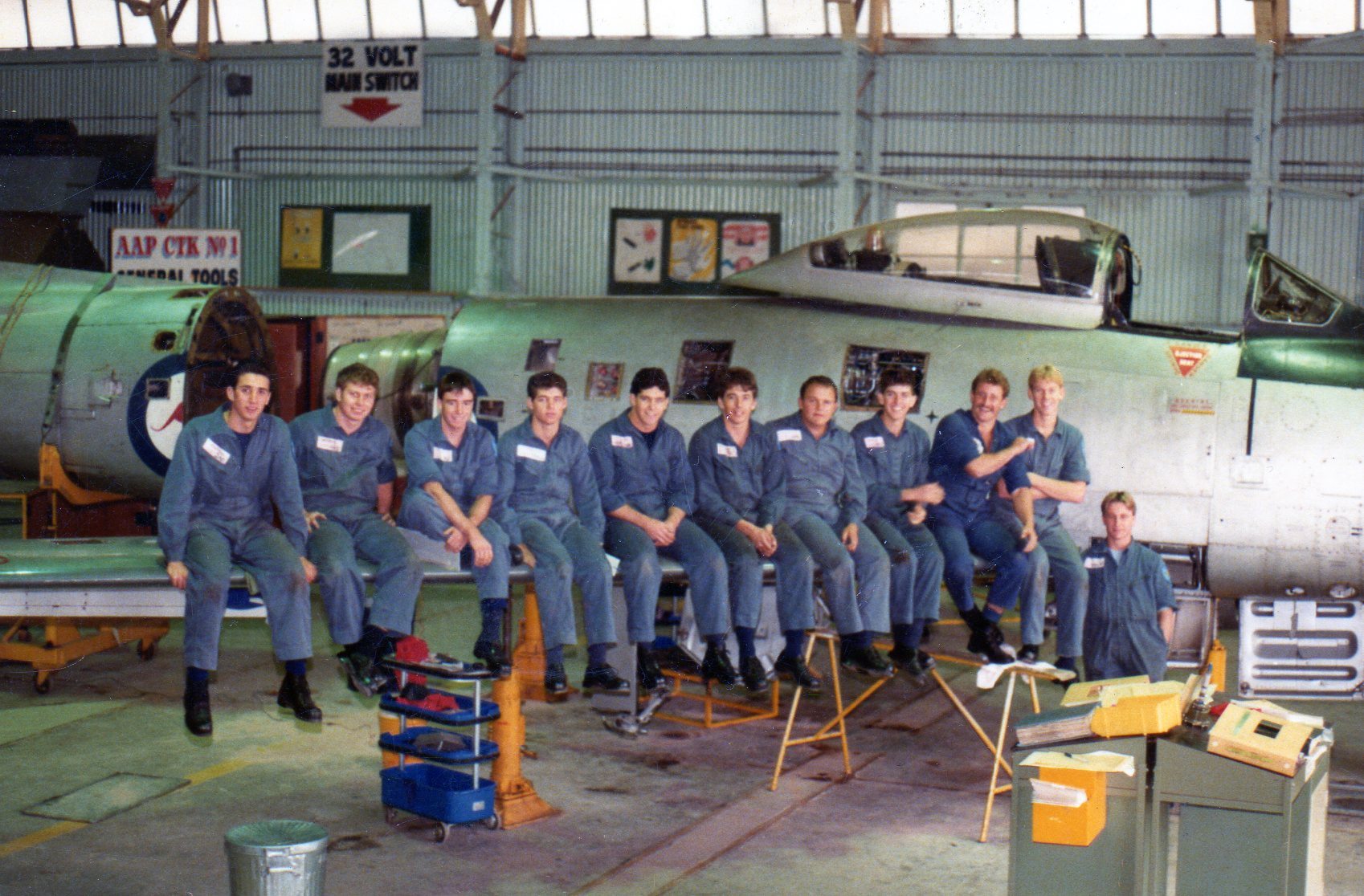 More Sabre fixers.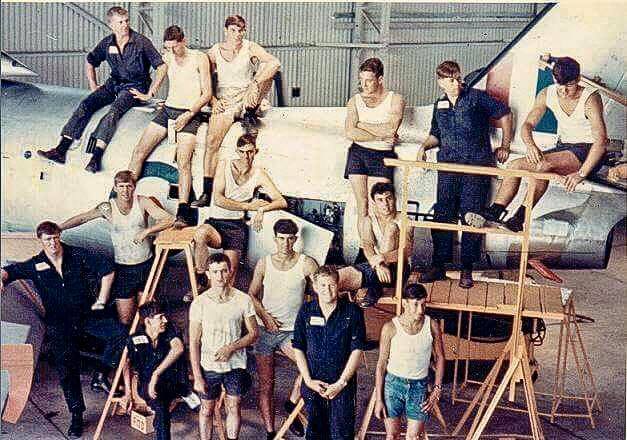 Mrs O'Toole said: "I can only tell you this bit of scandal once,
because I promised Mrs O'Leary I would never repeat it"
Sabres at Williamtown that don't need fixing. 1956.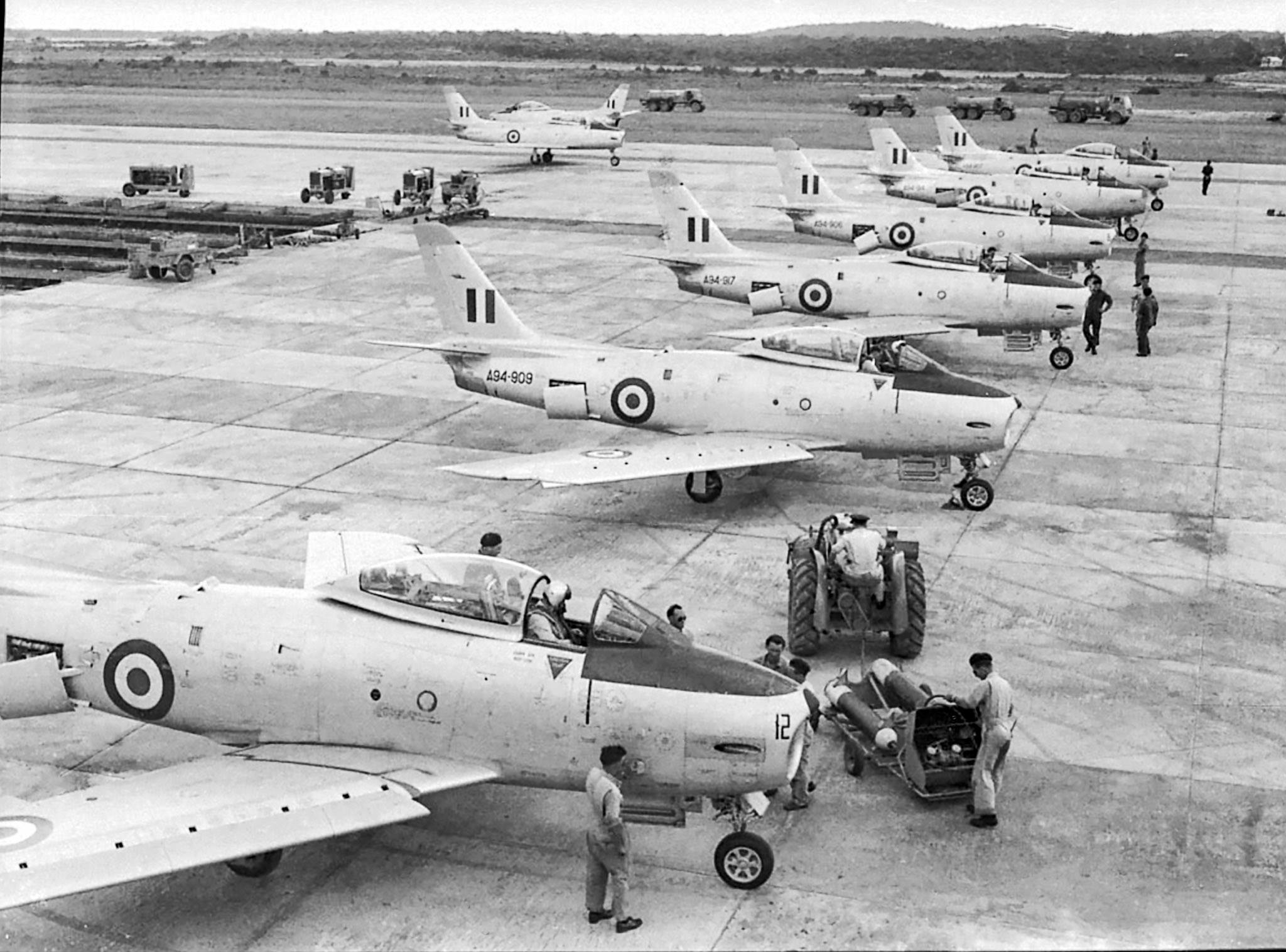 Click the pic to watch a video of the Sabre flying at Amberley.
Vampire that needs fixing – East Sale.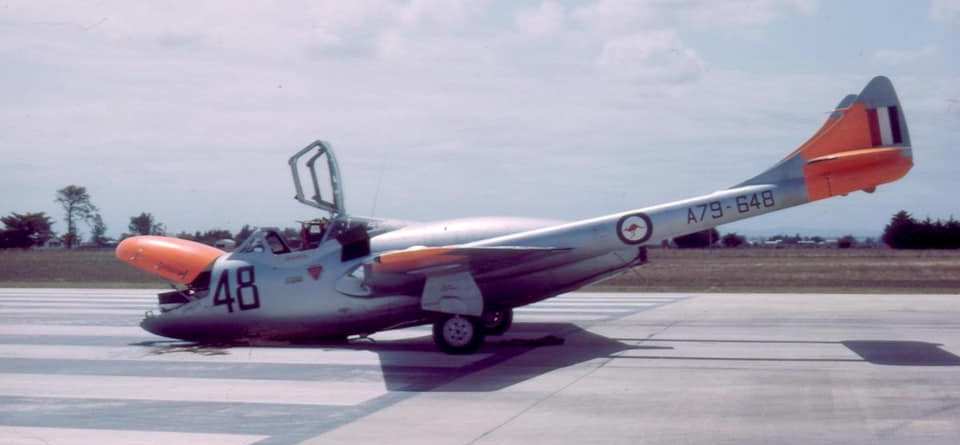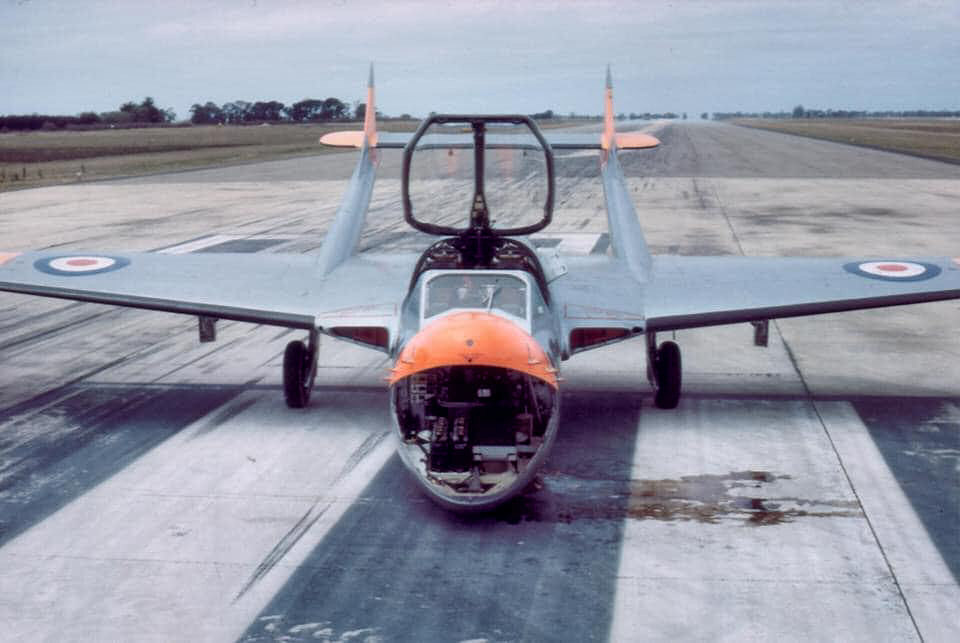 The right horrible Jimmy Potter.
Soaking up a bit of sun in Scotland.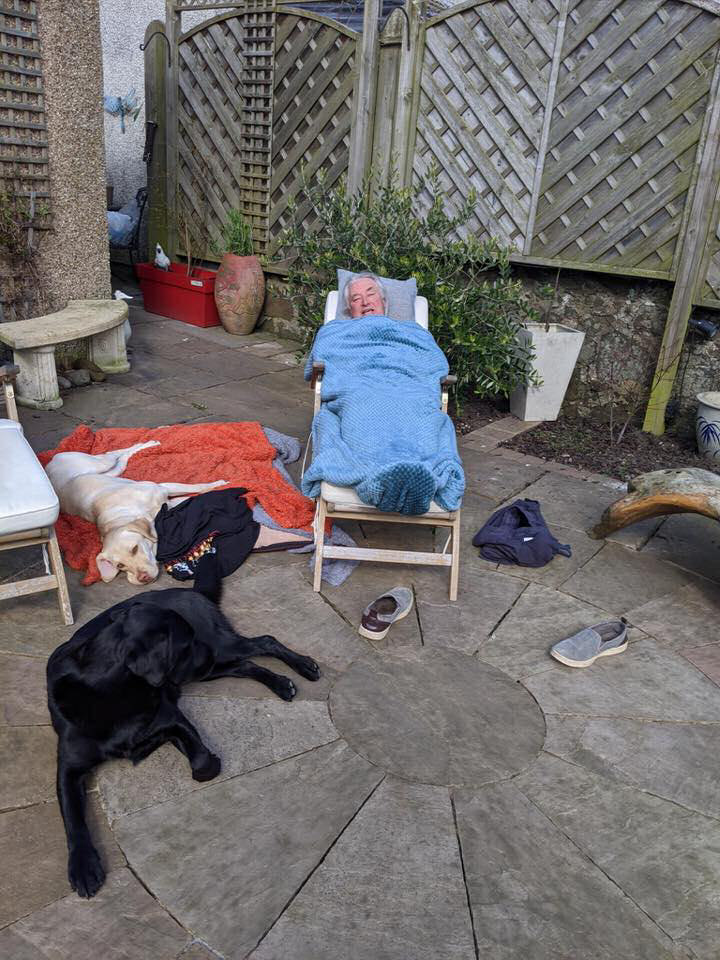 When you do squats, are your knees supposed to sound
like a goat chewing on an aluminium can stuffed with celery?
Kevin Coman, inside a B17 (Somewhere, sometime).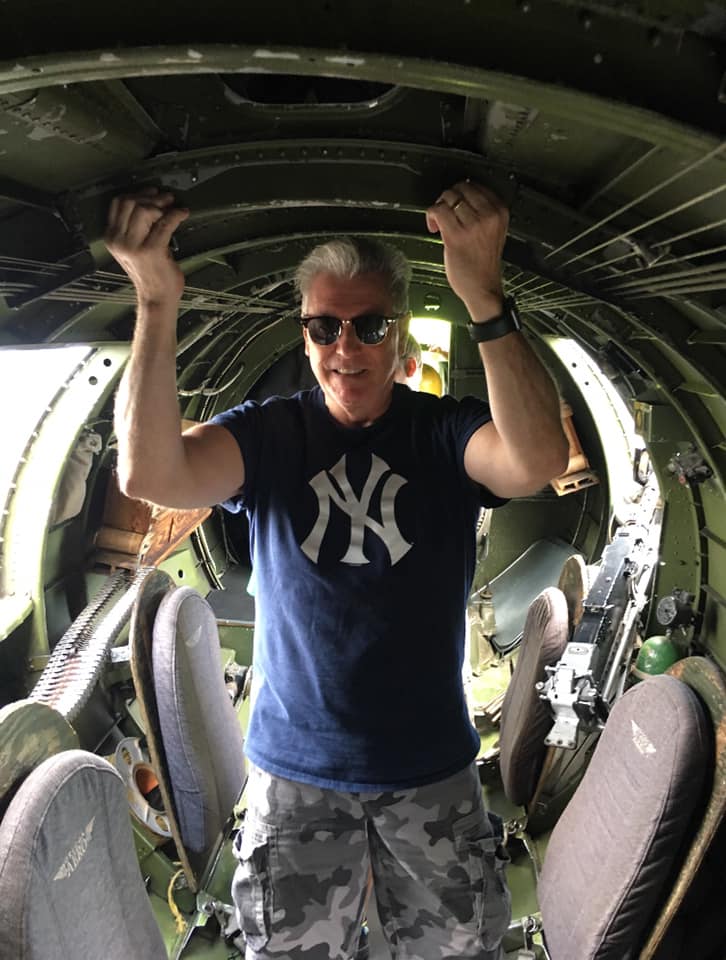 Steve Hosemans - raw recruit.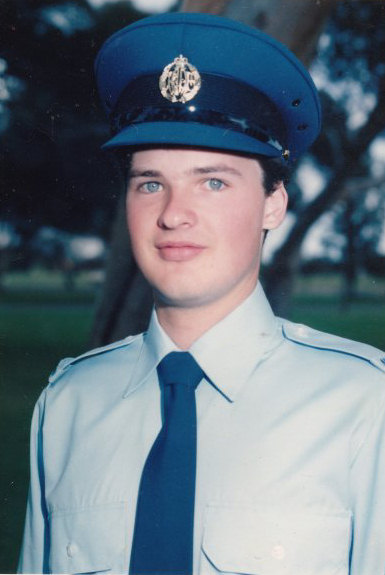 Box packers - 1SD. (When??)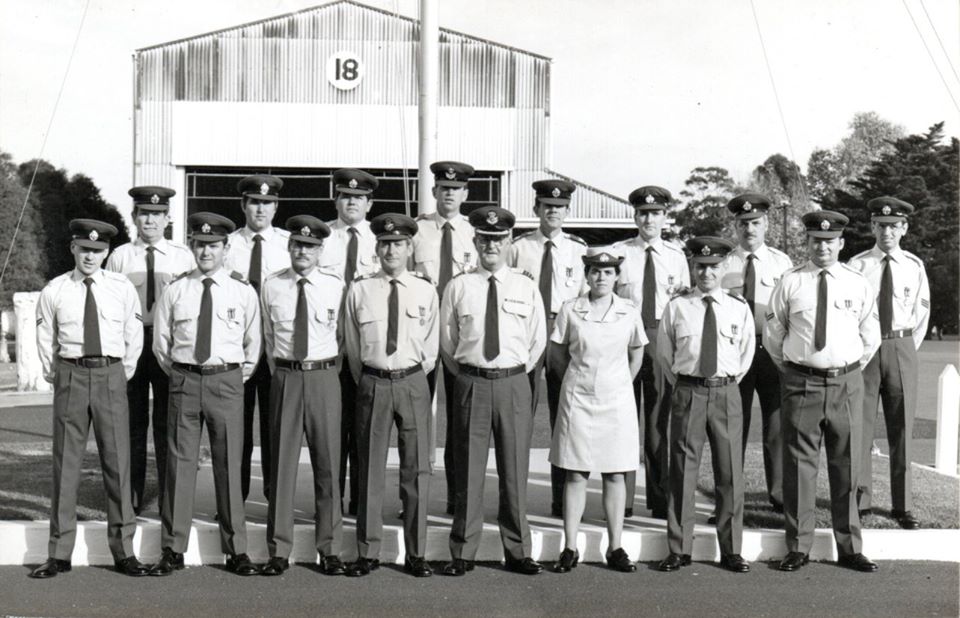 Ozzie Rules team, East Sale, 1970s.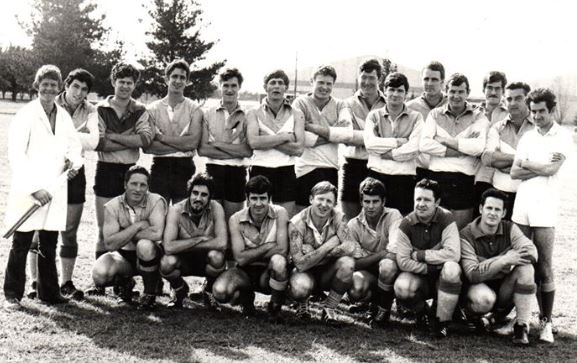 Self-isolation is getting so bad I'm starting to get a crush on my roommate...
and we've been married for more than 40 years.
Back Go to page: 1 2 3 4 5 6 7 8 9 10 11 12 13 14 15 16 17 18 19 20 Forward