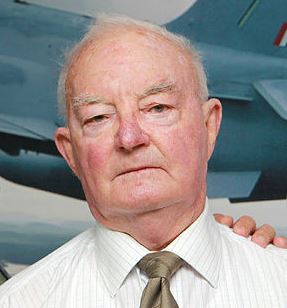 I was inducted into the RAAF on 1 October 1951 as a member of No 8 Flight Training (FTS) Course with the rank of Trainee Signaller. The initial phase of the Course was held at Point Cook and at the time, Aircrew Training Courses were of 18 month duration. Six months "Initial Training" consisting of drill, Air force Law, administration, and a number of other equally, nasty, subjects, followed by six months Basic Training, when trainees first became airborne and six months Applied Training, to round off the torture.
At the beginning of 1952, after 3 months "Initial Training" at Point Cook and because I had been selected as a Trainee Signaller, I went off to the RAAF Air and Ground Radio School at Ballarat as a member of No 5 Signaller's Course. Because of the Korean War, with the subsequent loss of a number of Fighter Pilots, FTS Courses were reduced to 15 months. Accordingly, after No 8 course started the initial training phase was reduced to 3 months.
RAAF Ballarat at the time was interesting - for example, it was widely held that the CO, a Wing Commander called Joe Reynolds, was mad. Thinking back I believe this could have been fact.
The WOD was a rather stern individual called "Shagger Marr". Although he did not carry a stick, every Tuesday, after the weekly CO's parade, "Shagger" would bellow out: "Fall out the, Roman Catholics, Jews, unbelievers and Pakistani's" (at the time there were a number of Pakistani's Air Force people doing radio courses at Ballarat).
If you were unfortunate enough to fall into one of these categories, which included me, you were lined up at the back of the parade and marched off to the Barracks Yard. There to chop the hardest, toughest, Mallee Roots in the Southern Hemisphere. A number of rapid miraculous religious conversions soon materialized from within the ranks.
The Radio School was hard going. The courses were academically demanding and mastering Morse code to the required level was hell. At the time, using high frequency (HF) radio, the Morse code arrangement was the primary form of communication between RAAF Units which included RAAF Headquarters. I had little aptitude for the dits and dars and struggled as a consequence.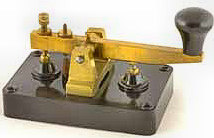 Morse training was conducted in four separate class-rooms. The rooms were set up with an instructor at one end with a Morse key with the students scattered around the side of the room wearing headphones. In the first room Morse was belted out at a rate of 10 to 12 words per minute, in the second room 14 to 16 words per minute, and so on through three more rooms until the last where the speed was 22 words per minute. To progress from one room to the next a trainee had to pass five consecutive tests. If you failed one you had to start from scratch all over again.
A test consisted of a five minute burst of six figure code groups and a five minute burst of plain language from a book. Tests were conducted at the end of each session. To pass you had to get 99% of what was sent without an error. At the lower speeds the difference between pass and fail was only two miserable symbols.
I have seen people climb up the wall in frustration after having passed four tests to make one mistake in the fifth and be required to start the process all over again.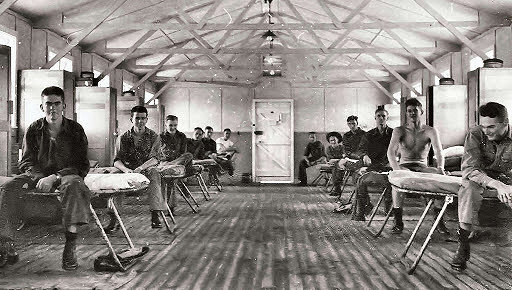 Throughout the period Joe had us doing guard duty at least once, sometimes twice, every week. Guard consisted of two hours on and four hours off – not a receipt for rest particularly when we lived in cold wooden huts and slept on collapsible metal beds. In regard to sleep, in addition to four issue blankets, we piled our RAAAF Great Coats and the bedside mat on top of the bed in an attempt to get, and keep, warm.
Joe held a parade every morning with "Shagger" yelling and screaming. The surface of the parade ground was quartz left over from the Gold Rush. Because of the cold, blokes would stay in bed and not go to breakfast. Accordingly, every morning a number of people would faint and fall, face first, onto the hard quartz with a horrible crunching sound.
Guard duty consisted of stalking around the base in the dark, and cold, equipped with a 303 Rifle (no ammo - could have hurt someone), an axe and a large wooden "Waddy". The axe was to chop wood for furnaces that generated hot water to outside shower blocks. God knows what the Waddy was for?
The worst part of Guard Duty was associated with two large hangers located remote from the domestic side of the base. It was always pitch black there. In addition, the wind whistled and banged to scare the devil out of the poor unfortunate on guard.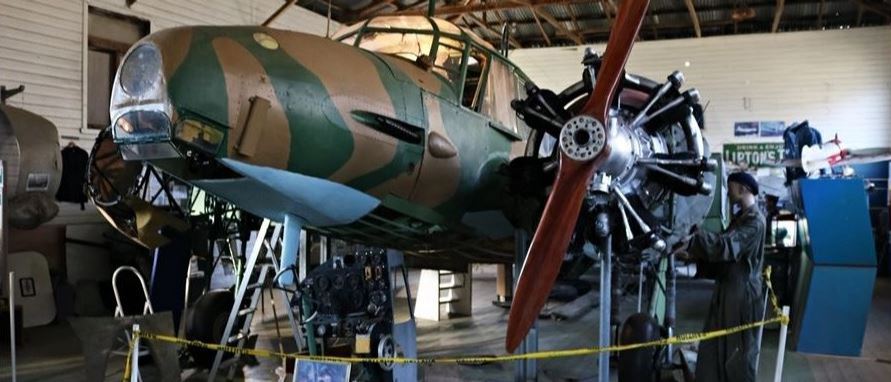 However, these hangers were interesting. A four engine Liberator Bomber was in one and a number of Anson aircraft equipped with early versions of airborne radar in another. In addition, early, portable, ground radars that had been used in the Islands during WW2 the Second War were in a separate compound. I have often wondered what happened to this extremely historic equipment.
At the end of 1952, after finishing the radio and Morse code part of the course, No 5 Sigs course proceeded to the Air Armament School at East Sale for Air Gunnery training in Lincoln aircraft. Great stuff - we blasted away at ground targets at Dutson Live Firing range and at airborne canvas drogue targets towed by Beaufighter aircraft. We fired 50 calibre machine guns from the Tail and Nose Turrets and 30mm Cannon from the Mid-upper Turret.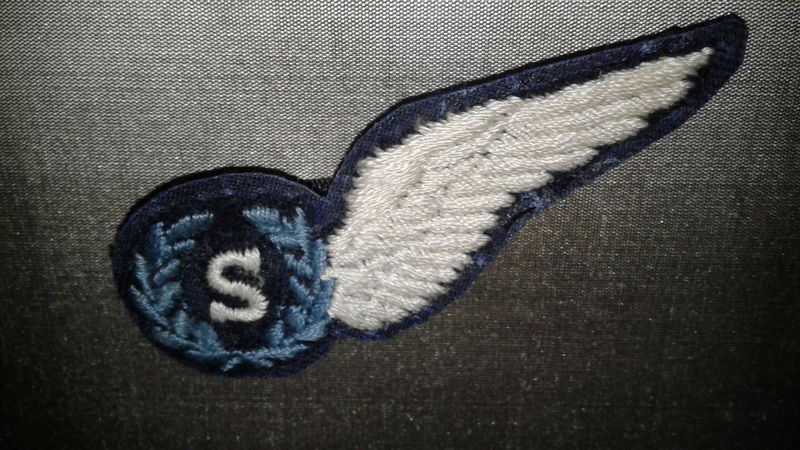 In December 1952 I received a Signaller's Brevet at a Wings Parade held at East Sale and even though I could not hit a bull in the backside with a bushel of wheat I graduated "Proficient with Special Distinction".
Following graduation, I was posted to No 11 Squadron as a Sergeant Signaller. No 11 Squadron was at Pearce operating P2V-5 Neptune Maritime Reconnaissance aircraft. The P2V-5 was equipped with powerful long-range APS-20 radar, precision APS-31 homing-radar, electronic countermeasures equipment, underwater sonar listening gear and a searchlight. Because of this specialized equipment the P2V-5 would have been the first "Weapons System" to enter RAAF Service.
In March 1953 I was a member of the first Neptune crew to attend the Joint Anti Submarine course at NAS Nowra. The course involved a dive in a Royal Navy Submarine and a sortie in the back seat of a Navy Firefly – great experiences both.
It was always my ambition to be a pilot so after arriving at Pearce I spent every penny I could lay my hands-on learning to fly. First at the West Australian Aero Cub, and then, when 11 Squadron moved to Richmond, at the Aero Club of NSW.
After about two years I obtained a Commercial pilot license with an Instructors rating. When this happened, I was offered a job as a flying instructor. I immediately requested a discharge from the RAAF. My request was refused.
However, in April 1955 I was fortunate to be selected for pilot training, the first post-war aircrew member to be selected for pilot training, graduating from No 21 Pilots Course in March 1956 "Proficient with Special Distinction" with the "Goble Trophy" in my hot little hand. We had trained on Tiger Moth and Wirraway aircraft.
A three month Fighter OTU course (No 23) on Vampire Mk 30 aircraft at RAAF Williamtown followed.

After completing the OTU I was posted to 75 Squadron flying Meteor aircraft. In January 1957, I was posted to No 77 Squadron for conversion to Avon Sabre aircraft. In April 1957, I flew the first Sabre (A94-959) which was built at GAC Fisherman's Bend from Laverton to Williamtown. That aircraft had a very chequered life and was eventually put on display at Fighter World at Williamtown – see HERE (Scroll down)
I was commissioned on 1 January 1957 after promotion to Warrant Officer for one day. I have a framed "Warrant", dated 1 November 1957, signed by the Air Member for Personnel, Air Vice Marshal Allan "Wally" Walters.
In September 1958 I was posted to No 3 Squadron and took part in operation Sabre Ferry to RAAF Butterworth. In Butterworth I served as a squadron pilot with No 3 and then No 77 Squadron during the Malayan Emergency.