Is white bread really that bad for you?
The Swiss government has been aware of the dangers of eating white bread for decades and in order to get its populace to stop eating it, it placed a tax on its purchase. The tax money is given to bakers to reduce the price of whole wheat bread to encourage people to switch.
The Canadian government passed a law prohibiting the "enrichment" of white bread with synthetic vitamins. Bread must contain the original vitamins found in the grain, not imitations. Essentially, white bread is "dead" bread. Frequently, consumers are not told the truth about this and the so called "enriched" flour.
Why is the color of white bread so white when the flour taken from wheat is not?
Both white and wholemeal breads are made of wheat, water and yeast. The difference between the two is the part of the wheat used in the flour. A kernel of wheat has three main components: the endosperm, bran and germ.
In white bread, only the endosperm is used. Unfortunately, it's the bran and the germ that are rich in proteins, dietary fibre, essential fats, vitamins and minerals.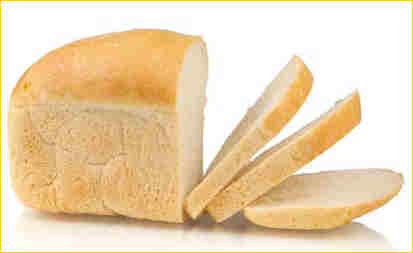 Worse yet, when the endosperm is separated, a layer of skin on the wheat kernel – which also has important nutrients – falls off. This is why wholemeal naturally contains moderate levels of magnesium, folate, iron, selenium and zinc, while white bread needs to be artificially enriched to contain any of the good stuff.
Also, the flour used to make white bread is chemically bleached and when you are eat white bread, you are also eating residual chemical bleach. Different flour mills use different chemical bleaches, all of which are pretty bad for you.
Here are a few of them:
· oxide of nitrogen,
· chlorine,
· chlorides,
· nitrosyl and
· benzoyl peroxide mixed with various chemical salts.
One bleaching agent, chloride oxide, combined with whatever proteins are still left in the flour, produces alloxan which is a poison and has been used to produce diabetes in laboratory animals. Chlorine oxide destroys the vital wheat germ oil. It will also shorten the flour's shelf life.
In the process of making flour white, half of the good unsaturated fatty acids, that are high in food value, are lost in the milling process alone and virtually all the vitamin E is lost with the removal of wheat germ and bran. As a result, the remaining flour in the white bread you buy, contains only poor quality proteins and fattening starch.
The University of California, College of Agriculture found that about 50% of all calcium, 70% of phosphorus, 80% iron, 98% magnesium, 75% manganese, 50% potassium, and 65% of copper is destroyed. If that is not bad enough, about 80% thiamin, 60% of riboflavin, 75% of niacin, 50% of pantothenic acid and about 50% of Pyridoxine is also lost.
What about the GI
White bread has a high glycaemic index (GI). The GI measures how blood glucose levels will change after you've eaten certain foods. High-GI foods make levels quickly rise, and then fall. This sharp drop of glucose from your blood means your body will signal that you're hungrier much sooner than if you ate a low-GI food.
Recent studies have shown that a low-GI diet may help weight control, diabetes and prevent some forms of cancer. According to the International Table of Glycemic Index and Glycemic Load, published by the University of Sydney, white bread has a GI of 75. However – and this is surprising – wholemeal bread has a similar GI rating.
That brown bread doesn't taste so bad after all – does it??