Speaking of which…
A few years ago, as I began the long, steady approach towards my peak years, - I put that last bit in to alert you to the fact that I am on occasion prone to exaggeration, although those of you who knew me back when I wore those idiotic overalls that earned us all the dubious title of baggy arses might have already cottoned on to that fact - anyway, about then I decided to quit the corporate world to pursue more useful stuff, by which I mean things I was really interested in.
Around the same time, I had the disturbing epiphany that most us do eventually; I realized I wasn't as young as I once was. In fact, I'd become a good deal older than I used to be. Which, while being somewhat circular, leads me to the ups and down of this whole ageing process.
I've discovered there are things I can't do now that I used to be able to, like running around the block. Unfortunately, back when I could do them, I didn't, which is partly why I can't now. There's that whole circular thing going on again. I discussed it with my friend and neighbour, Harvey. I should tell you about Harvey. He's a Vietnam vet with the thousand yard stare, a receding hairline and majorly greying ponytail.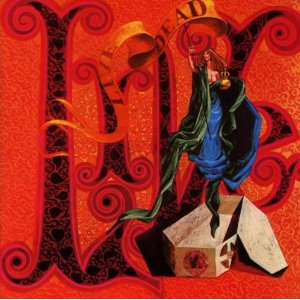 He spends a good deal of his time in his shed listening to the Grateful Dead at a volume that blisters paint. Harvey doesn't talk a huge amount but when he does it's because he has something to say. He waited for the end of the last track on his most precious possession, an original issue of the Live/Dead album, and murmured, "Yeah, doesn't do much for your sex life either."
Now I'm sure you all remember what sex is, er, was. It's when two or more people….Come on, we're not that old.
We agreed, Harvey and I, that there's a fair bit of debate as to what age one should become… well, less interested. Unfortunately this dispute seems to be split more or less along gender lines. When it comes to matters of the flesh, at least in our case the spirit is willing, but…
Enough about flesh already, this is a family publication.
One of the more pleasant yet unexpected aspects of - how shall I put this? - becoming less of a teenager, (about forty plus years less in my case), is that attractive young ladies now make eye contact with me. Some even smile. I rather enjoyed this development until I realized why it was happening.
Evidently, I'm now perceived as, well… harmless. I always was, mind you. But it didn't used to be that obvious. There's something indescribably ego deflating about being universally recognized as being harmless by those of the female persuasion.
How does it go, "You don't know what you've got 'til…." Ah, well.
Moving further north, anatomically speaking, Harvey and I agreed that another disturbing aspect of increasing age is our waistlines, which are following the same trend. Increasing, that is, not moving north.
There was a time, I'm pretty sure, when a six pack, a dozen satays and a Cha Kwai Teow was a mere snack. Now, if I put butter on my toast I get fatter.
Harvey mostly wears a tee shirt on the back of which is inscribed, '24 hours in a day, 24 stubbies in a slab. Coincidence? I don't think so.' Clearly, the less said about his waistline the better.
My grandchildren have somewhat unkindly observed that I'm beginning to talk about the good old days. Not a good sign, evidently. Pah, what would they know? I ask you. The Dead, Creedence Clearwater Revival, The Stones, Queen, or… Rap? No bloody contest. Harvey pointed out that another consequence of, ahem, advancing years is that we spend more time at home now and we're expected to… well, do stuff around the place.
And we do.
But it's not as easy as I thought it would be.
Who knew there's a precise way in which knickers should be hung on the clothes line? And that failure to hang them properly risks being cast into the seventh level of hell, there to suffer for all eternity. Certainly not me. I do now. Such things make reversing an aircraft into the hangar using a tractor with a slipping clutch a breeze in comparison.
Which brings me, by no logical process whatsoever, to the issue of gardening.
It's inevitable that the aging male, and many females too, will, at some point, be forced to confront the prospect of tending a garden. I was surprised to discover so late in our marriage that I needed to make clear to my wife the difference between having a garden and being a gardener. A garden is place of peace, tranquility and colour; somewhere to go to escape the pressure of modern living.
Gardening, on the other hand, is when I get back ache and dirty hands, sweat excessively, and, as a general rule, kill a lot of stuff.
Well, you can see the difference.
The problem is how to have the former without having to do the latter. I'm working on that, but in the meantime it's getting hard to find the front gate.
And don't even get me started on cooking.
It was no accident that some bright young thing stared at a stubby and a tin of baked beans and invented a food can with a ring pull. Almost halved the amount of time you have to spend in the kitchen. Sadly, our wives are unwilling to let us take maximum advantage of what should be obvious to all was a monumental technological breakthrough. So I cook… sometimes.
Which has led me to note an interesting culinary parallel. Those around me eat what I serve up with about the same amount of enthusiasm as I had in cooking it. Go figure.
I even tried signing up for a Lite-n-Easy program; you know, where they deliver a week's worth of low cal food already prepared. Figured I'd save effort and lose weight at the same time. Well, let me tell you, that dog didn't hunt. On several levels.
Never mind. All in all, our situation could be worse. Harvey and I deal with the uncertainties of our stage in life by consoling ourselves with the fact that we're still a helluva lot younger than we're going to be.
At least, we hope so.