Windows XP.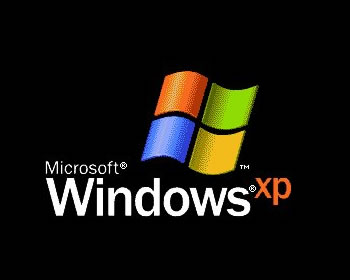 Windows XP is approaching its end of life, according to Microsoft, and they should know, they made it. 8th April 2014 is when support will be turned off. If you are still using it, and there's no reason why not, it is still a very good and useful system, it is still the most used system with nearly 47% of people using a Windows operating system using XP compared to 38% of people who use Win 7. Unless you have Service Pack 3 (SP3) installed, even now, you will not get any more security updates from Microsoft. And that could be a problem.
To check if you have SP3 installed, click Start, right click My Computer, then click Properties. Look under the heading "System" it will show which Service Pack is installed on your computer. If you don't have SP3, you should either do this:
1. Turn on Automatic Updates.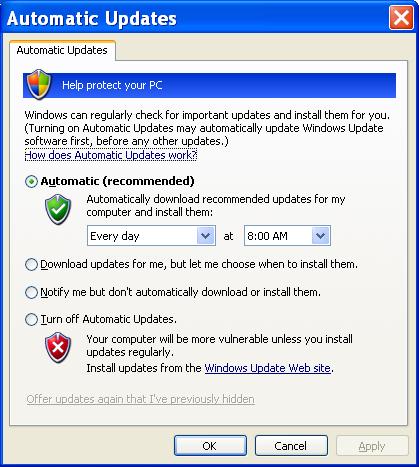 Click on Start, then Control Panel. If you get a window that says "Pick a Category", click "Switch to Classic View" – this gives you a much better menu. When in Classic View, click Automatic Updates, the window at right will appear.

Click on Automatic, then every day, then select a time when your computer is normally on.

Click OK and you're done.

You won't have any more worries until 2014 when Microsoft will finally pull the pin on Windows XP – after that, you're on your own.

or;

2. Download SP3

If you don't want to turn on Automatic Updates (and some people don't) then you can get SP3 this way. Microsoft hasn't released a version of SP3 for the 64 bit version of XP so if you have the 64 bit version, don't worry, the latest Service Pack for you is SP2. But if you have the more common 32 bit version, you should install SP3 now. When you did the system check (above) as well as telling you what Service Pack was installed, it would have told you which version of XP you had running. If "X64 Edition" was displayed under the System heading, you've got 64, if it didn't say that, you have 32.

If, when you checked your computer (above) and you found that there were no Service Packs installed on your computer, then we have some work to do. You can't download and install SP3 (on the 32 bit version) until/unless you have either SP1a or SP2 installed.

If you don't have SP1a or SP2, click HERE and download SP1a

When that is done, or if you have SP1a or SP2 already on your machine, click

HERE and download SP3. SP3 is virtually a complete version of Windows XP and will take a while to download and run – so set it in motion and go make a coffee.

If you have the 64 bit version of XP, and don't have SP2, you can download it HERE. There is also an important update for users of XP 64 bit - you can get it HERE.

Windows XP was first released on the 24th August, 2001 and was withdrawn from retail sale on the 30th June 2008. The name "XP" is short for "eXPerience."

XP users who have not downloaded any of the Service Packs would have found that support for their system ended in September 2004 and their system could be at risk, Support for users who have only Service Pack 1 or 1a ended in October 2006. Those with Service Pack 2 lost their support in July 2010.

In April 2014, all support for Windows XP, including security updates and hotfixes, will be terminated, after which, free technical support, warranty claims and design changes will no longer be offered.

What does that mean??

Even if you are happy with XP and your old computer still works OK, and you have very good anti-virus, anti malware programs, there is still a reason why you shouldn't just keep on keeping on. Security fixes are a response to a vulnerability in the design of Windows whereby malware/viruses can find a way in that wasn't intended. You need these fixes. Conficker, one of the most serious pieces of malware in recent times, exploited such a security vulnerability. Microsoft had released a fix for this problem before Conficker started to spread, so in effect it only affected computers that didn't keep their security fixes up to date, but there were a lot of those, it even infected UK Ministry of Defence and French Navy systems.

But!!

Here are a few suggestions:

1. If you are using XP there is a fair chance that your computer is starting to get a bit long in the tooth. If you have any sensitive information on your machine, or information that you don't want to lose, make sure you do regular backups – hard drives don't last forever. You should be doing this anyway, no matter what system you are using.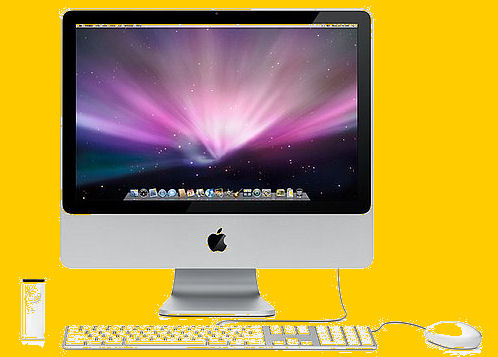 2. If your computer is a bit old, don't bother getting Windows 7. To take full advantage of Windows 7's features, you need a 1 gigahertz 64-bit processor, 2 gigabyte RAM, 20 GB available on your hard drive and a super duper graphics device. Your old machine will not be able to handle it, so either get a new one or format your hard drive (making sure you've done the backup first!) and install a version of Linux that will run well on your hardware. A bit radical, but low cost and secure. You will need help/information, lots of that via Google (or DuckDuckGo) and there may be a local Linux user group that meets from time to time (like SLUG in Sydney) where you will probably find a mix of helpful nerds and people like yourself, they will be very keen to help you. By the way, I'm writing this on an Ubuntu Linux PC.
3. The trend, at the moment, is to gravitate away from PC's and head towards the Apple stable. There is a fair chance that once your trusty old PC falls off the perch, Apple machines will outsell PC machines – walk past any Apple store today and have a look inside, they are always full of people. Walk past the computer department in Harvey Norman, or The Good Guys or Dick Smith and compare. End of argument!!! Depending on what you want a computer to do, you have the pick of an iPad, iPhone, iMac, iSomething else and as Apple has the advantage of making both the hardware and the software – everything matches and works seamlessly.
Our bet?? - your next computer device will have the Apple logo.