Mervern James Mays.
RG Thompson advises that Merv Mays passed away peacefully on Monday 20th May 2013, aged 83 years. Merv's funeral was held in Tewantin (Sunshine Coast, Qld) on Friday 24th May. Merv was a Tech in CCS at Frognall prior to taking discharge in 1962.
Ted Holmes.
Bob Hambling advises that Ted Holmes died in April, in Adelaide. Ted was an education officer who would be well known to many who were educated at Radio School or RAAFSTT. His first posting in the RAAF was to Frognall in 1959 where he was responsible for the academic performance of 11,12 and 13 radio apprentice courses. He was a thorough gentleman who treated his apprentice charges like humans which was a rare quality in staff at the time. One of his hobbies was ham radio and even up until recently he had huge antennas towering above his house.
"Blue" Campbell.
Ernie Gimm has advised that Blue Campbell passed away on Friday 26th April in Perth. Unfortunately, no further details are available.
Barry Grieve.
Jack Khan advised that Barry Greive passed away on Sunday, 26th May and his funeral was held on the 30th May at Albany Creek (Brisbane) crematorium. No further details.
Bill Greer.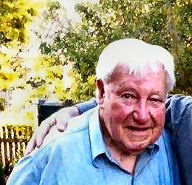 Neil Hunter advises that Bill Greer died of a heart attack on the 14th May and a memorial service was held at the Warwick (Qld) Uniting Church on the 17th May. Neil says that Bill was his section NCO at RRIS at Frognall in 1972-76, back when the comm centre was closed down. Bill settled in Warwick many years ago and became the local horticultural guru and for the last 20 odd years had written a gardening column in the local paper.
He had a heart bypass last year and was still in recovery mode from that. He lived by himself since his wife died some years ago.
Mark "Shoes" Sadowski
Neil Hunter advises that Mark Sadowski passed away over the weekend 1-2 June. It appears that Mark went home fom work on Friday complaining of a sore back and was found deceased by his "troops" when he failed to turn up for work on Monday. Unfortunately, no further details are available.
Jack Giddey.
The Djinnang Association wishes to advise that Jack Giddey passed away on the 5th of July. He had been suffering from lung cancer and passed away peacefully. His funeral was held on Friday 12th July at the Castle brook lawn Cemetery, Windsor Road, Rouse Hill.
Graham "Feathers" Peacock
Ian Butcher advises, with great sadness, the passing of an old mate Graham (Feathers) Peacock. Graham passed away on Saturday the 6th of July 2013. He was unable to take any more treatment and was at home. Graham was diagnosed with cancer just after the Nelson Bay Reunion and had a lengthy period of remission followed by a stem cell treatment which was thwarted by pneumonia.
No further details at hand.
Col Wilks.
Ted McEvoy advises the passing of Col Wilks on the 21st April 2013. Col was a RadTechA with 35Sqn from 20June1967 to 20June1968 and Ted said he worked with Col in Vung Tau. Sad times – another 14 Course member gone to the big parade ground in the sky!! Unfortunately we have no further details.
Robin Fredrick Gee.
Laurie Lindsay advises that Rob Gee passed away on the 6th August from a heart attack at his home in Canberra. He had enjoyed a family dinner and collapsed at about 1.00 am. Rob was an airframe fitter off 14th Intake. He had strong links with 9 SQN, both in Vietnam and in Australia. Rob, along with David Streitfeld was responsible for facilitating the procurement of Iroquois A2-110 for the National Vietnam Veterans Museum on Philip Island.