There Ought to Be Another Word.
This edition I'm going to talk about something I'm pretty sure every reader has done, is

doing or is thinking about doing.
Of course, I'm talking about retirement - What did you think was coming at ya?
'Retire' – it's such an innocent sounding word, like something you might do to your 4 Wheel Drive before setting off around Australia. But it's not innocent. It's bloody sneaky in fact. It's right there before you know it, and no matter how prepared you think you are, you haven't got a clue what it's really about.

People say that when you retire you have time to do the stuff you've always wanted to do. Yeah, right. But now you're too old to be able to do it. And even if you do try doing it, people will think you're just weird.
Fun fact: research has proven conclusively that the average life expectancy of retirees is much lower that of people going to high school. So, if you want to live longer go back to school!!
Actually retiring really sucks.
Turns out you just sit around waiting. And what you're waiting for sucks even more than the waiting.
When I mentioned this to my mate Harvey, he didn't speak for a bit. He just stared out the garage door at the horizon in that way he has, waiting for Jerry Garcia to finish a solo on the stereo, at a volume that had dogs howling in Toowoomba.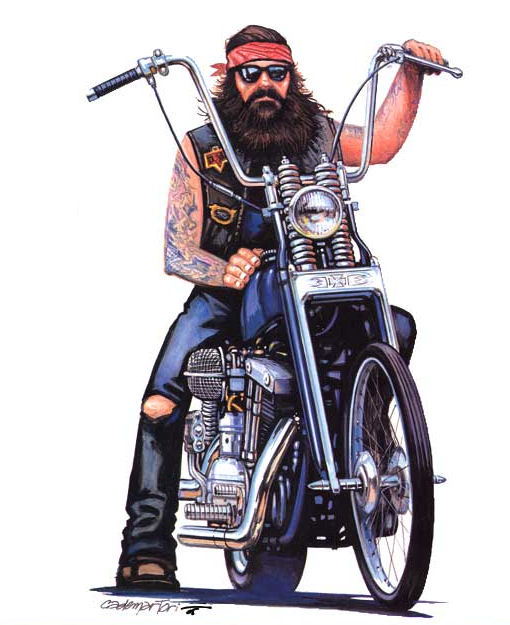 And we live in Brisbane.
He picked up a gleaming spanner, leaned over his Harley and made a microscopic adjustment to the carburettor. Then he wiped the spanner and put it back in its place on this immense shadow board he has.
He stood back, squinted, and then reached forward and adjusted the spanner so it was hanging perfectly vertically. Did I ever mention that I sometimes think Harvey is just a tad obsessive?
Anyway, he goes to his forty year old Kelvinator, which, by the way, runs quieter than my watch - and my watch is digital – and pulled out a can. He cracked it, took a huge slug, belched expansively and then murmured, "Retirement? If I'd known what retire bloody meant I'd never've gone near it."
"Did I ever show you the flow chart I made, trying to figure out how to retire?"
"No," I replied, surprised. I'd never have taken Harvey for the flowcharting type.
"Blood oath." He reached up to his top shelf and pulled down a file, flipped it open and gave me a squiz.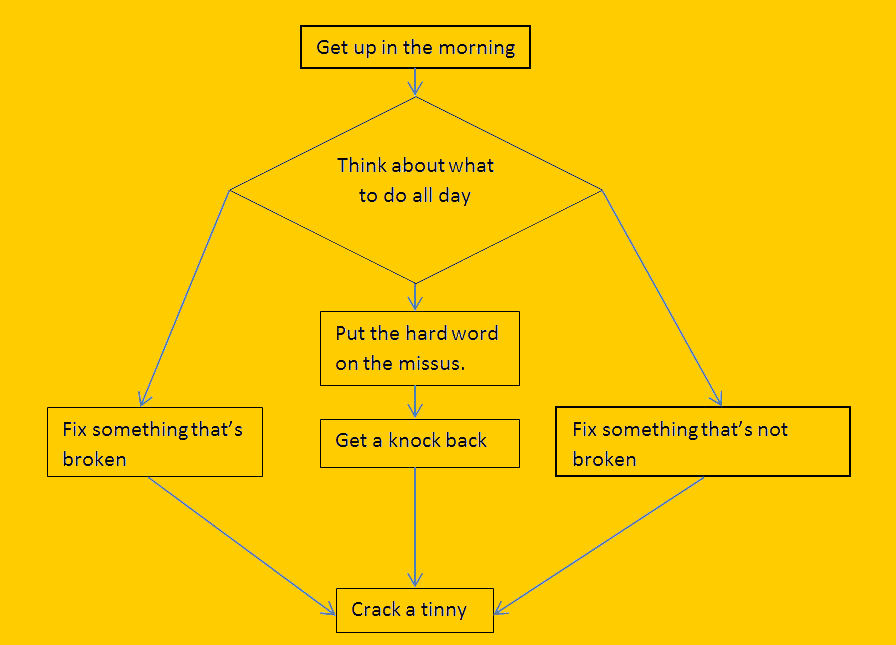 "Now," he said, "I've got nothing against cracking a tinny or six, but you gotta have something to have a crack at in between getting up and cracking one… if you get what I mean."
I decided right there that old Harve had nailed the sucker. You've got to have a challenge in your life. Of course, there'll come a time when just tucking your shirt in will be a challenge, but that's usually a fair way off when we retire.
"Did you know," Harvey said, interrupting my brilliant train of thought, "that an astonishing number of retirees get depressed?"
"I didn't," I replied, "but I'm not surprised. Getting old is, in itself, bloody depressing."
"Yeah, but that's not what I meant. It's all to do with your Circles of Influence and your Circles of Concern." Every so often, Harvey really surprises me. It can be downright scary.
Harvey pulled a sheet of paper from a drawer under his immaculate work bench and drew a big dot in the middle. "Imagine," he said, "That's you."
"I suppose," I replied, "That if I were to squint…"
"Don't be a smart arse," Harvey said, as he drew a circle with the dot in the middle, using a blue pen. "Now, imagine that inside that circle are all the things you worry about. That's your Circle of Concern."
"Okay," I said, cautiously.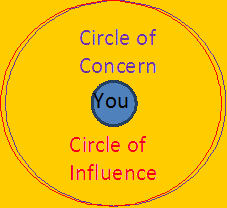 Harvey then drew another circle about the same size as the first one, but in red. "Inside this circle are all the things you can actually do something about. This one is called your Circle of Influence."
Now the diagram looked like this:
<![if !vml]>
<![endif]>"When you're in your working prime, your Circle of Concern and your Circle of Influence are just about the same size. You're mostly concerned about family and your job. You've figured out how to be a husband/wife and father/mother, sort of, and you know how to do your job, (unless you're a politician). So, your Circle of Influence is big enough to cover most of the things you're worried about. But generally not a lot bigger, because you don't have much time to worry about other stuff."
I stared at the diagram. Yep, I'd been there. "Okay, I said. "I've got that."
"Right," Harvey said. "Now let's look at what happens when you rebloodytire."
"One day you're maybe a boss with lots of contacts and a fair bit of power and influence. People listen to you. Then Bam! The gold watch. Now, you're the boss of no one, nobody listens to you, you don't have a title and pretty soon all your old contacts are too busy to talk to you."
"Well, that's not good," I opined.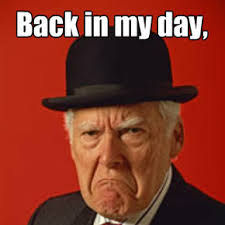 "Not good at all," Harvey said, vehemently. "But it gets worse. Now you've got this time on your hands. You start to read more. You listen to talk back radio more. You've got time to read the whole paper. And you discover something monumental."
What's that," I asked.
"That," Harvey said, solemnly, "the world is entirely R.S."
"Really?"
"Really. So suddenly your Circle of Concern gets huge. And guess what."
"What?"
"You can't do a bloody thing about any of it." Harvey quickly drew a new diagram: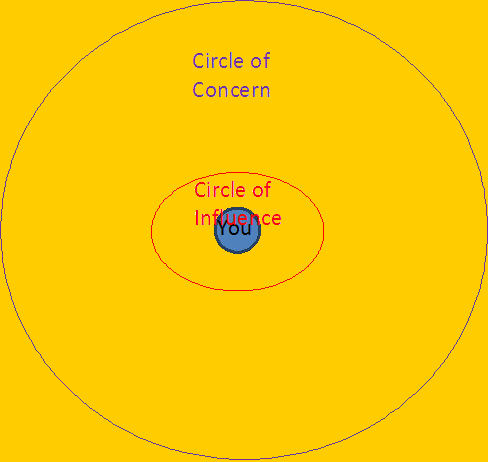 "So here you are, with all this time on your hands. And you're discovering all this terrible stuff you never had time to worry about before."
"Like what?"
"Like Global Warming, Iran might build a nuclear bomb, Justin Beiber's got issues about driving, Rupert Murdock wants to own the ABC, and every day twenty six million plastic bags get put in the ocean. And that's just for starters." "And here's the thing. You can't do a thing about any of it. Actually, you never could, but now everybody and their brown dog make sure you know it."
Harvey grabbed a couple more tinnies from the fridge and passed one over to me. As he cracked his, he said, "Now you know why so many retirees get seriously depressed. So you just watch yourself, alright?"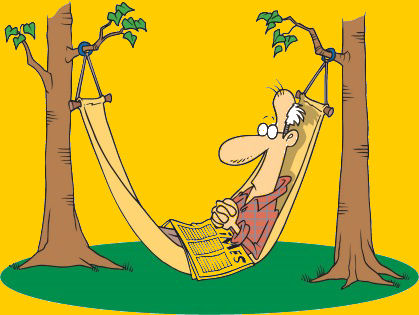 And so, boys and girls, here are Harvey's tricks for surviving that bit of your life after you quit working for someone else:
· Find yourself something challenging to do; and
· Don't sweat over what you can't do anything about.
Oh, and it helps to have an old Kelvinator full of the amber fluid.
But I still think there should be another name for it – that bit of your life, I mean, after all, I'm quite happy for beer to be called amber fluid.
Anthony V Element OAM
Observation Point (Founder and Editor)