Radschool Association Magazine - Vol 45
Page 3
Privacy Policy | Editorial Policy | Profit Policy | Join the Association | List of Members | Contact us | Index | Links
Back Go to page: 1 2 3 4 5 6 7 8 9 10 11 12 13 14 15 16 17 18 19 20 Forward
Page 3 Girl.
Our lovely Page 3 girl this edition is the delightful Judie Pick. Judie was spotted at the WRAAF reunion in Perth late last year.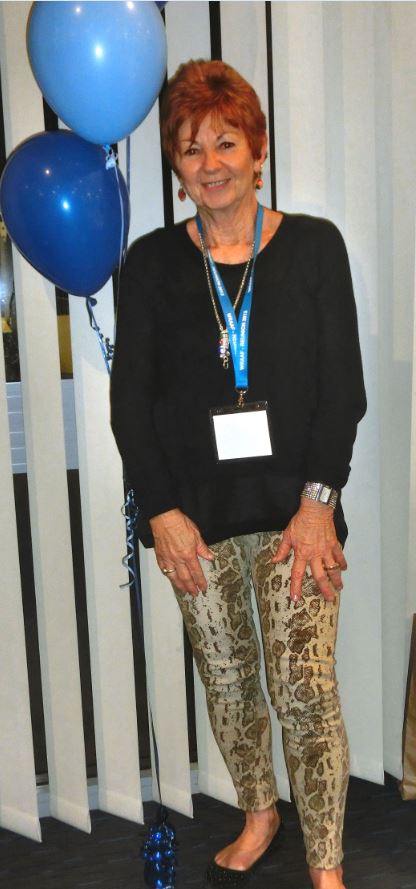 Back in 1965, Judie Fenton, a young, keen and adventurous Hobart girl joined the WRAAF.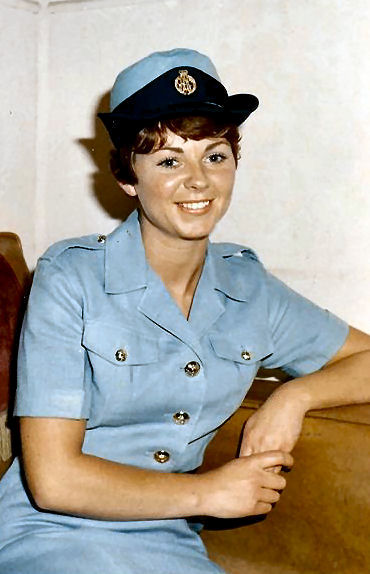 As a young girl she had had a rough trot. Her mother died of TB when she was only 5 and her father was unable to look after her. She was placed in St Joseph's Orphanage in Hobart where, until she was 14, she was looked after by The Sisters of Charity. She said it was tough but she says it taught her a lot about tolerance.
After the orphanage she went to live with a family in Hobart and at the ripe old age of 14, when other kids her age were out playing, socializing and discovering friendships, she had to look after the family's 4 children as their 'nanny. (Sometimes we don't know how lucky we are).
When she turned 18 she got a job with Myer in Hobart from where, shortly afterwards, she applied for and was accepted into the WRAAF.
She left Hobart with 3 other Hobbit girls (Moyna Ring, Carol Jamison, and Judy Britton) and they all went off to Edinburgh to join number 151 Recruit Course. 151 was the first WRAAF Recruit Course to be held at Edinburgh, prior to then, courses were held at Point Cook.
After Rookies, Judie was posted to Laverton where she completed 25 Telsop course then it was off to Williamstown for a little while then back to Laverton to attend a Cryptography course. The course was taught by a WO Stuart Leader who Judie says was a great teacher. With the course under her belt, it was time to go west and she was posted to Pearce where she worked with a WO Stuart Leader who was the Comcen supervisor.
It was while she was at Pearce that she met her future husband - Richard Pick. Unfortunately, because of the stupid rules that were in force at that time, as a married lady she had to leave the WRAAF and the life and job that she loved. The WRAAF also lost a dedicated and lovely person.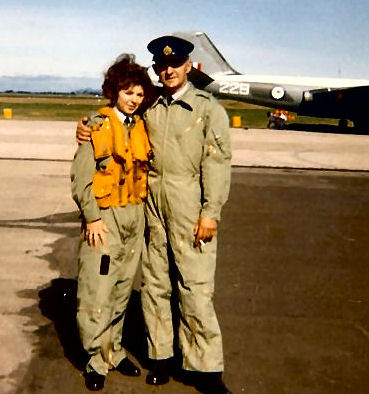 Squadron Leader Tom Baldwin, who was her CO at the Comcen, gave her away on her wedding day.
By now, Rick had done his 6 years and they decided that one out all out was the order of the day, so they both left. Rick got a job with the Department of Defence in the computer area in Canberra. In 1971, they moved back to Perth where they live today.
In 1966, when she was at Laverton, she and a Sgt Jack Campion 'conned' a flight in a Neptune down to Tassie and back. Although not landing, it was a chance to see the old home town again. All decked out in flying suit and life jacket, Judie remembers that it was a training flight for AEOs and they had to carry their own 'toilet' (a bucket) - the rule ' if you use it you have to empty it' – she made sure she didn't use hers.
When she was at Pearce, she was selected to pin the wings onto graduating Navy pilot, Michael Perrott.
This wasn't an actual graduation ceremony, instead was a photo opportunity for a Navy magazine – and it is easy to see why they chose her.
Judie had their first daughter in Dec 1973, then another daughter in August 1976 and over the years their daughters have presented them with 5 lovely grand kids.
These days Judie and Richard are enjoying retirement with a vengeance, doing a bit of gardening, a bit of travelling and lots of spoiling of the grand kids.
Caribou grave yard.

Bob St John sent us this pic, it shows 6 of the RAAF's old Caribous quietly rusting and rotting in silence at the Oakey Army base, about 30 klms west of Toowoomba.
The Caribou aircraft were retired from RAAF service in 2009 after 45 years of service (see HERE) and this 6 eventually ended up here. Well out of the public gaze - 5 years ago!!
All aircraft seem intact so it is assumed that they flew in, had their last 'after-flight' and since then have done nothing but gather bird dung and cob-webs.
Another airframe that has been left to deteriorate is the one below. It is situated on Brisbane Airport, well out of public sight, and has been there for years.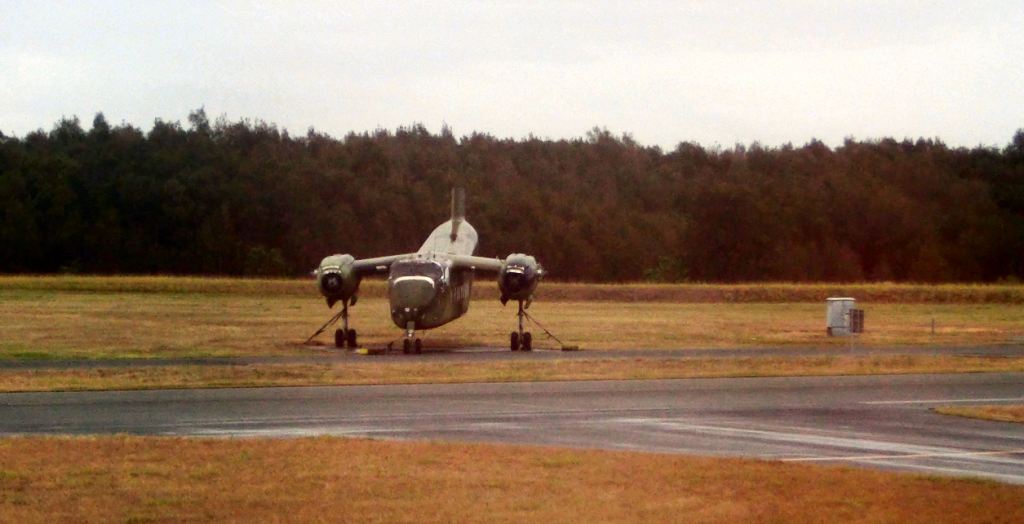 And yet, there are historic military/civil aviation museums all around the country that would kill for one of these aircraft, the very popular Caloundra Air Museum (as an example) has one that is far from complete, they have to scrounge for everything yet here we have 6 complete aircraft and one in bits that are just being allowed dissolve into nothingness. If they could, they would grab the old airframe at Brisbane with both hands and think it was Christmas.
HARS at Wolloongong have two of the wonderful old work-horses that they maintain in a serviceable condition and fly around the country showing them to an admiring public. You can bet HARS would love another just for spares.
Along with the Iroquois, the Caribou symbolises Vietnam to many many people – they should be on show, people should be allowed to crawl all over them, they all have a story to tell, yet they are being allowed to just fade away.
Where is the sense in that???
A little known fact...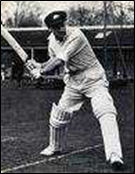 The first testicular guard ("box") was used in cricket in 1874.


The first helmet was used in 1974.
It took man 100 years to realise that his brains were also an important part of his body.
2/91 Radtech A.
Manun Pholsratta sent us this pic. He and a bunch of other blokes from the Royal Thai Air Force were at Laverton in 1991 doing their Tech course.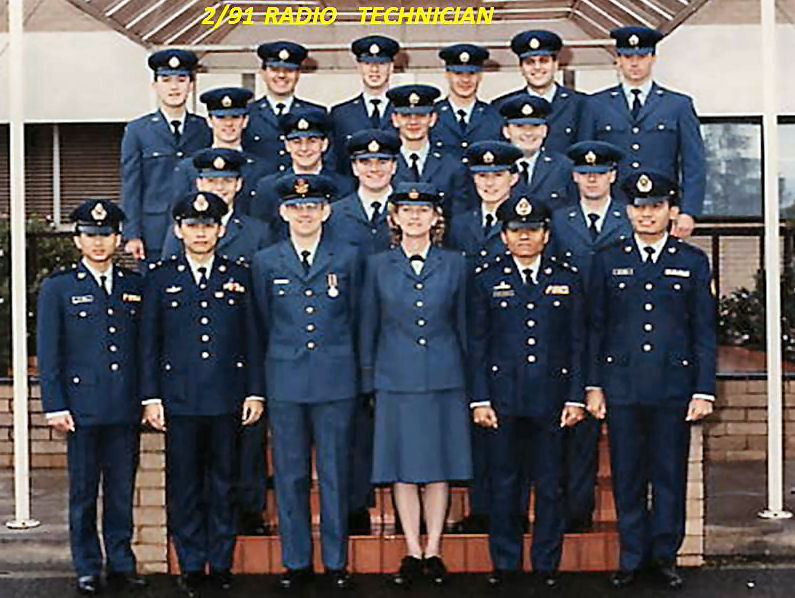 Back L-R: AC Aarren Tam, ALC Angelo Cinalli, AC Paul Halman, AC Darren Bosanko, AC Ricardo Camiselle, AC Patrick O'Reilly.
Third L-R: Tony Marriott, AC Clayton Mackenzie, AC Tony Vaneyk, AC Tony Lee.
Second L-R: AC Stephen Kirk, AC Skip Alderson, AC Chris O'Neil, AC Peter Fitzgibbon.
Front L-R: Sgt Srimoongkool Tawe, FS1 Pikulthong Apinan, CO Radschool, Training Staff, FS1 Pholsratta Manun, Sgt Greangklert Santi.
Old Airman's Mess, Laverton.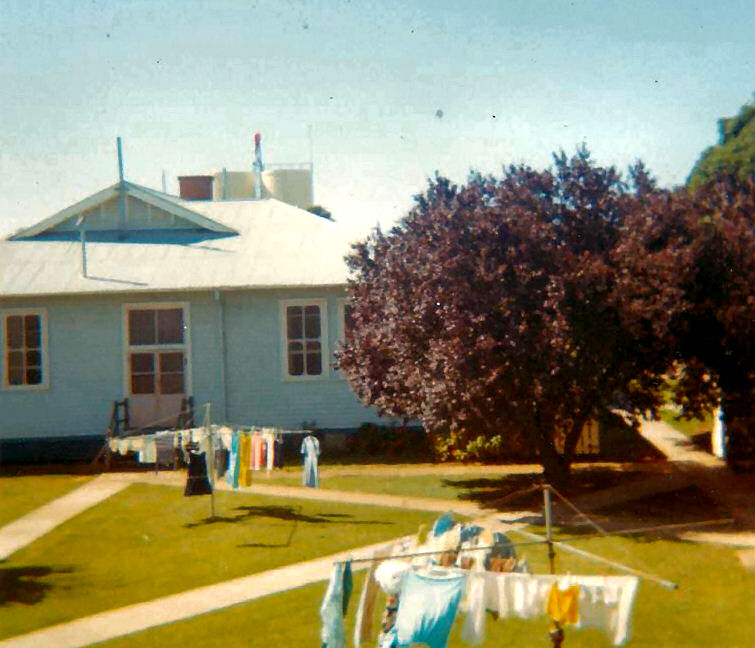 Connie Flett sent us this pic, taken of the long since gone Laverton Airman's Mess – and of the WRAAF's undies……
Tindal.
We got this pic from Peta Brough, who was Peta Leech when it was taken back in June 1992.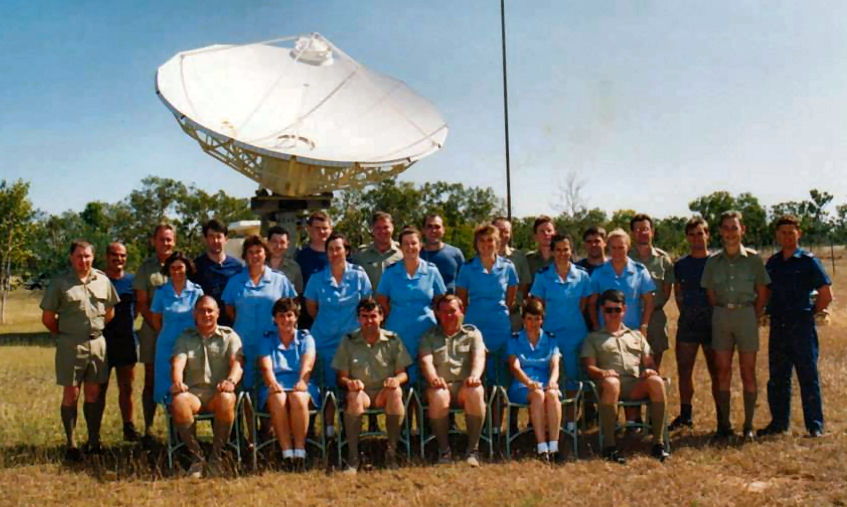 Back Row L-R: Bill Perry, Peter Coleman, Mark (Smiley) Smejlis, Doug Henderson, Clayton Shaw, Lynton "Ralph" Alderson, Brad Saunders, Peter Rae (Mousse), Bob Forsyth, Chris Dearman, Dave Brown, Roland Kettle, Steve Leech, Dean Copely, Andy Clarke.
Middle Row L-R: Peta Leech, Jenny Henderson, Joy Macpherson, Raylee Fletcher, Karen ?, Narelle Payne, Mitch Stevens.
Front Row L-R: Paul Winitana, Andrea Fulwood, Mark Lloyd, Ken (Swampy) Marsh, Jane Cameron, Pat Bannan.
A Roman soldier walks into a bar, holds up two fingers and says, 5 beers please!
Commsop, Williamtown. 1993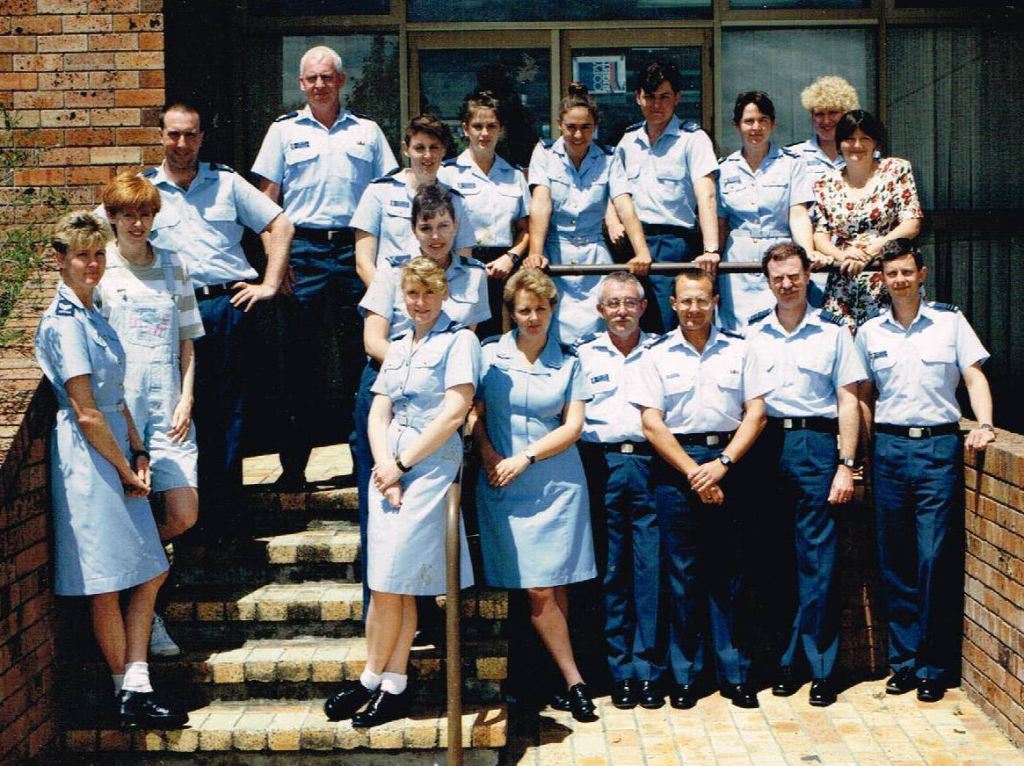 Back L-R: Sgt G Hill, Lacw J Hose, Acw S Wallace, Lac G Fergusson, Cpl C Logan, Lacw M Presbury
3rd Row L-R: Cpl W Butler, Lacw K Eats, Cpl T Caines
2nd Row L-R: Cpl R Bowles (Woolnough), Lacw G Aldridge
Front L-R: Sgt R Robertson, Cpl K Mair, Acw D Christensen, Cpl N Speed, Fsgt D Tape, SqnLdr C Edwards Fltlt S Watts,
Schrodinger's cat walks into a bar. And doesn't.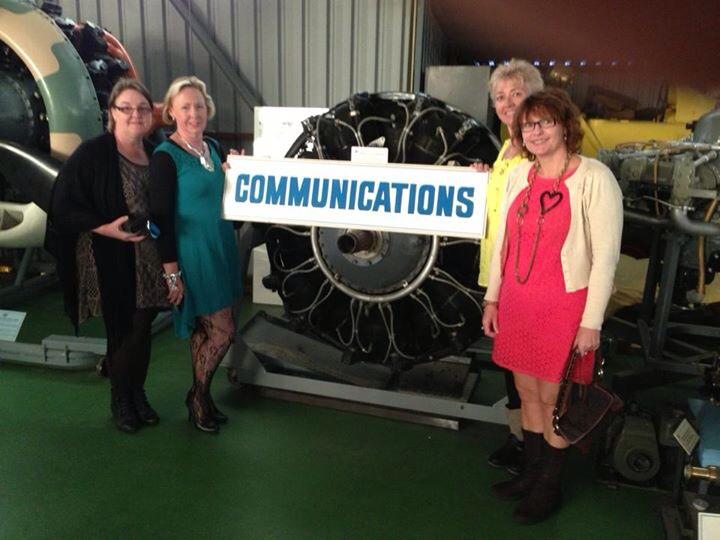 L-R: Kathy Bunyan, Tania Fromont, Candy Lee, Wendy Dembowski at the RAAF museum.
Darwin Hotel.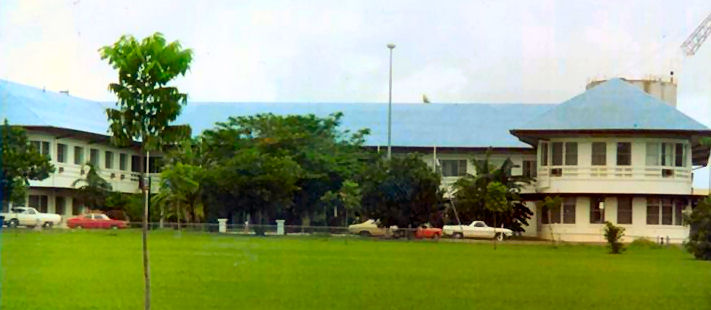 A lot of people will have fond memories of this place.
One that didn't get away.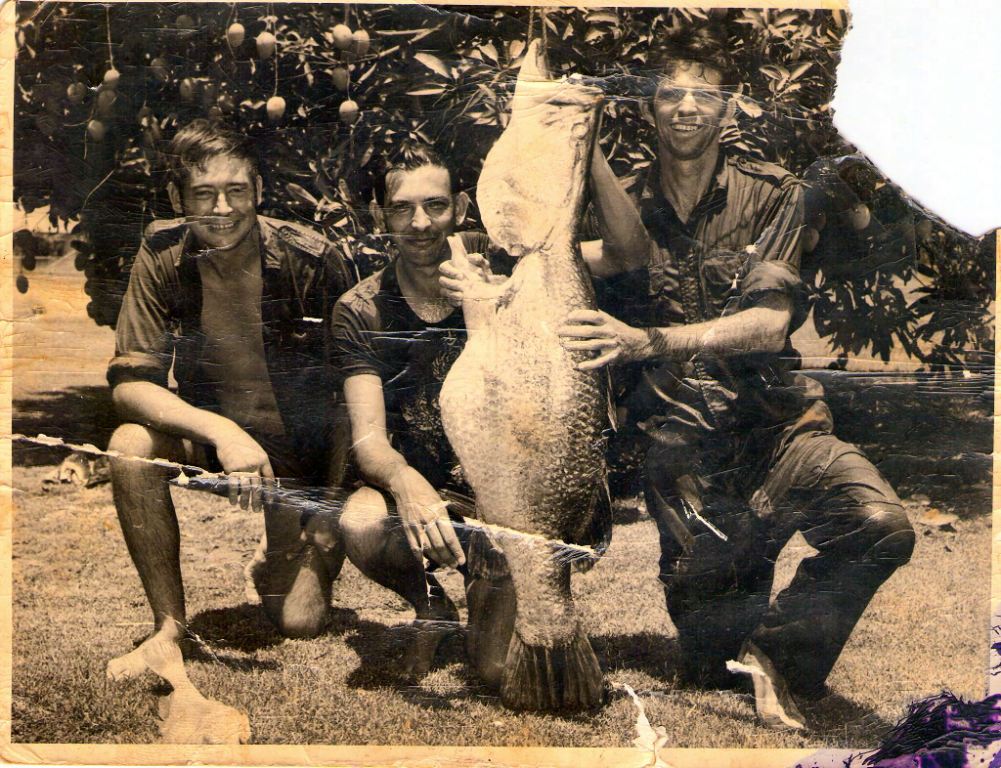 L-R: Rex Jones, Cliff Richardson, Bob Swain. Darwin about 1980. Barra caught at Buffalo Creek.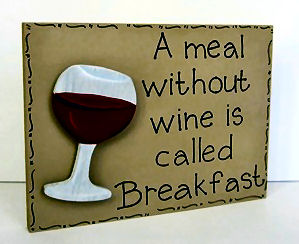 Mirage.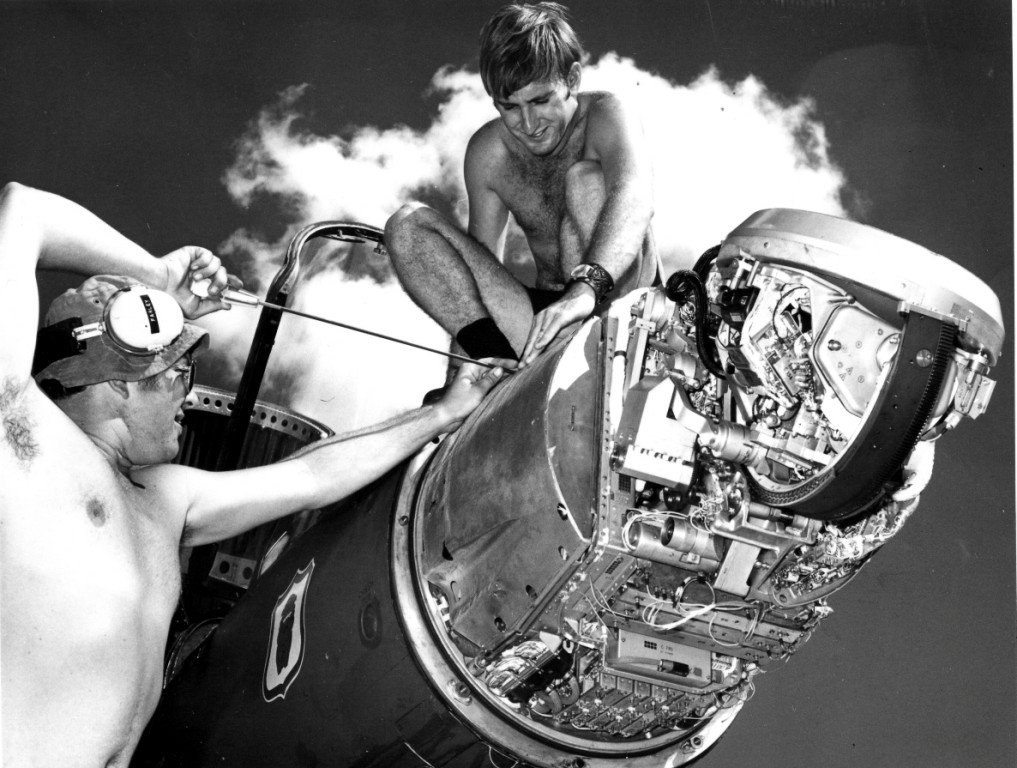 Radio Techs, Ray Farley (standing) and Peter Roberts, working on a 77Sqn Mirage radar during exercise 'Blue Denim' in Darwin 1973.
A Higgs Boson walks into a church and the priest says "sorry, we don't allow Higgs Bosons in here".
The Higgs Boson then replies, "but without me, how could you have mass?".
Back Go to page: 1 2 3 4 5 6 7 8 9 10 11 12 13 14 15 16 17 18 19 20 Forward