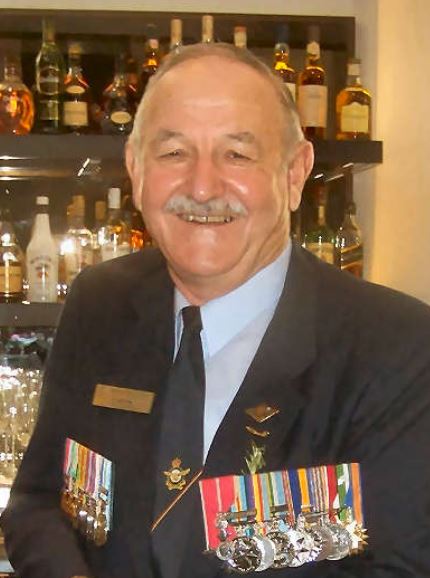 WGCDR. John Griffiths, MBE (Retired).
Not that he would ever admit it in mixed company, but John was born and bred in Melbourne. A true Baby Boomer, he first saw the light in 1946 after his Dad returned from the War in Borneo but, as he was no great scholar, a Radio Apprenticeship was way out of his reach. However, things started to click, not in the class room, but on the playing fields. He vividly remembers one of his school mates telling him about the Air Training Corps and how great it was especially having the chance to fly in a RAAF Dakota on camp. Sure enough, he headed off the next Friday night to the West Melbourne Drill Hall where plenty of old Second World War instructors were teaching all those beaut subjects like Map Reading, Drill, Aircraft Recognition, Morse Code, more Drill and stripping the No 1 Mk 3, Short Magazine .303" Lee-Enfield Service Rifle. The Reserve was alive and well with the staff and blow-ins making full use of the bar to the side of the drill hall. The smell of stale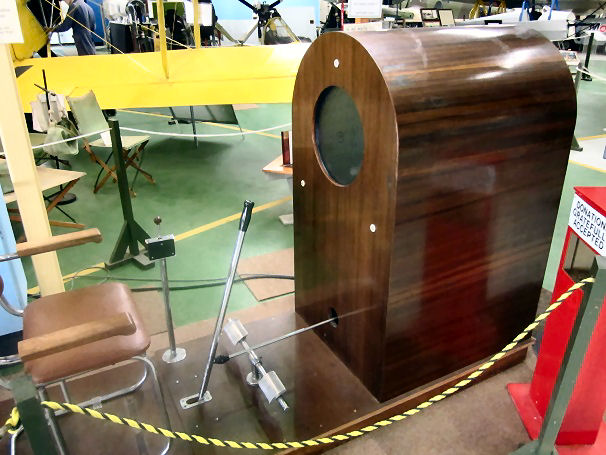 beer permeated the old timbers and the ghost and a few spirits must have gone down with the timbers when the building went the way of the developers.
Early screening tester for pilots (right).
Four great years in the ATC saw John getting a taste for the uniform life. The first General Service Training Camp was held at RAAF Base Ballarat where he learned all those service traditions of Panics, scrubbing, polishing and Emu parades. Unfortunately there was none of the aforementioned RAAF Dakota flying on that GST camp. Back in Melbourne it was on with schooling and Air Training Corps and later he was promoted to Corporal and then, while in year 11 there was an opportunity to apply for the Air Training Corps Flying Scholarship. In hindsight this was such a great opportunity for a free run over the target. The Aptitude tests, Medicals and Interviews were virtually the same as that used for the RAAF Pilot Selection process two years later. What a great opportunity to learn to fly in a quasi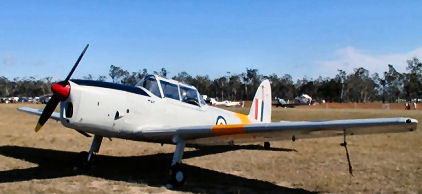 Military environment.
RAAF Base Laverton was the home for the Victorian Squadron candidates, many would go on to great service careers including Air Commodore, retired, Dave Leach. Four DHC-1 Chipmunks were beaten into submission by a dedicated team of Argentine Ants, controlled by an equally eager bunch of RAAF and Royal Victorian Aero Club Instructors. The lessons and Mass Briefings were not all that different to what the Australian Air Force Cadets (AAFC) are experiencing now at bases throughout Australia, still supported by the Chief. The Flying Scholarship in the early 60s enabled the recipient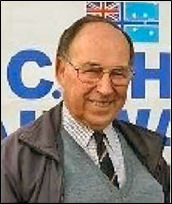 enough flying for their Unrestricted Private Pilot's Licence. That start in aviation made for some long lasting friendships, as is the wont of the aviation family. Bob Williams (left) turned out to be John's Best Man in 1969 after Vietnam and the Aero Club Liaison Officer was SQNLDR John Laming, another aviation legend, still instructing to this day on the Boeing 737 Simulator.
After the taste of flying, school was rather boring. It was a wee bit too distracting for year 12 studies and John finished up going to night school the next year to pick up Maths and Physics, necessary for pilot selection. He enjoyed the Cadet Under Officer's course at RAAF East Sale and served his last year in the ATC as a CUO. Unfortunately the ATC was only for 14 to 18 year olds at that time. The kids have so much more to give back now with two more years if they wish. To fill in time while waiting for Pilot course selection John worked as a Costing Clerk for Victorian Railways. This was tactically a great move as it reinforced the need to stay out of a civil office job and find that Air Force Career.
On 7 May 1965 he marched in to RAAF Point Cook with some fresh faced cadets, midshipman, Army Lieutenants and a couple of crusty old troops, some of the greatest friends John has in this world today. Not much to see involving Aviation, but plenty of those service traditions of Panics, scrubbing, polishing and Emu parades. Lessons on Drill, English, PT, Aerodynamics, Navigation, Drill, shooting and more Drill. There were lots of fun times with the upending of rooms, room relocations and doubling around the Base. WOFF Ashton always had it in for that Course known as 58 Pilot's Course. But he didn't break their spirit. They were shipped off to Pearce early in 1966 to see if they could break some Vampires. They must have done a pretty good job of it as Paul Rigby had a great cartoon, Per Bicycle Ad Astra. That was the time when the serviceability of the Geriatric Jet was problematic. When the young lad was lucky enough to get a solo it was often disturbing to do a slow roll only to hear the fuselage catch up with the wings some time later as there was a thunk under the floor.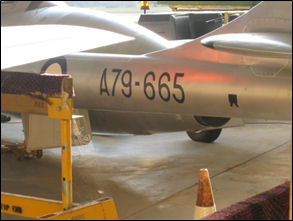 The aircraft was still a great machine. Fitted with Long Range tanks it was possible to do a Navex to Albany and back, not bad for a Vampire which without additional tanks has a "that's it" range at economical cruise of just under 2000 klms and when flat out will reach a dizzy 850 klm/hour.
John's Wings Test Vampire,
now resting at Albion Park.
They learned Altitude and Compressibility runs and Limited Panel Aural Null homing and Letdowns, something that was tried on the Caribou in the late 1990's. If you ever have the time, go and sit in one of the dual Vampires around, sit someone in the Right Hand Seat who is a big 7' angry gorilla and try reaching over to tune the ADF. The cockpit was rather comfy and with long legs, an ejection would have been rather dramatic. Hence, good practice Flameout descents.
Eventually his course graduated and then it was into suspense mode while waiting for that important posting. Vietnam was rapidly building up and the RAAF urgently needed Iroquois and Caribou pilots and John claims that is the only reason he scraped through his final and was given his wings. He was chosen to fly the old Caribou but first off it was down to the Gold Coast and the Army's torture camp at Canungra for survival training. His mate at the time was big Jack Rydstrom, a damn nice bloke who was tragically lost in an aircraft accident many years later.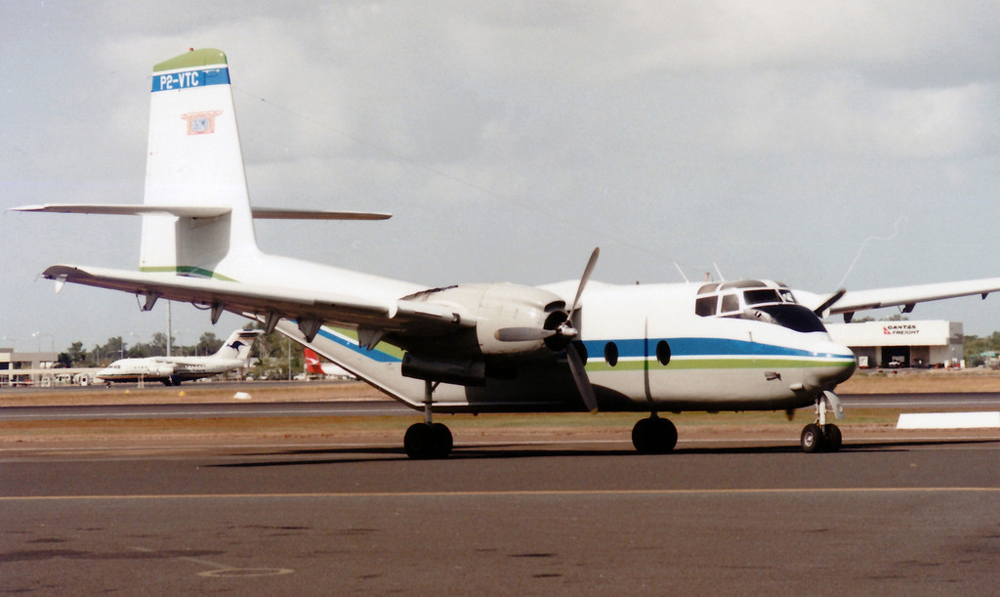 After a flight from Port Moresby on Thursday 1st July 1995, Jack's aircraft (a Civvy Caribou, above) had to divert to Kiunga due to bad weather at it's destination, Tabubil. During climbout from Tabubil the No 2 engine failed, then while on approach to Kiunga the other engine also failed. The Caribou crashed into trees, short of the runway.
While in transit to Canungra, John and his mates were talking about and looking forward to days off where they imagined themselves down on the beach surfing, chasing lovely ladies, having the odd cold one with a nice juicy steak and just being Mr Tourist – were they in for a shock. Canungra was the ADF's survival training camp, they spent their first week learning the theory then the next was putting all that theory to practice, they were dropped off in the scrub and told to live off the land and to evade capture as there would be people out there trying to capture them. Not a lot of time to spend in the boardies, on the beach
After their 'holiday' on the Coast, it was back south again, this time to Richmond and 38 Squadron, the home of the brand new Caribou. The RAAF accepted the first Caribou in February 1964 and three were ferried to Richmond, arriving on the 22nd April, 1964. John

and 4 mates from his pilot's course joined Tony Fookes, Rick Lundberg, Jock Cassells, Stu McAlister and "Tommy" Thomson arrived at Richmond in August 1966 and were taken under the wing of experienced blokes such as Ron Raymond (right) and Mike Lancaster and shown how to get the best out of the old girl.
Those brand new shiny chocolate brown Caribous were a great workhorse and a great way to learn how to operate in Australia and Papua New Guinea. In hindsight, Vietnam was such a letdown after learning to operate in the High and Hot Papua New Guinea. 38SQN DetA (left) was a great way for a young team to get to know each other, knowing their limitations both at work and at play. House Champion being right over the road from the Ela Beach RSL was very handy too.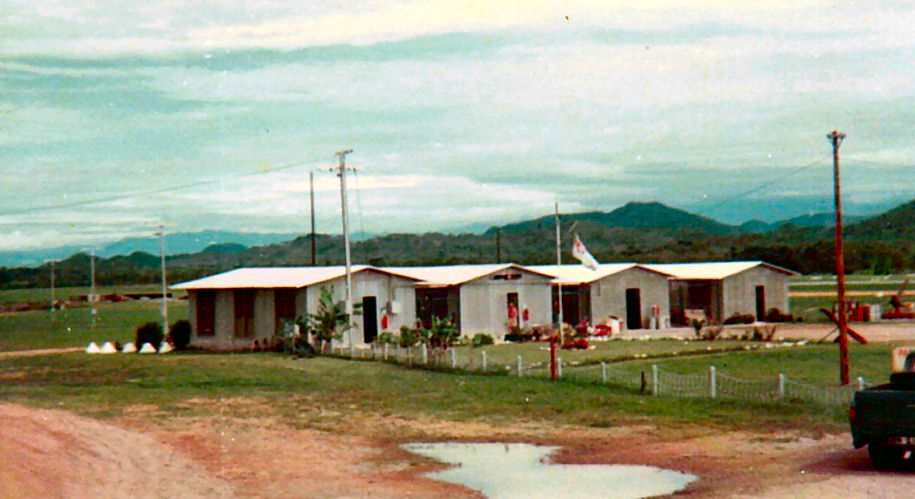 Some of the motor vehicle accidents in Port Moresby highlighted all too well the limitations, but what happens in PNG stays in PNG. After a couple of Detachments up north, a time at Rockhampton playing war games with the Army, (though staying in the Criterion Hotel wasn't bad) the odd flood relief fodder drop, overnighters at Puckapunyul, Whyalla and Leigh Creek, most crews learned how to go away together, get the job done and bring the aircraft back in one piece with, in a lot of cases, the Imprest balanced. Always a challenge for a young Boggie. Funny thing about the old Caribou, the harder you worked it the more it seemed to like it.
Vietnam was always the cherry on top. All the young 38 Sqn pilots would regularly check out the board to see who they needed to nobble so they could get a run up North. Conversion course members who had previous experience on other aircraft jumped up the list but John and a few of his mates were off in May 1968, just after TET 68. Arriving into Tan Son Nhut Air Base (Saigon) in the Qantas 707 they were decanted into a USAF C130 and Combat Loaded to Vung Tau. Since then, the tarmac at Saigon hasn't changed that much, the revetments are still there but the plethora of gunships have long gone. So too the stack of empty aluminium caskets.