Privacy Policy | Editorial Policy | Profit Policy | Join the Association | List of Members | Contact us | Index | Links
Back Go to page: 1 2 3 4 5 6 7 8 9 10 11 12 13 14 15 16 17 18 19 20 Forward
Page 3 Girl.
Our lovely Page 3 girl this edition is Cathy Brennan.
(You can click a lot of pics on this page for a bigger view which you can print and/or download)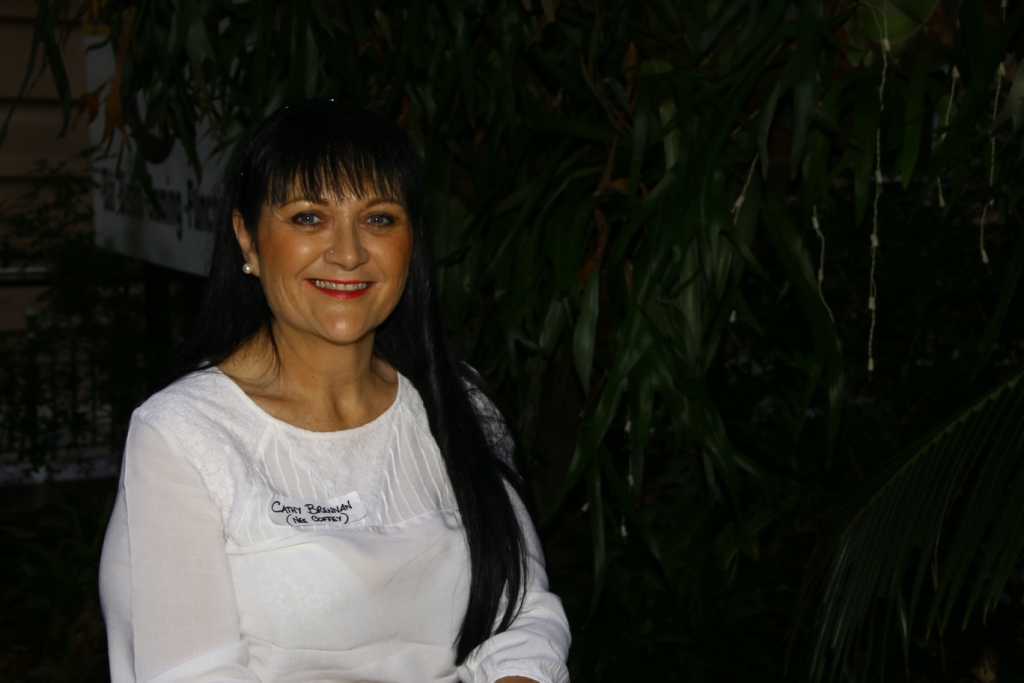 Catherine Coffey, as she was known back in her RAAF days, was born and bred in country NSW where she says "life was so innocent and free". Her dad, a very gentle man, (now gone) was a POW in World War 2 and he would tell her stories of his life experiences. She says her dad "was so proud of his Army days and of his 6 (of 7) brothers who had also enlisted." His life seemed so full of fun and adventure that she wanted to follow in his foot-steps.
She can vividly remember the day she applied to join the forces (she applied for both the Air Force and the Navy) and to her surprise, she was accepted by both. Up went the penny and she decided on the RAAF. So, in 1980, off she went as a young 17 year old to Rookies at Laverton on course 267, (see HERE) which she found was quite an eye opener. She enlisted as a Switchie and after completing Radschool she was posted to Darwin then it was down to Pearce and then back to country NSW - Wagga, the girl from the bush had returned home.
Whilst in Wagga she met her late husband, Steve Edwards, who was an Admino. In those days you got out on most occasions due to marriage. In 1984, after her marriage and then discharge, the Edwards's moved back to Darwin then to Russell Offices, then Point Cook, back to Wagga and later back to RAAF Williams where Steve became the Base Commander.
After her discharge in 1984 Cathy spent a lot of time working for the Federal and State Police Forces in their Comms Centres and later in life she decided to have a new direction in the Health Industry. She now works in Oncology as a Pre-Admission Co-Ordinator in Brisbane and will stay there until retirement. She remarried in September 2014 and has settled into married life again, her husband, Wayne, is a retired Prison Officer from the NT and they have a Jim's Mowing Franchise. Her daughter Alycen is a Senior High School teacher in SA and will be venturing over to London in the next twelve months to teach for a couple of years.
And these days, although she is in Brisbane, living in the big smoke, the country is still close to her heart.
EL TACO MEXICAN RESTAURANT.
Dine in or Takeaway.
58 Blackwood St, Mitchelton, Qld.
If you like Mexican food and you're on the north side of Brisbane, you should try the El TACO Mexican Restaurant in Mitchy.
Eddie De Vivo, the owner of the restaurant reckons you won't find better anywhere and apart from offering a 10% discount to all serving persons, until Christmas 2015 he's also prepared to offer the 10% discount to anyone who mentions they saw this add in the RAM.
So, if Mexican's your thing and you don't feel like cooking, drop into the restaurant, you can eat in or take away, say you saw this advert in the RAM and you'll get the discount.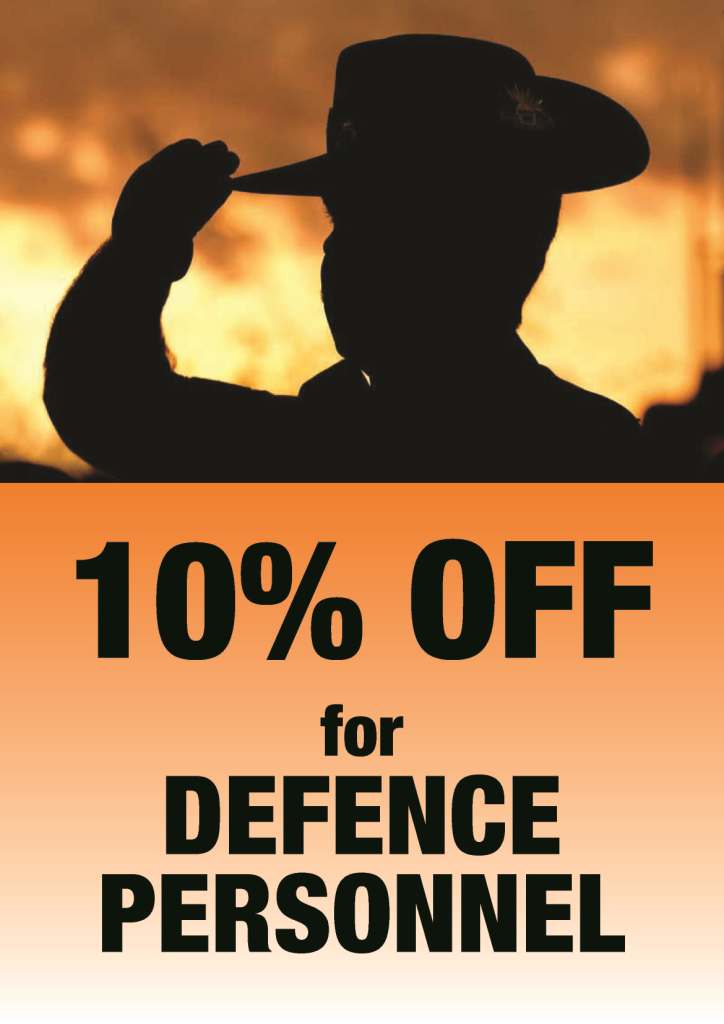 6RTC Ballarat.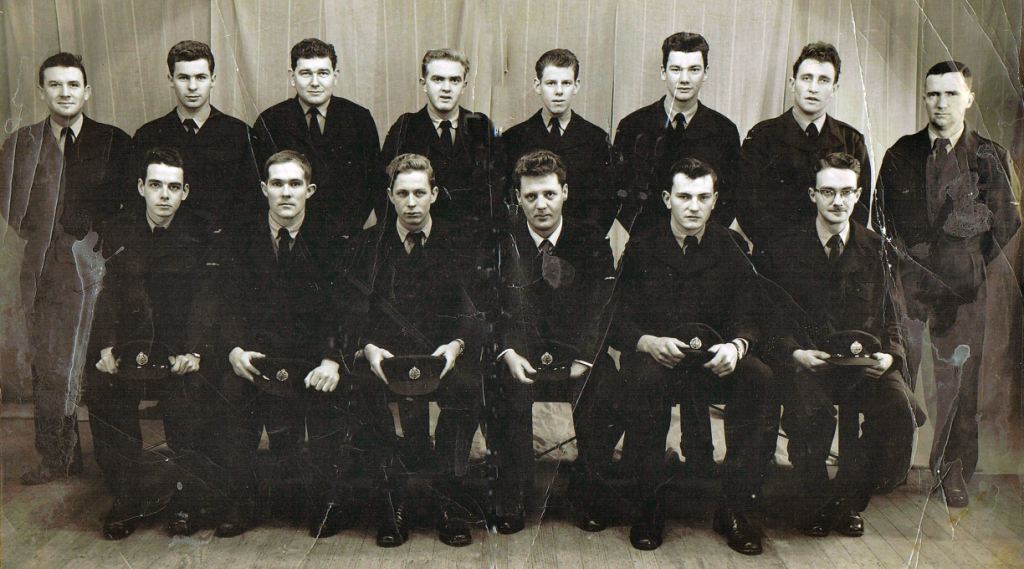 Back Row L-R: Theo Landrigan, Billy Riggs, Jimmy Graham, Chick Barron, Jimmy Webb, Jimmy Lampricht, Allan [Pancho] Wilkie, Murray Reynolds
Front Row L-R: Jim Greenwood, John Hartley, Bob Reese, Mick Ryan, Laurie Culvinor, Digby Forbes.
Bob Hambling sent us these photos of 13 Radio Appy Course, the first was taken in Feb 1959 (enlistment) and the other in Sept 1961 (graduation).
13 Radio Appy – Enlisting Feb 1959.
Rear Row: Tony Johnson, Mike Preston, Peter Silcock, Bob Hambling, Graham Giles, Bob Greeney, Brendon Hong, Ray Bessen, Peter Riebeling, Neil Ashman.
Centre Row: Ralph Gillon, John Brennan, Lionel Squires, Jack Ellis, Stan Woithe, Gene Sims, Frank Rankin, Alex McLeod, Wally Curtis, Col Collyer, Graham Brundish, Neville Petre, Robert Hanrahan.
Front Row: Laurie Preston, David Hains, Ian Brereton, Alan Armstrong, Brian Dolley, Roger Mannion, Alf Smith, Roy Hargreaves, Douglas Roser, Brian Grant, Rod Wilson, Bernard Crumpler, Peter Pendlebury, Kevin Leslie, William Beard, Ian Johnson.
The above pic was taken at the "College of Knowledge", Frognall.
As you can see there are some discrepancies in the names on the two photos and this is because some members of 12 Apprentice Diploma course were transferred to 13 Technician course part way through 1959.
13 Radio Appy – Graduation Sept 1961.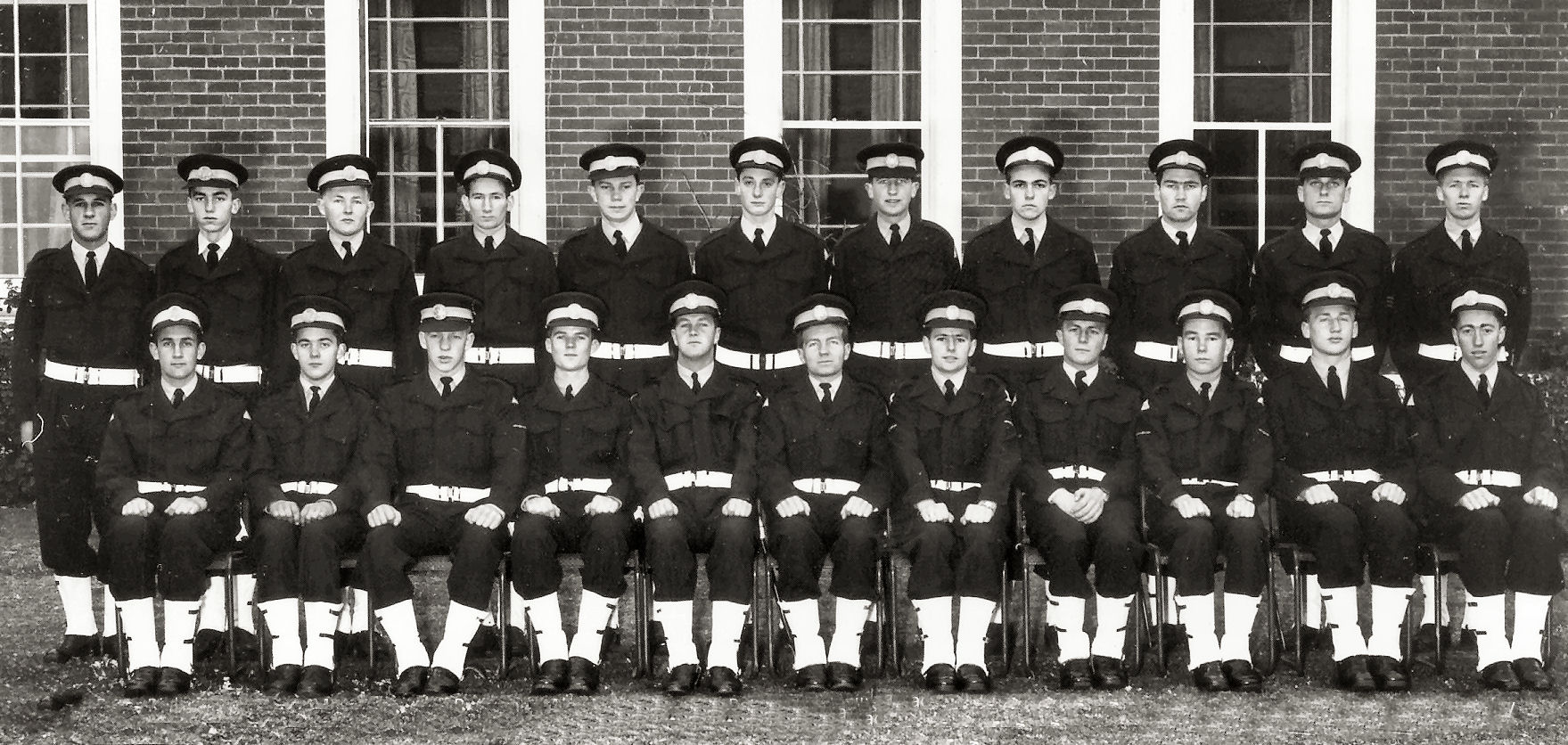 Back Row: Peter Riebeling, Roger Mannion, Jeff Preston, Alex McLeod, Nev Petre, Jack Ellis, Col Collyer, Stan Woithe, John Carlile, Tom Janes, Brian Dolley.
Front Row: John Riebeling, Mike Preston, Peter Pendlebury, Bernard Crumpler, William Beard, Robert Hambling, Robert Greeney, Ray Bessen, Kevin Armbrust, Neil Ashman, Tony Johnson.
John Morley
We received the following from John Morley
"Hi Team! Here's some old stuff that's come to light that may help fill pages on the course photos or in the mag at some stage. I can pick some names here and there but rookies is a long way back! but probably some of the best time of my life". (Unfortunately we don't have names, it you can help, please do!! – tb)
4 Telecommunications Technicians course.
Feb 1968.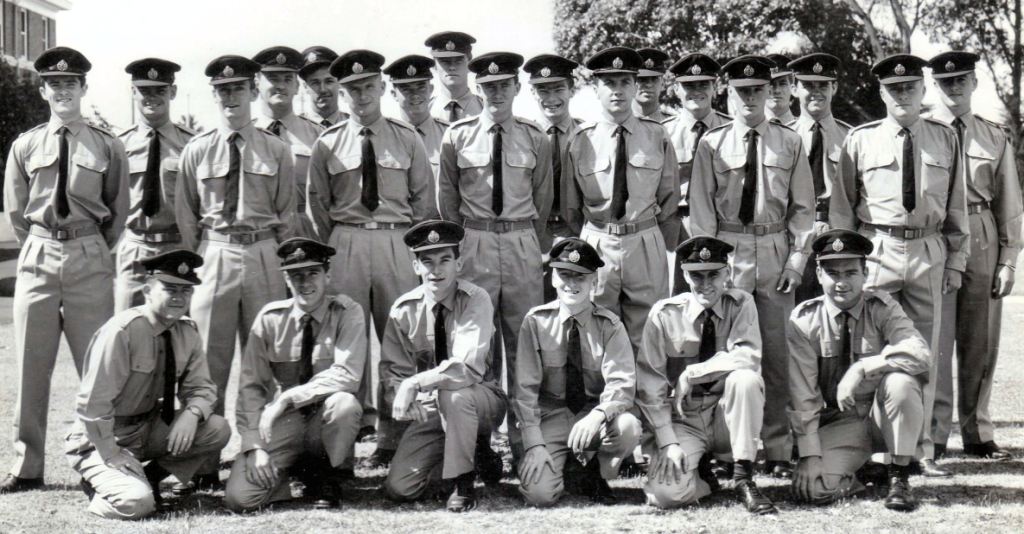 Darwin Festival.
The winning team! Raaf Darwin team took out the Army, Navy, Police and civilian rifle team, May 1970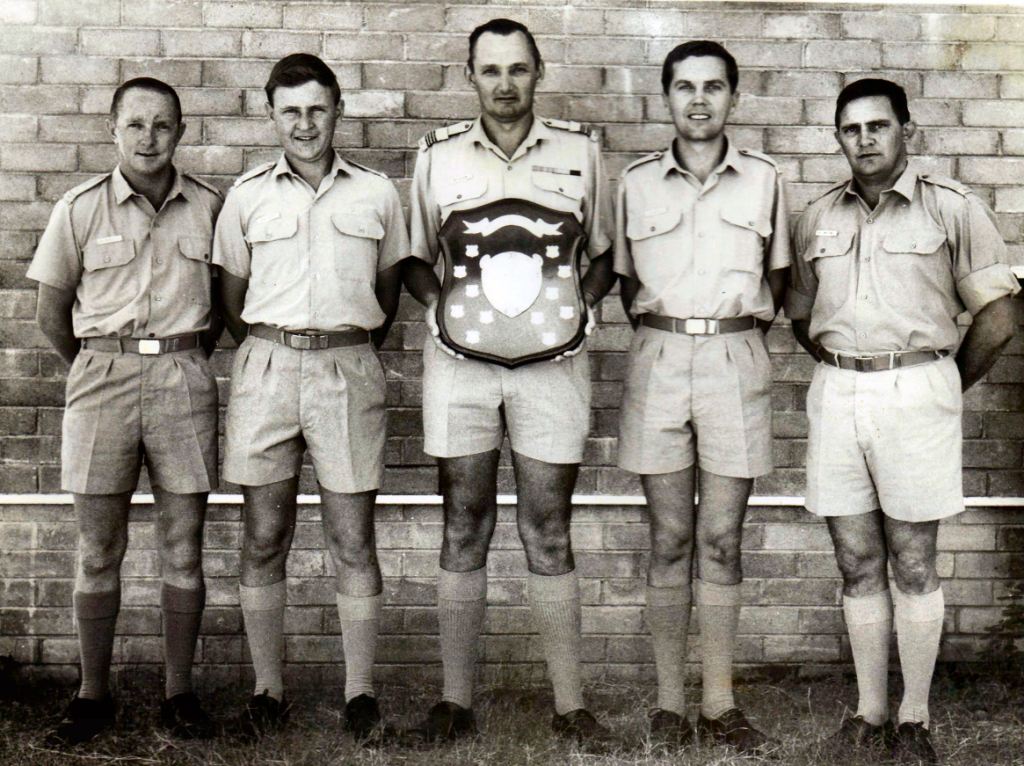 9KW-26
Radschool - Feb 1968.
9KW-26 was a piece of Crypto equipment, used for online telecommunications. Once classified but now there is info and pics online. Standing, at the far right, is Neil Hunter.
Women know! They just know! Even if they didn't know, they would know.
Men might not get this, but women will, because they know!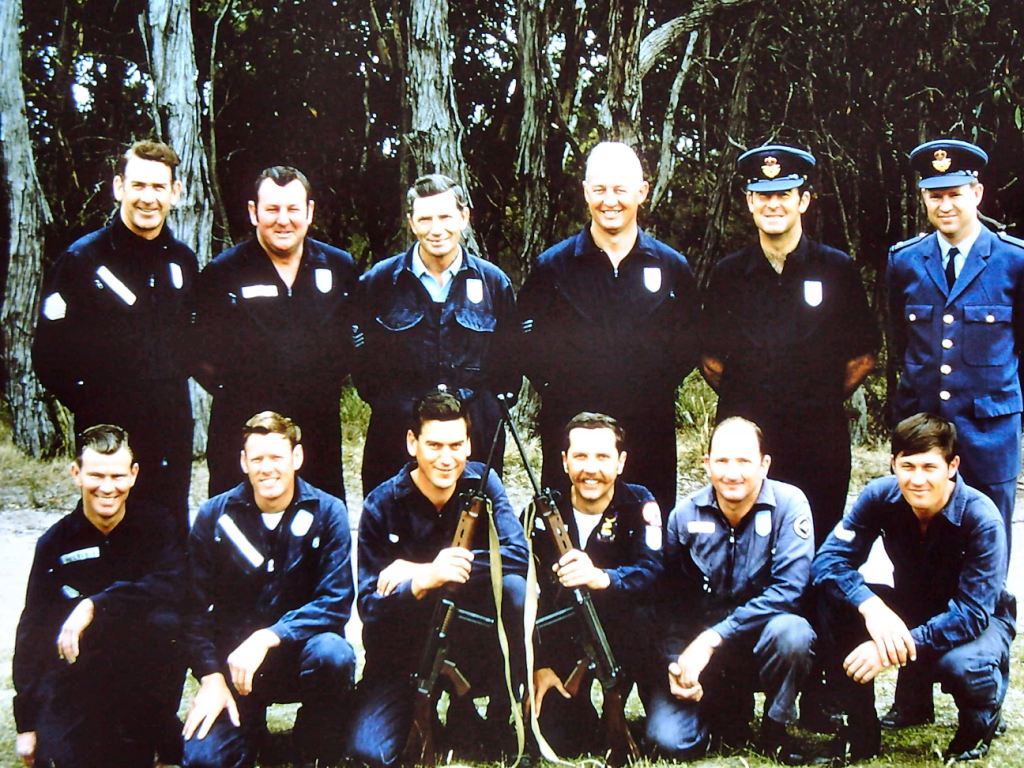 RB57F.

This pic was taken at East Sale on or around 1965. These aircraft were highly specialized strategic reconnaissance aircraft developed by General Dynamics in the 1960s from the Martin B-57 Canberra tactical bomber. They were used by the US Air Weather Service for weather reconnaissance (WB-57F), and subsequently by NASA for high-altitude atmospheric research.
Laverton Sgt's Mess.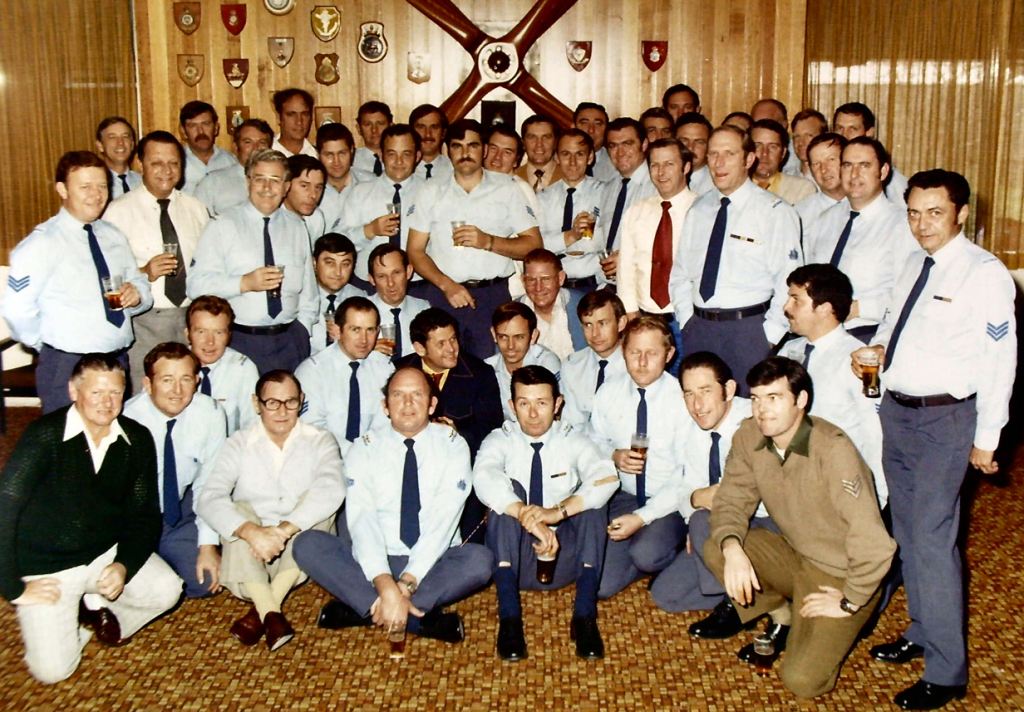 The Sgt on the far right is Leon Megaw.
Don't try this at home folks!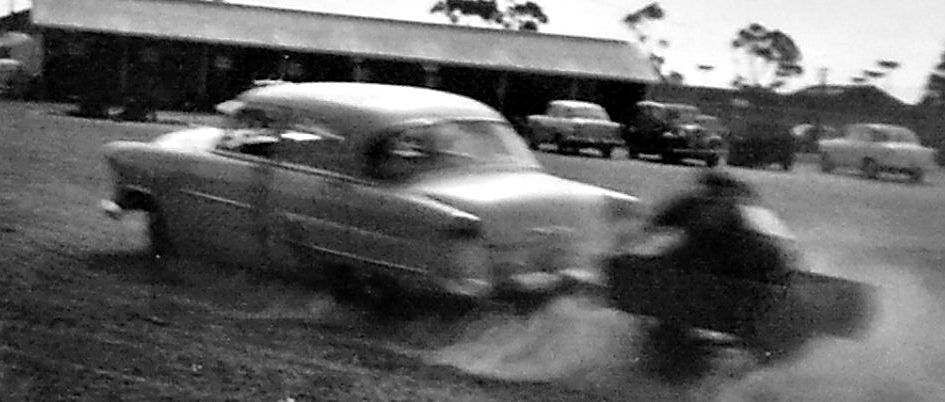 Laverton Sgt's Mess - Tels Tech's.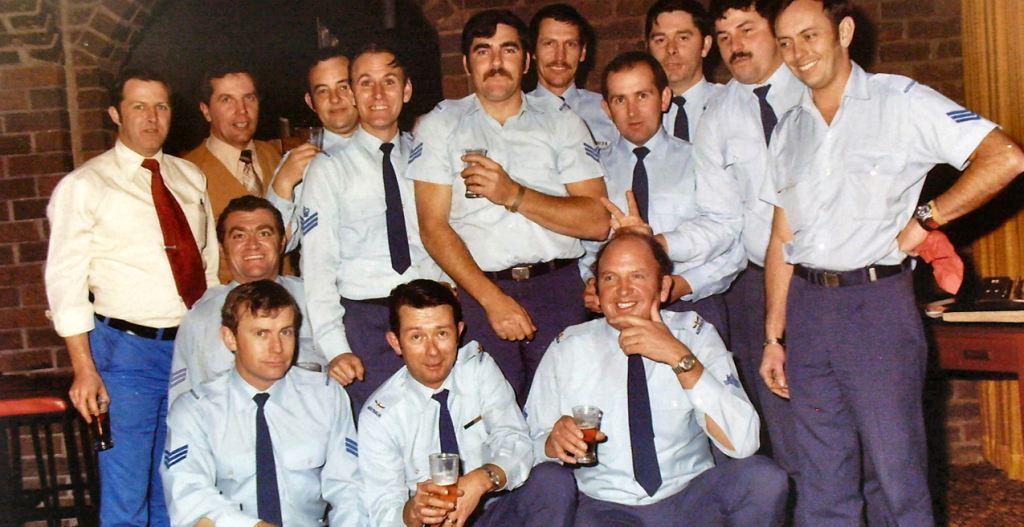 We believe the Sgt kneeling behind the bloke on the left in the front row is Les Coxhedge.
The Laverton Rifle team (1)
Mostly Radschool guys, with a Neptune in background before being broken up.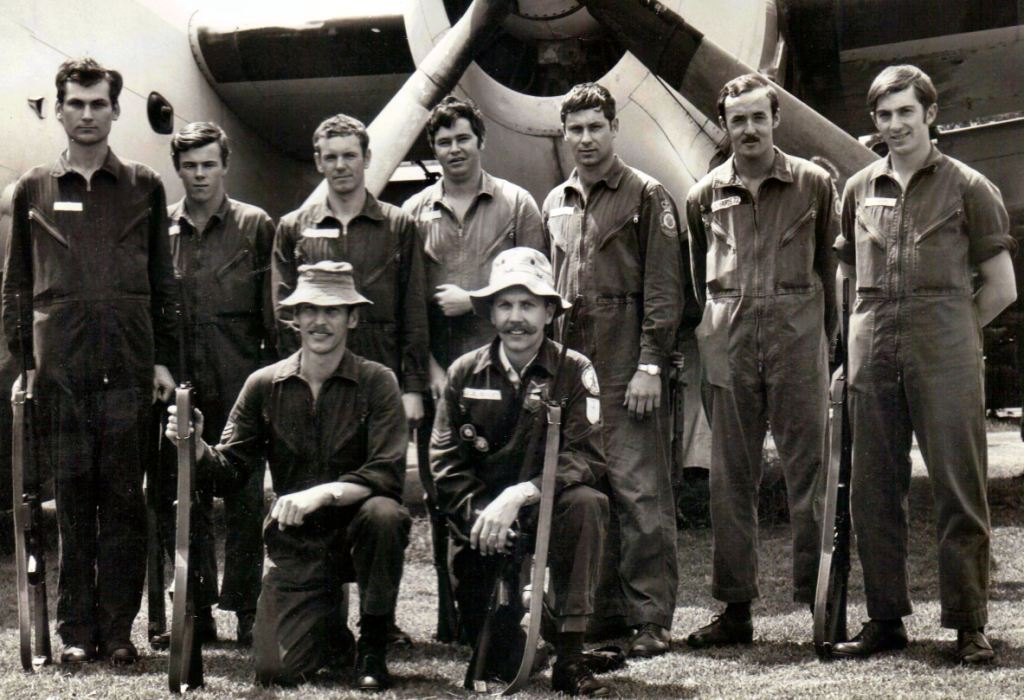 The Laverton Rifle team (2)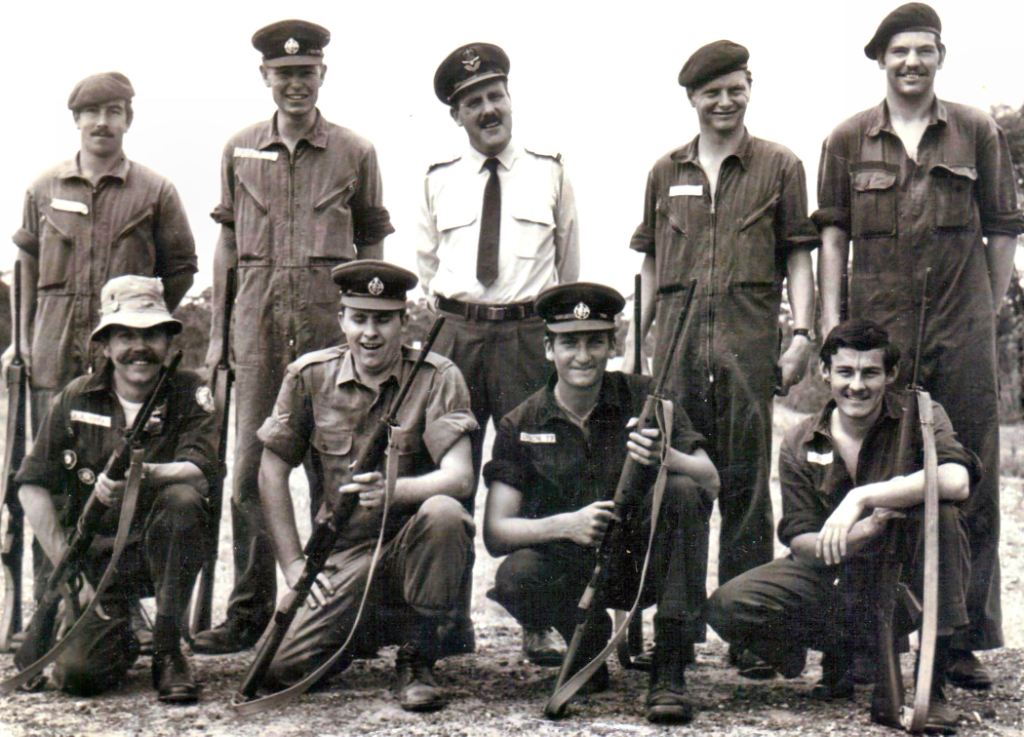 Another day, another rifle team, Great sporty days Wednesdays - bring back the "Sportie" I say!!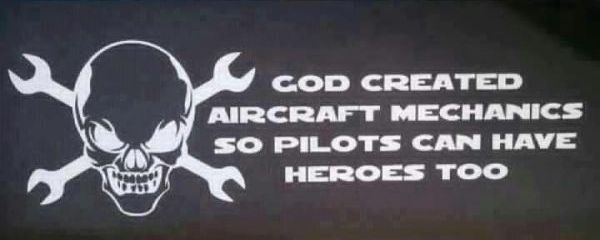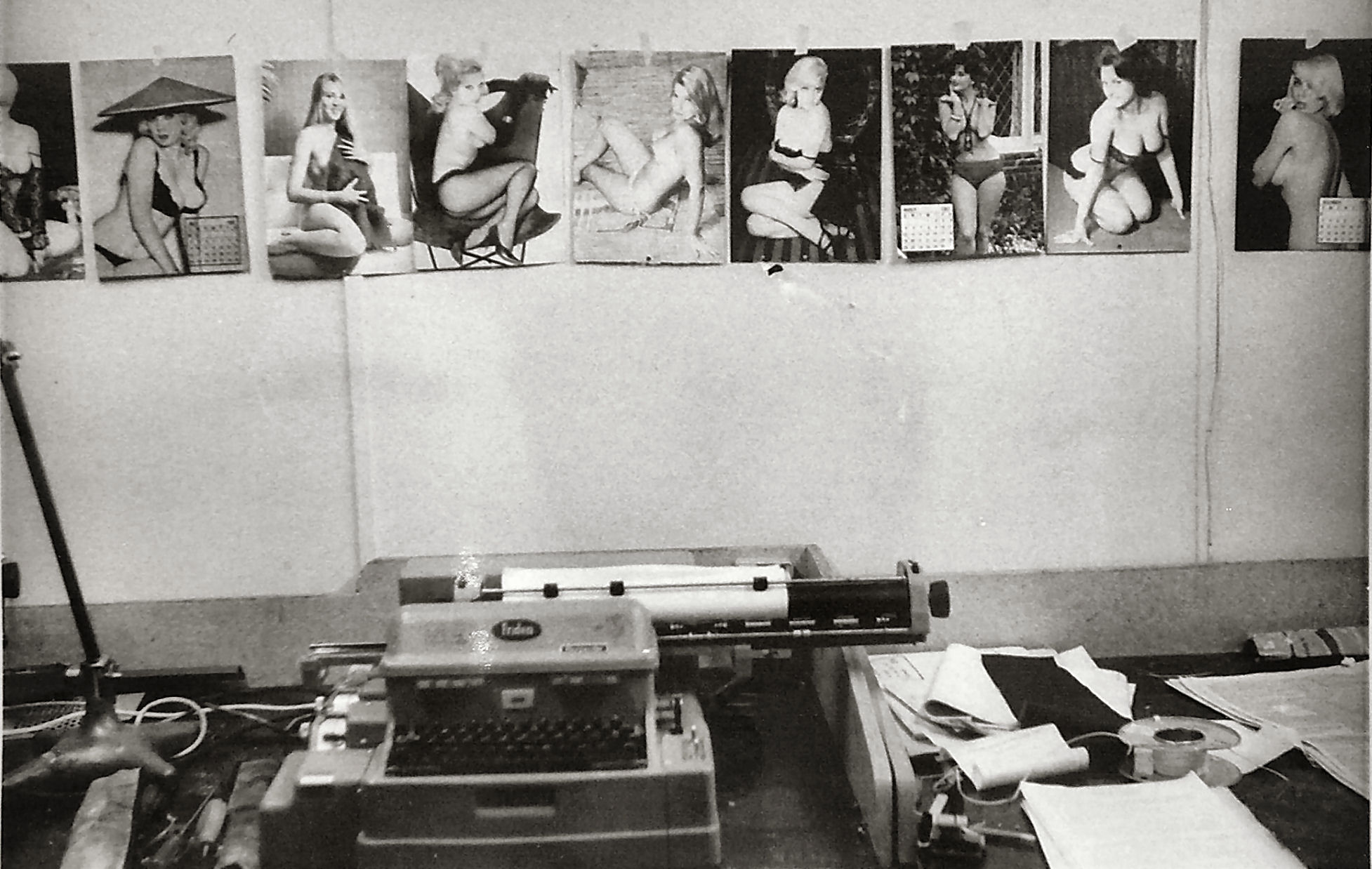 The Friden Flexowriter workshop in Canbarra – when you could!!!
My young grandson called the other day to wish me Happy Birthday.
He asked me how old I was, and I told him, "80".
He was quiet for a moment, and then he asked, "Did you start at 1?"
1-84 (172) Radtech Course.
Brian O'Rourke sent us this pic, he says, "after 30 years I'm sorry I can't remember the names of two blokes front right". (If anyone can help, please do – tb) The course would have been number 172 but they changed the numbering system.
The course ran from January 1984 to April 1985.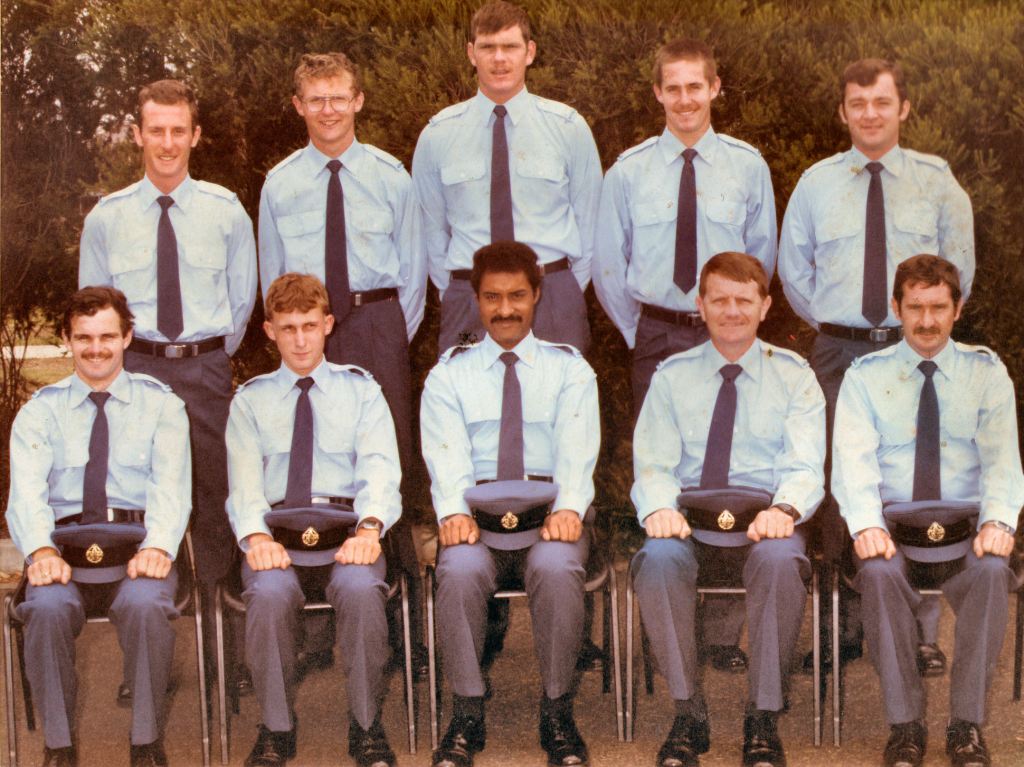 Standing L-R: D Shephard, J O'Loghlin, G Smith, G Rosenberg, M Wade.
Seated L-R: Brian O'Rourke, M Haese, V Savu, Gary Powell, unknown.
2-89 Airloaders Course.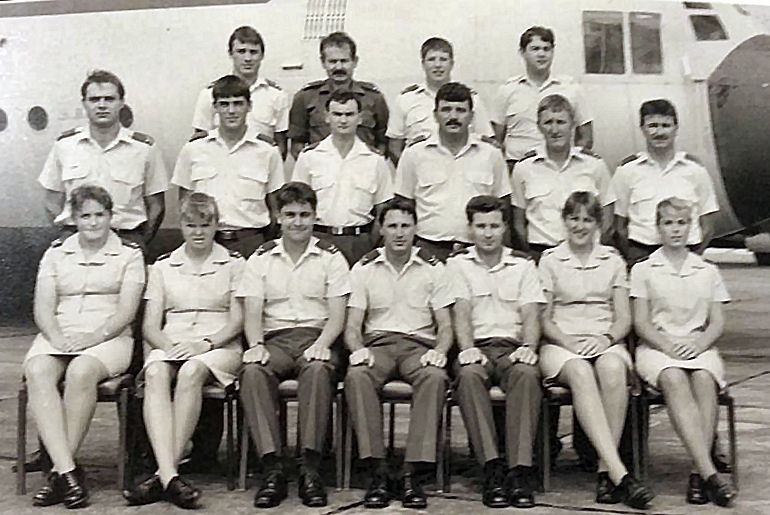 Back Row L-R: LAC O'Rourke, LAC Kerswell, LAC Renfrey, AC Sims.
Middle Row L-R: LAC Crosilla, LAC Patch, LAC Regan, LAC Stevens, LAC Williams, AC Potter.
Front Row L-R: LACW Marks, LACW Panlock, LAC Morgan, LAC McGregor, AC McIntosh, LACW Warner, LACW Scholz.
After putting her grandchildren to bed, a grandmother changed into old slacks and a droopy blouse and proceeded to wash her hair. As she heard the children getting more and more rambunctious, her patience grew thin. Finally, she threw a towel around her head and stormed into their room, putting them back to bed with stern warnings. As she left the room, she heard the three-year-old say with a trembling voice, "Who was THAT?"
3-87 Airloaders Course.
3 August 1987 – 19 August 1987.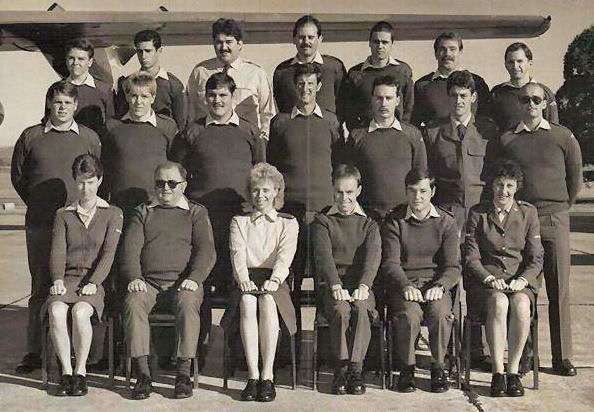 Back Row L-R: G. Young, K Gould, J Stewart, R Dixon, S Howse, N Fraser, M Scott
Middle Row L-R: S Harrison, J Cunliffe, J Auld, P Marshall, S Mannion, A Smith, D Just.
Front Row L-R: M Hollindale, J Dunne, V Trott, Cpl D Brewer, R Small, K Howlett.
A grandmother was telling her little grand-daughter what her own childhood was like. "We used to skate outside on a pond. I had a swing made from a tyre; it hung from a tree in our front yard. We rode our pony. We picked wild raspberries in the woods. "The little girl was wide-eyed, taking all this in. At last she said, "I sure wish I'd gotten to know you sooner!"
3 RAAF Hospital staff – Richmond 1990.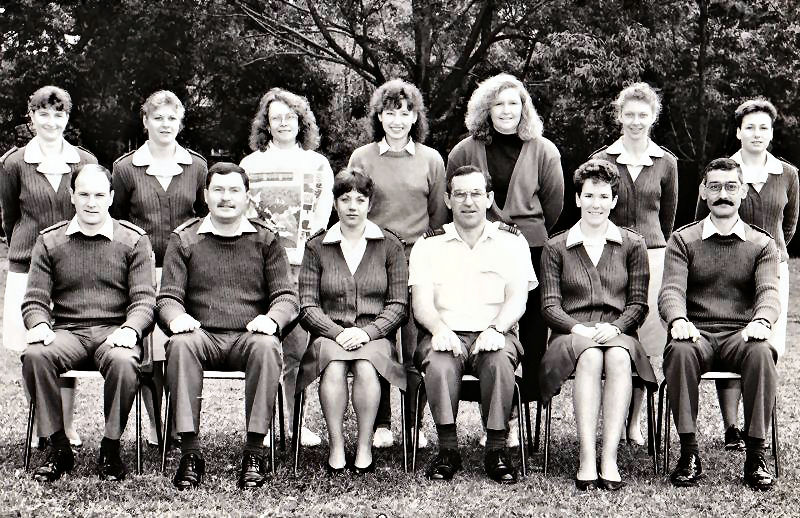 4th from the left, front row, is Sqn Ldr Les Drake.
6 RAAF Hospital Staff – Laverton 1983.

6 RAAF Hospital, Laverton, 1983, under the command of Wing Commander Paul Schumack, hiding behind the tree. On his left is Flt Lt Les Drake (Deceased Nov 2014) and second from Les Drake's left is FSgt Joe Munster. Sorry – we don't have any more names for either pic, can anyone help??
The dying days of 10 Sqn – Townsville 1978.
Kev Rosser sent us these two photos, the one below was taken in 1978 after the Neppies had been mothballed (1977). These blokes were left behind to wind up everything before the Squadron moved south to Edinburgh.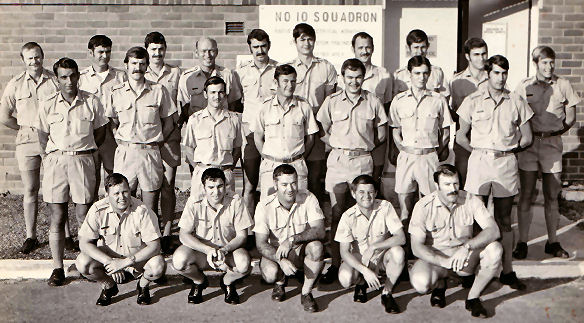 Back row L-R: Errol Daire, Harry Gillett, Barry Toohey, Merv Sorensen, Jeff Haffenden, Jim Hewitt, Clive Bentley, Alan White, Graham Quinnell, Ian Darby
Middle row L-R: Jim Amos, Barry Blackmore, Clive Stone, Keith Wilson, Byron Page, Bill Gibson
Front L-R: Alan Oakley, Wayne Cawley, Gordon Charlton, Jeff Broadbent, Graham Tait
When my grandson asked me how old I was, I teasingly replied, "I'm not sure."
"Look in your underwear, Grandpa", he advised .. . . "Mine says I'm 4 to 6."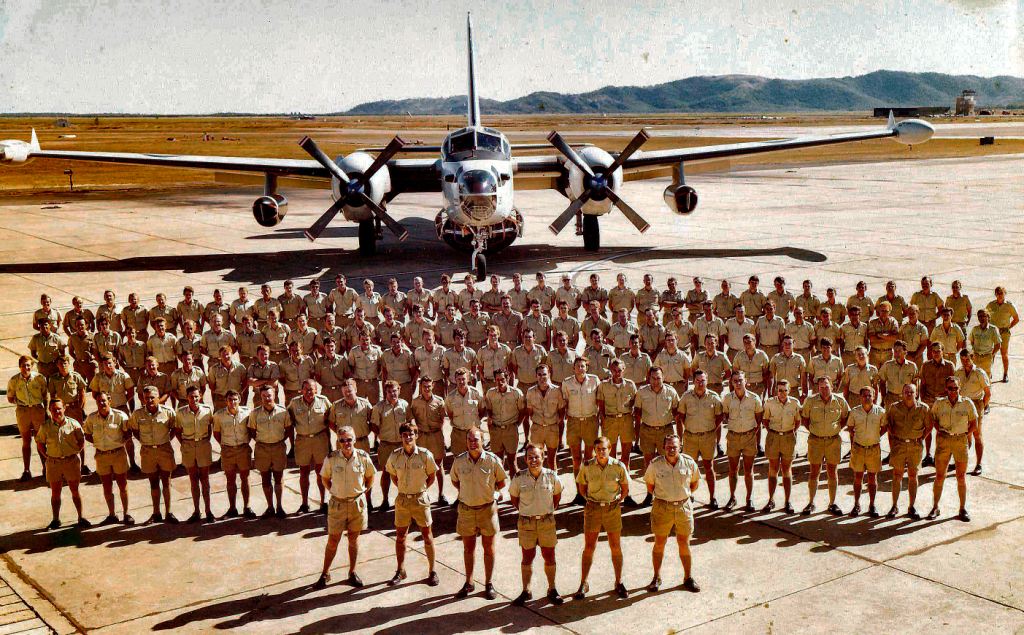 Last days of 10 Squadron, Townsville.
A second grader came home from school and said to her grandmother, "Grandma, guess what? We learned how to make babies today." The grandmother, more than a little surprised, tried to keep her cool. "That's interesting." she said . . . "How do you make babies?" "It's simple", replied the girl. "You just change the 'y' to 'i' and add es.
34 Sqn Sumpies, 1989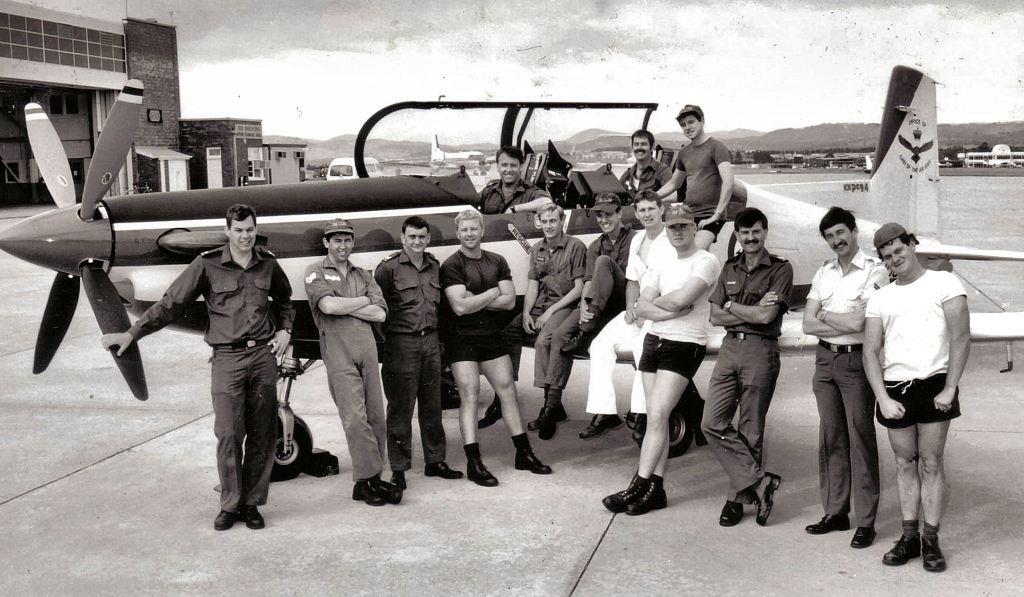 Caribou Crew.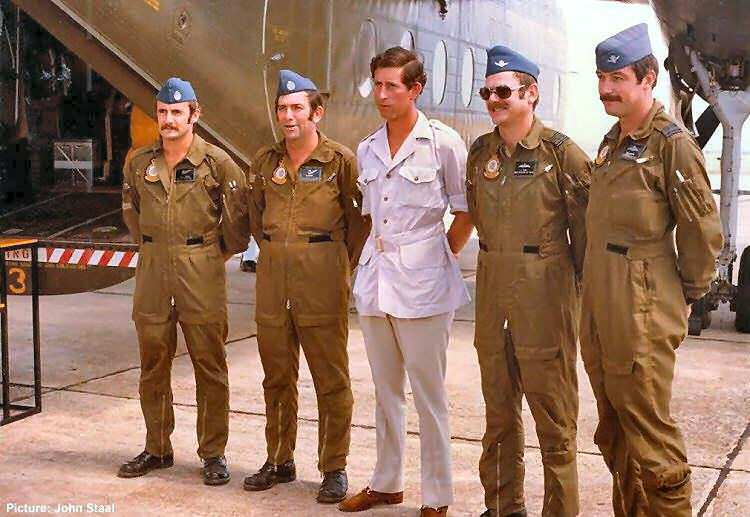 L-R: Wally Davies, Eddy Morris, Prince Charles, John Staal, John Caldwell.
John Staal send us the above pic, it was taken in April 1979. John says "It was taken at RAAF Townsville after we had brought the Prince back from Lizard Island in FNQLD – I flew the Prince to Lizard Island from Cairns about a week before this photo was taken. He sent us a signed copy of the photo on his return to the UK about a month later".
35 Sqn, Townsville. November 1982.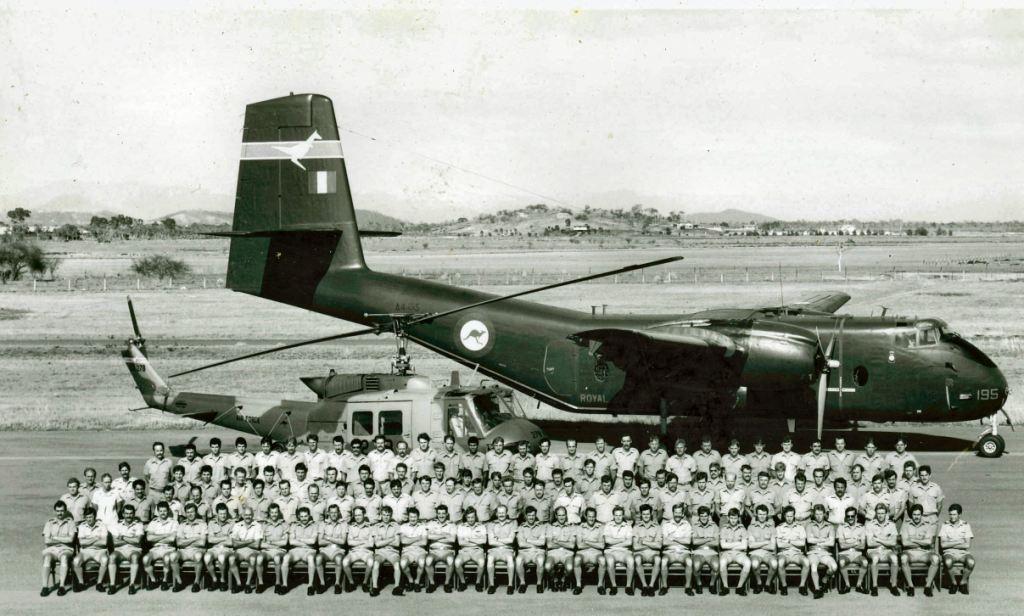 The above pic shows 35 Squadron in Townsville 1982 – back when the RAAF had the Iroquois.
35 Squadron flew its last operation in Vietnam on the 13th February 1972 and left for Richmond on the 19th February 1972. In 1974, it relocated north to Townsville, where it operated in support of Army units based in Northern Australia. In early 1977 the squadron's role was expanded when it was equipped with four UH-1 Iroquois helicopters in addition to its Caribous, making it the only RAAF squadron to ever be simultaneously equipped with rotary and fixed-wing aircraft. Its role was further expanded in November 1986 when it was issued with gunship variants of the Iroquois which it received when 9 Squadron converted to flying the Black Hawks.
In November 1989, it reverted to a purely fixed-wing role when responsibility for flying the helicopters was transferred to the Australian Army. Operating eight Caribous, the squadron continued to provide tactical transport to Army units based in Northern Australia until 2000, when it was reduced to "paper only" status and its aircraft transferred to No. 38 Squadron.
John Morley sent us these three pics. The event was a Christmas function held in the Airman's boozer at Frognall in 1965. Anyone know anyone??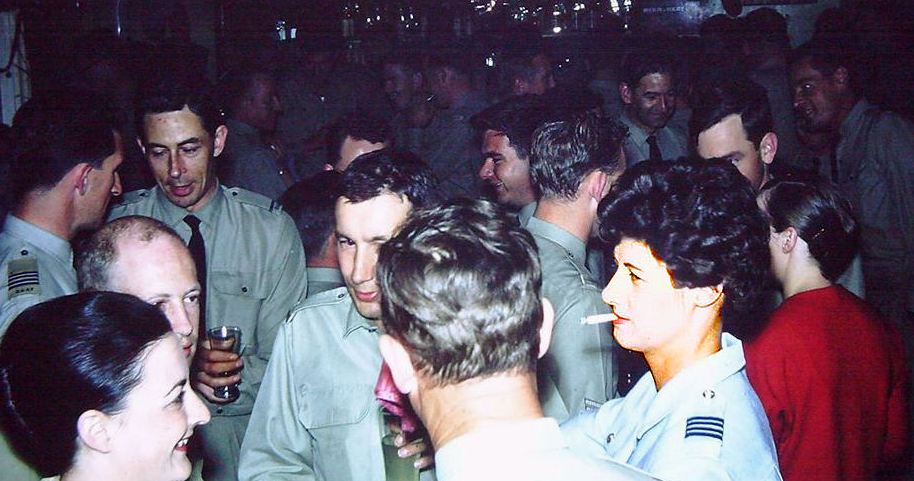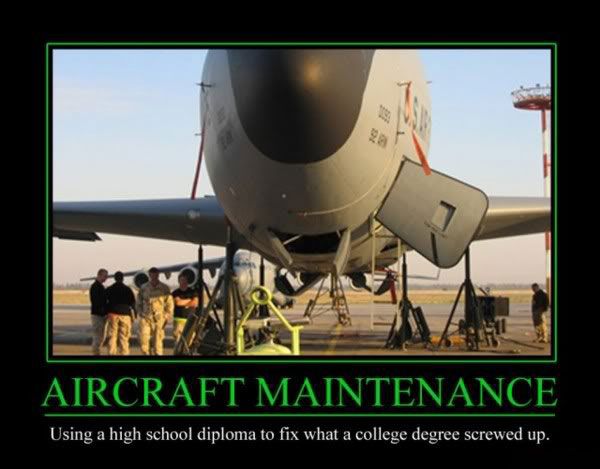 Back Go to page: 1 2 3 4 5 6 7 8 9 10 11 12 13 14 15 16 17 18 19 20 Forward