Mary Elisabeth Lubbers, as she was known in the WRAAF, was born in Indonesia. Her father Johann Lubbers, worked in the coal mines in Limburg Province, Netherlands before enlisting in the Koninklijk Nederlands Indisch Leger (Royal Netherlands East Indies Army) in January 1937. He married Otillie Krautscheid of Heerlen, Limburg by proxy on 26th August 1937 and Maria was born on 3rd January 1939 in Batavia (Djakarta), Netherlands East Indies (Indonesia).
In 1942, during World War II, she and her mother, along with other women and children, were transferred to Malang, Java from Ambon due to the approach of the Japanese forces. (Other women and children were repatriated to Australia). When the Japanese occupied Java they were held in Malang and other places before being interned in Camp 6, Ambarawa, Java (then Bewoners Ambarawa 6) where they remained for the duration of the war.
Her father was captured at Ambon and transferred by ship to Hainan Island where he remained for the duration of the war. On the 6th April 1945 he, along with two fellow Dutchmen, escaped into the mountains. They were looked after by the Chinese inhabitants. On the 6th June 1945 they met up with 6 Australian soldiers, Major McRae, Ron Leech, Ferd Perrin, Miles Higgins, Tom Lockwood & Stewart Campbell, When they were rescued at the end of the war they were repatriated to Hong Kong.
Thinking their husband/father had not survived, Maria and her mother were repatriated by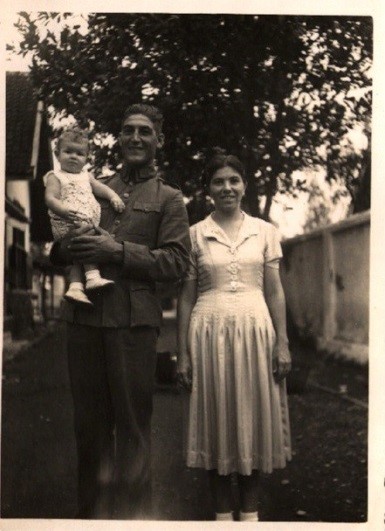 ship to Holland via the Suez Canal. During the journey they were provided with new clothing in Aden. The family was reunited in Holland. The family returned to the East Indies in 1947 and her brother, Johann Robert, was born on 31st March 1948, in Tjimahi, Java. On 19th August 1949 her twin sisters, Evelien Matilde and Magdalena Augustus, were born in Padang, Sumatra.
Maria, Johann & Otillie Lubbers.
When the Dutch were forced out of Indonesia in 1950 the family returned to Holland aboard the M.V. "Cheshire". Tragically, Evelien became ill and passed away near Gibraltar on 7th June 1950 and her body was committed to the sea as the ship passed through the Bay of Biscay.
On arriving in Holland her father gained employment with Philips Industries in Eindhoven, Brabant, Netherlands. Sadly, Maria's brother Karel died soon after birth on 27th February 1951 in Eindhoven. In 1953 her father was offered the opportunity to become a share-farmer in Australia with Tom Lockwood, one of the Australian soldiers he had survived with on Hainan Island. He accepted the offer and the family arrived in Melbourne on 3rd November 1953 (Melbourne Cup Day) aboard the Dutch ship M.V. "Johan van Oldenbarnevelt". They settled on the share-farm in Pearcedale near Frankston, Victoria. Her father's previous experience as a miner and soldier did not help to provide him with any farming skills so they left the farm and moved to Mount Evelyn where he obtained employment with a steel fabrication firm in Lilydale.
Maria had always been called "Mia" (mee ah) by her family and friends but decided to take the name of "Mary" now that she was in Australia. She attended school for a short period but family circumstances forced her to seek employment with Hickory, makers of female underwear, in Frankston. She then went to work for Victorian Railways at Lilydale when the family moved to Mt Evelyn.
Mary became a Naturalized Australian Citizen at Lilydale, Victoria on 21st August 1958.
She enlisted in the Womens' Royal Australian Air Force on 15th October 1958, given the Service Number W314747 and commenced her Air Force career on Recruit Training Course 92 at RAAF Point Cook, Victoria before she was posted to RAAF School of Radio, Ballarat, Victoria to undergo training as a Teleprinter Operator. She commenced training with No 2 Teleprinter Operator Course (16 Dec 58 – 7 Mar 59) but her training was suspended on 19th January 1959 due to her hospitalisation in 6 RAAF Hospital, Laverton. She went on to complete her training with No 3 Teleprinter Operator Course (2 Mar 59 – 4 Jun 59).