During unloading, the captain asked us to help carry a company of Montagnard troops to Plei Me. There were 75 men. The captain had conveniently divided this number into three sorties of 25 pax, two for him and one for us. I was glad to help, but he was a little sour when I offered to take twenty.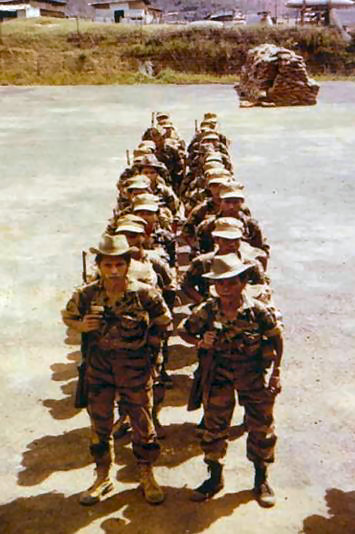 This would mean an extra sortie for him. However, while Montagnards are small people and each fully equipped soldier would probably weigh no more than 150 pounds, I was not prepared to lift any more out of this short, hot, high strip. Perhaps hoping I had changed my mind, the captain took 25 anyway and started up.
He took off uphill, the more favourable direction. Normally we departed Dak Pek almost empty. Under these conditions the Caribou lifted off before the cutting near the other end of the strip. However, our USAF friend continued on past the cutting onto the last third of the strip, which was downhill, finally disappearing from view. We stopped everything and waited for the crash. Miraculously, we could still hear the engines roaring at take-off power. After an age, the Caribou reappeared off the other end of the strip still barely climbing, having obviously followed the river valley, which fortuitously formed a semicircle around the camp and strip, until he had sufficient height to clear the terrain.
We put on our 20 troops and left.
That night, back at Pleiku, we were briefed about bunker procedure in the event of an alert. This was something new. Next day, at the TMC ramp, our first load arrived. It was a truckload of VC prisoners bound for Tuy Hoa. Another first.
They looked rather bedraggled sitting in the back of the truck in the pouring rain. They behaved themselves during the flight. When I looked around once or twice they were sitting stoically on the canvas seats, roped together, probably wondering what was going to happen to them at the other end.
Tuy Hoa South was now a big fighter base. Parallel 10,000-foot solid steel plate runways had been laid out on the barren, sandy landscape where a few months before there had been only a tiny gravel strip. Jets roared off at irregular intervals, disturbing the calm of the glassy sea.
We left our passengers to an uncertain future and continued to Nha Trang.
Nha Trang TMC had a load for our return flight. The load was for a place known as An Khe Golf Course to distinguish it from another airfield of the same name. The significance of the name escaped me. My guess was that to the builders of the airfield the lush green flats, punctuated by small swampy ponds and an odd little rocky outcrop, must have looked like a stateside country club. Golf Course was now a VNAF base, operating choppers and light aircraft. The control tower, more like a command post, dominated its rocky hilltop setting.
Back at Pleiku a flat tyre held us up only a few minutes, thanks to Bugs Rose and Blue Campbell. We had time for one more run to Plei Me before dark. It was here that I made one of those errors which one sometimes makes due to the pace of events and, probably, a certain amount of overconfidence. At least, that is my story.
We had been into Plei Me first thing in the morning. The smoke flare put out by the Special Forces favoured a landing to the west. Conditions back at Pleiku had not changed all day so, without paying too much attention to available wind indications, I joined the Plei Me circuit for the westerly strip.
As I said before, Plei Me was a minimal Caribou strip. I touched down about 100 feet into its 1200-foot length, and selected reverse. Looking ahead, the other end, over a hump and slightly downhill, seemed to be coming up abnormally fast. I instinctively tramped hard on the brakes and selected full reverse. We finally stopped, only a few feet from the end. I sat there for a moment breathing hard, oblivious to the swirling clouds of dust kicked up by the propellers, which were still in full reverse.
When I taxied into the parking area, the flags in the compound confirmed what I had just found out by bitter experience. We had landed with a ten knot tailwind. It was a lesson for both of us.
The detachment was over all too soon and I was back in the Delta, watching the 'bog rats' practise their landings. On a previous Wallaby 406, Stew Mac and I had chatted to the doctor in charge of the Australian medical team at Long Xuyen. Accepting his invitation, we hitched a ride down to stay the night, intending to return on the next day's mail run.
The doctor and his team of nurses were all volunteers on sabbatical leave from the Royal Melbourne Hospital. He showed us around the hospital whose three wards were crammed. The beds were little more than a foot apart, and there were often two or three patients to a bed. The families of many of the sick also 'camped' here, mostly on the wide hospital verandah, but sometimes on or under the beds of their sick relatives. Pleasant aromas wafted in from the verandah as family members outside cooked meals on small braziers. Curious faces peered in through the windows, perhaps wondering if we were new doctors whose favours needed to be cultivated. Not exactly like your typical Australian hospital.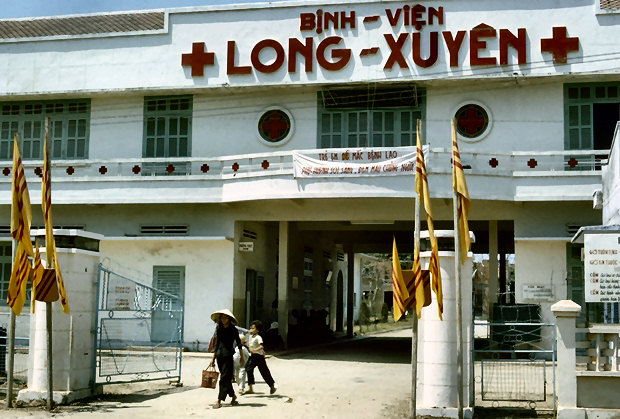 The ailments and injuries we saw were terrible, like nothing you would see in Australia. Many people had shocking shrapnel injuries, with grotesquely disfigured limbs or faces. We were introduced to an ambulatory patient known as Sam, who helped around the wards. Sam had a huge chunk out of the back of his neck. While we were speaking to him I heard a noise behind me, and looked around to see Stew lying on the floor. Sam, or the humidity, had apparently been too much for him. I did not blame him. I felt revolted too. But growing up in the country and hanging around farms had prepared me for such gruesome sights.
Our doctor host told us that serious complications of routine ailments, such as appendicitis, were commonplace due to lack of early treatment. Such was the pressure on bed space and the medical ignorance of these simple people, that many who had had surgery left hospital after a day and never returned for post-operative care, even to have stitches removed. The hardworking and compassionate team treated all comers, asking no questions, doing their best under primitive conditions, and hoping those patients who disappeared recovered on their own.
After the hospital tour the doctor told us a little about the Australian medical aid program, and health matters generally. Evidently diseases such as TB, internal parasites, malaria, plague, cholera and leprosy were major problems in different parts of the country.
Part of the aid program had focused on malaria eradication but collapsed due to the military insecurity of swampy areas. Attention was then directed to increasing medical care for the rural population as city facilities improved and the Vietnamese were trained in health care. This project too was doomed to failure due to escalation in the numbers of war casualties requiring treatment.
The end result was military medical aid in the regions and placement of civilian surgical teams at selected provincial hospitals. Long Xuyen was one such hospital.
The medical team turned on a simple but enjoyable meal. Then we sat around and talked and listened to some music. I am sure these selfless civilian volunteers enjoyed our Aussie conversation devoid of the usual military or medical matters. After a pleasant evening we retired to spartan rooms in the whitewashed building dubbed the 'White House' by the team.
The almost monastic austerity of Long Xuyen contrasted with improving comforts at American messes. The new Special Forces Mess where we stayed at Nha Trang now had draught beer and Coke as well as a popcorn machine. The temporary look of eight months ago was giving way to a settled, more permanent appearance at the large bases, with long runways, better buildings and more comfortable facilities. The frontier society was slowly giving way to the popcorn and Coca-Cola culture. Pity about the 'grunts' out in the boondocks.

Another new development described to us by our TMC colleagues was the PSYWAR (Psychological Warfare) aircraft, examples of which were now often seen at Nha Trang. The name had a somewhat Orwellian sound to it, even down to the stated objective of the Psychological Warfare Program: 'To win the hearts and minds of the people'. To achieve this end, specially equipped Cessna aircraft with downward-pointing speakers blared metallic gibberish at whoever might inhabit the towns or jungles below, a sort of airborne 'Big Brother'.
Alternatively, the same C-47 Dragonships, which carried the fearsome target­chopping Gatling guns, could be used to rain thousands of messages on the jungle offering clemency to deserters of the VC cause. Having experienced the hot breath of the Gatling guns, I was not at all sure anybody would stick around to read a leaflet telling them how their life would change for the better if they betrayed their political masters.
I am sure other aspects of the program would have been more successful, such as the many civil aid programs sponsored and carried out by Americans and in Phuoc Tuy Province by the Australian Task Force.
I was never quite comfortable with our American allies. Their attitude was rather patronising, perhaps unwittingly, since they were always courteous and hospitable, but they often acted as though they were bestowing a favour on a poor relation. I felt considerable pride in the effort our shoestring operation was putting up, in comparison with their well-equipped squadrons. When we crashed an aircraft, we scoured the country for spare parts to patch it up and put it back into service. Pranged American aircraft were generally left where they came to a stop. I gritted my teeth at the frequent question: 'Say Aussie. When are they going to open up Australia for R&R? - as though this single act was vital to the economy and wellbeing of the Australian people.
The period November 1966 to March 1967 was definitely the busiest of my whole 12-month tour, maybe even my whole life, but March could only be described as frantic. At the end of that month I discovered I had flown 145 hours, at that stage a squadron and RAAF record. No wonder I felt totally stuffed. There was a small write-up about the record in the RAAF News. Later a tongue-in-cheek article appeared in Australian newspapers, during an airline pilots' arbitration hearing for more pay, comparing our workload with that of the 'greedy' pilots.
Maybe it was a coincidence, but the RAAF sent up a psychiatrist to speak to many people up here. He was a squadron leader in the Active Reserve. Maybe the RAAF hierarchy felt people here were getting stressed out. Rumour had it that they were thinking of shortening the tour again. It was originally eight months. If I had been interviewed, I would have certainly recommended it. A letter from home said the psychiatrist was later interviewed on TV. Nothing came of it though.
Towards the middle of June, physically and mentally weary and knowing I was becoming grumpy and irritable, I was glad to head off again for a few days in Butterworth.
Looking back, I realise I was at a stage where I had seen it all and done everything there was to do. Where a month or so earlier I had enjoyed helping new arrivals learn, now it was more of an irritation watching them make mistakes.
Nevertheless, I was consoled by the fact that the next time I left the country, it would be for good.
Click the pic below to see the old Caribou at the 2007 air show in NZ