114 MCRU
RAAF Amberley
Circa 1972
Brendan Godwin
The HUBCAP radar system was extraordinarily complicated. The Air Force would normally post staff on average every 18 months, but it took 4 years to learn how to repair and maintain this radar system. As a consequence, whenever someone got posted to either 114 MCRU or 3CRU they never got posted out.
As a consequence of this, the Air Force had difficulty maintaining morale on the unit. Added to the unit's woes, a bearing in the radar cracked and there was a one month delay while the replacement was shipped out from the US. So, one officer took it upon himself to organise a morale booster. He organised a survival course for all on the unit. Most survival courses are held in the jungle, usually Canungra. You are given a standard RAAF 3 day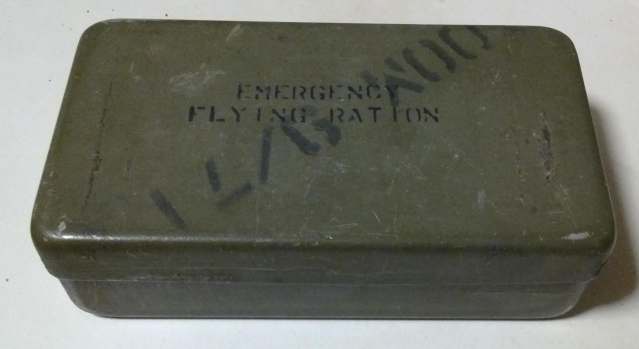 ration pack and sent out into the jungle and you have to survive for a week. This survival course was organised as a sea coast survival course. After planning it was given approval by the CO who also needed approval from base ops.
We were issued with the usual 3 day ration pack along with a parachute and, from memory, a machete. Then we received a wink and a nod. A blind eye was being turned to anything else we wanted to take. Ron Anstiss took a camera and some slides. I packed my Air Force kit bag with some canned food, alfoil, fishing rod as well as my flippers and snorkel and spear gun. We had a few changes of clothes
The concept was that we were forced out of our aircraft and were forced to parachute, landing, by an absolute miracle, on a sub-tropical island.
This just happened to be in our case, the very northern tip of Moreton Island in Queensland's Botany Bay. We were flown in by Iroquois Helicopter from Amberley. It took a number of helicopters and a number of trips to ferry us all out there.
Now let me just describe the island location that we miraculously landed on. The choppers dropped us on a small and very picturesque half moon shaped beach in Honeymoon Bay off Cape Moreton. One side of the beach led off on to a rocky section of coast. Buried in the middle of these rocks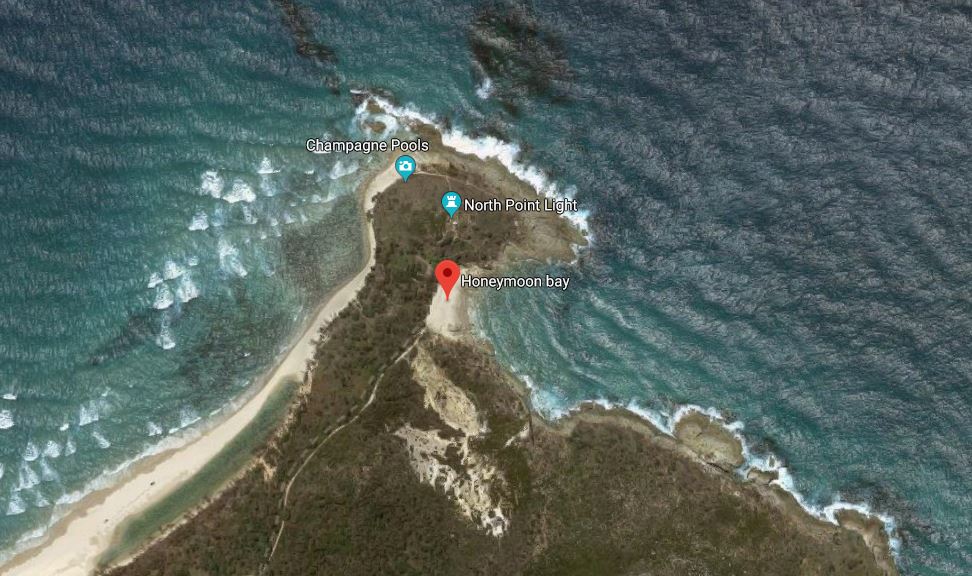 was a natural oyster farm. Literally hundreds of oysters. Harry Howson and some of his oyster loving friends spent most of the week fossicking amongst these rocks.
Above these rocks was a cliff with a large fresh water stream flowing out of a hole in the middle of the cliff. Now we had lots of plastic water jerry cans. We filled these from the top section right at the mouth of the stream. Below that we reserved for showers and washing. The other side of the beach led around a large rocky coastal section with a reef just off shore. This section of the ocean was teaming with fish, mostly Bream. Out to sea to the north we could see the waves breaking over Flinders Reef, a popular snorkelling and scuba diving spot.
I later took a scuba diving trip out to that reef. A forward party had already been to the island and prepared toilets. This was a large trench with a line of toilet seats. Of course we had plenty of toilet paper, soap and towels. Our first task was to set up parachute tents. We chopped down some large limbs and tied them at the top. I can't remember what with, either vines or we probably had rope. We draped 4 parachutes around making a large Indian tepee. We shared 4 persons to each tepee. Then there was a fire wood collection party where we gathered all our fire wood and lit fires that did not go out for the entire week. Next was to catch fish. Most had bought bait but that was something I omitted. But that wasn't a problem. Growing off the rocks were small animals surrounded by a fury outer. These had a meaty substance inside and worked well as bait. In any event, those who did buy bait ran out quickly and we were all using this, or meat from some of the fish we had already caught. We wrapped these fish in alfoil and cooked them in the coals on the fireplace. We spent the week reeling in and eating bream. I don't think anyone ate the canned food they brought.
The radio guys set up an antenna over the top of the beach with wires strung up the cliff and there were daily radio schedules back to base.
The novelty was the 3 day ration pack. From memory, I can't recall all that was in this little pack, but there were solidified blocks of rolled oats. When this was soaked in water it expanded a lot and when boiled, the small block expanded into a large bowl of oat porridge. Of course we had bowls to eat out of. There were 3 of these little blocks giving us a hearty breakfast for 3 of the days. There were biscuits and cheese and other dried food. The pack was reliant on us being able to find water. We were extremely fortunate to have a water fall of fresh water.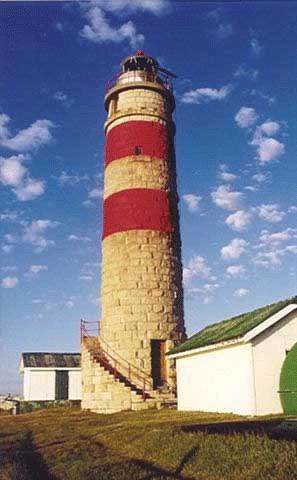 Once we got comfortable with the fact that we were going to survive for the week, without having to delve into our canned foods, who would want to eat them anyway, we started looking for things to do to bide the time and keep ourselves entertained. At low tide we played cricket and volley ball on a hard muddy beach section. The flyboys back at the base kept us entertained with a number of low altitude flyovers at just under mach one. Just in case we didn't see them coming we couldn't miss the BOOM!!!
There was a lighthouse on the ocean side of the northern tip of the island, Cape Moreton Lighthouse, and most of us took a tourist trek up to see the light house. I also dived on the reef and speared a few fish just as change from reeling them in off the rod, but also to enjoy the under water scenery.
Noel Williams gives his account of some incidents.
"On the Survival Course at Moreton Island, I had the dubious pleasure of being in the Commanding Officer's tent. Wing Commander Waldock was a keen fisherman and took the necessary survival equipment: fishing rods, lines, tackle and the like. As I was raised at Ballina, I was born with a fishing line in my hand! Anyhow, as his local lad, WGCDR Waldock commissioned me to get him some bait which included crabs and cunjevoi (a marine sea squirt that grew around the edge of the low tide mark). Remembering that our Survival Course was stationed on the sea side of Moreton Island - it was a bit of a challenge to get down to the water's edge and back before the next wave broke over your head."
You can see where this story is going... Anyway, WGCDR Waldock arose before daybreak to fish off the 'point' where he could cast out into the white water. Unsurprisingly, he caught this giant kingfish and was very pleased with himself! Arriving back at camp, he asked me to go and clean this monster kingfish - I thought to myself that I could use the fish guts to catch him some bait! The plan was succeeding! I'd cleaned the fish, left it on the rock high above the water line, and had captured some unsuspecting crabs using the fish guts and lifted off many cunjivoi with my fishing knife! With a casual sideways glance I spotted a huge wave hanging over my head and about to sweep me off the rocks into the sea! The struggle up the rocks (with the bait bag tightly held in hand) saw me able to survive the monster wave albeit very wet!) Unfortunately, I watched the monster kingfish being washed back into the surf from whence it came!
Not knowing how to break the news to the boss, I vividly recall saying, "I'm sorry Sir! I have some good and bad news - the good news is that you have plenty of crabs for your fishing but your prized kingfish... unfortunately was lost at sea! (My status as the CO's ace, number 1 fish cleaner was never the same!!)

PS. The monster kingfish was the only eatable size fish that WGCDR Waldock caught during the whole survival course!
'On this same Survival Course, the troops were briefed regarding what to bring. We were deposited on the northern tip of Moreton Island by some of the 9 SQN Iroquois helicopters. As a good LAC, I took my skin diving gear: flippers, leg knife, goggles and bazooka spear gun! When the sea was calm, I thought that this might be a good opportunity to redeem myself and spear a fish or two. Things were going great: sunny skies, clear and calm water, spear gun at the ready - even some big cod and other rock fish in the lower areas. Although it took some effort to get enough air to dive that far down, I succeeded in almost nailing a decent rock cod only to lose my prized leg knife on the way down. Back at the surface, gasping for breath and trying to retrieve the spear, I glanced behind me and saw a school of kingfish. I retrieved the spear and re-loaded the bazooka speargun, and in the adrenaline moment of taking aim at the nearest kingfish, a large grey nurse shark drifted into view behind the kingfish! In the next millisecond, I was able to assess the probability of being taken by a frenzied shark once the kingfish had been speared.
Discretion was the better part of valour, and my decision to abort the Mission: 'Retrieve Kingfish' was taken without hesitation! Unfortunately, my prized, skin diving leg knife remained at the bottom of the sea - as did my hopes of redeeming the COs monster kingfish!
Then we got caught out by a Courier Mail journalist who just happened to be on the island doing an article on tourism on the island. He accidentally stumbled across us as he was exploring the northern section of the island. When we returned back to base we were greeted with being mentioned in his half page article in the Sunday Mail. Most of his article was on tourism but our mention in dispatches went something like this.
"Whilst exploring Moreton Island investigating the northern section of the island I managed to stumble across a bunch of RAAF blokes. They told me they were doing a survival course. It is hard to think of a more idealistic spot to be doing a survival course. Now just dream for a moment of the most picturesque tropical island in the world, with the ocean teaming with fish, and all the best bait, tackle and spear guns to catch them with, and this was where and how the RAAF sent their people to do a survival course".
Then on our last night, unbeknown to me and a lot of others, the choppers arrived with supplies. Steak, beer and wine. We had a final night party. The interesting side event to this was the use of the toilets. They had gone largely unused for the entire week. It seems that a diet of Bream doesn't exactly make your bowels move. But steak, beer and wine worked. There was a queue the next morning. There were only about 4 or 5 thrones and they weren't nearly enough.
The next morning the choppers arrived again to take us back to base.
Everyone who worked at either 114 MCRU or 3CRU were classified to either Secret or Top Secret. Security law forbids a person, who is bound by it, to divulge any secrets for the period of their lives, unless that information has become declassified. National Archives is bound to declassify most information after a 30 year period, unless divulging that information still imposes a security risk to Australia. Thank God those 30 years have finally passed and I can now divulge to you our tax payer funded holiday to Moreton Island some time between February and April 26, 1972.
The following are some campsite photos.