If you're still using Windows 7 or 8/8.1, you should consider upgrading to Windows 10. Next year Microsoft will stop mainstream support for its Windows 7 operating system after which there will be no more service packs and without paying Microsoft a service fee, your computer will be susceptible to baddies getting in. You can still get Win 10 for free, and you should. See later.
Some features now available through Win 10, which were made available via an update include:
Timeline feature.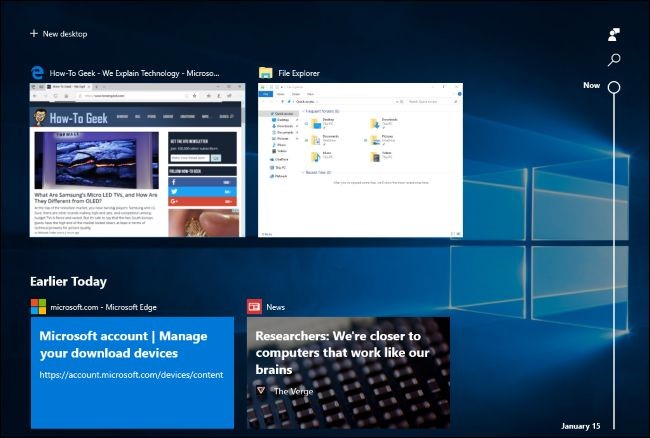 The Timeline feature enhances the "Task View" with a history of activities you've previously performed on your computer. When you click the "Task View" button (bottom left on your taskbar) or press Windows+Tab, you'll see activities from "Earlier Today" as well as previous days below your currently open application. This might include web pages you had open in Microsoft Edge, articles you were reading in the News app, documents you were working on in Microsoft Word, and places you were viewing in the Maps app.
The point of this feature is to make it easier to resume "activities" you were previously undertaking. These will even sync across your devices, so you can resume activities on a different PC. Cortana will also pop up and provide you with a list of activities to "Resume from your other devices" when you move between two devices with activities enabled.
You can use the scroll bar or search box to scroll back through activities. They're categorized by day, and if you view all activities from a specific day they'll be categorized by hour. You can right-click an activity and find options to clear all activities from that day or hour. There are new options for controlling how this feature works under Settings > Privacy > Activity History.
You can see more info HERE
"Nearby Sharing" brings easy Wireless File Sharing
Windows 10 now has a "Nearby Sharing" file sharing feature that works a lot like Apple's AirDrop. This feature has also been called "Near Share."
Assuming your PCs have Bluetooth enabled, you can click the "Share" button in any app and nearby devices with Nearby Sharing enabled will appear in the list. Click one of the devices, and you'll share the content with it wirelessly.
This works in any app with Share functionality. You can use it to share photos in the Photos app, share web page links in Microsoft Edge, or even share files wirelessly in File Explorer. The Diagnostic Data Viewer Shows What Windows Sends to Microsoft
You can see more info HERE
Diagnostic Data Viewer
Microsoft occasionally sends diagnostic data from your computer to itself to help keep Windows 10 secure and up to date. There was a bit of flack when this feature was incorporated and MS is still trying to alleviate the privacy concerns by being more transparent. To that end, there's a new "Diagnostic Data Viewer" application which shows you, in plain text, the exact diagnostic information your Windows 10 PC is sending to Microsoft. It even shows all the information stored in Microsoft's cloud about your specific hardware device.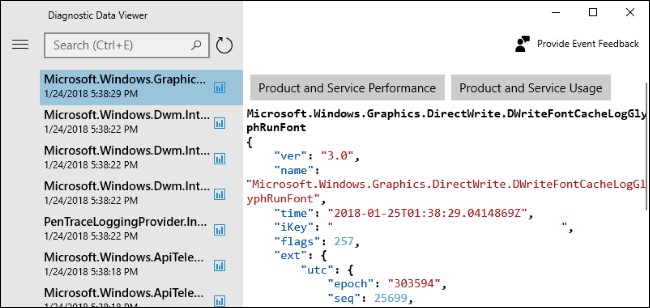 If you're worried about your privacy you can enable this feature and see exactly what information is being sent to Microsoft. If you're like a lot of people with nothing to hide – you don't care one bit and won't worry.
If you're worried, you can enable this feature by heading to Settings > Privacy > Diagnostics & feedback. Toggle the "Diagnostic data viewer" option "On". The Viewer needs up to 1G of space on your hard drive to collate all that info, so if you're on the red line with disk space, you should consider doing it. Once you've enabled it, you can click a "Diagnostic Data Viewer" button to go to the Microsoft Store and download the free Diagnostic Data Viewer application for your PC, which will allow you to view the information. You can use the search box to find specific data or filter by different types of events.
You also have the option of sending only Basic data to MS or Full data, previously, only system administrators could change this setting, and you now have the option of deleting all the diagnostic data collected from your device. Just click the "Delete" button under Delete diagnostic data on the Settings > Privacy > Diagnostics & feedback screen.
Quick Pairing for Bluetooth Devices
A "quick pair" feature that will make it easier to pair Bluetooth devices with your PC is now available. Just place a Bluetooth device in pairing mode near your PC and you'll see a notification asking you to pair it, so you won't even have to open the Settings app and navigate to Bluetooth settings.
Initially, this feature only works with the MS Surface Precision Mouse and device manufacturers will have to add support for it but it's the Windows version of a feature that's coming to every modern platform, including Fast Pair on Android and the easy pairing process of Apple's AirPods or a W1 chip-enabled set of Beats headphones on an iPhone. Along with Bluetooth 5.0, this should make using Bluetooth devices easier to use and more powerful on every platform.
You can see more info HERE
Faster Update Installation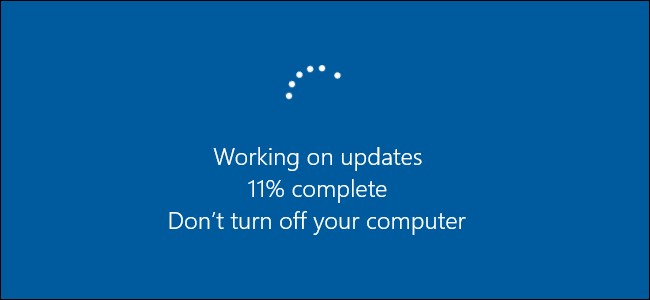 Even if you don't care about Windows 10's updates, or especially if you don't care about Windows 10's updates, you'll like this one. This update will speed up the installation of these twice-a-year updates in the future. More of the update process is done in the background while you're using your PC, which means the time you have to sit and wait for the update to install is decreased. This online update process is run at a low priority, so it shouldn't slow your PC down while using it.
According to Microsoft's tests, the "offline" update time, that is, the time you have to wait while staring at an "Updating" screen after rebooting your computer, has decreased by more than 50%
You Can Now Manage Fonts in Settings and Install them from the Store
As part of the process of retiring the old Control Panel and moving everything to the new Settings app, there's now a Fonts screen at Settings > Personalization > Fonts that will allow you to view, install, and uninstall fonts.
Fonts are also available in the Microsoft Store for easier installation. Click the "Get more fonts in Microsoft Store" link on this screen and you'll open the Fonts collection in the Microsoft Store, allowing you to download and install fonts in an easier, more convenient way.
Microsoft Edge Improvements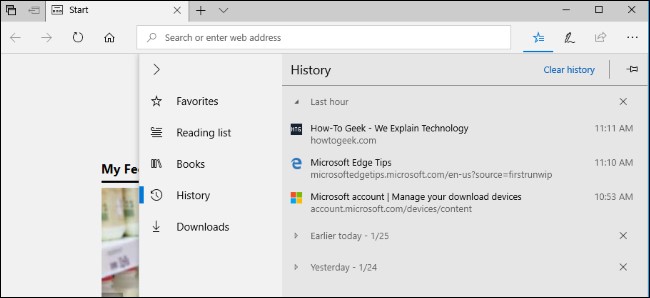 Edge now has a redesigned "hub" (the 3 little dots top right) the popup that shows your bookmarks, history, downloads, and even eBooks from the Microsoft Store. When right-clicking a book in the library view, you can now choose to pin it to your start screen. Edge's favourites bar now automatically appears on the new tab screen assuming you have at least one favourite. There's also a redesigned dark theme with darker blacks and more contrast, as well as more acrylic-style fluent design throughout Edge's interface.
Microsoft's web browser can now remember information like your name and address and automatically fill in forms on websites, something competing browsers have been doing for years. It can sync this information across your devices an even automatically fill your credit card information on websites, if you like. It doesn't remember the CVV code, so you still have to enter that at checkout.
You can now right-click a tab and select "Mute Tab" to silence it. When browsing in InPrivate mode, you can choose to allow certain extensions to run and optionally fill in passwords, if you like. You can choose to never save a password for a specific website and Edge will never ask you to save your password on that site again.
The full-screen mode you can access by pressing F11 has been improved. You can now hover your mouse cursor near the top of the screen or swipe down from the top of the screen with a finger to access the navigation bar without first leaving full-screen mode. There's also a new "Clutter-free printing" option. When printing in Edge, set the Clutter-free printing option to "On" and Edge will print the web page without ads and other unnecessary clutter. This won't work on every website, however. (If you can't see this feature on your computer, get it HERE)
My People Settings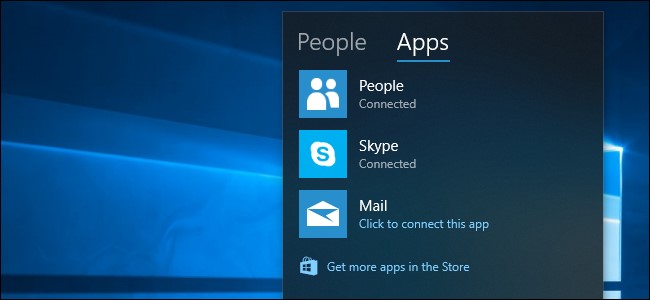 The My People feature that debuted some time ago has had a number of improvements, too. My People now supports drag and drop, so you can drag and drop contacts in the My People popup to reprioritise them or drag and drop the people icons on your taskbar. Previously My People only allowed you to pin three people to your taskbar, but you can now choose how many you want to pin, from a drop down box, from one to ten. Head to Settings > Personalization > Taskbar to find this option. People pinned to the My People popup can now send you animated emoji notifications, too.
Windows will now suggest apps you may be interested in that integrate with My People. You can disable this from Settings > Personalization > Taskbar, if you like.
My People is a handy little feature, you can see more info HERE
App Permission Options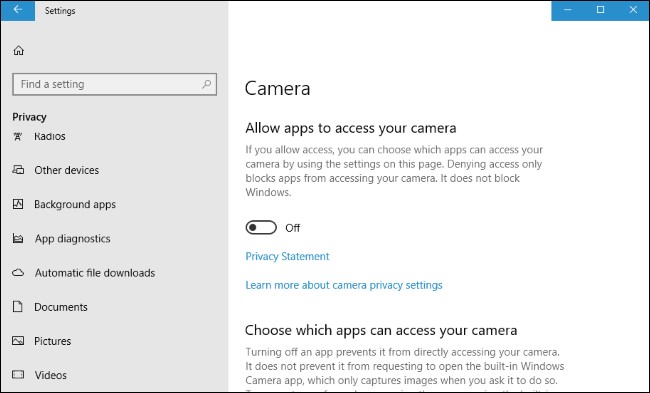 Ten years ago the idea that people, be they government agents, hackers, or just law-breaking voyeurs, could actively spy on you through your computer's webcam would be the considered the ramblings of a paranoid conspiracy theorist. A bunch of news stories over the intervening years, however, have revealed that what was once considered paranoia is now an uncomfortable reality.
If you're worried about this, you can deny access to your web cam very easily by clicking just a few buttons. When you toggle "Let apps use my camera hardware" under Settings > Privacy > Camera to "Off", legacy desktop apps will not be able to use your webcam. This means Windows now has an easy software option that will disable access to your webcam for all applications. However, because what's done in software can be overridden by software, you may still want to cover your webcam or unplug it when you're not using it.
There's no way to control which legacy desktop apps can access your webcam. If access is on, all desktop apps can view it. If access is off, no desktop apps can view it. But! Windows now allows you to control which UWP (Store) applications have access to your full file system, or your Pictures, Videos, and Documents folders. When an application wants access, it has to ask you for permission. Under Settings > Privacy, you'll find tabs for controlling access to your File System, Pictures, Videos, and Documents.