Privacy Policy | Editorial Policy | Profit Policy | Join the Association | List of Members | Contact us | Index | Links
Back Go to page: 1 2 3 4 5 6 7 8 9 10 11 12 13 14 15 16 17 18 19 20 Forward
Air Marshal's Symposium at Amberley 2017
Centuries of experience descended on Amberley back in November 2017 for an Air Marshal Symposium. Held at a different location every year, the symposium enables former senior Air Force officers to remain involved with training, culture and capability. CAE AIRMSHL Leo Davies said the gathering was more than just an opportunity for a catch-up. "It enables us to show them what a modern Air Force looks like and to see some of the things they started come to fruition,"
One of the attendees, AIRMSHL David Evans (retd), joined the Air Force in 1943 and retired in 1985 as Chief of the Air Staff. The veteran of the Berlin Airlift and the Vietnam War said today's Air Force was the best it had ever been. "Things Air Force has today, like the tanker and the AEW and C air craft [Wedgetail], I applied for in 1978. It took 32 years to get them but it has made our Air Force one of the most well equipped you'll find,"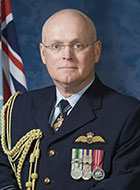 AIRMSHL Evans started the Air Marshal Symposiums in 1983. "I was in England visiting their Chief and he said he couldn't see me that night because he was having an Air Marshals' dinner. I thought it was a good idea and we've been doing it ever since,"
Former CAE AIRMSHL Geoff Shepherd (retd) right, who retired in 2008, also attended the Amberley symposium. He said "The big changes are the equipment that's coming in, things we've been planning for decades, I look back at the culture of the Air Force as the great underpinning of all the new capabilities we now have in service."
DCAF AVM Roxley McLennan (retd), said capability was the biggest change to Air Force. "When the oldest aircraft in the fleet is a C-130J, which came into service in 1999, that's a far cry from some of the very long-toothed aeroplanes that we used to fly back in the '60s, '70s, '80s — even the '90s."
Lisa Williams – pretending she knew what she was doing!!!
Back in 1979/80 Lisa was posted to Townsville and one day she and a bunch of blokes and

blokettes from the Comm Centre were sent bush with some radio gear and told to test it.

Lisa shown here, holding some sort of antenna, hoping it won't hurt.

(The eskys were just out of frame to the left)
Dining In night!
(Couth and culture??)
Townsville Airman's Mess (about 1979)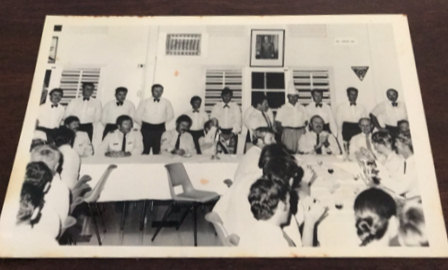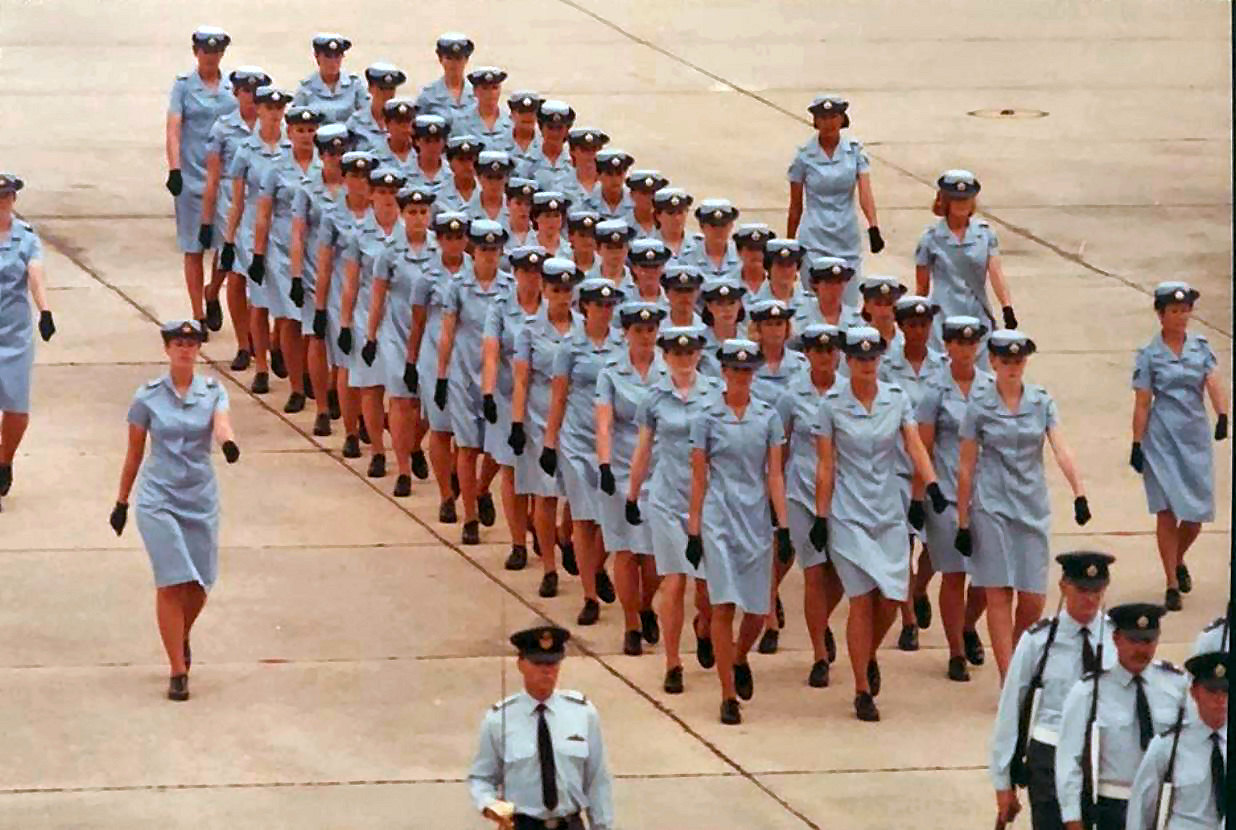 The Airwomen's flight for the Queen's Colours Presentation Parade at RAAF Richmond in March 1986. The flight members were attached to Richmond for a month to drill and rehearse for this parade which went off very well in great weather conditions.
Old Telstechs.
Friends for only 49 years.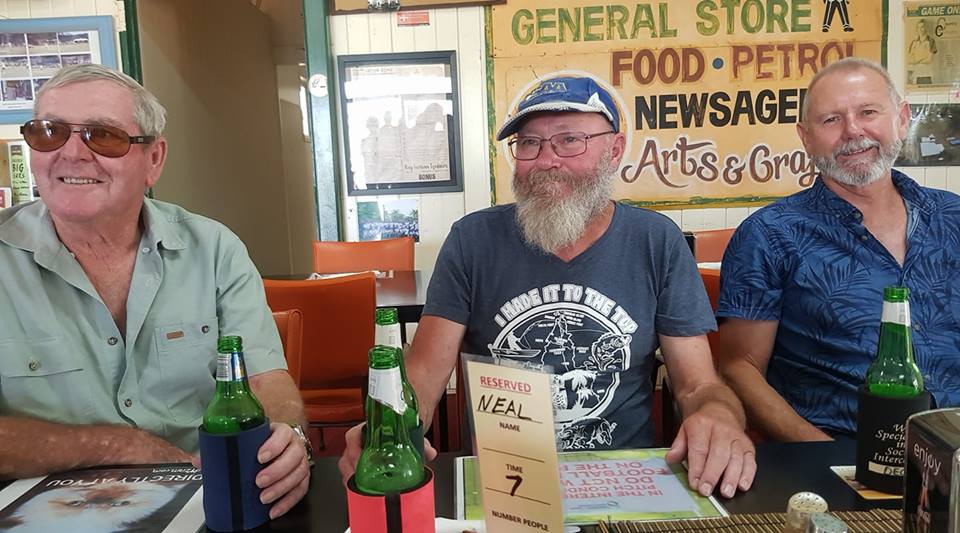 Three ex Telstechs in the Mt Alford Qld pub. Barry Powell, Neil Miller and Clive Johnson.
159 Radtech.
We're short a few names, if you can help, please do.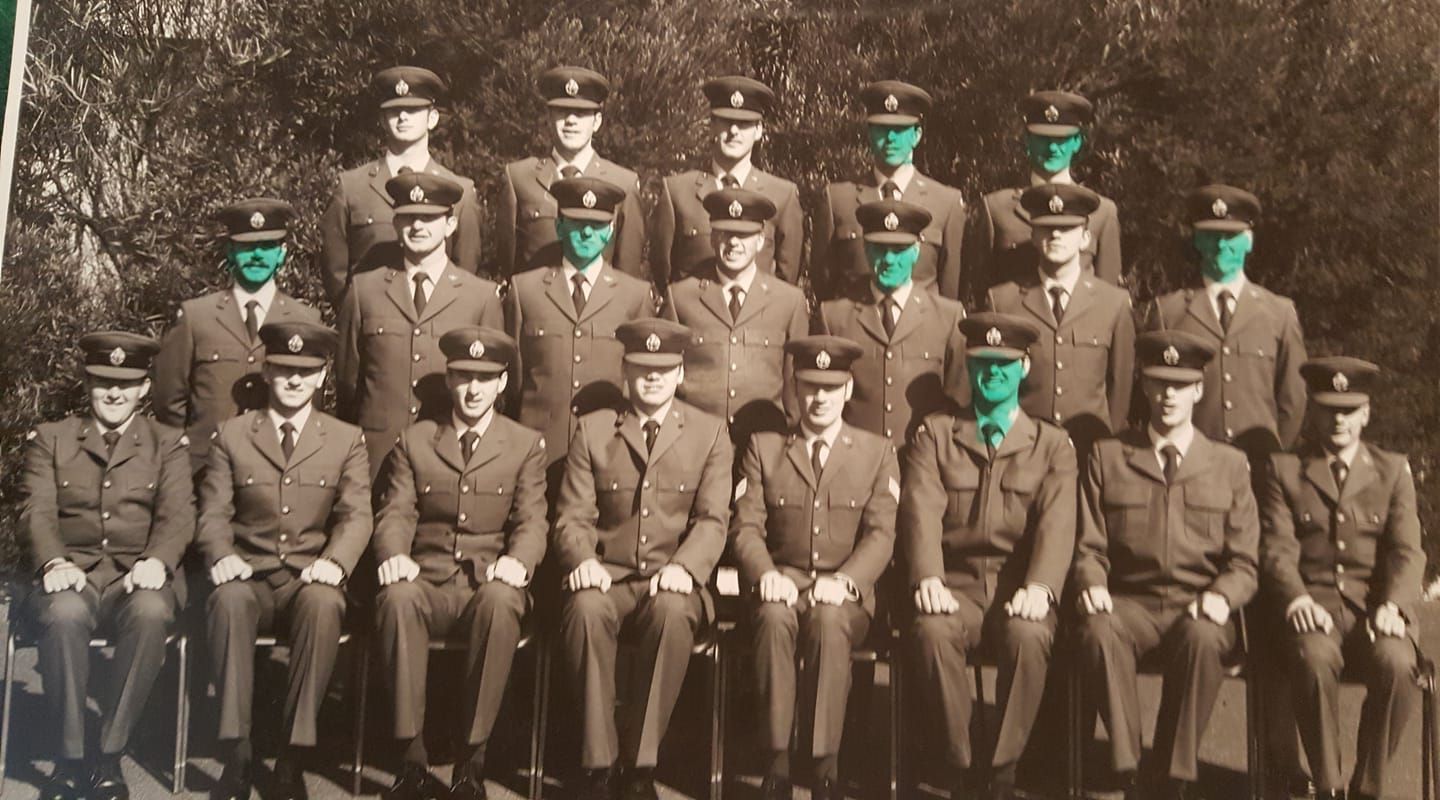 Back row L-R: Michael O'Connell, Neil Kent, Don't know, ? Marr, Steve Leech
Middle row L-R: Don't know, ? Hicks, "Have a chat", Ian Johnson, Wayne Burrows, Tomlinson, "Curly"
Front row L-R: Steve O'Brian, ? Thorpe, Don't know, Noel Marriott, Don't know, Brenton Jones, Dav Ross, Nick Savino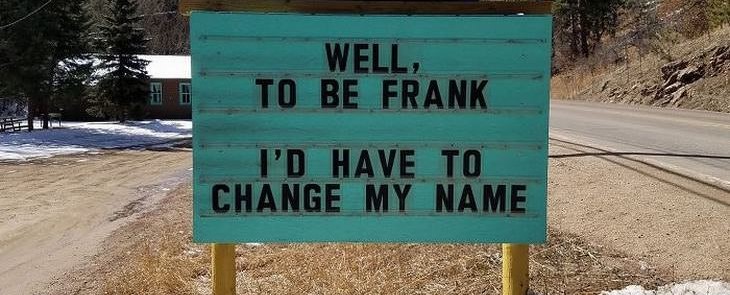 Sigs Survival Exercise – Ballarat.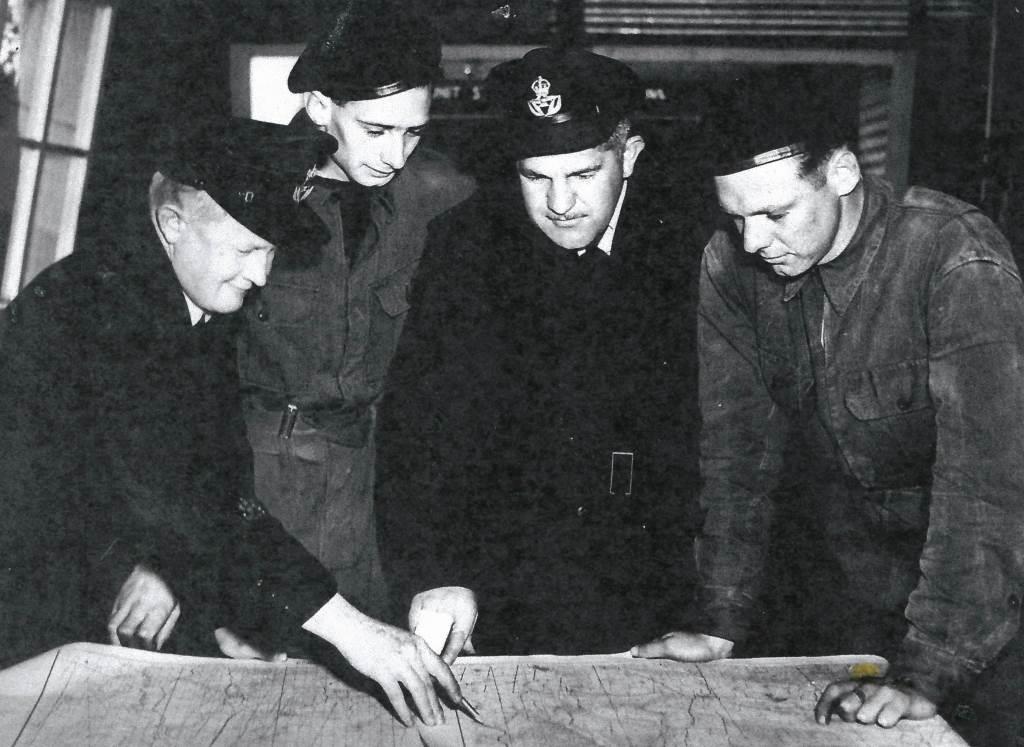 L-R: Kev Wield, A Bently, ? Russell, Al Salisbury.
Army 104 Sigs Squadron, Nui Dat.
104 Signal Squadron (104 Sig Sqn) was raised for service in South Vietnam at Wacol, Brisbane, Qld in November 1965. It replaced 103 Sig Sqn in South Vietnam in April 1967 and only returned to Australia after the Australian Task Force involvement ceased, in November 1971.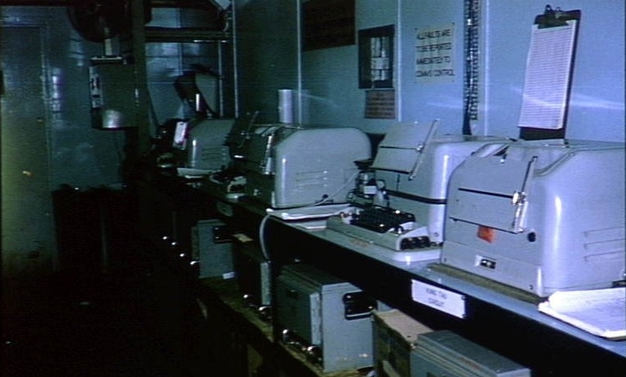 104 Sig Sqn has the distinction as the longest serving (5 years and 8 months) active service tactical signals unit in the Australian Army - both past and present. Over 800 soldiers served in the Squadron during its over 5 years war service in South Vietnam. Three members were lost on active service during the period.
104 Sig Sqn was part of the 1st Australian Task Force at Nui Dat in Phuoc Tuy Province, South Vietnam. At the 1ATF base at Nui Dat, the 1 Australian Task Force Communications Centre (COMCEN), manned and owned by 104 Sig Sqn Comcen Troop, played the key role in keeping Australian and Allied units in contact with each other. More than 1,000 telephone and telegraph circuits feed into the COMCEN, including 70 microwave channels from bases outside Nui Dat.
Staffing the COMCEN was 50 men, working two shifts to keep communications operating 24 hours a day, seven days a week. In the telegraph area, the soldiers handled over 700 messages on some days. Next door, the 200-line switchboard averaged 4,300 connections each day. In peak hours, two switchboard operators handled 3 calls every 10 seconds. Messages received in the COMCEN were registered and prepared for dispatch by clerks. Depending on the priority of the message, it was either delivered by special delivery or the more usual Dispatch Rider.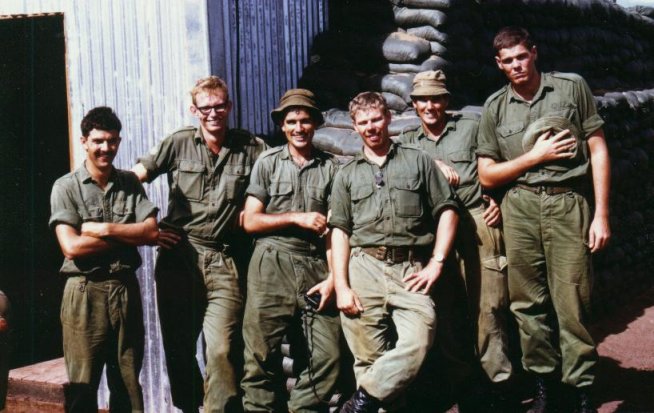 L-R: Dave Ellis, Gordon Taylor, Glenn Sweet, Keith Oliver, Terry Hunter, Richard Christiansen. Nui Dat 1968.
Regularly during the day, the Signals Delivery Service would visit the major units of the Task Force delivering and picking up messages, packets and other correspondence. The route covered about six miles and took the signalman Dispatch Rider one hour to complete the task. The COMCEN also controlled an Aerial Delivery Service, which used helicopters and fixed wing aircraft to deliver correspondence to outlying units and bases.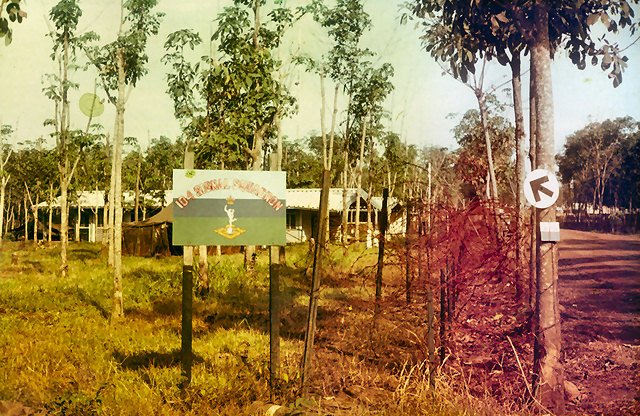 Working behind the scenes in adverse conditions, maintaining and repairing the telephone lines plus electronic communication equipment, was a team of linesmen and technicians. In addition, clerks, drivers, cooks, storemen and other soldiers played a vital role keeping the unit fully operational.
104 Sig Sqn Radio Troop controlled and manned radio (voice, telegraph and morse code) links into and out of the Task Force and were found in all the major units of the 1ATF and with the Liaison Officers attached to Allied units. The Squadron also planned, issued and managed the callsigns and frequencies required by all the Task Force units.
When the Task Force HQ moved forward from Nui Dat the COMCEN and key radio links at Nui Dat were reproduced in the field. After the Battle of Coral in 1968, an Amphibious Combat Vehicle (ACV), Callsign 85C, was specially fitted out to carry the actual COMCEN and on all following deployments, the ACV COMCEN was ready to transmit messages between the forward HQ and the rear HQ, within 20 minutes of arriving on the site.
As well as running the Task Force communication system the unit was responsible for its own area defence and for conducting Tactical Area of Responsibility Patrols.
After service in South Vietnam, 104 Sig Sqn returned to Australia and was located first at Ingleburn and then Holsworthy, NSW, supporting the 1st Brigade [Renamed 1st Australian Task Force (1ATF) that served in South Vietnam] until the Brigade was relocated to Darwin in the late 1990's.
Click the pic below to see Nui Dat - as it was during the war and again in 2017.. A lot of memories for some!!
RTFV Vung Tau. 1964.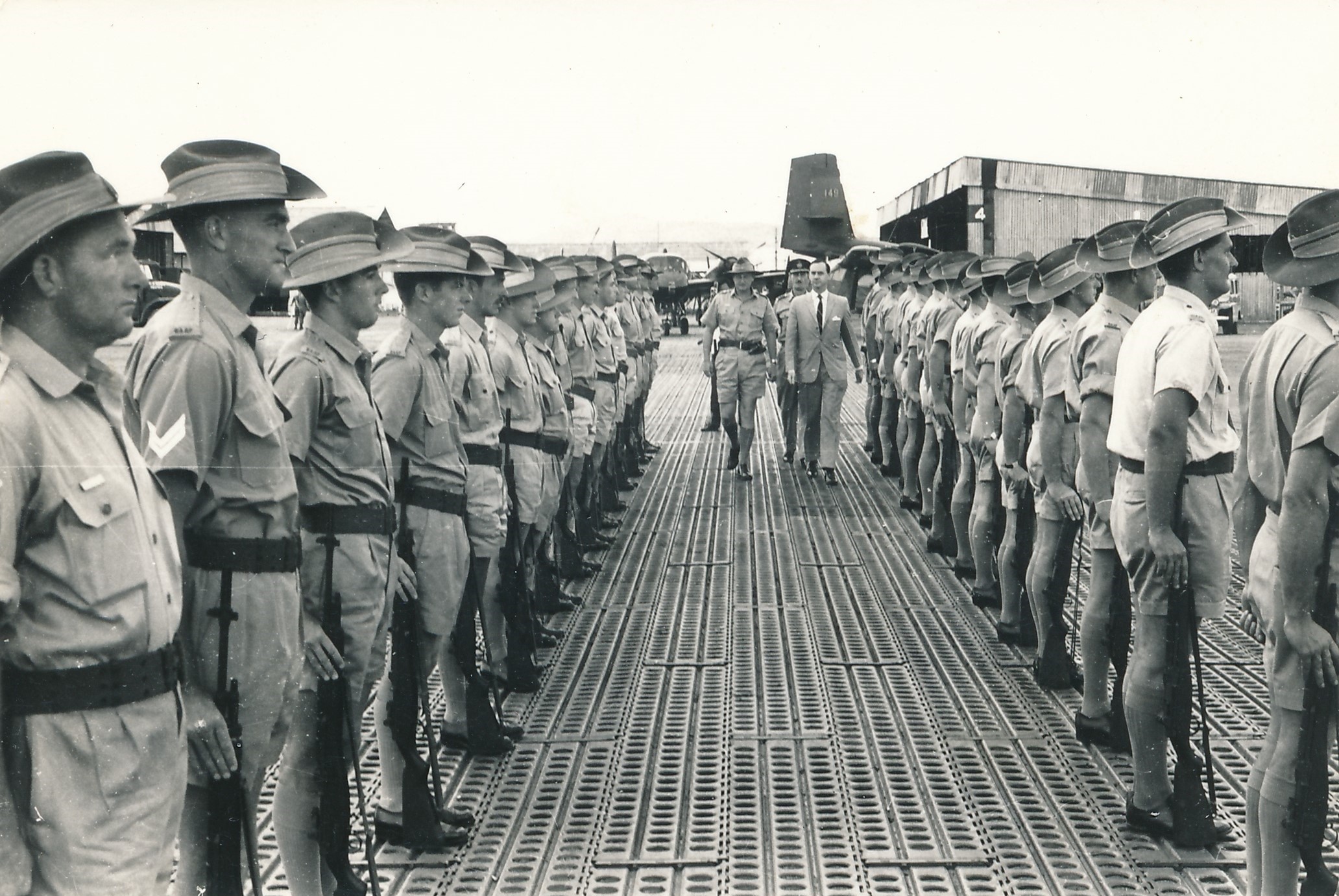 Harold Anderson, the Australian Ambassador to South Vietnam with the RTFV CO, Chris Sugden, inspecting the troops.
Your tongue is the only muscle in your body that is attached at only one end.
Ubon.
On the 1st June 1962, 8 aircraft from 79 Squadron flew into a Royal Thai Air Force base at Ubon, 80 kilometres from the Laotian border, as part of a South-East Asia Treaty Organisation (SEATO) plan to defend north-east Thailand against an expected communist invasion. The unit had been hastily cobbled together, taking Sabre Mk 32 aircraft from 77 Squadron which was stationed at Butterworth at the time. In order to preserve Malaysia's neutrality, the Sabres were flown to Thailand via Singapore.
Over the next 10 days, RAAF C-130 Hercules from Richmond, flew in a base squadron of 200 men and 450 tonnes of supplies and equipment to establish a tented camp. The United States, United Kingdom and New Zealand also deployed forces to Thailand in response to this perceived threat, though Malaysia and several other SEATO members chose not to be involved.
Although the crisis which prompted the deployment was defused by negotiation, 79 Squadron remained at Ubon until August 1968, as part of an integrated air defence system protecting American forces engaged in bombing North Vietnam from communist retaliation.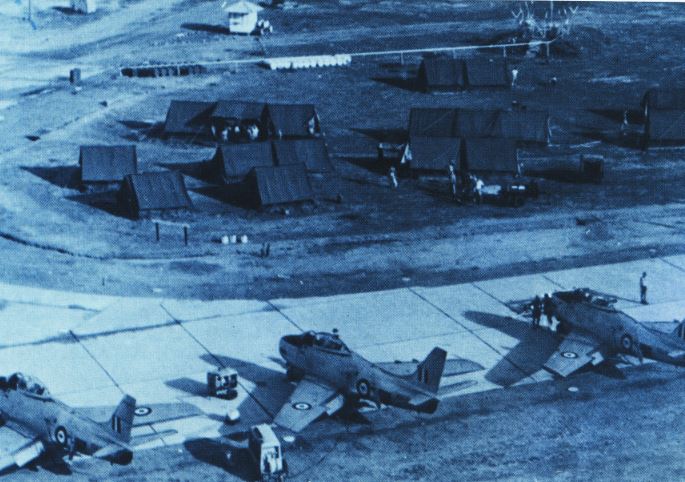 The initial encampment- Ubon.
The squadron arrived at Ubon Air Base in eastern Thailand on 1 June 1962 and flew its first operational patrol four days later. Facilities at Ubon were initially spartan and the pilots and ground crew lived in tents. Construction of permanent accommodation began under the supervision of No. 5 Airfield Construction Squadron in September 1962, however, and facilities were later further improved. Despite Malaysia's policy of neutrality in regards the conflict in Southeast Asia, 79 Squadron operated as a detachment of the RAAF force No. 78 Wing) based at Butterworth throughout its time in Thailand. Aircraft and personnel were regularly transferred between Butterworth and Ubon and most pilots' nominally six-month-long tours of duty in Thailand were broken into several shorter periods during which they and their aircraft were illegally rotated between the two bases.
In March 1963 the Defence Committee, the highest decision-making body of the Department of Defence, recommended to Cabinet that 79 Squadron be withdrawn from Thailand on the grounds that the British and New Zealand contingents had left the country. The Cabinet's Foreign Affairs and Defence Committee decided against this on 28 March as it was believed that maintaining the squadron at Ubon helped maintain good relationships with Thailand and the United States. The Thai Government was discreetly asked if it would prefer a different form of assistance, however.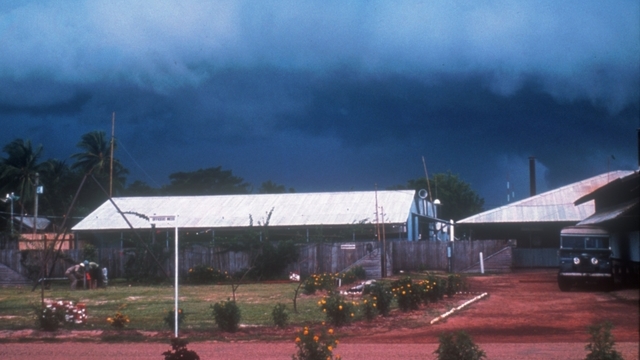 The RAAF Officer's Mess, Ubon.
The tooth is the only part of the human body that cannot heal itself.
Throughout its period at Ubon, 79 Squadron formed part of an international force tasked with defending Thailand's air space against intruders. At the start of the deployment, tensions in Thailand were such that the squadron's personnel believed that they were at war. While the sit

uation became more stable from late July 1962, 79 Squadron maintained armed aircraft on alert at all times and scrambled Sabres when unidentified aircraft were detected. No air attacks were conducted against Thailand, however, and the unidentified aircraft that were intercepted almost always proved to be from the Central Intelligence Agency controlled Air America. In January 1965 two Sabres accidentally overflew North Vietnam after becoming lost during a training sortie but returned safely to Ubon.
From early April 1965, Ubon became an important base for United States Air Force (USAF) attacks on North Vietnam during the Vietnam War, and 79 Squadron became part of an integrated air defence system controlled by the USAF on 25 June. This changed the status of the squadron's presence in Thailand and RAAF Headquarters assessed that the North Vietnamese would be justified in regarding it as forming part of the air campaign against their country.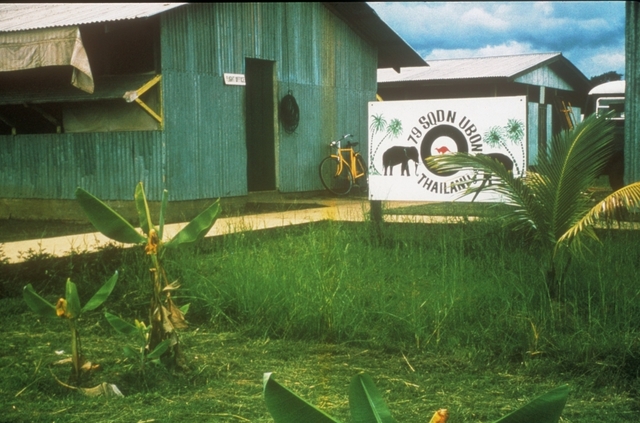 Zero is the only number that cannot be represented by Roman numerals.
Due to the threat of counter-attacks on Ubon, the base's ground defences were upgraded during 1966; this included the construction of defensive positions for 79 Squadron's aircraft and personnel as well as the deployment of a detachment of RAAF airfield defence guards. While the squadron did not play an active role in the war, it supported the US effort by providing air defence for Ubon and taking part in exercises with USAF aircraft in which the Sabres adopted tactics used by North Vietnamese MiG-17 fighters. In December 1965 the commander of the United States Pacific Air Forces, General Hunter Harris, Jr., wrote to the chief of the RAAF, Air Marshal Alister Murdoch, to suggest that 79 Squadron join the USAF operations against the Ho Chi Minh trail in southern Laos which were being covertly conducted by Ubon-based aircraft.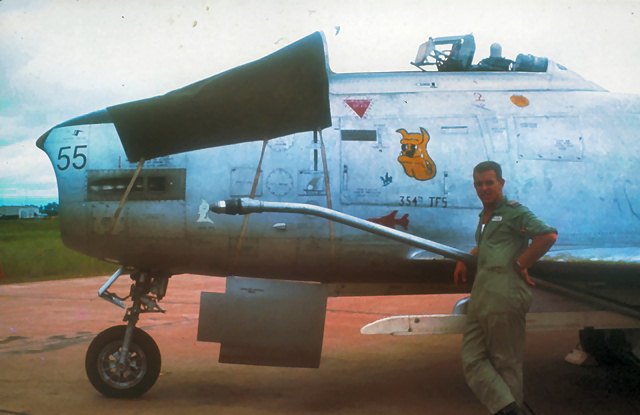 A younger Dave Rogers, standing in front of a Sabre aircraft of 79 Squadron at Ubon. The 'modified' air-to-air refuelling probe, tied to the Sabre's landing gear, was an inspired joke. RAAF pilots had long aspired to an aerial refuelling capability since at least 1958 and it was not to be realised until 1990.
The Thai Government indicated that it would allow the squadron to be used for this purpose as long as the Australian operations were conducted without a formal agreement or any public announcement.
On 2 March 1966 the Australian Cabinet decided to reinforce the Army and RAAF force in South Vietnam, but rejected the option of expanding the scope of RAAF operations in Thailand. This decision was made on the grounds that the expanded force in South Vietnam and existing deployments to Thailand, Malaysia and Singapore represented the maximum forces Australia could commit to the region.
By mid-1968, 79 Squadron no longer had a clear role at Ubon. The USAF had sufficient fighters based in Thailand to defend the country and was reluctant to use the Australian fighters, which were now regarded as obsolete, to intercept potentially hostile aircraft, as the squadron's rules of engagement did not allow it to pursue contacts that left Thai airspace. As a result, the Australian military's chiefs of staff determined that the RAAF presence in Thailand had outlived its political and military usefulness and decided to withdraw the squadron without replacement. 79 Squadron was taken off alert status on 26 July and disbanded at the end of the month.
On the 31st March 2011 it received a battle honour for its deployment to Ubon between May 1962 and August 1968.
The song, Auld Lang Syne, is sung at the stroke of midnight
in almost every English-speaking country in the world to bring in the new year.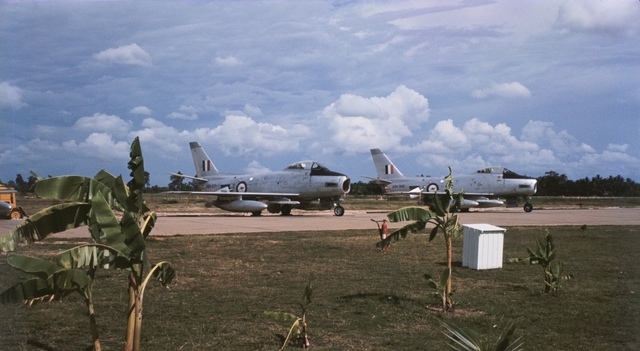 Two Sabre aircraft of 79 Squadron line the tarmac apron at Ubon. Long range Sidewinder missiles are underslung below the wings. Also visible are 167 gallon drop fuel tanks.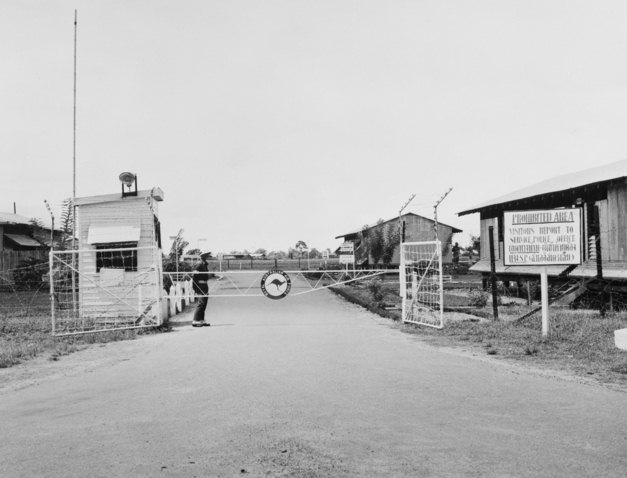 Entrance to the RAAF Base at Ubon – 1965.
The military salute is a motion that evolved from medieval times,
when knights in armour raised their visors to reveal their identity.
As she was in 1958.