Privacy Policy | Editorial Policy | Profit Policy | Join the Association | List of Members | Contact us | Index | Links
Back Go to page: 1 2 3 4 5 6 7 8 9 10 11 12 13 14 15 16 17 18 19 20 Forward
Contents.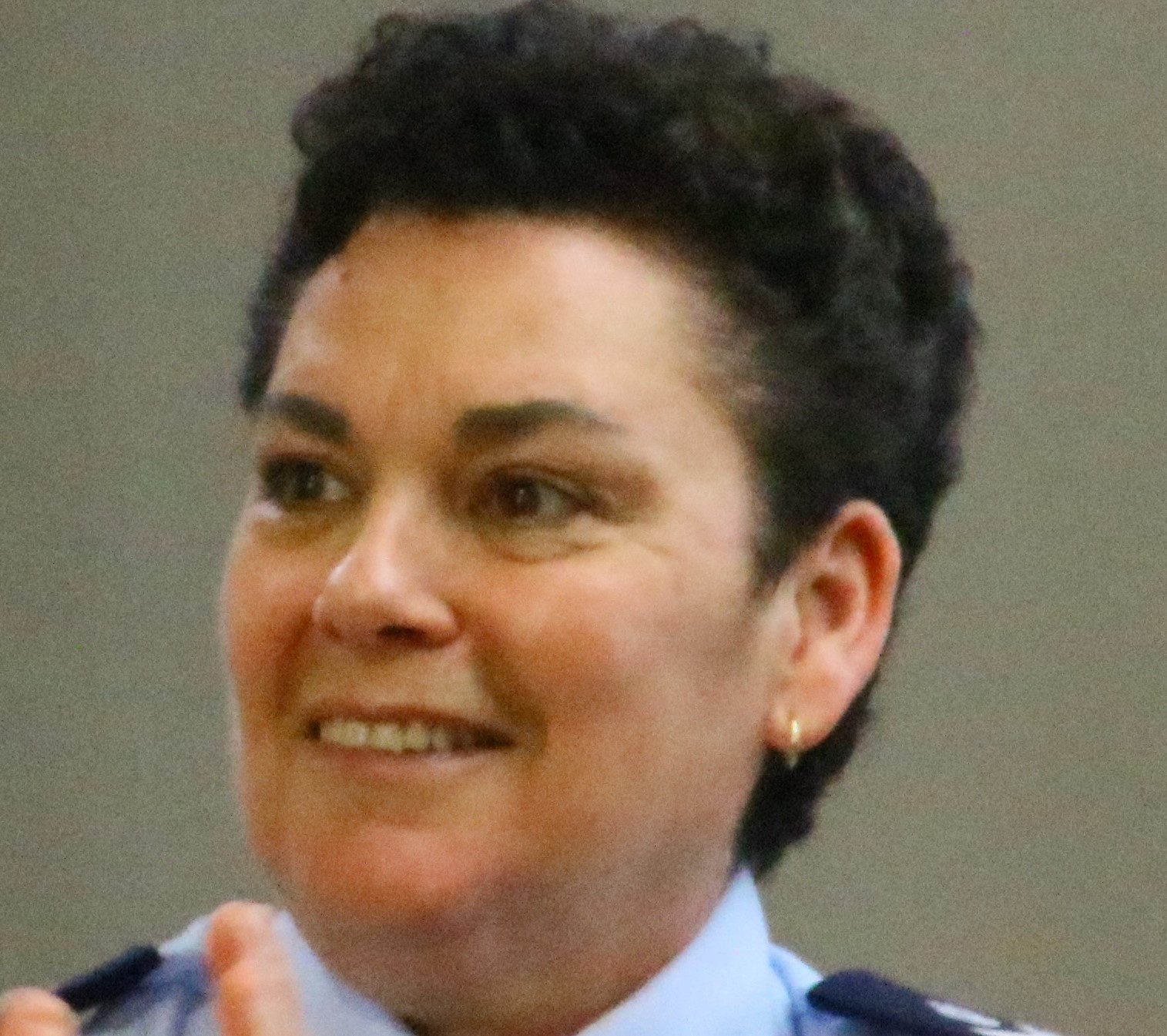 Susan Mallett (nee Cameron)
Susan was born in Lismore, NSW and grew up in Tweed Heads. She attended Tweed River High School and had a great lifestyle growing up on the north coast of NSW, close to beautiful beaches and the Gold Coast.
On finishing Year 12, she attended TAFE to complete a Secretarial Training Course, learning typing and shorthand! On completion of her studies, she applied for, and enlisted into the Air Force in March 1984, recruited in Brisbane, and travelled by Hercules and bus to Adelaide (via Richmond) to be put onto 11/84 Recruit Training Course at 1RTU in Adelaide. Susan is a twin and her sister Jayne coincidentally ended up on the same course – constantly confusing 1RTU staff. They are still both serving as reservists and still cause confusion among acquaintances!
The recruit training was a massive culture shock, but thoroughly enjoyable and certainly built up her discipline and resilience skills. On completion of her training she was posted to 92WG in Adelaide (a long way from Tweed Heads), a real surprise, but a great way to start her career into the workforce. It started off a wonderful, exciting and adventurous 22 year long career.
She joined as a Stenographer and was employed as the Officer Commanding's Secretary at each of her early postings. The stenographer mustering disbanded in 1985 and she remustered to CLKA, then changed again in 1994 to CLK, which is now known as PCS (Personnel Capability Specialist).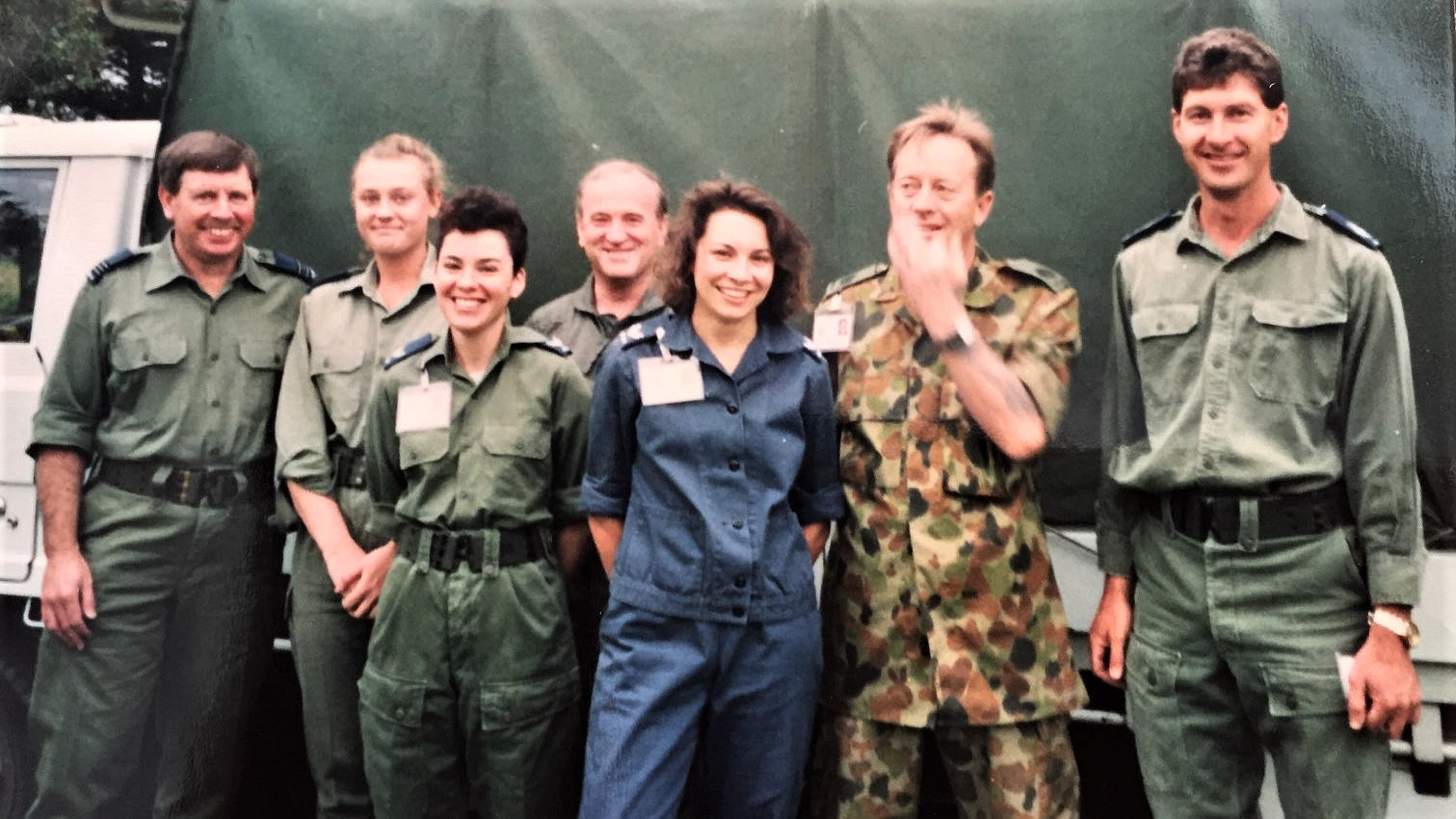 The pic above was taken when Susan was posted to Laverton (about 1985) and when she was on a "Bivouc" at Murray Bridge.
One highlight of Susan's time in the permanent Air Force was her participation in inter-service and ADF volleyball teams. Her involvement in the sport spanned many years and included numerous trips to varied defence establishments and with much rivalry between the State teams, particularly NSW v QLD (state of origin volleyball!)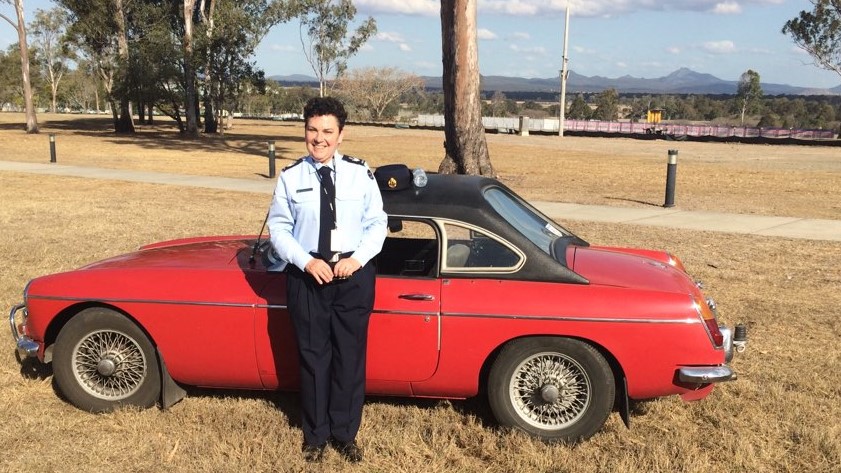 One trip that stands out from the rest was in 1994, when she had the privilege of representing the ADF and travelled to Hawaii, staying at Pearl Harbour, and playing various US defence teams.
Aside from the sporting highlights, she also enjoyed 22 permanent years of postings including Melbourne, Williamtown and Amberley, and is still a Reservist at 82WG HQ at Amberley.
At last year's (2018) Association's Day, the red MGB which belonged to a guest, was parked in the area near the mess and when the owner went to depart – the battery was FLAT. Susan had to help him out, get the OK for the RACQ to come onto the Base and get the car started. Coincidentally, Susan and her husband own an MG as well, so she was chatting with the owner and obviously had that mutual interest.
A memorable workplace reflection was her posting to No 77 Squadron in 1998. She was fortunate to deploy to Kuantan, Malaysia for Exercise CHURINGA 98, as well as deployments to both Townsville and Darwin for local Exercises. To be posted to a flying squadron as a CLK is a great learning experience to discover the air power ability that Defence applies.
Susan currently serves as a Reservist at 82WG HQ RAAF Amberley with the rank of Flight Sergeant where she is primarily employed to organise the annual Associations Day. It is an annual event that is held to maintain long standing affiliation with Association members and fosters the spirit of friendships formed during RAAF service and preserves the memory of comrades who have paid the ultimate sacrifice. The day includes an award presentation ceremony that recognises personnel of all categories and musterings, from Leading Aircraftman/woman up to Squadron Leader, within the squadrons. There are a total of nine trophies awarded to worthy recipients.
The comradeship and mateship Susan enjoyed during her career will stick with her for life. The work ethics and life lessons learned, even from her 'Rookie' days remain with her. It helps her to encourage, promote and incorporate positive influences, values and experiences on all colleagues, acquaintances; and indeed family.
The National Film and Sound Archive of Australia had produced a 25 minute video of the RAAF as it was up to 1971. It was done to mark the 50th anniversary of the formation of the Air Force.
It is definitely worth a look, later in the video you will probably see some faces you recognise.
The C-130H Avionics Systems Familiarization Maintenance Training Class (Class #1) – held at the Lockheed-Georgia Company 09 Jan - 20 Jan 1978.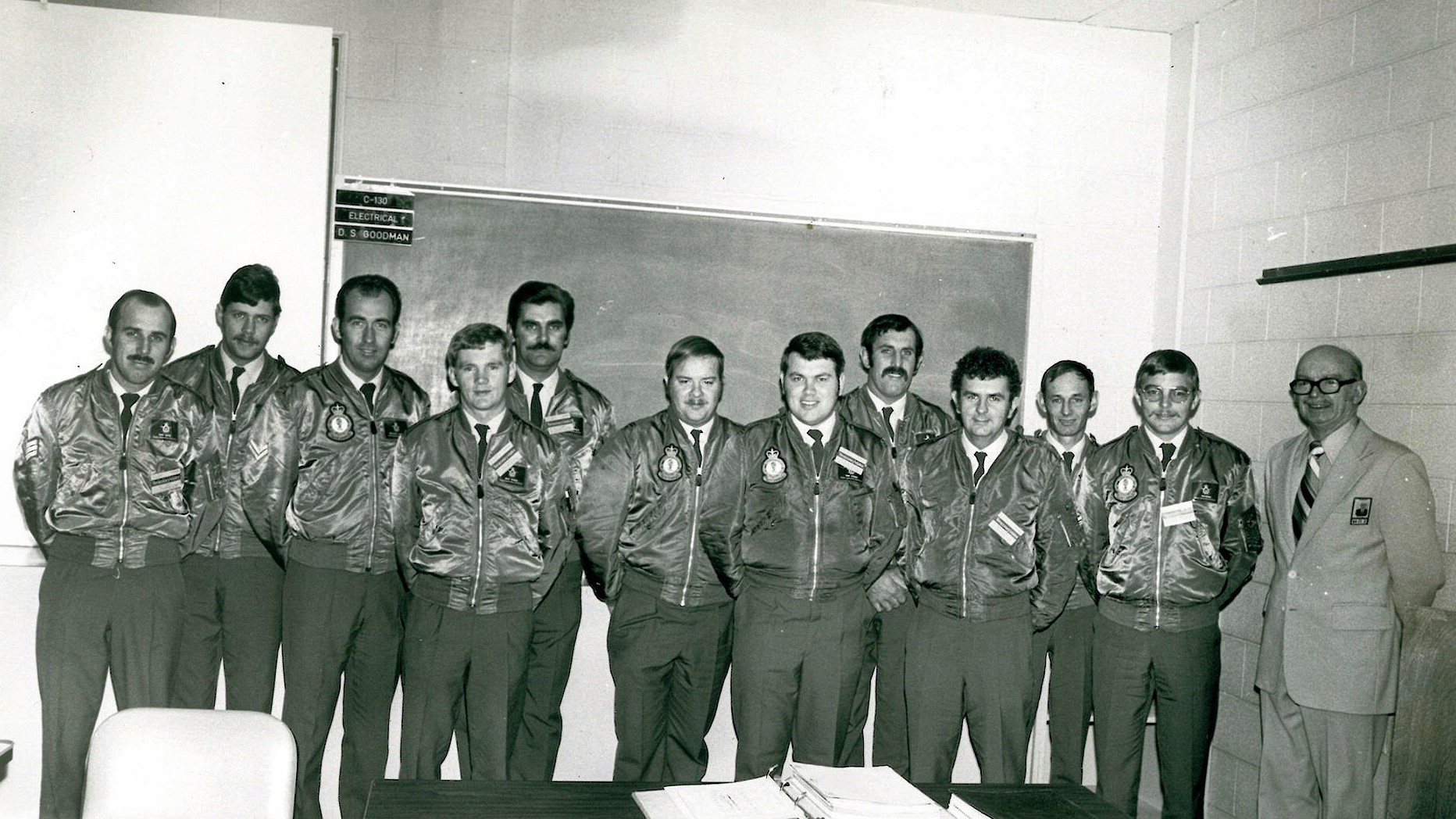 L-R: Leon Smith, Brad Carlisle, Michael Conlon, Arthur Rooney, Adrian Maidment, Thomas Barker, David O'Hearn, John Rutland, Ian Hoffman, Graeme Buchanan, Phillip Palmer, D. S. Goodman (Instructor).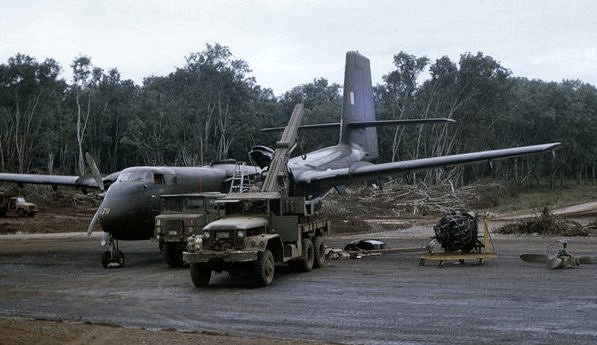 Way back before WH&S got involved in our lives, when a job had to be done, blokes and blokettes just got in and did it using whatever bits of gear were available to get the job done. We think the pics above and below were taken back in 1966 and show a Caribou (A4-179) from 35 Sqn, which was stationed at Vung Tau at the time, undergoing an engine change at the top end of Luscombe Field, which was the airstrip at the Army Base at Nui Dat.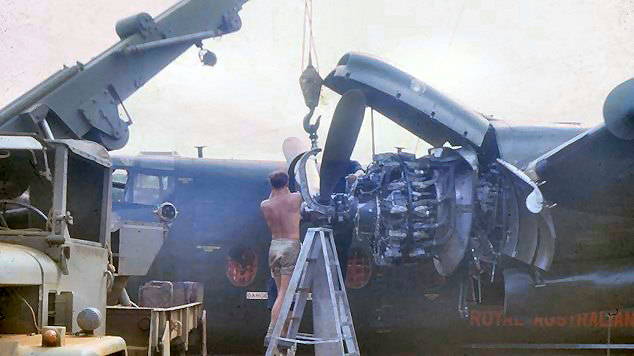 To lift the engine off then install the new one, the 35Sqn sumpies called on a couple of Army vehicles, one with a crane on its back. An aluminium ladder and an International 4 X 4 tray-back truck were used as engine stands to get the blokes up to height and the crane truck did all the heavy lifting.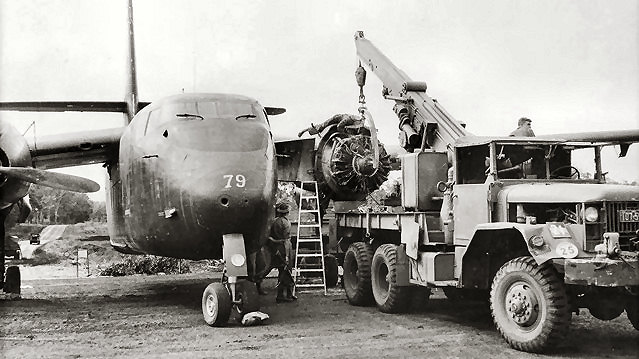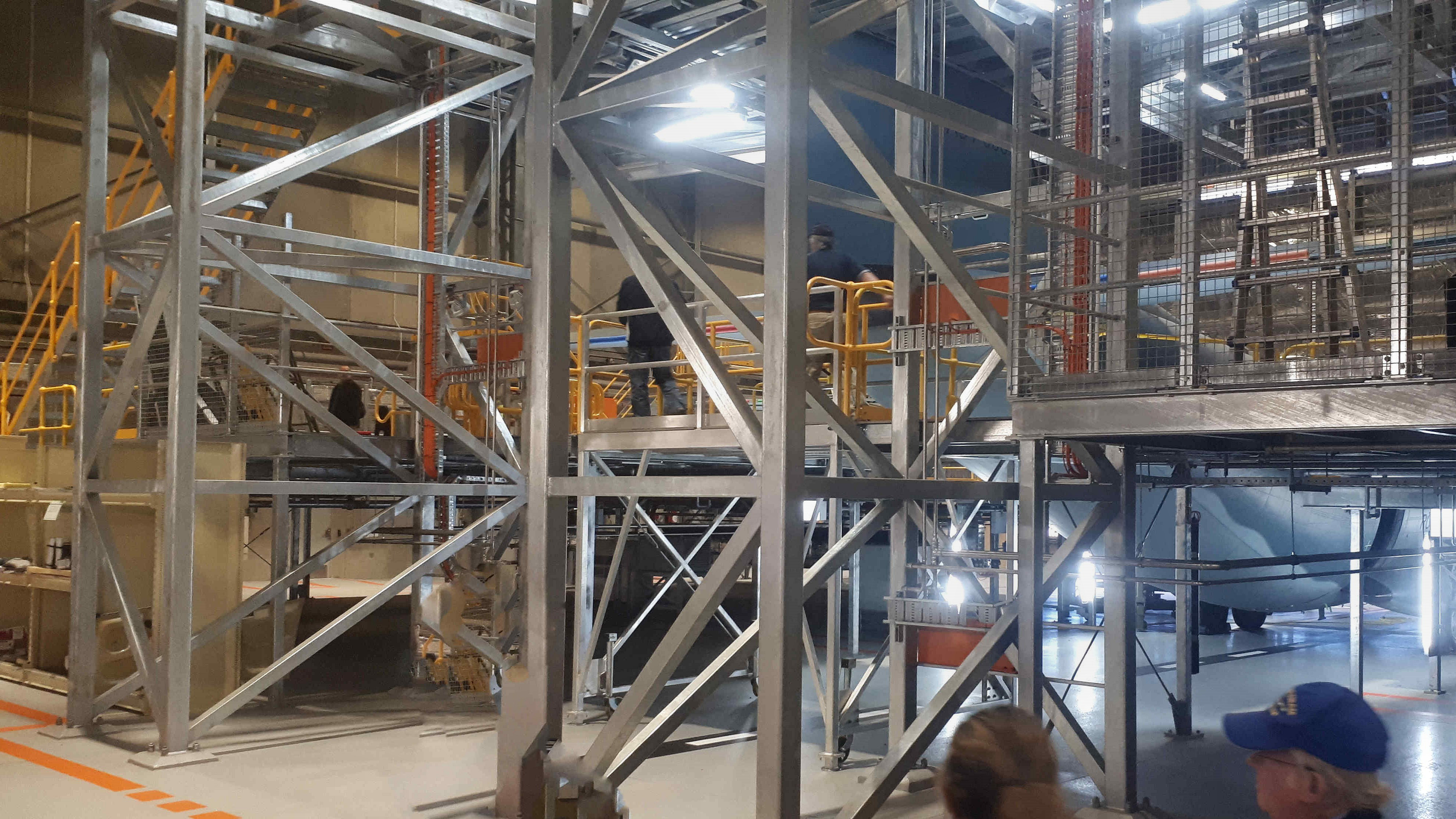 .
They don't do things like that anymore! Those days are gone. No longer are t-boots and shorts the dress of the day, standing on 44s to service engines is now a big no no, no longer do you see those unwieldy wheeled yellow engine stands in hangars, these days you get the facilities above, these days the stands cost nearly as much as the aircraft itself.
Softies!!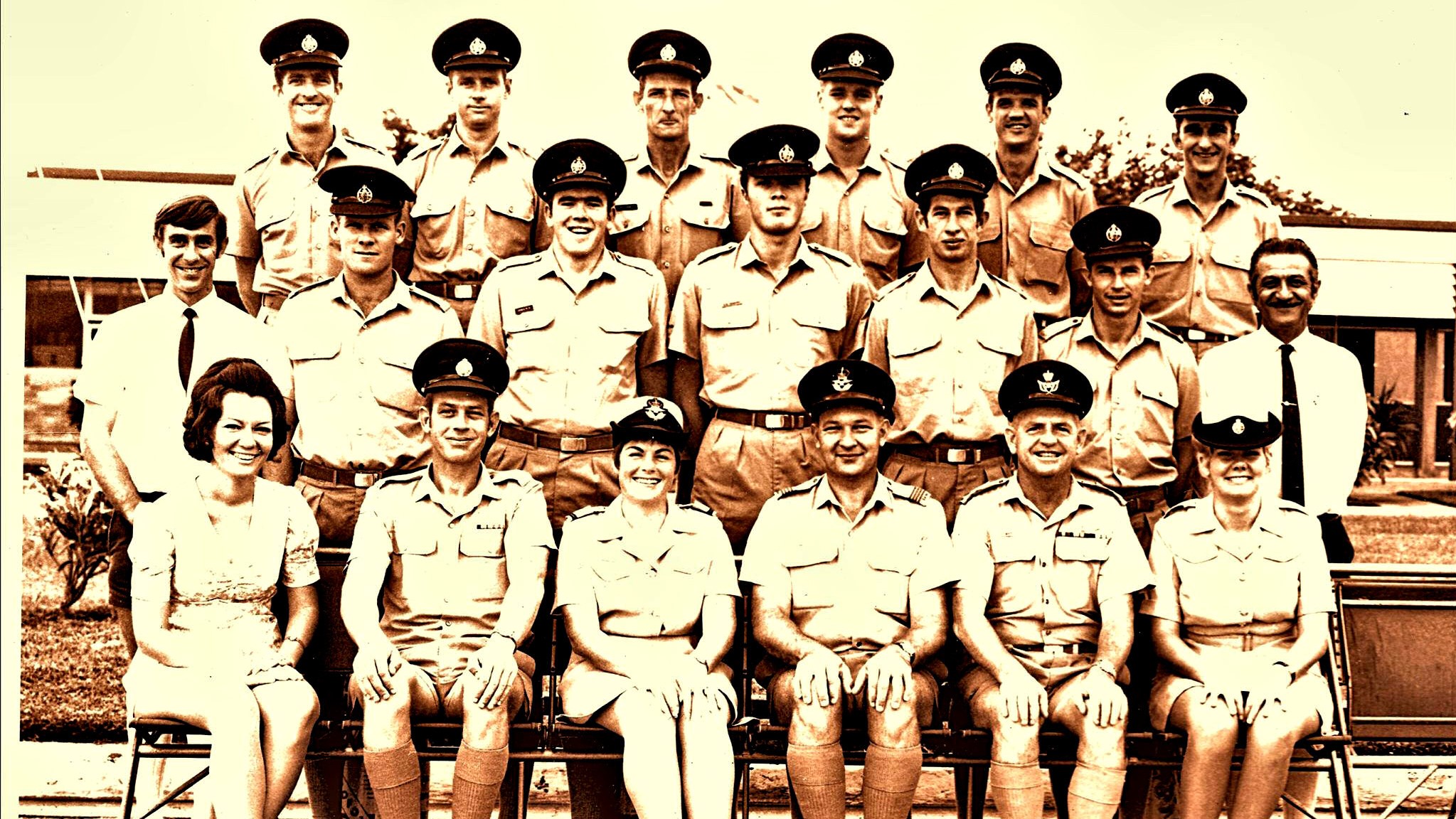 Back Row L-R: Mick ??? (PTI), Norm Jenkins (Cinema Operator), Mick Cook (SP), Bob Stevenson (GHAND), Jack Coad (EDPOP), Eddie Mergans (CLKA),
Middle Row L-R: John Barker (Civilian Staff Clerk), Noel Pound (PTI), Bruce Jones (CLKA), Stephen Hawkins (CLKA), Peter Jubb (EDPOP), Carl Campagnoli (EDASST), George Mellick (Civvy Clerk),
Front Row L-R: ???, Cliff Hodges (CLKA), Josie Long (ADMINO), Henry Ratnick (ADMINO), Chalky White (WOD), Christine Richens (CLKA).

Twenty two years ago Australia experienced its worst peacetime military aviation disaster when a Black Hawk training exercise went terribly wrong, killing 18 men, fifteen from the SAS and three from the Army's 5th Aviation Regiment.
In June 1996, during a Black Hawk training exercise near Townsville, 18 men died when two helicopters collided mid-air and crashed. The Special Air Service (SAS) Regiment and Army Aviation Corps involved were carrying out a night-time counter-terrorism training operation, in preparation for the upcoming 2000 Sydney Olympics.
The incident significantly changed Australian Army and SAS training protocols.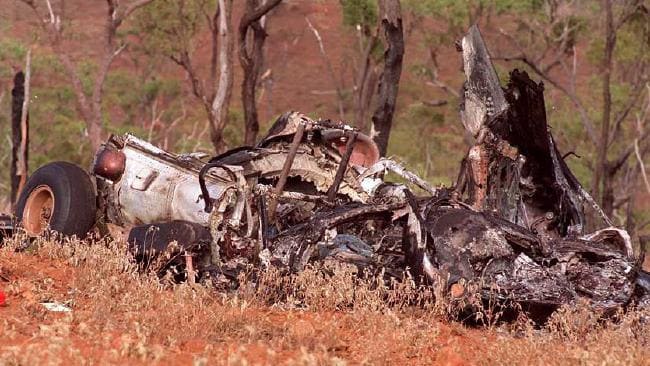 It also deeply affected survivors, including helicopter pilot Major Matthew Barker, who watched the accident unfold just metres in front of his aircraft.
Now retired from active service, Major Barker recalled just how close to death he came that night. (Click HERE)
He was piloting "Black 4" in the six-helicopter formation training exercise, and was directly behind Black 1 and 2 which collided. "In that last moment, number 1 has seen number 2 and he's taken avoiding action trying to get out of the way," said Major Barker. "His main rotor blades have contacted number 2 and unfortunately for him those main rotor blades came off and he went underneath my nose only by 10 or 20 feet. He's just missed me. I saw number 1 going under my nose upside down. I watched number 2's tail removed by the rotor blade contact and I basically, as I was trying to get up and over the top of them, I watched him the whole way to his impact. Because he's just lost his tail rotor and he basically spun two or three times prior to contacting the ground."
Fourteen men were later awarded bravery decorations for their rescue efforts.
Major Barker said the rescue operation was extremely difficult. It was night and fires from the two downed helicopters made landing almost impossible. "There was a big issue because of the fires and trying to land in that impact area, because the fires were shutting my night vision goggles down. But before I'd landed, all of the SAS in the back of my aircraft had gone — they'd probably jumped at 10 or 15 feet, desperately keen to help their friends and colleagues."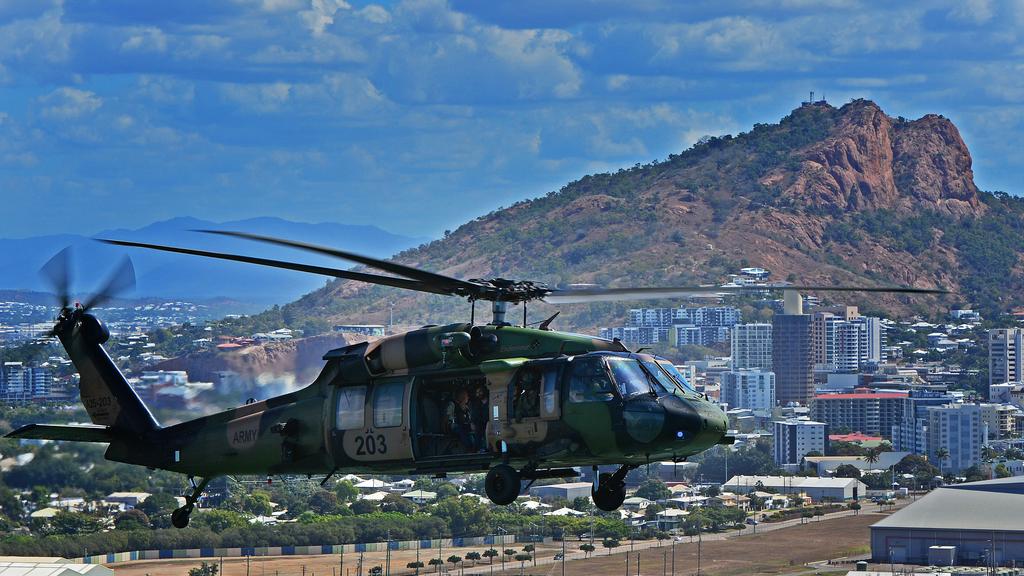 "I just remember [the] injured being loaded onto my aircraft and people jumping on, and then the flight back to Townsville, desperately trying to get there as quick as we could with these guys in the back working on their friends which was a very difficult time because you could hear everything going on. "Even with the noise of the Black Hawk and your helmets on and radios on you could definitely hear what was going on and it was quite a difficult time to stay focussed on getting them back to the hospital."
In 1997 ABC's Four Corners program investigated the tragedy, and the consequent controversial inquiry into the accident which blamed errors of judgement as well as organisational, training and command deficiencies. You can watch that show below.
Charges were laid against three senior officers, but all were later dropped. Major Barker participated in the inquiry, and believes the right outcome was reached. "They came to the right conclusions. But I do believe that it's one of those accidents that is, it's the entire system is to blame and it's not one guy in an instant where maybe a mistake is made," he said.
"These sort of accidents are very complex and there are layers from political, senior military all the way down to the people who were flying that night. From risk management, to spare parts that gave us more flying hours, to developing a singular role for one of those squadrons of pure anti-terrorist roles, where that's all they do and they get very very good at it," he said.
A Plaque to commemorate the loss of those men has been erected in the Palmetum Gardens in Annandale, south west of Townsville City. The plaque reads:
The Black Hawk Memorial
On the 12th June 1996, soldiers from the Special Air Service Regiment were conducting counter terrorist training in the High Range area. During night insertion exercises with 5 Aviation Regiment, two Black Hawk helicopters collided. As a result three army aircrew and fifteen SAS Regiment personnel were killed.
This memorial is dedicated to these soldiers who lost their lives in the service of their country
From the people of Townsville 17th August 1997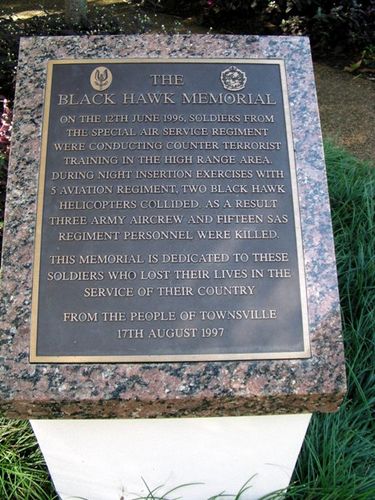 Why dogs are better than men.
· Dogs don't have problems expressing affection in public.
· Dogs miss you when you are gone.
· You can train a dog.
· Dogs are very direct about wanting to go out.
· Dogs understand what "NO" means.
· Dogs mean it when they kiss you.
· When dogs play "fetch," they don't laugh at how you throw.
· Dogs are colour blind.
· Dogs understand if some of their friends aren't allowed to come inside.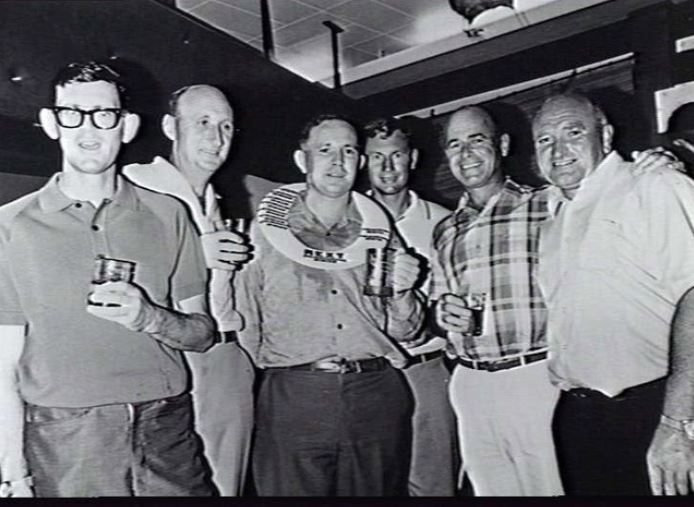 L – R: SqnLdr Michael Miller, Medical Officer; SqnLdr Peter Kennedy, CO, 1OSU; FltLt Rod Doyle, AEO; FltLt John Hartshorn, Accounting Officer, 1OSU; GrpCapt Ron McKimm, OC Vung Tau: Father John Grannall, Chaplain.
A group of officers at a farewell party for Flight Lieutenant (Flt Lt) Rod Doyle Air Electronics and Operations Officer, 1 Operational Support Unit (1OSU). Rod Doyle with the toilet seat around his neck, was about to return home to Australia.
Farewell parties of 1OSU senior staff were customarily held in the 1OSU Mess on Tuesday nights. the departing officer was presented with the toilet seat labelled with his name, the names of all those who had preceded him and the name of the next officer due to leave. The practice seems to have arisen from an alternative jocular interpretation of 1OSU as designating number 10 Sewerage Unit.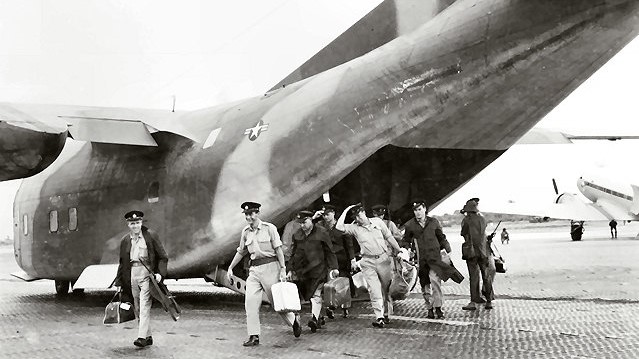 Normally when RAAF bods were posted to Vung Tau, they arrived in Saigon via a very civilised Qantas B707, where they were greeted by RAAF Air Movements people with a bread roll, a drink and a piece of fruit. It was then a case of hanging around in the heat for quite a while until someone came up with the transport to get everyone from Saigon down to Vung Tau. Although Vung Tau was just a short distance down the river, if no Caribou was available, the mode of transport was usually a Fairchild C-123 transporter which is a piston engine aircraft fitted with two jet pods, much like the Neptune. The C-123 would pull up to the RAAF compound and the troops would climb aboard only to find there were no seats, instead people were told to sit on a pallet and a tie-down strap was secured over their legs.
First thing you noticed about the USAF aircraft was its condition. RAAF bods were used to their aircraft being in tip-top condition whereas the USAF aircraft were very second hand. It wasn't uncommon to see water pouring into the aircraft when it flew through rain – but the engines kept turning, the wings never fell off and there was never a problem, bods were always delivered safely to their new home.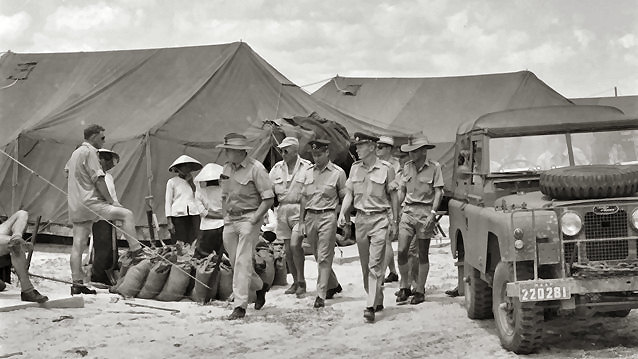 Early into the war, Vung Tau bods were bunked up in tents on the airfield, but that was completely unsuitable, so arrangements were made to move everyone into town, into rented accommodation, until substantial accommodation was made available on the airfield.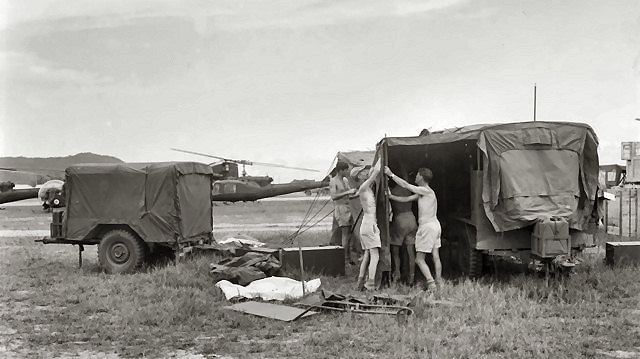 In the early days, servicing was done from portable workshops.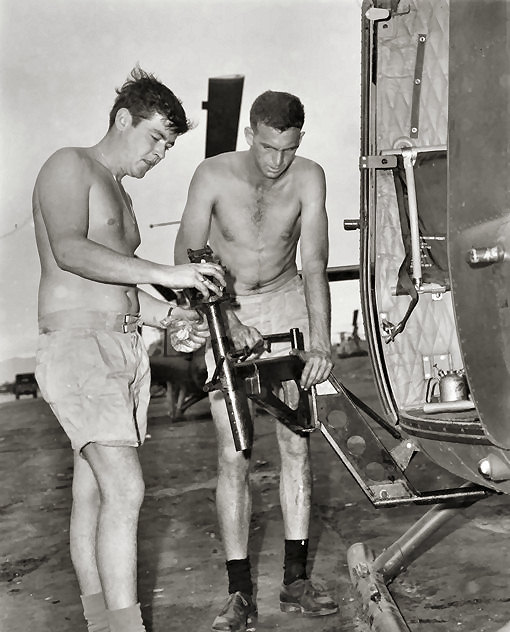 9 Squadron gunnies, Robert Rowe (left) and Ken Bennetts, fitting a gun mount to one of the choppers at Vung Tau, June 1966.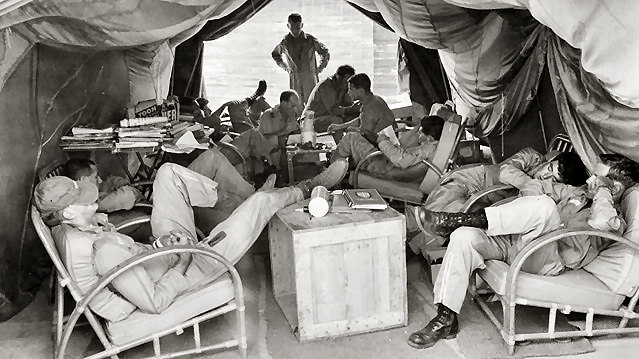 9 Sqn pilots having a breather in their temporary crew room before more permanent facilities were made available.

In 1966, when the RAAF realised the war wasn't going to be sorted overnight, it was agreed that more permanent servicing facilities were going to be needed, besides, tents were designed solely for Army bods and people who drove Land Cruisers, so 5 Airfield Construction Squadron was called on to erect a nice big hangar for 9 and 35 Sqns in which to play.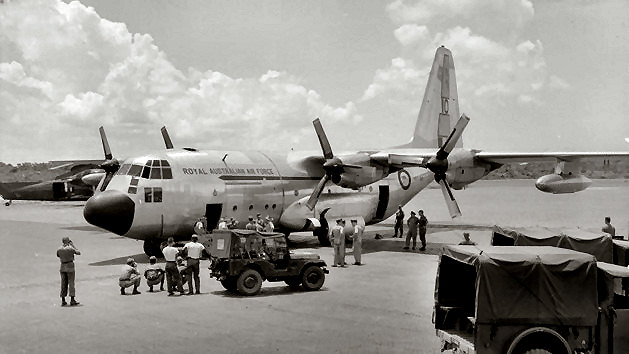 Bits and pieces were flown up from Australia by the Hercs from 36 Sqn and 37 Sqn, bits like the cherry picker below.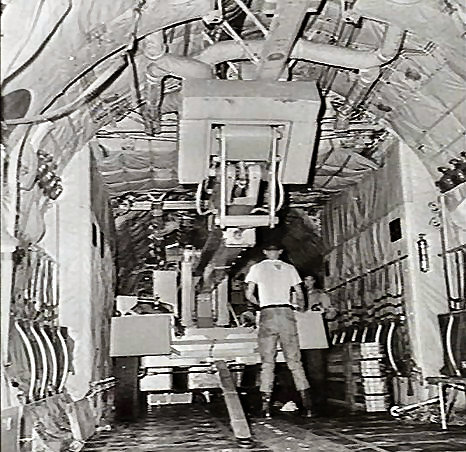 This cherry picker was delivered to Vung Tau by an A model Herc from 36 Sqn in August 1964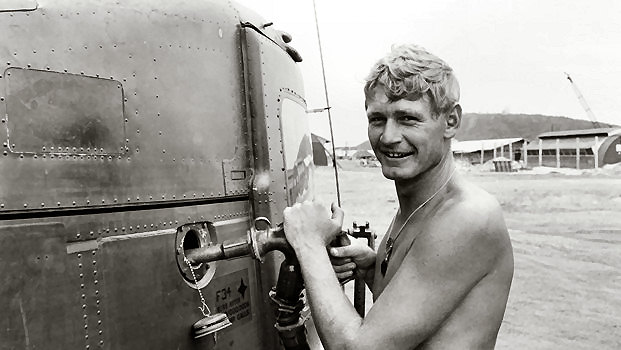 Brian Bucktin, 9Sqn Sumpy, refuelling one of the choppers in August 1966.
Why dogs are better than women
· Dogs understand that instincts are better than asking for directions.
· Dogs like beer.
· Dogs don't hate their bodies.
· Dogs don't criticize.
· Dogs agree that you have to raise your voice to get your point across.
· Dogs never expect gifts.
· Dogs don't want to know about every other dog you've ever had.
· Dogs don't let a magazine article guide their lives.
· You never have to wait for a dog, they're ready to go 24 hrs a day.
· Dogs don't cry.
· Dogs love it when your friends come over.
· A dog's time in the bathroom is confined to a quick drink.
· Dogs don't expect you to call when you're running late - the later you are, the more excited they are to see you.
· Anyone can get a good looking dog.
· Dogs enjoy heavy petting in public.
· Dogs find you amusing when you're drunk.
· Dogs don't mind if you give their offspring away.
· Dogs don't notice if you call them by another dog's name.
· If a dog is gorgeous, other dogs don't hate it.
A dog's parents never visit.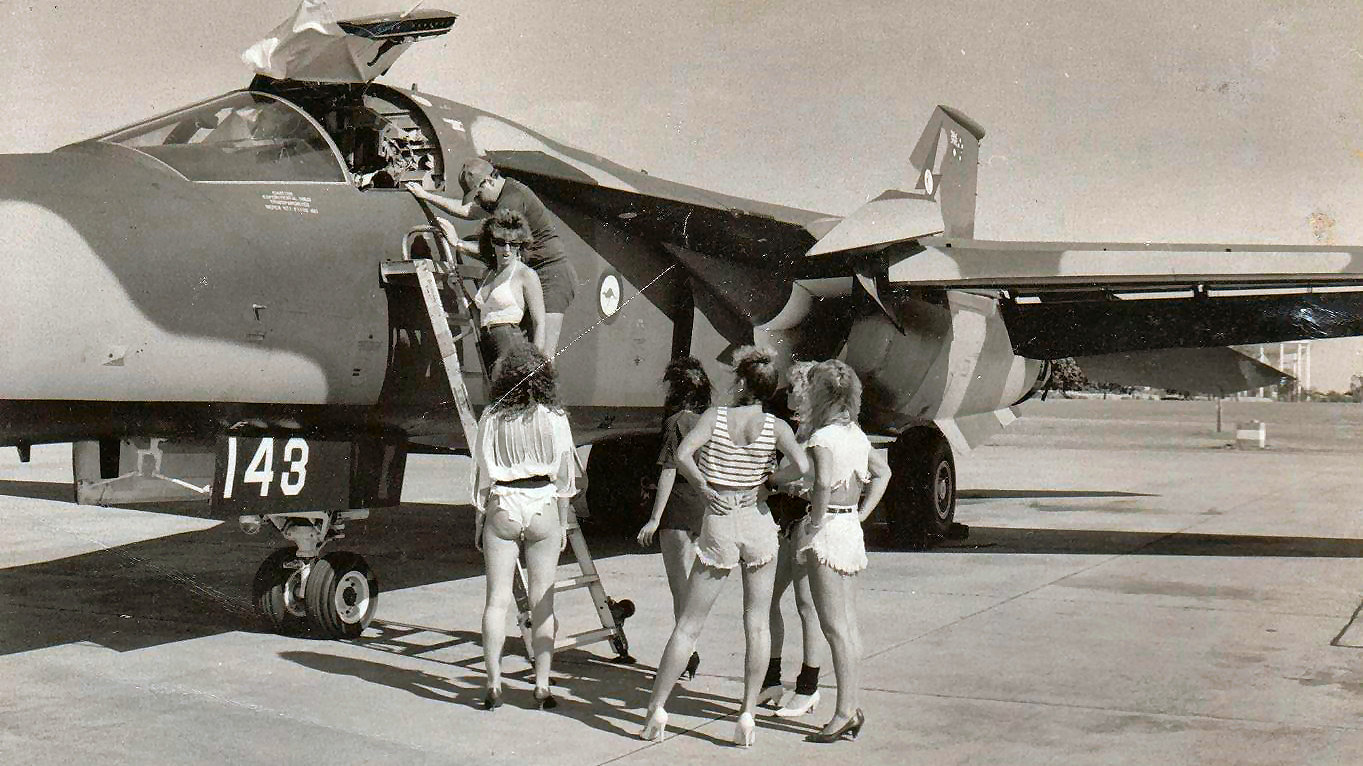 Bring back the F-111 I say!
JUST for you Sambo!