Decoding the design of in-flight seat belts.
Why we buckle up differently in cars and planes.
The standard economy-class airplane seat has a few hallmarks. The tray table on the back of the seat in front of you, secured by a swivelling plastic pin. The button on the armrest for reclining your seat, (if you're lucky) which is an extremely rude or a totally fine thing to do, depending on your point of view and, perhaps, the duration of the flight. And then there's the seat belt.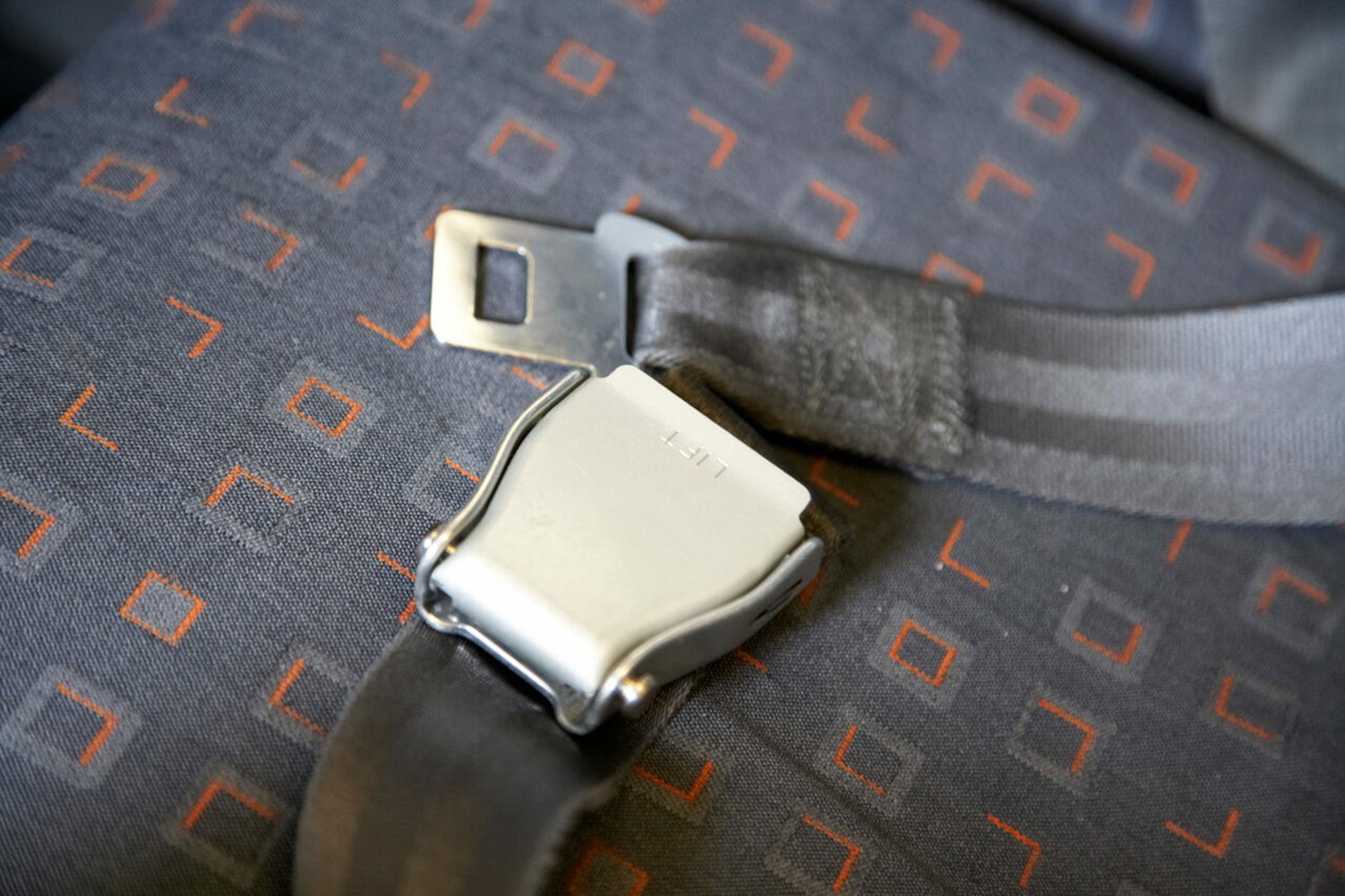 What is the deal with this seat belt? It is not like other seat belts. It is a lap belt only, in two pieces, secured by an industrial-feeling flip-flop buckle that sits directly in the centre of your lap. Car seat belts are not like this. Even race car seat belts are not like this. In fact, no other modern seat belt is like this. Why?
It was difficult finding the reason, AmSafe, probably the biggest manufacturer of aircraft seatbelts, did not respond to repeated requests for comment. Various air travel safety experts either did not respond, stated that they did not know anything about seat belts, or declined to comment. One prominent manufacturer did agree to an interview; two nice engineers answered some questions but their names weren't mentioned. Amy Fraher, the author of The Next Crash: How Short-Term Profit Seeking Trumps Airline Safety, actually ended an email with this sentence: "Nobody wants the public to know the truth!"
Seat belts, or safety belts, or restraints, have been around since well before airplanes, or even cars, having been patented in the U.S. for the first time in 1885. They were not found in early cars and remained at best an option in certain forward-thinking automaker lines, most notably Saab, until the late 1950s. In 1966, the publication of Ralph Nader's book Unsafe at Any Speed, which attacked the auto industry for refusing to institute basic safety features in its cars, prompted the first American law to require all vehicles (except buses) to provide safety belts.
Seat belts became common in airplanes by the 1930s and 1940s, though even in 1947 there was pushback from the airline industry. They often insisted that a tight belt could cause internal damage upon a crash. This is very rarely true and also pales in comparison to the number of injuries, internal and external, that are caused when a passenger doesn't wear a seatbelt. The US Federal Aviation Act of 1958, spurred by several airplane crashes, began the move towards better safety requirements; these were codified in 1972 and have been occasionally updated ever since.
The specific buckle used in aircraft was already old-fashioned by 1972. It's called a "lift lever buckle" in the industry and it was common in the first few decades of mass-market cars, but by the early 1970s had widely been replaced with what are called "push-button" buckles, some version of which is likely in your modern car right now. Also, by this time, some carmakers, especially luxury or more experimental carmakers (read: Swedish carmakers), were playing around with what's called the three-point harness. That's the standard seat belt in cars now: it's a two-part belt that includes a shoulder belt that goes across the chest as well as a lap belt, and which buckles at the hip.
There are a few reasons why the lift-lever lap belt vanished from cars but not from airplanes. For one thing, a shoulder harness in a car is attached to the car's frame, a very sturdy part of the car. In an airplane, it would have to be attached to the wall ("bulkhead"), which is less sturdy. You could attach it to the seat, but you'd have to reinforce the seat, which increases weight, which we don't want.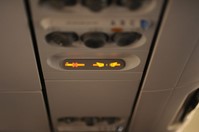 The buckle itself has the benefit of being fairly secure—it's hard to unlock it accidentally—but fairly easy to unlock in an emergency. A car-style push-button buckle, which is typically mounted at the hip, could open on impact if something bangs against the button and given the meagre room in economy class, nobody wants to be digging around between the seats to find a buckle in a crash situation.
Lift-lever lap belts have remained basically unchanged for decades, aside from a shift in the material of the strap itself to be less stretchy. That makes them deliciously cheap for notoriously budget-conscious airlines. But cheapness isn't the end of the story.
Airplane safety is not like automobile safety, because airplanes are not like cars. The primary goal of an aircraft seatbelt is not to save your life if the plane crashes as there's not much in the way of conventional safety gear that would help you. You can survive a car crash in which the car is totalled; your chances of survival in an equivalent plane crash are significantly less rosy. Aircraft safety belts are designed to keep passengers in their seats during minor and more common events, like turbulence or collisions on the runway. In those instances, what you really don't want is to be unsecured in an outrageously fast-moving vehicle, free to bang your delicate body into walls, ceilings, chairs, and other people.
Another primary difference is in the way airplanes move, compared with cars. Car accidents typically involve forward or backward or sideways motion, because cars generally stay on the ground. With that risk, you want a shoulder belt: it'll stop your entire upper body from bouncing around due to sudden acceleration or deceleration, but in a plane, it's more likely that you want to protect from up and down movement, as with turbulence. And a shoulder belt doesn't do you much good for that.