Reflections on Terrorist Alerts.
We were sitting in Harvey's garage. I've told you about Harvey; Vietnam Vet, thousand yard stare, a homespun philosopher with a greying ponytail and more than his fair share of tats. He tends to think for a while before he speaks. And he reckons he does his best thinking while listening to the Grateful Dead at volumes that blister the paint on his garage walls.
Fortunately, he's got extremely tolerant neighbours.
We'd just cracked our first tinnies of the day and were watching out the door as the sun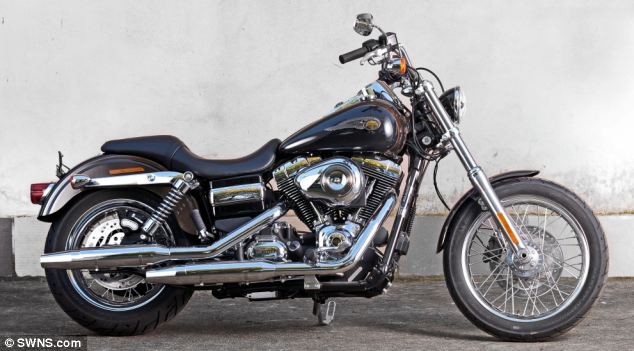 eased down towards the horizon, tinting a few streaky clouds crimson and gold. Alongside Harvey stood his immaculate, gleaming Harley and beside that stood his equally gleaming, perfectly laid out tool board. I don't have a tool board at my place. In fact, I don't even have any tools. My wife says I'm dangerous with a tool in my hand. I don't really know what to make of that… but on the plus side it does get me out of a fair few home maintenance chores. (See, I'm not as stupid as I look; well, not quite.)
Anyway, we watched nature's light show for a bit, then Harvey says, "What do you make of this heightened terrorism alert." "Well," I replied, "I'm not expecting anything too exciting in our street any time soon." "I guess," he said, "life must seem fairly simple to anyone who thinks the solution to every problem is to blow something up."
I took a long drink while I thought about it. "I wonder what makes this week any more dangerous than last week." "Nothing," said Harvey. "I reckon politicians only jack the alert up so if some idiot does inject the excrement into the air moving device, they won't be held responsible and they can say, 'Well we warned you'."
"Probably," I said. "I came back from Sydney last night and the airport security was just the same pain in the arse as it always is. No worse."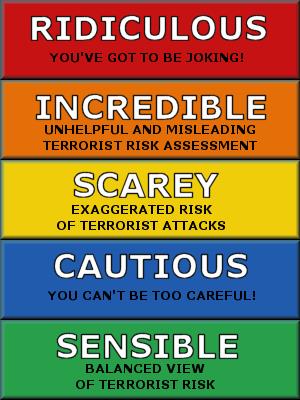 Harvey looked down at the half drunk can of Fosters almost hidden in his huge paw. "Listen, mate, if the terrorists had any brains, which mostly they haven't, they'd ignore the airports and go for a brewery. Now that could really hurt a man. I know it'd annoy me." I shuddered at the horrible image Harvey had just conjured up. "They keep saying we should be alert, not alarmed," I said. "Well, they got it half right 'cos I'm not especially alarmed. But I can't figure out what we're supposed to be alert for."
"Suspicious characters, I guess," Harvey opined.
"Well they're easy to find," I replied. "All I have to do is go stand at the front door of the ICAC hearings. Every second person looks like a suspicious character, and that's just the journos." "Yeah," said Harvey, "but we're supposed to be on the lookout for someone who might have a bomb strapped to their butt." "No worries in that case. I look at lots of butts. In fact, I fancy myself a bit of a butt connoisseur."
He gave me a look. "Mate, I think they're more likely to be male butts."
"Oh," I said. After a minute, I added, "I don't look at them very often." Harvey sighed and reached into his fridge for a couple more tinnies. "So what do you reckon we ought to do about these terrorists?" I asked. Harvey flicked the ring pull off his can into a recycling bin parked conveniently next to his garage door and settle back into his favourite, tattered old deck chair. "Well," he said, "we could start by taking the piss."
I waited while Harvey thought about what he wanted to say next.
"I'm not saying we shouldn't have sensible precautions, but if we take these wankers too seriously we just give 'em oxygen. So we should take the piss at every opportunity." "What do you mean?" I asked.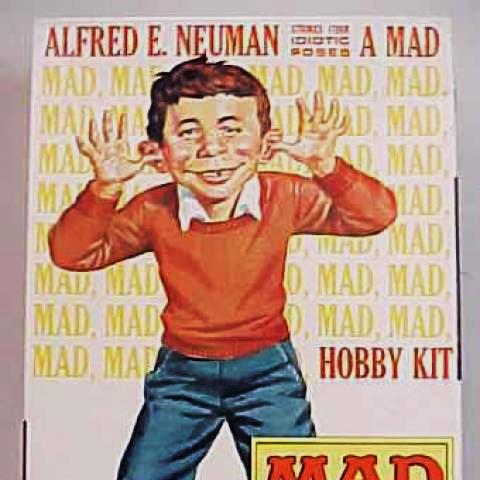 "Well, we should have terrorist joke competitions. And any time we want to portray a terrorist, we should use a picture of Alfred E. Neuman. You know, the character with the freckles and the missing front tooth that used to be on the cover of Mad Magazine."
Harvey emptied his tinnie. "See, we should be on the lookout, but we shouldn't be scared of these dopey bastards. And it's hard to be scared of someone when you're too busy laughing at them. Plus, if the only response the terrorists ever get is a giant piss take, eventually, maybe even those morons'll start to figure they might not be on a winning strategy."
He reflected for a moment, released an almighty belch, scratched his capacious gut, and then continued. "Not that blowing yourself up ever seemed to me like much of a winning strategy anyway."
"Why do you think they do it then?"
Harvey stroked his beard. "Well," he said, "they're not giving that much up, when you come to think about it. They've got no beer, no pubs, no radio, no television, no Playboy or Penthouse, no fishing, no cricket, no footie, no surf, no pies with sauce, no dancing, no music, no bikinis on the beach, no miniskirts, and no decent motor bikes. I mean, what've they got to live for anyway?" "And," Harvey said, after a moment's more reflection, "They got no imagination."
"How do you know that?"
"Well, take that Underpants Bomber. Listen mate, any bloke that can stick a bomb in his tackle bag has definitely got no imagination. I mean… just think about it. Because he certainly didn't. Brrrhhh!" He shivered visibly. "And, what's more…" Clearly Harvey was warming to his subject. "They've completely ruined it for a lot of people."
"What do you mean?"
"Well," he said, "You take my mate Sido. There was a time when, if he saw a bag left on the train, his first thought would've been, I'll have that. But now… well, he'd probably leave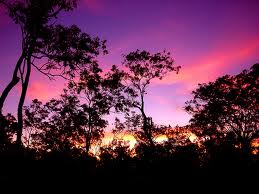 it there." After a moment, he shook his head slowly. "It's a sick world, when you come to think about it."
We sat for a bit, watching the last of the sun's rays slip behind the hill on the other side of the valley behind Harvey's house.
"So, is there anything you reckon'd be worth blowing yourself up for?" he asked.
I thought for a while.
"Well," I said, as I scrunched up my empty. "I was going to say, a life time's supply of the good stuff. But now I think about it, that's not such a good deal. How about you?"
"Nah mate," Harvey said. With his now empty tinnie, he pointed out the garage door. "See tomorrow evening, there's probably going to be another sunset just as pretty as the one we just watched."
"And nothing's worth missing out on that."
Anthony V Element OAM
Observation Point (Founder and Editor)
Solar song??
Ron Shannon sent us this, he says!!
I'm not sure if what follows would be suitable for inclusion in the Magazine, but here goes.
Thirteen years ago I installed a solar power system on my home and we haven't had an electricity bill since. Not only that, but it has also paid our rates and phone bill, too. In the course of doing the battery maintenance on the system one day, these thoughts came to mind:-