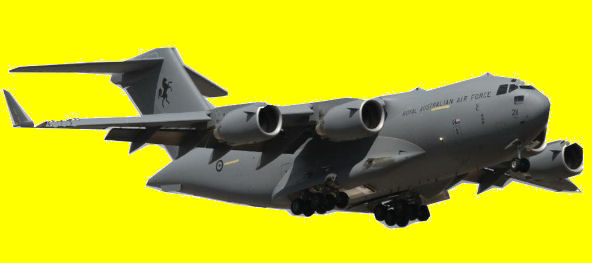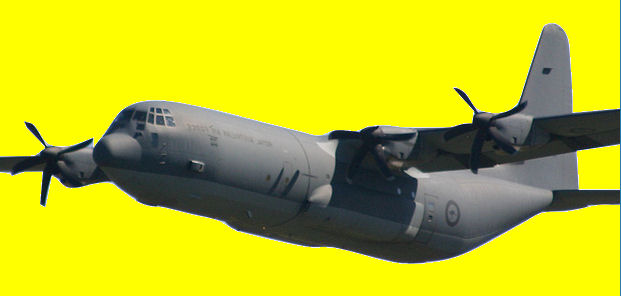 Vol 47

The Magazine by and for Serving and Ex-RAAF People,

and others.

Page 3
Privacy Policy | Editorial Policy | Profit Policy | Join the Association | List of Members | Contact us | Index | Links
Back Go to page: 1 2 3 4 5 6 7 8 9 10 11 12 13 14 15 16 17 18 19 20 Forward
Page 3 Girl.
Our lovely page three girl this issue is Robyn Pedrina.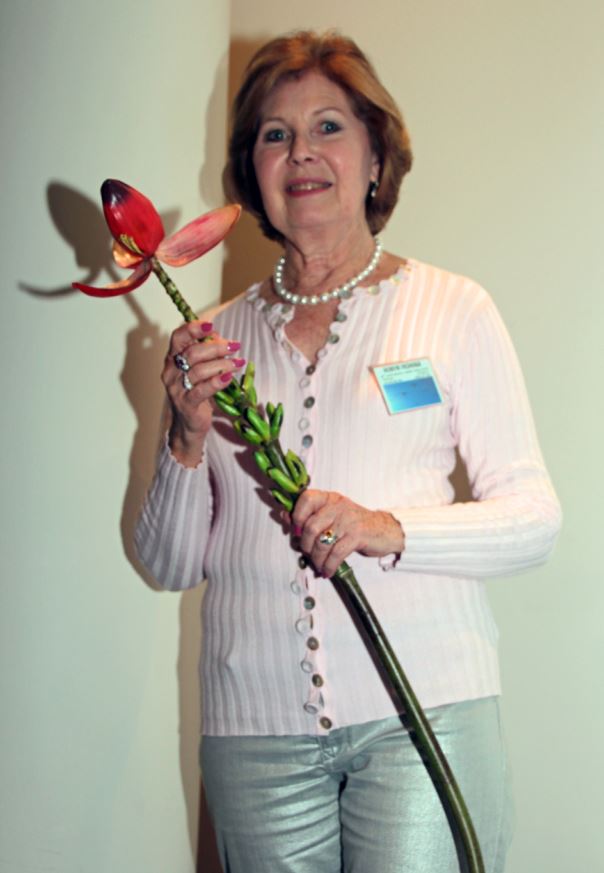 Robyn Pedrina is married to Jeffrey (Pedro) Pedrina.
She was born in Sydney and attended Holy Cross College for her school years. After this she completed a secretarial course and then it was off to work for Caltex Oil in their Organization and Planning and Advertising departments.
After work, she did a 3 year art course at East Sydney Technical College, studying Oils and water-colour. This involved walking from Caltex House in Kent Street to Darlinghurst 3 nights a week - saving the bus fare to pay for paints etc.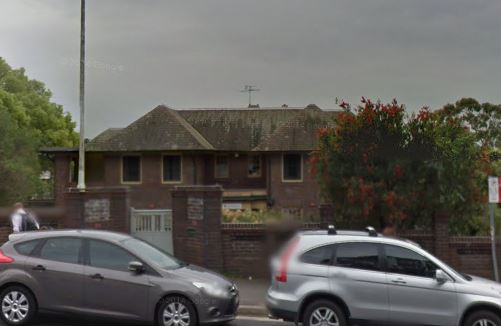 She met Jeff at a Legacy function in September 1962 when her father was helping arrange a younger set BBQ to raise funds for Legacy to buy an historic old home "Glen Mervyn" in Coogee Bay Road, Coogee (right). Her photo was in the paper advertising the event and invited people to come along. Well, as it happens, some guys in the bar at RAAF Richmond elected one of their own, namely John (Ding) Staal to telephone and find out the details of the event. A meeting place was arranged at a Mobil service station in Anzac Parade Kensington and everyone piled into whatever vehicle that had a spare seat. Somehow Robyn was given a lift home by Jeff and the rest is history!
Robyn and Jeff were married in the chapel at RAAF base Richmond on 5th December, 1964 and this coming December 5th celebrate 50 years of marriage. Jeff's postings have taken them to Sale, where their daughter Danielle was born and then Pearce where son Paul arrived only 2 weeks after Jeff ejected from a Macchi aircraft. The crash made front page of The West Australian paper on 2nd October, 1969. (More on that next issue).
There were 3½ years living on the base at Point Cook which daughter Danielle still remembers.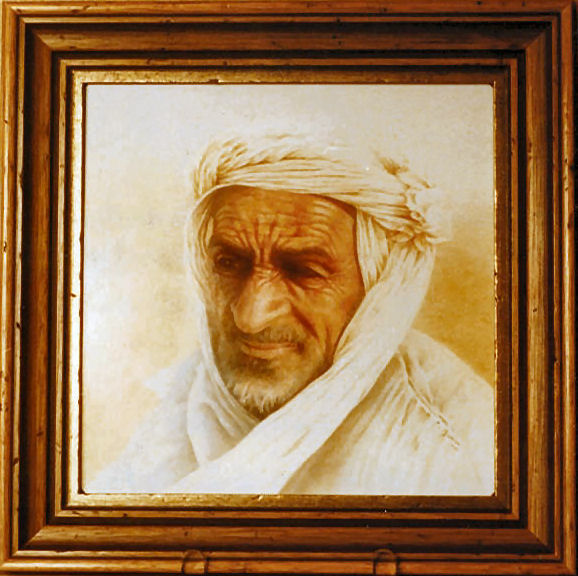 After Air Force life the family moved to Doncaster, Melbourne. lt was during the years in Doncaster that Robyn learned the fine art of China Paining. It was a passion she enjoyed, and took her on to be a member of the Association of Porcelain Art Teachers (APAT) and the International Porcelain Artists and Teachers (IPAT). She became a teacher and exhibited in many exhibitions including the Naval and Military Club in Melbourne. She won the Helen Walker trophy for the magnificent portrait of a Berber tribesman (right) which took 3 weeks to complete followed by many firings in her kiln and which now takes pride of place on her lounge-room wall.
Robyn and Jeff now live in Toowong (Qld) and enjoy life as much as possible as Jeff has been diagnosed with Parkinsons and relies on Robyn to do any driving these days. All the family are close by and grand-children are regularly at the apartment to stay with Nana and Pa.
2AD Stock Control Golf Day at Bungool,
(Near Pitt Town. 1968.)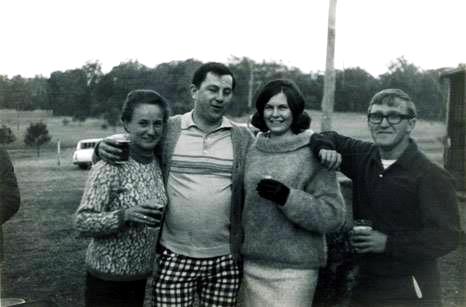 L-R: Jan Fraser, John Perkins, Cheryl Brown and Bob Harper.
Tulips Reunion.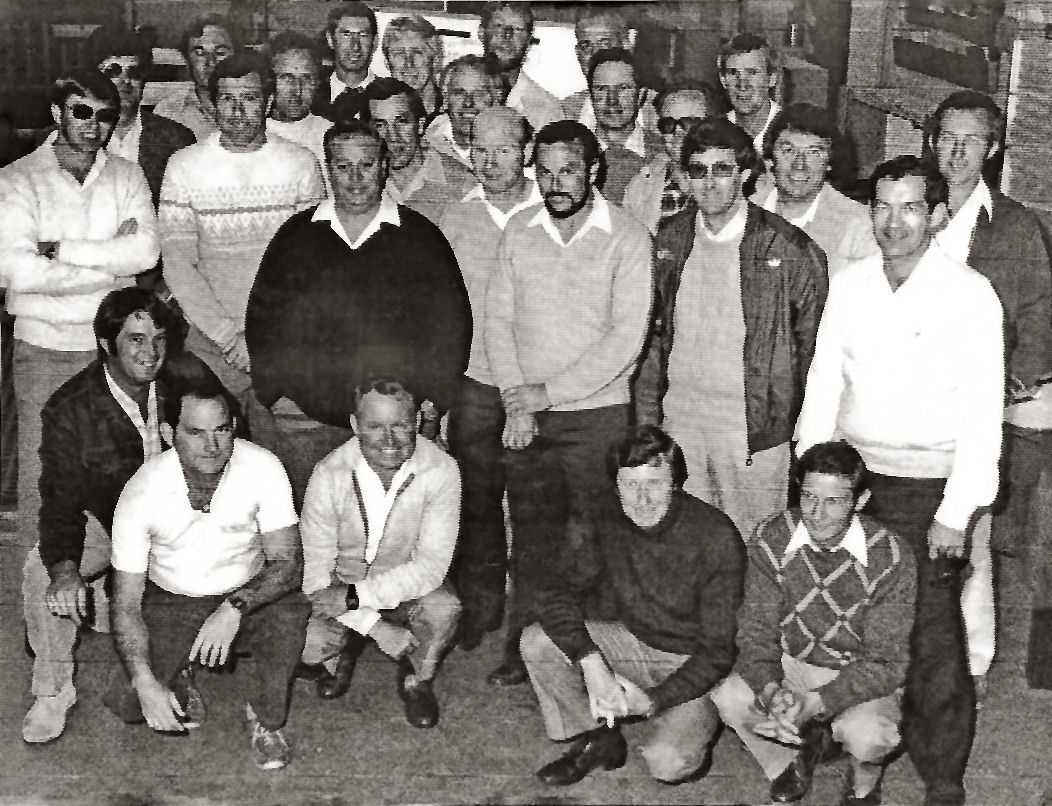 A "Tulips" reunion at Wagga which we believe was in 1990. It was a 30 year reunion although a handsome, intelligent and modest Radio bloke (Ted McEvoy) managed to infiltrate himself into the pic.
Can anyone ID any of the faces??
I've been in love with the same woman for 49 years.
If my wife ever finds out, she'll kill me!
Wagga – as it was in 1961.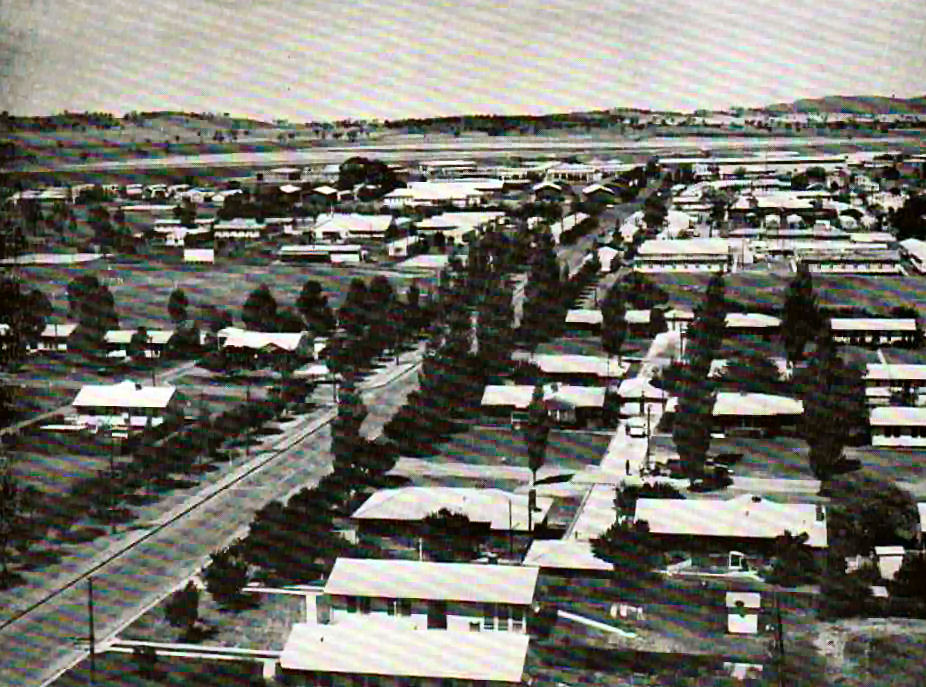 A car hit an elderly Jewish man. The paramedic says, "Are you comfortable? "
The man says, "I make a good living."
Rookies Course - 1960
Can anyone provide the course number??
Back Row L-R: T Backhouse, V Boston, R Hogno, N Taylor, R Hennessy, T Chubb, ? Kristianson.
Middle Row L-R: N Carter, W Wurm, Rod Thompson, B Charlton, T Darcy, B Batty, B Gilham.
Front Row L-R: H Everingham, J Byrnes, B Passfield, J Ravell, J Bloakly, ? Herron, D Jefferies.
Out the front. L Callaghan......DI.
Michelle Robins sent us this pic (above) which she says is of your dad's (Rod Thompson) Rookies course, about 1960. She doesn't know the number, can anyone help?? Michelle says "Upon leaving the RAAF, dad went into small business, owning an orange juice manufacturing facility and at one stage (among other things), the Smoked Salmon Lunch Bar on Hay St, West Perth. He's happily retired now and living in Coodanup, a suburb in Mandurah, WA. He is still in relatively good health but has never really been in contact with past squadron mates as he said he was shipped around a bit after Penang and used as a "fix it" guy? Not sure what that means really as getting info out of him is a hard task."
37 Appy (Radio).

109RTC (1977-1978)
Ken Benson sent us this pic, he says, "I came across our old course photo and hope you might be able to publish it. I have all of the guy's names with their nicknames in brackets. The ones marked with # were the original starters". (Click the pic for a bigger view and names.)
Ralph Abercrombie.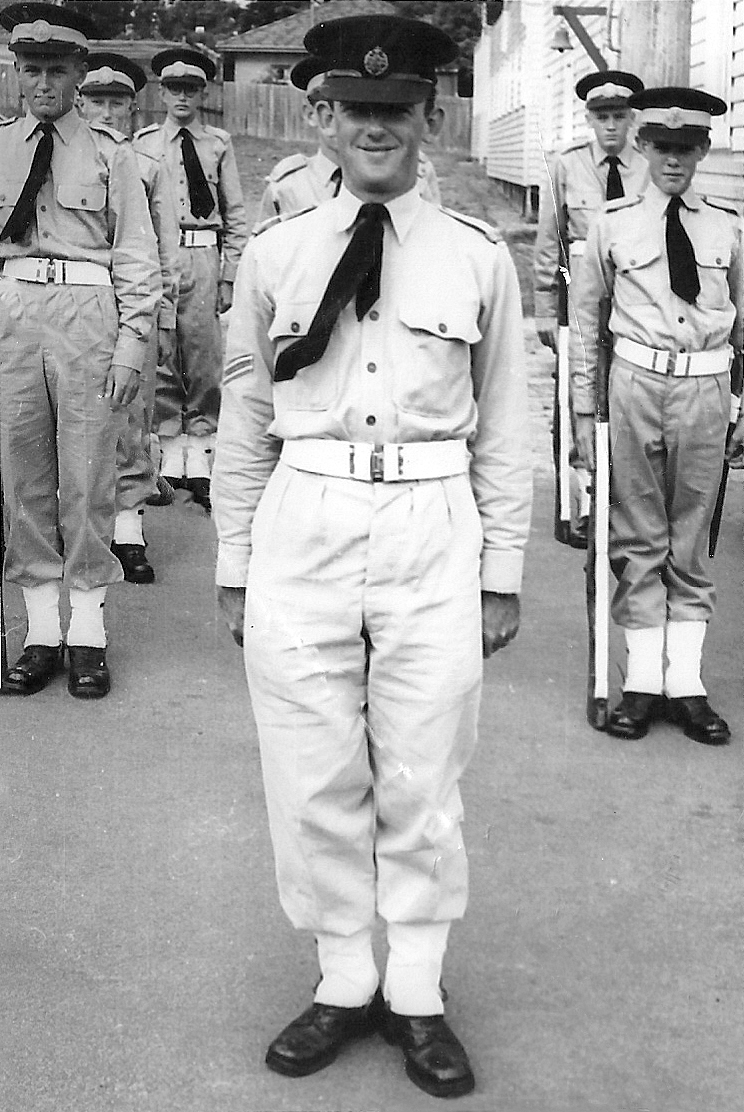 Ted the Mac sent us this, he says, "This is a pic of Cpl Ralph Abercrombie (DI) taken with members on 14 Course at "Frognall" in 1960. "Aber' went on to become a well-respected WOD" (a what??? – tb) .
14 Appy
Graduation Day, 1962.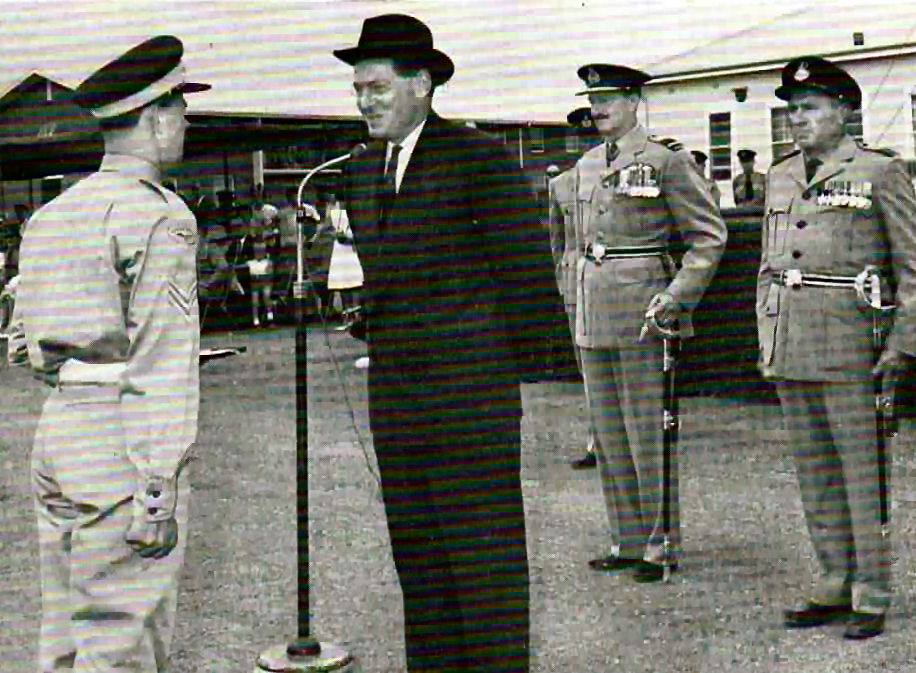 Sgt App HJ Dower, Radio Appy on the 14th intake, being awarded the Governor General's Medal from the Minister for Air, the Honorable D.E. Fairbairn DFC, MHR on Graduation Day, 1962. Looking on, AVM CD Candy (left) and Wg Cdr CV Smith.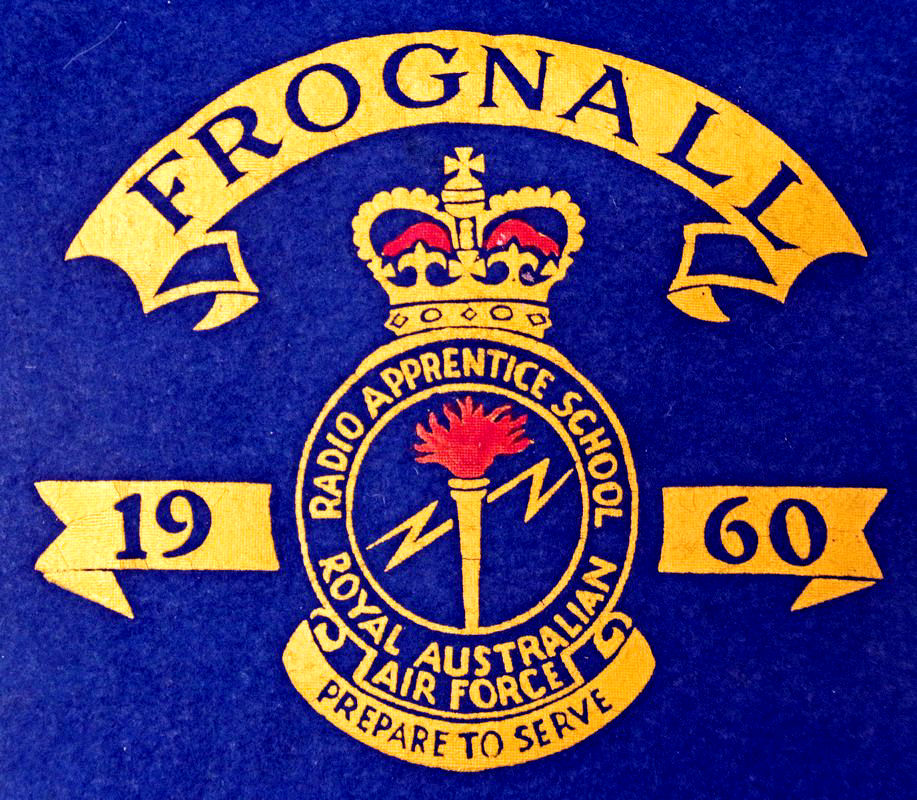 14 Radio Appy old bods.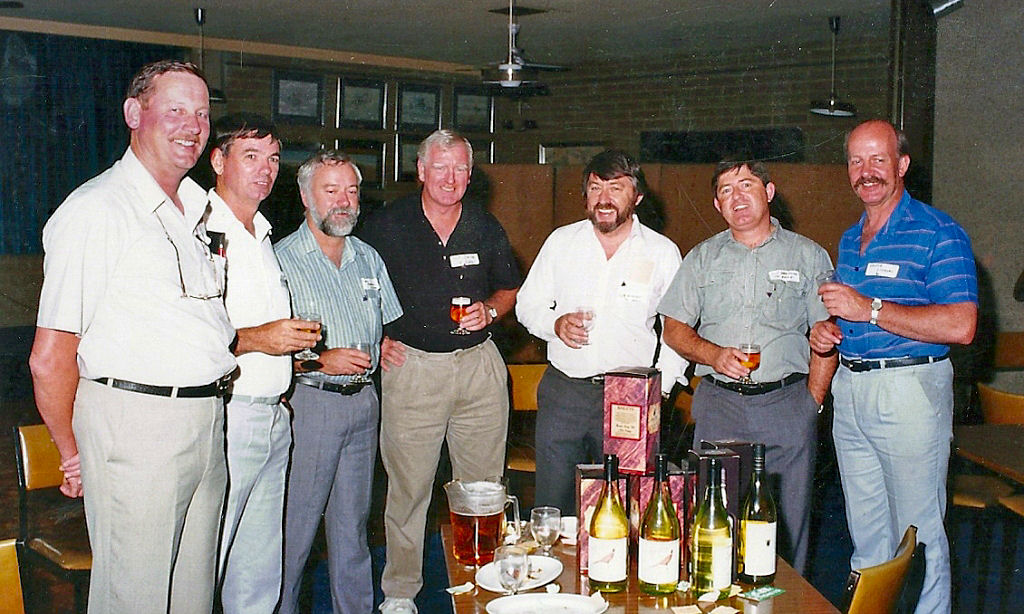 Len Triplett, Dick Chambers, Gordon Charlton, Alf Smith, Ted McEvoy, Tom Harrington, Laurie Lindsay.
Marriage is the process of finding out what kind of man your wife would have preferred.
Joan Wotton.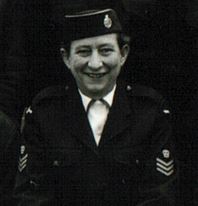 The name Joan Wotton is one that a lot of our female readers will remember well. Joan was born in Texas (Qld) in 1933 and at age 29 decided she needed a change and so joined the WRAAF. In October 1962 she was off to Point Cook and joined WRAAF Recruit Course 126 after which she was mustered as a General Hand. Some time after she remustered to Drill Instructor and in March 1966, with the rank of Sergeant, joined WRAAF Recruit Course 157 at Edinburgh as one of the DI's. In July 1970 she was promoted to Flight Sergeant and in July 1975 she was promoted to Warrant Officer after which she had a brief spell while some courses were held at 1SD at Tottenham.
Then in 1977 when the WRAAFs were disbanded and the girls incorporated into the RAAF, all female recruit training was moved to Laverton and Joan took over as the WO.
On the 10th June 1985, she was Gazetted with the Order of Australia Medal for service to

the Royal Australian Air Force and was presented with the medal by the Governor of South Australia, his Excellency Sir Donald Dunstan, at the SA Government House on the 26th September.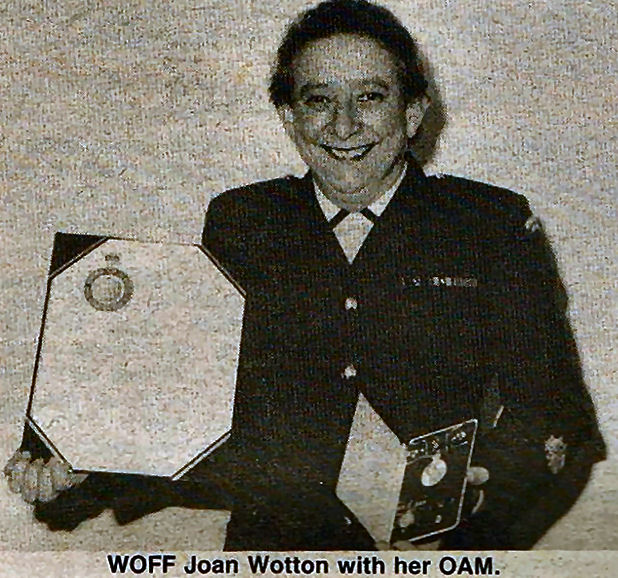 Shortly after, in December 1985, she was discharged after 23 years' service and retired to Toowoomba.
Joan died on the 18th September 2005, at age 72 and was laid to rest in the Toowoomba Garden of Remembrance.
Since the snows came all the wife has done is look through the window.
If it gets any worse, I'll have to let her in.
13th Wagga Appy Intake (Oysters, 1959 – 1961)
(Click the pick for a bigger view with names.)

1 Flight, (13 Appy - Oysters)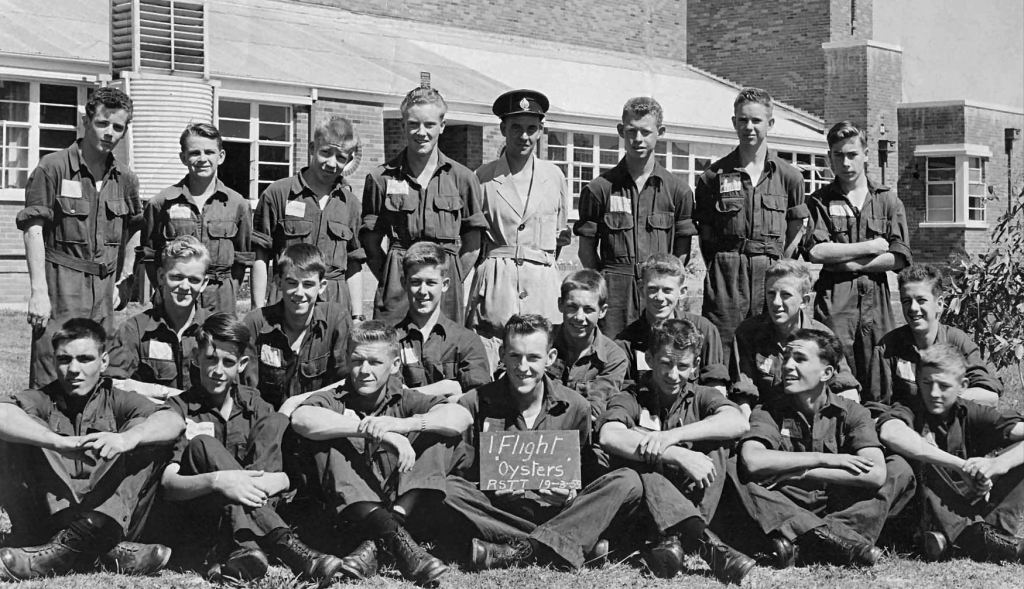 Back Row L-R: Kelleher, DJ Harris, WN Hancock, MJ Butler, Staff, AR Wiffler, WW Reading.
Middle Row L-R: RG Northover, KW Baldwin, AR Burns, KD Corcoran, MJ Butler, Marr, GG Pickering.
Front Row L-R: Haggerty, RE Lawler, Reddacliffe, JAN Lanham, McAullay, Webb, Webley.
2 Flight, (13 Appy - Oysters)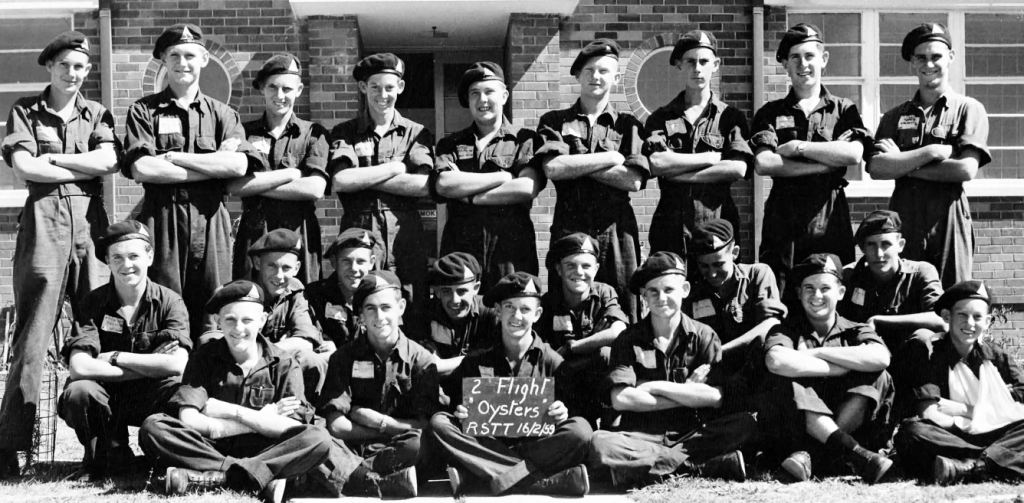 Back Row L-R: JA Martin, K Bucktin, BW Rolls, RD Wilkes, PE Williams, RJ Ziebel, BJ Bawcombe, RG Burzacott, LC Watts.
Middle Row L-R: RT Davis, Christophers, Phillipson, RT Harrison, JE Green, Cartledge, DK Leo.
Front Row L-R: SRC Deaves, Elliott, Mewburn, Reczek, IJ Gray, K Howie.
3 Flight, (13 Appy - Oysters)

Standing L-R: Clark, KC Haines, G Stewart, Inch, AE Greaves, Hartigan, AP Windsor, RL Wright, Bradshaw, EG Cornell, Livingstone, Sweeney, KN Walsh.
Seated L-R: AG Murray, P Klasups, BJ Dick, IJ Gray, Baillie, NH Martin, Louez, Malt, Parfitt.
4 Flight, (13 Appy - Oysters)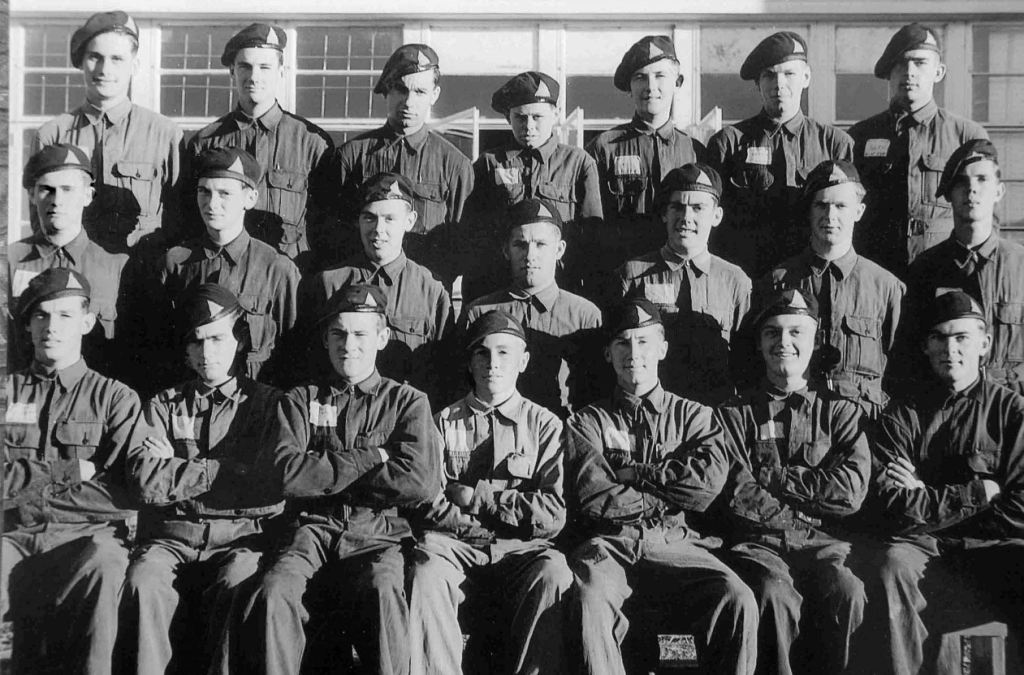 Back Row L-R: JE Mueller, KA Durie, S Palmer, Brown, TY Dawson, Laidlaw, PH Thuel.
Middle Row L-R: Moorhead, JA Franks, RS Gumbrell, GD Fisher, M Wright, AJ Hind, IG Meier.
Front Row L-R: HH Holsken, Rentell, Brierly, Beckey, PL Winchester, BM Lovell, FMG Sankey.
5 Flight, (13 Appy - Oysters)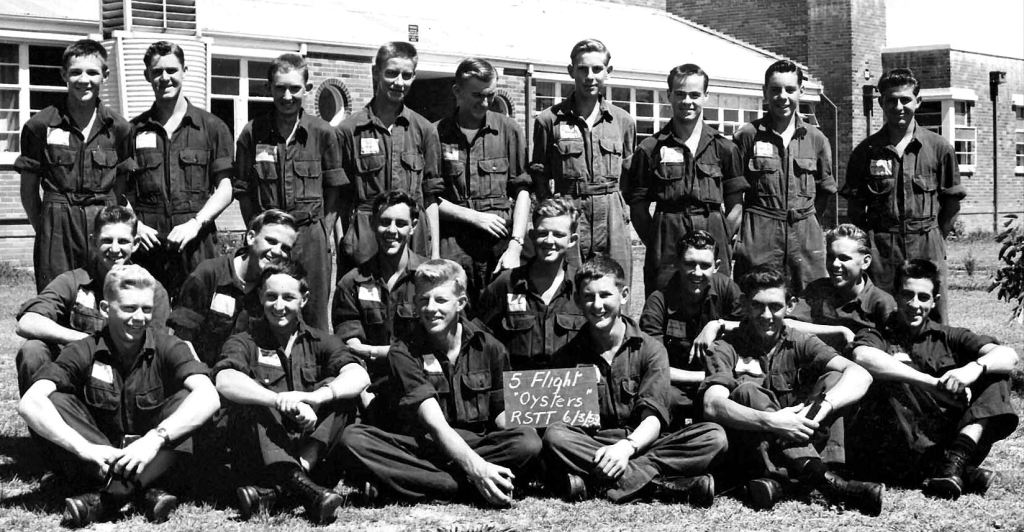 Back Row L-R: JW Stockwell, RG Kendall, NC Bywaters, DJ Cook, JJ McCann, WR Shoobridge, RE Horder, JB Leahy, EG Cornell.
Middle Row L-R: J Neatherway, DG Bucknell, LD Bleakley, DG Fitzgerald, King, RG Milton.
Front Row L-R: RH Ruming, KP Doyle, JA Martin, PM Tracy, JR Peterson, PF Tisdell.
My wife and I always hold hands. If I let go, she shops.
73 Future WRAAFS – 1969.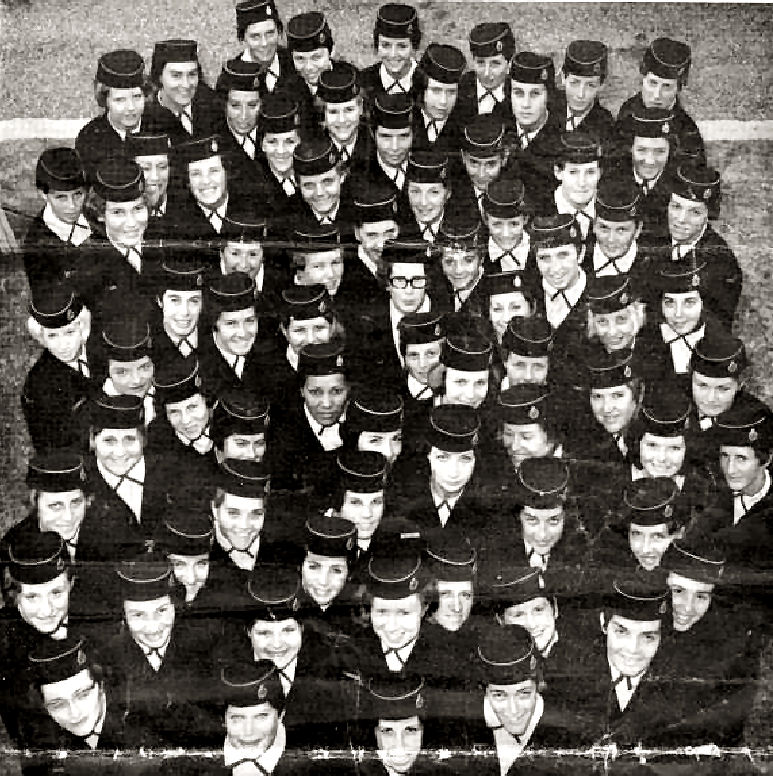 These 73 girls joined the WRAAF in June 1969, and 40 of them came from Queensland. That large number from Queensland was the biggest intake in one day since the war years.