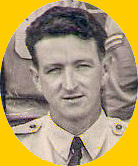 John "Jackson" Greer.
I'm writing this on behalf of my dear Dad, Jackson Greer, who passed away on the 9th of February 2014. This is just a part, of Jackson's story…
Jackson was born in Brisbane on the 24th of March 1932, the youngest of 9 children. He lost his mother to pneumonia when he was only a baby of 17 months, leaving his father with a large family farm and 9 children to care for on his own. Jackson was sent to Brisbane to be raised by his grandmother, before returning to the family farm in Eumundi at the age of 5. When he was 10 years of age, he tragically lost his father in a fatal farming accident. With 4 of the older children involved in the war effort, there was no one available to manage the farm, so it had to be sold. Jackson was once again separated from his beloved siblings and sent to live with his aunt in Brisbane. During the time at his new school, he excelled in academia and developed a passion for rugby. He was selected to represent the Queensland schoolboy rugby team, but unfortunately his aunt wouldn't allow him to travel down to Sydney with the team. The denial of this opportunity proved too much, so he left school and Brisbane as soon as he was old enough.
Jackson worked at a variety of jobs. He only managed one shift at an abattoir before realising he couldn't stand the sight of blood. To satisfy his spirit of adventure, he followed the long family tradition and applied to enlist in the Navy. This was a far too protracted process for an eager young Jack, so in the meantime he enlisted in the RAAF. During his recruitment, he required a birth certificate, which he'd never seen before. It was then revealed to him for the first time in 19 years, that his name was actually John Greer.
In 1951, Jackson completed his rookie training at Base Squadron Amberley (BSAMB). He spoke of how he heard some of the recruits crying during their first night, feeling very homesick, Jackson however, felt like he was finally at home. He thrived in the RAAF, growing a whopping 10 inches in his first year of service. His passion for rugby continued and it was his defensive pressure on the field likened to a stonewall, that lead to the extension of his name from Jack to Jackson in reference to the famous civil war general, Stonewall Jackson. The nickname was to stick for life.
Early in 1952, he was posted with Roy Smeaton and Jim Hanratty, to the first and only Radio Servicemen (Ground) Serial 3 course at Air and Ground Radio School in Ballarat. This was a unique and demanding course, specialising in automatic telegraph and cryptographic equipment. Of the 27 students enrolled, only 9 graduated, and consequently the course was never repeated. At the time, the PMG had refused to Service RAAF equipment, since their technicians were not trained in servicing the tape relay system installed by the RAAF. As a result the 9 graduates were each posted to separate locations (having said this, the RAAF techs had no training on this equipment either and had to pick it up as they went along). Jackson was posted back to Amberley, Roy was posted to what was then, Eastern Area Headquarters at Glenbrook, whilst Jim remained in Ballarat to become an instructor.
All nine of the original group of graduates came back together again for a technician's course at the PMG College at Annandale, inner Sydney, in 1953. Living in Bankstown, they all spent a great few months renewing their comradeship.
In 1955 Jackson was posted to Melbourne Telecommunications Unit (MTU) RAAF Frognall in Mont Albert Road, Canterbury where he worked as a Circuit Control Technician and operated and maintained Auto Teleg equipment. Here he met his lifelong mates George Kleinig, Des Gilliland, Roy Barney and my Godfather, Harold 'Snowy' Winfield. So close was Snowy and Jackson's bond, Snowy named his son 'Jackson Greer Winfield.'
From May 1960 to August '63 he was posted to 3 Telecommunications Unit (3TU) or the 'hush-hush' unit as he referred to it, before being posted to Base Squadron Pearce (BSPEA). It was here in Perth in 1960 when he met Mary. Upon seeing Mary for the first time at a Perth nightclub, he told his friend and fellow airman John Woods, "I'm going to marry that girl one day" (the rest is history). The following year, Mary and Jackson were involved in a near fatal car accident. Mary suffered minor injuries, whereas Jackson had a broken neck. The doctor informed Mary that Jackson might not make it through the night, or possibly walk again should he survive. He spent several weeks in hospital, and nine months in a plaster cast that encased his body from head to hip. After extensive rehabilitation and numerous surgeries, he made a full recovery, although never to play rugby again (a small sacrifice in the scheme of things). He married Mary, the love of his life, and together they had four children - two boys and two girls.
No 1 Elmux course 1962.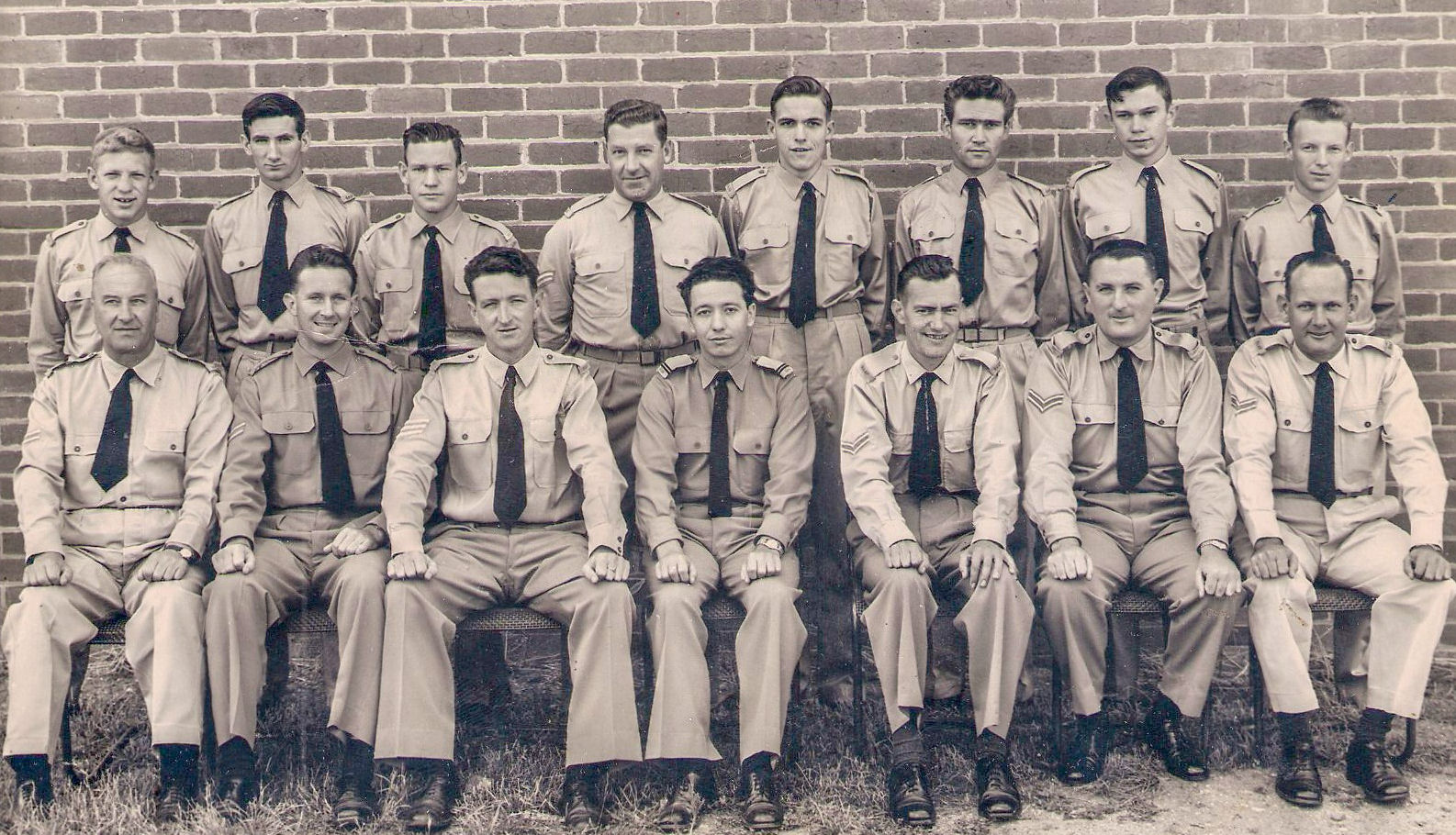 Back L-R: Snow Pendelbury, Alex "Baldy" McLeod, Johnny Bowkett, Bill Greer, Col Collyer, Jerry Carlisle, Nev Petre, Bob Alum.
Front L-R: Jock Brown, Neil Swanson, Jackson Greer, Rod Harris, Eddie Collas, Peter Denham, Roy Barney
In June of 1964, Jackson and family were posted to No.1 Aircraft Depot, Telecommunications Engineering Flight, Telecommunications Installation and Maintenance Squadron (1AD-TEF-TIMS) in Laverton. Mary surrendered her Dutch Nationality, becoming an Australian Citizen in order for Jackson to gain clearance for classified projects. As a senior NCO, part of Jackson's job entailed mentoring the newly graduated technicians from Radio School.
"The posting to 1AD was by far the best posting I ever had with the RAAF. This was the result of a certain Flight Sergeant Jackson Greer. He made all of us new technicians welcome. He was down to earth and gained respect from us all. Day one, after clearances and finally finding the old roller door at 1AD (Tels Eng Flt) we were introduced to Jackson; no frills, just beret and overalls. G'day Jackson Greer." - Ron Faulkner
"Jackson, your expectations were high, our looming had to be straight and tight, our wire loops uniform in size, and even the screw heads on the 7 foot racks had to be lined up, but you always made us feel good about the work we completed. The skullduggery that took place whilst we undertook work of a very high standard, was testament to the leadership skills that came naturally to you guys." - Graeme Brownrigg (Brownie)
In 1969, Roy Smeaton was posted to 1AD, closely followed by Jim Hanratty. Three of the original old and bold (graduates from Ballarat, 1952) were now reunited, in one place, and in charge.
"Our paths didn't cross again until I was posted into 1AD at the beginning of 1969 as a brand new flight sergeant, and I was very pleased to find Jackson there ahead of me and pretty au fait with the shocking conditions there. No names, no packdrill, but the Warrant Officer in charge attempted to stir up trouble between his senior NCOs' and in particular between Jackson and I (he picked the wrong pair there, because we were as thick as thieves and kept one another abreast of what was going on). Luckily, the 'gentleman' reached retiring age and was replaced by a new Warrant Officer, Jim Hanratty, so the three senior NCOs' were all from that original nine." - Roy Smeaton
There was a time when Squadron Leader Jim Beer paid a visit to see the CO of School of Radio. He wanted to know how the School selected techs to become Telstechs, rather than Radtechs. The CO of RADS answer was along the lines of "Those who seem to be struggling, a nuisance, or a troublemaker etc get to be Telstechs, while the better class of successful trainees become Radtechs. Why do you ask?" "Well," said Jim Beer, "explain to me why I get twice as much work done, that is twice as good, from half the number of workers, in half the time." This success was attributed to the leadership skills displayed by Jackson, Jim and Roy. – Val Robinson
In 1971, the 1AD Telstechs were tasked with installing the new Communications Centre in Butterworth, Malaysia. Due to the size of the project, a large number of techs were required. A Telstechs course was just being completed at Radio School, so a large number of techs were posted in from that course.
"The techs were all raw with no field experience at all and no knowledge of a working Communications Centre. Jackson took them all under his wing and moulded them into a great team of techs. Advising them all as they refurbished into as-new condition all forms of consoles and Teletype machines. I am sure all of them would say that they turned into competent techs, solely as the result of Jackson's mentoring and advice." - Mick Lawson.
Butterworth Comm Centre, 1971.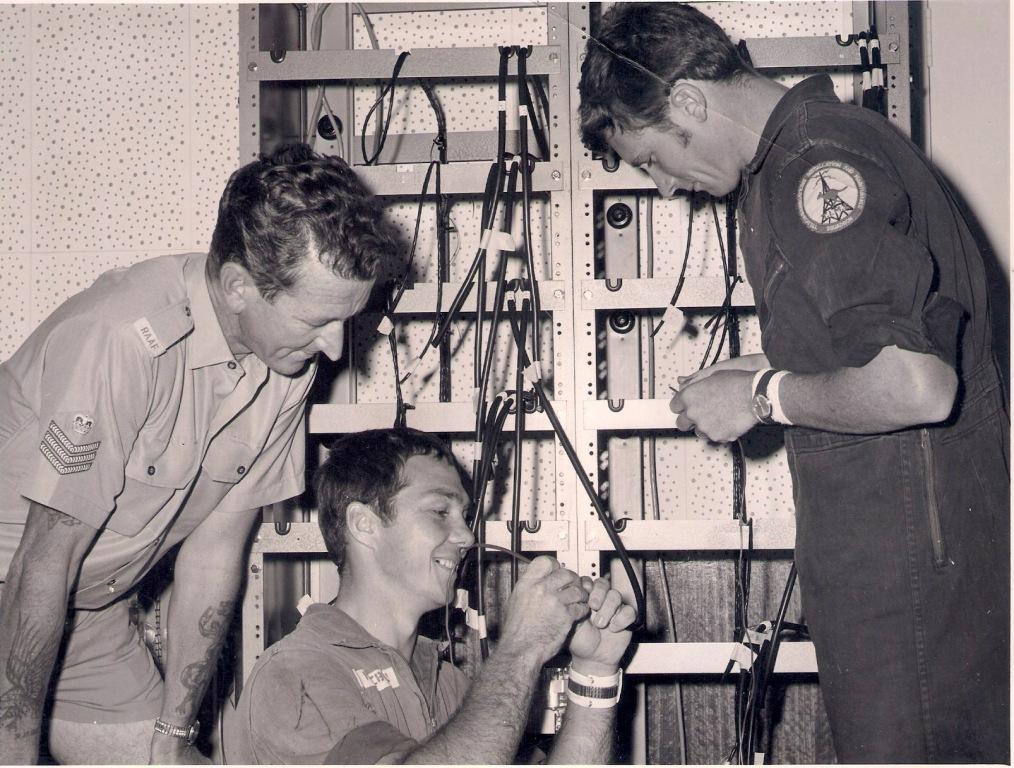 L-R: Jackson Greer, Newton Klaebe, Ron Faulkner.
(Newton & Ron were pallbearers at Jackson's farewell service)
Eventually all the equipment was crated up and loaded into two Hercules aircraft for the long haul to Butterworth. The techs travelled with the load, seated along the outer hull of the Hercules.
"Jackson found a comfortable seat inside a new Land Cruiser that was thrown into our Herc, to complete the full load." - Mick Lawson
Arriving in Butterworth, they set about the huge job of cabling. Jackson and Roy taught the crew the correct cabling methods, how to lace in cable looms and terminate correctly. The group remained in Butterworth for over three months, working long hours and playing hard in their leisure time.
1AD Christmas 1971.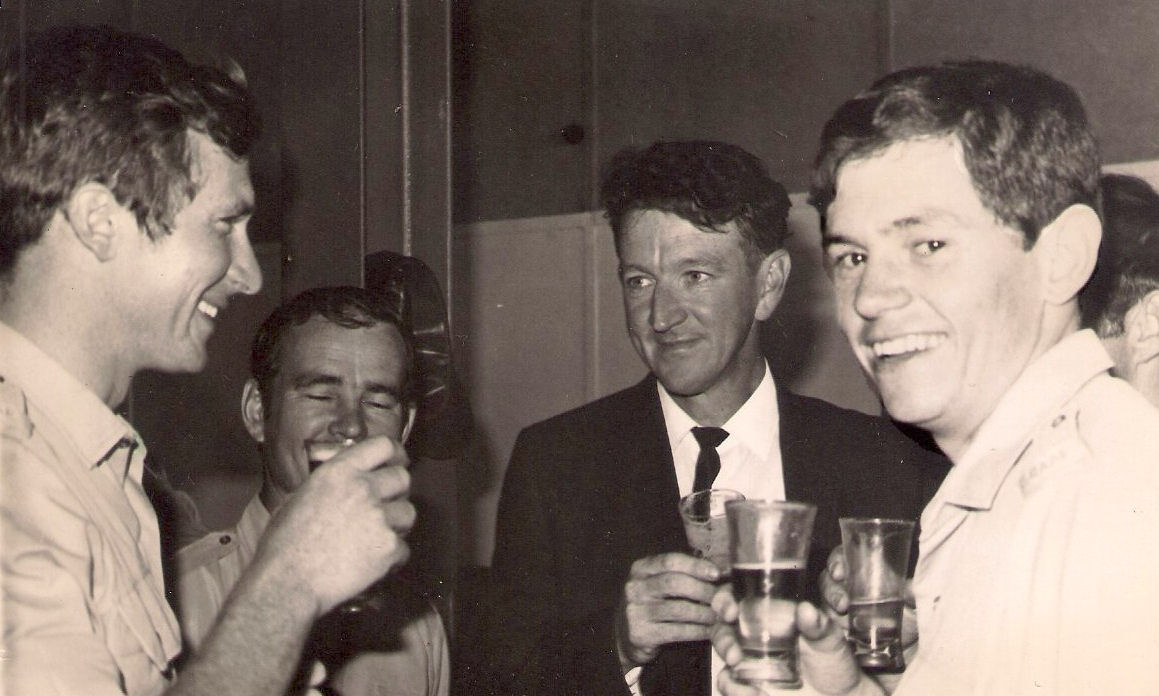 L-R: Ron Faulkner, Norm Ellis, Jackson Greer, Kev Ambrust.
"If Jackson wasn't satisfied with the work being done by the appropriate trade, he'd go and learn how to do it himself. He worked out how to make the noisy six gang tape transmitters about 60% quieter. The refurbished equipment Jackson had prepared for the new communications centre in Butterworth was far better than the equipment when it was brand new." - Roy Smeaton
In 1972, Jackson was awarded the British Empire Medal in recognition of his outstanding achievements in the telecommunications field, particularly in respect to the Butterworth installation, and for his selfless and devoted service during his long tour of duty at No 1 Aircraft Depot.
BEM Award 1972.
Seven members of the RAAF from Victorian units received awards from the Governor of Victoria, Sir Rohan Delacomnbe, at Government House, Melbourne, on the20th April, 1972.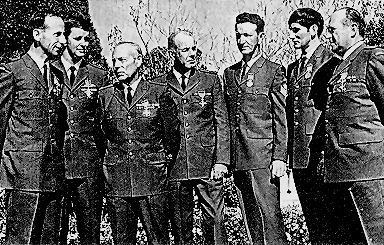 Pictured in the grounds of Government House after the investiture are L-R:
Sqn Ldr DC White, 1FTS Pt Cook (DFC), Flt Lt JA Landale, 1FTS Pt Cook (AFC), WOff G Dennis, East Sale (MBE), Wg Cdr AR Jans, Pt Cook, (OBE), FSgt J Greer, 1AD (BEM), Sgt AA McLeod, BSqn Laverton (BEM), and WOff WR Walters, HQSC (MBE)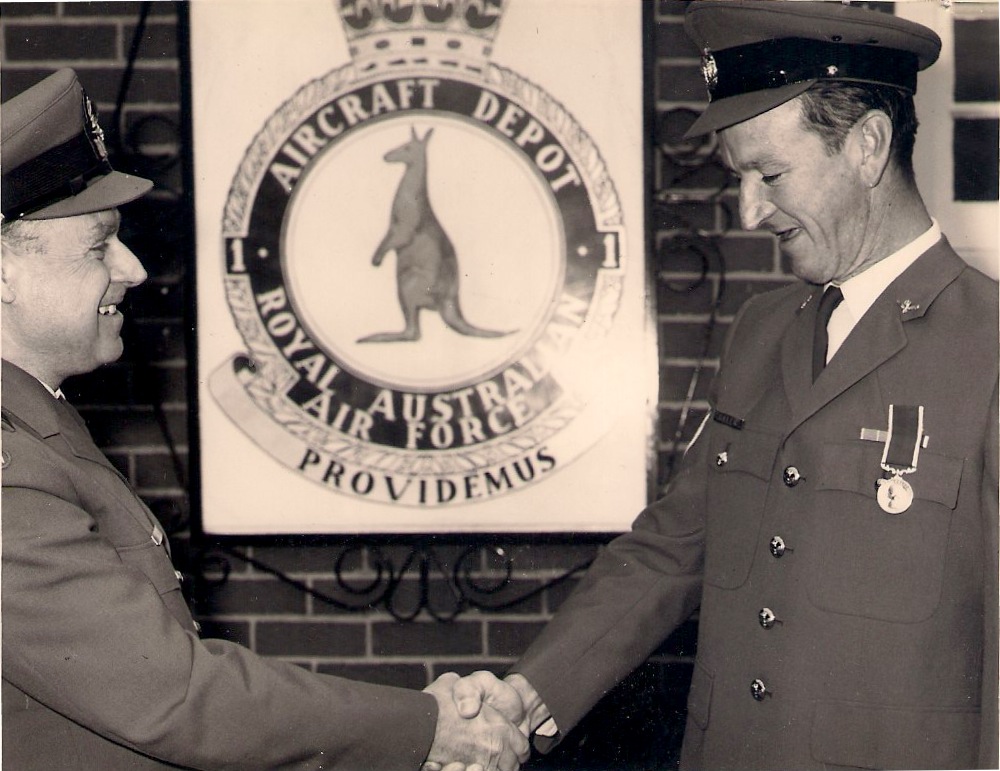 L-R: 1AD CO John Swales and FSGT J Greer, 1972.
The consummate professional also had a mischievous streak with his energy, charisma and larrikinism sometimes causing strife.
"There was a time at Sutton's hotel in Footscray when Jim (Hanratty) and Jackson set me up as the middle-weight champion of Australia. That was 'interesting' for a while." - Val Robinson
"I recall when Jackson took the whole crew into the Sergeant's mess. We all had plenty, but Jackson told the mess staff that we'd all just been made up to Sergeants, and he was buying us a congratulatory drink." - Mick Lawson
Occasionally, even a run-in with authority. "A certain Wing Co in Butterworth would certainly remember him, as would a certain young Flying Officer." - Mick Lawson.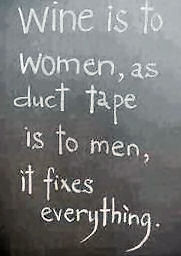 1AD's 51st Anniversary.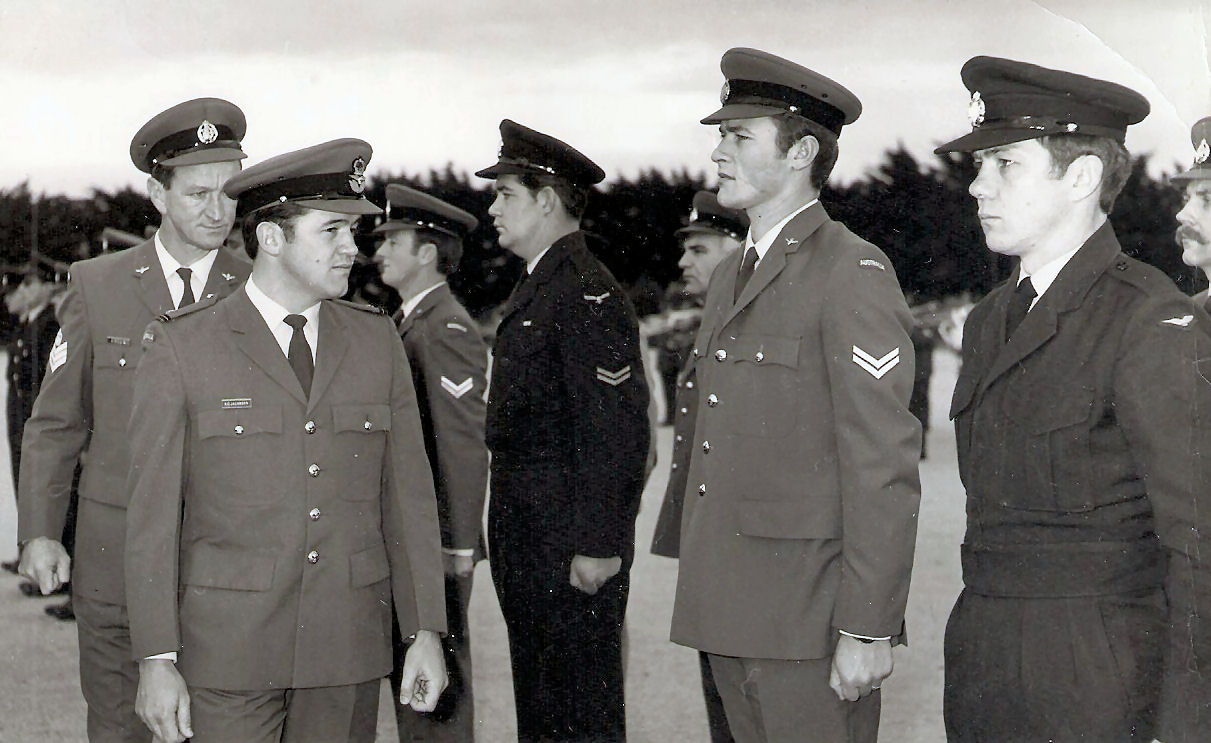 L-R: FSGT Greer, F/O Jacobsen, SGT Morley, LAC Klaebe.
In November 1973 after a nine and a half year tour of duty with 1AD, Jackson was promoted to Warrant Officer and posted to Staff Officer Telecommunications Engineering (SOTELENG) in the then Headquarters Support Command at Victoria Barracks, Melbourne. He was employed as a technical specialist, advising project officers across Australia on how best to address the myriad of problems that arose with the RAAF ground based telecommunications equipment. He also worked on project tasks such as the Secure Telex design and other major computer installation tasks. Before the Secure Telex project, the RAAF had telex machines in all communications centres, but could only handle unclassified traffic. A special system was developed by Defence in conjunction with Telecom to make this system operate using encryption devices, so that no third party could read the messages sent from one telex machine to another. This allowed classified messages to be sent across a commercial network.
"Jackson worked with me on the development of the Secure Telex project and his was a major contribution to the practical design of the equipment console. He had such a flair for the practical aspects of telecommunications engineering projects. Some aspects of his design work bordered on art, they were so elegant." - Russ Walker
Jackson (Dad) and family lived in Laverton for 11 years. During this time we saw many RAAF families move in and out of Studley Court. Dad requested a posting with the hope of moving to Perth so Mum could be closer to her extended family. A posting wasn't available so in 1975 after 25 years of service, Dad retired as a Warrant Officer. Soon after, we moved Perth where we still reside to this day. Dad worked as a Telecom Technician from 1975 to '89 and later worked at the West Australian Newspaper for 7 years, before retiring in 1996 at the age of 64. He was highly regarded by his colleagues, enjoying many good times and friendships in these roles, however it was no substitute for the camaraderie of the RAAF.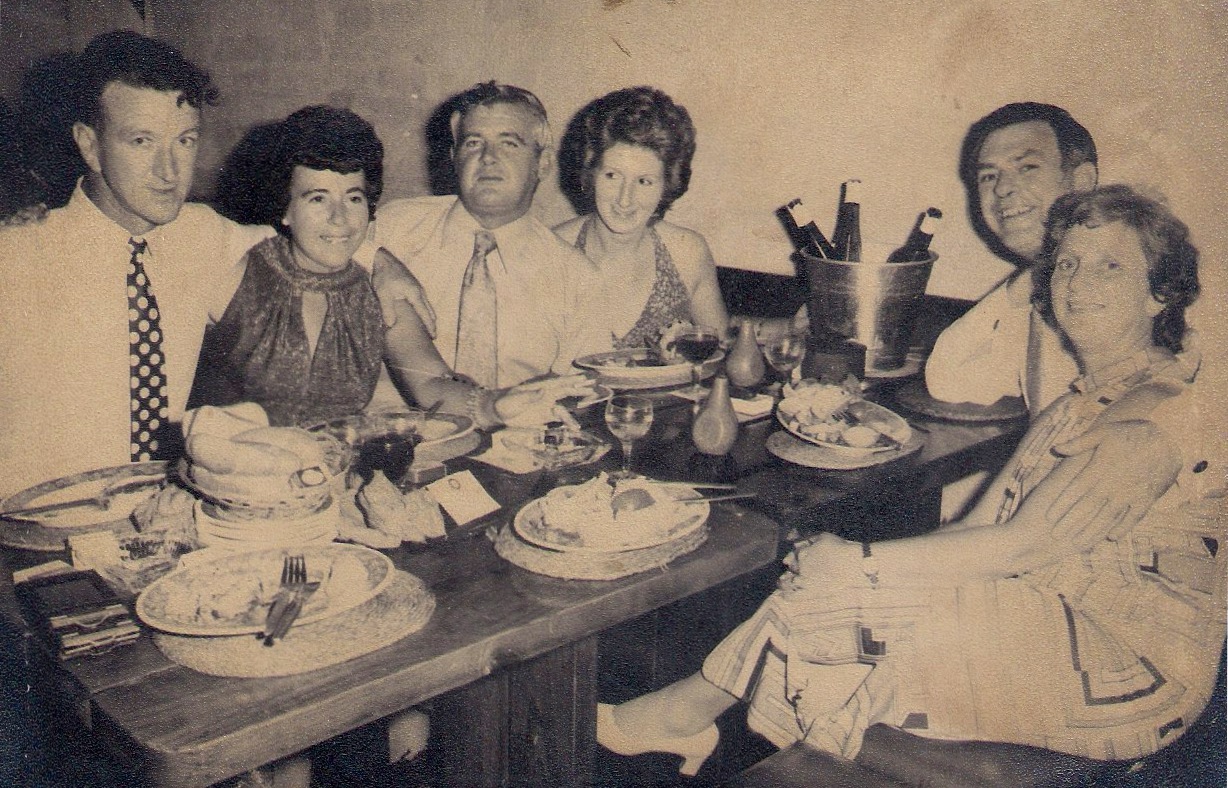 L-R: Jackson and Mary Greer, Jim and Barbara Hanratty, Roy and Fay Smeaton.
In his retirement, Dad spent many hours in the garden tending to his ferns and prized elkhorns, "my little piece of Queensland," he used to say. He also loved reading, researching history and completing cryptic crosswords. His role as patriarch of the family meant he spent a lot of his time renovating houses. When not lending a helping hand to family or friends, he would always have a project of his own on the go. His greatest source of joy was spending time with family and friends who adored him. Mum and Dad enjoyed a modest lifestyle, yet Dad always claimed he was 'rich' having been blessed with four healthy children (and seven beloved grandchildren).
Jackson's farewell service.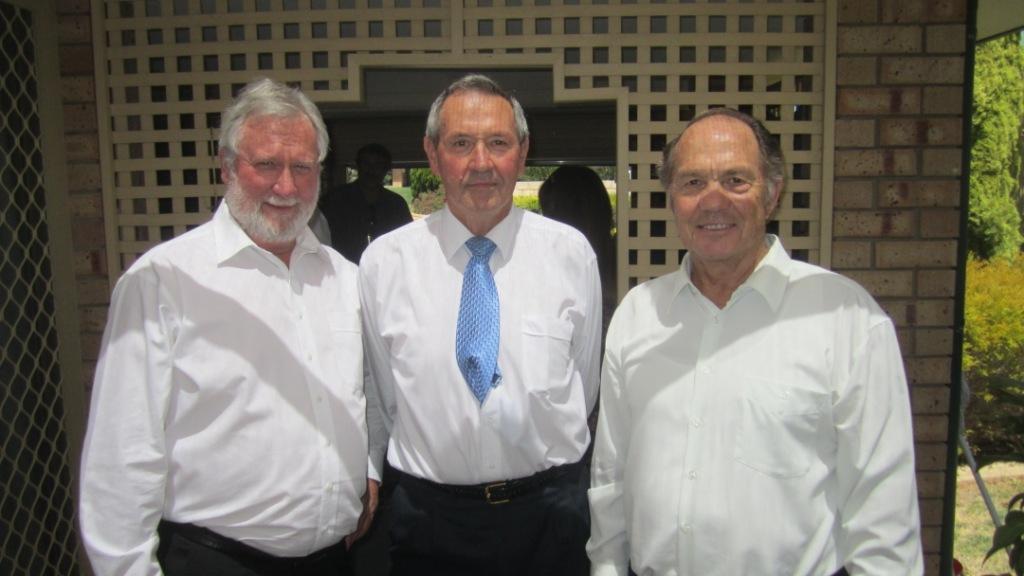 L-R: Ron Faulkner, Val Robinson, and Newton Klaebe
The RAAF played a significant role in Dad's life. He would often reminisce about his escapades and the wonderful friendships he formed. We received many emails and phone calls from his RAAF mates upon them learning the news of his illness and subsequent passing. Wherever he went, he made friends. His strength, humour and humility endeared him to all he met.
As Dad maintained throughout, he "lived a blessed and fortunate life."
Yvonne Greer – Cain
Coffee.
A warm delicious alternative to hating everybody and everything, every morning, forever.