RSL sells out our Soldiers.
Wayne Oldfield sent us this, it appeared in the Townsville Bulletin on the 27th April.
"Anzac Day is being betrayed, and not just by some smartalec ABC presenter like Yassmin Abdel-Magied . Tuesday showed it was now being betrayed by the RSL itself, which let services in two capitals be hijacked by activists pushing tribal division. Why did the Canberra parade have Aboriginal veterans marching together under an Aboriginal flag, rather than with their units under an Australian one? Why did Adelaide's Dawn Service start with a Welcome to Country – in fact a welcome to "stolen" land, as if our soldiers were mere guests or even invaders of a land some had died defending?
Anzac Day was sold out. Our most solemn day of unity was hijacked by people seeking to divide us instead. Why did the RSL allow this in the ceremonies it controls?
True, Abdel-Magied , one of the ABC's celebrity Muslims, is actually getting most of the criticism for posting an Anzac Day sneer: "Lest we forget: Manus, Nauru, Syria, Palestine. Her hostility was clear even if her point was fuzzy: Anzac Day was apparently a time for feeling shame for keeping our Muslim illegal immigrants or for allowing Muslims in the Middle East to be slaughtered or allegedly oppressed. Abdel-Magied's attempt to preach her tribal resentments, just like the other examples I've listed, is a betrayal of the very point of Anzac Day.
This is a day to remember those who thought Australia was worth the price of their life, and to be intensely grateful for both this country and those who died defending it. But we should make allowances for Abdel-Magied . She is just a 26-year-old , plainly not that bright. Remember her earlier claim that "Islam is the most feminist religion"? Blame instead her sponsors, the institutions who adopted her as their pet Muslim to parade their own broad-mindedness and to show that Islam has a pretty face, literally.
What other giddy 26-year-old , and with these views, would have been appointed to the federal Anzac Centenary Commemoration Youth Working Group? Or to the Australian Multicultural Council? Or to the Council for Australian-Arab Relations? And why would the ABC have picked her, from among hundreds of more experienced presenters and journalists, to present a weekend TV show telling us stories about Australia and the things that "unite us"?
No, Abdel-Magied is a symptom rather than the virus. She seems to me a mere profiteer of the politics of grievance and tribalism.
The real problem here is the RSL, which on Tuesday let Anzac Day become a platform for exactly this grievance-mongering and tribal division.
To repeat: Anzac Day is the most important day in our calendar for reminding ourselves we are one people, joined by a love of this country that compels us to defend it. It is a day the young honour the old, and when even migrant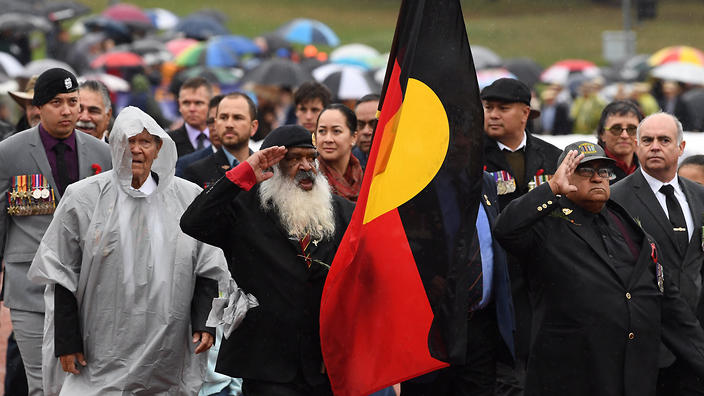 Australians honour those who defended what is now the home of us all. Indeed, at Melbourne's parade I saw Australians marching or simply applauding who were born in Vietnam, China, Italy, Britain, Cyprus and India. I saw Sikhs and a Muslim family. Yet the RSL let this day of unity between generations and between Australians from so many countries and creeds degenerate into tribalism instead.
Aboriginal soldiers actually fought under the Australian flag, a fact that powerfully reminds us racism is a sin, given such sacrifice in a common cause. But in Canberra the RSL let many Aboriginal veterans march at the head of the parade under the Aboriginal flag instead, divided by "race" from the units in which they'd once served alongside other Australians. What ghastly apartheid. Is this our future now? To fight under racial flags?
In Adelaide, the RSL let the Dawn Service start with a Welcome to Country ceremony by Katrina Ngaityalya Power, who identifies as a "Kaurna" woman. What division is this, to treat our soldiers, sailors and airmen as strangers to the land that some died for? To treat them as people forever needing a welcome to their own land? Power rubbed it in by changing the wording of the Welcome to Country to "stolen Kaurna land" and changing the reading of the 23rd Psalm to include "Yea though I walk through the valley of the shadow of invasion".
Note that Power herself has ancestors who were "invaders", which should demonstrate the foolishness of using such crude racial divisions in a country so complex. No, never mind silly Abdel-Magied . It's the RSL's stupidity on Tuesday that was far more ominous.