Privacy Policy | Editorial Policy | Profit Policy | Join the Association | List of Members | Contact us | Index | Links
Back Go to page: 1 2 3 4 5 6 7 8 9 10 11 12 13 14 15 16 17 18 19 20 Forward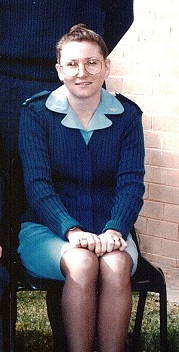 Page 3 Girl.
Our lovely Page 3 girl this edition is Judy Rodwell
Judy says: "I was born in Ipswich, where my parents grew up and was raised in Townsville. After graduating from High School I went to work in the Banks where I made a friend who was dating a RAAF'y. Her partner and his section would have pay night dinners out in Townsville and one night she invited me to come along, it was at this dinner that I met my ex-husband John.
My Dad was a Nasho and it was not an enjoyable time for him and really turned him against the military so I was a bit nervous to tell him I was dating a RAAF'y. His reaction wasn't too good but at least he was civil. 3 months later we announced our engagement and Dad was happy to hear that John had seen the light and was going to discharge from the RAAF and get a 'real job' after we were married. Though that all changed when 12 months later we were married and John was offered a posting to Pearce if he signed on for another 3 years.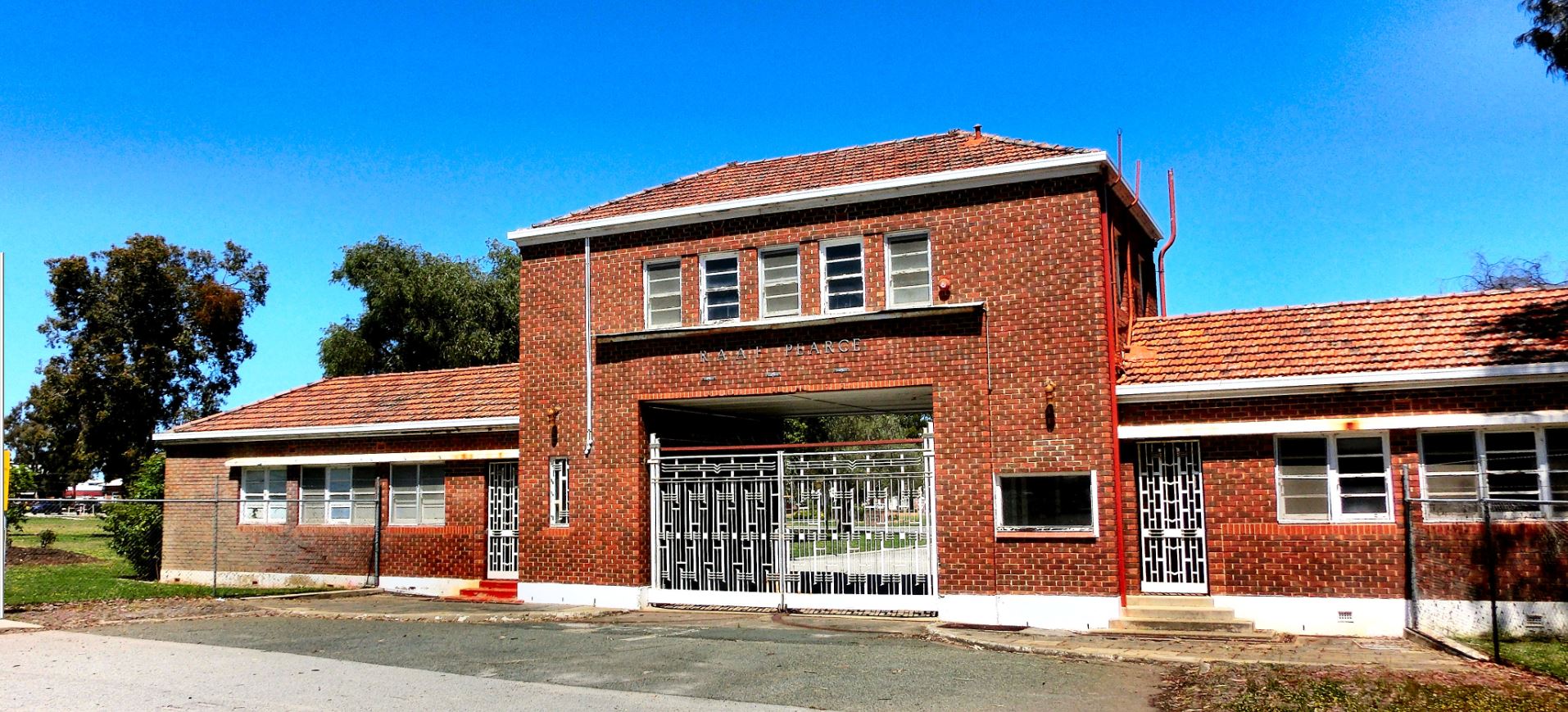 I knew John was enjoying his time in the RAAF and didn't really want to discharge so I supported his decision to 'sign on' and accept a posting to Pearce as this is what he had wanted for several years. I was really looking forward to a new adventure and the excitement of driving across the Nullarbor.
The reality wasn't as exciting as I thought (I had just turned 21) I had never left Qld and the only time I remember leaving Townsville was when we had a weekend break in Bowen or visited my Nan in Ipswich. Life was tough, I had no job, no friends, I had to wear 3 jumpers to stay warm (it was June and freeeeeeeeezing) and no idea of where things were or how to get around in Perth. John would get on the RAAF bus at 0630 and wouldn't get dropped off until 1730. I could not believe how hard it was to get a job when you were married to someone in the military. I had managed to find a temporary full time job but I didn't like the fact I could be job hunting again in a few months so one day I decided to join the Air Force.
I went to the Perth recruiting centre with absolutely no idea of what I wanted to do, I just walked in and said I wanted to join the Air Force. They asked me what I wanted to do and I stood there dumbstruck and said I'm not sure but my husband is a Telstech so I would want a job that could go the same places he can. After chatting to me they told me I'd be perfect as an EDPOP, a what???? An Electronic Data Processor Operator (around 1992 we amalgamated with COMMSOPS to become CISCON's). It sounded great so I told them I'd take it, they booked me in for my tests one week later and told me I had better start running as I needed to pass a 2.4km run when I joined.
That night I went home and told my husband that I was tired of not getting jobs because he was in the RAAF and I didn't want to go through it again when he was posted. Then I told him I was signing up for the Air Force and my exams were in 1 week – he was surprised.
The week went really fast and finally it arrived, I turned up ready to do what it took to get a job. It was an extremely daunting day as when we arrived they explained that we'd all go into this room and be given a test, at the end of it we would all wait outside and once they had marked the tests they would call us back in, if our name wasn't called then we weren't successful and had to leave. Luckily I made it to the last test, though we had lost a few bodies during the process. I was then sent to my medical and psych appointments and finally the CO. Three weeks later I received a call and was asked if I would like to join on the 16th January 1989, it was less than two weeks away!! If I didn't take it then I would have to wait another three months and I might not be given a second chance, so I said yes.
4/93 RSWAPS Course. (1993).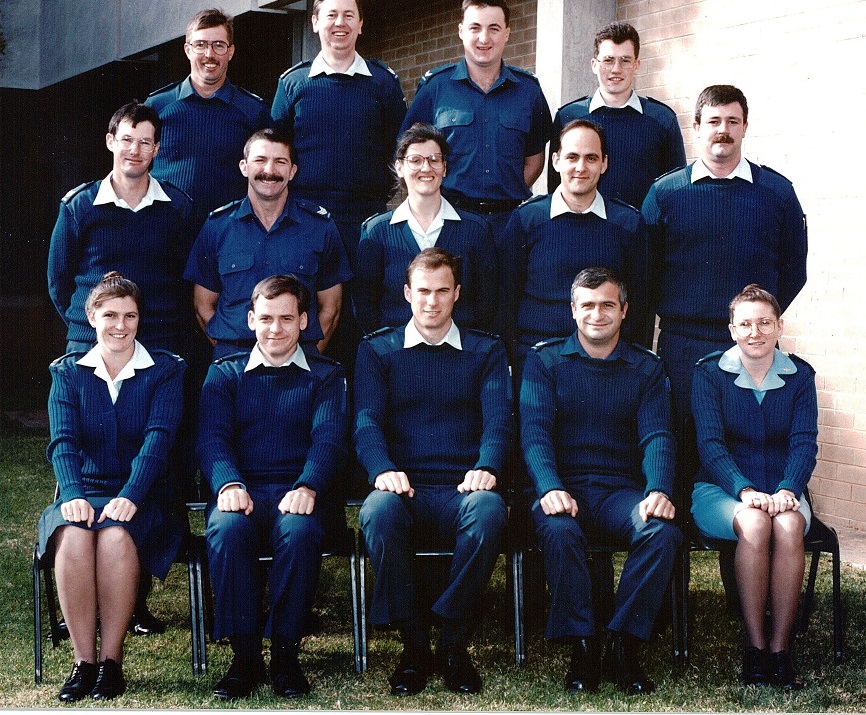 Back Row L-R: Matt Gowty (CETECH), Rod Bennett (EDPOP), Brett Dockett (EDPOP), Randall ? (CLK??)
Middle Row L-R: Jeff Schofield (EDPOP), Graeme Maher (Commsop), Dee Tierney (EDPOP), Sam Luque (EDPOP), Greg Smith (EDPOP),
Front L-R: Sidonie Leslie (EDPOP), Steve Kowal (Engineer?), Paul Todd (Engineer?? BRADO), 'Tex' (unsure of real name or mustering – possibly an aircraft trade), Judy Rodwell (EDPOP).
I completed 10 years in the PAF and then discharged after our twins were born, two years later I joined the RAAFAR where I still am today.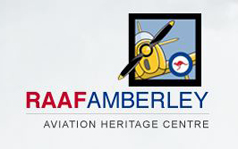 I've had a great career, made some good friends and had the opportunity to go on Exercise Kangaroo 95 and attend many courses. I've done things that I would never have had the opportunity to do if I hadn't joined and as a Reservist I've worked in areas that CISCON's don't normally work in. I currently work at the RAAF Amberley Aviation Heritage Centre.
The Air Force has taught me that no matter how daunting things look, whether you've done it before or not, whether they've trained you beforehand or not – jump in and start swimming. With that in mind I am now going to start a University degree as a 'mature age' student. It's daunting and I do worry about not having the security of full time employment, but – here goes."
(PS: We didn't have a clue as to what RSWAPS stood for and Judy had to go home to look it up as she'd forgotten too, RSWAPS is Air Force for RAAF Standard Word and Administrative Processing Standards. It was a Minicomputer System Manager's Course. - So now you know!! tb)
Women in the ADF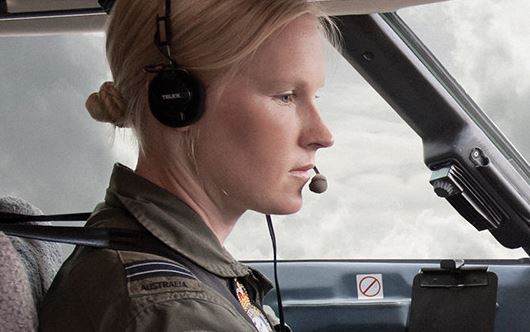 Australian servicewomen now comprise 16.1 per cent of the permanent full-time ADF and there are currently 266 women serving overseas on ADF operations, representing about 14 per cent of the total deployed force.
There are now 82 women in senior officer positions, Group Captain equivalent and above, compared to 48 in February 2012. See HERE.
Well done!
2011 - MT Fitters at the Beavers 50th anniversary reunion.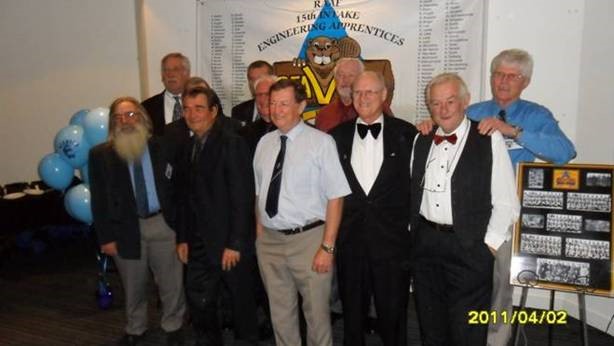 1975 - Man Management Course at Wagga.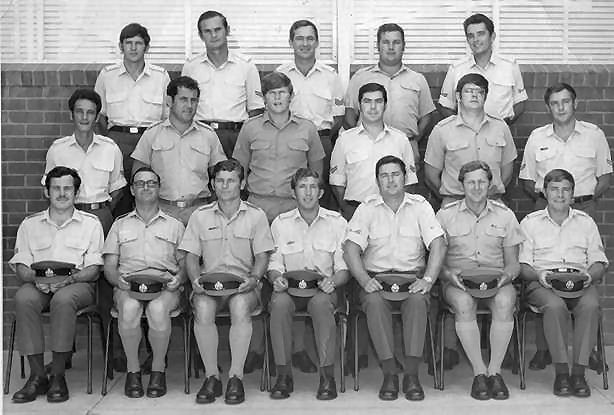 Front row, 4th from left is Chris Robins, a Radtech G from 19 Appy. We don't have any more names, if you can help, please do.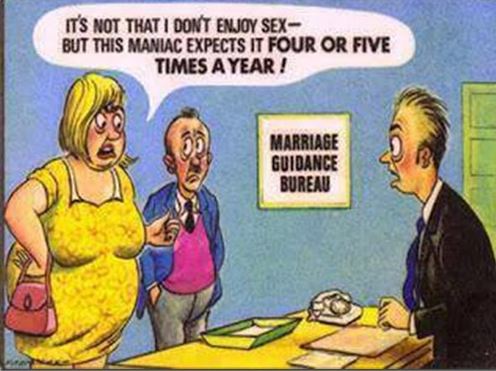 Maryborough Museum.

David Geck and his associates are attempting to start a museum at the old RAAF Maryborough site and would like to find the relatives of the ladies in the pic below so they can tell their stories.
David says "The photos are part of the Maryborough Military and Colonial Museum Collection. I am researching RAAF Maryborough and have plenty more but these are the only ones relating to the Radar School at Maryborough.
I have a few Facebook pages with more photos and information, "RAAF Maryborough" and "Maryborough Military Aviation Museum"
1 Radar School, Maryborough.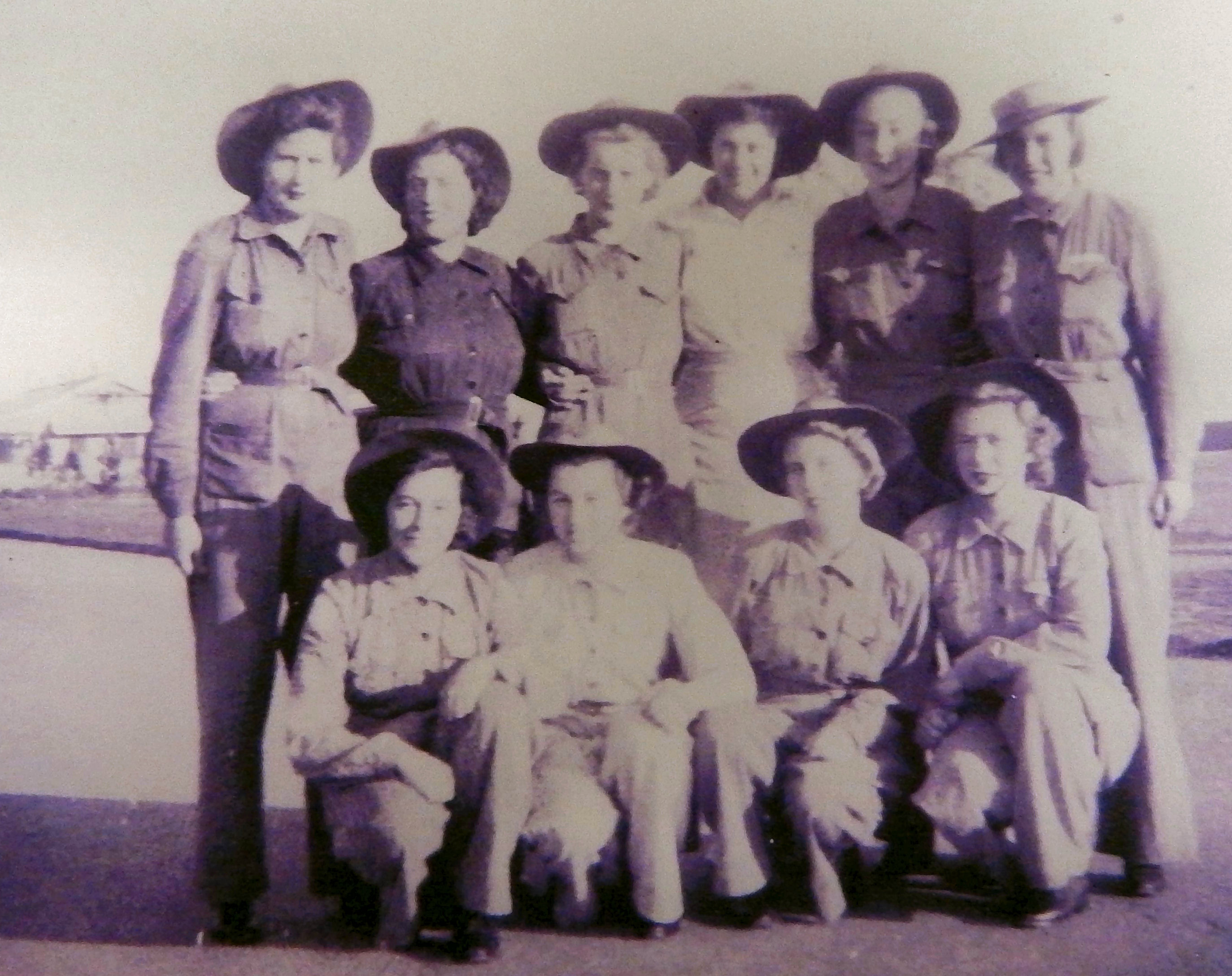 David has a few names (see HERE) but needs more. If you can help let us know and we'll pass it on.
No 1 Radar School Maryborough at closure - Oct 1945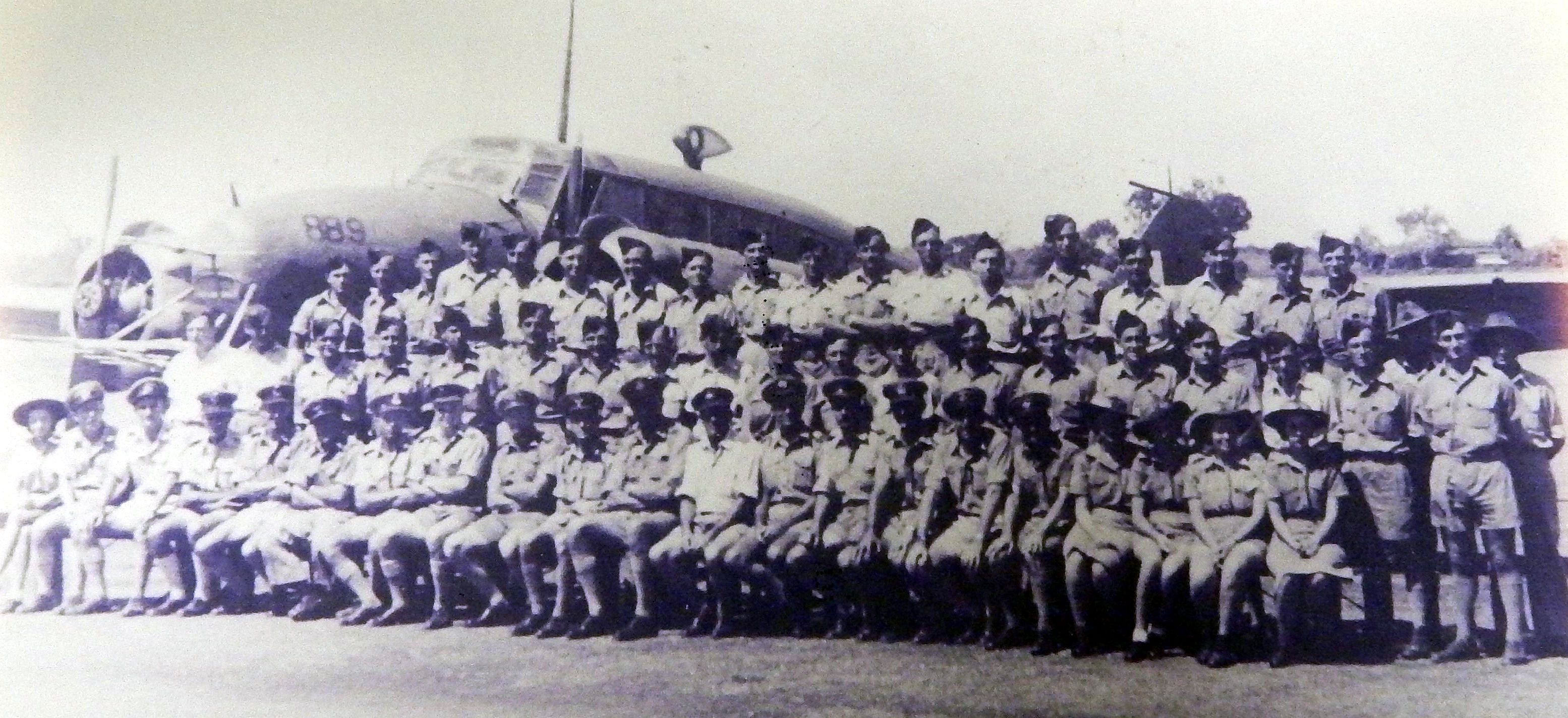 WRAAF Rookies Course 254
Laverton
26 June 1978 – 01 August 1978,
Tracey Bell sent us this pic.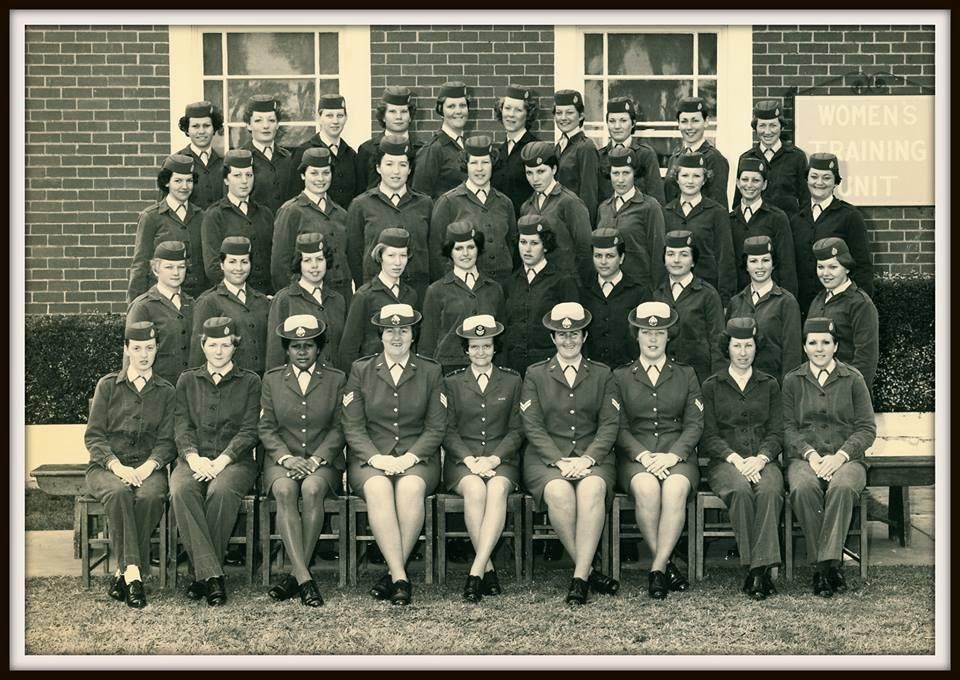 Click HERE to see the Course Pennant.
A committee is twelve people doing the work of one.
10 Radio Mechanics Course.
Ballarat, 1959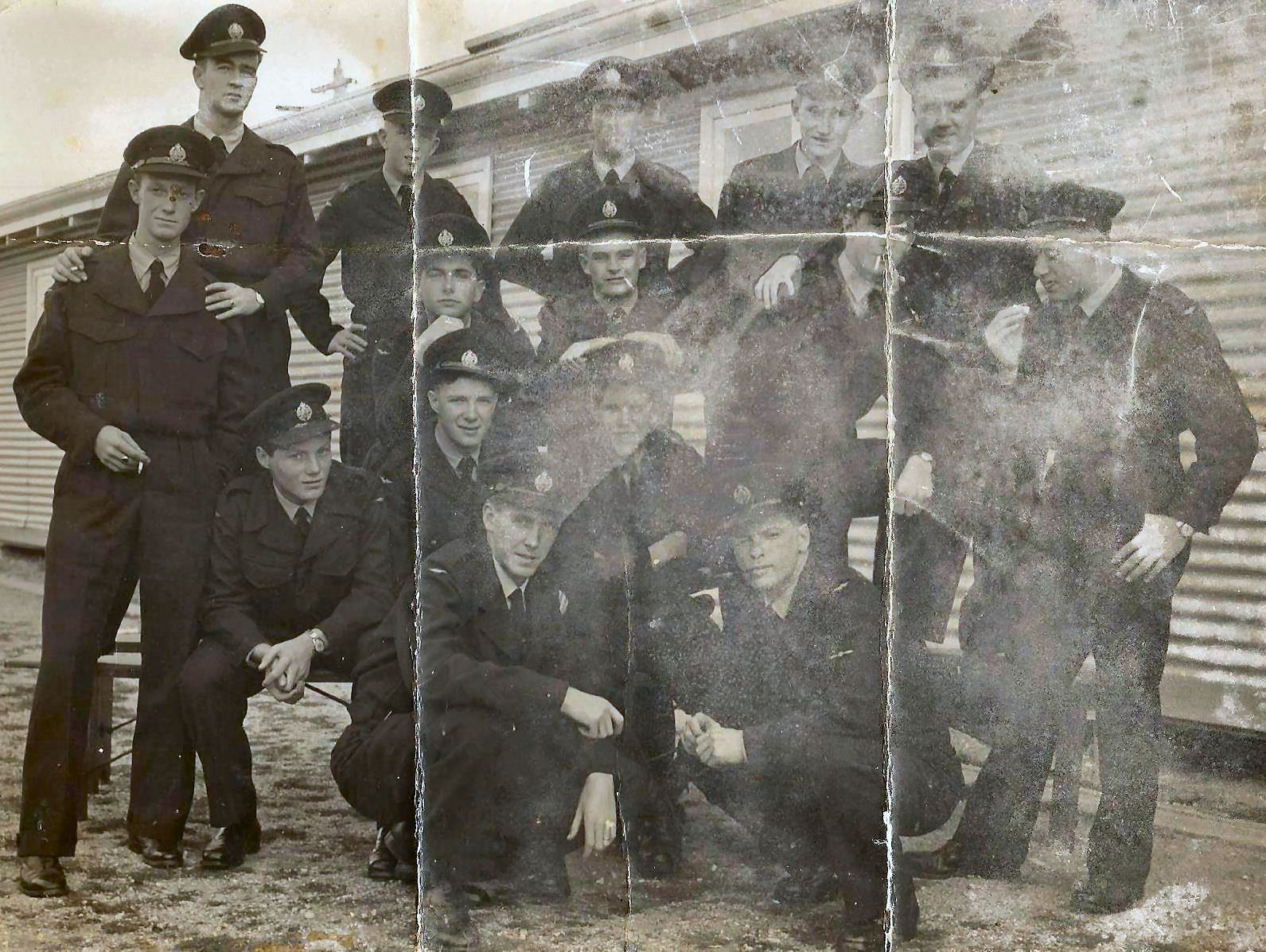 Back Row L to R Walker, Pobar, OBrien, Laurie Billman ," Panco".
Middle Row: L-R: Tony Rogers, Geoff Williams, Peter Andresen, Rick Newling, Dont Know.
Front Row: Sitting and kneeling - can't remember."
Peter Andresen sent us this pic (above), he says: "It's obviously a Ground, not Air, Radio Course, hence the relaxed photo. These were the mid course survivors of No 10 Radio Mechanics course of 1959 at Ballarat. Only 8 actually graduated."
21 Radio Mechanics Course.
Ballarat
1960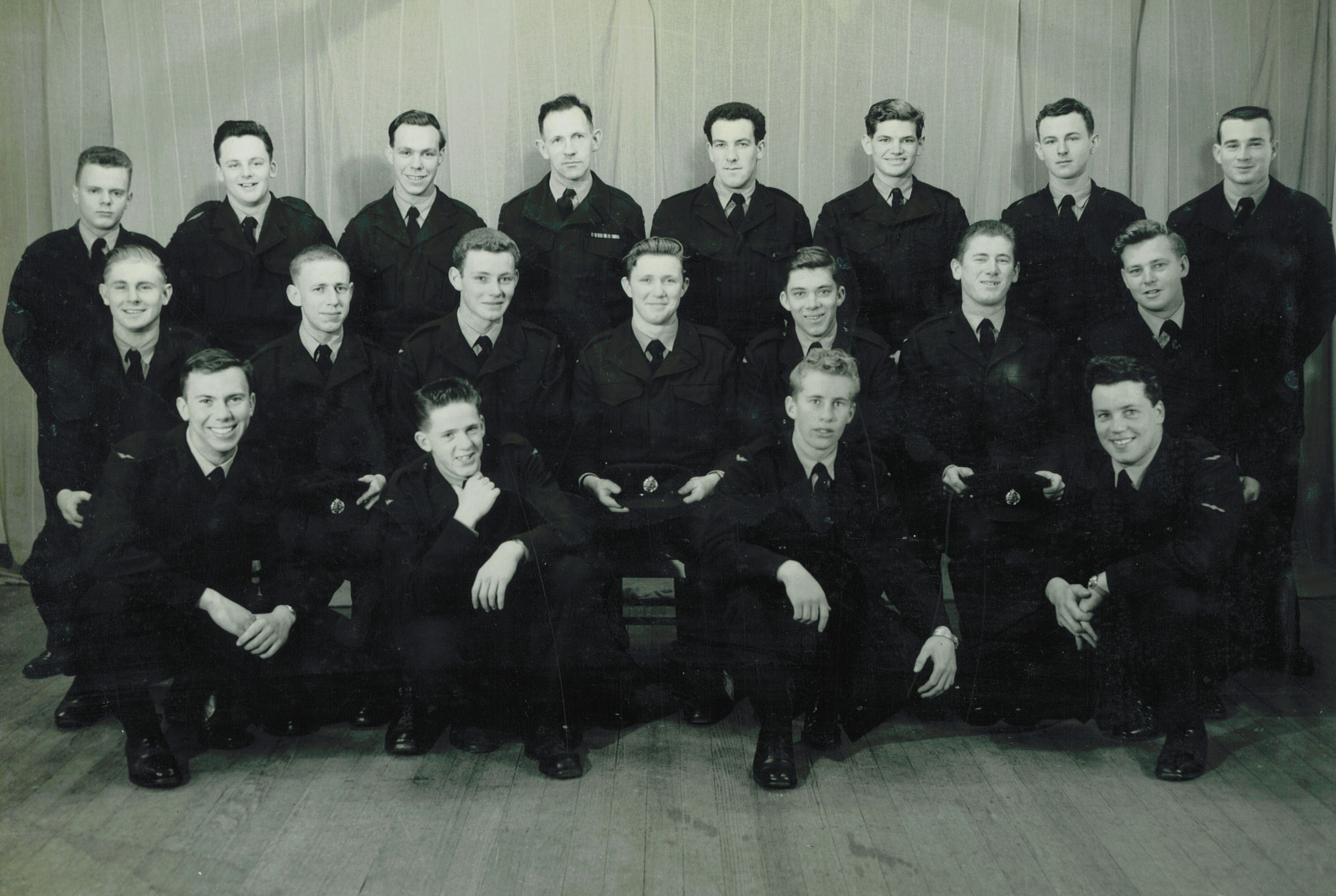 Back Row L-R: John Archer, J Randle, William Scheske, Phil Burrill, Anthony Bucci, William Thomson, John Thompson, Ken Martin
Middle Row L-R: Phil Mole, Neville Mackay, Jeremiah Cleary, Peter Macnamara, Neville Stark, Allan Thompson, Bruce Hurst.
Front Row L-R: John Dare, Bernie Radel, Groff Waugh, Laurence Cook.
You know you're getting old when you have to wear your glasses in the shower to shave.
2 AD Radio,
Richmond 1984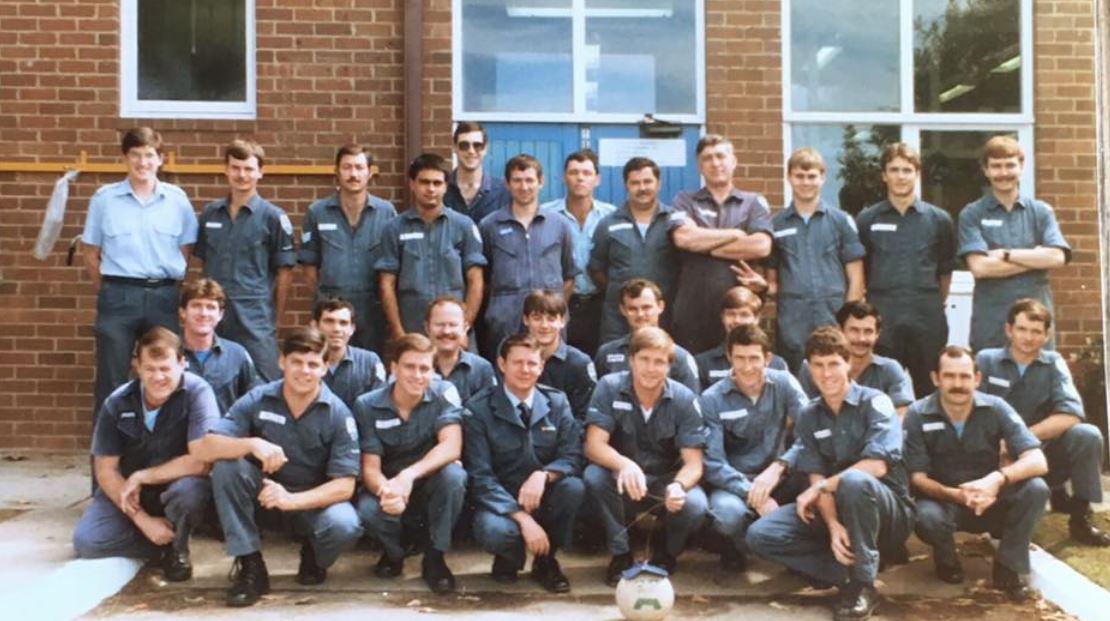 Back Row (L-R): Michael "Bart" Cummings, Geoff Harmer, Col McKay, Nic Savino, Marco (no surname), Lindsay Gordon, Doug Cross, Ron Keen, Tony Muir, Craig Bickley, Lindsay Collett, Dave O'Connell.
Middle Row (L-R): Clint McKenzie, Rem DeVroome, Greg Wood, Kym Nagel, Mick Devlin, Reg Varley, Barry Francis, Col Douglas.
Front Row (L-R): Archie Mohr, Don't know, Wayne Tetley (RIP), Don't know, John Klein, Murray Beauchamp, Tony Wennerbom, John (no surname).
4 Technologist Apprentice Course (TAC)
1985 "A" Flight (first year)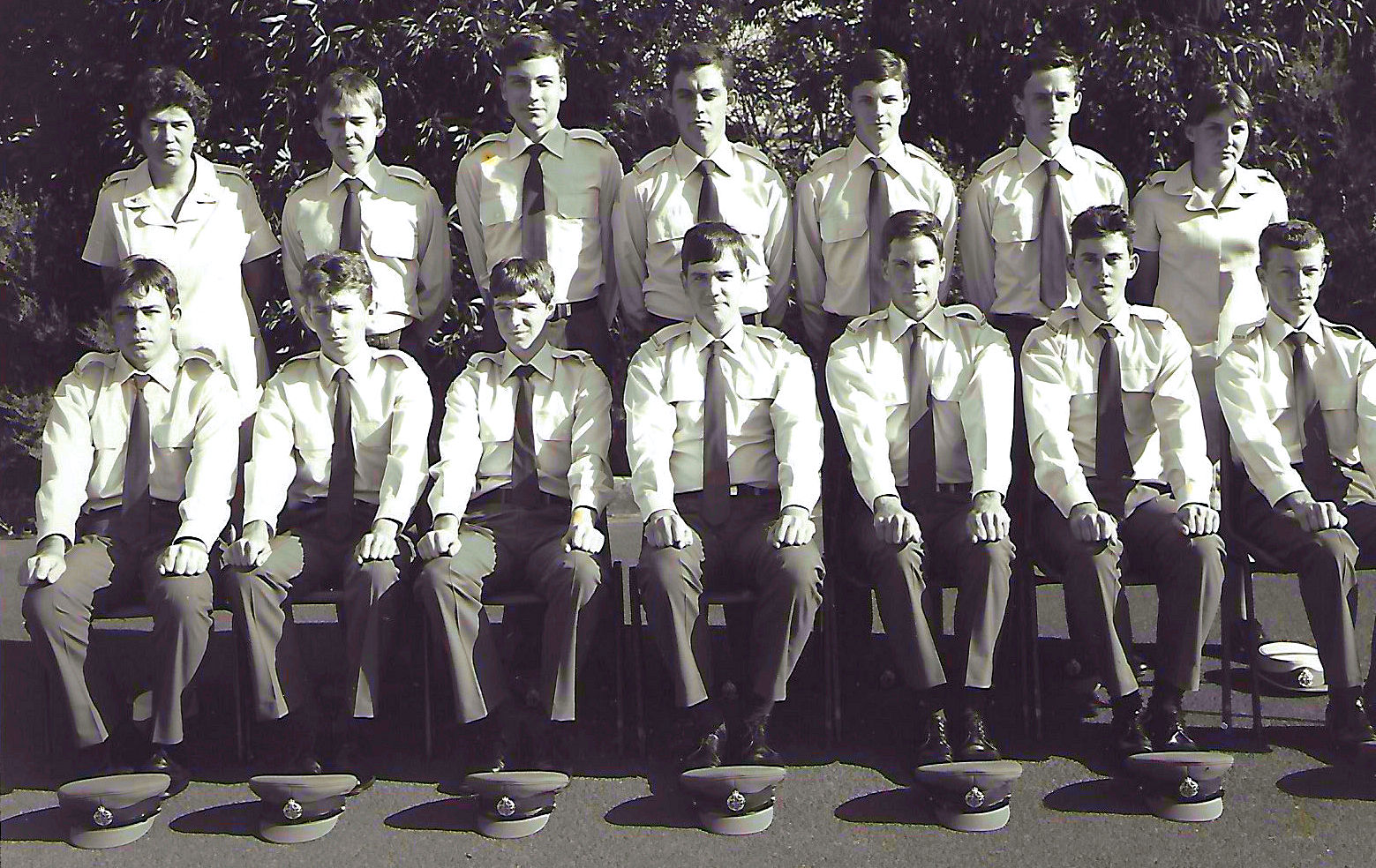 Back Row L-R: Kym Otago, Lance Butler, Robert Halas, Alan Beggs, Bruce Murrell, Mark Perry, Tania O'Connell.
Seated L-R: Peter Jennen, Dean Collins, Robert Zibell, Shane Fracchia, Michael Hall, Alan Curtis, Bruce Wriede.
4 TAC
1985 "B" Flight (first year)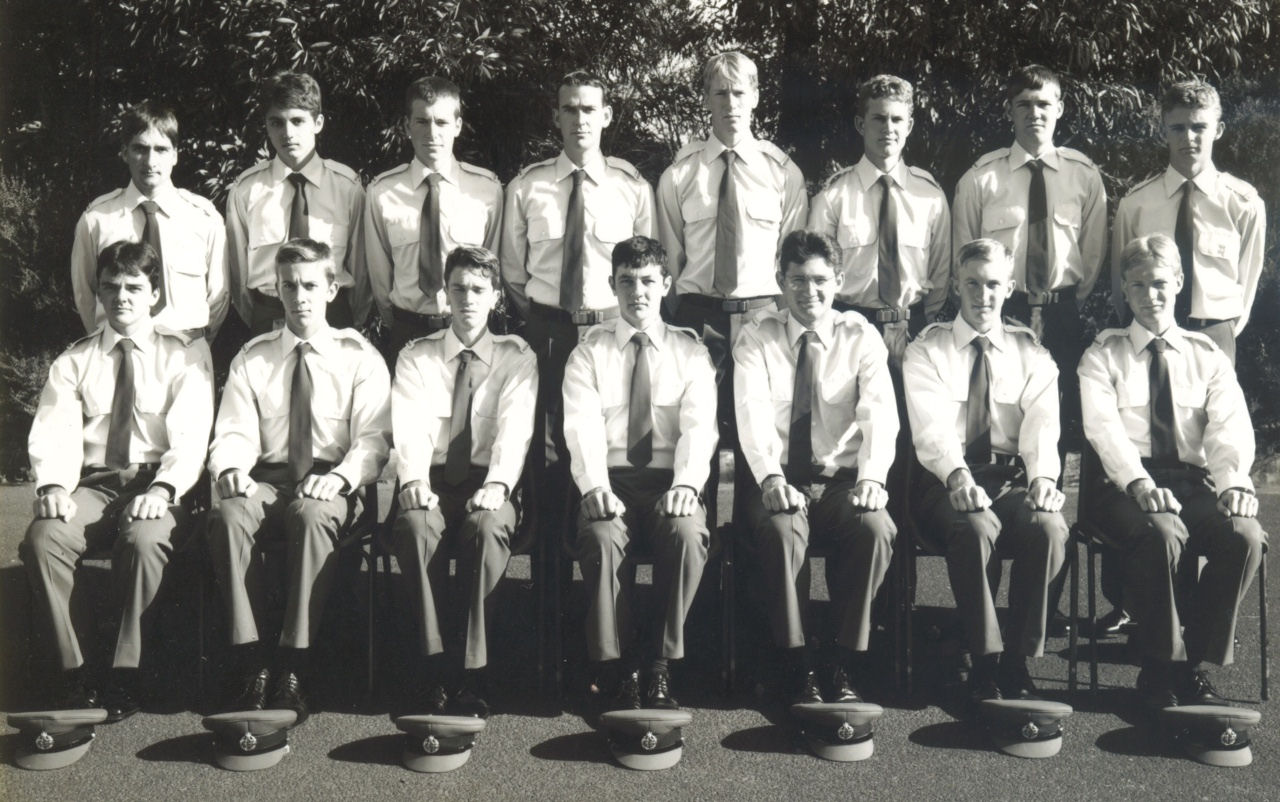 REAR L-R: Brian Pearson, Phillip Ridley, Damien Wade, Christopher MacNamara, Craig Flowers, Neil Smith, Ian Handy, Daniel Gall
FRONT L-R: Tony Holland, Andrew Scott, George McConnell, Scott Brown, Collin Albert, Scott Elmes, Bryan Hill
Bruce Murrell sent us the two pics above.
Dennis Buscumb sent us this pic of the old radar dish that used to sit over the road from that RAAF Resort at Brookvale.

The hill on which it sat was known at Beacon Hill.

Click HERE to see an article that appeared in the Manly Daily in 2015
I hate people who say the word perspicacious just so they can sound important.
18 Comsec Conversion Course.
Laverton Vic.
25 Sept. - 11 Nov. 1964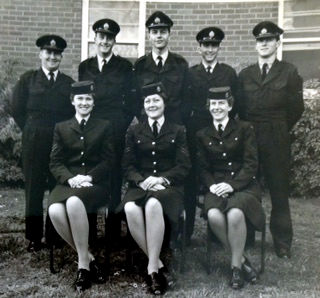 Standing L-R: John Armour. - Andy Dawe. - John McAlister. - Jack Eades. - Col Bailey.
Sitting L-R: Jeanette Kiorgaard. - Roslyn Cluff. - Denise Schultz.
We don't know what they converted to or from, someone will though.......
Airman's Mess
Ballarat 1960's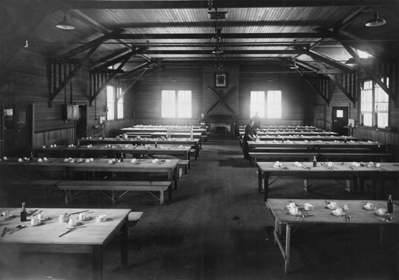 Airman's Quarters.
Ballarat 1960's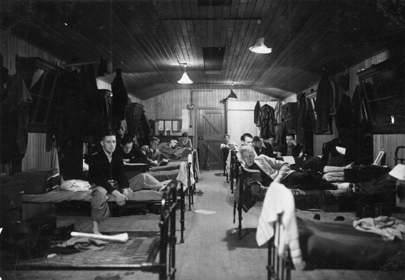 Dave Brooks sent us the two pics above.
If a woman says "Do what you want"
DO NOT DO WHAT YOU WANT.
Stand still! Do not blink, don't even breath. Just play dead!!
Butterworth.
Peter Barber sent us this pic, sure to bring back some memories for a bunch of people. No 4.00pm rush hour these days.
Wagga Appy Courses.
Doug Waters sent us the following pics of 11 Appy Course (Tadpoles) which started in 1957 and passed out from Wagga on the 4th December 1959.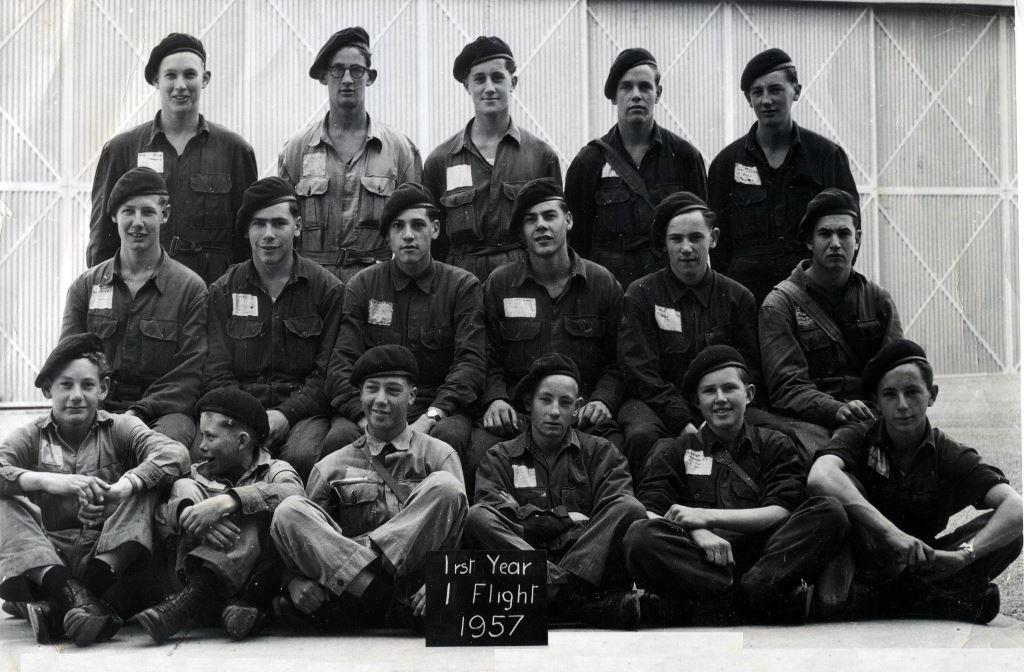 1st year - No 1 Flight.
Back Row L-R: Rod Bowden, Dennis Cooper, Jack Rosendale, Eric Wilson, Barry Murphy.
Middle Row L-R: Don Lynam, Mal Gibson, Roger Turner, Barry Crossley, Dave Penna, Neil Jonasson.
Front Row L-R: Graham Martin, John Balhatchet (how old was John - tb), David Bock, Eddie Cottrell, Bob Freeman, Barry Ellison.
1st year - No 2 Flight.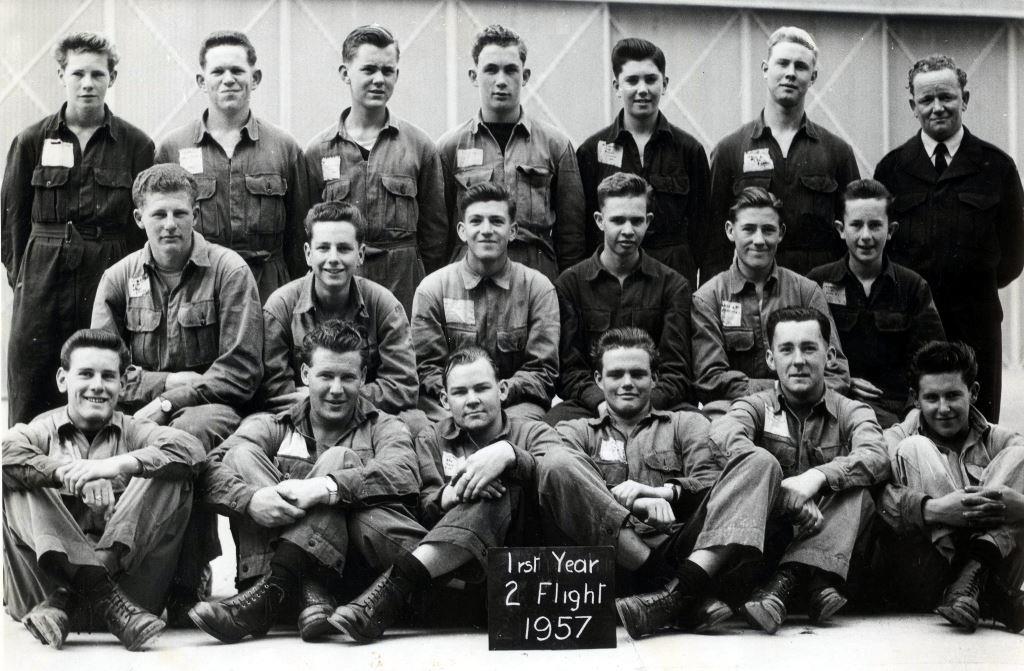 Back Row L-R: Pete Hodge, Rex Bolin, Dave Rogers, Kevin Kirk, Stan Fenton, Roland Perry, Sgt Curley Bainbridge.
Middle Row L-R: Charlie Duncan, Jkoop Gargosky, Ernie Antonio, Ray Dodd, Leon Sharrock, Ross Petrie.
Front Row L-R: Kevin Harri, Roger Kenworthy, Geoff Percival, Brian Richards, Dennis Maloney, Brian Overall.
Cats are smarter than dogs, you don't see eight cats pulling a sled through the snow.
1st year - No 3 Flight.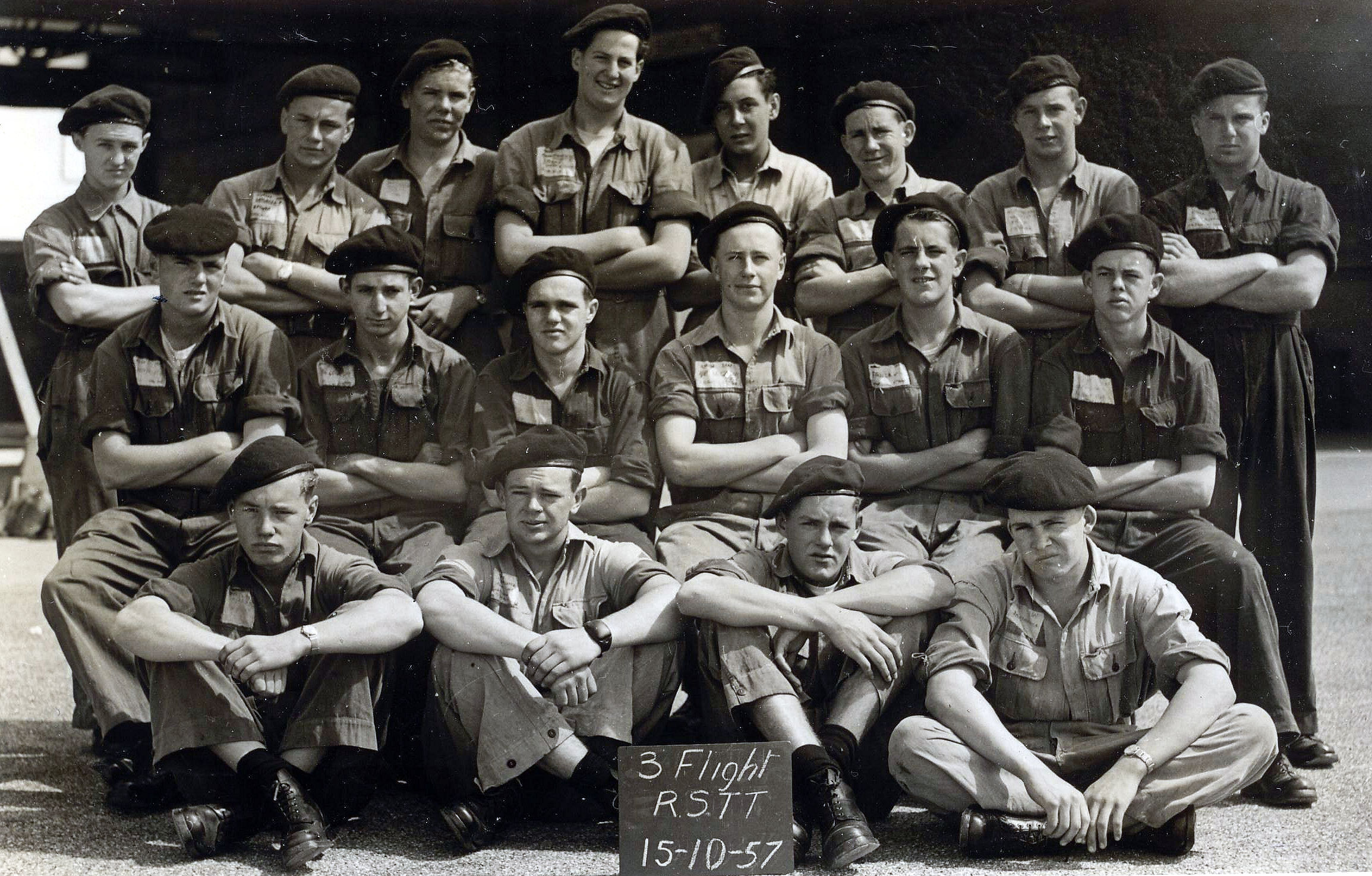 Back Row L-R: Phil Gillard, Peter Sedlacek, Owen Jones, Des Stainer, Bob Harris, Bruce Doidge, Eyval Whalley, Phil Bates
Middle Row L-R: John Handley, Russ Connelly, Basil Rumble, Rod McGregor, Jack Paula, Dave Dinsdale
Front Row L-R: Neil Tippett, Denis Louat, Ron Furze, Geoff Codrington.
Peter Camplin was absent.
If Adam and Eve had been Chinese we would still be in paradise...
they would have eaten the snake instead of the apple.
1st year - No 4 Flight.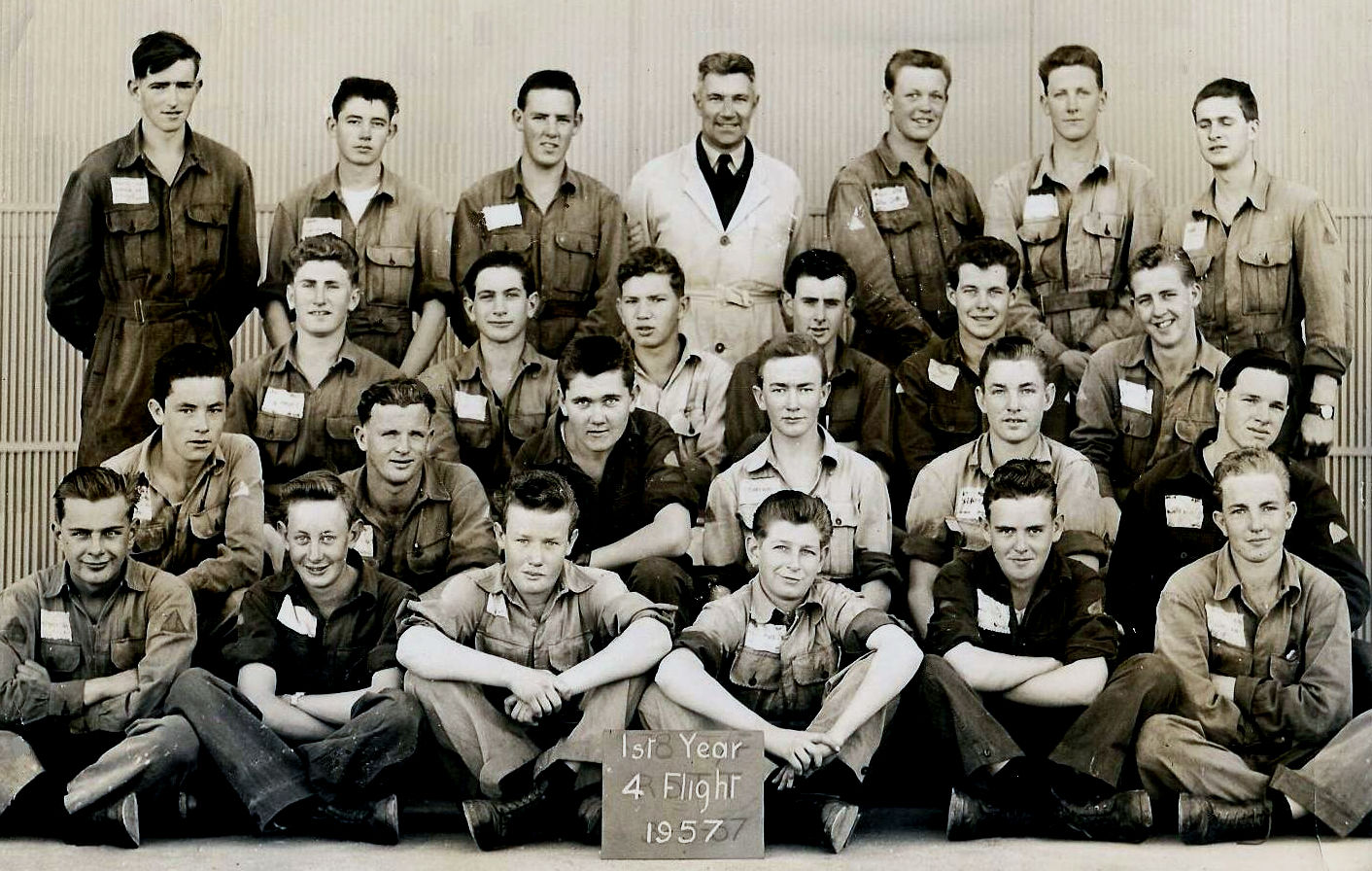 Back Row L-R: Roger Berridge, Bruce Graham, Charlie Downes, FSGT George Endicott, Mick Gwin, Bob Preece, Julius Cranswick
Third Row L-R: Alex Philip, Paul Wood, Bruno Kent, Kevin Burton, Les Jacobs, Brian Ross
Second Row L-R: Don Stewart, Pete Russell, Barry Holt, Myles Chalker, Alan Hadley, Geoff Lane.
Front Row L-R: Ed Kalenkowski, Col Mercer, Pete Dolan, Bill Honey, Trevor Gerard, Ken Blowes
Doug Waters was absent
1st year - No 5 Flight.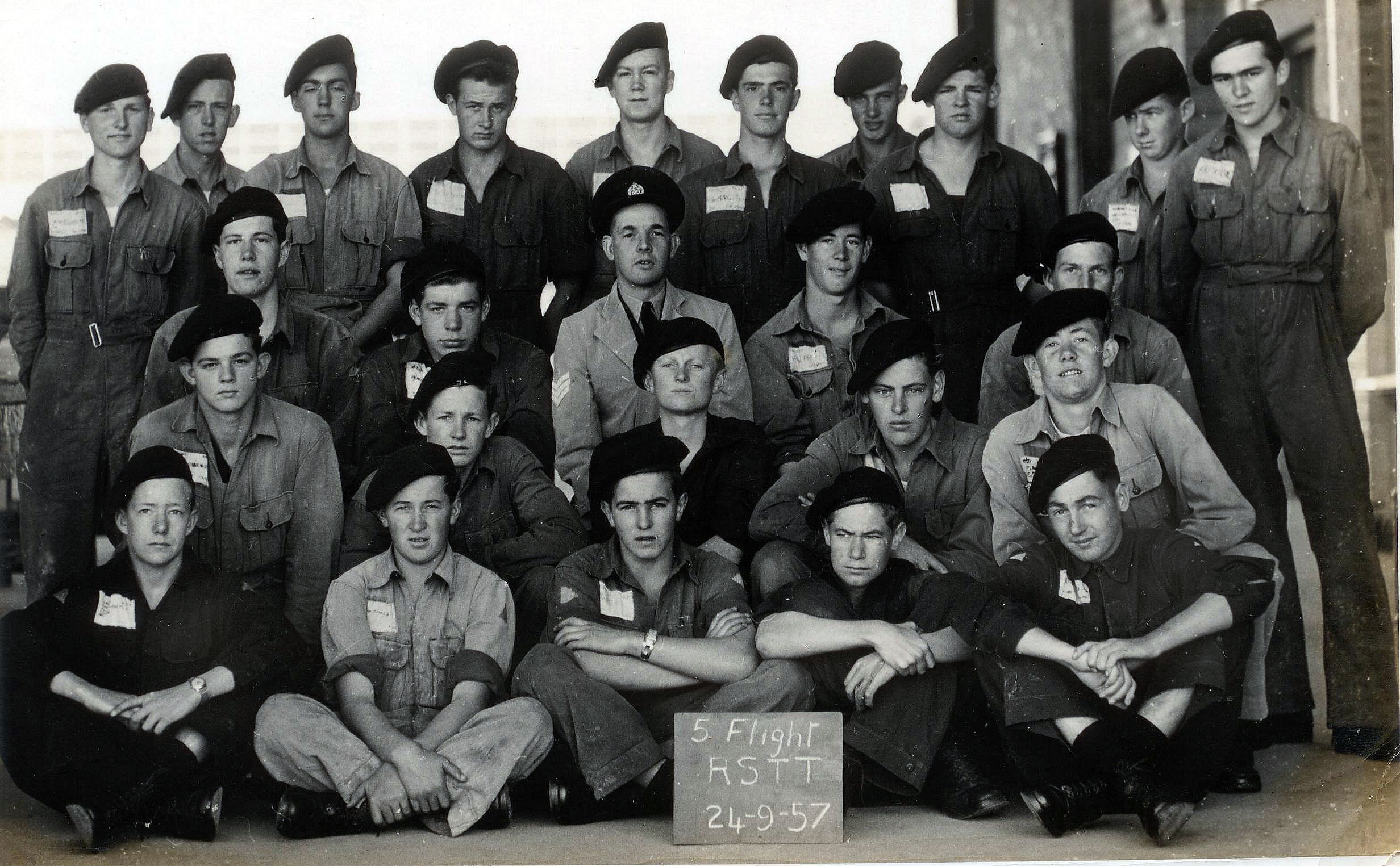 Back Row L-R: Mel Born, Ray Newton, Bill Weiss, Harry Skeetes, Haal Prewer, Doug Angus, Rod Snare, Bob St John, Eric Chandler, Ken Dane.
Third Row L-R: Greg Carroll, Cec Stubbs, SGT Garth Fink, Mick Abbott, Jeff Mounsteven
Second Row L-R: Keith Dinnerville, Bob McGregor, Dennis Holthouse, Steven Skeels-Piggens, Ian Jacobsen.
Front Row L-R: Bevan Coombe, Barry Cain, Graeme Bland, Jim Fitzgerald, Bill Davis.
If you had a choice between wine or being skinny, which would you choose...red or white?
1st year - No 6 Flight.
Back Row L-R: Ran McNelly, John Suraski, Dave Henkel, Tony Crawford-Ferguson, Garry McCarthy, Ian Ferguson, Keith Paton, Ian Denley, Phil Spence
Middle Row L-R: Graham Pheasant, George Day, Max Anderson, Bill Reid, Col Chapman, Darrell King, Mick Kinna, Rod Smith.
Front Row L-R: Kevin Daley, Des Stagg, Fred Robinson, John Bedson, John Hinks, Steve Wood.
You do not need a parachute to skydive, you only need a parachute to skydive twice.
11 Appy, 2nd year, Instruments.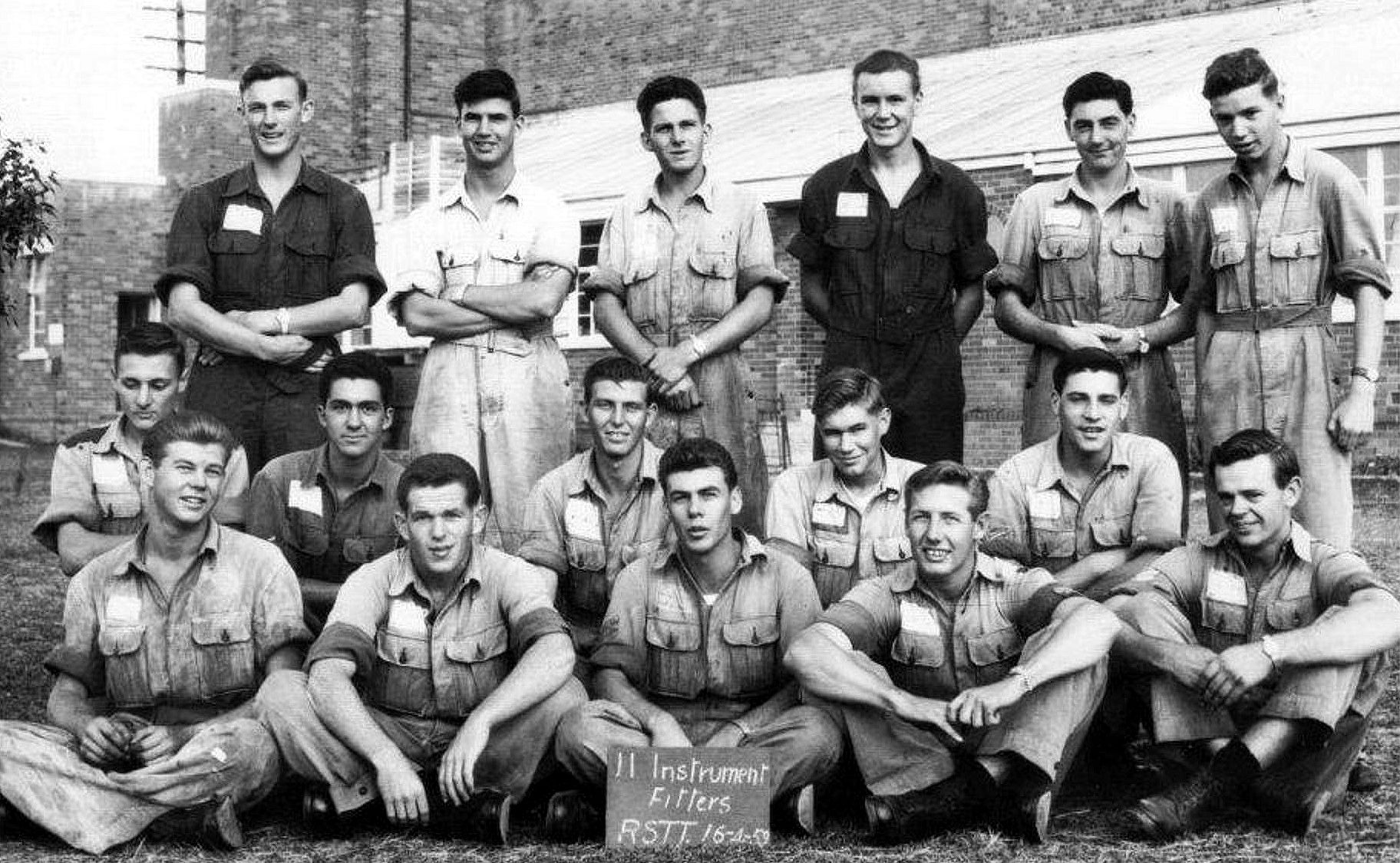 Back Row L-R: Rod Bowden, Neil Jonasson, Ian Denley, Haal Prewer, Bill Davis, Bruno Kent.
Middle Row L-R: Graham Pheasant, Bill Weiss, Jeff Mountstephen, Jim Fitzgerald, Roger Turner.
Front Row L-R: John Suraski, Rex "Butch" Bolin, Barry Crossley, Don Lynam, Dennis Louat.
If a woman is upset hold her and tell her how beautiful she is.
If she starts to growl, retreat to a safe distance and throw chocolates at her.
11 Appy, 2nd year, Framies.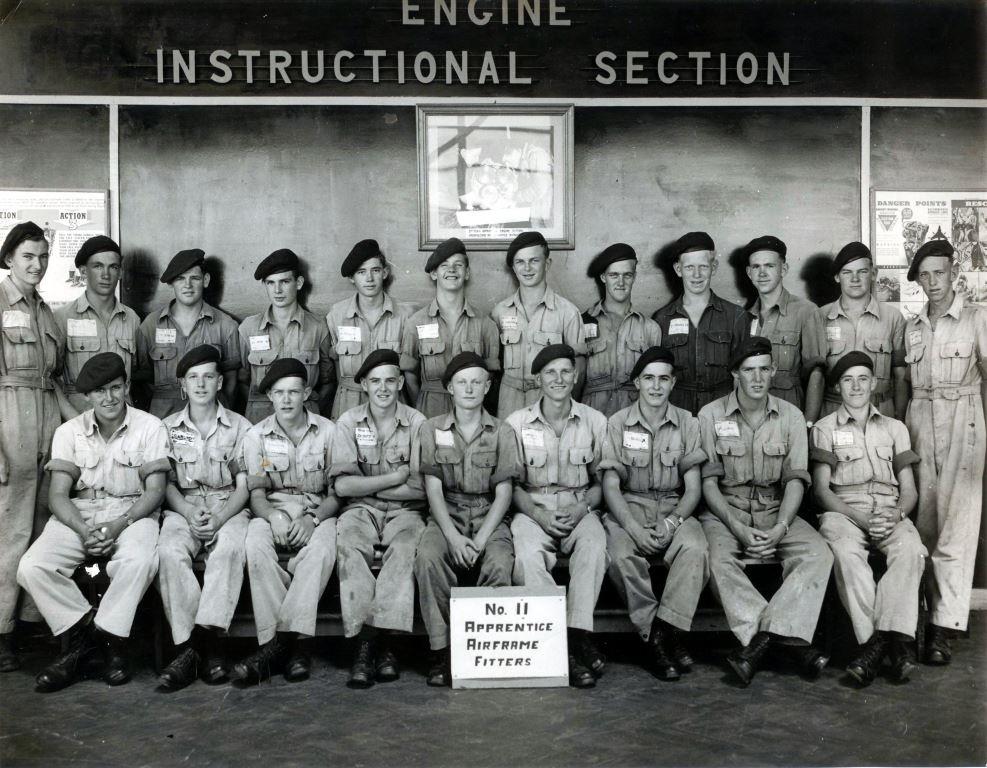 Back Row L-R: George Day, Kevin Kirk, Bob St John, Steve Wood, Bruce Graham, Keith Paton, Gary McCarthy, Tony Crawford-Ferguson, Dave Henkel, Ian Ferguson, Geoff Percival, Raymond "Brick" Newton
Front Row L-R: Brian Overall, Joop Gargosky, Fred Robinson, Geoff Gerard, Denis Holthouse, Mal Borm, Graeme Bland, Charlie Downes, Leon "Arch" Sharrock
Des Stainer was absent.
Of course size matters... Nobody wants a small glass of wine.
11 Appy, 2nd year, Elecos.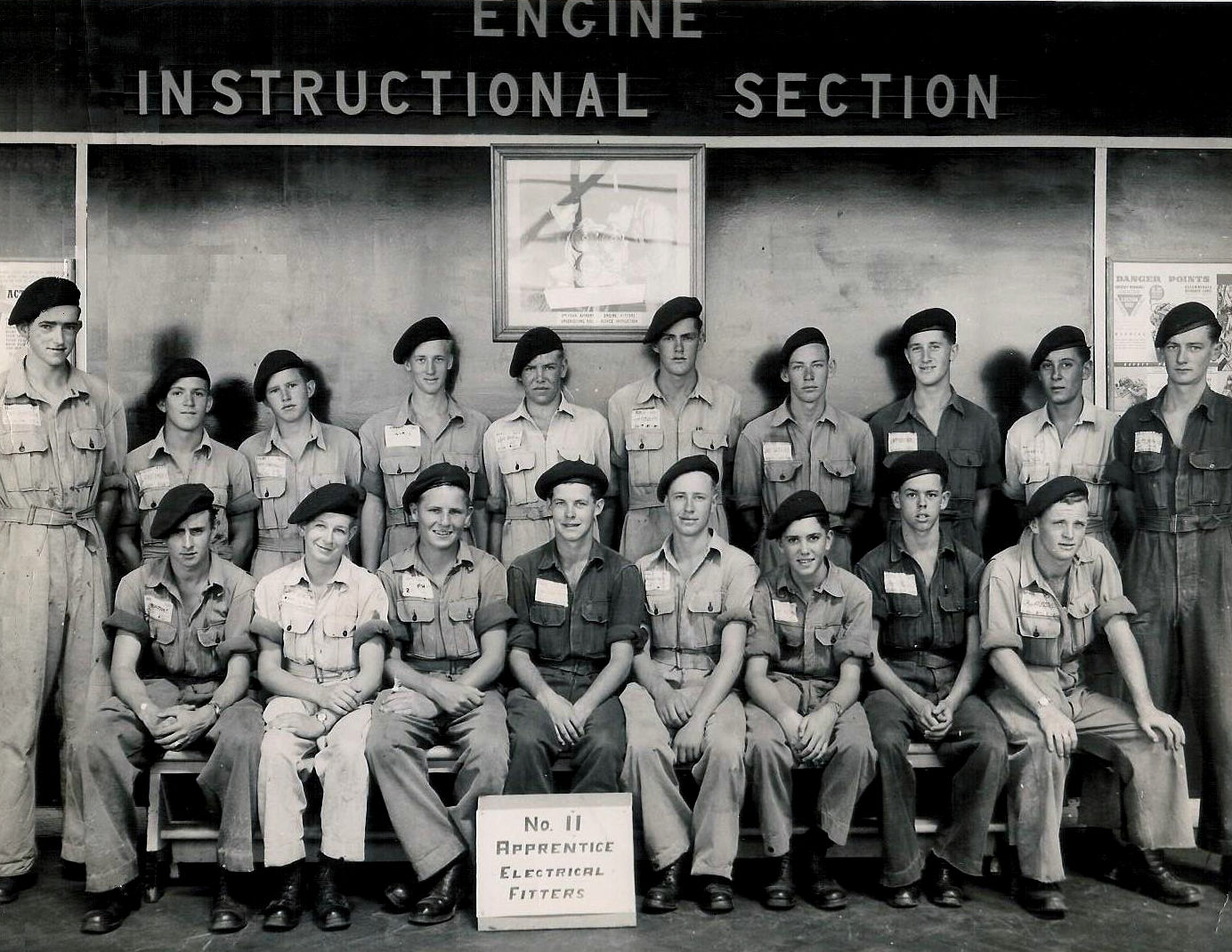 Back Row L-R: Roger Berridge, Ernie Antonio, Bob Freeman, Peter 'Curly" Camplin, Owen Jones, Ron Furze, Doug Waters, Jack Rosendale, Bob Harris, Barry Murphy.
Front Row L-R: Kev Burton, Bill Honey, Rod Smith, Les Jacobs, Rod McGregor, Stan Fenton, Dave Dinsdale, Pete Russell.
I'm a little tired of earthquakes, rain, cold, cyclones, racism and people telling me
that I live in the most wonderful country in the world.
11 Appy, 2nd year, Sumpies.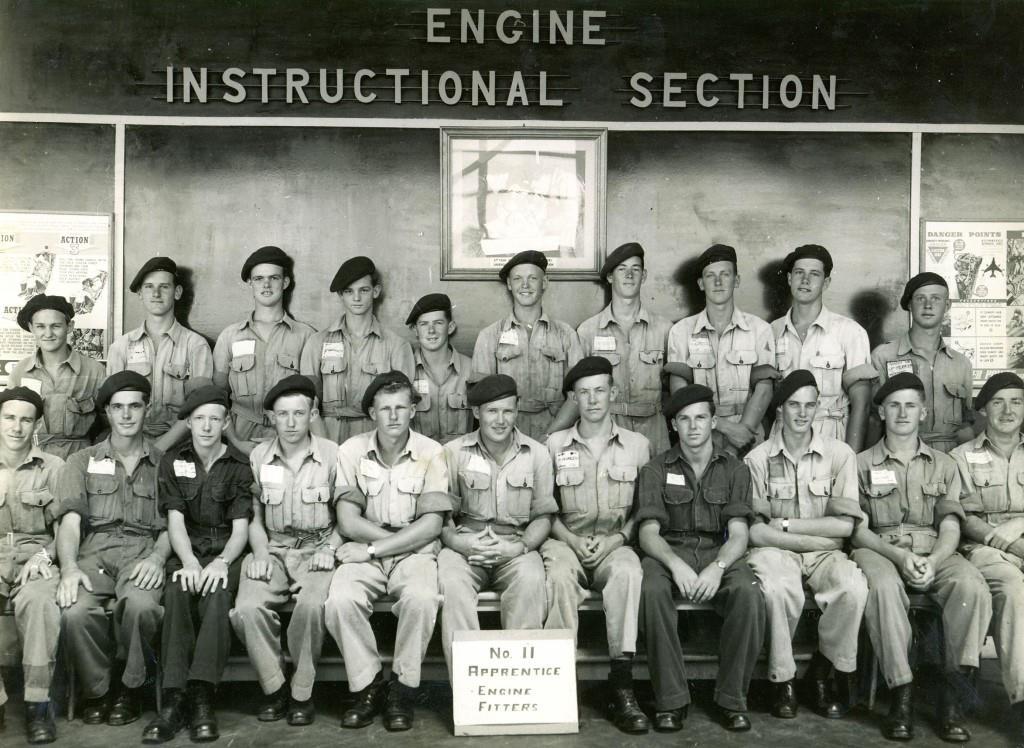 Back Row L-R: Phil Gillard, Kevin Harris, Brian Richards, Keith Dinnerville, Eric (Ted) Chandler, David (Mick) Gwin, Mick Abbott, Bob Preece, Greg Carroll, Roland "Zeke" Perry.
Front Row L-R: Bruce Doidge, Doug Angus, Bevan Coombe, Max Anderson, Charlie Duncan, Roger Kenworthy, Ian "Jake" Jacobsen, Phil Bates, Rod Snare, Alex Philip, Denis Maloney.
Nothing ruins a political argument like having somebody you don't like - agree with you.
10/11 Appy, 2nd year, Gunnies.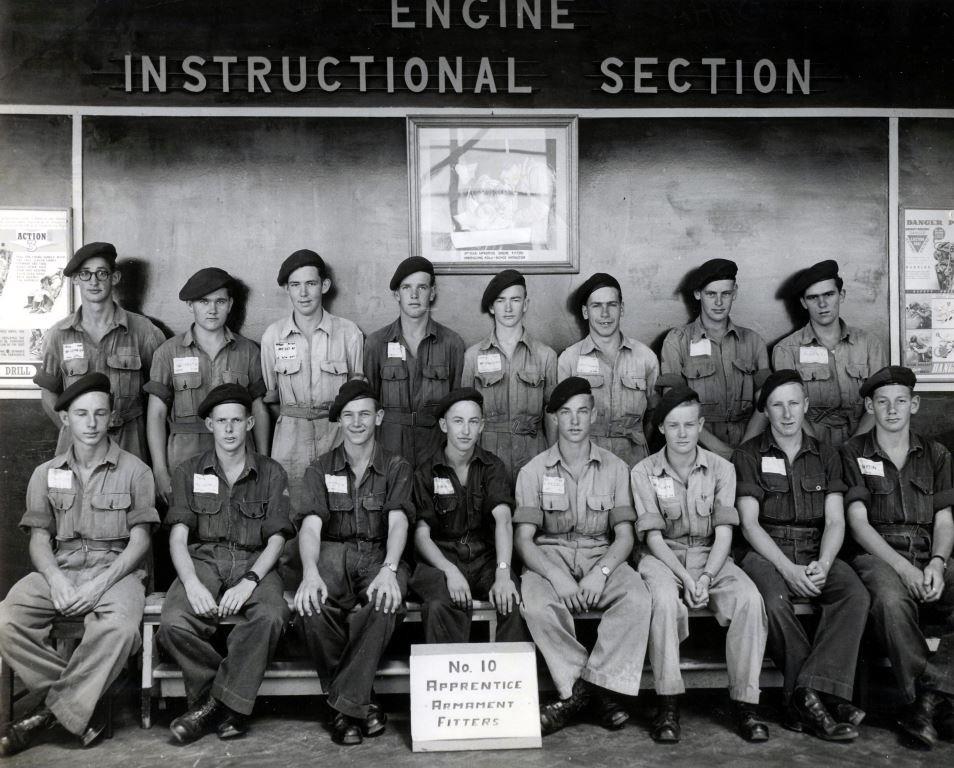 Back Row L-R: Dennis Cooper, Barry "Tubby" Holt, Kevin Daly, Eric Wilson, Myles "Chick" Chalker, Mal Gibson, Eddie Cottrell, Ken Kane.
Front Row L-R: Barry Ellison, Colin Chapman, David Penna, John Bedson, Alan Hadley, Peter Dolan, Des Stagg, Graham Martin.
Old is when you sink your teeth into a steak and they stay there.
9/11 Appy, 2nd year, MT Fitters.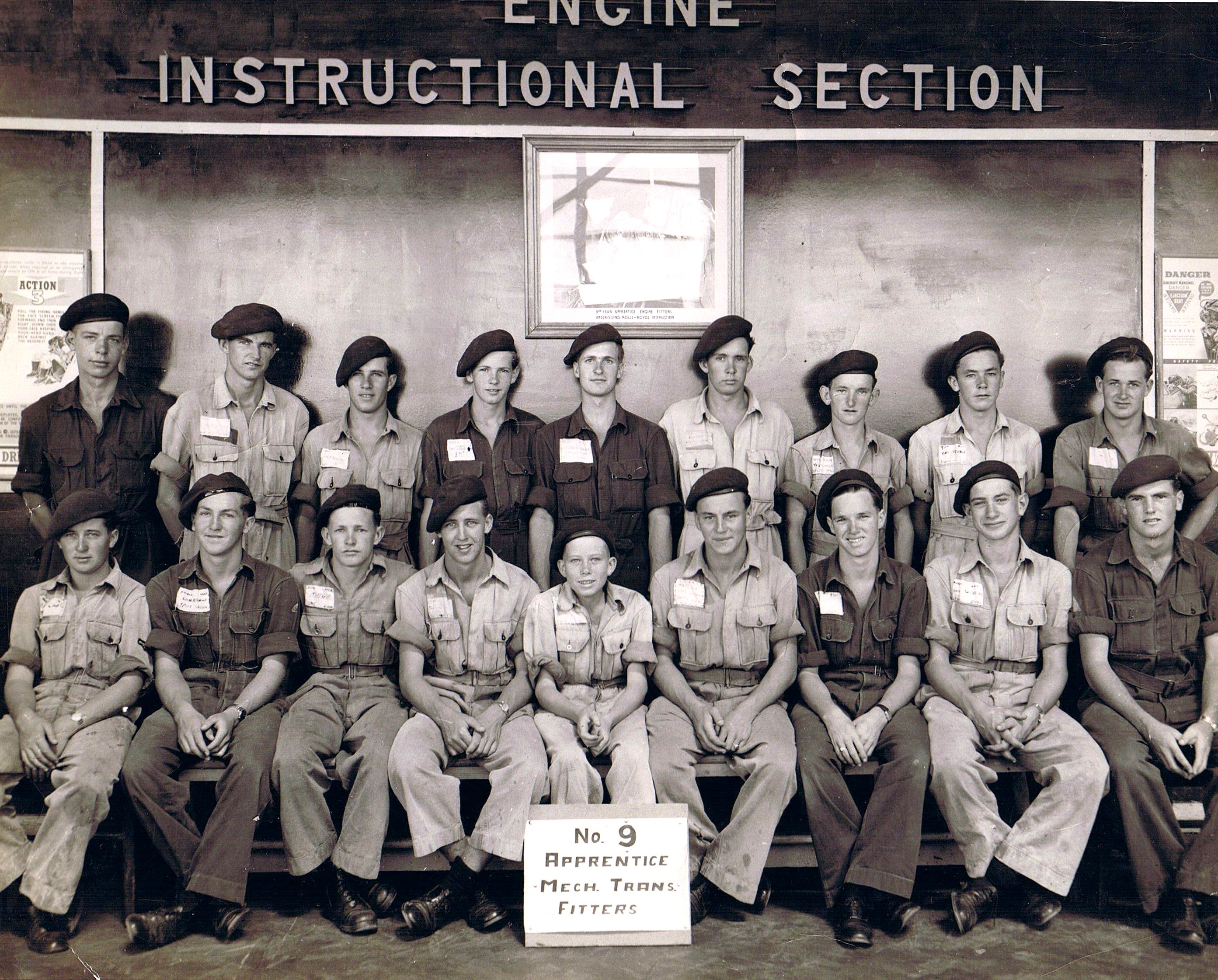 Back L-R: Cec Stubbs, Ran McNelley, Mick Kinna, Peter Hodge, Julius Cranswick, Geoff Codrington, Roy Newlands, Don Stewart, Harry Skeates.
Front L-R: Barry Cain, Bill Reid, Bob McGregor, Brian Ross, John Balhatchet, Peter Sadlacek (Russell), Geoff Lane, Paul Wood, John Handley.
There's a technical term describing a day following two rainy days...it's called Monday.
Click the video below to see a BBC skit on rookies in the RAF - how true it is!!!