Jacqui Lambie.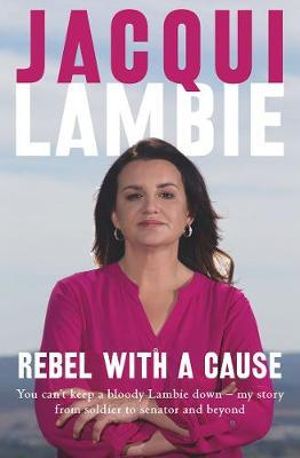 Laurie Lindsay says, "I have recently finished reading Jacqui Lambie's, warts and all, autobiography, "Rebel with a Cause". Jacqui is as rough-as-guts, but her heart is in the right place, especially where veterans are concerned. She spent 10 years in the Army and was given a medical discharge. She then spent the next 10 years fighting DVA over compensation, to the detriment of her financial, physical and mental wellbeing. When she became a senator she spent a great deal of her time investigating DVA and in my opinion is the reason why DVA's attitude towards the ADF community has changed so much recently.
I commend the book to all your readers. You can get a copy HERE".
Toilet Roll beat-up!
Paul Laing wrote, he said: "I am looking for a way to find out who the names of the crew were who flow over the Ship Oceania in 1952 and a dropped a roll of toilet paper in an endeavour to communicate. My father Colin Laing (1922-2008), was a Pilot with 11 Sqn flying Lincoln's, Neptune's and Dakota's based at Pearce (1951- 1954). He told me the 'Oceania toilet Roll" story many years ago. I am trying to find out if he was part of that particular Aircrew.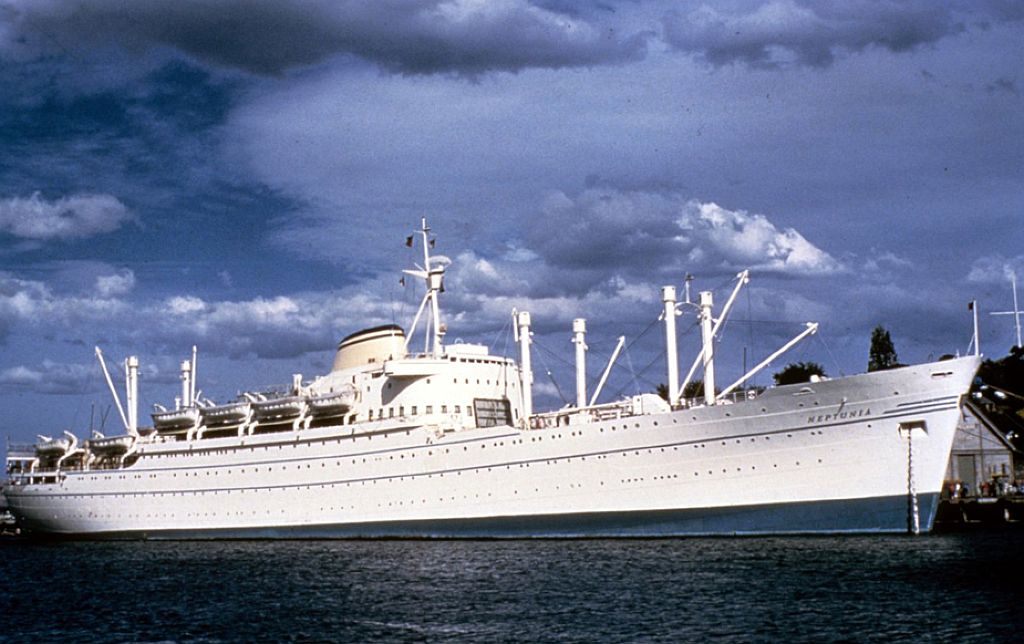 From what I can gather, at the time of the 'Oceania toilet Roll Incident" in 1952, actual date unknown, 11 Sqn had only two barely serviceable Mk.30A Lincoln's; the A73-27 and A73-26 that may have been conducting patrols over the Indian Ocean. A73-27 was undergoing major servicing from June 1952 to August 1952 when it was received by 10 Sqn. A73-26 similarly in March 1952 was undergoing major repairs and it too was received by 10 Sqn in August 1952. I believe the first two P2V-5 Neptune's A89-301 and A89-302 arrived early November 1951 which would have overlapped service with the Lincoln's. The next two Neptune's, A89-303 and A89-304 arriving early October 1952.
The Ship Oceania was in Fremantle in May, August, October and November 1952.
If the incident happened early in the year it may have been a Lincoln crew, however, with the many conversions that had to happen it is more than likely a Neptune crew".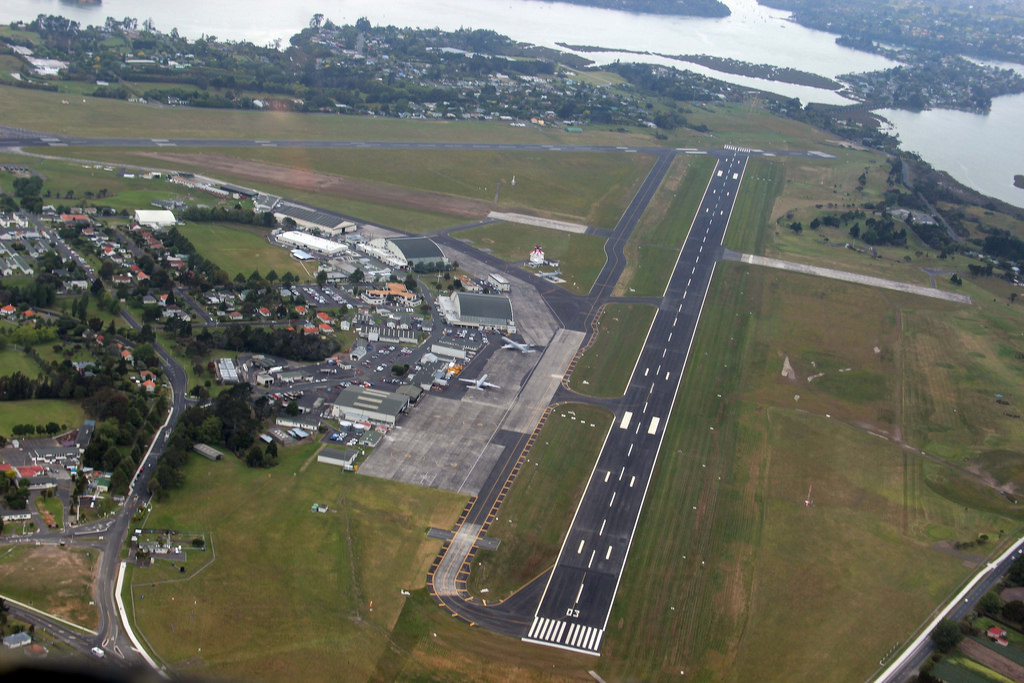 We asked John Laming if he could help, this is his reply: "I can't help you on that one although during a goodwill visit to New Zealand in a Long Nose Lincoln circa 1955 we beat up Hobsonville RNZAF base (Auckland) and threw out lots of toilet rolls from the rear turret all over their beautiful green grass airfield.
I suggest Paul contact the following website and they will send the service records to him. I did that about 20 years ago for my own Service Records and received the lot in a big hard copy file:
http://www.defence.gov.au/Records/ExService.asp"
Terry Stevens writes:
With the risk of being called a racist, may I ask a question??
Something that has intrigued me since the grandson of our Queen arrived, our indigenous brothers and sisters call us invaders and call Australia Day, Invasion day and there are protests and all sorts of things going on and demands for date changes, etc, etc, etc, BUT, when a descendant of the ruler of the country that "invaded" this country, turns up, what happens? Smoking ceremonies, welcoming ceremonies, dancing and presentations and general kissing of the royal bum by said Indigenous brothers and sisters.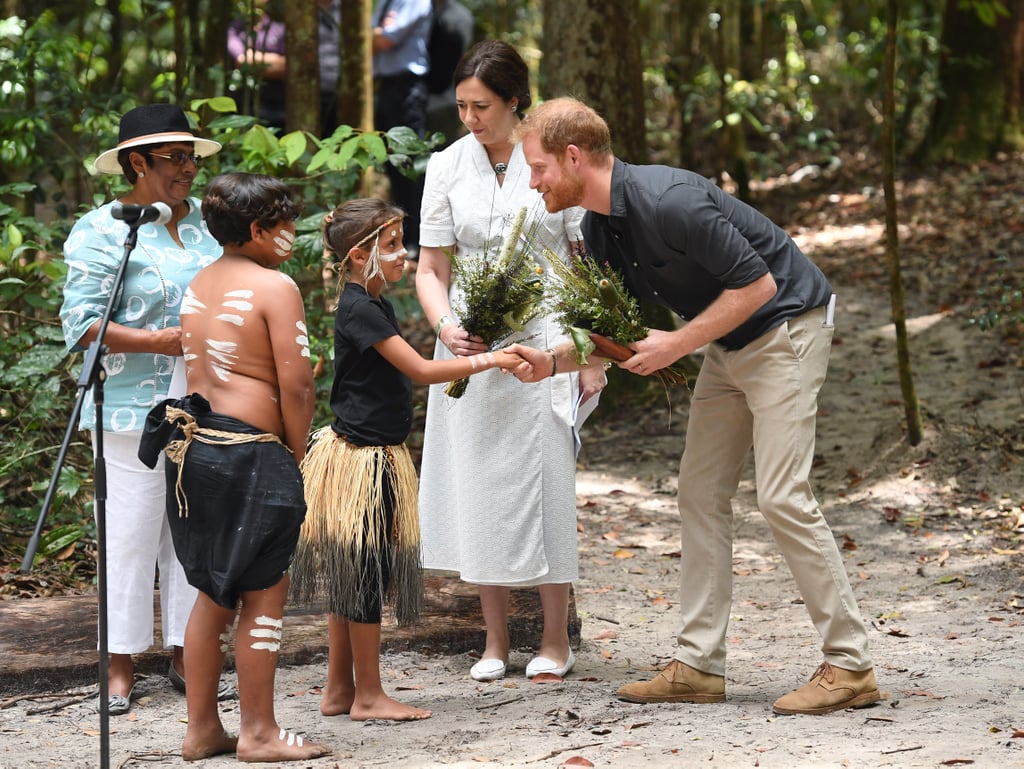 So, I'm confused, all of us who live here, were born here and have family ties back generations, are the invaders, but the descendants of the actual person this land was claimed for, are treated like rock stars.
Is there a bit of hypocrisy going on here, or am I not smart enough to see the real picture??
Radschool Site.
Ed Smith says: "I came to the site looking for Reg Furlong and found many names that I was at Radschool with. I have lived a charmed life and as Gary Broughton wrote, 'it was an interesting time at Radschool, Laverton'.
Steve Kershaw was washed out to sea one-day scuba diving at Queenscliff. Reg and I were attacked at Anglesea by stingrays while diving at 10M and we got Reg into a Lifesaver boat while I swam the 1km back to shore. My speargun was still in the Stingray that got Reg and so other guys went out and got it. That happened in the same month that Steve Irwin was killed and now today I read another person has died from a stingray attack. I don't think it an attack as such on humans, it's their mating season.
After 482 sqn, Butterworth and more 482, I went on to work in medical at GE; CT, MRI and Nuclear medicine then Pathology at Bayer and the Operations management at Optus and Telstra. A few years in Darwin put lots of $$ in the bank and setup retirement in 2010 to Thailand. Now a second retirement at Hervey Bay in 2017 puts the icing on the cake.
Many thanks to every single moment in the RAAF and every single person I met, it set me up to manage the world in which we live."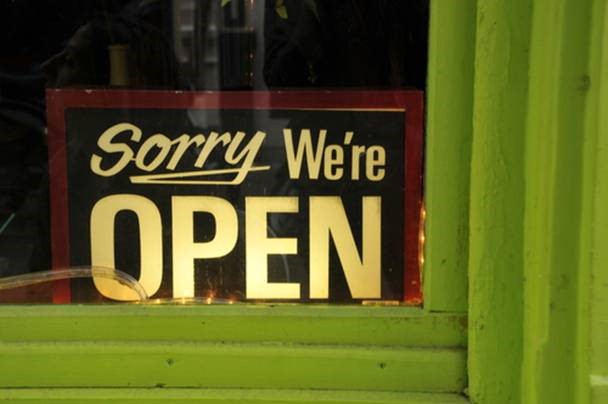 Sydney Airport.
Adrian Heinrich sent us this, it is very interesting!
Sydney Airport was its original name but in 1936 it became Kingsford Smith Airport. The locals and aviators always called it Mascot aerodrome. Those that worked there referred to it as KSA, Kingsford Smith himself always called it Mascot, so Mascot will do for this article.
This is not a history of the aerodrome and later airport development at Mascot, which became known as Kingsford Smith Airport (KSA). It is something for old aviators to look back at an airport they spent a lot of time operating in and out of and then show the vast difference in the place from the end of WW2 to when they probably first flew in/out of Sydney Mascot as kids.
This is not an airline history either, but rather a look at the airport after WW2, the old runway system (and what survived) and the lay out. How the railway line crossed 22/04 near the present Qantas maintenance hangars and the work that was done to enlarge the aerodrome area. Mainly the immense amount of work done between 1947 and 1953 to divert the Cook's River and many tributaries to the west of the airfield and be able to enlarge the area for runways and facilities.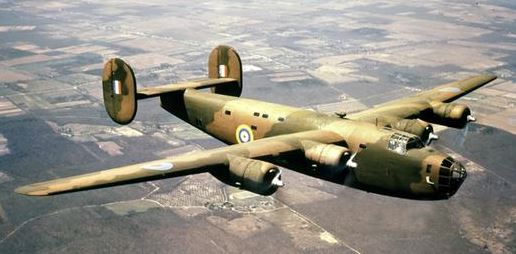 Seemingly unconnected to this development (but a consideration) was a crash off Mascot on the 19th July, 1945. There were hundreds of military crashes in Australia during the war but the July 1945 crash, by the RAF, north of Brighton le Sands is important. This dreadful crash occurred about a mile off the SW end of Runway 22. A Royal Air Force Consolidated C-87 Liberator Express (a modified B-24 bomber; no turrets, no guns, no bomb gear - freight compartments and 15 passenger seats) took off from Mascot's Runway 22. The aircraft failed to gain any altitude after take-off. It was very heavily loaded with fuel. Apart from 12 POB, details of freight or other payload is unknown.
Their destination was Manus Island, Territory of PNG. A staggering 1925 nautical miles away (3564 km). Questions were asked: why not plan via Townsville with half the fuel required? It was opined that an extra 1000 feet of runway might also have made the difference. The aircraft clipped trees north of Brighton le Sands, crashed and exploded. Houses for miles around were shaken. Twelve RAF and RN men were killed. There was a senior RN Commander aboard, as well as other high ranking officers. This crash, investigation and recommendations were in the minds of the civic fathers after WW2, when they agreed with the military and the airlines that the Sydney aerodrome should have longer runways, in light of more modern, heavier and faster (on/off the ground) aircraft.
Early in 1946, an unknown design genius came up with the proposal of redirecting the Cook's River to the west by a considerable amount of miles. The Cook's course NW, West and south of the aerodrome would be filled in and re-routed to the west. This undertaking was agreed upon in 1946 and control as given to the NSW Publics Works Dept and work commenced early in 1947. Much excavation and dredging was required in the areas not being filled. Steel and concrete embankments were constructed.
There were 3 runways available in Sydney after WW2 - 11/29 (1,085m/3,580ft), 16/34 (1,190m/3,950ft) and 04/22 (1,787m/5,900ft). Only Runway 16 (now 16R) is still there and has been much re-worked. From 3,950 feet long in 1947, it is today 4,360m/14,300ft long.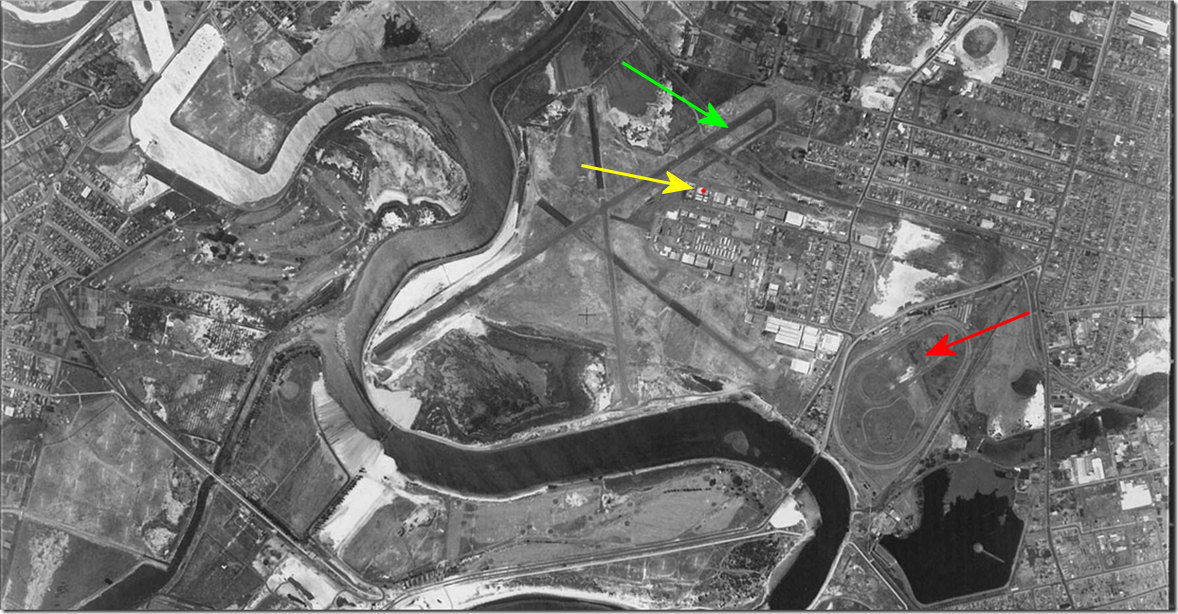 Mascot 1947. (Click it to blow it up)
Commencement of the work to eliminate/fill the Cook's River from the question mark shaped loop west of the aerodrome and the large area from the end of the then Runway 04, right across the south of the field to where it emptied into Botany Bay. The red dot (see yellow arrow) shows the Adastra Aerial Surveys hangar, the company that took these photographs. They operated the Lockheed Hudson and DC-3s along with other types. They had photographed all of Australia and TPNG for mapmaking.
Note; Ascot Racecourse, just east of the aerodrome (red arrow). This was a popular raceway, pre WW2 but was an Army training camp during the War and shortly thereafter was swallowed up by the airport expansion plans.
In these far off years, many things would be different to the modern pilot. The phonetic alphabet was entirely different then: A Able, B Baker, C Charlie, D Dog, E Easy, F Fox, G George, H How, I Item, etc. The man in the Tower was called the Aerodrome Controller and he was not Air Traffic Control. There was no Surface Movement Control and radio communications were all HF. The airlines and some military aircraft carried HF and most other aircraft had no radio at all. There was no VHF radio. A variety of radio frequencies and bands were used, but VHF was not introduced in air/ground comms until the late 1950s.
There was once a fellow who worked in the Aeradio shack on Lord Howe Island, ca. 1952. He covered the TEAL Short Solent flights from NZ to Rose Bay. He said he used to listen to what was happening at Mascot and Rose Bay. So, even the man in the Tower used HF. Also, a series of Aldis lights (red, green and white) and signals regulated taxi, take-off and landings without much time spent on HF. If necessary there was always the Very pistol and the smoke puff gun.
Near the top RH mid centre of the above photo, near the 500 foot markers of Runway 22 (green arrow) there's a railway line crossing the runway. A fact of life for a long time. The railway was there first. This was the Botany – Sydenham railway freight line. There was a system in place for safety, a telephone system to allow communication between the railway authorities and the aerodrome controllers. They would advise each other of their traffic and switch on red lights. This would stop either train or aircraft.