Privacy Policy | Editorial Policy | Profit Policy | Join the Association | List of Members | Contact us | Index | Links
Back Go to page: 1 2 3 4 5 6 7 8 9 10 11 12 13 14 15 16 17 18 19 20 Forward
The people I meet.
For a short while I've been meticulously attending the local gym in order to get the old bod in good nick and ready for the summer season – after all, the girls on the beach at Surfers have demanded it. They need a bit of eye candy too and who am I to deny them such.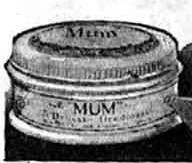 Normally I would rise at 4.00am, don the Dunlop Volleys, hook up the dog then head off for a 15 mile run at a fast clip, after which it's back home, a quick tub, a liberal application of Mum spoon-on deodorant and off to the gym for an hour's heavy workout.
Although a little hard to get these days, I've found the reliable old spoon-on Mum to be an excellent suppressor of that elusive Radtechitis and after liberal doses I could attend the gym with impunity and not have the other attendees chasing me hither and tither in a vain attempt to garner some for themselves.
Unfortunately, on this day the air conditioning was down and the gymors had installed several large fans in a vain attempt to keep the temperature at a comfortable level for those extending themselves. It didn't work – the temperature inside rose to uncomfortable levels and most gymees worked out covered in generous levels of perspiration.
Unbeknown to myself, on this day the temperature and levels of sweating were too much for Mum and a small area of skin was left briefly unprotected. This allowed a miniscule amount of Radtechitis to seep out and be carried throughout the premises on the gale generated by the multitude of fans. A small whiff carried into the gymor's office where it was detected by the two lovely young lady tormentors who gleefully push gymees to breaking point.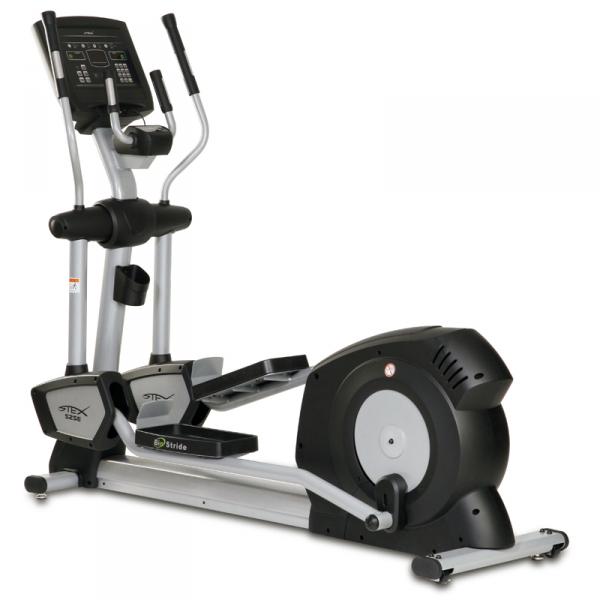 Instantly, all decorum was swept aside and instinct took over. The two delightful young ladies were instantly transformed into prowling huntresses and sweeping aside their breakfasts of kale, sweet potato and mixed nuts, they exploded from the gymor's small office, desperately looking for the origin of that Radtechitis.
With nostrils flaring, they roared round the gym, easily leaping treadmills and cross-trainers like a mob of big red roos until they spotted me hard at it diligently chest pressing 350kg on one of the machines.
They instantly attached themselves to my person soaking up what little Radtechitis they could, all the while purring like a pride of big cats. I allowed this situation to continue for a short 45 minutes before I was forced to seek help and extricate myself.
Such is the torment of the Radtech.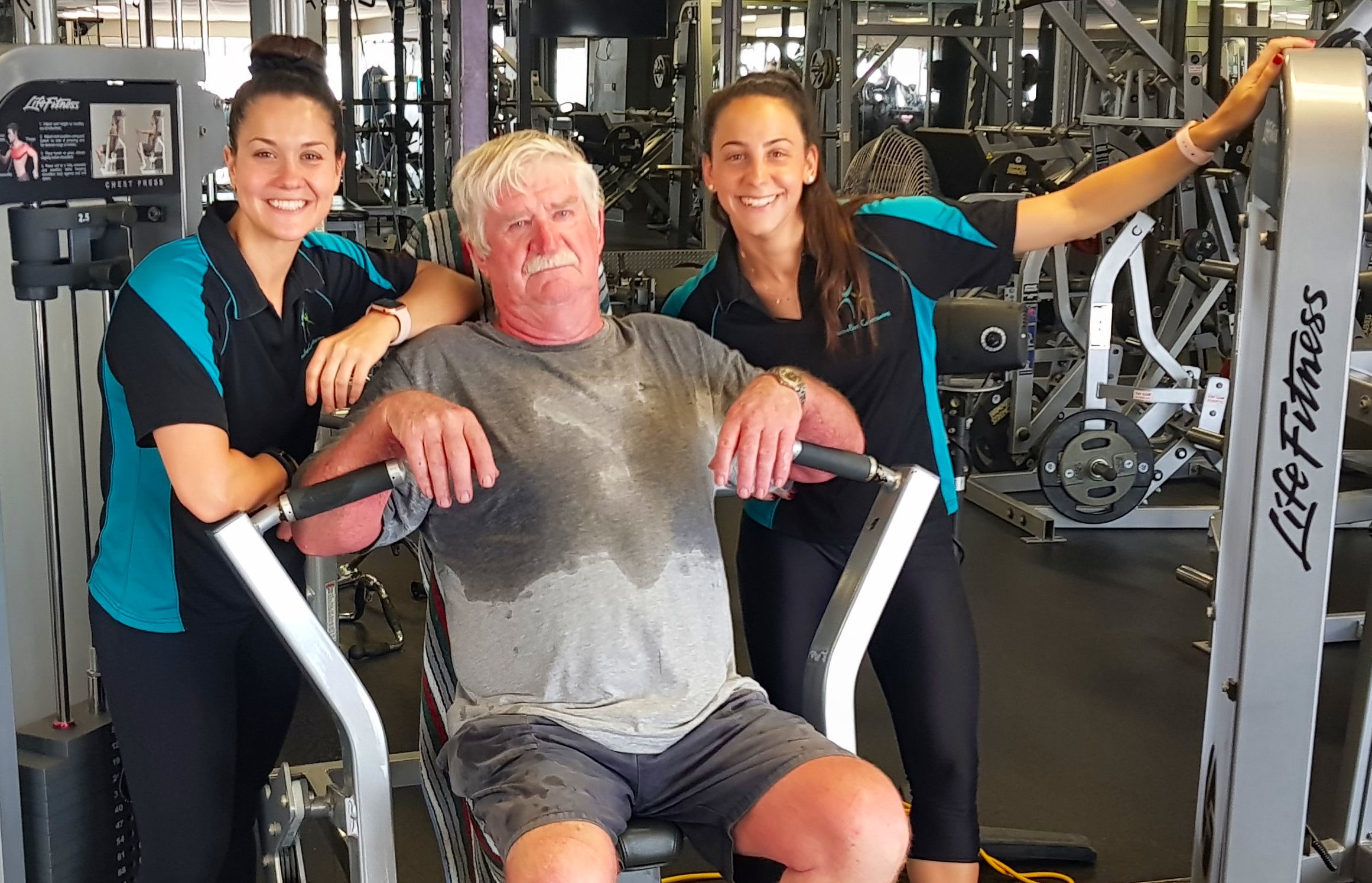 Marissa Pantelas, Honourable Radtech, Veronica Morlotti
Marissa and Veronica are just two of the many experienced and qualified Exercise Physiologists who work with Active Body Conditioning (ABC). ABC has many outlets in Queensland, Northern Territory and West Australia and specialises in helping ex-service men and women suffering f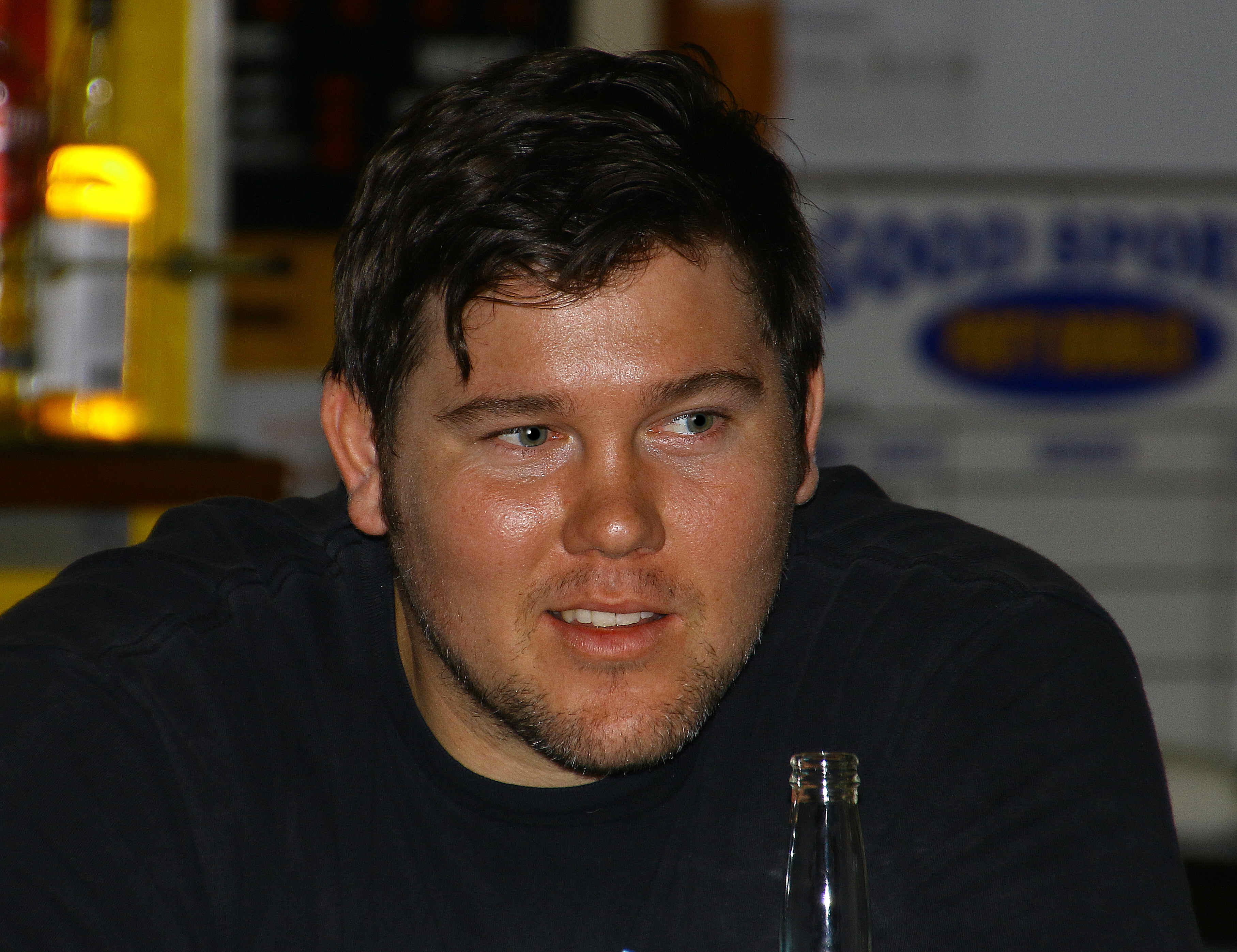 rom PTSD, diabetes, arthritis, obesity, back pain and other debilitating ailments.
ABC is run by Russell Jones and if you would like to get yourself back into a healthy condition, ring Russel on 0401 857 859, have a chat with him and see what he can do to help.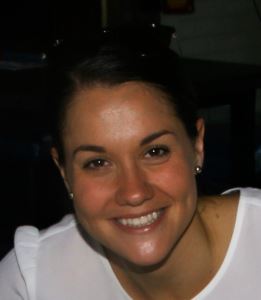 Marissa studied at Queensland University of Technology for five years to obtain two degrees, she obtained a Bachelor of Exercise Science and Bachelor of Clinical Exercise Physiology. She worked at a Brisbane hospital while studying which provided her with experience and a passion to treat patients with clinical and often chronic medical conditions. She worked at the hospital for six years before moving to Active Body Conditioning two years ago. She now manages two locations, Enoggera and Albany Creek. It's an understatement to say that she absolutely loves working with clients and helping to manage their conditions and improve their daily life!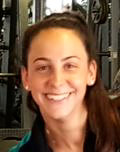 In 2014, Veronica moved to Brisbane from Hong Kong, where she grew up, to study Exercise Science at the University of Queensland. She studied at UQ for four years and graduated with two degrees; Bachelor of Exercise Science and Bachelor of Clinical Exercise Physiology. Growing up with an interest in sports and playing a variety of sports herself, she has always had a great passion to work within the Exercise Science or the Health and Fitness field. During her studies and various placements within Cardiac, Pulmonary and Musculoskeletal rehabilitation her passions shifted from wanting to work with an athletic population to wanting to pursue a career within the clinical field. She grew an even fonder passion to work closely with and treat patients with various clinical conditions. Chronic pain management, post-operative rehabilitation and Women's Health are a handful of areas that she is very passionate about and enjoys using her knowledge and practical experience in helping patients live a healthier, happier and pain free life!
She has now been working as an Exercise Physiologist at Active Body Conditioning for almost a year and can definitely say that she loves her job and considers herself privileged to have such wonderful colleagues and patients to work with!
I also can personally recommend ABC most highly.
Church Bloopers. Thank God for church ladies with typewriters.
The sermon this morning: 'Jesus walks on the Water.'
The sermon tonight: 'Searching for Jesus.'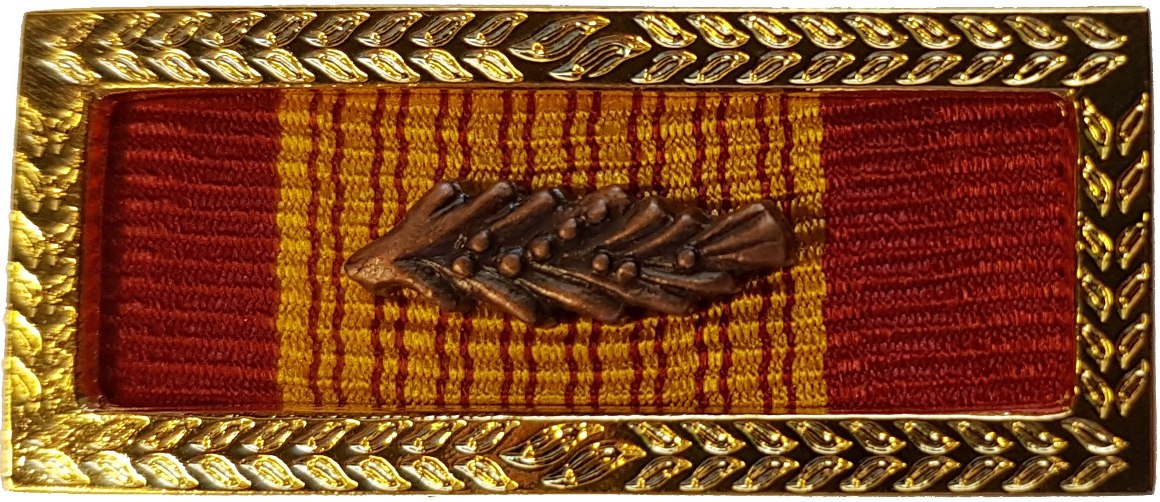 Vietnamese Cross of Gallantry with Palm.
A parade was held by 35 Squadron at Richmond on the 2nd November 2018 to add the Republic of Vietnam Cross of Gallantry Streamer to the Squadron's Colours banner. The Cross of Gallantry was awarded to RAAF Transport Flight Vietnam and 35 Squadron for delivering airlift, during the Vietnam War, from 1964 to 1972. The awarding of the citation is a result of the good work done by the late Lee Scully.
The parade was the final major activity for 35 Squadron at Richmond prior to the unit's relocation to purpose-built facilities at Amberley.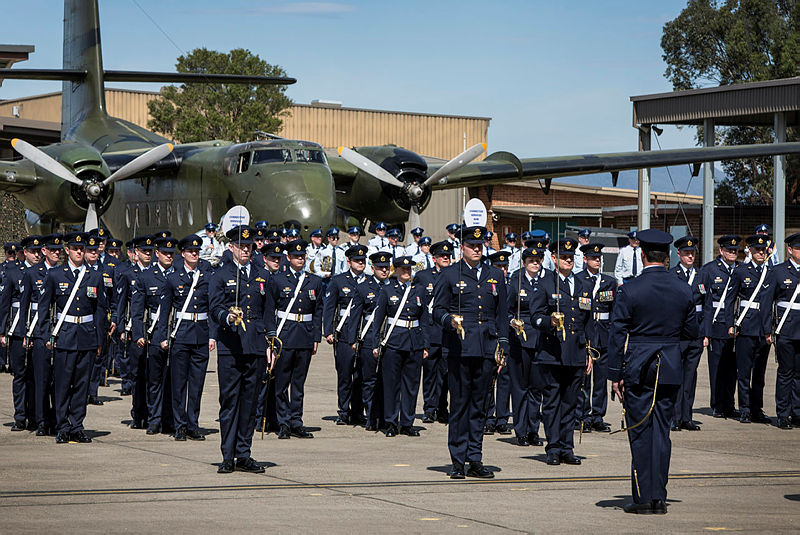 Photo: Cpl Casey Forster.
Some of the Vets at Richmond for the award of the Vietnamese Cross of Gallantry with Palm streamer.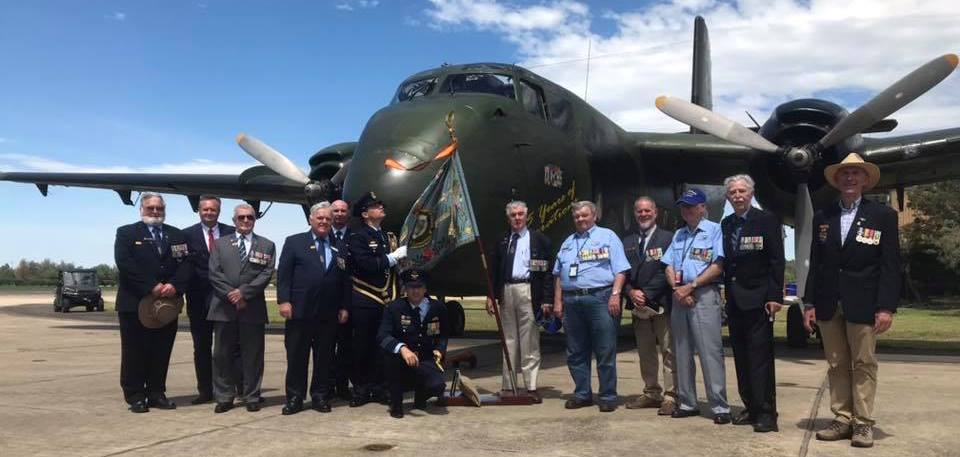 L-R: Geoff Brand, Shane Scully (Lee Scully's son), Ron Glew, John Sambrooks, Don't know, Don't know, Ben Poxon CO 35Sqn (paying homage to the Caribou), John McDougall, Bob St John, Don't Know, Michael Eschback, Fred Roymen, Richard Jones
Miss Charlene Mason sang "I will not pass this way again,"
giving obvious pleasure to the congregation.
RAAF Aircrew Commemorative Day.
On Saturday morning 3rd November, 2018, a group of men and women gathered at the Queensland Air Museum at Caloundra to commemorate the RAAF aircrew men and women who had lost their lives while defending our nation.
You can click most of these pics to get the HD version which you can download.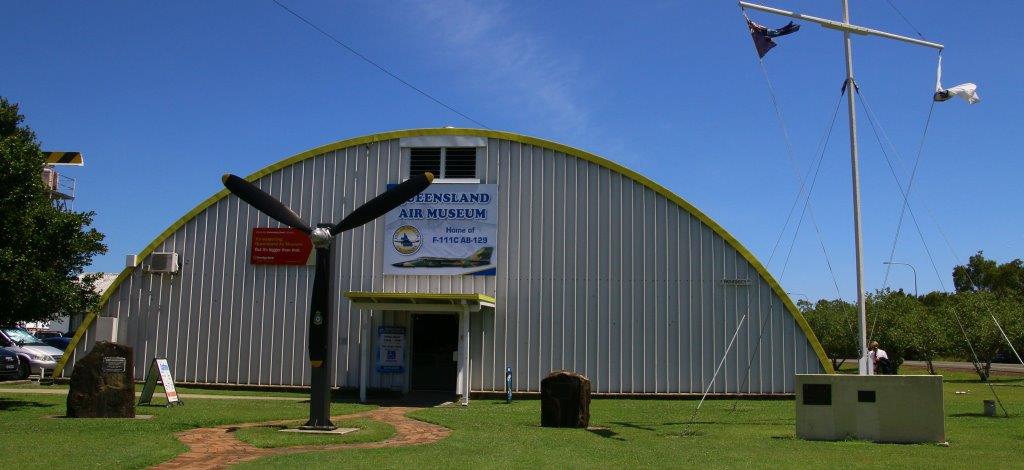 The morning was hosted by the Vietnam Veterans Association, Sunshine Coast Branch and was initially held to honour the two 2 Squadron men, Pilot Officer Robert Carver and Flying Officer Michael Herbert, who lost their lives while on a mission over Vietnam back on the 3rd November, 1970. Their Canberra was lost while heading back to Phan Rang after completing a bombing mission in the Danang area. The reason why the aircraft was lost is still unknown, it was flying at 20,000ft, well above the range of anti-aircraft guns and there were no known North Vietnamese missile sites in the area. The bodies of Robert Carver and Michael Herbert remained lost in the Vietnamese jungle for 39 years until in July 2009 the ADF found the crash site. The remains of the two men were then returned to Australia.
Over time, the commemoration event was subsequently changed to include all RAAF aircrew who had paid the ultimate sacrifice.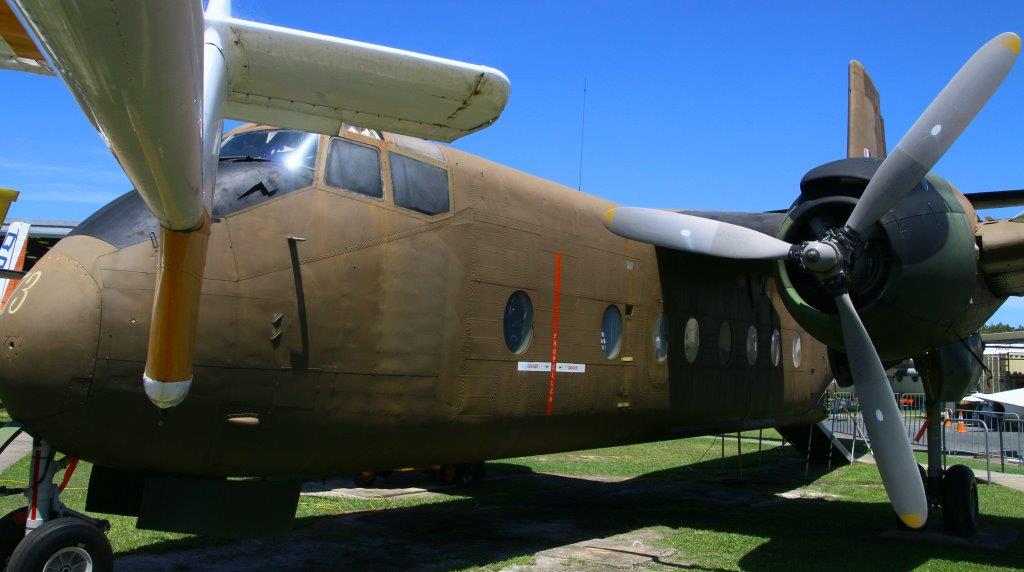 The Ceremony was held in front of that old Vietnam warhorse, Caribou A4-173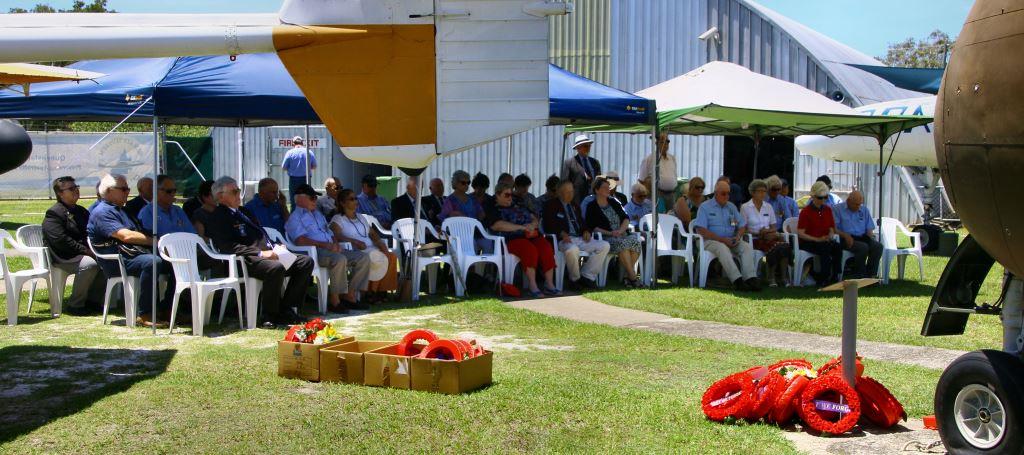 Some of the people who attended the event on the Saturday morning.
The morning was declared open and everyone was welcomed by the VVAA SC President, Mick Howe, with the able assistance of Mal Sayers, keeping the sun at bay.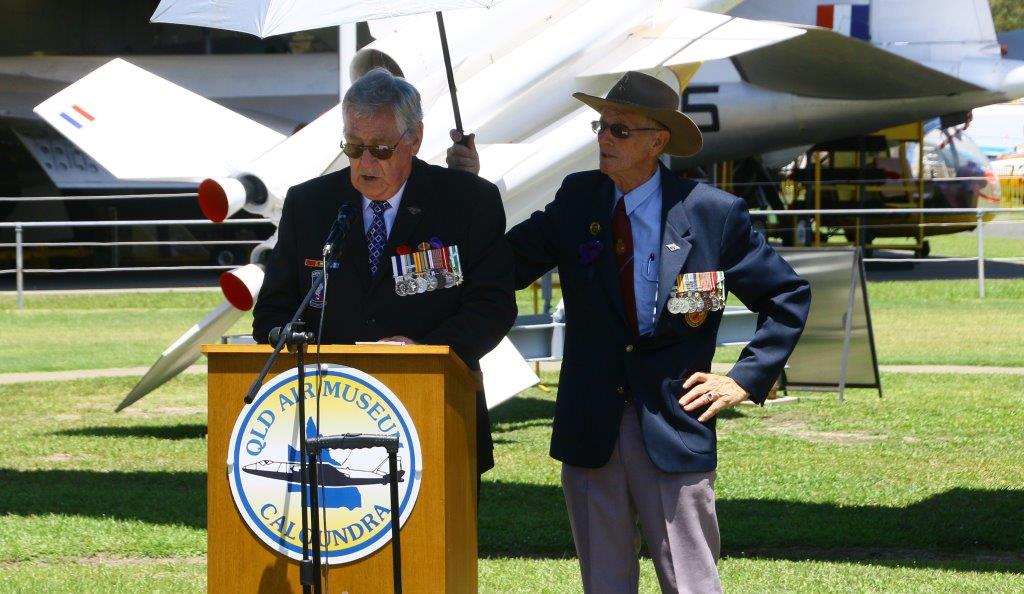 VVAA Sunshine Coast President Mick Howe and Secretary Mal Sayers.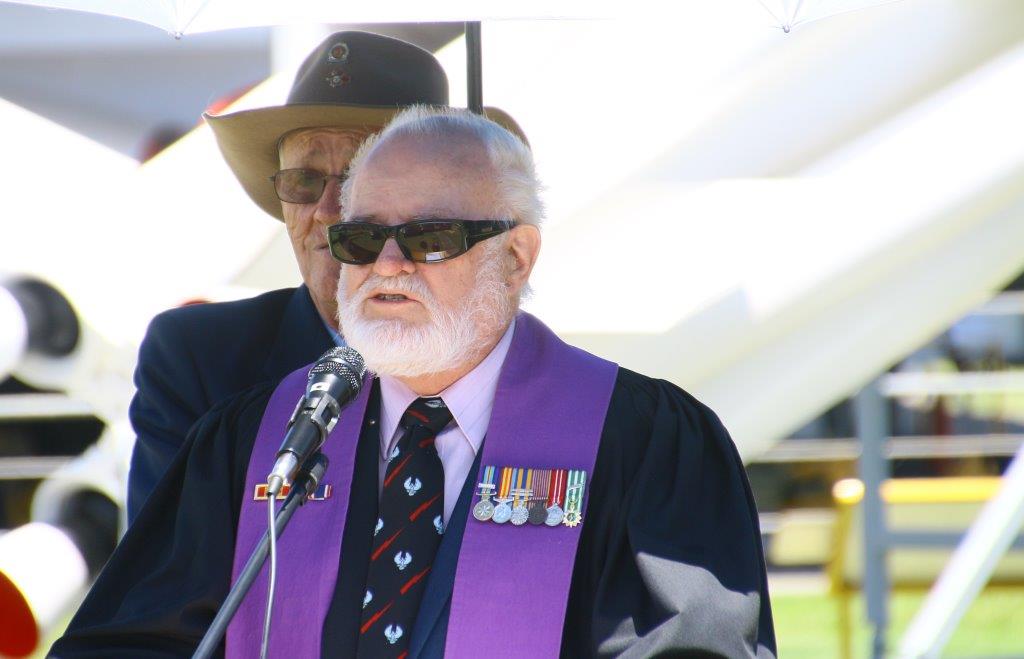 Prayers were offered for those deceased by Padre Arthur Fry.
Secretary Mal Sayers then invited those that wished to lay a wreath in respect. Those that did, include: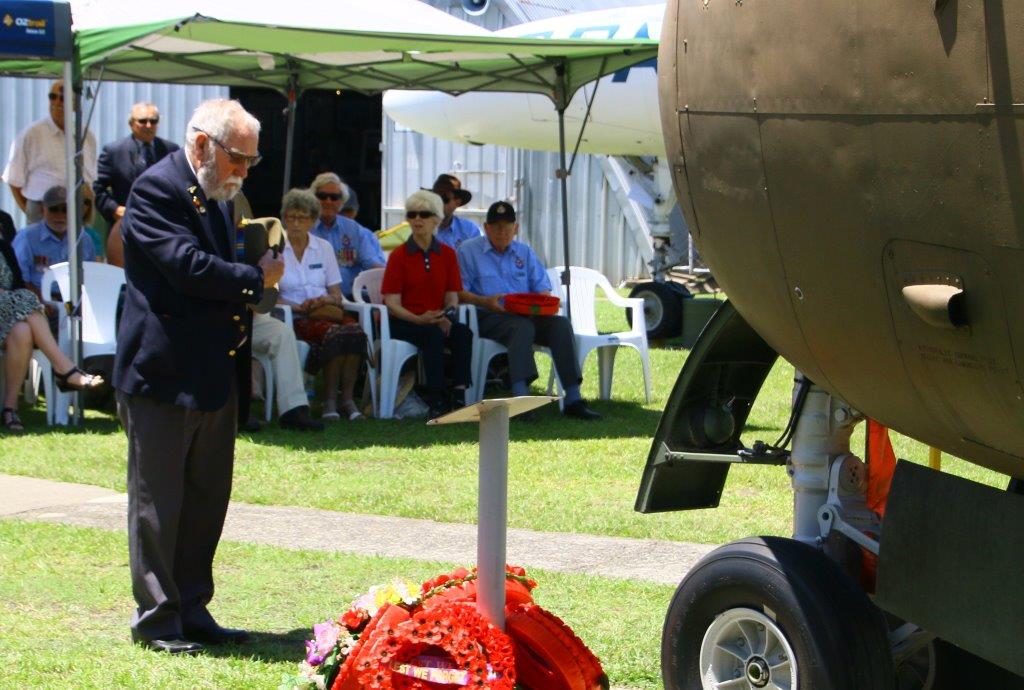 Bill Bunter laid a wreath on behalf of the 9 Sqn Association.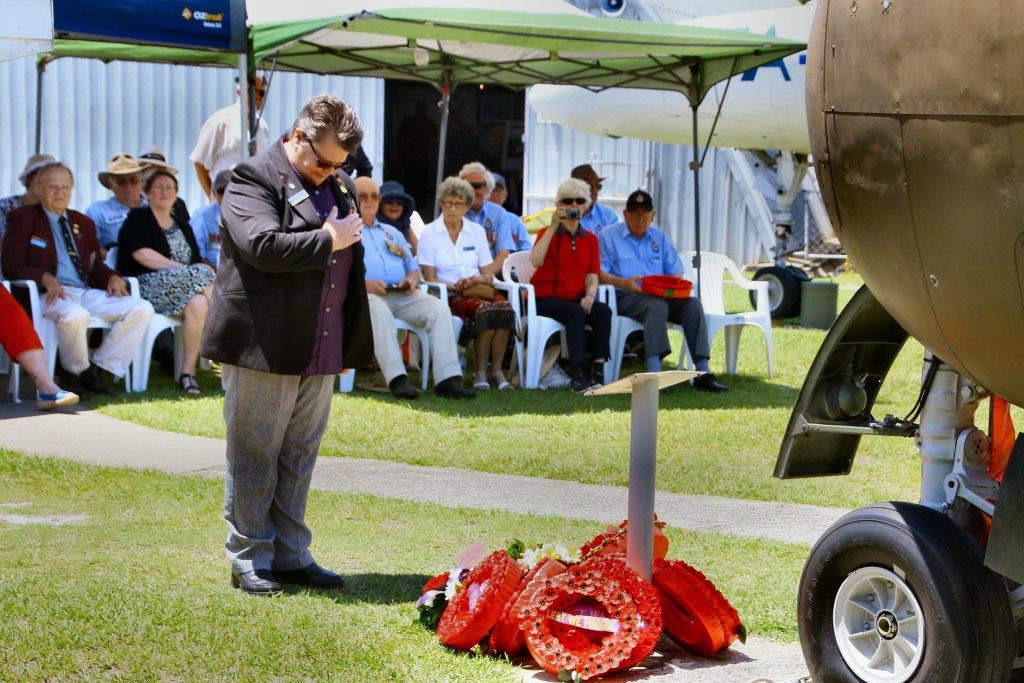 Heather Christie laid a wreath on behalf of the Caloundra RSL Sub-Branch.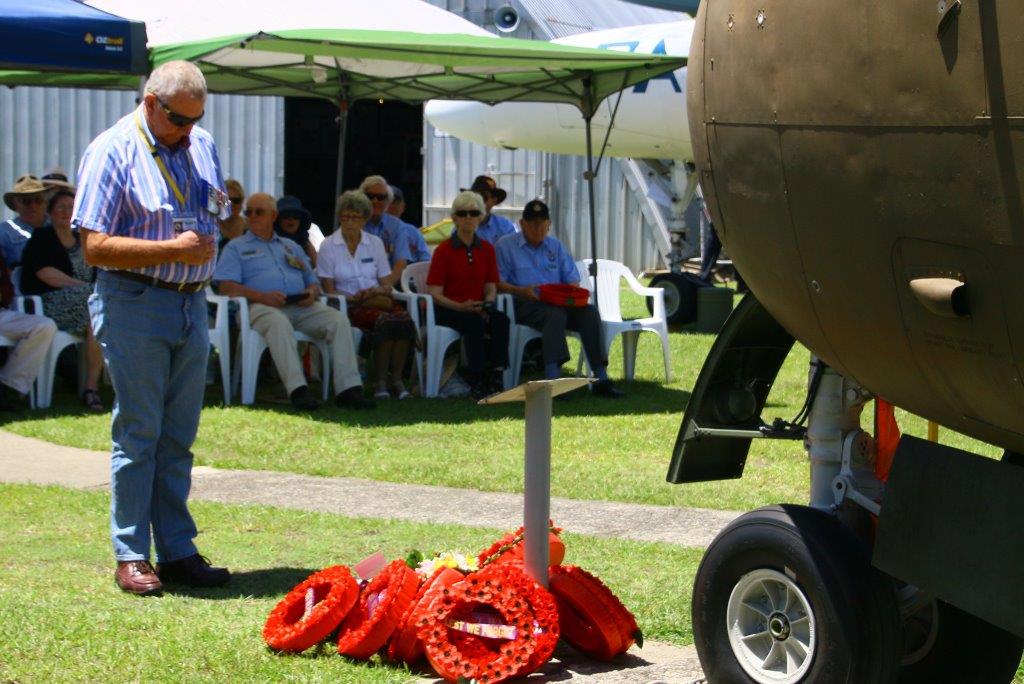 Ian "Jake" Jacobsen laid a wreath on behalf of RTFV-35 Sqn (Wallaby Airlines).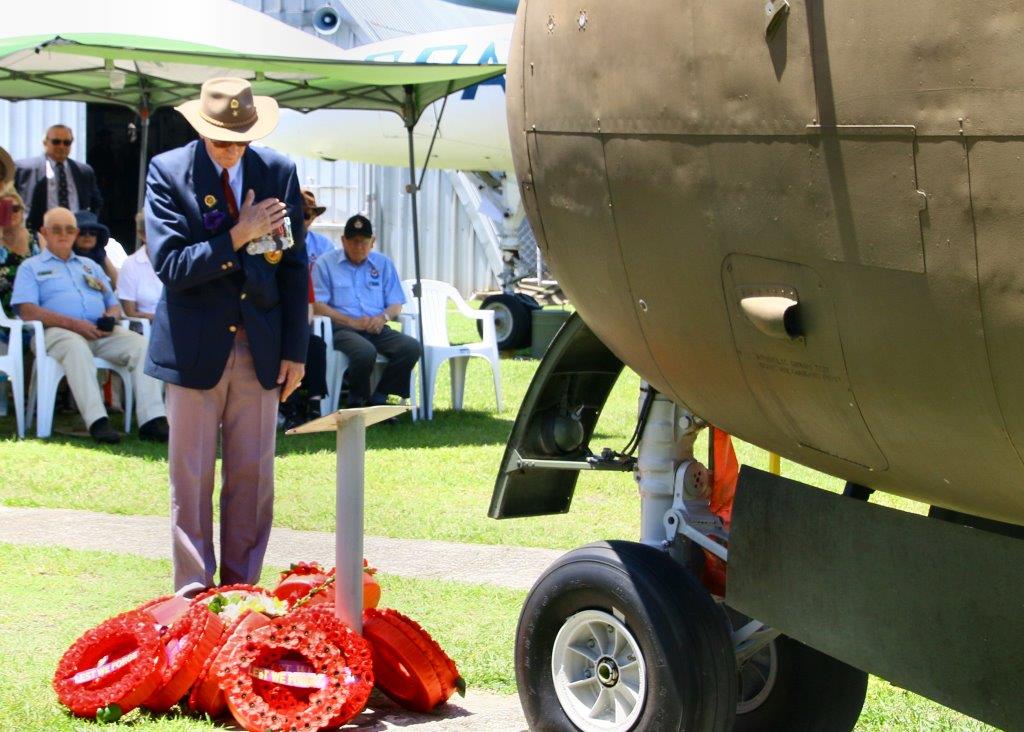 Mal Sayers laid a wreath on behalf of all animals that perished during all wars
After the Ceremony, Mal invited all those present across to the aircraft hangar for a very generous morning tea which had been prepared by the local Meals on Wheels ladies.
Apart from enjoying the hospitality of the VVAA, those present were able to inspect the huge number of quality aircraft displayed by the Museum.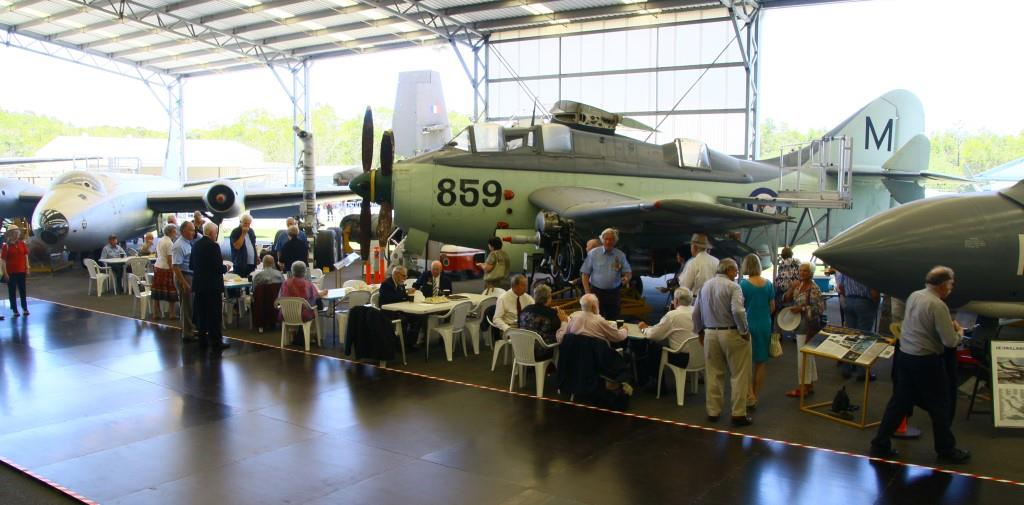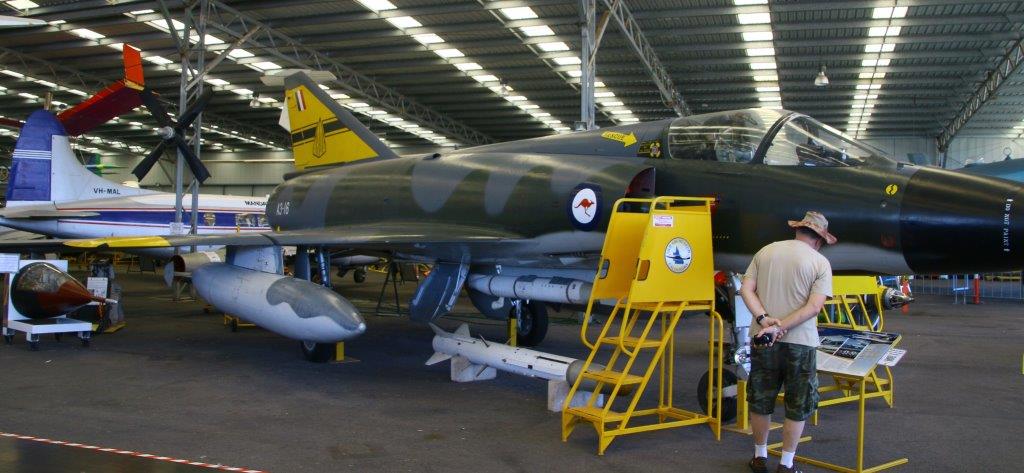 Mirage A-16
This particular aircraft's flying career came to a premature end on 24 October 1974 when the aeroplane was inadvertently landed wheels-up at Melbourne Airport (Tullamarine). It was, according to the popular pilot definition, a good landing because the pilot walked away from it. Indeed, it came very close to being a great landing because inspections several years later revealed that they could have used the aeroplane again had there been a will to so do.
Most accounts of the accident emphasise the requirement for civil Air Traffic Control to issue a "Check Wheels" warning with landing clearances to military aircraft and the fact that such a warning was not issued on this occasion. In the past, this requirement had led to amusing instances where pilots of fixed gear aircraft would respond "Down and Welded". Less amusing were instances of USAF C-141s going around from short final at Sydney and Alice Springs because the crew misinterpreted the "Clear to Land, Check Wheels" as a warning that the Tower could not see their gear down. Nevertheless, the causes of the accident involving A3-16 were significantly more complex than the lack of a "Check Wheels" warning. As demonstrated by the following first-hand account by the pilot of A3-16, the holes in several layers of the well-known Swiss cheese safety model aligned that day!
The pilot of the aircraft was Nick Ford and you can read his account of the landing HERE.
Other aircraft on display include: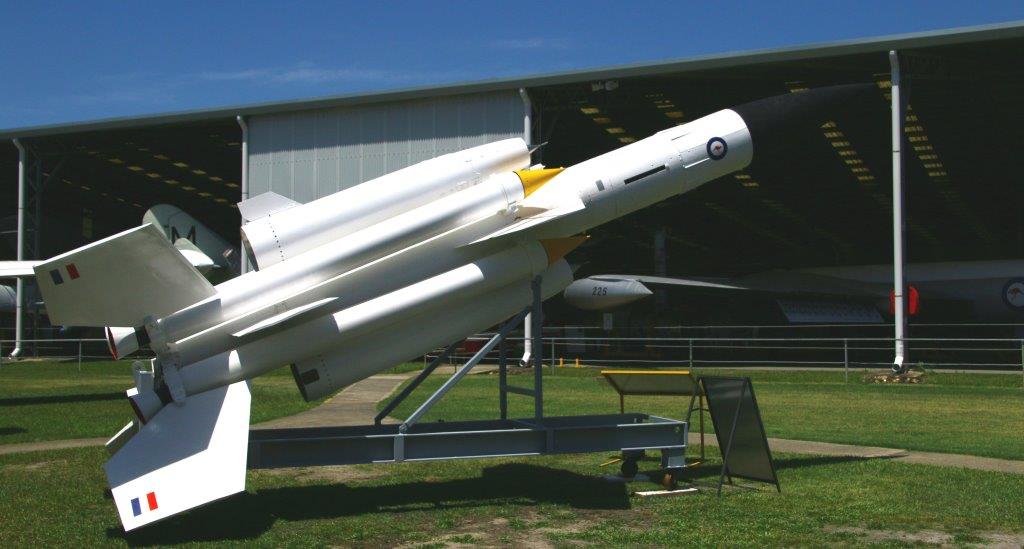 The Bristol Bloodhound Mk 1 missile.
The Bloodhound was a British surface to air missile developed during the 1950s as the UK's main air defence weapon and which saw service with the RAF and the forces of four other countries, Australia, Sweden, Singapore and Switzerland. The design was the result of a search for improved air defence of the British Isles following the USSR's entry into the nuclear armament age.
Initial guidance was semi-automatic, the targets being identified by standard early warning ground radar then, for the final attack, was handed over to local weapon's controllers.
The Bloodhound was chosen to protect the RAF V-Bomber bases from Soviet bombers that may have escaped the RAF Lightning interceptors.
It was powered by two Bristol Thor ramjets and four jettisonable solid-fuel booster rockets. By the time it cleared the launcher it was doing 650kph and by the time it was 8 metres from the launcher, it had reached the speed of sound. Three seconds after launch, as the four boost rockets fell away, it had reached mach 2.5. A very speedy little beast.
Australia ordered 20 Mk 1s in 1959 and they entered service with 30 Squadron at Williamtown in 1961. A detachment went to Darwin in 1965 but all were retired by late 1968.
A bean supper will be held on Tuesday evening in the church hall. Music will follow.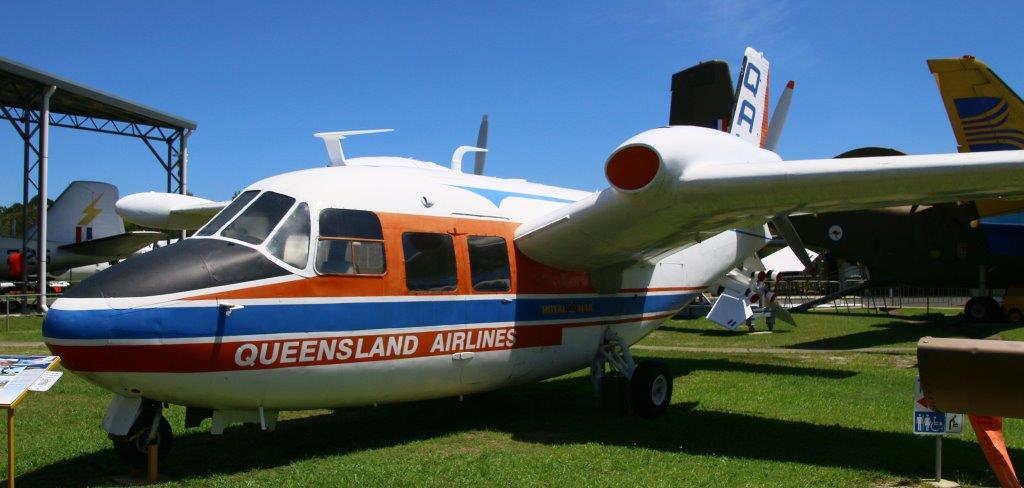 Piaggio P-166
The Italian firm, Piaggio, developed the P-166 as a landplane version of their P-136 amphibian, utilising the same wings and engines, fitted to a new larger fuselage.
Designed as an executive transport to fill the gap between the Aero Commander and the DH Dove, the P-166 was a direct competitor in the European market to the Beech Queen Air and the Twin Bonanza, Cessna 310 and Piper Apache. With its gull wing and twin pusher piston engines, this distinctive aircraft had a spacious eight-seat cabin situated well ahead of the engines to provide the passengers with almost jet-type quietness. It was also well appointed for this type of executive aircraft, in having a toilet, washbasin, galley and bar installed.
First flown in 1957, Piaggio built about 140 P-166s, with the ones built after 1964 having an enlarged fuselage capable of accommodating 12 passengers.
Several were operated in PNG, click HERE to see one operating into and out of Tapini.
At the evening service tonight, the sermon topic will be 'What Is Hell?'
Come early and listen to our choir practice.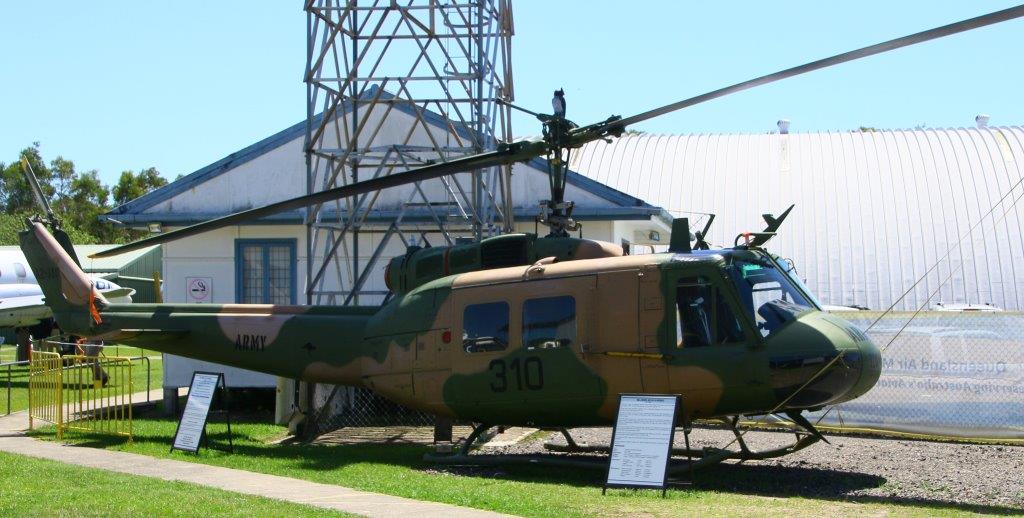 These two old bodgies managed to get up early and attend the morning ceremony.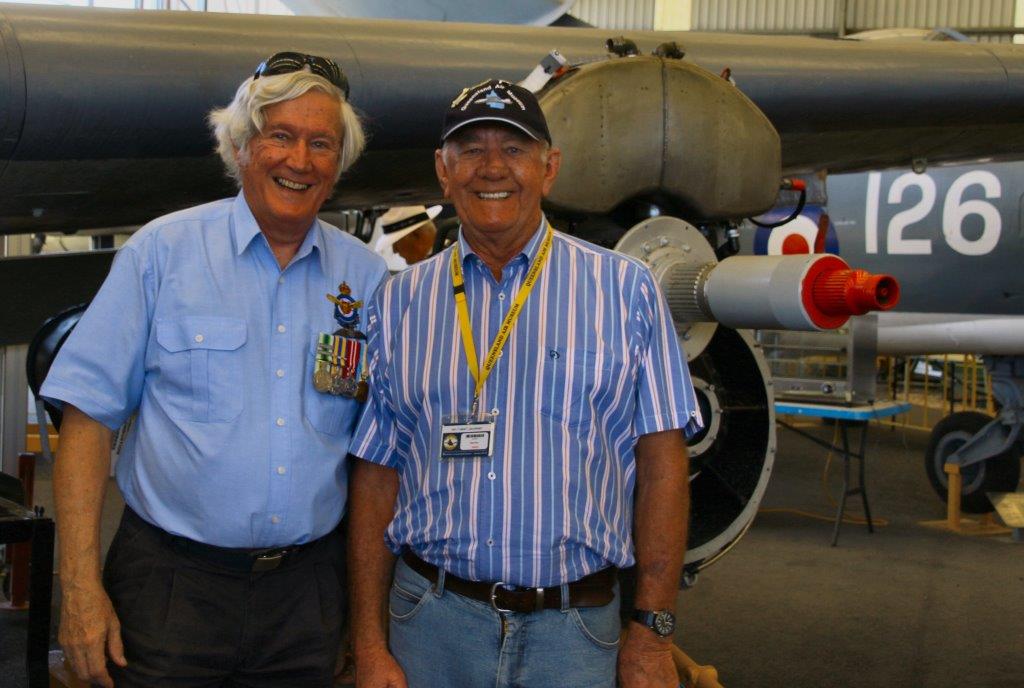 Steve Wessels and Ian "Jake" Jacobsen. (In front of the Gannet)
Don't let worry kill you off - let the Church help.
114 MCRU Reunion.
Most of the pics have been scrunched to allow the page to open quickly.
You can obtain the HD version of each by clicking the pic.
On Monday the 3rd December, 2018, about 50 ex-114 Mobile Control and Reporting Unit (MCRU) blokes and their ladies got together at the Kedron Wavell Services club for lunch, a few drinks and lots of tall tales.

114 MCRU was formed as No.114 (Mobile) Fighter Sector Headquarters at Camden, New South Wales, on 23 May 1943. The following month it deployed to Goodenough Island in New Guinea as part of No. 71 (Fighter) Wing and became operational on 27 June. It controlled two radar stations, No. 401 of the US Army Signal Corps and No. 305 of the RAAF. On the 8th August it moved to Kiriwina, under the aegis of No. 73 (Fighter) Wing.
Responsible for controlling anti-aircraft batteries and air-to-air interceptions of Japanese raiders, the unit was renamed No. 114 (Mobile) Fighter Sector on 18 October. It registered its first "kill" on 31 October, when it directed a Spitfire of No. 79 Squadron to intercept a Japanese "Tony" fighter north-east of Kiriwina. On 2 March 1944, 114 Fighter Sector began redeploying with No. 73 Wing from Goodenough to Los Negros Island. Charged with coordinating air defence during the Admiralty Islands campaign, it was renamed No. 114 Mobile Fighter Control Unit (MFCU) five days later. The redesignated unit became operational on 2 April, and controlled Nos. 337, 340, 345, 346 and 347 Radar Stations.
In January 1945, No. 114 MFCU was withdrawn to Brisbane, where it began preparations to participate in the Australian-led liberation of Tarakan. In April, with a complement of over 800 officers and men, and Nos. 167, 168, 308, 354 and 355 Radar Stations under its command, it embarked for Morotai in the Dutch East Indies. From there it departed for Tarakan, arriving with the main invasion force on the 1st May and became operational within four days.
When peace broke out in 1945, 114 MFCU was rapidly reduced in size. It departed Tarakan for Australia on the 3rd December 1945 and arrived at RAAF Station Deniliquin, New South Wales, on the 14th after which it was relocated to RAAF Station Schofields (near Richmond) then on the 31st May it was off to RAAF Station Williamtown and finally disbanding on the 1st April 1948.
It was re-established under a newly organised No. 78 Wing on the 24th January 1949—"in name only", as it remained non-operational. It began training in late 1955 prior to anticipated reactivation and was renamed No. 114 Mobile Control and Reporting Unit (MCRU) on the 12th March 1956. (Why No 114 was selected and not No 1 is anyone's guess). It was then relocated to RAAF Dubbo and stood up as an independent unit on the 14th November.
From there it was off to Malaya in 1958, becoming operational at Butterworth on the 19th August where it took over responsibility for aerial surveillance and ground-controlled interception from the Royal Air Force's No. 487 Signals Unit. From Butterworth, it directed the Sabres of Nos. 3 and 77 Squadrons and the Canberra bombers of 2 Squadron in the last years of the Malayan Emergency. It also sent controllers on attachment to Ubon, where No. 79 Squadron was based from 1962. On the 3rd September 1964, the unit went on to a 24-hour operational footing to support the Sidewinder-armed Sabres of 3 and 77 Squadrons during the Konfrontasi between Indonesia and Malaysia, though no combat ensued. Konfrontasi having been declared over in August 1966, 114 MCRU transferred its responsibilities to RAF Western Hill and was disbanded at Butterworth.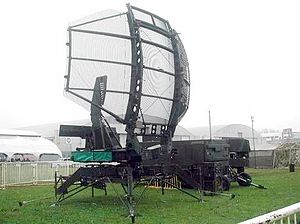 The unit was reactivated again at RAAF Base Amberley on the 1st April 1968, employing the Plessey "Hub Cap" automated air defence system, which utilised Westinghouse radar and Marconi computer programs. It was to have moved directly from Butterworth to Amberley but delivery of the Hub Cap system, ordered in 1965, was delayed owing to programming issues. The system was also physically larger and heavier than had been anticipated, rendering it less easily transportable. In 1979, it upgraded to the Westinghouse AN/TPS-43 radar system (right) , improving both its mobility and its tactical capabilities. It inaugurated the RAAF's Tactical Air Defence System (TADS, subsequently Tactical Air Defence Radar System or TADRS) on the 10th July 1985.
114 MCRU was presented with a Squadron Standard on the 23rd May 1990, becoming the only non-flying unit in the Air Force to receive such an honour. The standard displays battle honours for the Pacific (1943–45), New Britain (1943), New Guinea (1943–44) and Borneo (1945).
14 MCRU was transferred to Tindal in May–June 1997 and then to Darwin in December 1999.
The AN/TPS-43 was retired in September 2005, and replaced by the AN/TPS-77 radar. In May 2007, a detachment of 75 members were deployed for active service at Kandahar Airfield in southern Afghanistan, utilising the AN/TPS-77 to coordinate coalition combat air operations. The detachment returned to Australia in August 2009.
No. 114 MCRU celebrated its 70th anniversary at Darwin on the 23rd May 2013.
This 2018 reunion call themselves 114 in the seventies. It consists of members who were involved in the original installation of Hubcap in 1966, through commissioning of the radar around 1970, right through the seventies and into the early eighties. Even though they've had a couple of reunions in the past, 1996 and 2016, a number of members had not seen each other in 45 years. It was deemed such a great success that the members decided on doing it again in 2 years time.
This year's reunion was organised by Brendan "Curley" Godwin (below), seen here enjoying one of the Borossa's finest.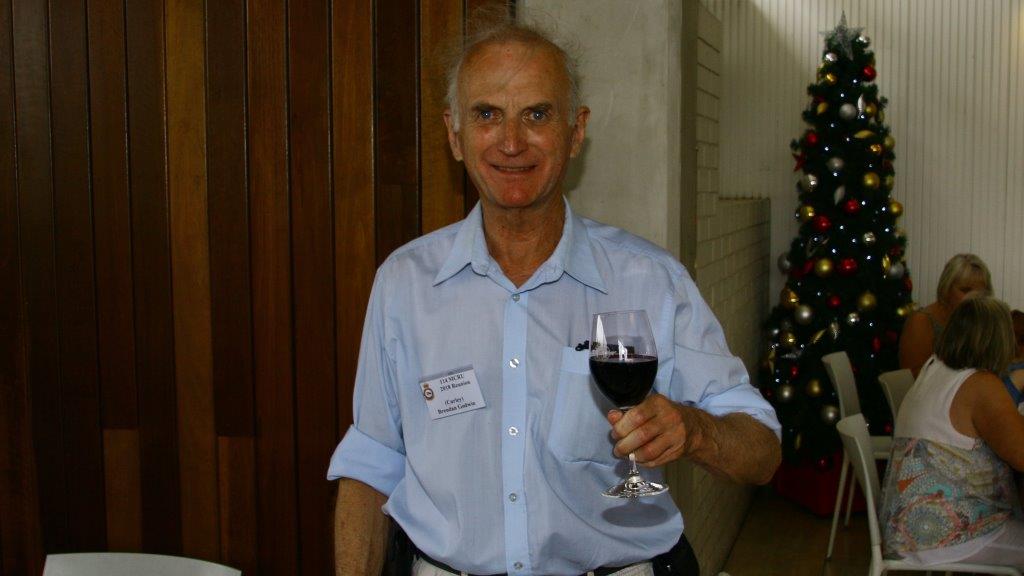 Those at the reunion included – all names left to right.
The A Team.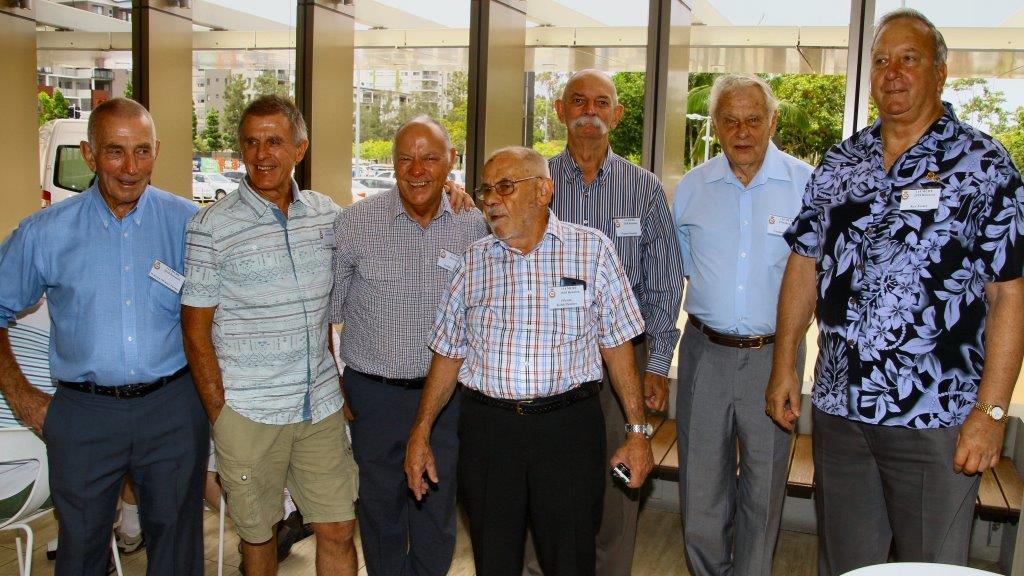 Warren Turner, John Mackie, Hedley Horne, Keith Fletcher, Vince Stanton, Grahame Venn, Kev Foster.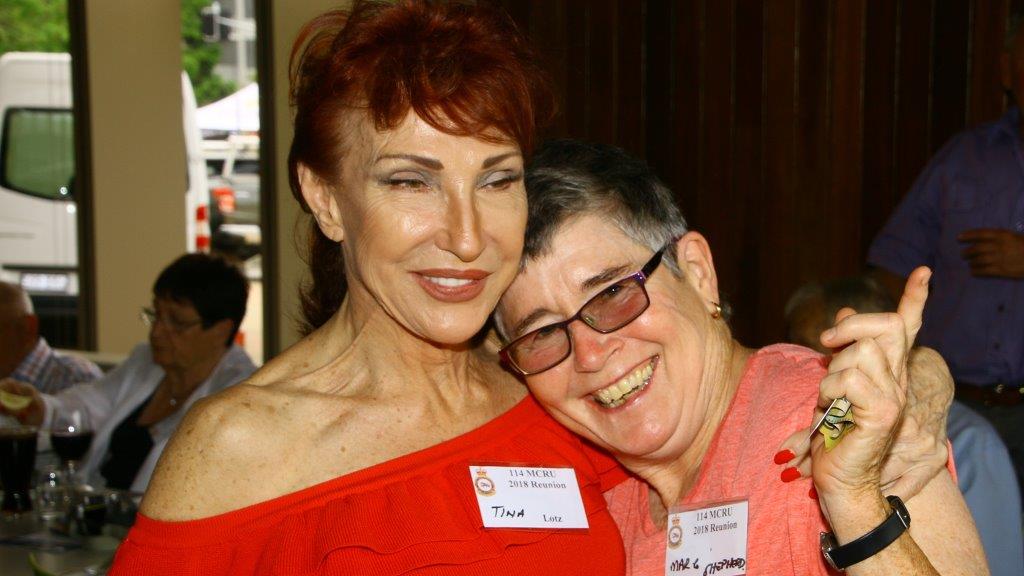 Tina Lotz, Marg Shepherd.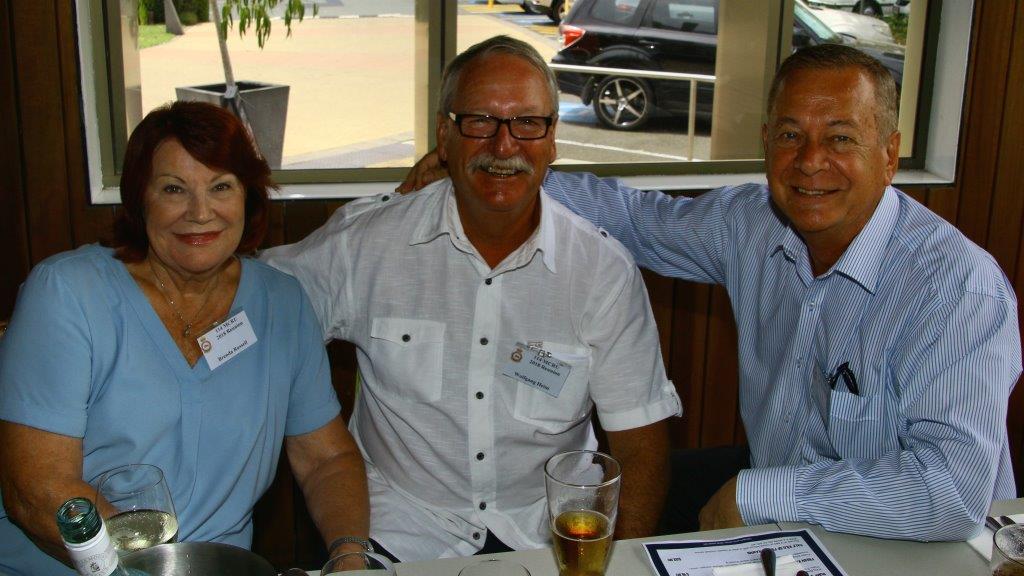 Brenda Russell, Wolf Heim, John Russell.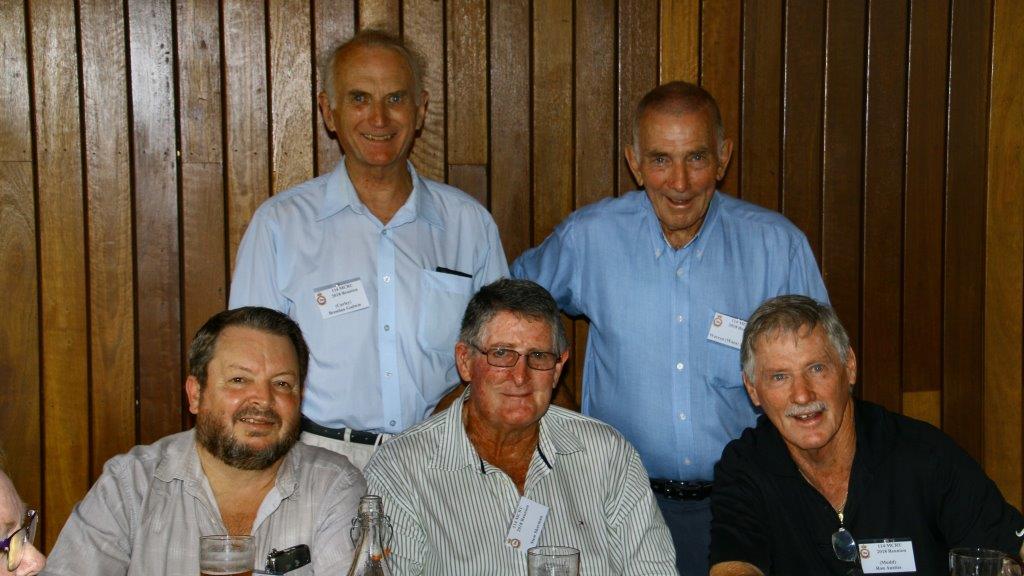 Standing: Brendan Godwin, Warren Turner. Seated: Kev Collins, Stewart Skerman, Ron Anstiss.
Cecilia Ward, Robyn Johnson.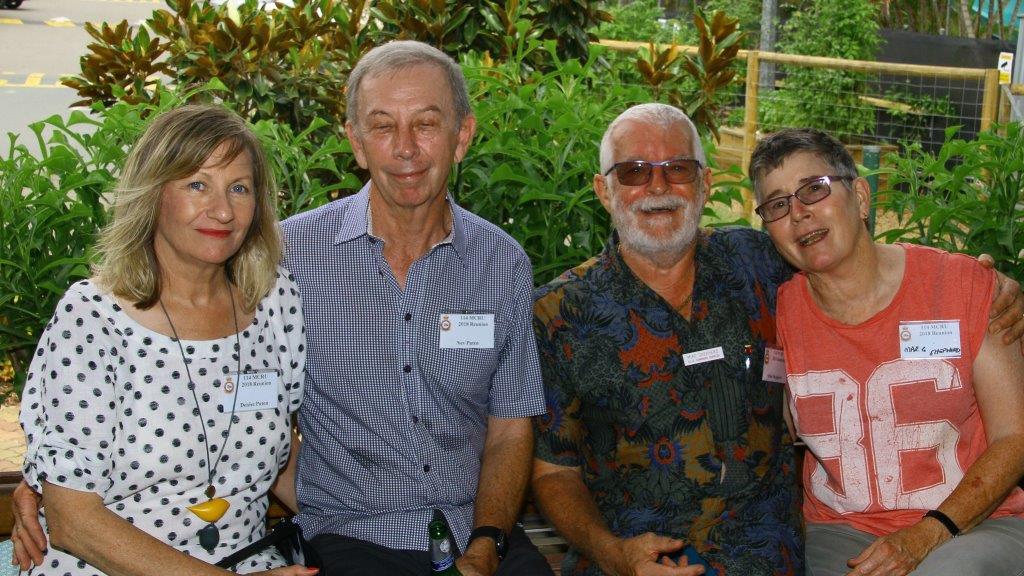 Denise and Nev Paten, Mike and Marg Shepherd.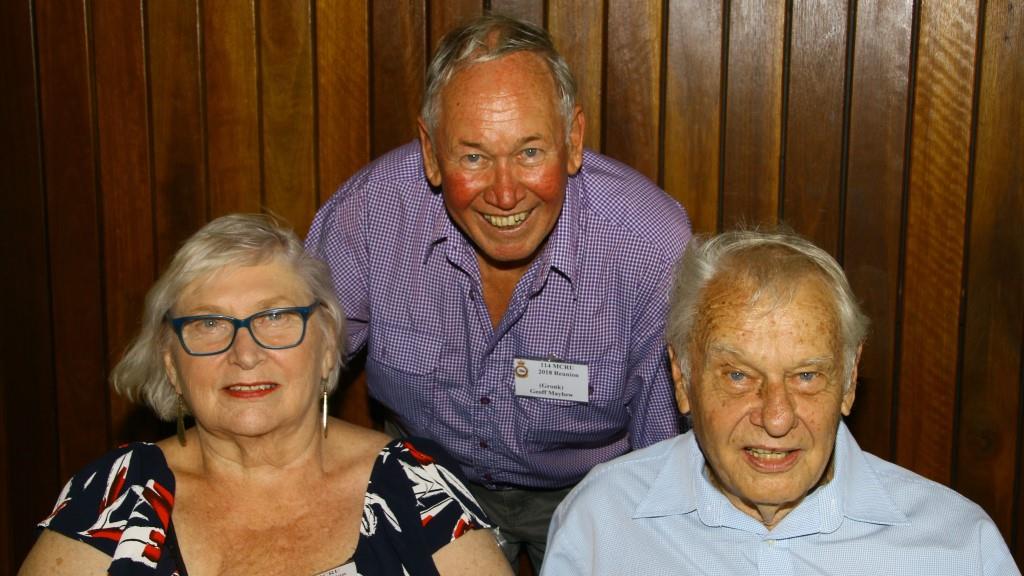 Glenda Venn, Geoff Mayhew, Grahame Venn.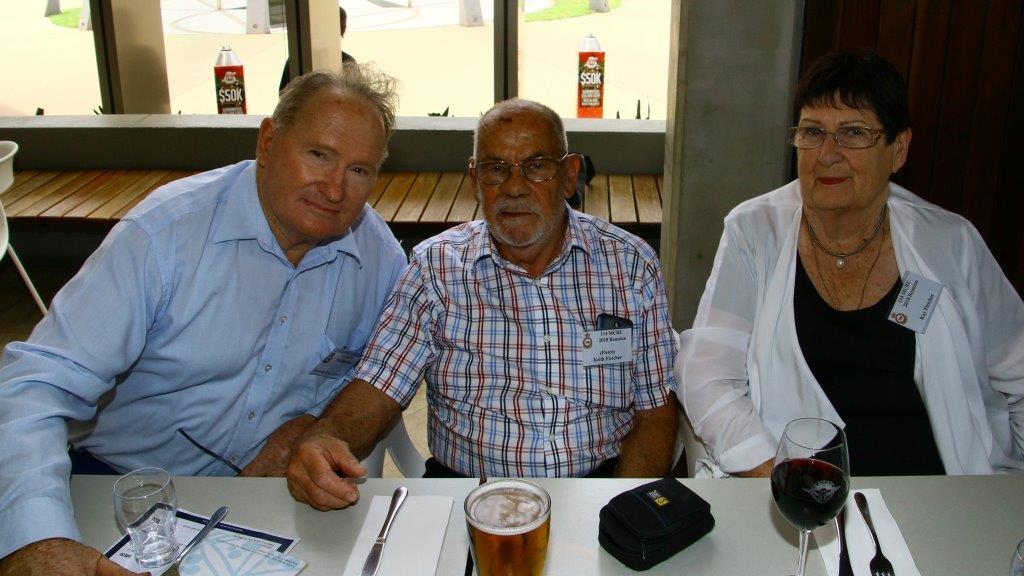 Graham Cotterell, Keith and Kay Fletcher.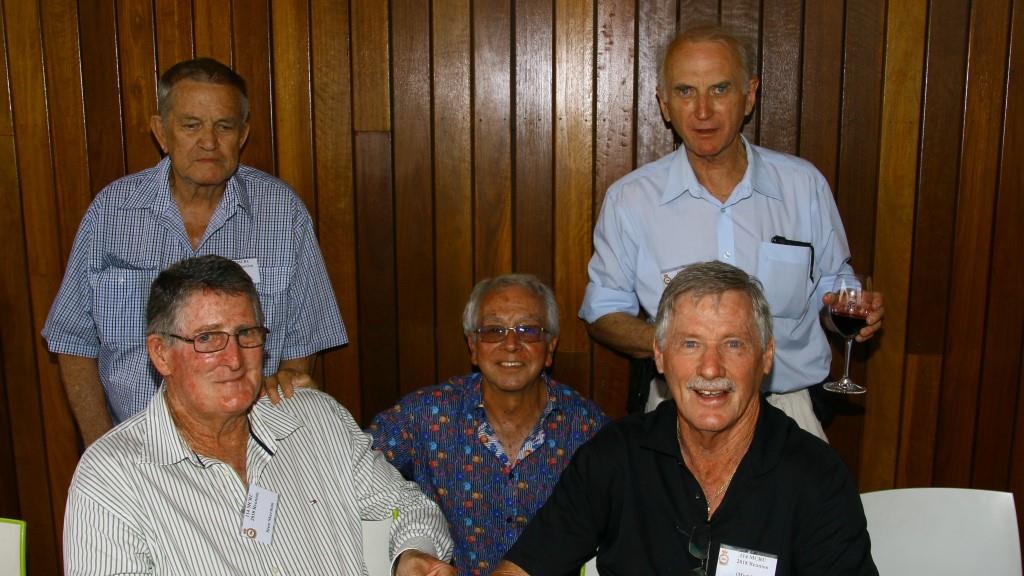 Standing: Jeff smith, Brendan Godwin, Seated: Stewart Skerman, Sam Cox, Ron Anstiss.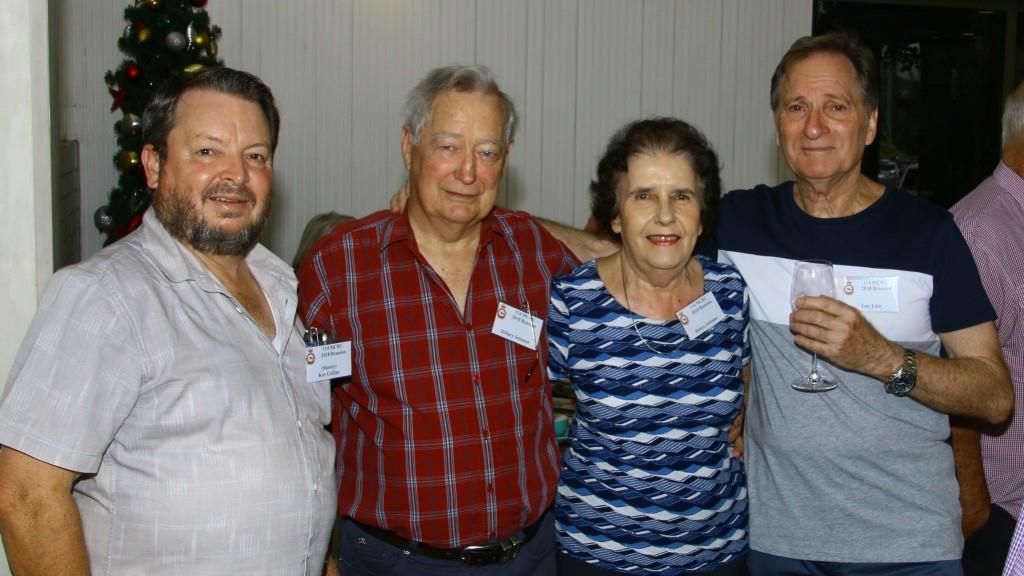 Kev Collins, Hillary and Robyn Johnson, Len Lotz.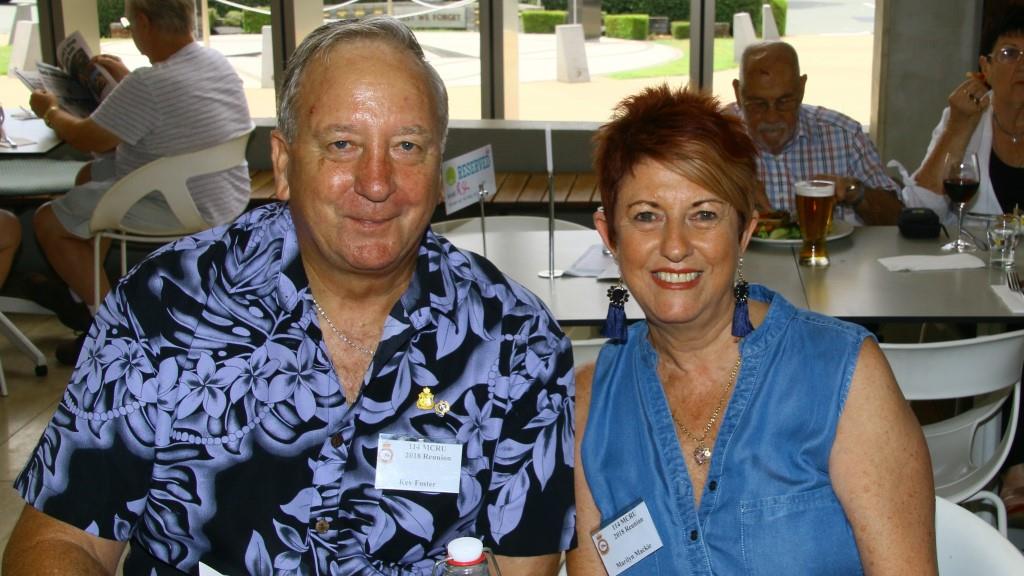 Kev Foster, Marilyn Mackie.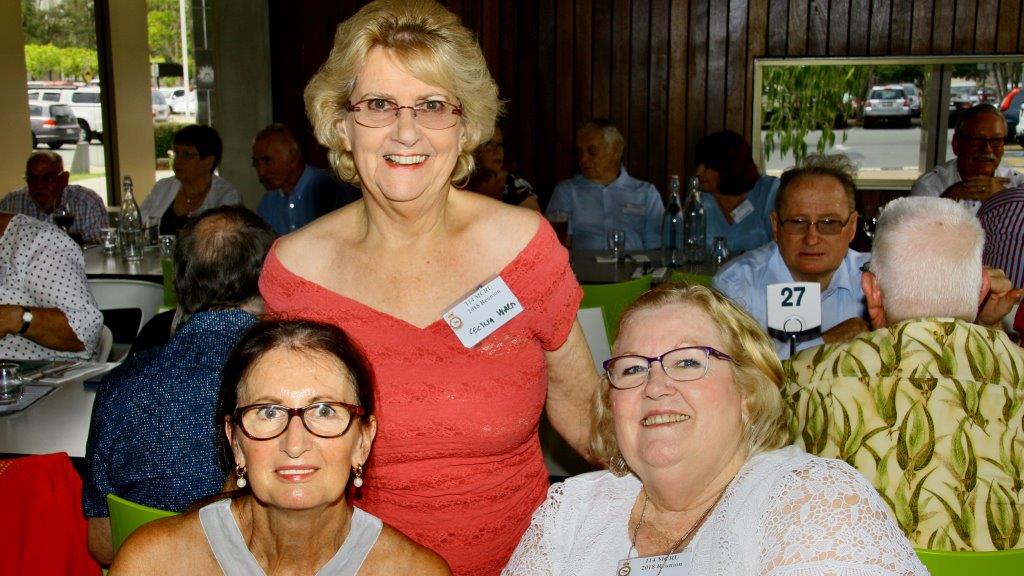 Marg Skerman, Cecilia Ward, Maryanne Collins.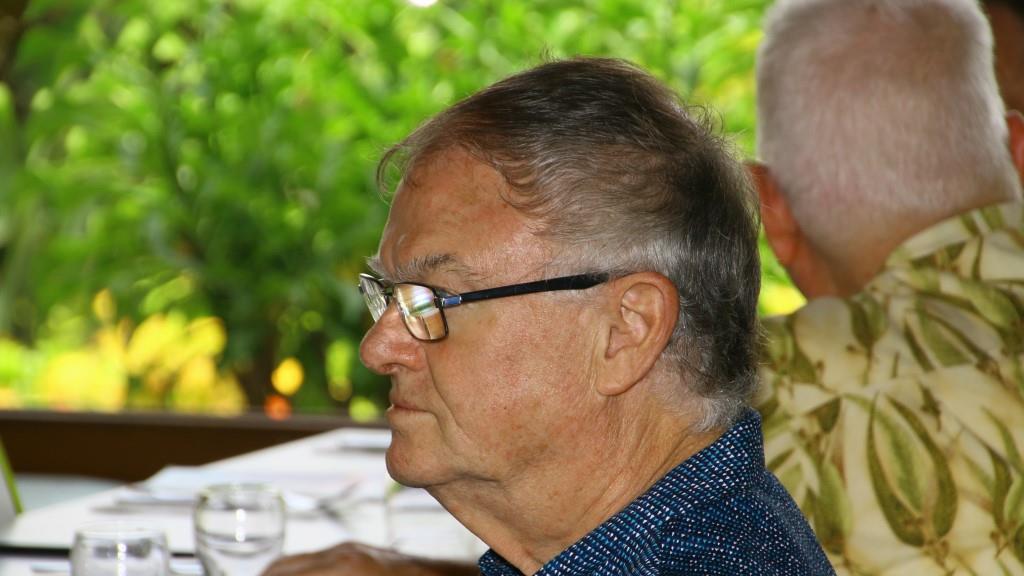 Ross Ginn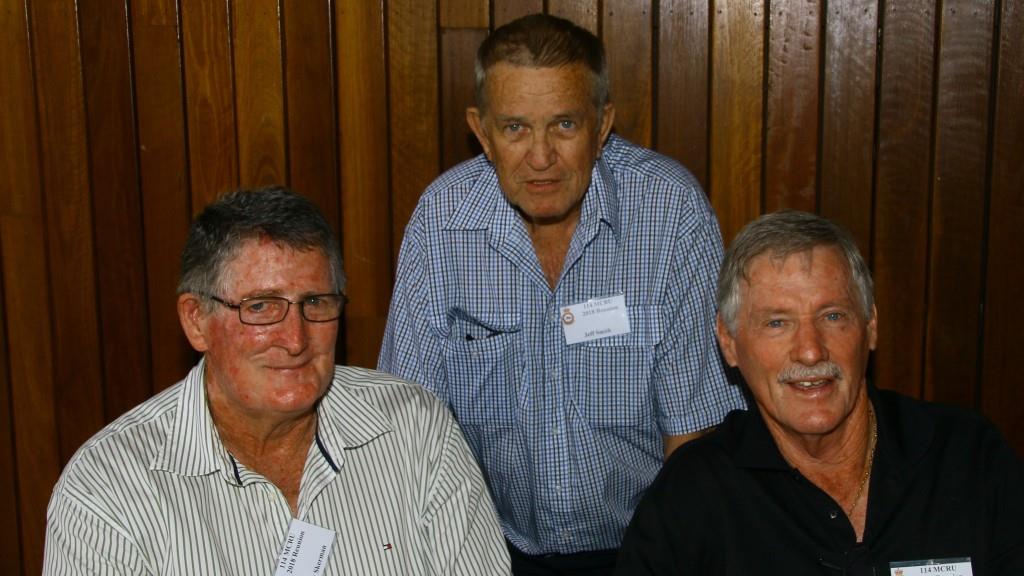 Stew Skerman, Jeff Smith, Ron Anstiss.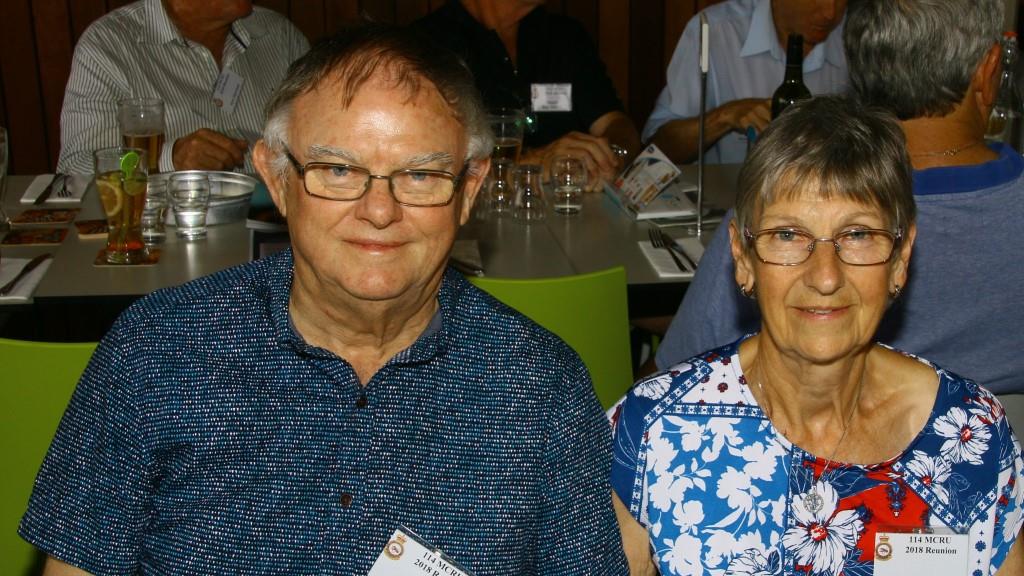 Ross Ginn, Diane Vickers.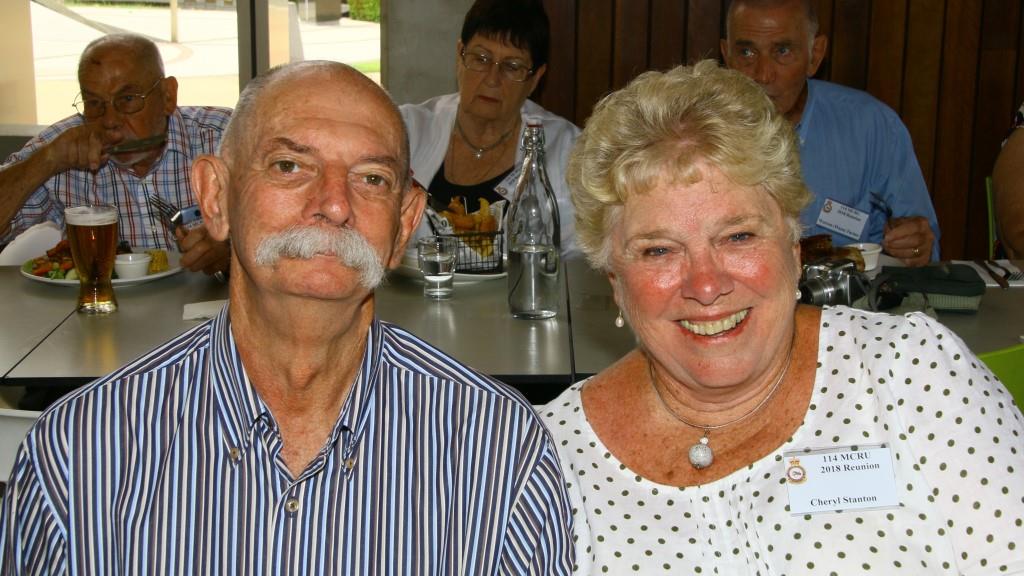 Vince and Cheryl Stanton.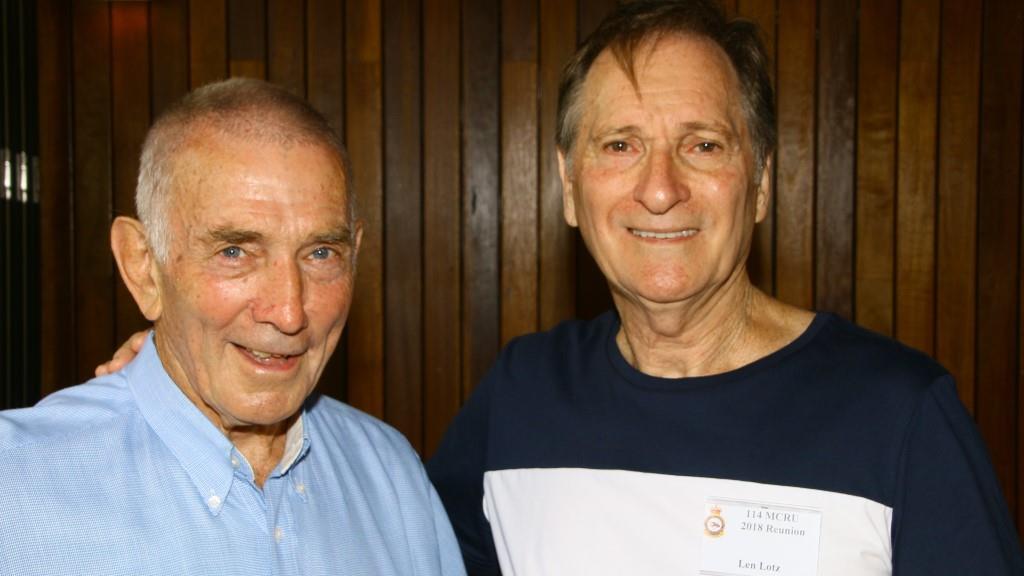 Warren Turner, Len Lotz.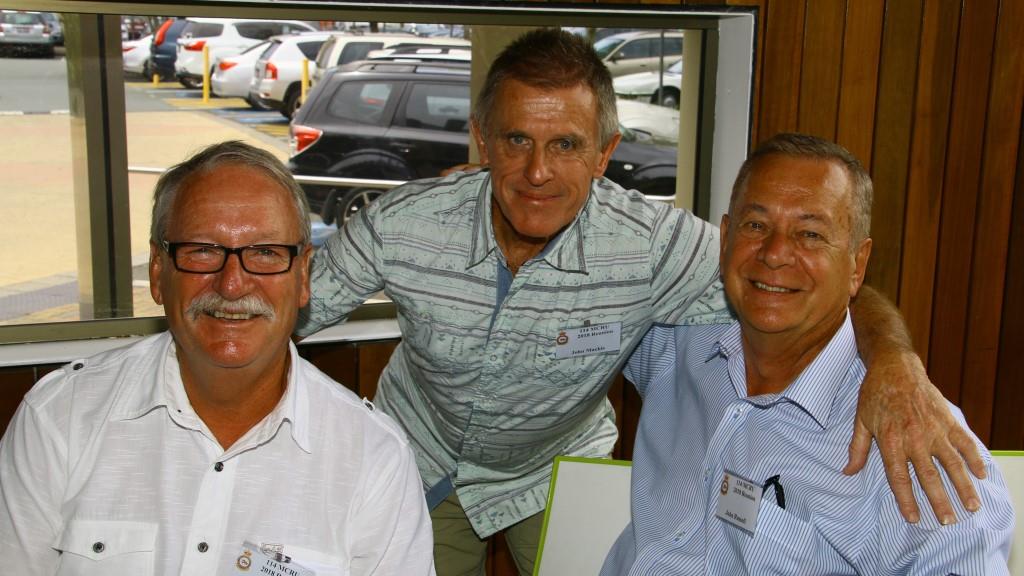 Wolf Heim, John Mackie, John Russell.
The whole mob!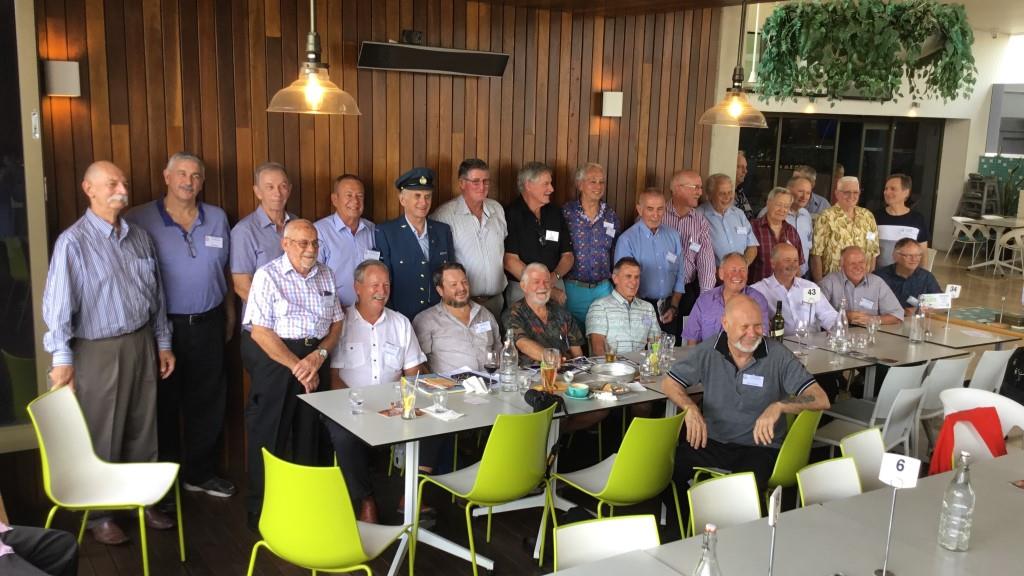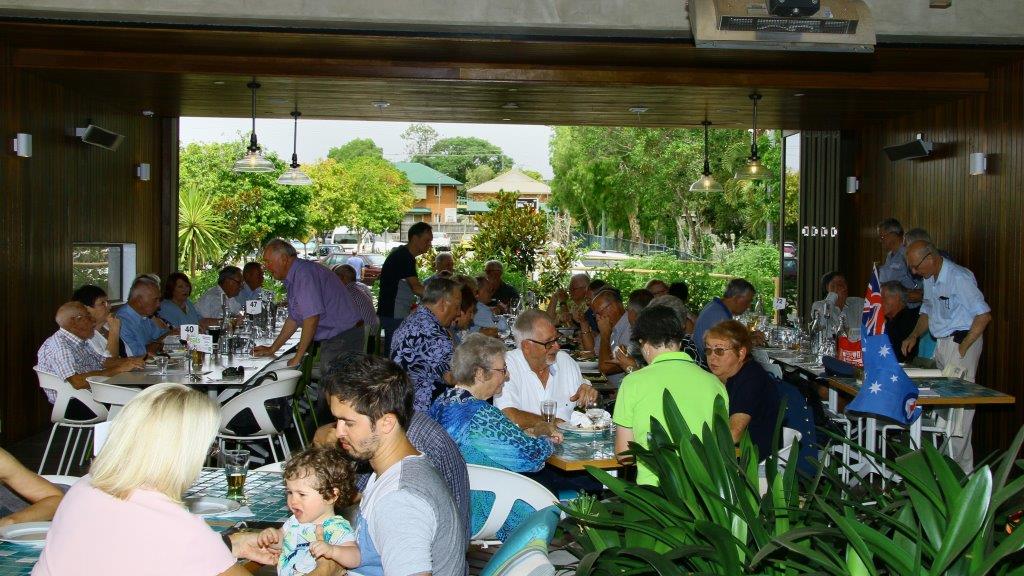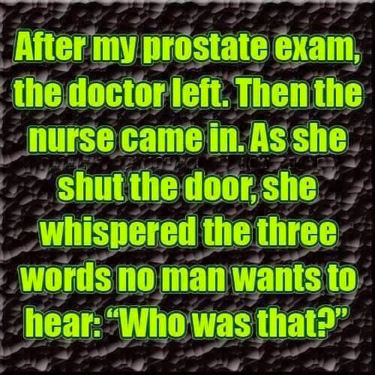 Back Go to page: 1 2 3 4 5 6 7 8 9 10 11 12 13 14 15 16 17 18 19 20 Forward