Geoff Cash advises that SQNLDR Gregory Cashmere (aka "Crash") died peacefully at home on the morning of the 26th November, 2010. His one wish, other than to be cured, was to be at home when the time came. Thankfully he arrived home with apparently the comment of " Home sweet home". At least that one wish was granted
.
The Air Force News, in 2002, reported that Squadron Leader Greg Cashmere (on the left in the photo) and Wing Commander Terry Morgan were reappointed to the Air Force in 2002, after years away from the Services. They are pictured here with the RAAF's Beech Super King Air at East Sale.
SQNLDR Cashmere had taken a 15-year break from the Air Force to fly for the Royal Flying Doctor Service. WGCDR Morgan, meantime, a former Lieutenant Commander in the Navy, had returned to the RAAF after a five-year hiatus.
Greg will be sorely missed.
Ted Washbrook got in touch, he says "Sorry, I had forgotten to mention that, sadly another groundy went to the great transmitting station in the sky, Joe "Graham" Mercer passed away in either September or October. He got out of the RAAF when it was insisted that he go to Radschool from Darwin which he did, then snubbed his nose and went back to Darwin as a civvy. He was diagnosed with a brain tumour and died about one year after, a real gentleman who was not averse to a cold beer on a hot day. He and his wife Paula moved south to Toowoomba some years ago.
Maree Fitzgerald advises that John Leonard Brereton passed away on the 6th July, 2007. John was on 9RMT. John was buried at the Macquarie Park Cemetery and Crematorium, North Ryde, Sydney.
Vince Stanton advises that we have lost yet another member. Alan (Manger) Richards passed away on or about 5th December 2010, in Newcastle NSW, following an extended battle with cancer, at only 60 years of age. He leaves behind his lovely wife Cheryl. The funeral was held at Beresfield Memorial Park on Friday 10th Dec.
'Manger' was a long standing member of 3 CRU Williamtown, he joined in 1967 and after surviving 21 Appy, retired after 22 years then worked for the Air Force Reserve then DOD.
We will miss him greatly.
Rod McKinnon told us of the sad passing of one of the RAAF's legends, WOD Bill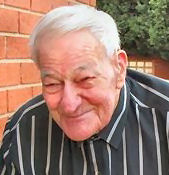 "Dexter" Dutton on the 2 January, 2011. As Rod says, "Anyone who went through Wagga in the sixties would remember Dexter, he was the bloke who struck fear in us all, but was fair when handing out punishment. I have fond memories of him tearing the Canberra guard gate apart when arriving there for a parade – 'Hells flippin bells laddie don't stand there like a startled prawn'.
I'm sure there are enough stories about the man (pictured at left at his 94th birthday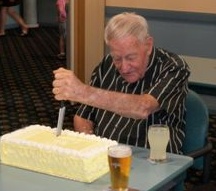 on the 10th March 2010) that would fill this magazine".
Terry 'Mad-dog' Malligan probably sums Dexter up best, he says, "To me, this bloke was a definite legend and I never even met the bloke, there were just so many stories about him that you felt you knew him intimately. He was known throughout the RAAF worldwide. I would love to be remembered so fondly when my time comes."
Steve Hartigan advises that former RAAF Sir box-packer and member of the Williamtown "rat-pack" Don "Butch" Foley, passed away on Wednesday, 12 January 2011 at the Harbourside Haven Retirement/Nursing Village, Shoal Bay (Port Stephens NSW). He was 80 years old. His funeral was held on Tuesday, 18 January, 2011 at the Salamander Uniting Church and a wake to celebrate his life was held afterwards at the Nelson Bay Golf Club.
Dan O'Brien advises the sad news of the death of Geoffrey Douglas Craig who was on 29 Appy MT at Wagga and who graduated in October 1976. He was electrocuted at his farm at Miriam Vale QLD. Geoff was the WOFF Apprentice of his intake, one of only two MT Appys, along with Henry Higgins, to achieve that and I believe the recipient of the Governor General's Medal for the intake. He was apparently charging the battery of the ride on mower and didn't notice the 240V lead laying on the hot exhaust. It had melted the insulation and shorted to the mower frame, so when he went to disconnect and touched the mower, he was zapped. A sad way to go for a guy who was a brilliant technician and well liked by all who knew him.
John Nordheim gave a brief summary of Geoff's relatively short, yet incredibly influential 9 year Air Force career, he said: "Our loss is most certainly a gain for our maker and creator above, who obviously needed a provider of reef fish and crabs. Geoff impressed so many with his skills but led even more astray with his wicked sense of humour, though he always maintained the ability to fix anything that needed repair.
"If it was broken – Craigy could fix it".
A123828 Geoffrey Douglas Craig (known as Craigy to half of Australia's population) joined the Air Force as a 16 year old on the 7th January 1975 as one of approximately 150 engineering apprentices. Geoff chose to be a Motor Transport Fitter, similar to his father Alex and brother Bruce before him. This next part of his life was predominately a 2 year theory phase of a 5 year apprenticeship at the RAAF School of Technical Training at Wagga, a bitterly cold place in winter for a Queenslander. During this initial 2 years at Wagga he was, no doubt, a menace to most of his instructors, as he had far more knowledge than a student should possess. His outstanding marks, trade and people skills led to him being promoted to Warrant Officer Apprentice; an esteemed position. Only one apprentice each year is chosen. This resulted in Craigy proudly leading his 150 colleagues on for their graduation parade when their 2 years at Wagga was completed.
About the same time, further recognition came when he was awarded the Governor General's Medal of Excellence, by the man himself, "Sir John Kerr". In over 40 years this award has only been won twice by Motor Transport Fitters; Geoff and his great mate and mentor Brian Higgins being the two recipients. For the next few years the Air Force had the skills of 3 Craig lads, all following in the footsteps of their father, Alex. Geoff joined brothers Bruce and Ian serving this great country.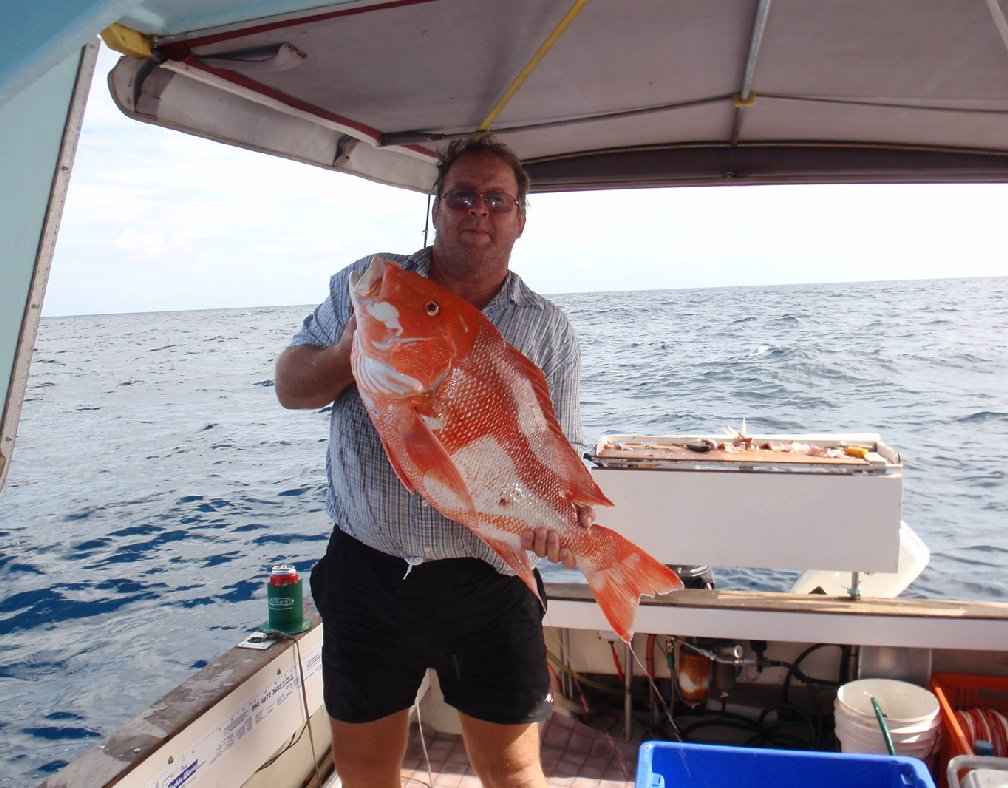 Geoff, with one that did not get away.
During his Air Force career 'Craigy' served at Laverton, Butterworth, Pearce, Richmond and Amberley. The CO's at these bases no doubt breathed a sigh of relief when hurricane Craigy was posted to his next location.
Craigy could never be described as a quiet achiever, though an achiever he most certainly was.
His trade skills and "can do" attitude led to him being one of the youngest motor transport fitters chosen for overseas service. He was in the Sinai, Egypt from September 1982 to March 83.
Sadly for the Air Force, in Jan 84 he gave up his service career to be closer to family in his beloved QLD. I had the pleasure of working with Craigy for 2 years in Malaysia during 1979 and 1980. He made our work environment a "ton of fun", yet we achieved so much. I was supposed to be his boss, but somehow he always seemed to be the one in charge. From there, our great friendship was formed.
Craigy not only made a swag of friends at work, many of his vast circle of friends came from his afterhours activities. Most notably water sports, he was an outstanding water skier, social of course – not that interested in competition skiing, though I do recall his story of 13 barefoot whips on the river, out the front of the Tumble Gum Pub, in Northern NSW. When asked why he did so many whip turns he replied, didn't you see those pretty girls on the pub veranda? Competition was obviously on his mind that day.
His ability to ski on almost anything that floated is legendary. The day he pulled a burning 4 by 2 fence post from the campfire and skied off up the river on it is another that comes to mind. It's probably a good thing the fun police with their breathaliser were not around.
In conclusion, though few of us can tell a story like Craigy could, I'm sure many of his treasured friends have other yarns to tell involving "Craigy".
You may be "Gorn" mate but you'll never be forgotten. "