2 Squadron.
As well as Caribous and helicopters, the RAAF sent No. 2 Squadron to Vietnam in April 1967. Equipped with Canberra bombers and flying out of Phan Rang Air Base on South Vietnam's southern coast, some 250 kilometres north-east of Saigon, No. 2 Squadron operated day and night missions destroying a wide range of infrastructure targets as well as attacking Viet Cong and North Vietnamese troops. The squadron served with the United States Air Force's 35th Tactical Fighter Wing until leaving Vietnam on 14 June 1971. Five members of the Squadron died during the war, two on operations.
2 Squadron, Australian Flying Corps (known as 68 Australian Squadron, Royal Flying Corps until January 1918) formed in Egypt in September 1916. Squadron pilots were largely drawn from Australian Light Horse units (if you could ride a horse you could fly a plane??), while many of the ground staff had served with the pioneer Australian squadron Half Flight. The squadron left for training in the United Kingdom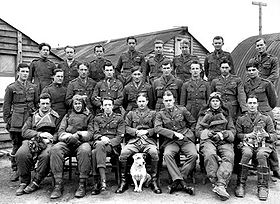 soon after its formation and deployed to Baizieux, France in September 1917.
2 Sqn pilots in 1918,
with their mascot.
Equipped with DH 5 and, later, SE 5a aircraft, No 2 Squadron earned distinction flying in both ground-attack and aerial-combat operations on the Western Front. The squadron's most successful period occurred from April 1918, when it moved to La Bellevue airfield. In June 1918 Major Roy Phillip's shot down four enemy aircraft, including two Fokker triplanes, in a single day.
The squadron was disbanded in July 1922.
No 2 Squadron reformed at Laverton in Victoria on 1 May 1937 and was equipped with Hawker Demon aircraft. At the outbreak of the Second World War the squadron patrolled Australian waters using Avro Anson aircraft. Re-equipped with Lockheed Hudsons, it moved to Darwin in April 1941. In December 1941 a squadron detachment was sent forward to Timor to cover Australian troops in the area.
Enemy air raids and the rapid Japanese advance nevertheless forced the detachment back to Darwin in February 1942.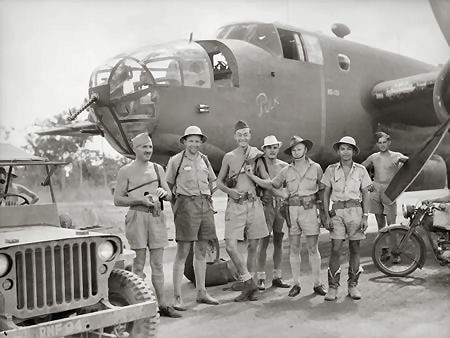 During 1942 and 1943 No 2 Squadron flew bombing, ground-attack, anti-shipping, and reconnaissance missions over the Japanese-occupied Netherlands East Indies.
As a result of these operations the squadron was awarded the US Presidential Unit Citation in July 1943 for "outstanding performance of duty in action".
Having begun to train with Beaufort aircraft, in May 1944 the squadron converted to B 25 Mitchell bombers, one of the best twin-engined medium bombers of World War II, which they operated until the end of the war. The squadron disbanded again in May 1946
In September 1948 No 21 Squadron became No 2 (Bomber) Squadron. At this stage the squadron used Lincoln aircraft. In 1958 the squadron, equipped with Canberra bombers since December 1953, deployed to Butterworth airbase in Malaya as part of the Commonwealth Far East Strategic Reserve.
In April 1967 No 2 Squadron deployed to South Vietnam where initially it conducted high-altitude radar-controlled missions at night, before an outstandingly successful adoption of low-level daylight bombing. Over a four-year period in Vietnam the squadron flew an average of eight missions every day. Despite flying nearly 12,000 combat missions, the squadron remarkably lost only two-aircraft in the conflict: on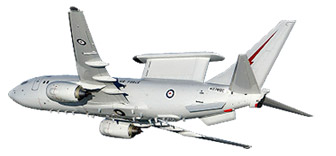 e disappeared on a night-bombing mission; and the other was shot down by a surface-to-air missile near the demilitarised zone in March 1971.
No 2 Squadron returned to Australia from Vietnam in June 1971 and disbanded again the following month only to be reformed once again in January 2000, this time to operate the Wedgetail airborne early warning and control aircraft (AEW&C).
Small Business.
Do you own a small business with fewer than 20 employees, if so, you could be eligible for the Australian Government's "Small Business Superannuation Clearing

House". The Clearing House is a free service that lets you pay your employees' super contributions in one single electronic payment. Here's how it works.
Most employees now have the right to nominate their own super fund and if you have 19 or less employees chances are you could have up to 19 different funds into which you have to deposit your contribution.
If you decide to use the Government's Clearing House, you only need to make the one payment (your total contribution for all your employees for the period) and the Clearing House will distribute the funds to the individual super funds.
The benefits are:
I
It is free

It is simple to use

It is optional

It helps you meet your super guarantee obligations

It reduces the time and paperwork involved in making multiple payments to different super funds, and,

You only have to make one electronic payment to the Clearing House
If you wish to use it, this is how you do it.
Go to www.medicareaustralia.gov.au/super - enter your details and a user ID and a password will be emailed to you.

When you receive your user ID and password, logon to the Clearing House website again and complete the registration.

Enter the details about each of your employees.

Each super payment period (usually quarterly), log onto the site, enter the amounts due to each employee, transfer the total amount to the Clearing House and the Clearing House will guarantee that the amounts will be paid to the individual super funds.
You can get further information by ringing 1300 660 048 or by emailing your queries to SBSCHenquiries@medicareaustralia.gov.au